Make your own hot sauce at home with this sweet Caribbean style chili sauce recipe.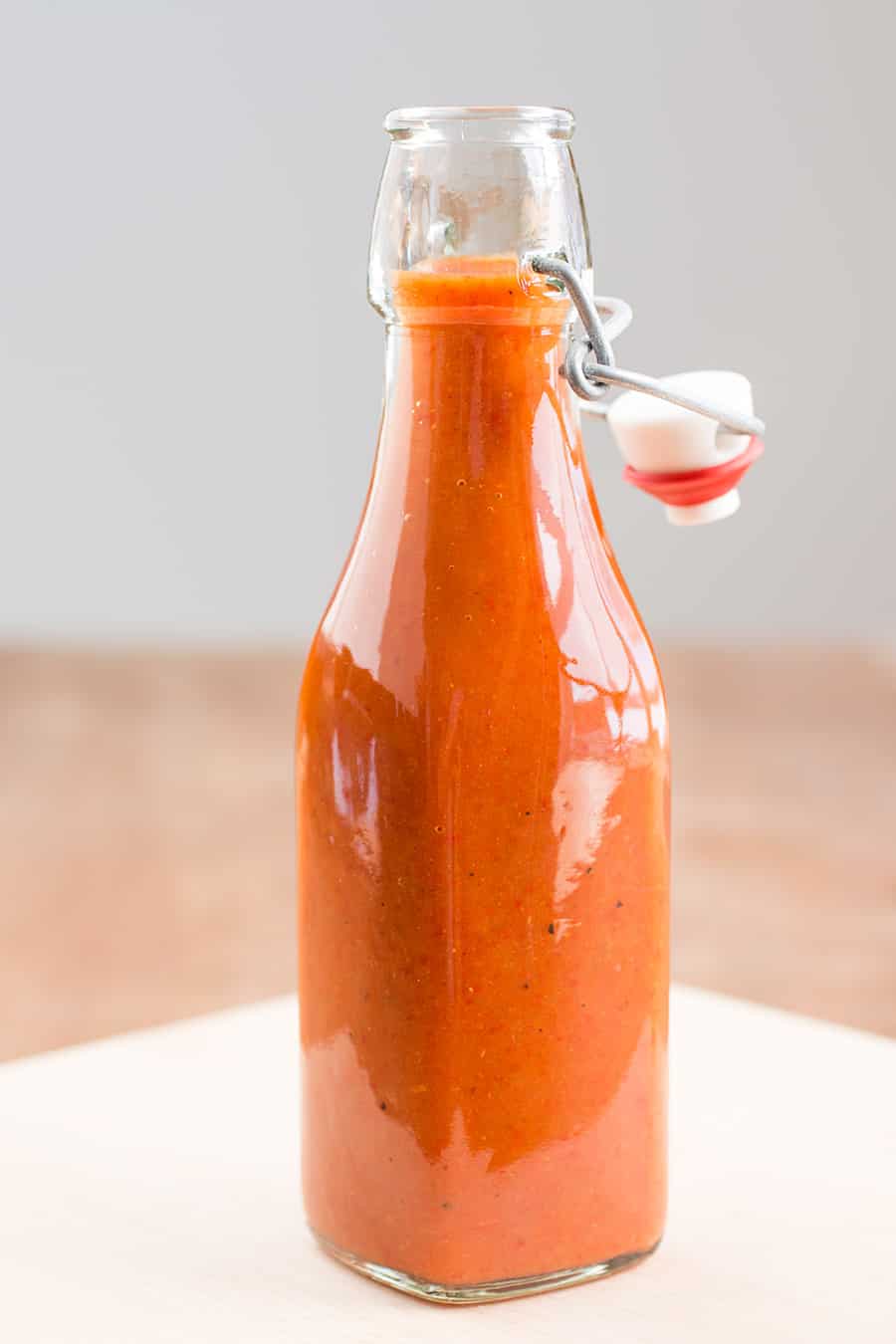 As I was working on a new superhot cookbook, I experimented with a number of homemade hot sauce recipes. That is the fun part of running a food blog, especially one dedicated in large part to chili peppers in general. I get to make all sorts of spicy recipes, particularly hot chili sauces.
So very fun for me!
When making hot sauce, it is easy to work up large batches and even different types of chili sauces at the same time because you can use a little bit here, a little bit there, save some and combine it with something else for an entirely different result.
This particular chili sauce is a Caribbean style sweet chili sauce recipe that uses a combination of Bhut Jolokia chili peppers (aka Ghost Peppers) and some Scotch Bonnets, though I also included several long red cayenne peppers because I had them on hand and wanted to use them up.
I'm tagging different types of chili peppers here because you can use a variety of them, depending on your personal preference. You don't have to go superhot. You can go mild if want. I've made this hot sauce entirely with ghost peppers for something truly HOT.
I've made it with Scotch Bonnets, Fatalii peppers, habaneros, and even sweet peppers from the garden. Experiment on your own. The true sweetness in this one comes from the can of peaches. As an alternative, try sweet pears. Very good to me!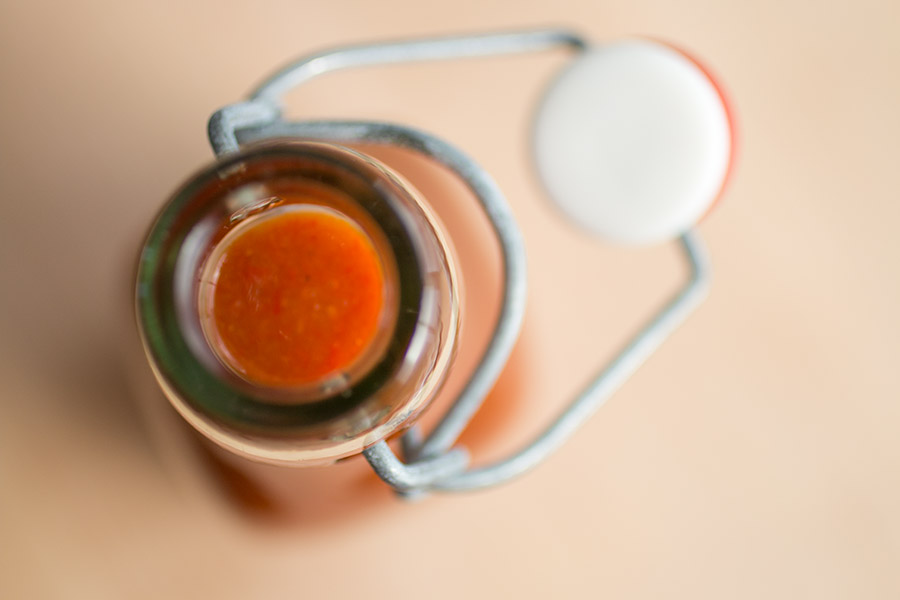 Shout out to my neighbor, Matt. He loves this chili sauce. I always love to hear that. I hope to make another batch soon!
Patty's Perspective
Yes, hanging out with our neighbors last night and we were all craving grilled cheese sandwiches. I wanted mine spicy, so Matt grabbed out this hot chili sauce from the fridge and spiced it up. Delicious!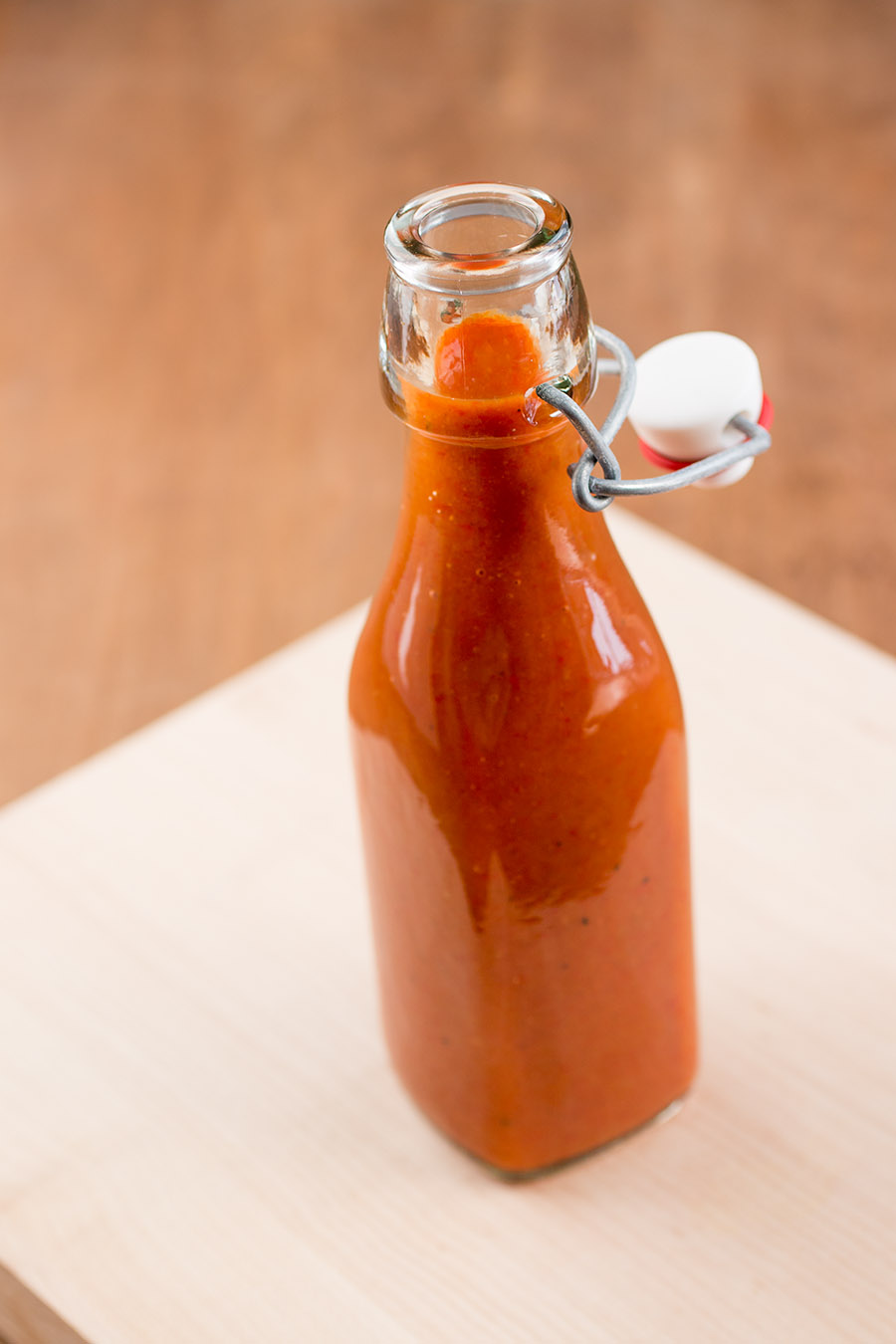 Frequently Asked Hot Sauce Questions
Here are answers to some of the most common questions I get on other sauces:
How long will this sauce keep?
It should keep a few months easily in the fridge, or even longer. It's all about the acidity. To be technical, target level ph for shelf stable foods is below 4.6 ph, but should probably be lower for home cooks, around 4.0 or so, to account for errors. If you're concerned, add more vinegar to lower the ph. Sauces made with fermented chili peppers will last even longer.
The best ph meters that I recommend are from Thermoworks. Get yourself a ph meter from Thermoworks today. I am a happy affiliate.
Where'd you get that sauce bottle?
I find them locally sometimes, but I also order through Amazon. Here is a link to some bottles I like (affiliate link, my friends!): Swing Top Glass Bottles, 8.5 Ounce - Set of 4
. If you like the smaller bottles that most hot sauce makers use, here's another link: Hot Sauce Bottles, 5 Oz - 24 Pack
.
Can I process this hot sauce for longer storage?
Absolutely. Just be sure to use proper canning/jarring safety procedures.
What should I do with hot sauce?
Aside from drizzling it over anything you please, here's a post I did about How to Cook with Hot Sauce. As if you need even MORE reasons to eat hot sauce. LOL. I hope you find it helpful!
Check out more Hot Sauce Recipes or learn more about How to Make Hot Sauce.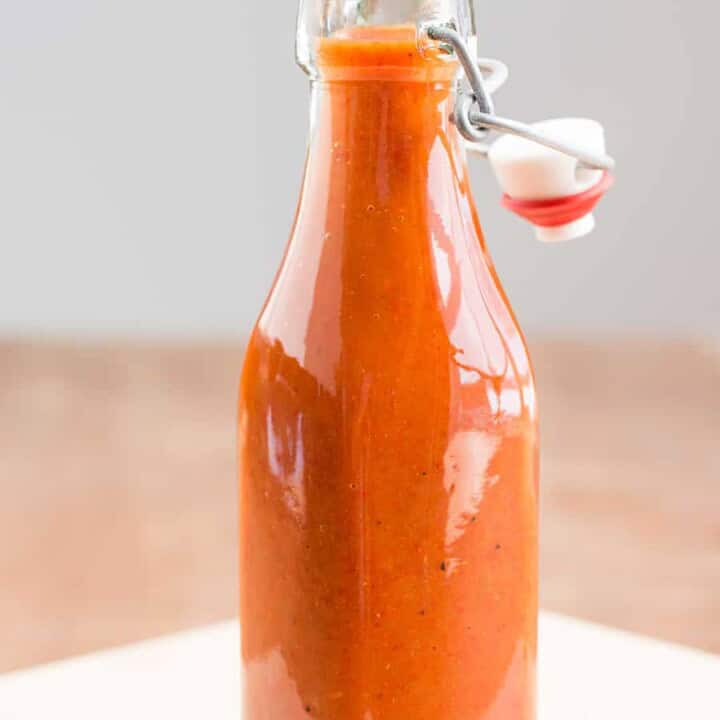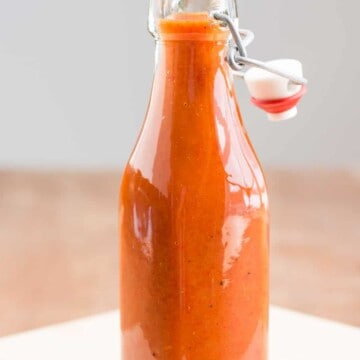 Print
Homemade Caribbean-Style Sweet Chili Sauce - Recipe
Make your own hot sauce at home with this sweet Caribbean style chili sauce recipe.
Save Recipe
Saved!
Ingredients
1

pound

red chili peppers

chopped (see comments above - try ghost peppers, Scotch Bonnets, habaneros, or even milder peppers - or a combination of them all!)

1 8-

ounce

can sliced peaches in heavy syrup

pears works well, too

1/4

cup

yellow mustard

1/4

cup

brown sugar

1/4

cup

molasses

1/2

cup

distilled white vinegar

1

teaspoon

ground cumin

1/4

teaspoon

ground ginger

1

teaspoon

salt

1

teaspoon

black pepper
Instructions
Set oven to broil.

Slice the peppers in half lengthwise and set them onto a baking sheet. Broil them about 15-20 minutes, or until the skins char and blister. Don't get too close to the heat source. Remove, cool, and peel.

Add peaches to a food processor and process until fairly smooth.

Add chili peppers, molasses, brown sugar, mustard, vinegar, salt, pepper, cumin, and ginger. Process until smooth.

At this point, you can strain through a food mill if you want a silkier style sauce. Or, simply pour directly into a bowl or jar and cover.

Refrigerate overnight to allow the flavors to mingle.
Nutrition Information
Calories:
17
kcal
Carbohydrates:
4
g
Sodium:
62
mg
Potassium:
65
mg
Sugar:
3
g
Vitamin A:
100
IU
Vitamin C:
4.5
mg
Calcium:
7
mg
Iron:
0.2
mg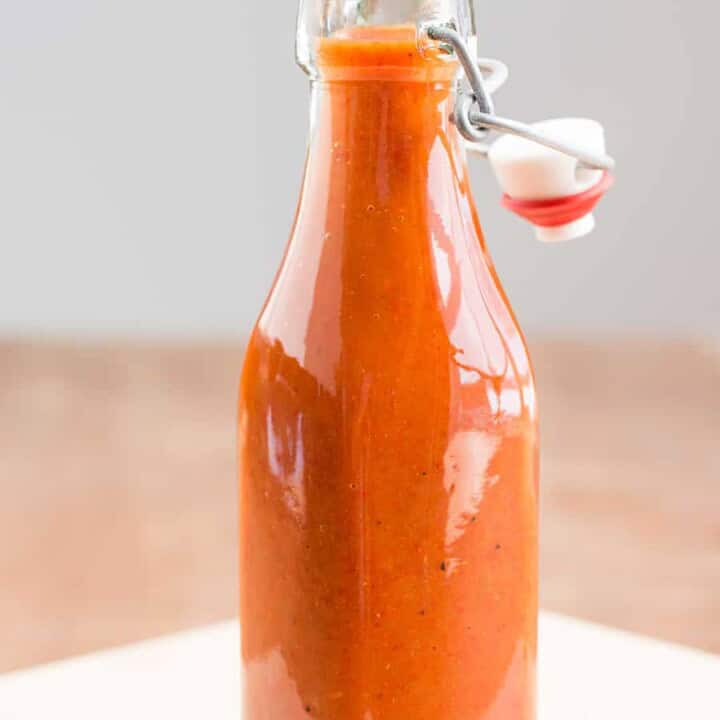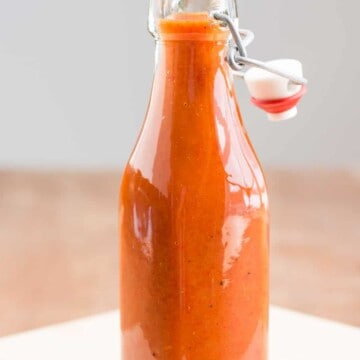 Did You Enjoy This Recipe?
I love hearing how you like it and how you made it your own. Leave a comment below and tag @ChiliPepperMadness on social media.