Make your own sweet and spicy all-purpose hot sauce at home with chopped pineapple and jalapeno peppers. You will absolutely love it!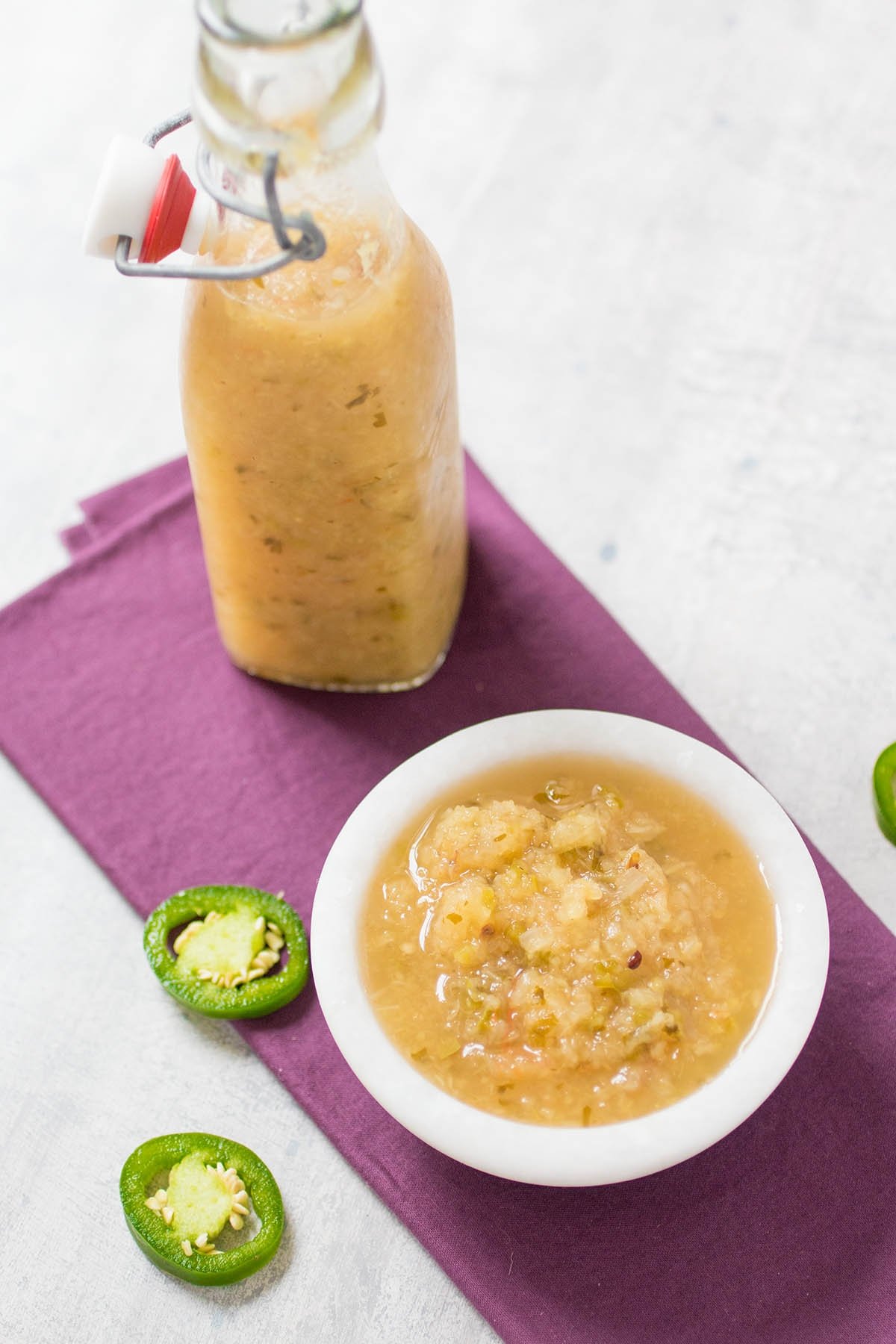 Pineapple-Jalapeno Hot Sauce Recipe
This is one of those recipes that you can put on just about anything. That's the thing about hot sauces - you find one you love and just douse every bit of food with the stuff because you really can't help it. I mean, it's hot sauce, right? It's awesome.
There is saying that "beer is proof that God loves us and wants us to be happy", but you know what? I think that is true of hot sauce.
Well, maybe both beer and hot sauce. But that's just me!
Case in point - this particular hot sauce made with pineapple and jalapeno peppers. It is tasty, my friends. I made this when I was down in Florida and wanted a utility sauce that would go on anything.
I had cooked up a large pork shoulder and froze that in portions, and also planned on getting my hands on as much fresh fish as I could find. We're talking fresh grouper, red snapper, sheepshead, so many options!
Why This Hot Sauce is Awesome!
This hot sauce is ideal for these types of meals. Use it to drizzle over fish or shrimp tacos, pulled pork or pretty much ANY cut of pork, a nice grilled chicken breast or oven roasted chicken wings.
It's simple to make, really.
Pineapple-Jalapeno Hot Sauce Ingredients
Pineapple. Finely chopped.
White Onion. Small, finely chopped.
Jalapeno Peppers. Finely chopped.
Garlic Cloves. Minced.
Tomato. Finely Chopped.
Cilantro. Chopped.
Lime Juice.
Apple Cider Vinegar.
Salt and Pepper. To taste.
How to Make this Pineapple-Jalapeno Hot Sauce - The Recipe Method
Toss all of the ingredients into a food processor and process it until it is nice and smooth.
The ingredients include pineapple, jalapeno peppers, onion, garlic, tomato, cilantro, lime juice and apple cider vinegar, with a bit of salt and pepper to your own personal tastes.
Bring it all to a quick boil in a small pot and let it simmer about 10 minutes.
Cool and BOOM!
Hot sauce is done.
To Strain or Not to Strain - A Hot Sauce Conundrum
You CAN strain it at this point if you'd like. If you want a sauce with a consistency more like Tabasco, push it through a sieve and discard the pulp.
If you DO strain out the pulp, don't throw it away. Consider dehydrating it to make a nice seasoning blend. See How to Make Seasonings from Strained Hot Sauce Pulp.
I kept this more chunky. I wanted the substance of it, though it works either way.
Keep it simple and tasty! I hope you enjoy the hot sauce.
Check out my other Hot Sauce Recipes, too.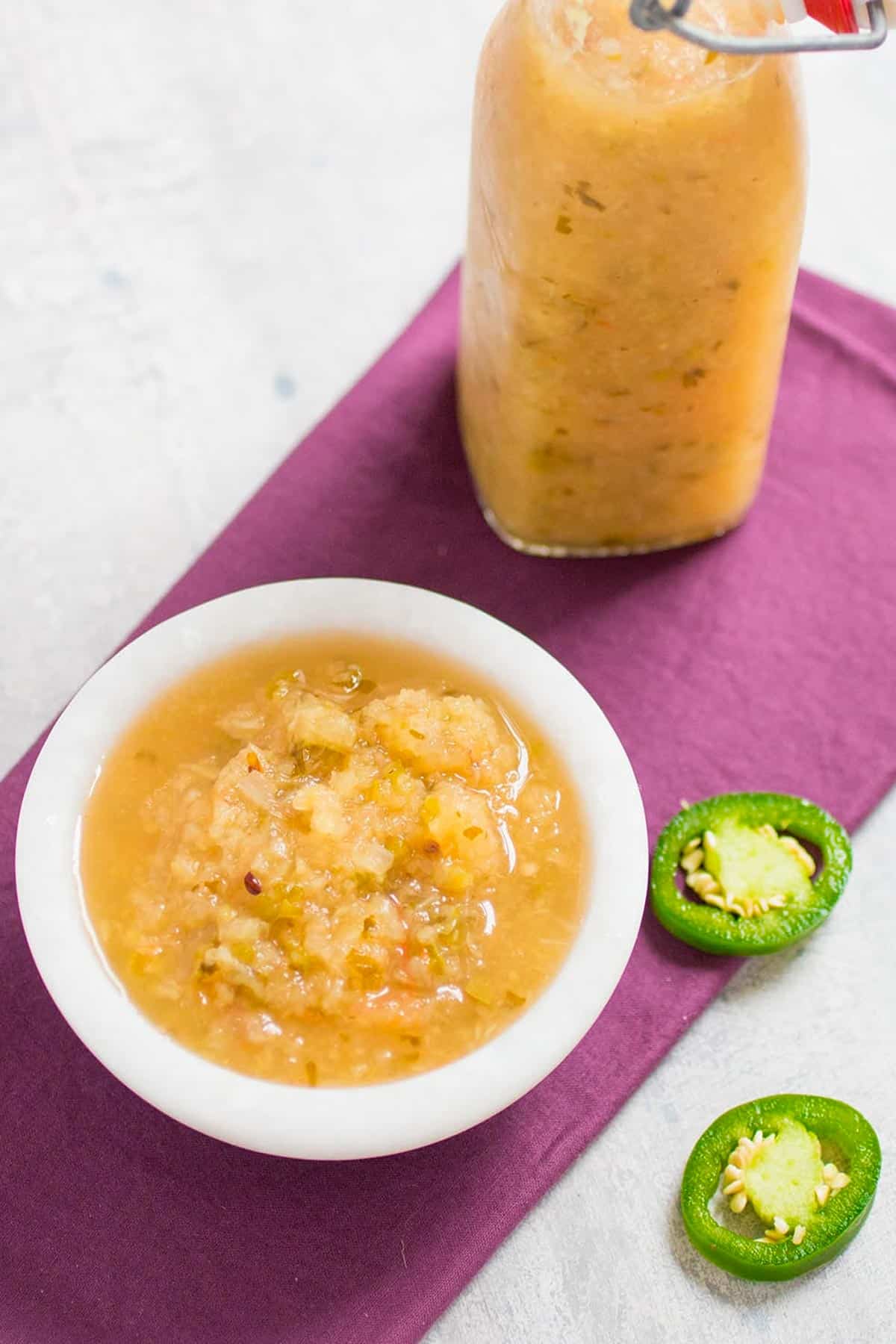 Recipe Tips & Notes
I find sauce bottles locally sometimes, but I also order through Amazon. Here is a link to some bottles I like (affiliate link, my friends!): Swing Top Glass Bottles, 8.5 Ounce - Set of 4. If you like the smaller bottles that most hot sauce makers use, here's another link: Hot Sauce Bottles, 5 Oz - 24 Pack.
If you want to process this hot sauce for longer storage, be sure to use proper canning/jarring safety procedures. Make sure the ph is 4.0 or below.
Storage & Leftovers
It should keep a few months easily in the fridge, or even longer. It's all about the acidity. To be technical, target level ph for shelf stable foods is below 4.6 ph, but should probably be lower for home cooks, around 4.0 or so, to account for errors. If you're concerned, add more vinegar to lower the ph. Sauces made with fermented chili peppers will last even longer.
The best ph meters that I recommend are from Thermoworks. Get yourself a ph meter from Thermoworks today. I am a happy affiliate.
What should I do with hot sauce?
Aside from drizzling it over anything you please, here's a post I did about How to Cook with Hot Sauce. As if you need even MORE reasons to eat hot sauce. I hope you find it helpful!
Check out These Related Recipes:
Check out more Hot Sauce Recipes or learn more about How to Make Hot Sauce.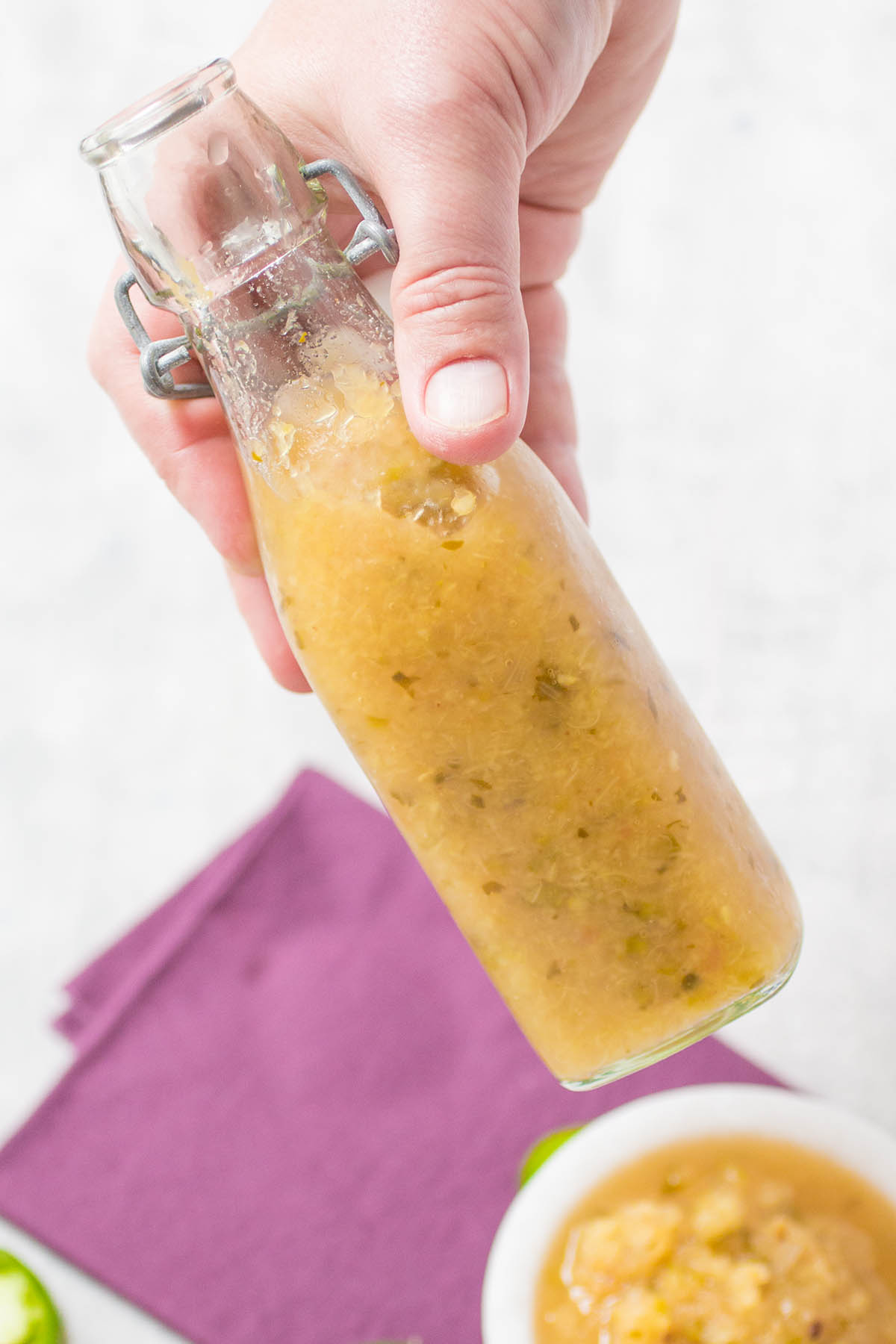 Got any questions? Ask away! I'm happy to help. If you enjoy this recipe, I hope you'll leave a comment with some STARS. Also, please share it on social media. Don't forget to tag us at #ChiliPepperMadness. I'll be sure to share! Thanks! — Mike H.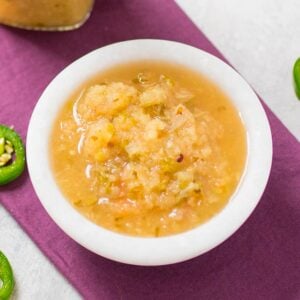 Print
Pineapple-Jalapeno Hot Sauce – Recipe
Make your own sweet and spicy all-purpose hot sauce at home with chopped pineapple and jalapeno peppers. You will absolutely love it!
Save Recipe
Saved!
Ingredients
1-1/2

cup

finely chopped pineapple

1

small white onion

finely chopped

2

jalapeno peppers

finely chopped

2

cloves

garlic

minced

1

medium tomato

finely chopped

2

tablespoons

chopped cilantro

Juice from 1 lime

¼

cup

apple cider vinegar

Salt and pepper to taste
Instructions
Add all of the ingredients to a food processor and process until smooth.

Bring to a quick boil in a pot and reduce heat. Simmer for 10 minutes.

Cool and store in sterilized bottles. Enjoy!
Nutrition Information
Calories:
6
kcal
Carbohydrates:
1
g
Potassium:
32
mg
Vitamin A:
70
IU
Vitamin C:
5
mg
Calcium:
3
mg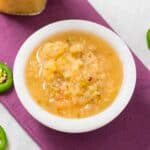 Did You Enjoy This Recipe?
I love hearing how you like it and how you made it your own. Leave a comment below and tag @ChiliPepperMadness on social media.