A homemade hot sauce recipe with an Asian flair, made with serrano peppers, cayenne peppers and carrots with ginger and herbs. Decidedly savory and sweet with a nice level of heat.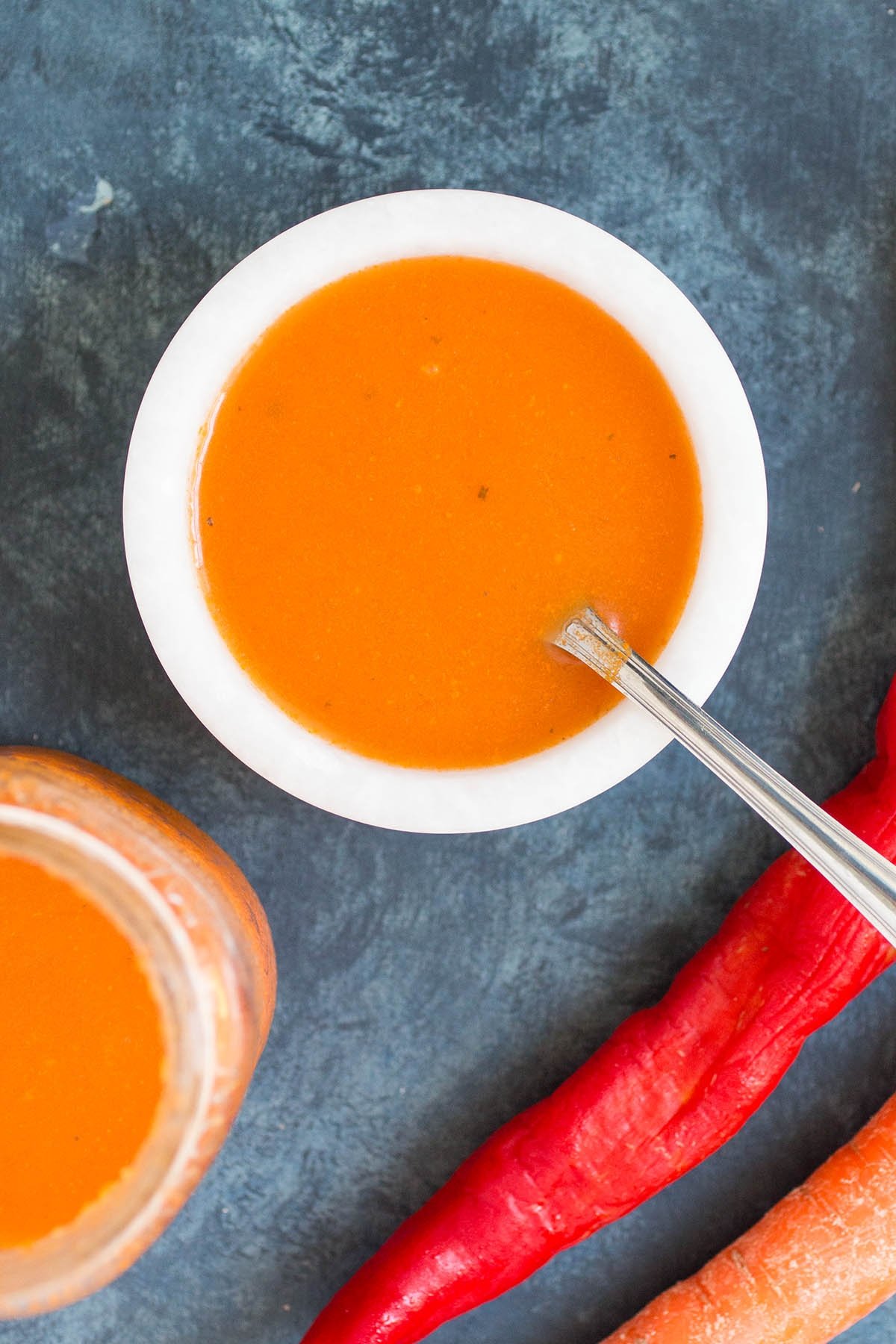 This particular hot sauce recipe was born out of a recent visit to Charlotte, NC. Patty and I were visiting the area and we had the most stellar Szechuan Salmon Tacos.
Talk about AWESOME food. I chowed those tacos down in no time, though the whole time I kept thinking that just a touch of an Asian-style hot sauce might bring JUST the right amount of kick to it. The tacos already had the Szechuan sauce, which I do love, though I found myself wanting just a dash.
You ever feel that way, hot sauce lovers?
I'm sure you do. The thing is, the tacos were truly outstanding on their own and realistically didn't NEED hot sauce on them, but dang it, I wanted hot sauce!
So now I have some. Behold! Spicy Chili-Carrot Hot Sauce. This is what I needed.
#YUM.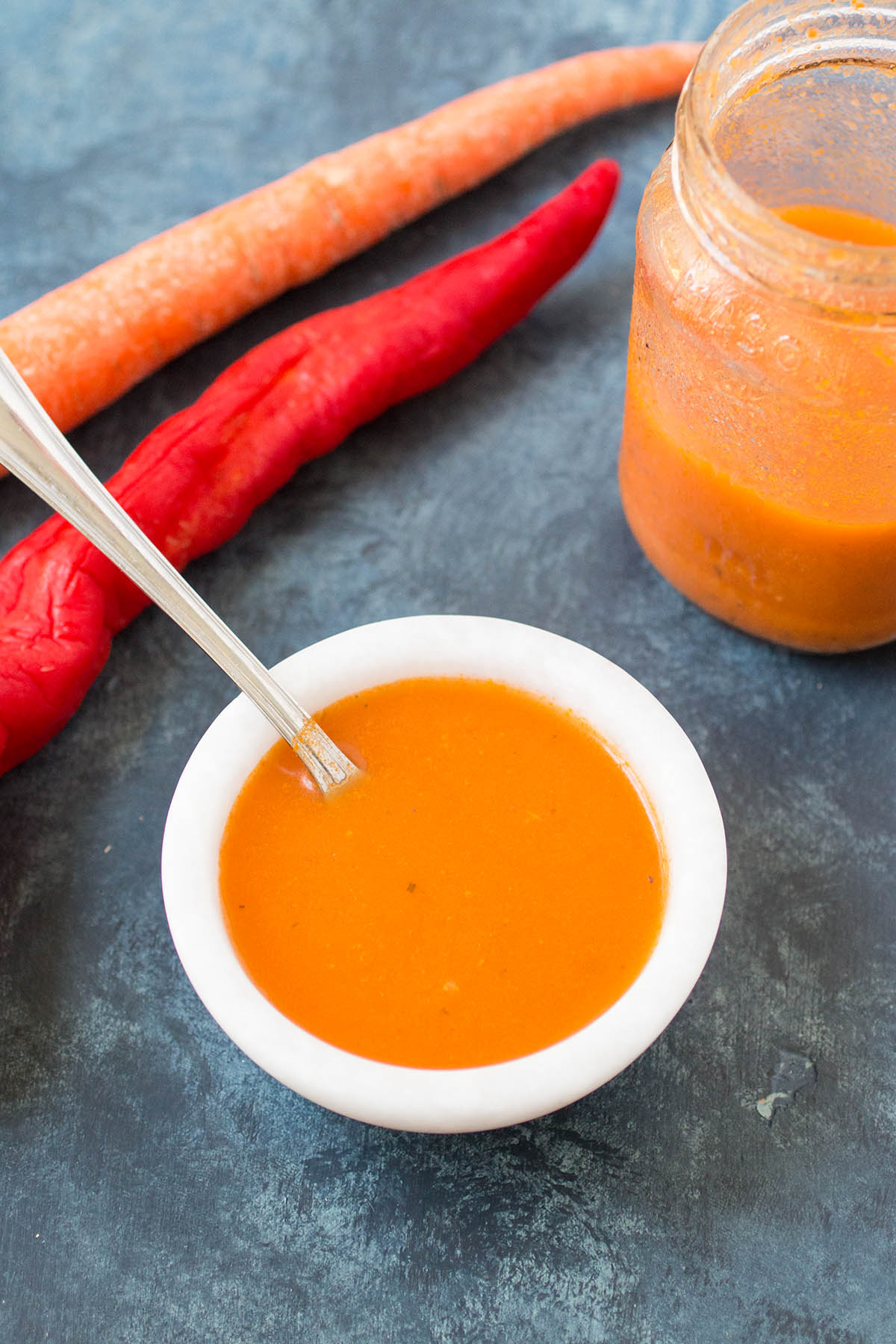 About the Chili-Carrot Hot Sauce
The hot sauce is quite carrot forward, though it is nicely balanced with the chili peppers. Carrots are used in sauce and hot sauce making quite a lot, though I've chosen here to up the ratios of carrots to chili peppers in an effort to bring out their natural sweetness and color. It worked.
Notice the vibrancy of the hot sauce color. It's gorgeous, if you ask me.
Perfect for Szechuan Salmon Tacos, but really, it's ideal to drizzle over any of your favorite Chinese or Thai dishes. I'm sure you can find numerous applications.
I included some herbs here for depth - rosemary, basil - along with a good helping of dried ginger for its unique flavor. Feel free to add in more ginger if that is your preference.
This hot sauce can easily hold up to the addition. And talk about heat - the resulting hot sauce isn't overly spicy. You can very easily up the heat level by including more serrano or cayenne, or even incorporating something hotter, like a habanero or even a ghost pepper.
7 Pot peppers anyone? I say YES, though this version will do for you.
If you strain the hot sauce, as the recipe indicates, try dehydrating those solids for a bit of homemade seasoning powder. There is plenty of life left in that pulp!
See How to Make Seasonings from Strained Hot Sauce Pulp.
Let me know how it turns out for you! Happy hot sauce making! -- Mike H.
Check out my other Hot Sauce Recipes, too.
Frequently Asked Hot Sauce Questions
Here are answers to some of the most common questions I get on other sauces:
How long will this sauce keep?
It should keep a few months easily in the fridge, or even longer. It's all about the acidity. To be technical, target level ph for shelf stable foods is below 4.6 ph, but should probably be lower for home cooks, around 4.0 or so, to account for errors. If you're concerned, add more vinegar to lower the ph. Sauces made with fermented chili peppers will last even longer.
Where'd you get that sauce bottle?
I find them locally sometimes, but I also order through Amazon. Here is a link to some bottles I like (affiliate link, my friends!): Swing Top Glass Bottles, 8.5 Ounce - Set of 4
. If you like the smaller bottles that most hot sauce makers use, here's another link: Hot Sauce Bottles, 5 Oz - 24 Pack
.
Can I process this hot sauce for longer storage?
Absolutely. Just be sure to use proper canning/jarring safety procedures.
What should I do with hot sauce?
Aside from drizzling it over anything you please, here's a post I did about How to Cook with Hot Sauce. As if you need even MORE reasons to eat hot sauce. I hope you find it helpful!
Check out These Related Recipes:
Check out more Hot Sauce Recipes or learn more about How to Make Hot Sauce.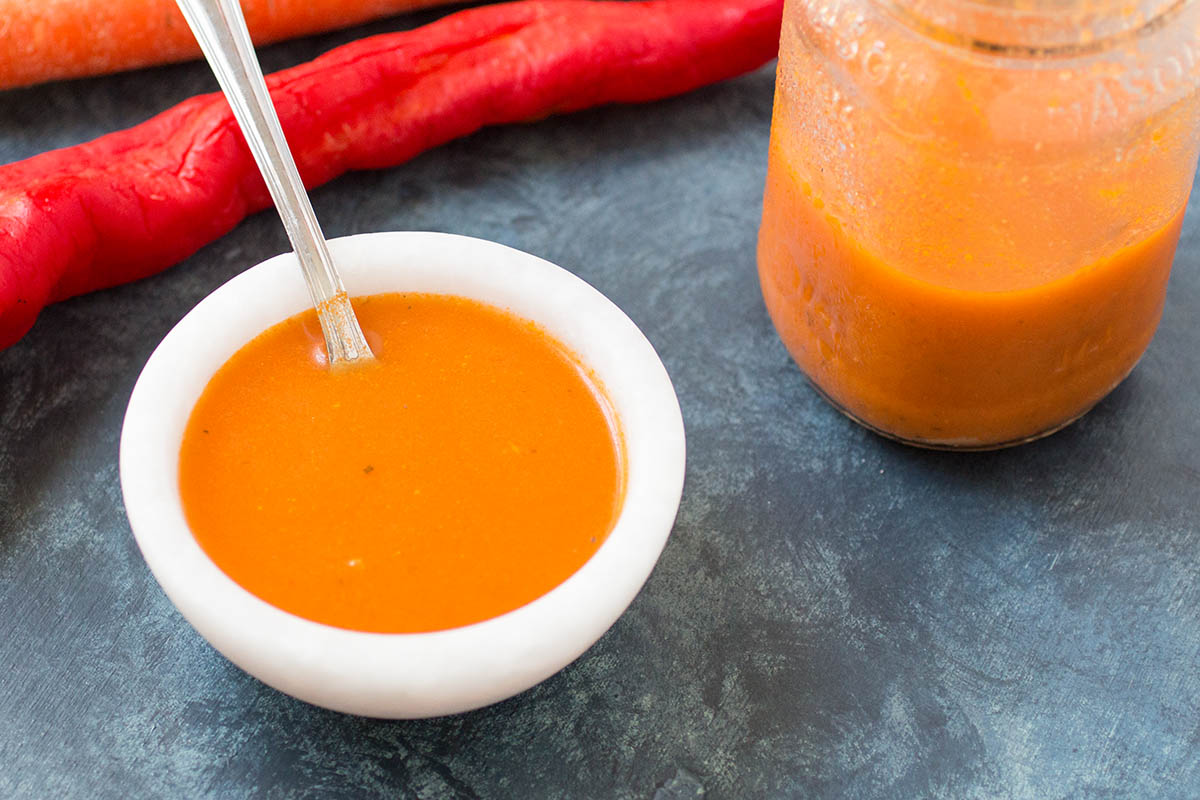 If you try this recipe, please let us know! Leave a comment, rate it and tag a photo #ChiliPepperMadness on Instagram so we can take a look. I always love to see all of your spicy inspirations. Thanks! -- Mike H.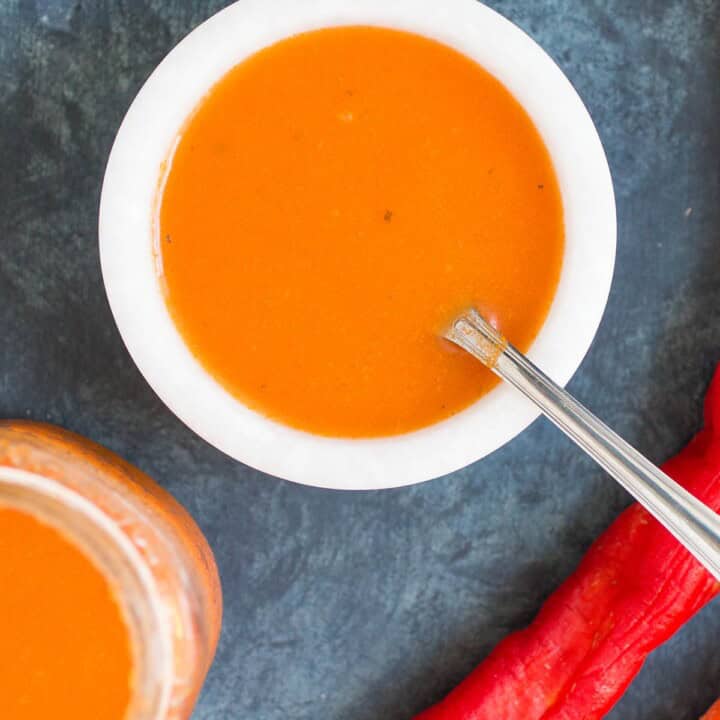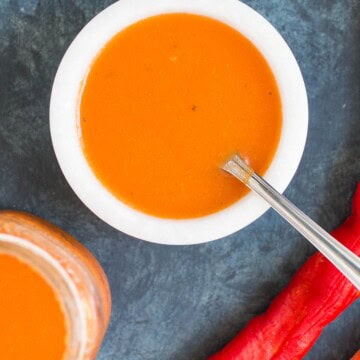 Print
Spicy Chili-Carrot Hot Sauce – Recipe
A homemade hot sauce recipe with an Asian flair, made with serrano peppers, cayenne peppers and carrots with ginger and herbs. Decidedly savory and sweet with a nice level of heat.
Save Recipe
Saved!
Ingredients
1

tsp

olive oil

2

large carrots

peeled and diced

1

small onion

chopped

1

serrano pepper

chopped

1

long red cayenne pepper

chopped

3

garlic cloves

chopped

1

large tomato

chopped

1

teaspoon

dried rosemary

1

teaspoon

dried basil

1

teaspoon

dried ginger

Salt and pepper to taste

2

tablespoons

white wine vinegar

1

cups

water

or more as desired
Instructions
Heat a saucepan to medium heat and add oil. Add carrots, onion and peppers and cook about 7 minutes to soften.

Add garlic and cook another minute.

Add tomatoes and cook a couple minutes more, breaking apart the tomatoes with a wooden spoon, until it breaks down.

Add remaining ingredients and bring to a quick boil. Reduce heat and simmer about 20 minutes.

Cool then transfer to a food processor or blender. Process until smooth.

Strain the pulp from the sauce and discard it.

Adjust for salt and pepper. Transfer to sterilized bottles for keeping. Enjoy!
Notes
Makes about 1.5 cups.
Heat Factor: Medium. Cayenne peppers have a good level of heat, but they are not overpowering like ghost peppers might be. Very pleasant heat overall.
Nutrition Information
Calories:
9
kcal
Carbohydrates:
1
g
Sodium:
5
mg
Potassium:
43
mg
Vitamin A:
1095
IU
Vitamin C:
1.9
mg
Calcium:
6
mg
Iron:
0.1
mg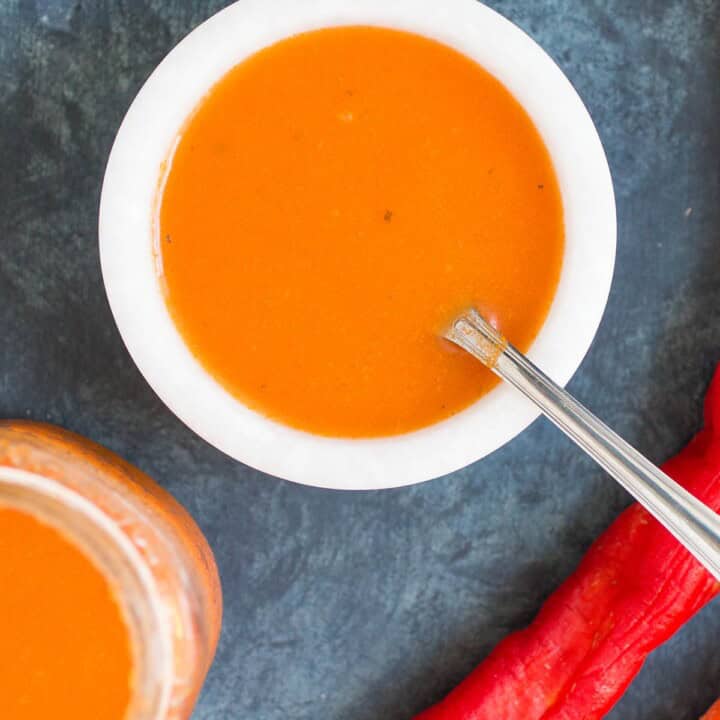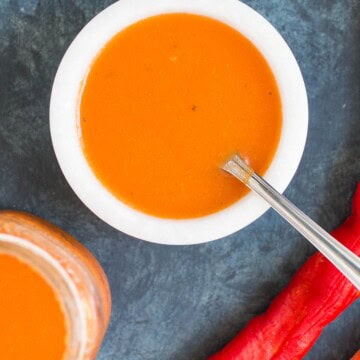 Did You Enjoy This Recipe?
I love hearing how you like it and how you made it your own. Leave a comment below and tag @ChiliPepperMadness on social media.