Print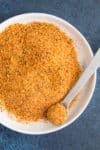 Homemade Rib Rub from Fresh Garden Peppers – Recipe
Use your dehydrator to make your own homemade rib rub recipe using fresh peppers, or use your favorite chili powders. I made this blend from peppers grown in my own garden. It's the only way to make the most unique blends around.
Wash and slice the peppers into ¼ inch slices. Lay them out onto dehydrator trays and dry for 8-10 hours at 125 degrees F, or until they are completely dried through. They should crack when you bend them.

Blend the peppers in a spice grinder or food processor until they are as smooth as possible. Sift out the larger chunks and process those until you've broken down the pods as much as possible.

Combine the chili powder with the garlic, brown sugar, salt and pepper. Mix well.

Use as you would any chili rub or seasoning blend.
Makes about 1 quarter cup or so.
Nutrition Facts
Homemade Rib Rub from Fresh Garden Peppers – Recipe
Amount Per Serving
Calories 170
Calories from Fat 18
% Daily Value*
Total Fat 2g 3%
Sodium 279mg 12%
Potassium 963mg 28%
Total Carbohydrates 36g 12%
Protein 5g 10%
* Percent Daily Values are based on a 2000 calorie diet.