Make this authentic, homemade Mexican rice for your next fiesta then step back as your guests go loco with flavor.
We're busting out this AWESOME Mexican Rice Recipe today for no reason other than it is simply awesome. We've thrown Mexican-themed fiesta parties throughout the year, usually toward summertime when the warm weather calls for getting a little crazy, and this is always on the fiesta menu. It doesn't matter how much we make, it always goes. Nary a leftover of Mexican rice, my friends!
When we make it at home, I like to make an extra large batch and keep the leftovers throughout the week. Mexican rice goes with MANY a dish, a perfect side pairing, but did you realize it can also be the star of your meal? Try serving it with refried beans over warmed flour tortillas with a bit of shredded cheese, roasted jalapeno peppers and hot sauce for your next vegetarian taco night. Or cook up a chicken breast, chop it up, and serve it over your Mexican rice with a simple sauce. How about pairing it with chicken thighs? Hmmm. Coming soon! Or hey, make it your side and watch it steal the show.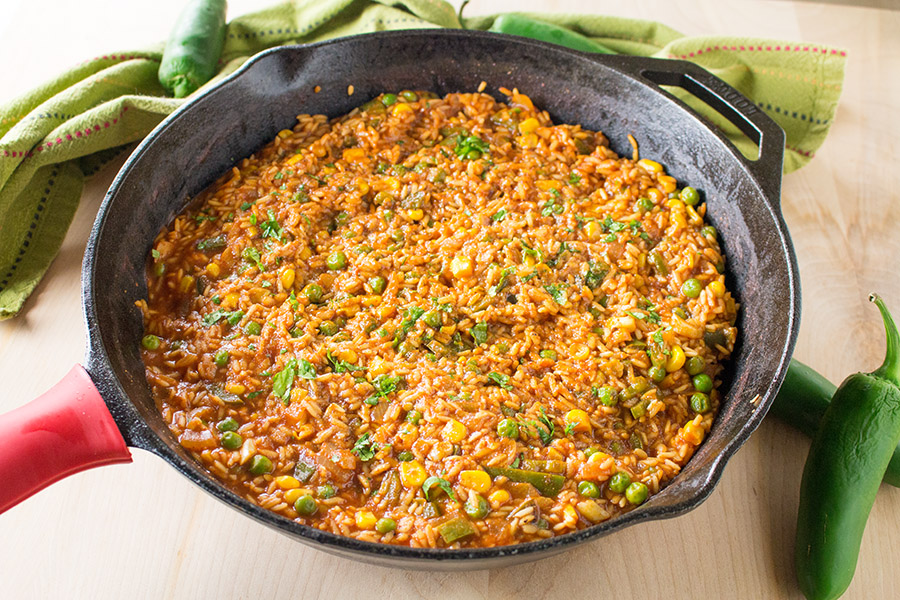 Use long grain rice for this recipe. Long grain is the most forgiving rice. It is thinner, less puffy than medium or short grain, and it never clumps up, so GO LONG. You can use any large pan or even a pot to cook this up, but I like to use my cast iron pan. It has excellent heat distribution and you can serve it right in the pan. Bonus points for presentation. It makes it look all that more enticing.
And, DO NOT forget the hot sauce. A good hot sauce will add both depth and flavor to your Mexican rice. It's a concentrated shot of awesomeness, so bust that stuff out. Which hot sauce? Good question! There are MANY great artisan hot sauces on the market. I suggest a Mexican or Louisiana style hot sauce, more pepper based, or a tomato-pepper based hot sauce, something that will complement the tomato and peppers of this dish. A Caribbean style sauce probably won't work as well, but hey, if you want to experiment, go for it! Just be sure to report your results back to Chili Pepper Madness so we can compare notes.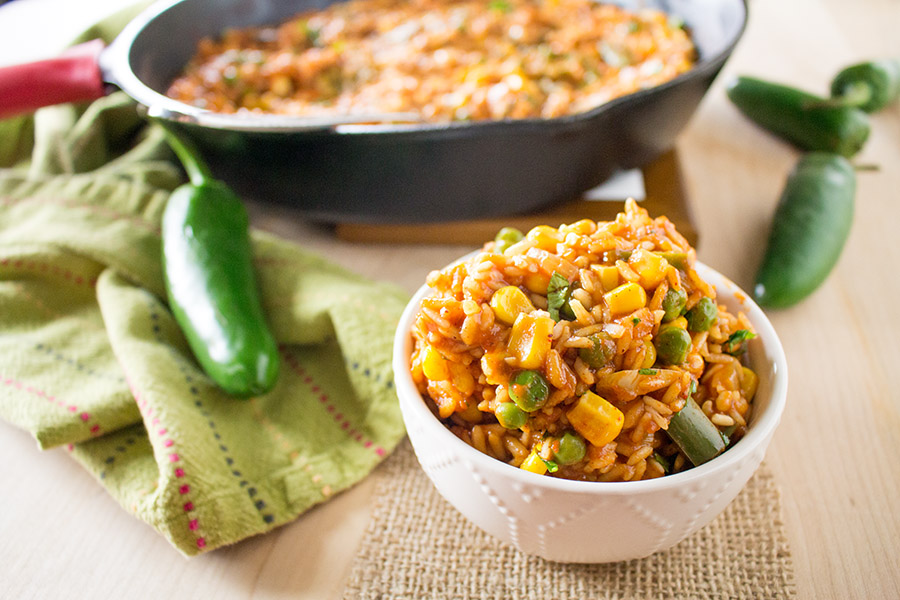 Patty's Perspective: I like how versatile this dish can be. We've used it as a side, of course, but it can do so much, like tacos, added into quick soups, all sorts of ideas, and it really packs a punch with flavor.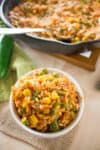 Homemade Mexican Rice Recipe
Make this authentic, homemade Mexican rice for your next fiesta then step back as your guests go loco with flavor.
Ingredients
2

tablespoons

olive oil

1

medium yellow onion

chopped

2

jalapeno peppers

chopped - Or MORE as desired

4

cloves

garlic

chopped

1-1/2

cups

long grain rice

12

ounces

tomato sauce

2

cups

chicken broth + more as needed

½

cup

frozen corn – or fresh corn if you can get it!

½

cup

frozen peas

1-2

tablespoons

chili powder – I used a combination of ancho powder and cayenne powder

½

teaspoon

cumin

1

teaspoon

Mexican oregano

Salt and pepper to taste

1-2

tablespoons

favorite hot sauce

if desired

Cilantro for serving
Instructions
Heat a large pan to medium heat and add olive oil.

Add onion and jalapeno peppers and cook about 5 minutes to soften.

Add garlic and cook another minute, until you can smell the yummy garlic.

Add the rice and stir. Cook for a couple minutes, stirring, to very lightly brown the rice.

Add tomato sauce and broth. Stir.

Add corn, peas, chili powder, cumin, oregano, salt and pepper, and hot sauce if using. Stir and bring to a quick boil. NOTE: Feel free to add other seasonings that you LOVE. Flavor it up!

Reduce heat and simmer for about 30 minutes, or until the rice has absorbed all of the liquid and is softened to your liking. If it needs more cooking, add a bit more broth and keep it simmering until you LOVE it.

Remove from heat and top with cilantro for serving.
Recipe Notes
Makes about 4-5 cups.
Nutrition Facts
Homemade Mexican Rice Recipe
Amount Per Serving
Calories 231
Calories from Fat 72
% Daily Value*
Total Fat 8g 12%
Sodium 999mg 42%
Potassium 596mg 17%
Total Carbohydrates 35g 12%
Protein 5g 10%
* Percent Daily Values are based on a 2000 calorie diet.