Fresh Tomato-Chili Gazpacho
A recipe for homemade gazpacho prepared with fresh tomatoes and chili peppers harvested straight from the garden. Serve it for brunch or a fresh starter to any meal.
Gazpacho is absolutely one of the freshest meals in a bowl you can ever experience. It is Spanish in origin and in general incorporates a number of fresh garden ingredients that have been blended with an oil and vinegar base.
How you interpret this very basic description is up to you, and explains why there are so many takes on this classic dish.
Traditional gazpacho ingredients include green peppers, cucumbers, tomatoes, garlic, olive oil, vinegar and perhaps some bread and light seasonings.
But as with any tradition, it is up for experimentation and interpretation, particularly for regions wanting to use their own local ingredients.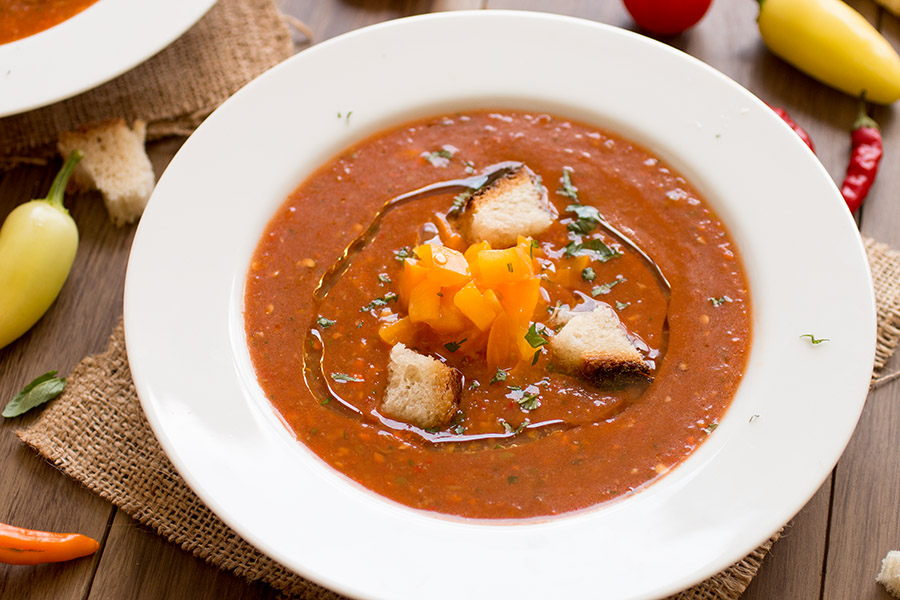 This is what we're doing here today. I am including ingredients pulled from my own garden, which you can do as well. I'm not including cucumber, but if you've grown them and want to use one or two, feel free to include them, as they will add another layer of freshness and body to the end result.
What I AM including is a combination of different types of heirloom tomatoes as well as a mish-mosh of chili peppers. We grew at least a dozen varieties of peppers this year and I'm including so many types, including Georgia Flame, Cayenne Buist's, Hugarian Wax, jalapenos (obvi!!!), jaloro, apple peppers, a couple of Thais — what else?
What did I miss?
There is probably something else in there. What's important in this recipe is the ratio of peppers to tomato. You'll want 1 pound of peppers to 2 pounds tomatoes.
I know this sounds like a lot! It isn't, really. If you're using larger bell peppers, isn't a whole lot, though if you're using smaller, lighter peppers, yes, you will need quite a few.
This is part of the reason I like to use a variety – for weight and volume, but also for levels of heat and overall flavor. This can certainly work with using only a single type of pepper, but if you do, I would go with a thick-walled variety that is sweeter and not too hot.
Maybe include a habanero then for that heat blast. Personally, I enjoy the variety and how they all combine to create a beautiful, fresh-tasting dish that is hard to resist.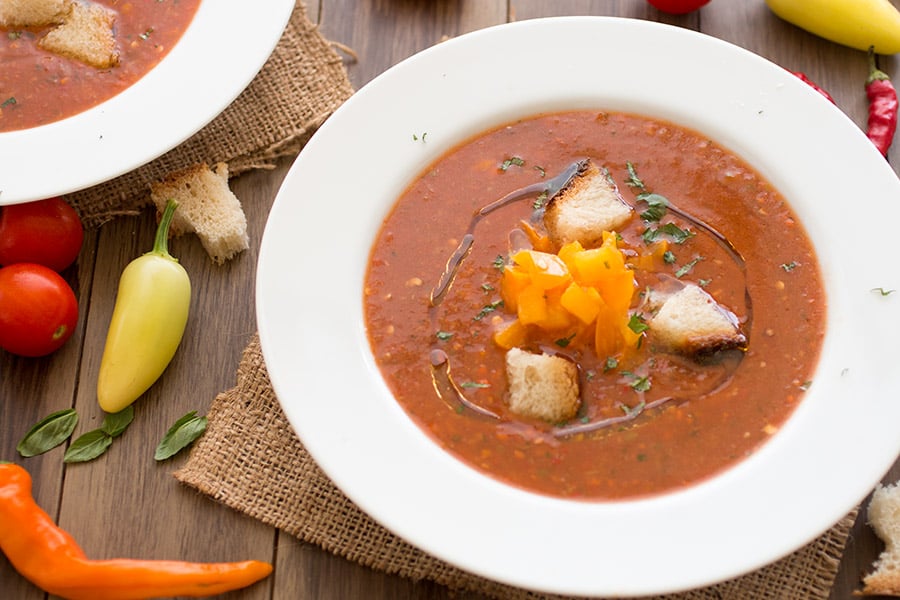 Make sure to let the gazpacho chill overnight, or at least a few hours. Letting it chill will allow the flavors tomingle, and the whole thing will mellow out a bit, losing some of that rawness.
I made this and we enjoyed it for lunch the next day on our patio. It was cool and refreshing on a hot summer afternoon. I hope you enjoy it!
Patty's Perspective
I love gazpacho so much that I am going to make Mike prepare this weekly while our garden is harvesting. It is so easy to make, you can whip it up in about 5 minutes, and if youmake a big batch, you can have it for a few days. It's fun to see how the flavors change as time passes.
The heat diminishes but it is all still so fresh and delicious. I am one who loves a nice crunch to my soup, so crispy croutons or crackers are a BONUS for me.
Try Some of My Other Popular Recipes Like This One
NOTE: Be sure to check out the Gazpacho video recipe below!
Got any questions? Ask away! I'm happy to help. If you enjoy this recipe, I hope you'll leave a comment with some STARS.Also, please share it on social media. Don't forget to tag us at #ChiliPepperMadness. I'll be sure to share! Thanks! — Mike H.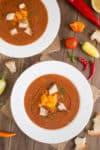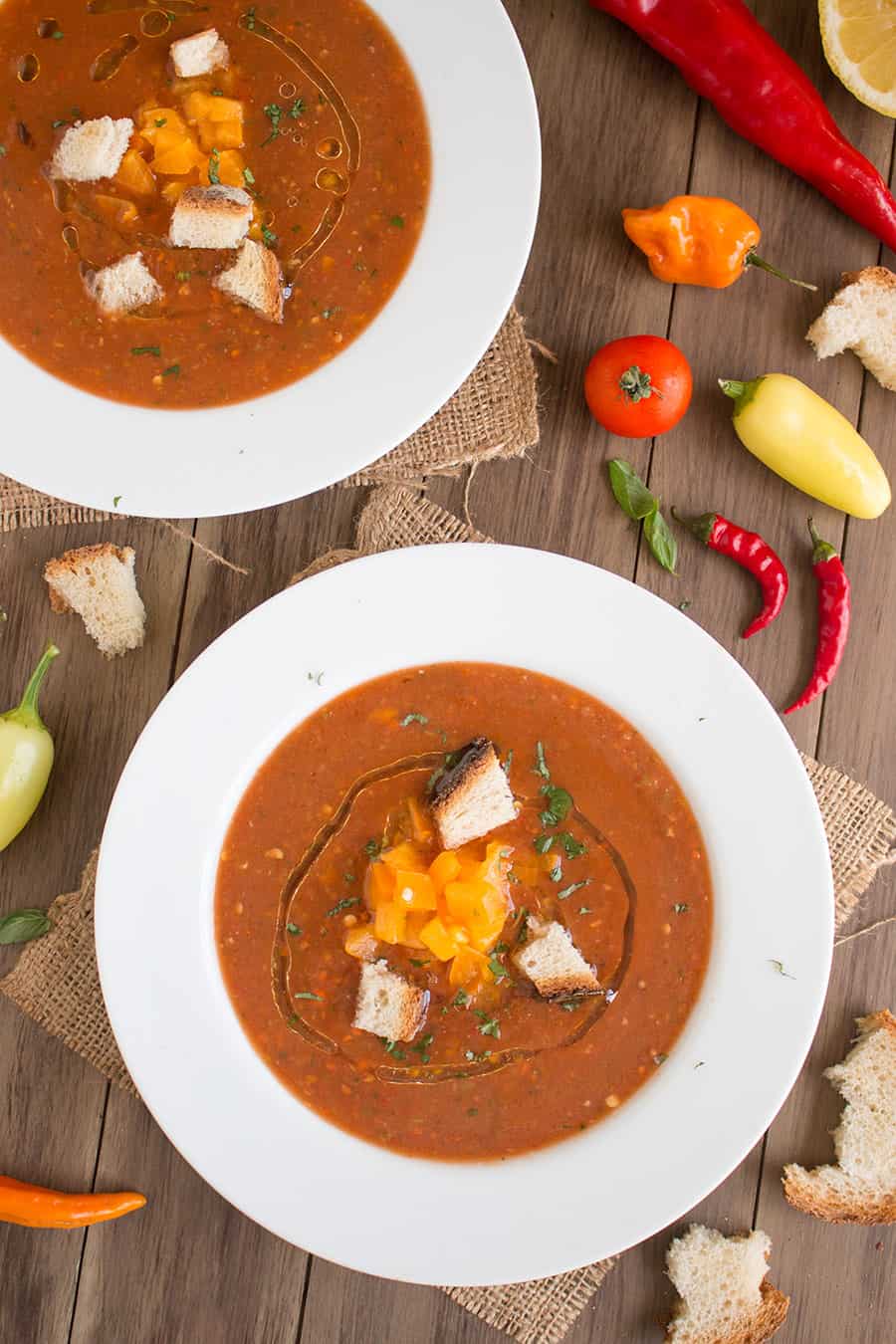 Fresh Tomato-Chili Gazpacho - Recipe
A recipe for homemade gazpacho prepared with fresh tomatoes and chili peppers harvested straight from the garden. Serve it for brunch or a fresh starter to any meal.
Keyword:
gazpacho, recipe, soup, spicy, video
Ingredients
2

pounds

tomatoes

peeled and chopped

1

pound

mixed chili peppers

stemmed, seeded and chopped – I used a HUGE mix of peppers of all heat ranges

1

sweet onion

chopped

1

medium-sized carrot

peeled and chopped

2

tablespoons

chopped fresh parsley

basil is good, too!

2

garlic cloves

minced

1

cup

tomato juice

¼

cup

red wine vinegar

¼

cup

olive oil

Juice from ½ lemon

1

tablespoon

sriracha

1

teaspoon

Worcestershire

Salt and pepper to taste

Chopped tomatoes

olive oil, parsley or basil and croutons for serving
Instructions
To a food processor, add tomatoes, peppers, carrot, parsley and garlic. Process until smooth.

Strain or run through a food mill to smooth it out, though you can keep some of the pulp if you'd like more texture.

Add to a mixing bowl and add remaining ingredients.

Stir vigorously to combine, or you can reprocess with a food processor.

Chill overnight to allow flavors to mingle, or until ready to serve.

Serve in bowls and top with extra chopped tomatoes, olive oil, parsley and croutons.
Recipe Video
Recipe Notes
Heat Factor: Variable, depending on your choice of chili peppers. My version is quite hot! I love it.
Nutrition Facts
Fresh Tomato-Chili Gazpacho - Recipe
Amount Per Serving
Calories 164
Calories from Fat 81
% Daily Value*
Fat 9g14%
Sodium 99mg4%
Potassium 795mg23%
Carbohydrates 18g6%
Protein 3g6%
Vitamin A 3960IU79%
Vitamin C 69.1mg84%
Calcium 46mg5%
Iron 1.6mg9%
* Percent Daily Values are based on a 2000 calorie diet.