SCOVILLE HEAT UNITS: 5,000 SHU
The NuMex CaJohns Serrano chili pepper is a large serrano pepper selectively bred by the Chile Pepper Institute in New Mexico, named after John Hard, creator of CaJohns Fiery Foods.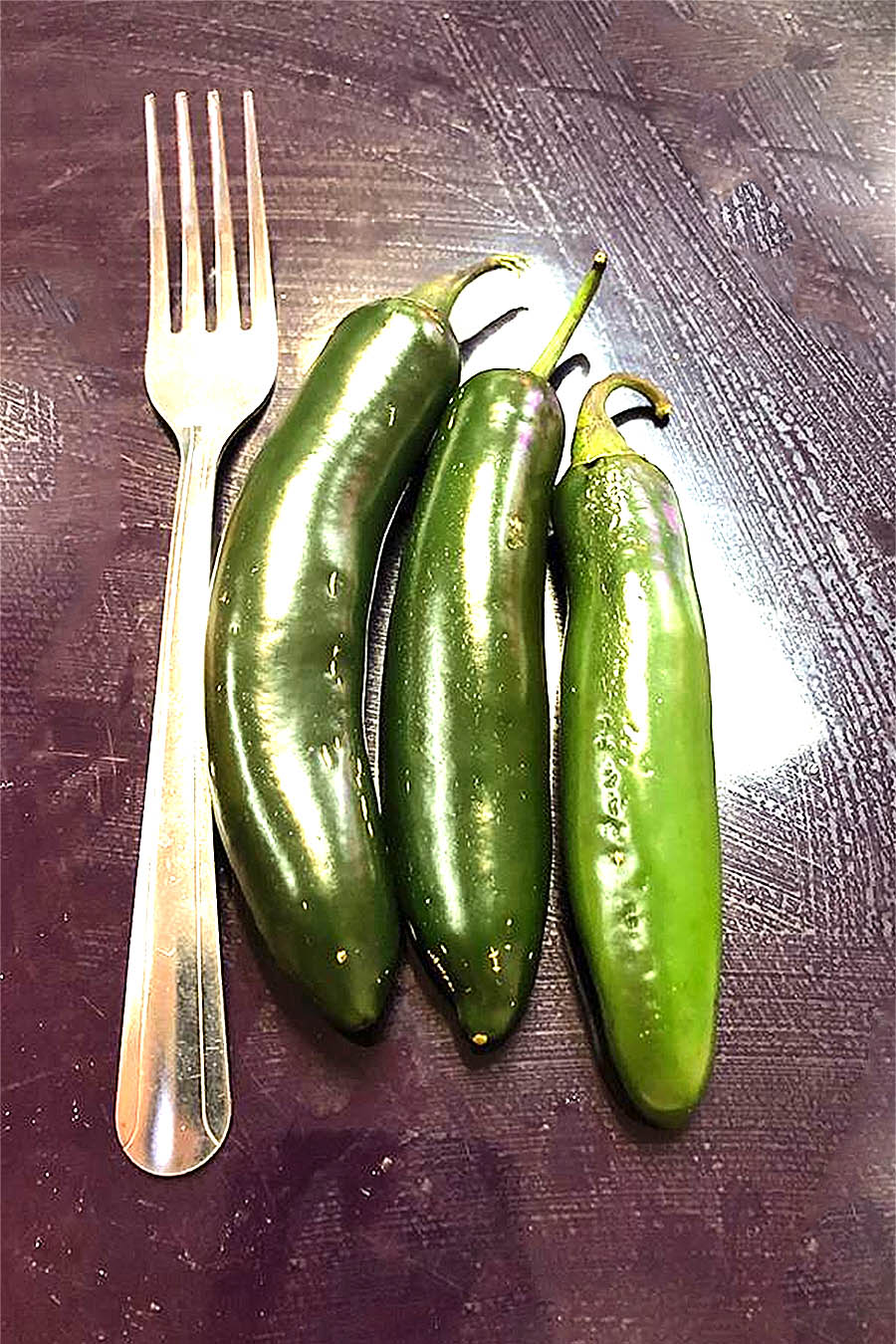 A typical serrano pepper is smaller than a typical jalapeno pepper, similar in color. They generally grow between 1 – 4 inches long and about 1/2 inch wide though they have been known to grow longer.
They typically range from 5,000 to 23,000 Scoville Heat Units, though the NuMex CaJohns Serrano has been selectively bred to be longer and wider, and at the milder end of the SHU range. Learn more about the Scoville Scale here.
Pod and Plant Characteristics
Pod Length: 4.5 inches
Pod Width: 1 inch
Weight of 10 pods: 1 pound
Weight of pods on 1 plant: 59 ounces
Average number of pods per plant: 60
Plant Height: 25 inches
Plant Width: 18 inches
Heat Level: 5000 SHU
Development of the NuMex CaJohns Serrano
Over a six-year period, serrano plants with superior characteristics were selected.
Plant selections were made every year for the best horticultural traits, including:

Jumbo sized pods
Serrano fruit shape
Mild heat level
Dark green to red transition
High yielding

Each year selected plants were stripped of set fruit and open flowers placed under insect proof cages to produce selfed seed.
NuMex CaJohns provided all of the favorable characteristics and greatest uniformity.
My Personal Connection
I jumped for joy when I heard about the honor for John, "CaJohn" Hard. He's done so much for the spicy food community and is a mentor to many. He gave me some great blurbs for my last 2 cookbooks.
He is greatly appreciated in the chilehead community.
CaJohn provided the photo of the NuMex CaJohns Serrano, taken beside the fork for scale. They are quite huge! Thanks, CaJohn!
He also provided me with this information from the Chile Pepper Institute, which I've shared below.
From the Chile Pepper Institute
CaJohns Fiery Foods got its start in 1996 by John Hard, a Fire Protection Engineer, who had a passion for hot sauce & spicy food. Sue, his wife, was raised on the Mississippi Coast. John opened CaJohns Fiery Foods and went to the Fiery Foods Show in Albuquerque, NM to expand his retail offering of products and that is where he met the Chile Pepper Institute (CPI).
In 2006 John and Sue visited the CPI to tour and visit its annual Teaching Garden and decided that they wanted to create a hot sauce for the Institute with the newly discovered Bhut Jolokia (Ghost Pepper), the first chile pepper to reach 1 million SHU.
The hot sauce was a huge success and several other products followed, including barbecue sauce, salsa, taco sauce, and spicy rubs. All of these products have helped raise money for the endowed chair for chile pepper research at NMSU.
John and sue also started a scholarship for undergraduate students. In honor of CaJohns, the NMSU Chile Breeding Program develops a jumbo serrano pepper in their honor.
Serrano chile peppers are extremely popular in Mexican and New Mexican cuisines. Serrano chile peppers are used in salsa, sauce and pico de gallo.
Jumbo size pods in chile pepper varieties have become increasingly popular over the last five years and have created a higher value market which provides opportunities for small-scale farmers to transition from traditional low-value commodities toward products with greater value.
Seeds are available online at cpi.nmsu.edu, though not until 2020.
Relevant Links