Grinding your own meats results in higher quality burgers, sausages and more, saves money, and tastes better. Learn how to grind your own meats.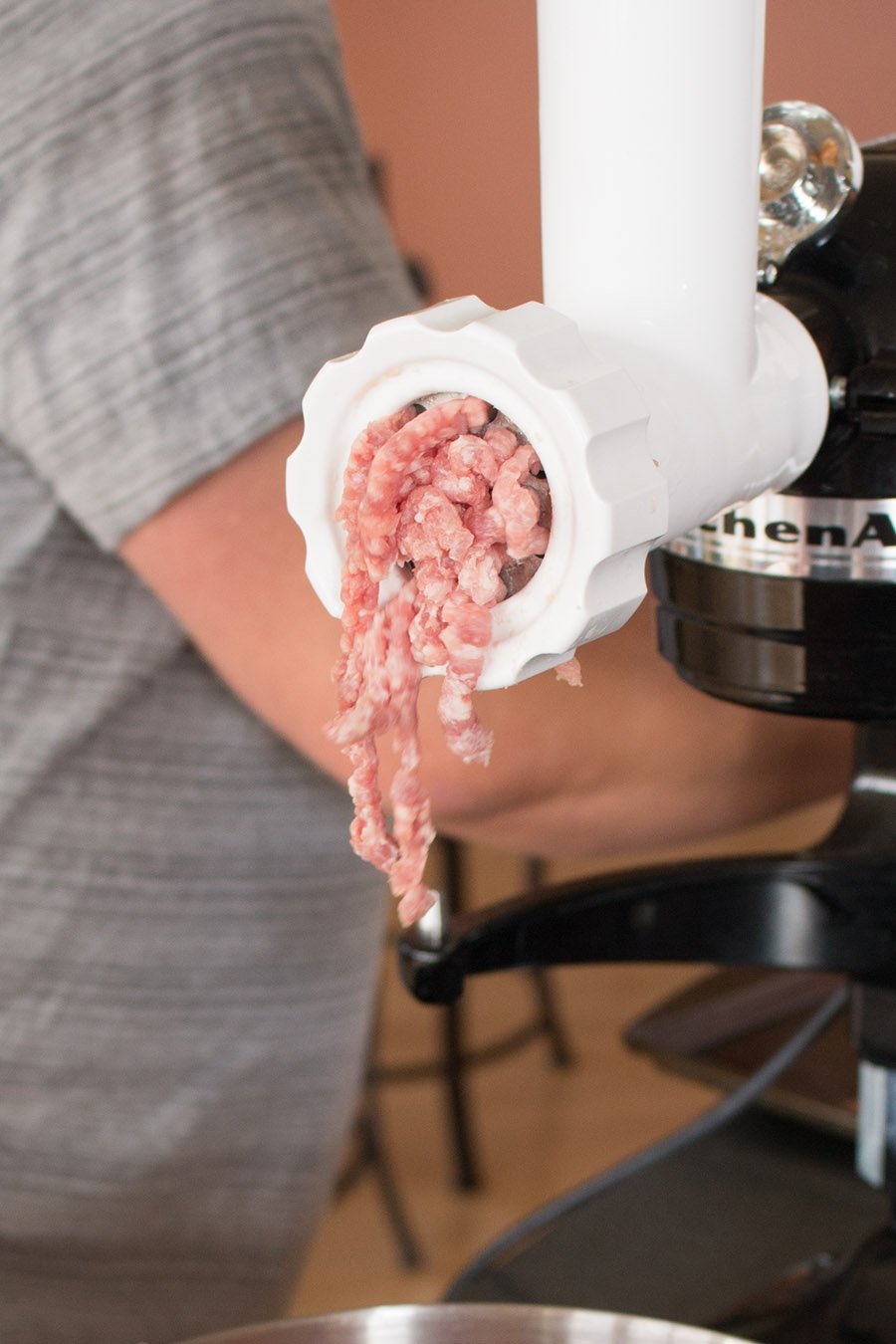 Are you a Burger Boss? Sausage Specialist? Meatloaf Maestro? Take your home cooking up a notch by grinding your own meats at home and REALY make an impression.
Grinding your own meats at home is a simple thing with the right equipment, and the results are rewarding for those with a creative spirit. Grinding my own meats allows me to create different blends of ingredients for all sorts of dishes and meals.
Just this weekend I ground 11 pounds of meats, including chuck, pork shoulder, and chicken breast. I combined them in various ratios with other ingredients, and now I can reach into my freezer and pull out a couple of Mexican style chorizo and beef burgers for a quick lunch, or perhaps some homemade breakfast sausage for breakfast sandwiches, or even a few chicken sausage links with jalapeno and smoked gouda to toss on the grill.
Did I even mention the meatballs I made that night? Oh baby. AWESOME MEATBALLS.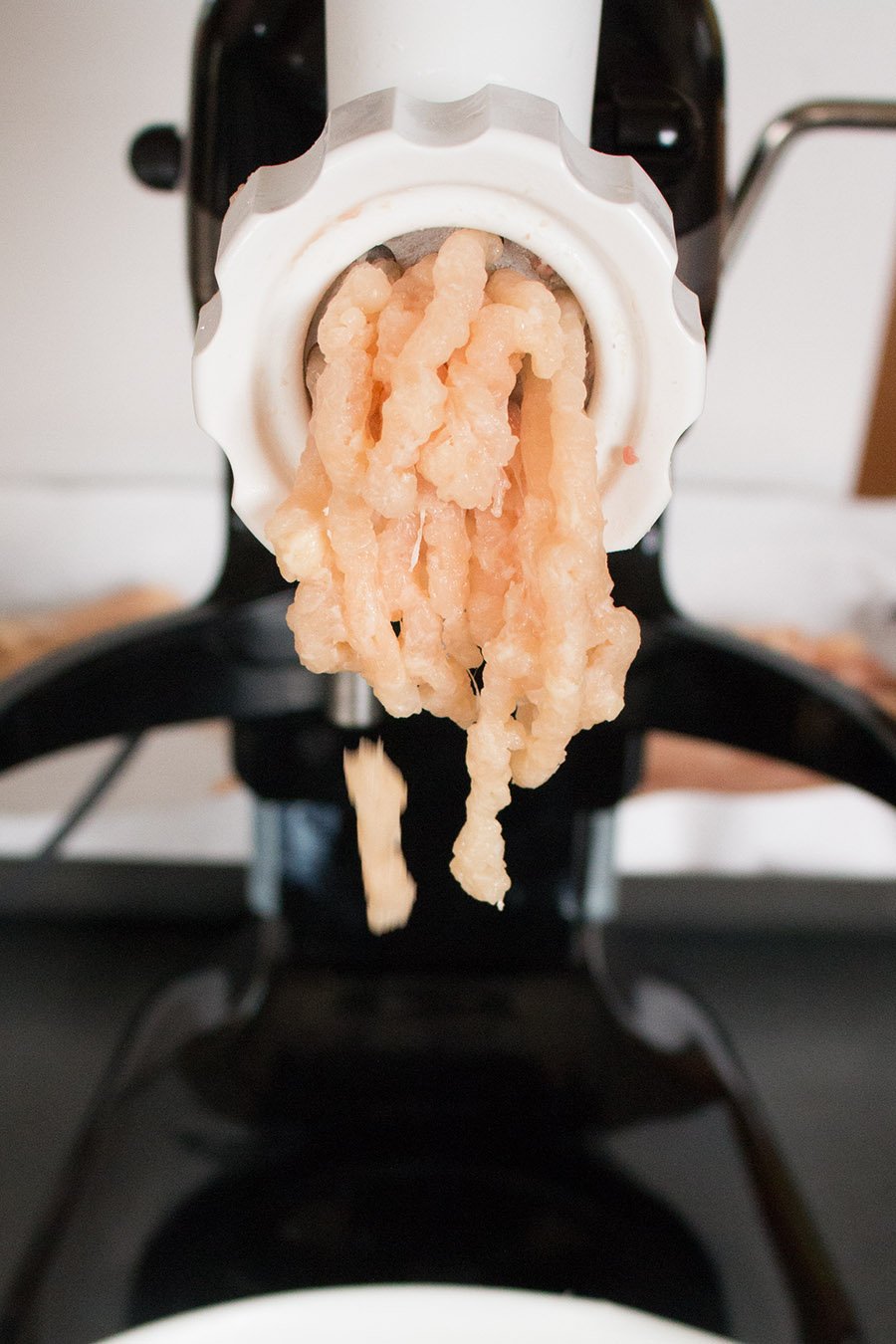 Why Grind Your Own Meats?
In a word: FLAVOR. Grinding your own meats results in higher quality burgers, sausages and more, and tastes so much better. Sure, you can purchase pre-ground meats from the grocer and I often do for convenience, but you'll achieve a far more intense flavor from meat that has just been ground versus ground meat that has been sitting in your butcher's case for days.
If you're looking to make a truly stellar burger or sausage, grinding your own meat is the way to go.
In another word: TEXTURE. With store bought ground meat, you often get a mealy texture. Not so when you grind your own meat. You can chop it to your own liking to achieve something dense and substantial.
Go for a finer grind for foods like meatballs or meatloaf where you want more compaction, or a courser grind where you prefer something light and juicy, like burgers or sausages.
If you're interested in making your own ground meats at home, here are a few tips to help you. They work for me.
Grinding Your Own Meat – The How
Equipment
I currently use a meat grinder attachment that connects to my KitchenAid stand mixer. I can't recommend this enough. Using a powered meat grinder will save you time and energy.
I used to use a manual grinder with a hand crank. It would clamp onto the end of the counter, but it often slipped, which made the process more difficult. If you're just starting out, you might want to go with a manual grinder, just to test the waters.
They're inexpensive and will help you learn whether or not grinding your own meats is for you.
You can also use a food processor or hand chop meats, though these methods take quite a bit more effort.
Choose Your Meat for Grinding
The choice is yours! Truly, any and all meats are open season for grinding, so you can grind and combine to your own palate pleasure. As mentioned above, I enjoy making combinations. Think Beef-Pork Meatloaf or Pork-Chicken Meatballs.
One suggestion, however, when choosing – consider your fat ratios. There is a reason 80/20 is preferred. Cheaper, fattier cuts of meat are ideal for grinding.
These cuts don't do well with other cooking methods, but stand out substantially when ground. If you can get your mixtures to close to 20 percent fat, you'll be happy.
Once you've chosen your meats, it's time to get grinding.
How to Grind Meat – The Steps
First, cut your meats into 1 to 2 inch slices then set them onto a large baking sheet. The end goal is to ensure they can fit into the grinder spout easily. Cover them in plastic and set them into a freezer for about a 30-40 minutes.
You want the meat to be cold and firm, but not frozen. This will help reduce the gumming up of meat at the grinder head, which can easily happen with more pliable meat.
Fat in particular has a tendency to smear up, so chilling the meat first is vitally important. I cut mine into strips and it worked out just fine.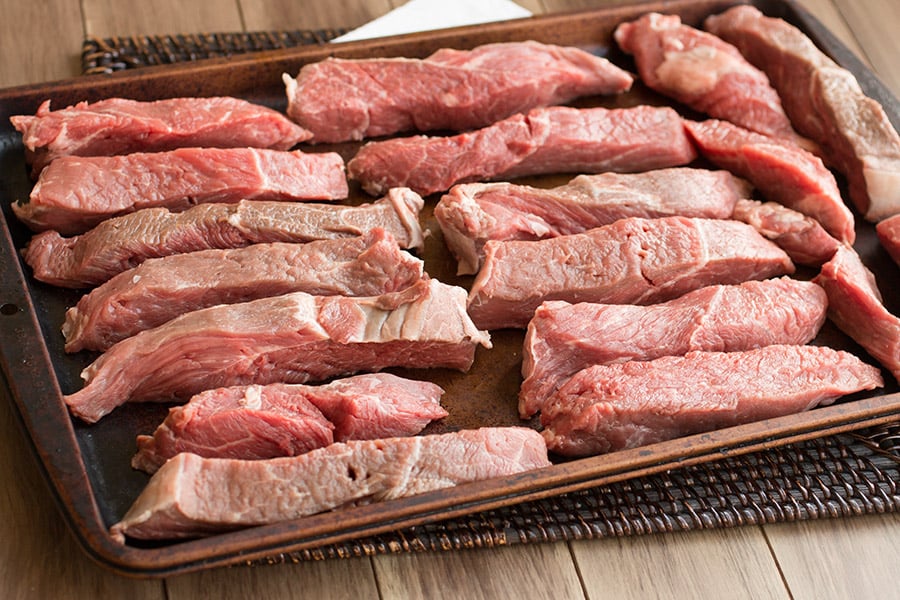 Also, freeze the grinder as well. You want to keep everything cold to make this process easy.
Second, set up the grinder and feed the meat into the top. With your KitchenAid, use a higher speed to keep the process moving quickly. Stuff the meat down with the handheld attachment, the stomper, and let the grinder to the work.
Set a chilled bowl below the spout and let the beautiful ground meat spill into it.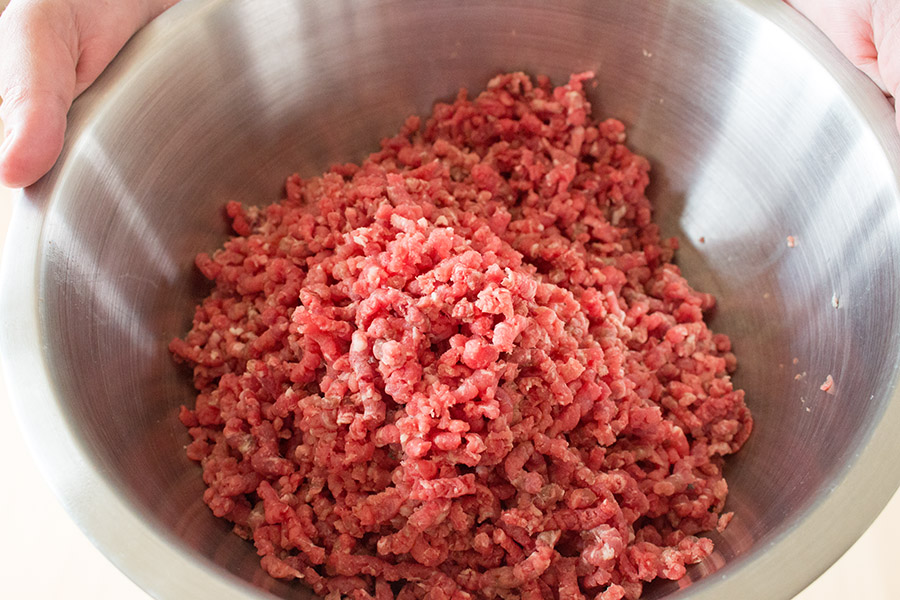 As always, practice cleanliness and keep your hands and workstation clean.
Next, decide on your finished product and flavor combinations. Will it be Beef-Veal Meatloaf tonight? Chicken and Cheese Brats? Homemade chorizo? Cajun Style Beef Burgers? Italian Sausages? The choice is yours!
Here is what we made from our meat grinding session. My plan is to post the actual photos of these final recipes on the blog in the future and to refer back to this post.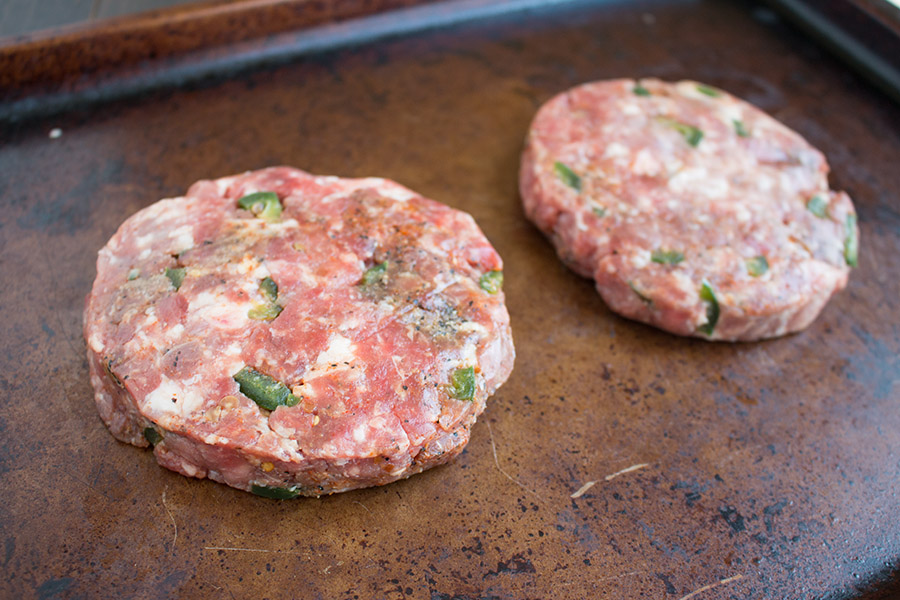 Batch #1 – Breakfast Sausage Patties inspired by Bon Appetit – yields 8
1 pound pork shoulder
1 tablespoon thyme
2 teaspoons light brown sugar
1 ½ teaspoon salt
1 teaspoon toastedcrushed fennel seeds
½ teaspoon crushed red pepper flakes
¼ teaspoon black pepper
¼ teaspoon garlic powder
¼ teaspoon paprika
Batch #2 – Italian Chicken-Pork Burgers – yields 4 6-ounce burgers
12 ounces chicken breast
12 ounces pork shoulder
½ cup parmesan cheese, grated
½ teaspoon each of:
Thyme
Toasted fennel, crushed
Salt
Pepper
Garlic
Paprika
Red pepper flakes
Batch #3 – Cheesy Jalapeno Chicken-Pork Sausages – yields 4 sausages (we had the leftovers as burgers and they were super juicy and amazing)
16 ounces chicken breast
4 ounces pork shoulder
4 ounces smoked gouda, shredded
1 jalapeno, chopped
1 ounce beer (cream ale)
1.75 teaspoons salt
½ teaspoon of:
cayenne, parsley, onion, pepper, paprika, garlic
Batch #4 – Italian Habanero Chicken Sausages – yields 2 sausages
10 ounces chicken breast
1 habanero, cored, deseeded and chopped
Parmesan
Beer (cream ale)
2 tablespoons fresh basil, chopped
1 teaspoon salt
1 teaspoon pepper
1 tablespoon paprika
1 tablespoon garlic
¼ teaspoon toasted, crushed fennel
Batch #5 – Mexican Pork Burgers – yields 2 6-ounce burgers
12 ounces pork shoulder
1 ounce tequila
2 tablespoons breadcrumbs
1 ½ tablespoons guajillo-ancho paste
1 tablespoon garlic
1 teaspoon salt
1 teaspoon pepper
1 teaspoon cayenne
1 teaspoon white pepper
½ teaspoon cumin
Batch #6 – Salt & Pepper Burgers – yields 2 6-ounce burgers
12 ounces ground chuck/beef
1 teaspoon salt
1 teaspoon pepper
Batch #7 – Handmade Jalapeno Mexican Burgers – yields 4 5-ounce burgers
10 ounces pork shoulder
10 ounces beef chuck
1 jalapeno, diced
1 teaspoon salt, pepper, onion, coriander, paprika
1 tablespoon garlic, red pepper flakes
½ teaspoon cumin
Batch #8 – Handmade Cajun Burgers – yields 4 5-ounce burgers
10 ounces pork shoulder
10 ounces beef chuck
1 jalapeno, chopped (bell pepper)
1 teaspoon salt, pepper, paprika, thyme
1 tablespoon garlic, cayenne
½ teaspoon sage
Patty's Perspective: It's summertime and I absolutely LOVE grilled sausages or burgers, but I've grown to NEED bold and spicy flavors at every turn. Store bought burgers just aren't going to cut it. While Mike does all the cooking in the house, I enjoy helping with cooking projects like this one, planning out the recipes and definitely enjoying them. I dida lot of research for the types of mixtures we'd want to have, and we got a great variety for later quick and easy meals. Maybe we went a LITTLE overboard, but it was fun!
Here are some links to the tools I use at home for meat grinding. They're affiliate links with Amazon. FYI. Enjoy the end results! Get grinding!
KitchenAid KSM150PSER Artisan Tilt-Head Stand Mixer with Pouring Shield, 5-Quart, Empire Red
- I LOVE this thing!
KitchenAid Food Grinder Attachment for Stand Mixer with Bonus Sausage Stuffer