This homemade fire cider recipe is a healthy folk remedy tonic that aids digestion, helps ward off the flu and common cold, among other health benefits.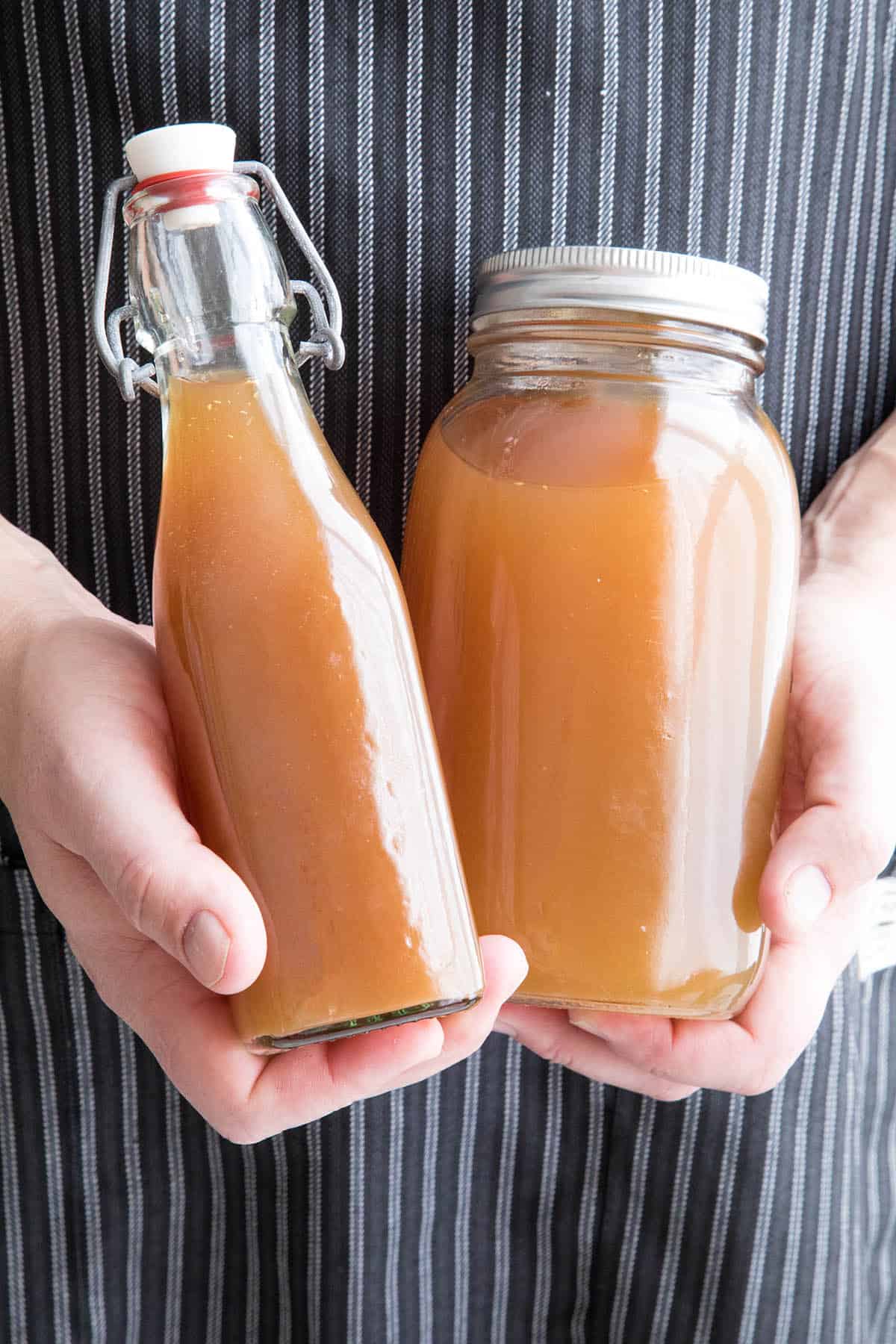 As I began to delve into the world of fermenting for making hot sauces and other recipes from my garden grown fruits and vegetables, I inevitably came across "Fire Cider".
If you haven't heard of Fire Cider, it is basically a very tangy tonic of raw, unfiltered apple cider vinegar infused with healthy root vegetables and other natural ingredients.
What is Fire Cider?
Fire cider has been long touted as an herbal remedy for generations, said to combat the flu and even the common cold among other things, including aiding digestion and boosting the immune system.
We became interested in Fire Cider tonic because Patty had developed some stomach ailments related to digestive problems and we were looking for something more natural to help her.
It is typically made with raw, unfiltered apple cider vinegar containing "The Mother", which is a collection of proteins and friendly bacteria that assists with digestion.
The vineger is infused with onion, ginger, horseradish, peppers, garlic and fruits, though you'll find that some recipes vary in the specific ingredients and ratios.
For example, we've found that onions sometimes cause Patty some digestive discomfort, so we've omitted them from our recipe.
Let's discuss how to make fire cider!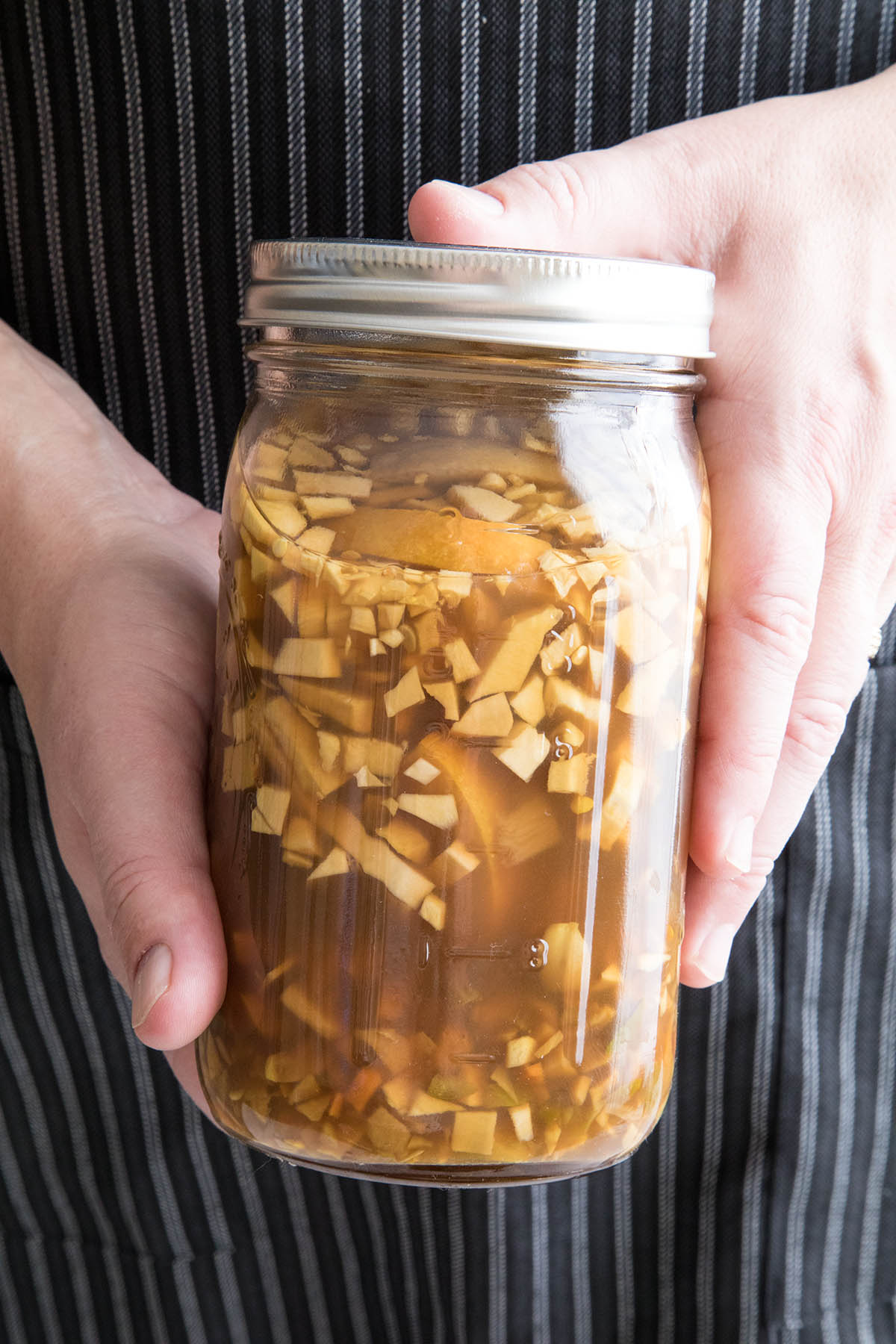 Fire Cider Ingredients
Fresh Horseradish Root.
Ginger Root.
Turmeric Root.
Garlic.
Pepper Mash. You can use fresh peppers for making fire cider, but we enjoy the additional benefits of fermented peppers, or pepper mash. Use any hot peppers you like, or omit for a milder version. Cayenne pepper is a nice addition for extra heat.
Citrus. Orange and lemon, though you can use others.
Black Peppercorns.
Raw Unfiltered Apple Cider Vinegar. With "The Mother".
Honey. If you desire a touch of sweetness, use 1-2 tablespoons raw honey.
How to Make Fire Cider - The Recipe Method
Making homemade fire cider is quite simple. In a nutshell, you'll scrub and peel all of your root vegetables, and scrub all of the fruits.
Everything gets chopped or diced, then set into a couple of large sealable jars.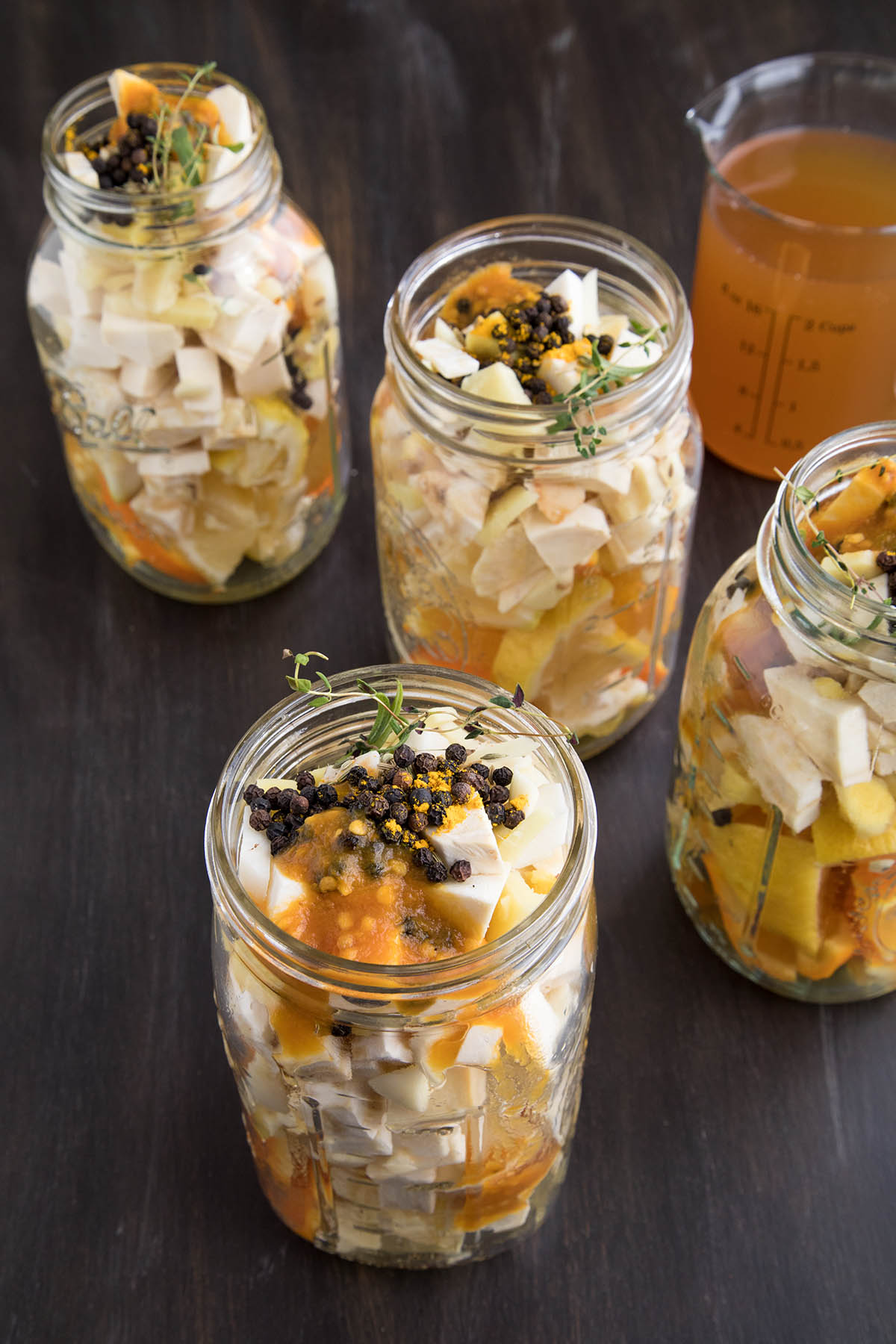 Pour raw, unfiltered apple cider vinegar over the ingredients and give them a solid shake.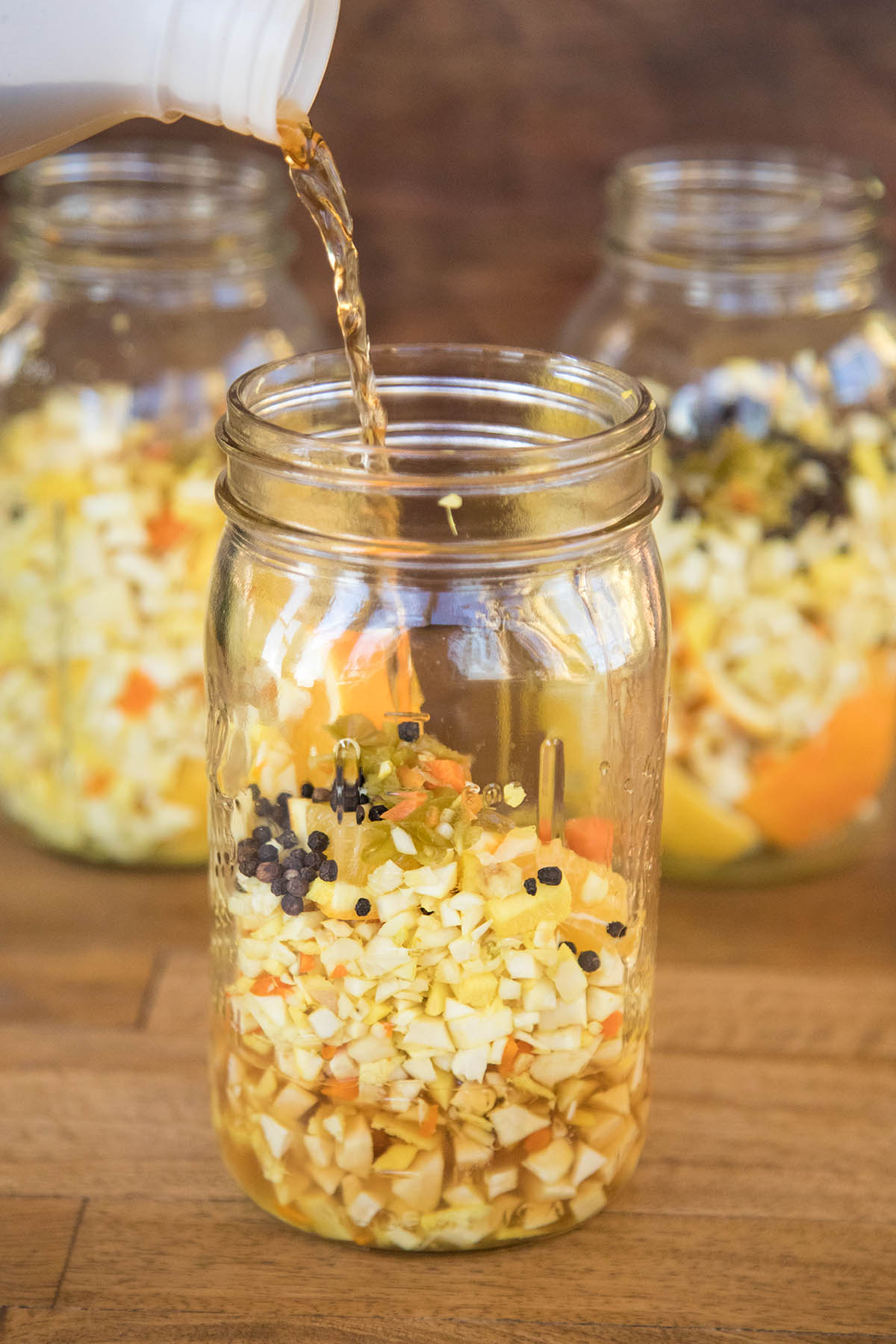 Set it into a cool, dark place and let the vinegar become infused with the ingredients for about a month or so.
As mentioned, ingredients can vary, as long as they are healthy and natural, such as fruits, vegetables, herbs and spices.
With fire cider, you have a natural drink that helps boost the immune system during cold and flu season.
You can easily adjust the sweet-sour balance - just add honey as desired.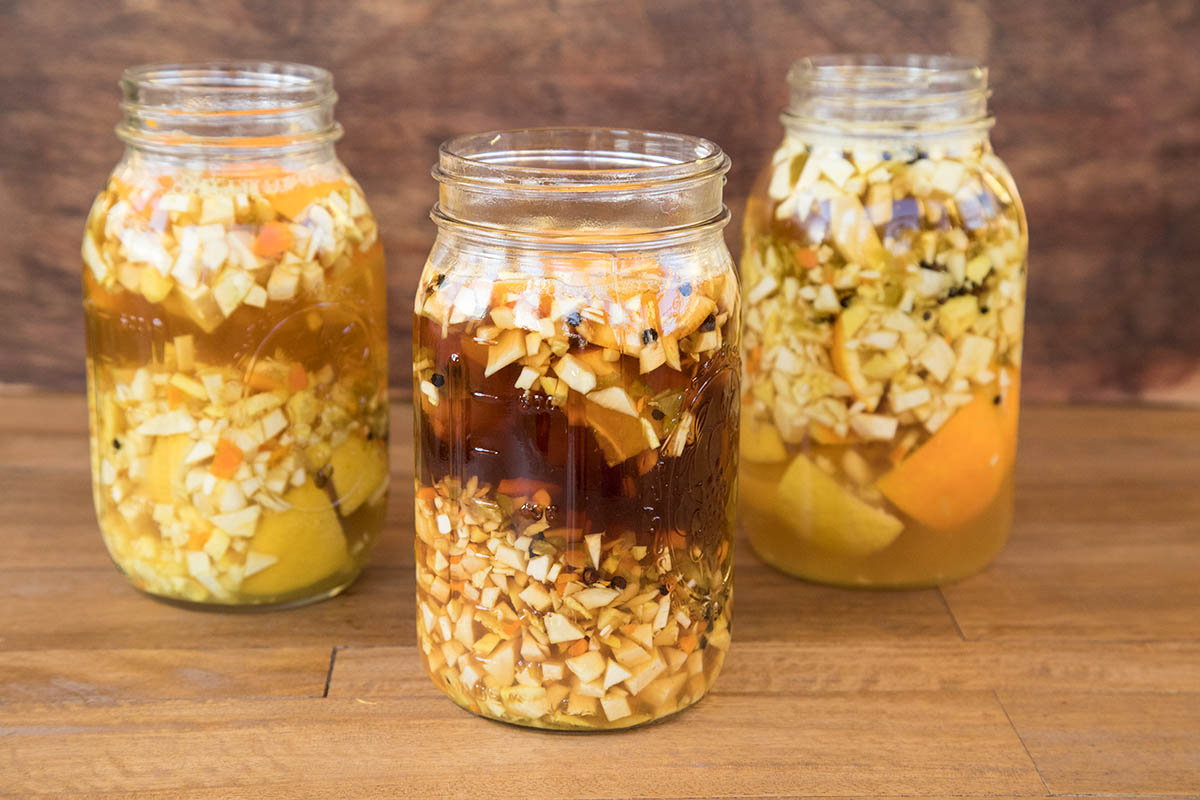 Boom! Done! Your fire cider is ready to serve. It is quite easy to make, and ready to help you stay healthy.
Fire Cider Benefits
Fire cider is touted as a natural remedy to help you fight seasonal illnesses like the common cold, flu, and COVID.
It provides a boost to your immune system and has anti-viral and anti-bacterial, and anti-inflammatory qualities.
It can also ease congestion and assist with digestion.
Using Fire Cider
I can tell you, it's great stuff on a cold winter day. Take a shot of it and feel the warmth from the spicy chili peppers.
If you feel it will be too spicy, you can easily cut back on or omit the peppers, though I would encourage you to keep them for the great Health Benefits of Chili Peppers.
You can also incorporate it into other foods and drinks, like tea or with your salad dressing.
We used a bit of fermented habanero pepper mash with our recipe, though fresh chili peppers are more traditional.
We were looking for the additional health benefit of the fermented mash.
See How to Make Fermented Pepper Mash for more information on that.
Why Make Fire Cider at Home?
Making fire cider at home not only allows you to control what goes into your end product, but it is WAY cheaper to make at home. When we were looking into fire cider to help with Patty's digestive issue, we were both surprised at how expensive it is to purchase.
There are a few products available on the market, and WOW were they pricey. We can make a large batch at home for a fraction of the cost of store bought fire cider, and we can make it as hot as we want it.
Keep it on hand as a natural health and immunity booster. Take a tablespoon or two per day, or a tangy shot whenever you're in the mood.
If you feel your fire cider is too tart, swirl in a bit of honey to sweeten it up.
I hope you enjoy your homemade fire cider, my friends! Shoot over your questions. We're happy to discuss.
Fire Cider Variations
You can use different fresh herbs, spices and root vegetables in your fire cider recipe. If a particular ingredient doesn't agree with you, such as onions or horseradish, omit them and replace them with something more palatable.
Consider the world of herbs available to you, other spice powders, berries, fruits, and of course, the entire world of chili pepper types out there.
How Long does Fire Cider Keep and Should it Be Refrigerated?
Fire cider will last many, many months, as it is basically infused vinegar or herbal vinegar.
I keep ours in the fridge where it will last almost indefinitely, though it really only lasts a few months TOPS for me.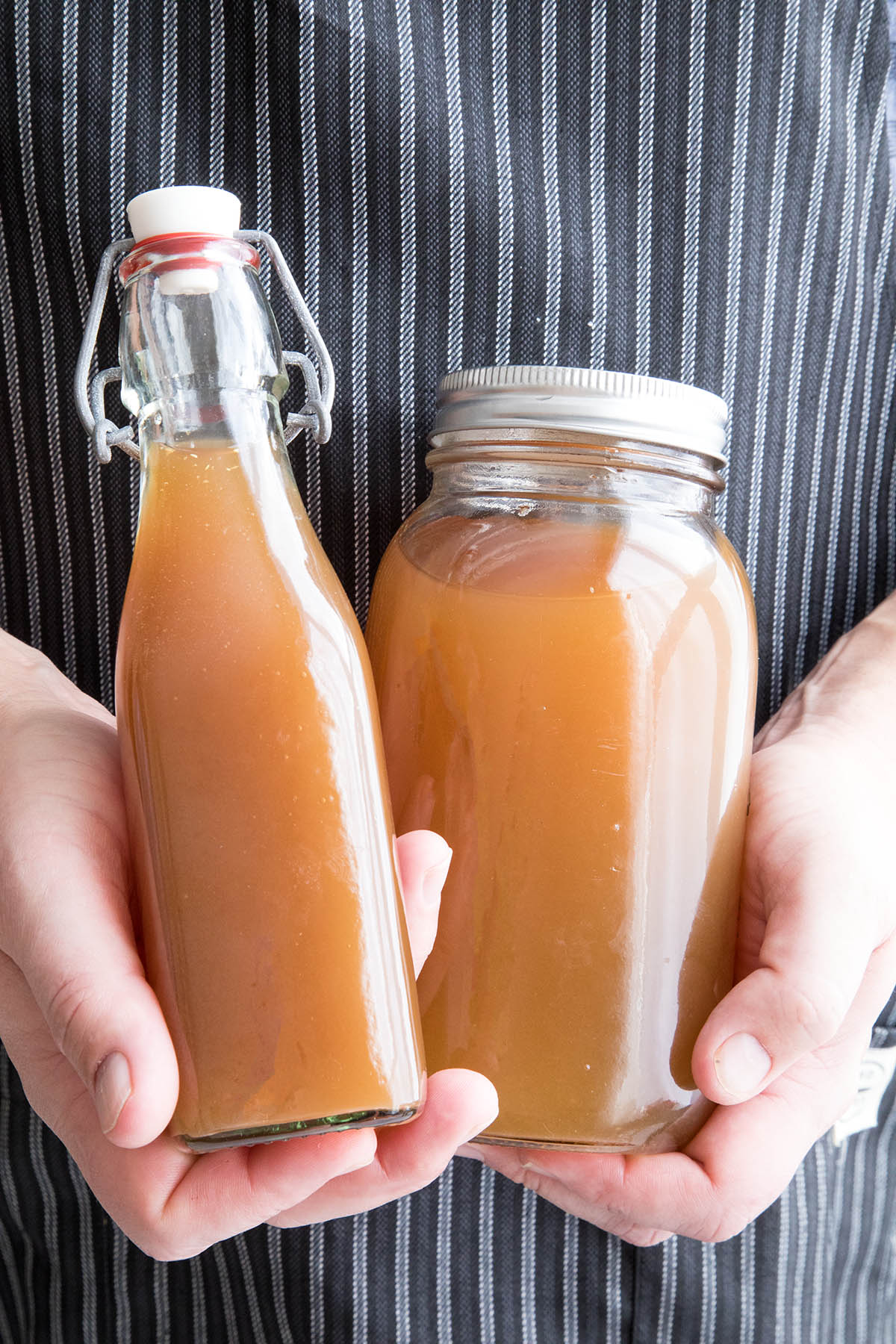 Patty's Perspective
"The biggest reason I wanted to make this is because of my recent digestive issues. I wasn't sure how well it would work for me, but was pleasantly surprised (if not ecstatic) at how well it is working for me.
Now I have little to no symptoms and have been able to cut back on other pills I was taking. It's a big relief. Highly recommended. We plan to keep experimenting mainly with flavors.
I even took it with us on vacation, it's that good for me."
If you try this recipe, please let us know! Leave a comment, rate it and tag a photo #ChiliPepperMadness on Instagram so we can take a look. I always love to see all of your spicy inspirations. Thanks! -- Mike H.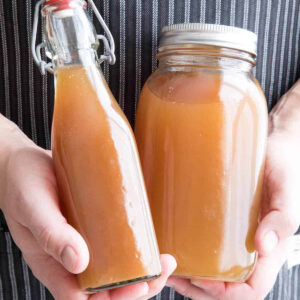 Print
Homemade Fire Cider Recipe
This homemade fire cider recipe is a healthy folk remedy tonic that aids digestion, helps ward off the flu and common cold, among other health benefits.
Save Recipe
Saved!
Ingredients
1 6-7

inch

horseradish root

scrubbed, peeled and finelydiced

1 6-7

inch

ginger root

scrubbed, peeled and finely diced

1 6-7

inch

turmeric root

scrubbed, peeled and finely diced

2

heads garlic

peeled and finely diced

6

tablespoons

habanero pepper mash

See How to Make Fermented Pepper Mash or use 3-4 fresh habanero peppers, chopped

1

orange

quartered

1

lemon

quartered

3

tablespoons

peppercorns

2

quarts

raw

unfiltered apple cider vinegar (with The "Mother")
Instructions
Add all of the ingredients to a couple of 2-quart Ball jars or canning jars. Make sure there is enough raw apple cider vinegar to cover the ingredients.

Shake and let sit in a cool, dark place like your cupboard for 4 weeks, shaking occasionally.

Strain and use as needed.
Notes
NOTE: You can add in a bit of honey if you'd like a sweeter version.
Yield: About 1.5 quarts or so.
The calories are based on about 1 tablespoon per serving.
See How to Make Fermented Pepper Mash for more information.
Nutrition Information
Calories:
11
kcal
Carbohydrates:
1
g
Sodium:
1
mg
Potassium:
24
mg
Vitamin A:
25
IU
Vitamin C:
5.3
mg
Calcium:
7
mg
Iron:
0.1
mg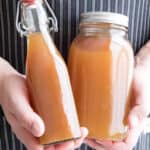 Did You Enjoy This Recipe?
I love hearing how you like it and how you made it your own. Leave a comment below and tag @ChiliPepperMadness on social media.
NOTE: This recipe was updated on 12/5/22 to include new information. It was originally published on 2/7/18.