A healthy, crisp snack recipe of sugar snap peas tossed with hot sauce and chili flakes, then dehydrated to crunchy perfection. High in fiber with a great spiciness. Make them at home!
Bust out the dehydrator, my friends! It's time to make what just may become your new favorite snack. We LOVE this stuff, especially Patty, who just can't get enough of them. This is why you need to own a dehydrator, for making crunchy munchies like these. Now that the new year has begun, many of us are recommitting to healthier cooking and snacking. I know we are. With a dehydrator, you don't have to make unreasonable sacrifices. You can substitute some of your favorite vices with healthier options like these.
We're talking crispy, crunchy sugar snap peas that have been drenched in your favorite hot sauce, a healthy dose of spicy chili flakes and a bit of salt, then dried in your dehydrator until they crackle.
YES!
I used to dehydrate any sweet sugar snap peas I had left over from other recipes so they wouldn't go bad in the refrigerator, but now I buy them specifically for this recipe. Seasoned with hot sauce and spicy chili flakes, they offer up a zesty crunch when dehydrated. They're the perfect healthy snack.
Making them is a "snap!" Haha. Sorry, couldn't resist. In a nutshell, take 3 cups of fresh sugar snap peas and toss them in a bowl with a couple tablespoons of your favorite hot sauce, 1 tablespoon of spicy chili flakes, and a teaspoon of salt. The choice of hot sauce is up to you. Choose a good artisan sauce or go with something commercial like Tabasco or a sriracha.
Toss it all together until the peas are evenly coated. Feel free to use more hot sauce to your liking. Sauce those babies up! Nice and spicy for you!
Lay the spiced snap peas out onto dehydrator trays and dehydrate them at 135 degrees F for 6-8 hours, or until they dry through completely. I like to open up the dehydrator a few hours in and shake up the peas a little bit to speed up the drying. You don't want any moisture remaining. They should be very crisp and brittle and should snap when you apply pressure.
Boom! Done!
Easy enough, right? These should last you a while, so feel free to make an extra large batch. Just store them in airtight baggies in a cool, dark place. Spicy, healthy, crunchy homemade snacks at your service!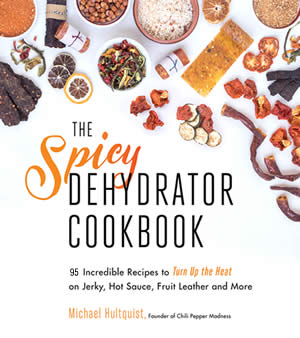 Want MORE creative dehydrator food/snack recipes? Check out my cookbook - The Spicy Dehydrator Cookbook, with 95 recipes. I hope you like it!
Spicy Homemade Snap Pea Crisps - Recipe
Ingredients
3 cups fresh sugar snap peas
2 tablespoons of your favorite hot sauce
1 tablespoon spicy chili flakes
1 teaspoon flaky sea salt
Cooking Directions
Toss the snap peas, hot sauce, chili flakes and salt in a bowl. Be sure to get every sugar snap pea nicely coated with the sauce and ingredients.
Spread the sugar snap peas over dehydrator sheets and dry them at 135°F for 6-8 hours, or until they are completely dried through. It helps to stir them up a bit after a few hours to dry more quickly. They should finish very dry and brittle.
Store them in an airtight container in a cool, dark place, or if you're like me, enjoy them right away.
Makes about 1-1/2 cups or so.