Jalapeno peppers sliced, stuffed with shredded chicken and cheese, then wrapped in bacon and broiled or grilled to crispy perfection. The ideal party appetizer. Here is the recipe.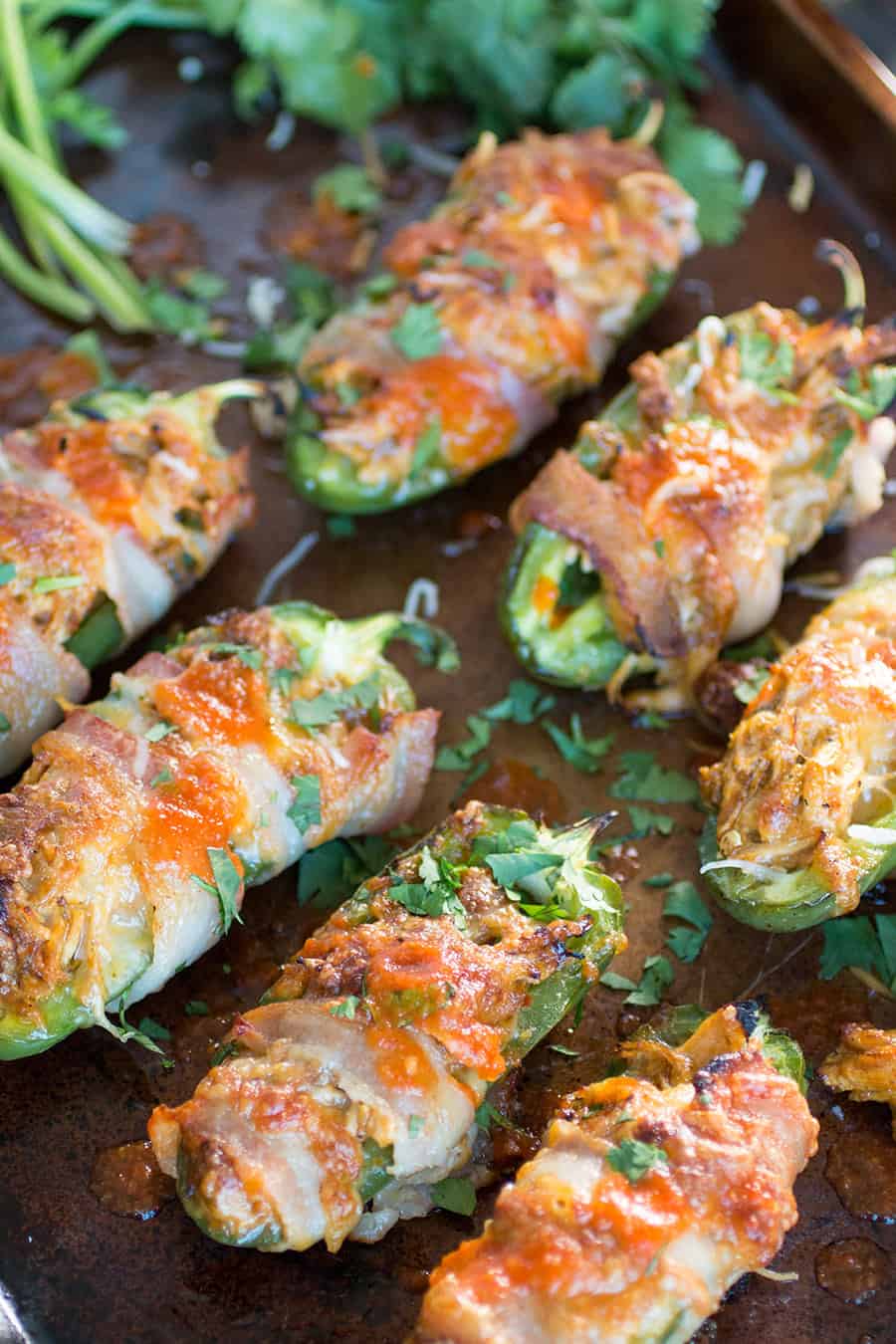 Someone once asked me when is the best time to serve jalapeno poppers. Um, hello? It's ALWAYS a good time to serve jalapeno poppers.
Even if you're stuck home all alone while your wife is out with the girls having herself a good ol' time and you feel like treating yourself to something fun and tasty.
Yes, that is an OUTSTANDING time to serve yourself up some crazy-delicious jalapeno peppers stuffed with seasoned chicken and cheese, all wrapped up in crispy bacon.
Um. Yeah. Bacon. Poppers. So-Dang-Good. #JalapenoPoppers. #JalapenoObsession. #JalapenoLove.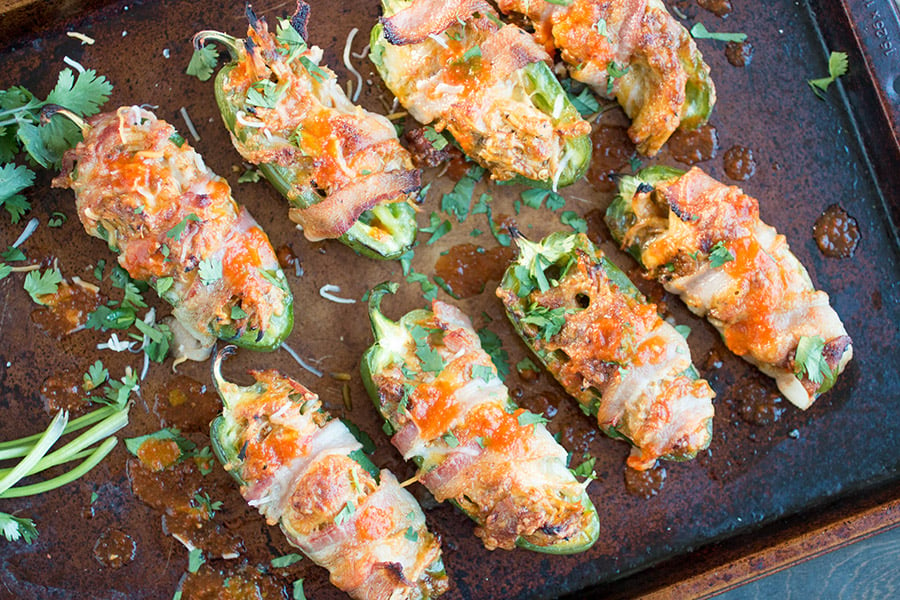 Or, perhaps when you're having a PARTY!
Yes, that is truly the BEST time to serve up jalapeno poppers. I don't really know anyone who doesn't like jalapeno poppers, except my one friend who can't eat anything spicy. You know who you are (cough *Jackie* cough).
She will scoop out the filling and enjoy it, though, even though I tell her the cored out jalapeno peppers really aren't very spicy at all. But we love her so.
I don't know how she puts up with me. Truly, everyone else gobbles up poppers like there aren't any other appetizers around to be had. People's heads perk when I walk onto the patio with a batch of freshly made jalapeno poppers and the entire tray is empty within moments. You may want to make a double batch of these.
Or triple.
They're quite easy to make, and you can prepare them ahead of time.
Making These Jalapeno Poppers - The Method
You'll get your chicken and cheese ready, slice the jalapeno peppers down the middle, core them out, and stuff them. Like so.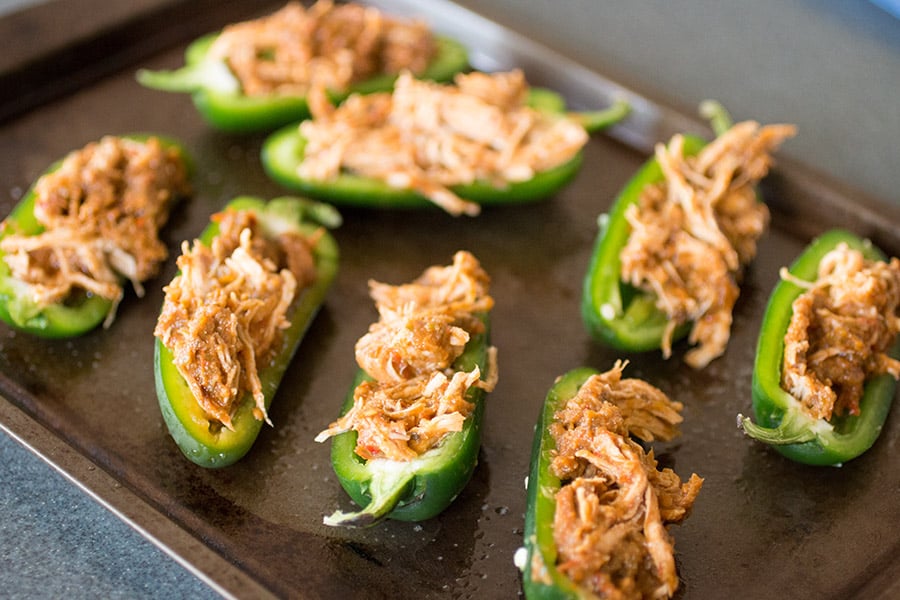 Top them with cheese. I used a simple Mexican blend, but you can use any type of melty cheese.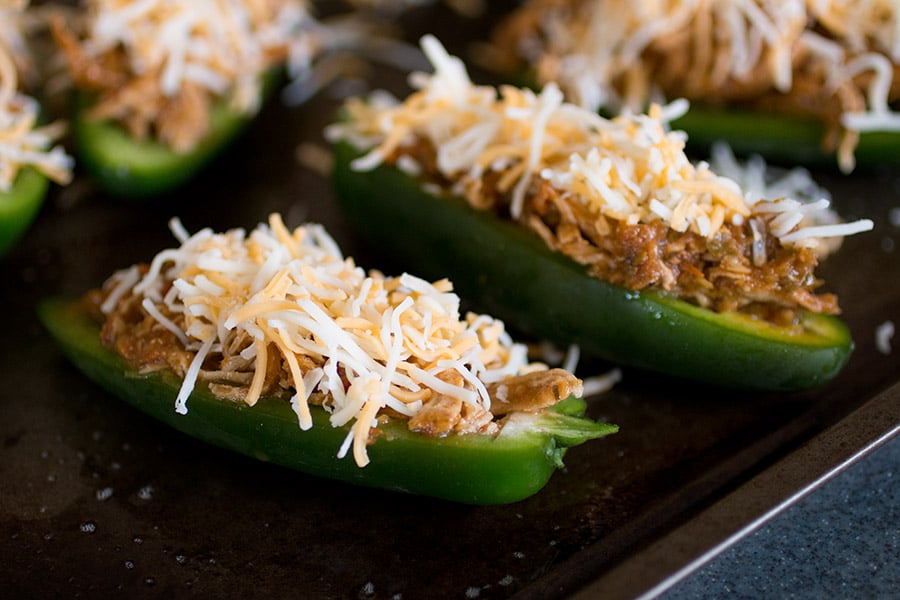 Then wrap them in bacon. I actually sliced the bacon down the middle lengthwise and wrapped each in a thin slice, but you can use the whole bacon slice for even MORE bacon.
More bacon is good. Truly.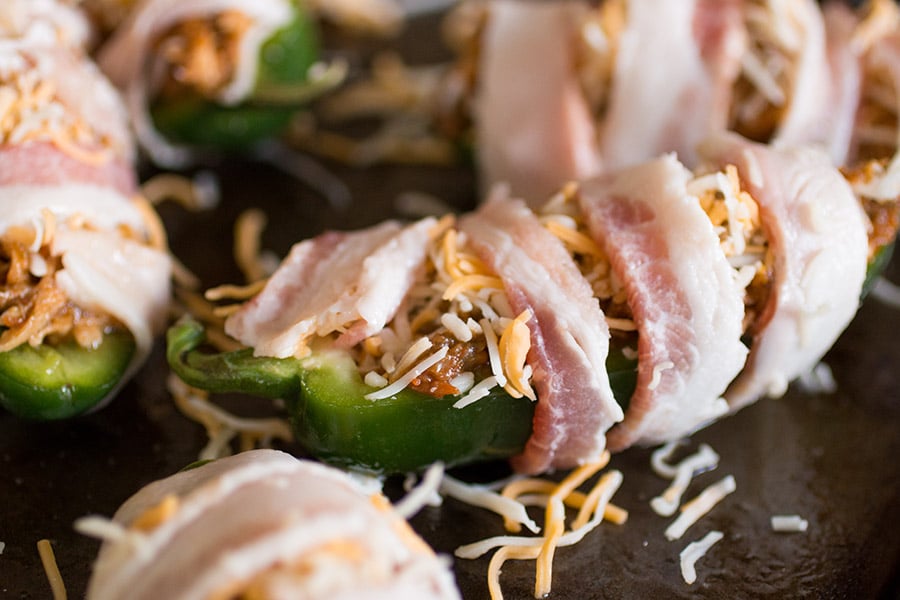 Keep them covered in the fridge and you can either bake them or grill them either just before or once your guests arrive. Better yet, bring them onto your deck or patio and let them watch you make them so anticipation builds and they'll be practically tipping over with excitement as they wait for your awesome creation.
You big tease.
The stuffing may vary based on the size of the jalapeno peppers, but figure you'll need roughly 1 to 1.5 ounces of stuffing per jalapeno pepper, so plan that out accordingly. I've had some jalapeno peppers that were simply HUGE, and some are smaller than average.
If you're grilling, you can use a baking pan if you'd like, or grill them directly over the grates and move them to indirect heat until the bacon crisps up. Just avoid burning the bacon.
Broiling is simple. You just pop them in and wait until they're done. Go have a beer or something. And then have some poppers. Then have some more. Oh baby!
Serve with hot sauce. Enjoy.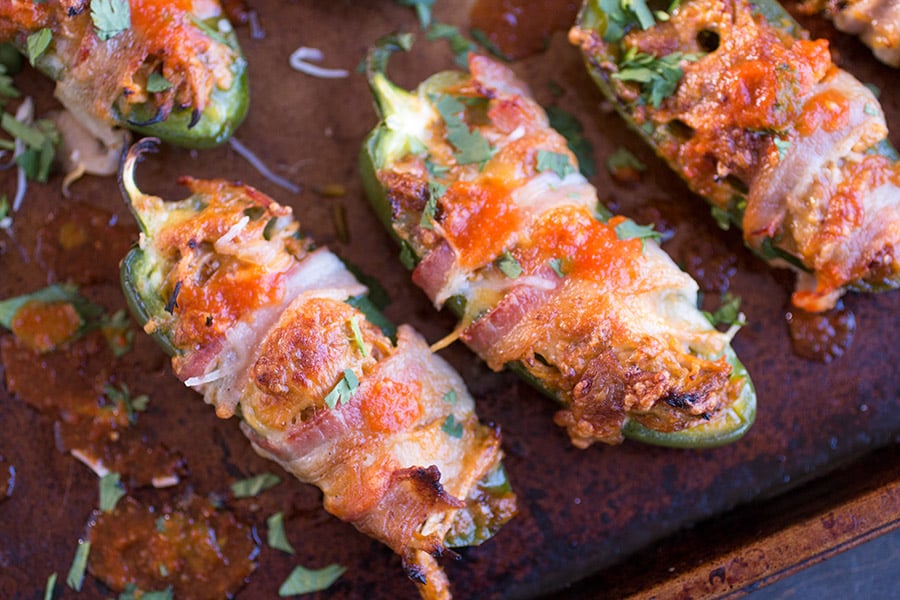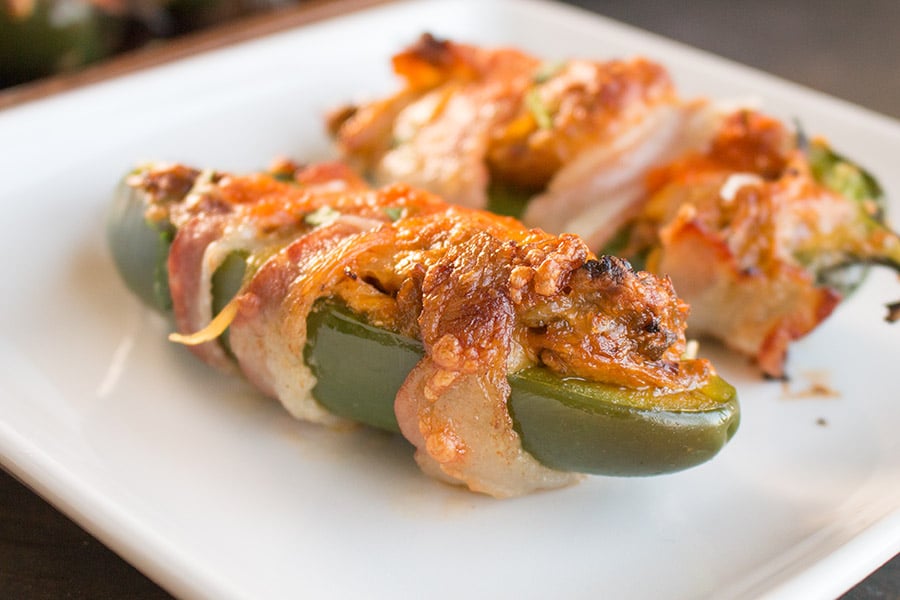 Try Some of My Other Popular Jalapeno Popper Recipes
Got any questions? Ask away! I'm happy to help. If you enjoy this recipe, I hope you'll leave a comment with some STARS. Also, please share it on social media. Don't forget to tag us at #ChiliPepperMadness. I'll be sure to share! Thanks! -- Mike H.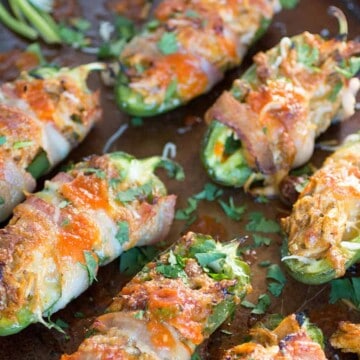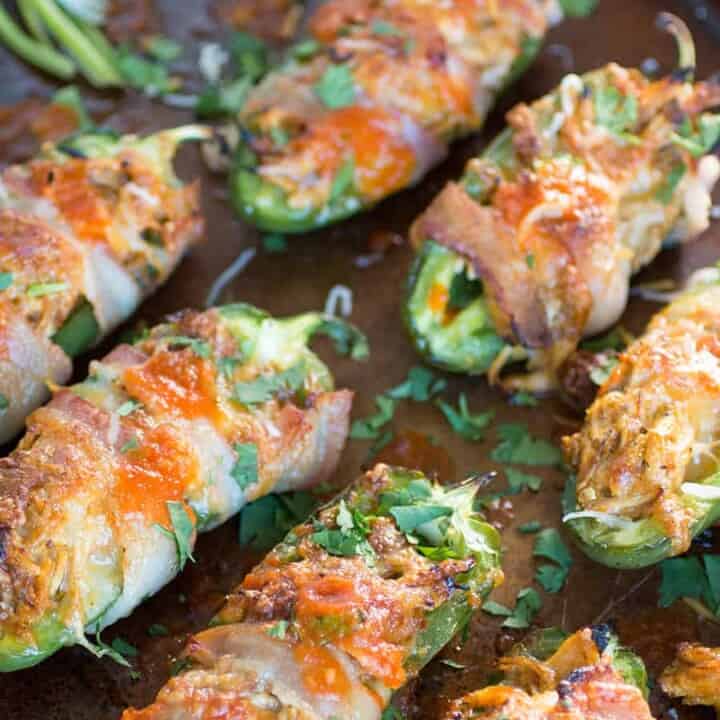 Print
Bacon Wrapped Jalapeno Poppers with Shredded Chicken and Cheese - Recipe
Jalapeno peppers sliced, stuffed with shredded chicken and cheese, then wrapped in bacon and broiled or grilled to crispy perfection. The ideal party appetizer. Here is the recipe.
Save Recipe
Saved!
Ingredients
1

medium sized chicken breast

1

teaspoon

Cajun seasonings + more as needed

Salt and pepper to taste

Splash of olive oil

8

ounces

tomato sauce

1

teaspoon

dried basil

1

teaspoon

garlic powder

10

jalapeno peppers

¼

cup

shredded cheddar cheese

10

slices

bacon

cut in half

Your favorite hot sauce for serving
Instructions
Heat a large pan to medium heat. Season chicken with Cajun seasonings and salt and pepper.

Add oil to pan and heat. Sear the chicken on each side about a minute, then reduce heat to low.

Add tomato sauce, basil and garlic powder. Simmer about 20 minutes, until chicken is cooked through and very tender. Shred with a fork and set aside.

Slice jalapeno peppers in half lengthwise and core them out.

Stuff each with chicken then top with cheese.

Wrap each with a half slice of bacon.

Set oven to broil. Add poppers to a lightly oiled baking sheet and broil in the center of the oven for 15-20 minutes, or until bacon is cooked and peppers soften.

Remove from heat and cool. Splash with hot sauce and serve!
Nutrition Information
Calories:
70
kcal
Carbohydrates:
1
g
Protein:
4
g
Fat:
5
g
Saturated Fat:
1
g
Cholesterol:
15
mg
Sodium:
154
mg
Potassium:
122
mg
Vitamin A:
195
IU
Vitamin C:
9.2
mg
Calcium:
15
mg
Iron:
0.3
mg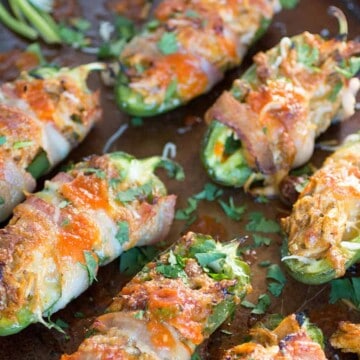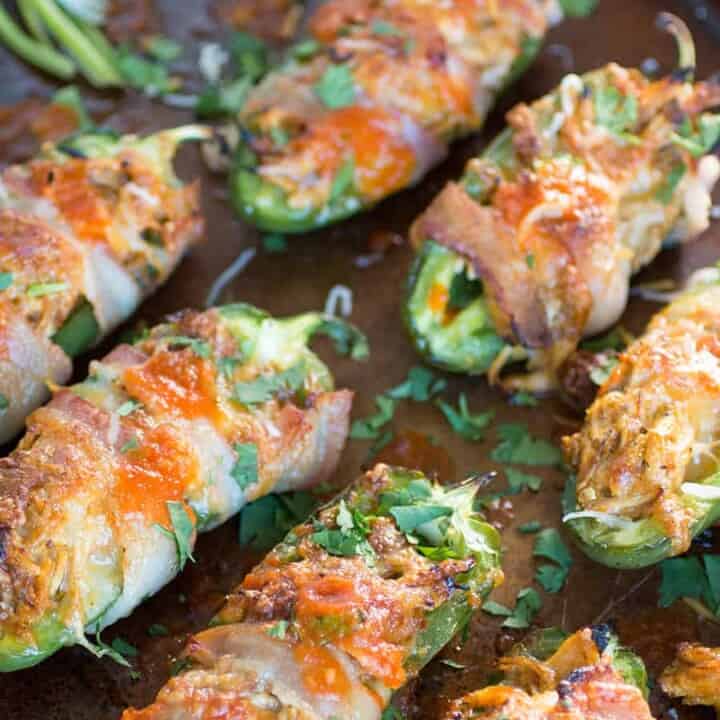 Did You Enjoy This Recipe?
I love hearing how you like it and how you made it your own. Leave a comment below and tag @ChiliPepperMadness on social media.