A recipe for creamy guacamole made even BETTER with the smoky flavor of roasted jalapeno peppers and juicy, chunky diced tomatoes. A must for your next gathering or taco night.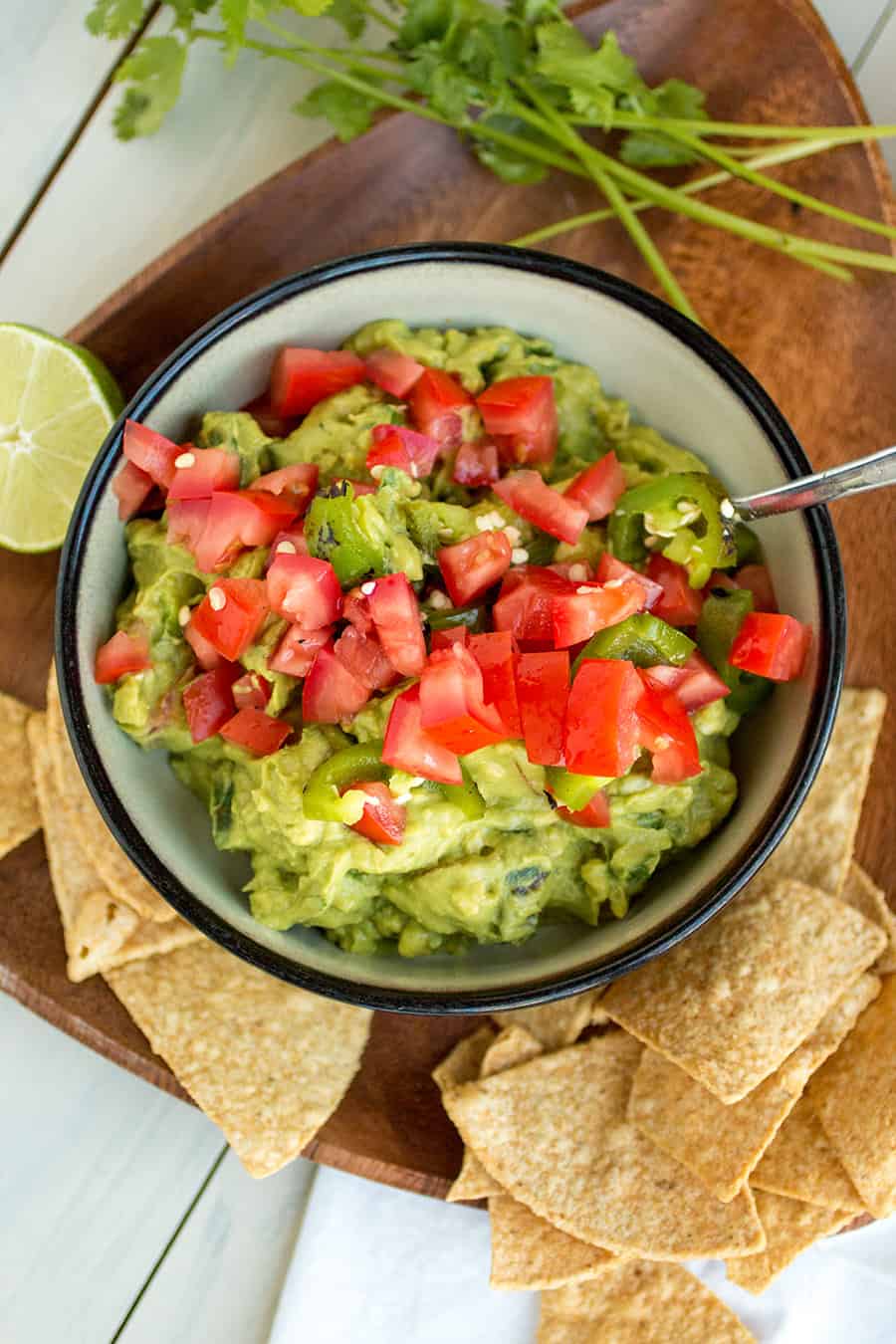 Talk about creamy guacamole. AND slightly chunky. Patty and I are huge fans of guacamole. It's a difficult dish to mess up. It doesn't contain many ingredients, though every Mexican place makes it slightly different. The traditional base for guacamole is avocados, cilantro, lime juice and salt.
You can add in other ingredients from there, such as onion, tomato, pomegranate seeds, peppers and more. It's all about personal tastes. Even the cilantro is negotiable.
We have a lot of guacamole recipes on the site. See: Guacamole Recipes. I'd like to say I have a favorite, but I don't. It comes down to what I'm making with it. Am I serving it over tacos? What kind of tacos? Over Mike's Late Night Nachos? Some people are picky about what type of guacamole goes on that! Is it for a party? Then Goat Cheese Guacamole might be in order.
Oh baby!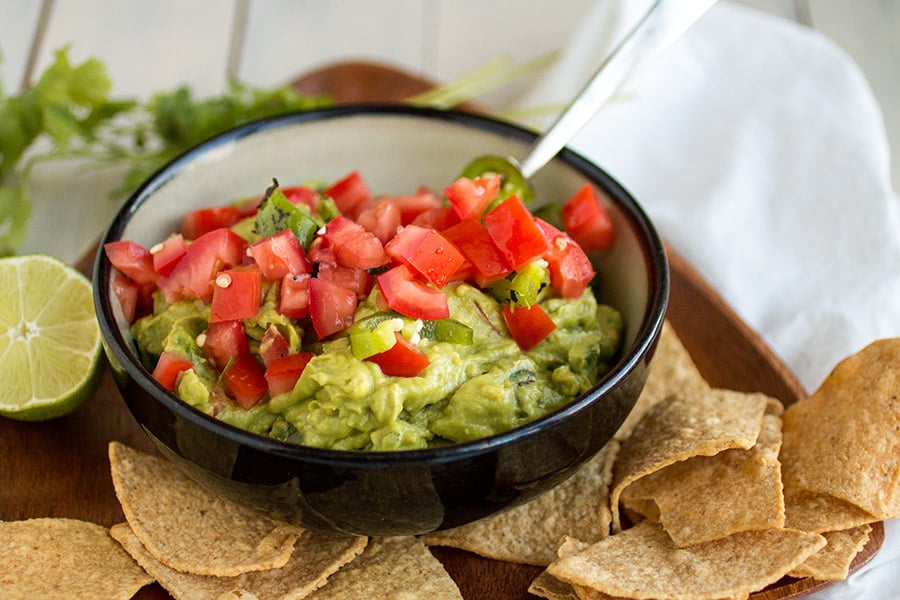 This particular version of the classic guacamole recipe is special because it only adds two ingredients to the traditional four ingredients. We're adding roasted jalapeno peppers and chopped tomato.
Roasted jalapeno peppers are like candy to me. When I stroll into the local Mexican joint - that's right, I STROLL! - the cook in the back automatically tosses on an order of roasted jalapeno peppers for me.
They're slightly smoky from the char, and they're sweet and often a little spicy, depending on the jalapeno. Their heat levels can vary a bit. You guys already know about my love of jalapenos. #JalapenoObsession.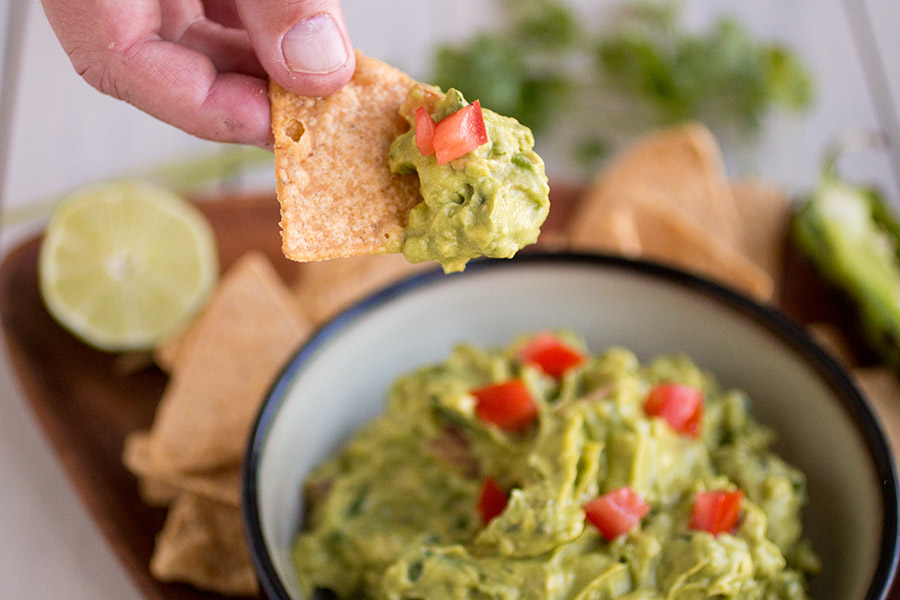 And then there are the tomatoes. Dice them up, mix them into the guacamole, then refrigerate the whole thing long enough for the guac to firm up just a little, and for the tomatoes to get nice and cool. That first bite, make sure you get a piece or two of tomato. It will offer a juicy burst.
Yes! I want more guacamole!
The key with getting CREAMY guacamole is to wait for the avocados to ripen just enough. Feel for softness. You don't want TOO soft. If they're too firm, they won't break down and will be too hard and chunky. Feel the avocado with your fingers, give it a squeeze.
The flesh should give fairly easily beneath the skin, but not feel very squishy. Just soft. That's when you know you've got a good one. Have fun!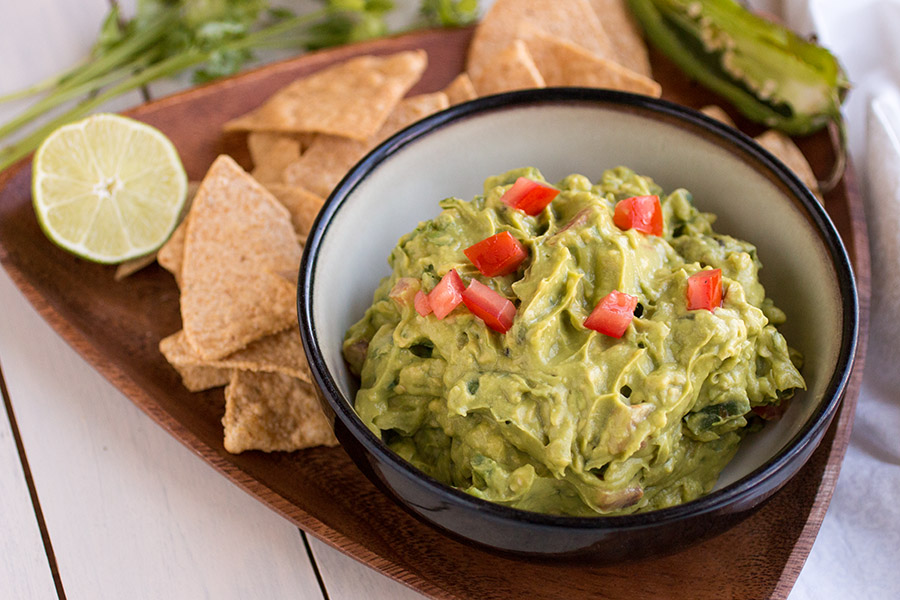 Check Out Some My Other Popular Guacamole and Salsa Recipes
If you enjoy this recipe, I hope you'll leave a comment with some STARS. Also, please share it on social media. Don't forget to tag us at #ChiliPepperMadness. I'll be sure to share! Thanks! -- Mike H.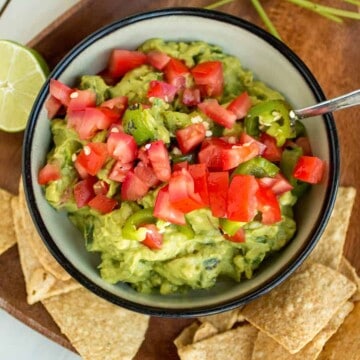 Print
Guacamole with Roasted Jalapenos and Tomato – Recipe
A recipe for creamy guacamole made even BETTER with the smoky flavor of roasted jalapeno peppers and juicy, chunky diced tomatoes. A must for your next gathering or taco night.
Save Recipe
Saved!
Ingredients
2

ripe avocados

Juice from half a lime

¼

cup

chopped cilantro

Salt to taste

2

jalapeno peppers

1

medium Roma tomato

diced
Instructions
Slice the avocados in half and remove the pit. Scoop out the avocado and add it to a mixing bowl.

Add lime juice, cilantro and salt to taste. Mash up the avocado with a fork and stir until nice and creamy. Adjust for salt.

Lightly roast the jalapeno peppers over an open flame, turning often, until skins are charred. Alternatively, you can roast them in an oven at 400 degrees about 10 minutes, until the skins bubble up.

Remove from heat and cool slightly. Peel off the skins. Rough chop and add them to the guacamole.

Add most of the tomato and stir it all together.

Add to a serving bowl and top with a bit more tomato. Enjoy.
Notes
This should make enough for 10 people as a small appetizer, but if you have a party full of guacamole lovers, you better scale it up!
Nutrition Information
Calories:
66
kcal
Carbohydrates:
3
g
Fat:
5
g
Sodium:
3
mg
Potassium:
216
mg
Fiber:
2
g
Vitamin A:
170
IU
Vitamin C:
8.3
mg
Calcium:
5
mg
Iron:
0.2
mg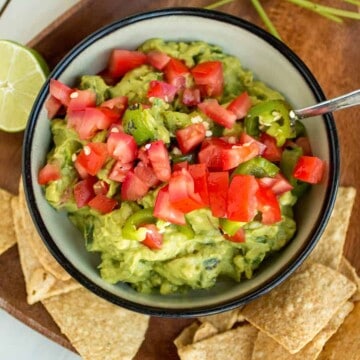 Did You Enjoy This Recipe?
I love hearing how you like it and how you made it your own. Leave a comment below and tag @ChiliPepperMadness on social media.