My famous homemade nachos recipe with tortilla chips, salsa con queso, shredded cheddar, chorizo, jalapenos, fresh avocado and tomato, a party favorite! My friends can't get enough of these late night nachos.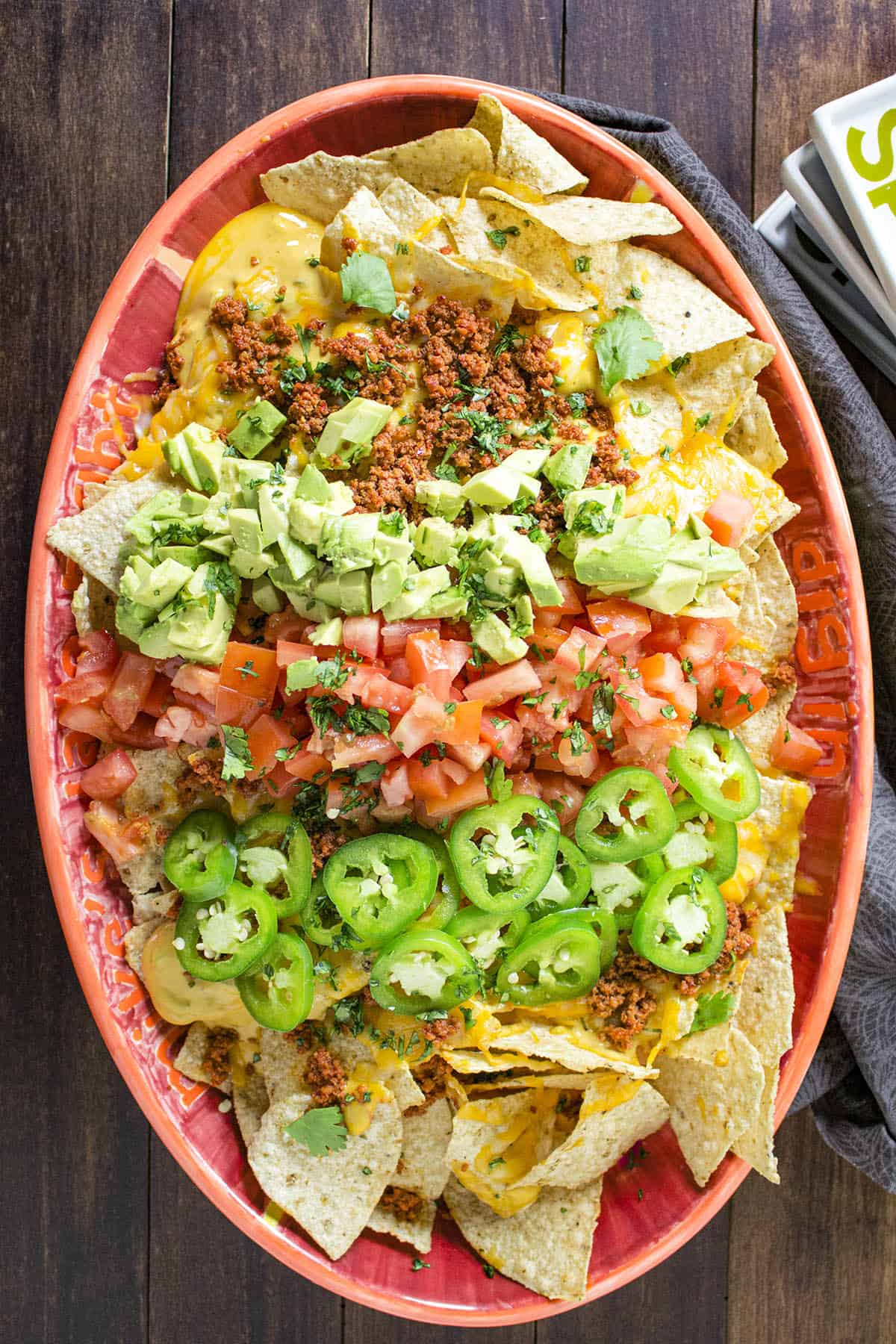 This recipe has been around in the Madness household for over 20 years. It started back in Northern Illinois University where we met in college, but it evolved and took solid root in our very first home several years later.
We've always been party people. We LOVE throwing parties and having gatherings in our home.
Often times those parties run a bit late, so we like to have extra "late night" food on hand when the inevitable cravings begin.
People start getting hungry again and they want something to munch on.
What better late night munchie food than nachos? NACHOS!
This, my friends, is "Mike's Late Night Nachos". A new recipe is born. I'm not even sure how the name was coined. It probably started when someone asked, "Hey, how about Mike's late night nachos?" The name stuck, and here we are.
This is super easy to make.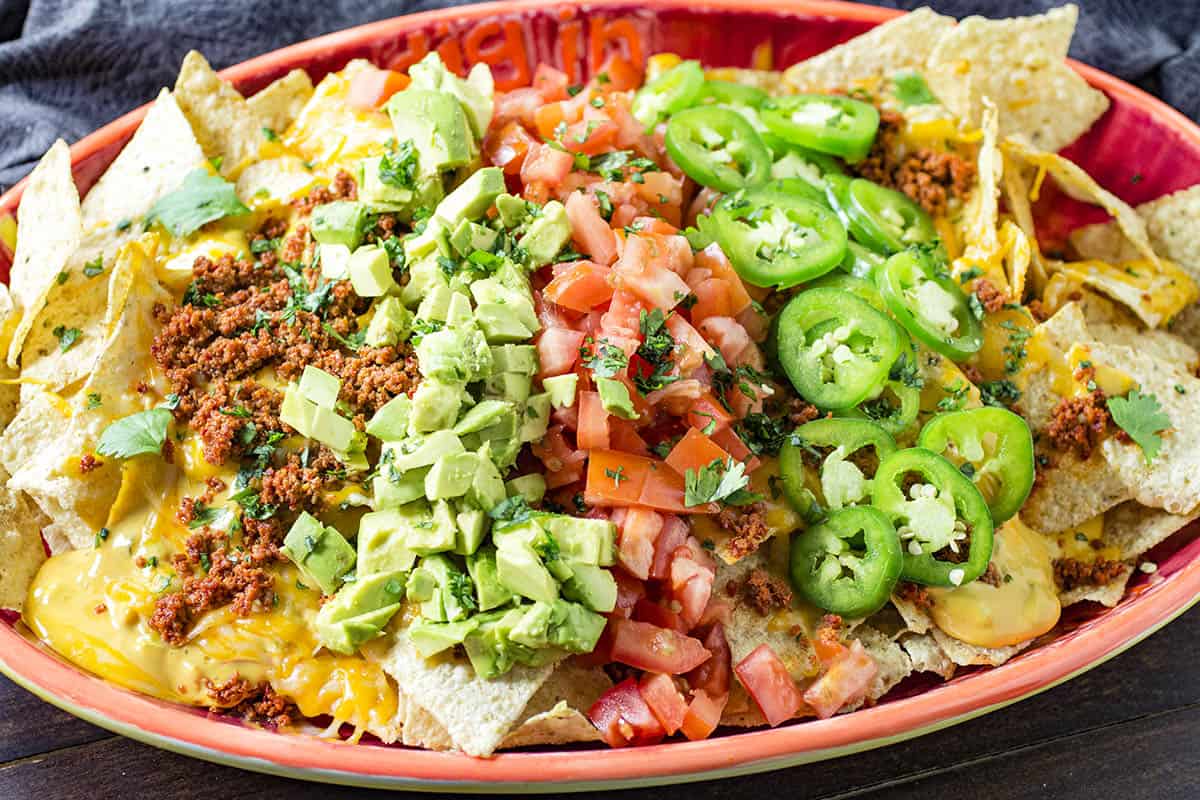 I call this "The Original Mike's Late Night Nachos" recipe because it has morphed very slightly over the many years, but this particular recipe is as close to the beginning as can be.
I've experimented with different types of cheeses and salsas, different toppings and meats, and while all of those version are good - hey, it's hard to mess up nachos - this is THE ONE that everyone wants.
It got so well known in our neighborhood that Patty decided to make me a handmade "Mike's Late Night Nachos" platter at a local crafting store.
She painted the platter herself. She complains that she isn't happy with the results, but I LOVE it.
Just look at this thing? Perfection, I say.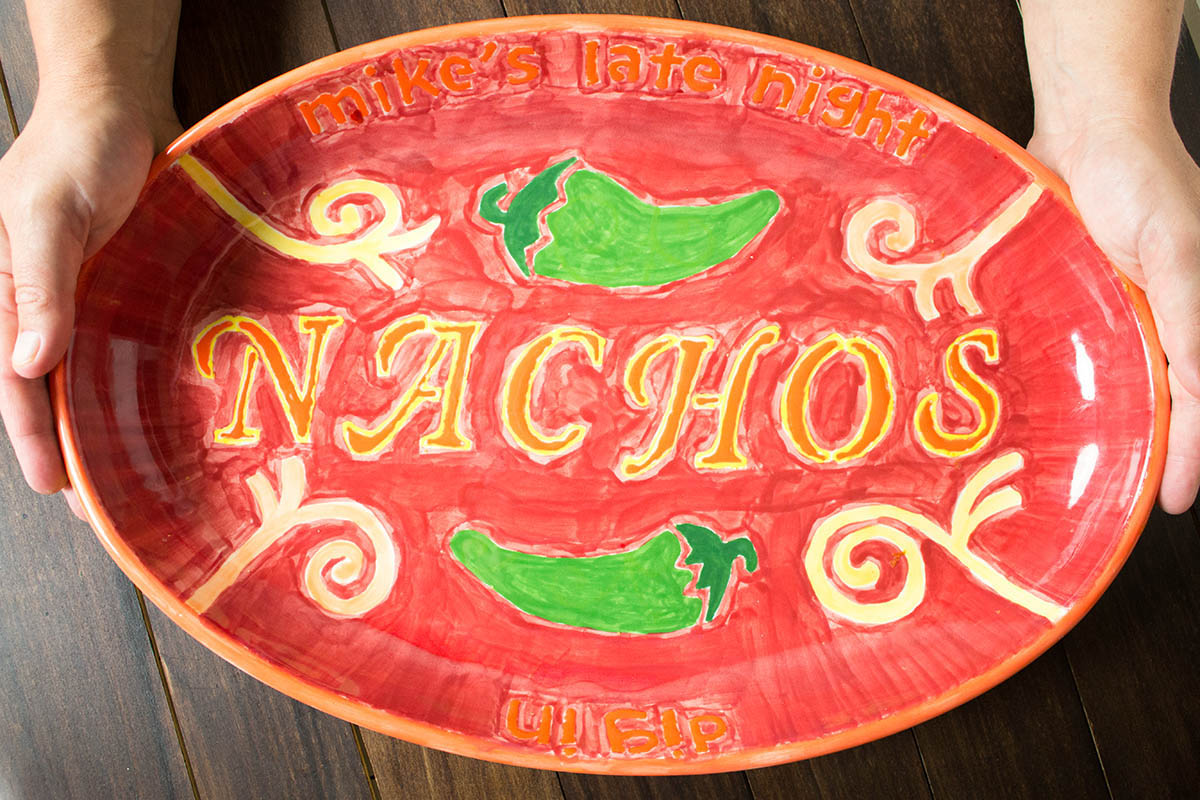 It's AWESOME! Great job, Patty! Our nachos now have their own platter. I use this every time we make them now.
You can, of course, substitute other ingredients to your desire. As I mentioned, I've changed this up here and there from the original and do so all the time.
I make a different dinner version of this, but the original is super fast to make. I used to use the nacho cheese sauce from Frito Lay, the stuff that comes in a can.
That worked out great for a while, but I started using a simple salsa con queso from a jar and that took over after a while. I love the cheesiness of salsa con queso, and you can't beat the convenience.
Sure, I like making my own homemade nacho cheese sauce and other dips, but when it is late and people are hungry, I can snatch a jar from the pantry and get to work.
This can be done in about 15 minutes or so. Truly. Nice and quick! There are hungry people waiting!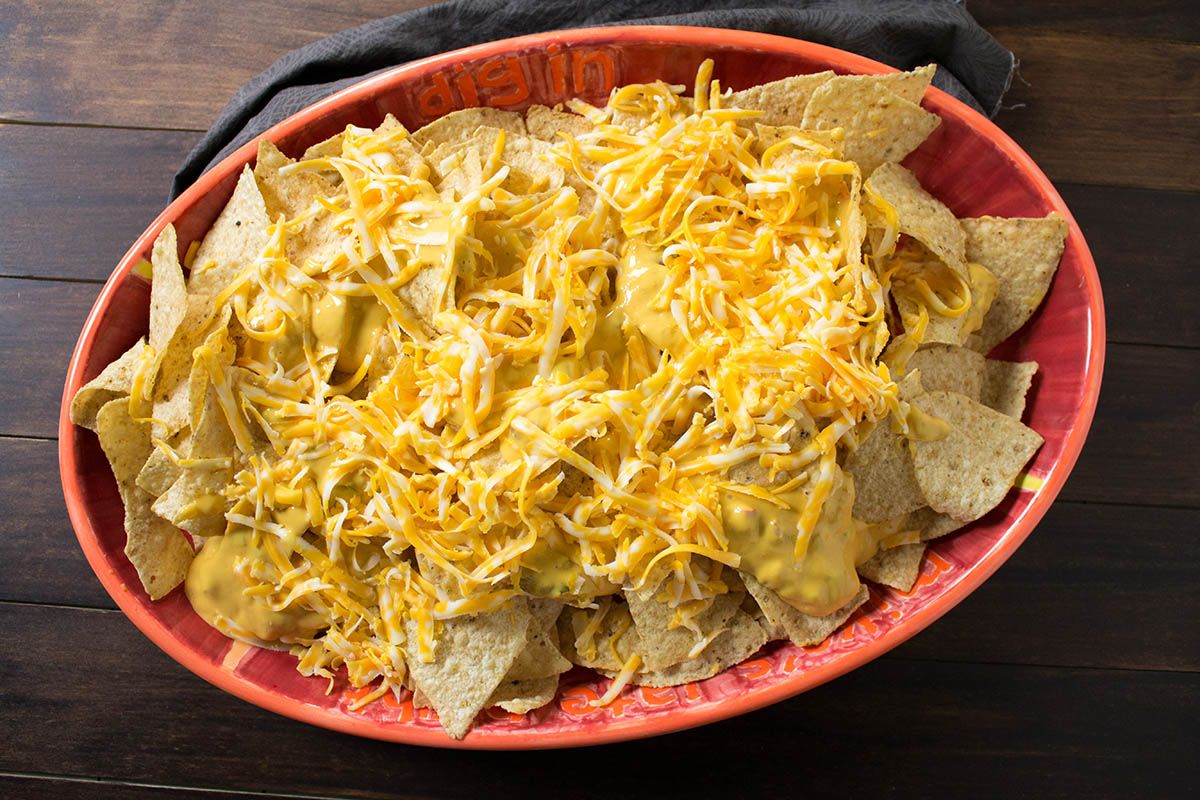 How to Make Mike's Late Night Nachos - The Recipe Method
To get started, dump a bag of chips into a large platter. The platter should easily hold the entire bad.
Pour the salsa con queso over the chips and mix them up a bit.
Next, shred cheddar cheese over the top. You can use other cheeses, like Monterey Jack, pepper jack, or any other yellow-white cheese, as long as it is nice and melty, but cheddar is the original.
Heat your oven to 220 degrees while you cook your chorizo.
There is argument to how much chorizo should be included. I normally only include 6 ounces, but if you're extra hungry and have meat-loving friends, double the amount.
Sometimes chorizo can overpower, though, so be careful and test to your own preference.
Crumble the cooked chorizo over the top of the cheeses and bake the whole thing about 8 minutes, or until the cheeses are nicely melted through.
Chop up your toppings while the cheese is melting. Pull the nachos out of the oven and top with chopped jalapeno peppers, chopped tomato, and fresh avocado.
Looks gorgeous, right? Are you ready to dig in?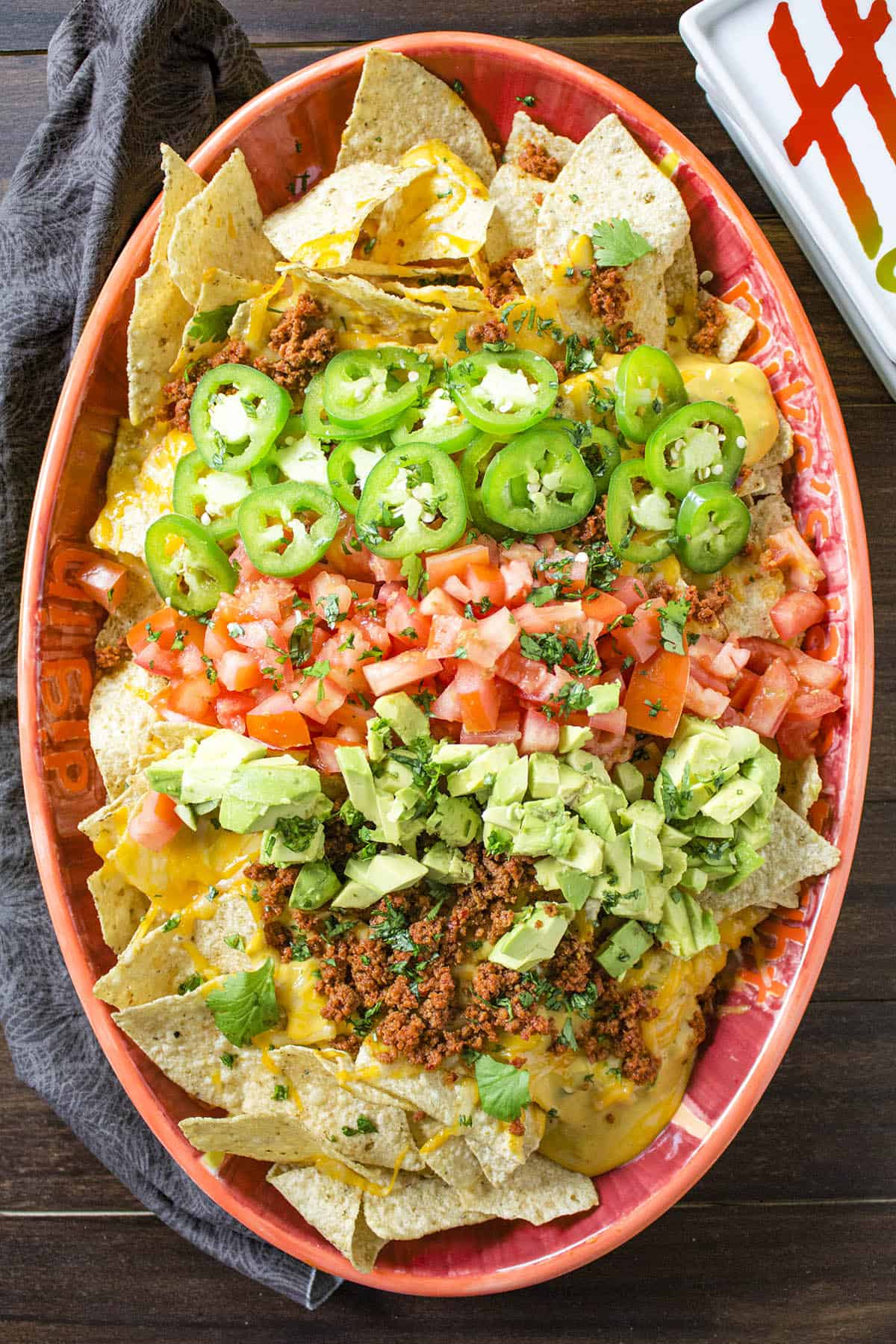 I am! Another variation I've done is to use homemade guacamole instead of diced avocado. People love this too! But it's quicker to just use the avocado.
Carry it out to the party and take a big step back. Seriously, watch out! You don't want to lose a hand in there!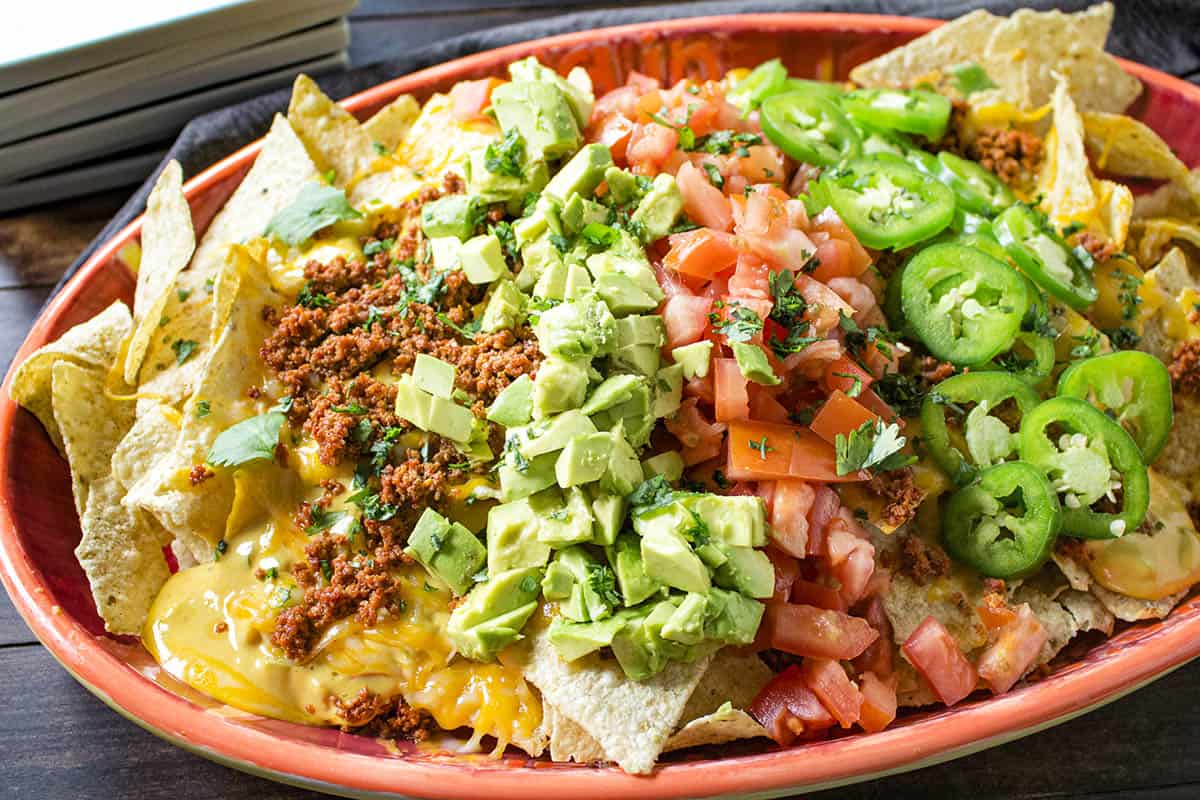 These are great for parties, of course, but consider them for game day or tailgating for sure. I mean, NACHOS! Come on! I hope you enjoy them! Let me know how they go over at your next party.
Patty's Perspective
All I have to say is, you better be close when these arive and ready to dig in. They disappear like CRAZY, and for good reason. This has become such a favorite among our friends that they have "acquired" the recipe and now make it on their own.
If they alter one thing, they get yelled at! I'm glad Mike is finally sharing this with the world. Enjoy.
Try Some of My Other Popular Nacho Recipes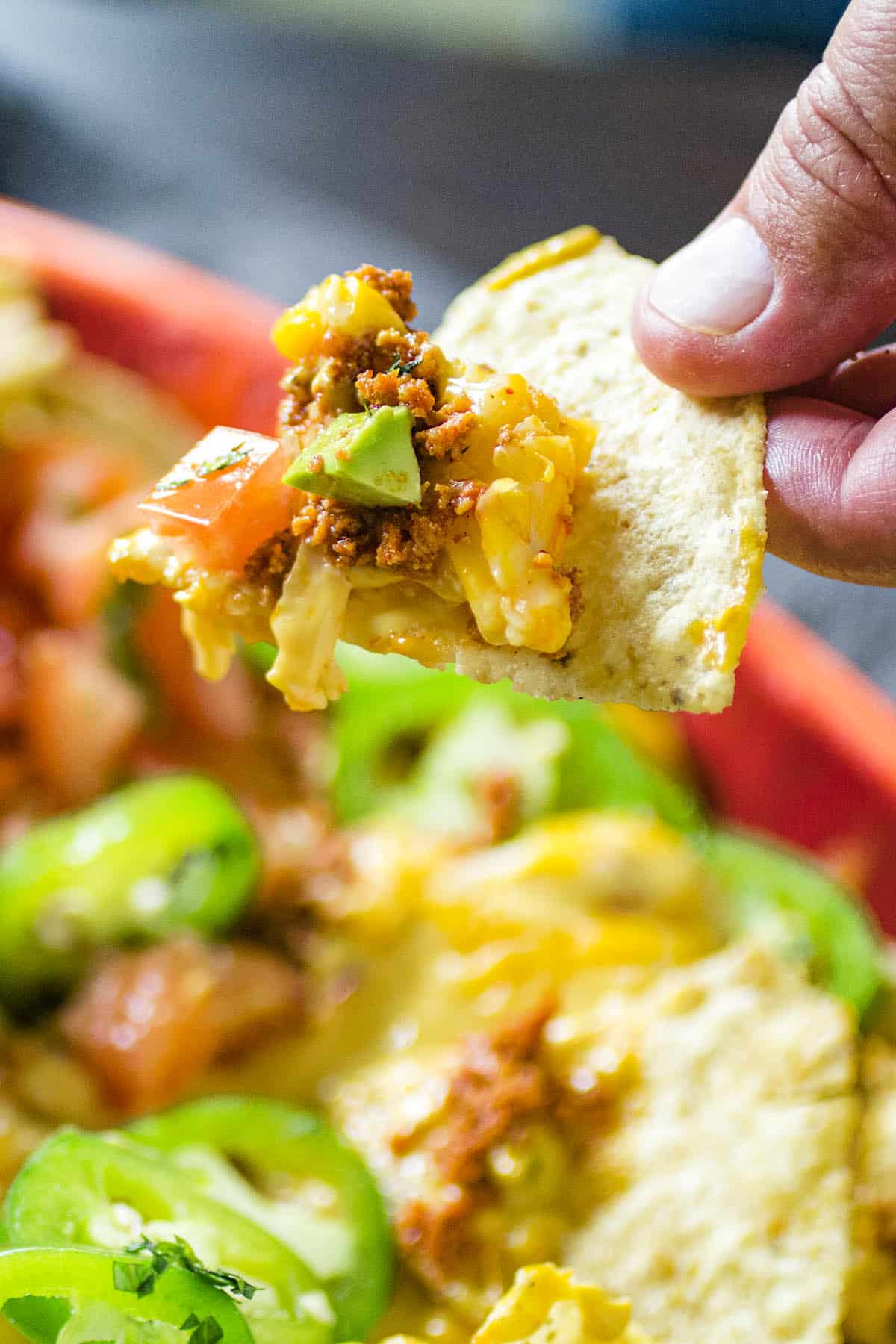 If you try this recipe, please let us know! Leave a comment, rate it and tag a photo #ChiliPepperMadness on Instagram so we can take a look. I always love to see all of your spicy inspirations. Thanks! -- Mike H.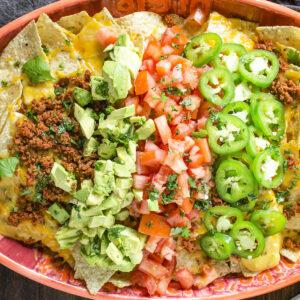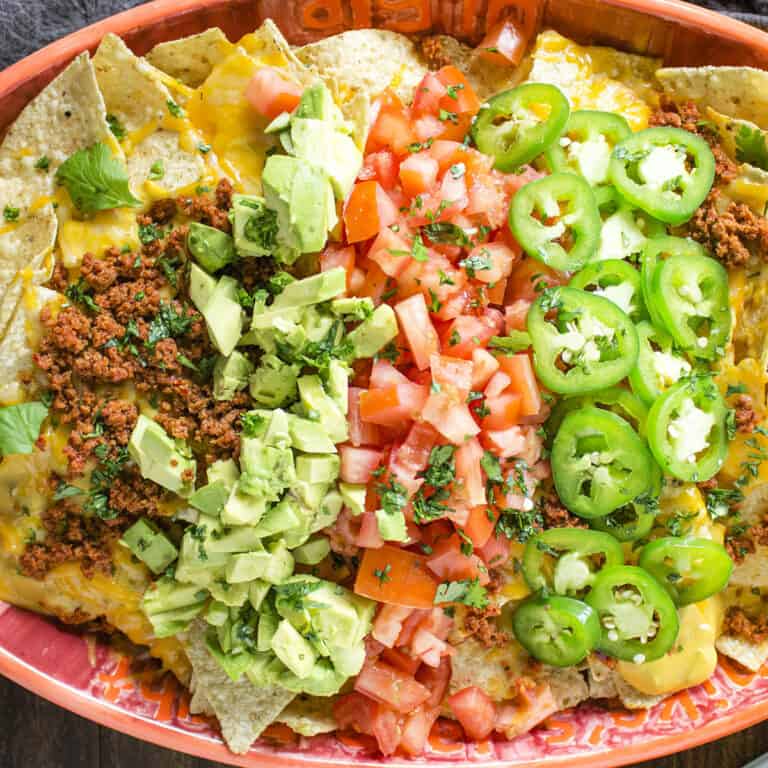 Print
The Original Mike's Late Night Nachos Recipe
My famous homemade nachos recipe with tortilla chips, salsa con queso, shredded cheddar, chorizo, jalapenos, fresh avocado and tomato, a party favorite!
Save Recipe
Saved!
Ingredients
1 14

ounce

bag corn tortilla chips

1 15

ounce

jar salsa con queso

4-6

ounces

shredded cheddar cheese

+ extra as desired

6

ounces

chorizo

or 12 ounces if you want it meatier

2

jalapeno peppers

chopped or sliced into rings

1

large ripe avocado

peeled, pitted and diced

Fresh tomato

diced

Chopped cilantro

Sour cream or Crema

if desired
Instructions
To a large oven-safe dish, add corn chips and spread them out. Pour salsa con queso over the top and mix well.

Top with shredded cheddar cheese.

Heat a small pan to medium heat and add chorizo. Cook about 8-9 minutes, or until chorizo is cooked through. Crumble over the top of the cheeses.

Heat oven to 220 degrees and bake the dish until the cheeses melt through.

Remove from oven and top with fresh jalapeno slices, avocado, tomato, and chopped cilantro, with crema if desired.

Serve immediately and step back!
Nutrition Information
Calories:
566
kcal
Carbohydrates:
41
g
Protein:
15
g
Fat:
39
g
Saturated Fat:
10
g
Cholesterol:
38
mg
Sodium:
1041
mg
Potassium:
343
mg
Fiber:
4
g
Sugar:
3
g
Vitamin A:
520
IU
Vitamin C:
6.7
mg
Calcium:
240
mg
Iron:
1.8
mg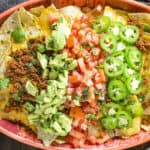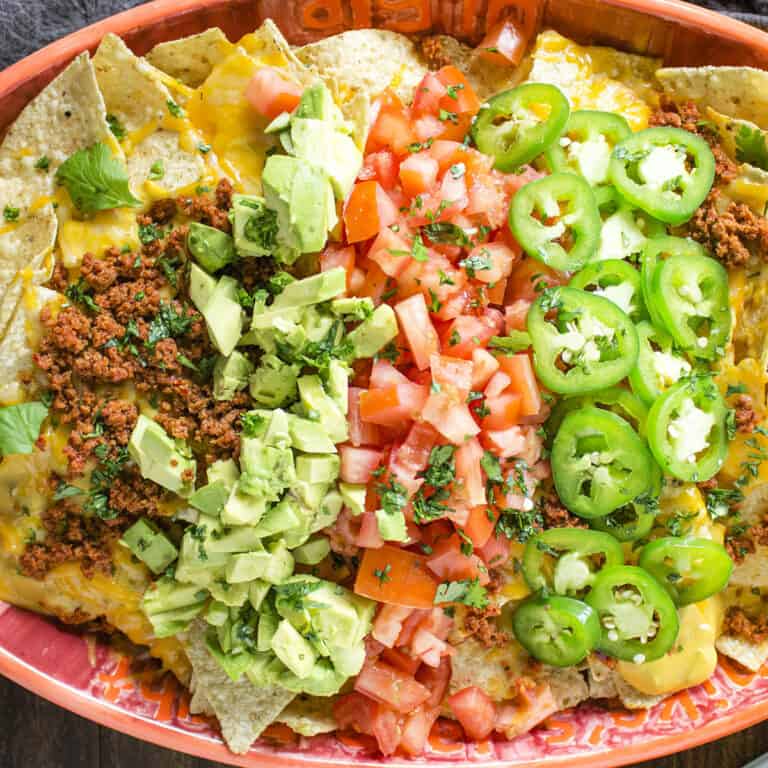 Did You Enjoy This Recipe?
I love hearing how you like it and how you made it your own. Leave a comment below and tag @ChiliPepperMadness on social media.