Learn how to make the best guacamole, step by step, with this guide, including many tips and tricks to make your taste buds shout for more.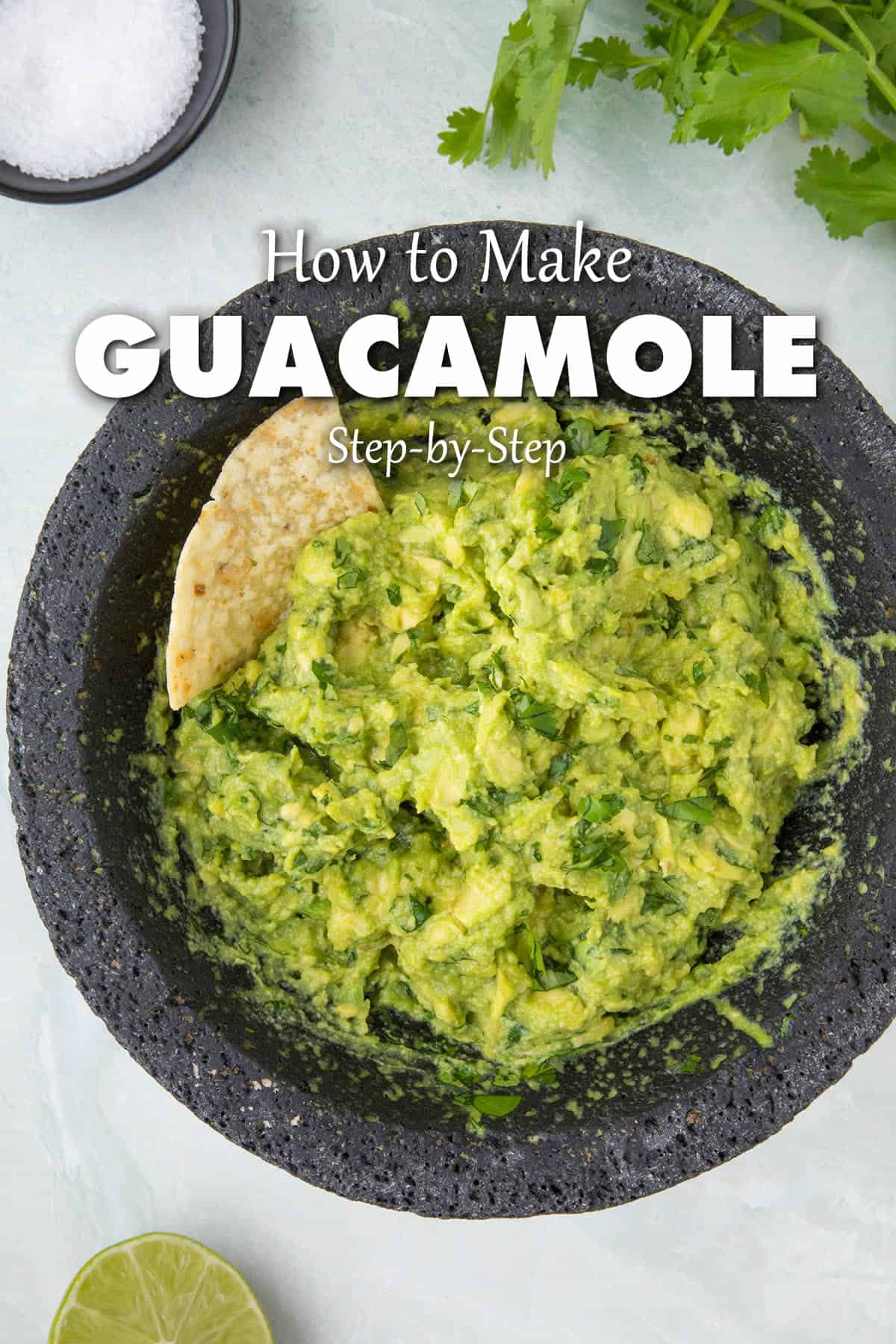 Guacamole Basics
We've all seen and most of us have tasted guacamole, that delicious, creamy, sometimes spicy green food ubiquitous to Mexican restaurants. Most people would agree that to try guacamole, is to love guacamole.
It is the ultimate appetizer dip, unlike any other.
Recipes abound with an incredible variation of ways to prepare this delicacy but just about all guacamole recipes include a variation of some very specific ingredients. If you're a guacamole lover, but are afraid of trying your hand at a homemade recipe, you might be tempted to run out to the store and purchase a pre-made mix, but put your fears aside.
Making homemade guacamole is one of the easiest things to do with the right fresh ingredients.
Basic yet essential guacamole ingredients include but are not limited to:
Avocados
Lime Juice
Cilantro
Salt
Very common additional ingredients include:
Chili peppers
Tomato
Onion (white onion, red onion)
Sour Cream
Chili pepper seasonings
Other seasonings, such as pepper, garlic, etc.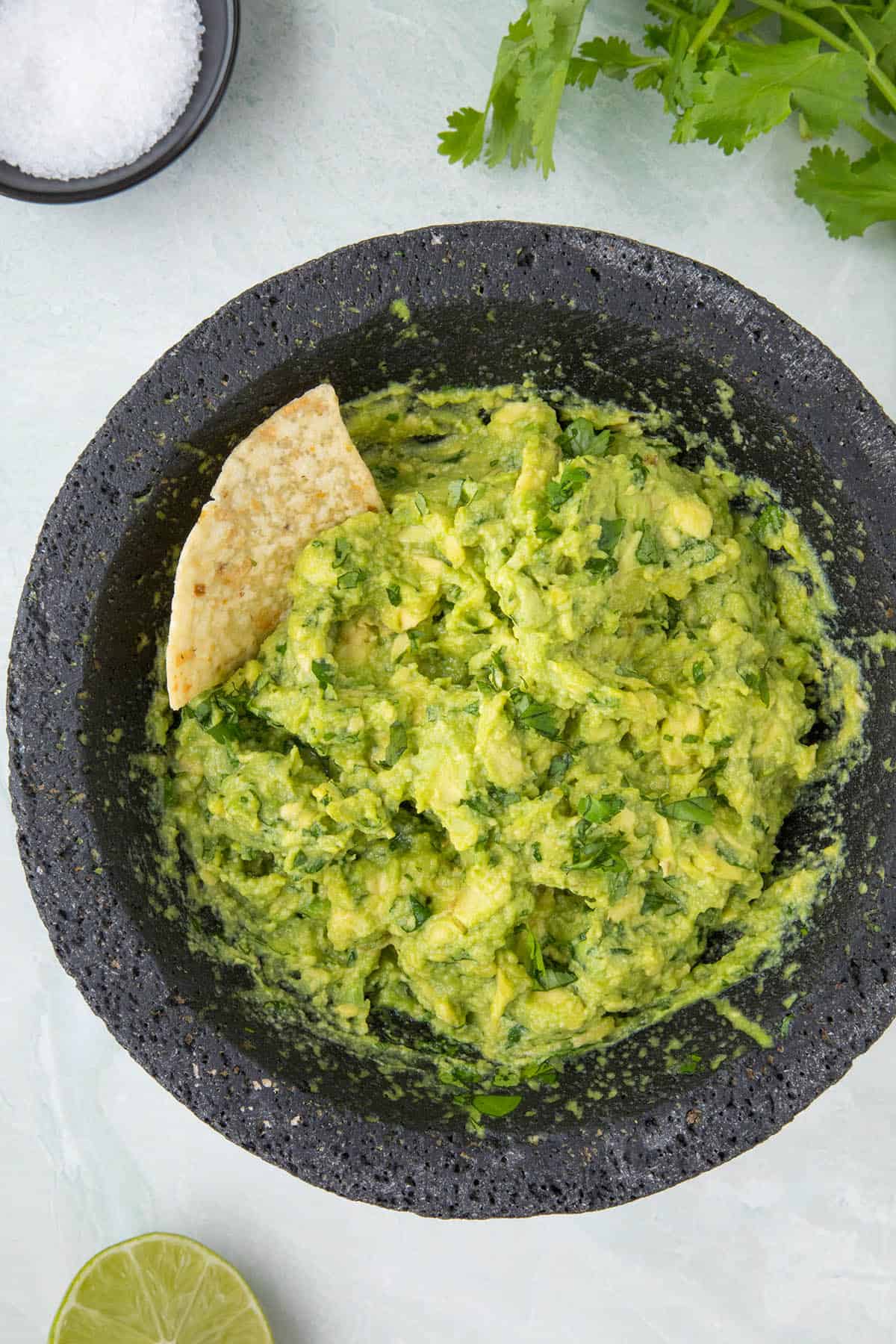 Basic Guacamole - How to Make It
The most basic guacamole, which is infinitely delicious, includes the first four ingredients. You'll want to only choose ripe, soft avocados. Fresh cilantro is far superior to the dried version.
To a mixing bowl, add two peeled and pitted avocados. Add ¼ cup coarsely chopped cilantro, 1 teaspoon fresh lime juice and 2 pinches of salt. Mix thoroughly. The longer you mix the guacamole, the creamier it will be so if you like your guacamole nice and chunky, go easy on the mixing.
Give it a taste. What do you think?
It's probably already delicious as it is but now you can adjust your seasonings to taste. Dash of salt here, bit of pepper there.
Looking for a bit of a kick? Try adding a chopped or finely diced jalapeno pepper. Keep the jalapeno innards for even greater kick.
For an even mightier kick, consider our friend the habanero pepper. Your friends will truly remember your guacamole. Tomato is always a welcomed addition to guacamole for both taste and texture. A finely chopped tomato will add a juicy burst to each bite.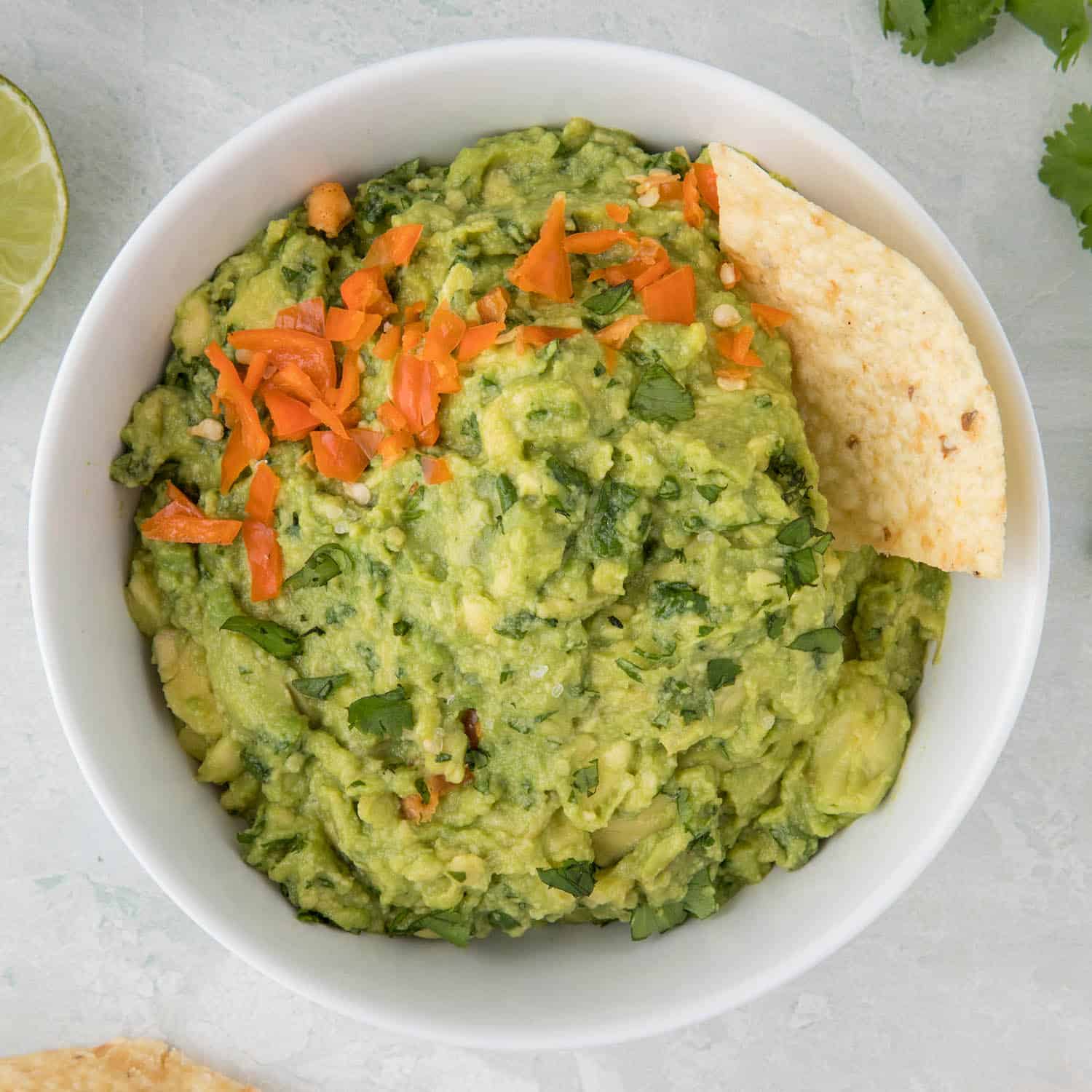 The Real Key to the Best Guacamole
In the many years I have been making guacamole, the only way to achieve the very best guacamole is by starting with very fresh ingredients. Your avocados needs to be perfectly ripe and soft enough to mash. They shouldn't be overly mushy and turning brown. They should be just soft enough to the touch to become creamy when mixed with fresh lime juice, and should be a nice vibrant green in color.
The lime juice should be freshly squeezed, not from a bottle, and the cilantro should be firm and cleaned. Freshly picked cilantro is ideal.
Use a coarse sea salt for the best results, though most salts will do.
Also, I get great results by using my molcajete to mix the guacamole. However, you can mix the ingredients in a large bowl with a fork.
Let's talk about sour cream
There is a division of opinion on the addition of sour cream to guacamole. Guacamole purists consider it a slight bastardization of the already perfect food. But sour cream does add a bit of additional creaminess to the guacamole and does affect the flavor.
It is popular and certainly worth a try but note that sour cream will also dull the heat of any chili pepper additions.
Personally, we prefer our guacamole without sour cream.
Lastly, Chili Pepper Seasonings
I sometimes like to include a splash of chili powder such as habanero powder or even habanero pepper flakes. This will add a touch of flavor and heat without the texture of raw chili peppers which I also love.
But this is only the beginning of the potential spices you might consider for guacamole variations. Consider taco seasonings, Cajun seasonings, garlic, or other favorite seasonings to make a guacamole recipe all your own.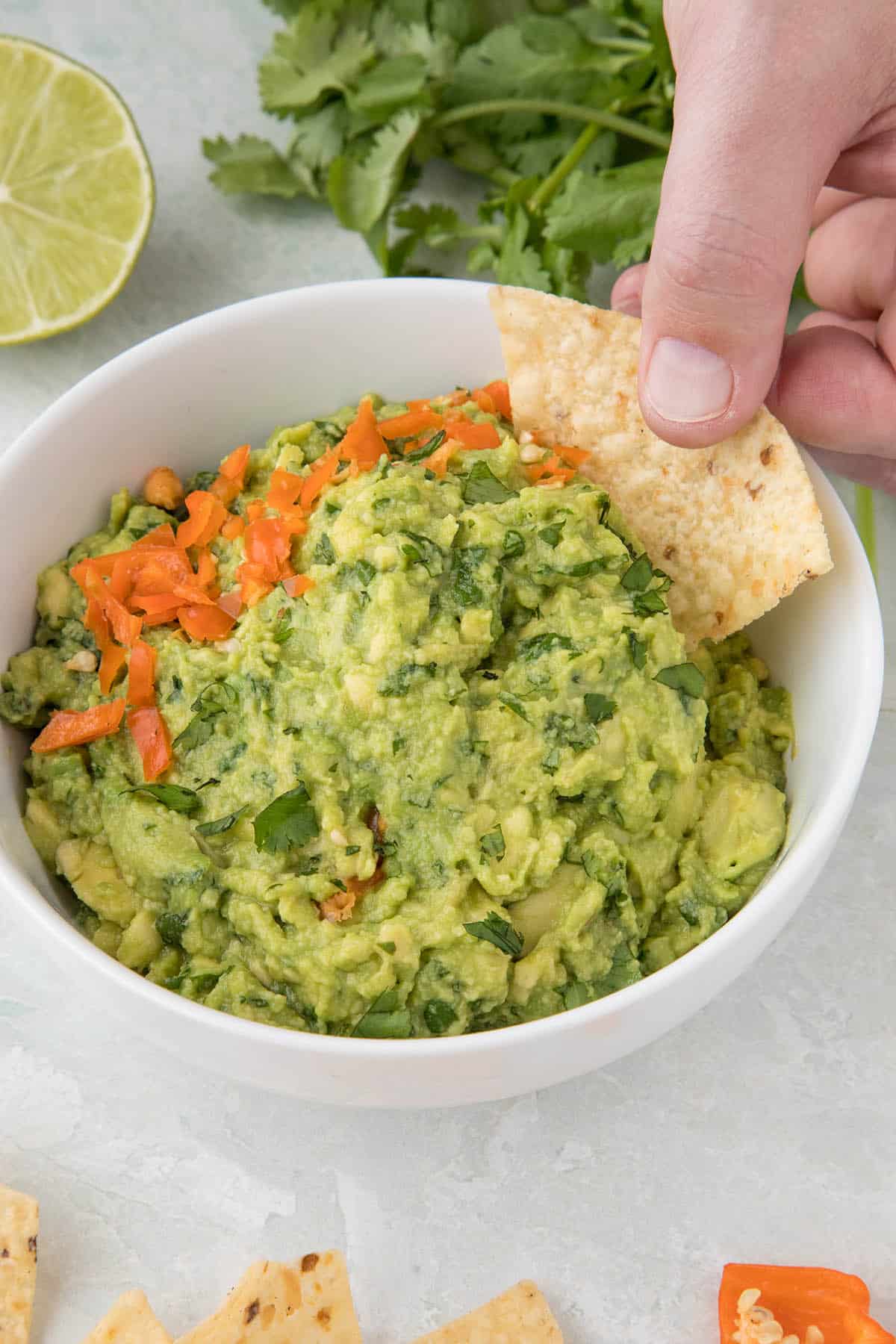 Further Questions
Below are answers to several more questions I get about making the best guacamole.
How to Tell when an Avocado is Ripe
Unripe avocados are definitely not as tasty or guacamole friendly. You really want to use the ripest avocados for your guacamole recipe because they taste richer and are far easier to work with and have a far superior creamier texture.
If you try to make a homemade guacamole recipe with unripe avocados, the avocados will not mash properly and you will be left with guacamole that not only has a lumpy texture, but tastes too green. Also unripe avocados are more difficult to peel and remove the pit.
The way to tell when an avocado is ripe is by sight and touch. Ripe avocados have a darker green skin. Unripe avocados are typically bright green and darken as they ripen.
Also pick up an avocado and squeeze it very slightly to test its firmness. Unripe avocados are very firm to the touch while a ripe avocado is a bit soft and will give way slightly to your fingers.
Don't squeeze to hard as you'll damage the tender flesh. It's hard to tell when an avocado is over-ripe but a very over-ripe avocado will be too squishy.
The best avocados are the ones that are just slightly softened.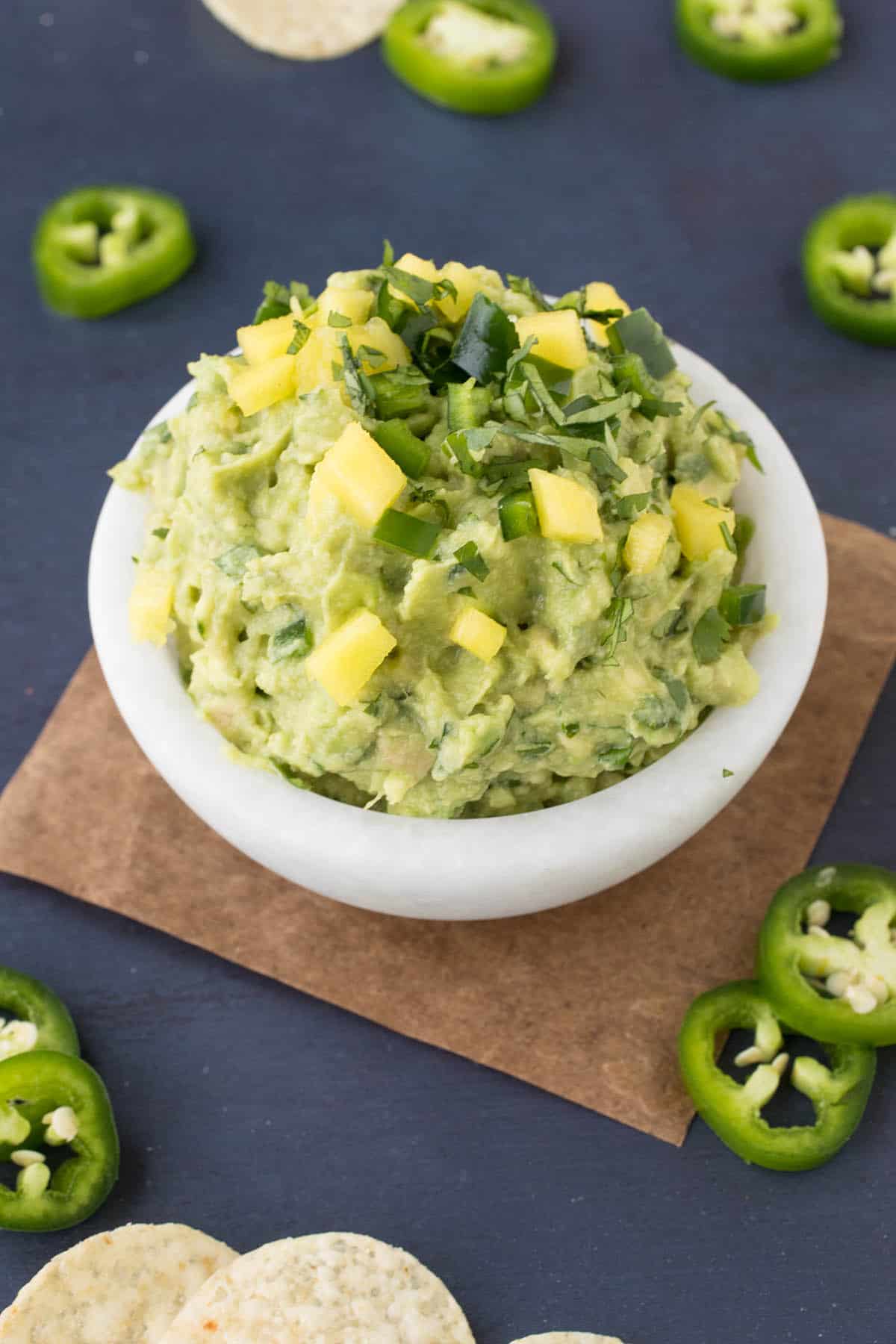 How to Peel an Avocado
Peeling an avocado for guacamole isn't as daunting as it may seem. While the skin is quite thick, the avocado flesh itself is soft and easily separates.
It's best to peel an avocado when it is ripe because it is softer.
The first thing you should do is slice off an 1/8 inch off the stem end. Then slice the avocado in half lengthwise all the way around the pit. Give it a twist and pull it apart into two halves. Remove the pit.
Depending on what your uses are for the avocado, there are several ways to remove the flesh. For a guacamole recipe, you'll most likely be mashing the avocado so you can scoop it out with a spoon.
Be sure the scrape all along the skin and discard any blackened pieces. If you are trying to get the entire half of the avocado for a meal or presentation of some sort, use a spoon and scrape down along the skin and arc the avocado out.
If you are looking for the long thin slices, you can easily slice them at this point. Another great way to remove the avocado is to slice a checkerboard pattern into the flesh all the way down to the peel horizontally and vertically.
Then either manually invert the skin or scoop with a spoon and the pieces will come out nice and evenly sliced.
How to Remove the Pit from an Avocado
When your avocados are very ripe, the pits will often pop right out but sometimes they can be really stuck into a fleshy avocado.
You can use a spoon to scoop it out but the best way to remove an avocado pit when it is tightly fitted, is to thump it with the dull side of a knife to thwack it loose.
Then if it still causes any issues, strike it with the sharp side of the knife and give it a little twist and it should come loose for you. Then scoop out your avocado as needed for your fresh guacamole recipe.

How to Keep an Avocado or Guacamole from Turning Brown
Sometimes you'll use only half an avocado for your guacamole recipe. If you leave the avocado half in the refrigerator it will begin to brown. The best way to keep it from browning is to use lemon juice.
Take a small piece of Tupperware or baggie. Squirt in a bit of lemon juice and set the avocado inside with the skin side up. Seal the bag or Tupperware. It helps to add a layer of plastic wrap over the very top and keep it air tight. It should last a few days this way for you.
Lemon juice also works for guacamole that has begun to brown. Just squirt a teaspoon or so of lemon juice into your guacamole and stir. The brown should magically disappear and return your guacamole to a delicious bright green state.
Guacamole Serving Suggestions
Guacamole is by far one of the ultimate dips. While it is traditionally served with tortilla chips, there are numerous other ways to serve your guacamole.
Here are some alternative guacamole serving suggestions.
Serve your guacamole with sliced pita bread or mini whole wheat pitas
Try basic potato chips or other small crunchy dippers like bread sticks, Fritos or pretzels
Use guacamole as a topping for chicken or white fish. The guacamole will serve as a makeshift sauce and provide a huge flavor blast.
Serve guacamole over burgers as an alternative to plain old catsup and mustard for a southwest style burger.
Mix your favorite salsa recipe into your guacamole for an entirely new experience. Try a 50/50 mix of guacamole to salsa or even just a couple of spoonfuls.
How Many Calories are in Guacamole?
The best way to know for sure how many calories are in your guacamole is to make it yourself. This way, you know exactly what is going into your guacamole. Let's calculate it out:
1 average sized avocado: 276 calories
50 grams cilantro: 10 calories
Lime Juice: 0 calories
Salt: 0 calories
Tomato: 15 calories (for a whole, average sized tomato)
Jalapeno: 4 calories (for an average jalapeno pepper)
As you can see, the vast majority of the calories are in the avocado, so you can adjust accordingly if you are on a calorie restricted diet.
Check Out Some My Other Popular Guacamole and Salsa Recipes
If you enjoy this recipe, I hope you'll leave a comment with some STARS. Also, please share it on social media. Don't forget to tag us at #ChiliPepperMadness. I'll be sure to share! Thanks! -- Mike H.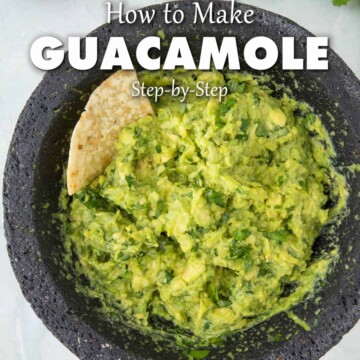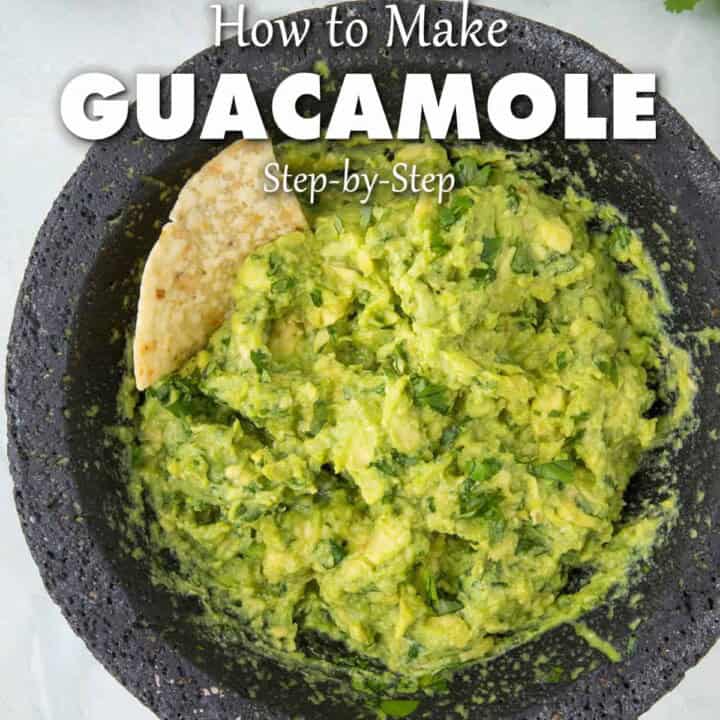 Print
The Best Guacamole Recipe
Learn how to make the best guacamole, step by step, with this guide, including many tips and tricks to make your taste buds shout for more.
Save Recipe
Saved!
Ingredients
2

avocados

peeled and pitted

1/2

cup

fresh cilantro

chopped

2

teaspoons

fresh lime juice

1/2

teaspoon

sea salt
Instructions
Add all ingredients to a large mixing bowl.

Mash with a large fork until avocado becomes creamy and ingredients are combined. Taste and adjust for salt.

Serve!
Nutrition Information
Calories:
161
kcal
Carbohydrates:
8
g
Protein:
2
g
Fat:
14
g
Saturated Fat:
2
g
Sodium:
298
mg
Potassium:
497
mg
Fiber:
6
g
Vitamin A:
280
IU
Vitamin C:
11.3
mg
Calcium:
12
mg
Iron:
0.6
mg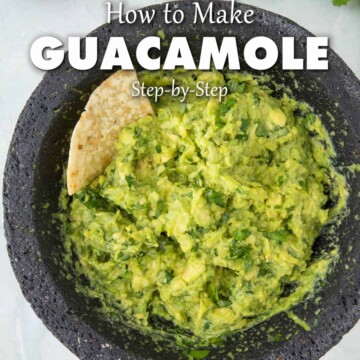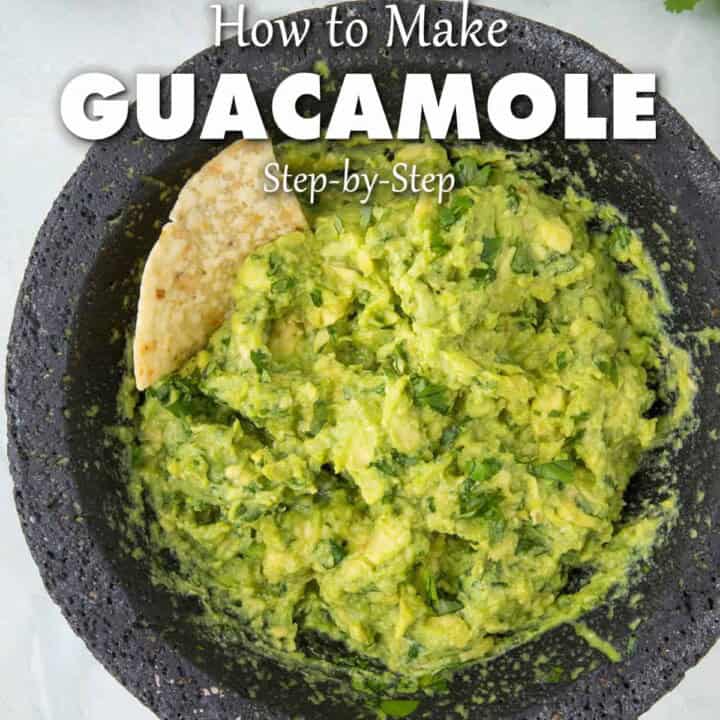 Did You Enjoy This Recipe?
I love hearing how you like it and how you made it your own. Leave a comment below and tag @ChiliPepperMadness on social media.
This post was updated on 7/16/19 to include new photos and information. It was originally published on 5/1/14.