This perfect, easy homemade guacamole recipe is so simple, everyone loves it. It's my favorite version. Perfect as it is, or you can add ingredients to make it your own.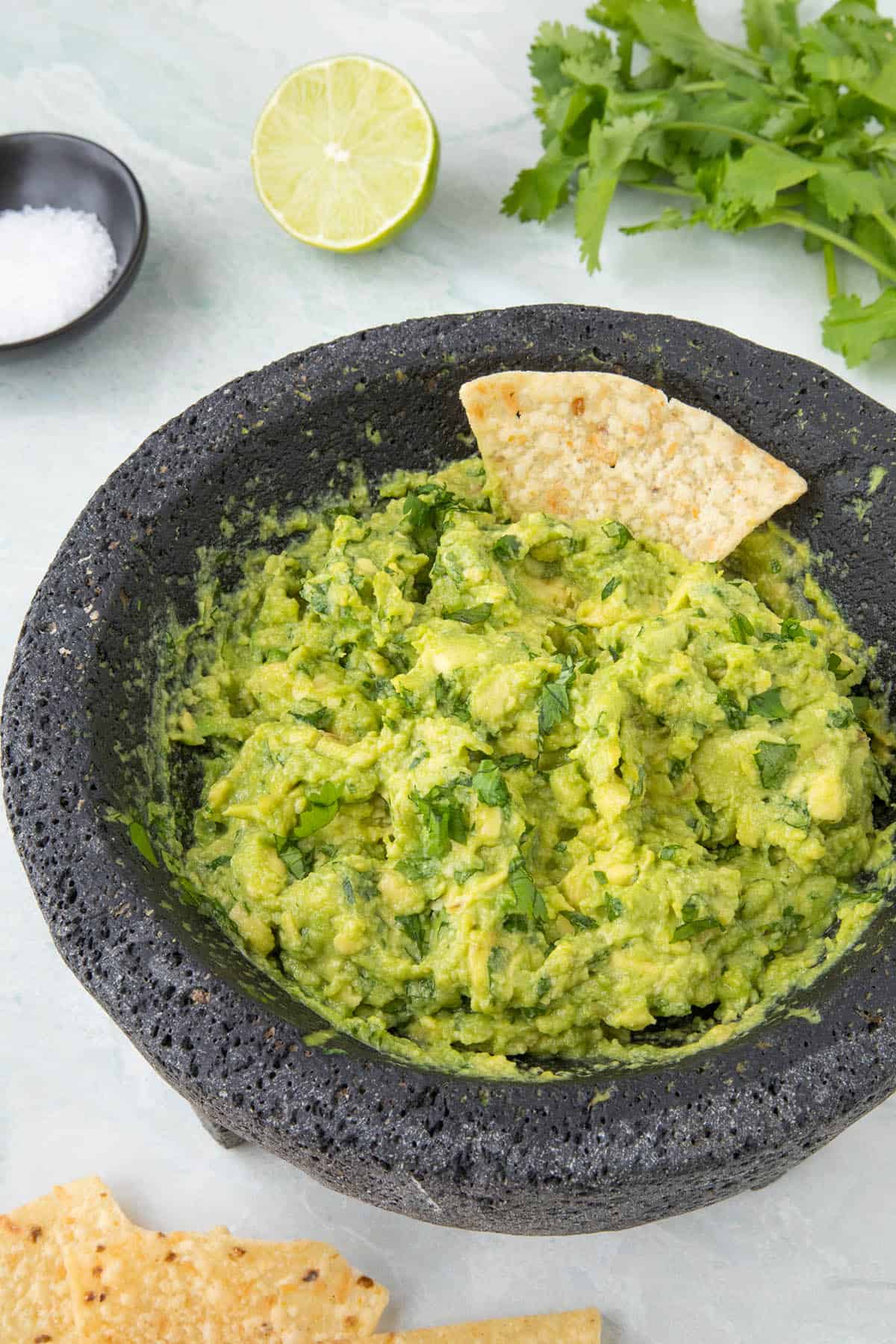 Homemade guacamole is an essential side dish for so many meals and is the absolute perfect dip. It's pretty much essential for any party situation, and when it comes to Mexican food, get out of here! It is TOPS when it comes to representing Mexican cuisine.
Plus, it is so quick and easy to make.
There aren't many essential ingredients in guacamole, but each restaurant makes theirs a bit differently.
Guacamole Ingredients
Easy homemade guacamole does not require many ingredients. In fact, classic guacamole only includes 4 primary ingredients. The most basic guacamole includes the following:
Avocado
Cilantro
Lime Juice
Salt
That's it. Of course you can experiment and add in different ingredients, but these are the essentials.
This is our favorite version - very simple to start. Use it as your canvas. Experiment and grow. Sometimes the easiest guacamole, however, is the favorite.
How to Make Guacamole - the Recipe Method
First, gather up your ingredients, including:
2 avocados, peeled and pitted
1/2 cup fresh cilantro chopped
2 teaspoons fresh lime juice
1/2 teaspoon sea salt
Next, add all ingredients to a large mixing bowl.
Mash the avocados along with the whole mixture with a large fork until the avocado becomes creamy and the ingredients are combined. A potato masher works well.
Or, use a molcajete. I love making authentic guacamole in my molcajete. It always comes out so creamy and flavorful.
Finally, taste and adjust for salt to your personal tastes.
BOOM! That's it! Serve it up, my friends! It doesn't really get much easier. Such a delicious recipe.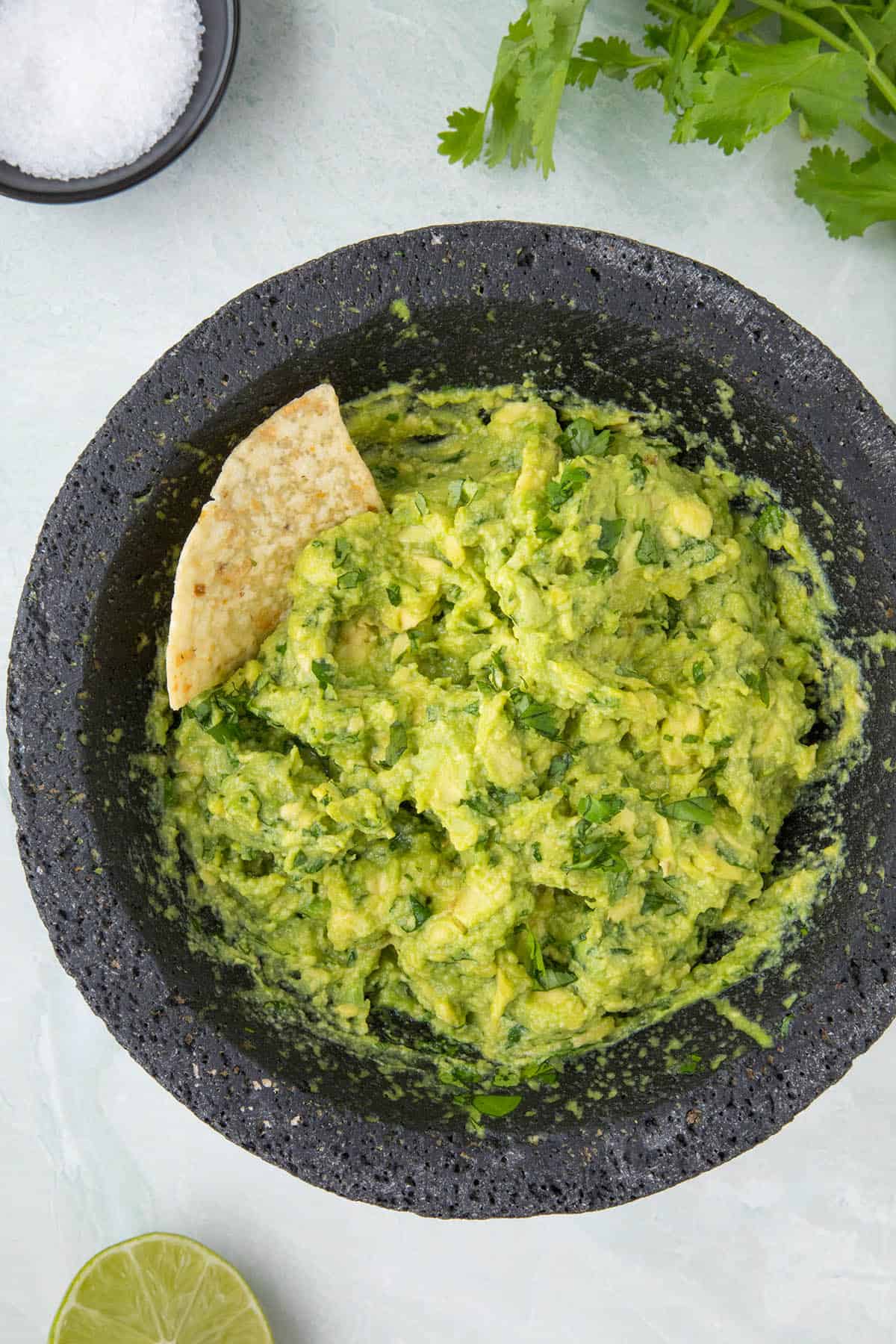 Notes on Making Awesome Guacamole
The KEY to making the perfect easy guacamole is in choosing the proper avocados. They must be nice and ripe. Ripe avocados are essential. If your avocados are too hard, they won't break down enough to get nice and creamy.
Choose avocados that have softened up nicely, but not TOO soft that they have started to rot. You can feel them at the time of purchase. The fleshy avocado "meat" will give way partially under the skins, but it won't feel mushy or too soft.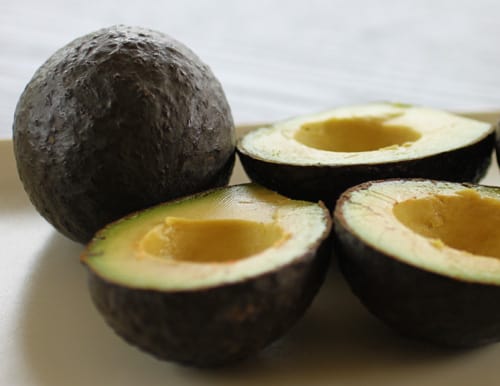 After that, be sure to adjust the other ingredients to your personal preference. Fresh ingredients are a must. Want more cilantro? Toss some in. Less lime juice? Go for it.
Just be careful with the salt. You can always add more in, but you can't take it out once it's been added. A simple guacamole recipe is the best guacamole recipe.
How to Remove the Avocado Pit (Coring an Avocado)
Removing the pit from your avocados may seem slightly daunting, but once you learn a very simple technique, you'll find that it's really rather easy.

First, cut the avocados in half lengthwise with a knife. Don't cut through the large brown pit. Push the knife into the avocado until you feel the resistance from the pit, then slowly and carefully slice around it.
Pull the avocado halves apart to expose the pit.
Next, carefully insert a knife edge into the pit with a simple light tapping motion.
Next, give it a slight twist and the pit will pop right out. It will still be connected to the knife blade, so be careful when separating it.
You can also use a spoon to remove the pit, but it almost always comes out more cleanly with the knife blade technique.
Other Ingredients for Guacamole - Making it Your Own
Once you have this easy homemade guacamole recipe mastered, feel free to add in other ingredients to make it your own. Try ingredients such as mango, pineapple, red onion, tomato, pomegranate seeds, habanero peppers for a wonderfully spicy guacamole recipe, jalapeno peppers, and SO MUCH MORE.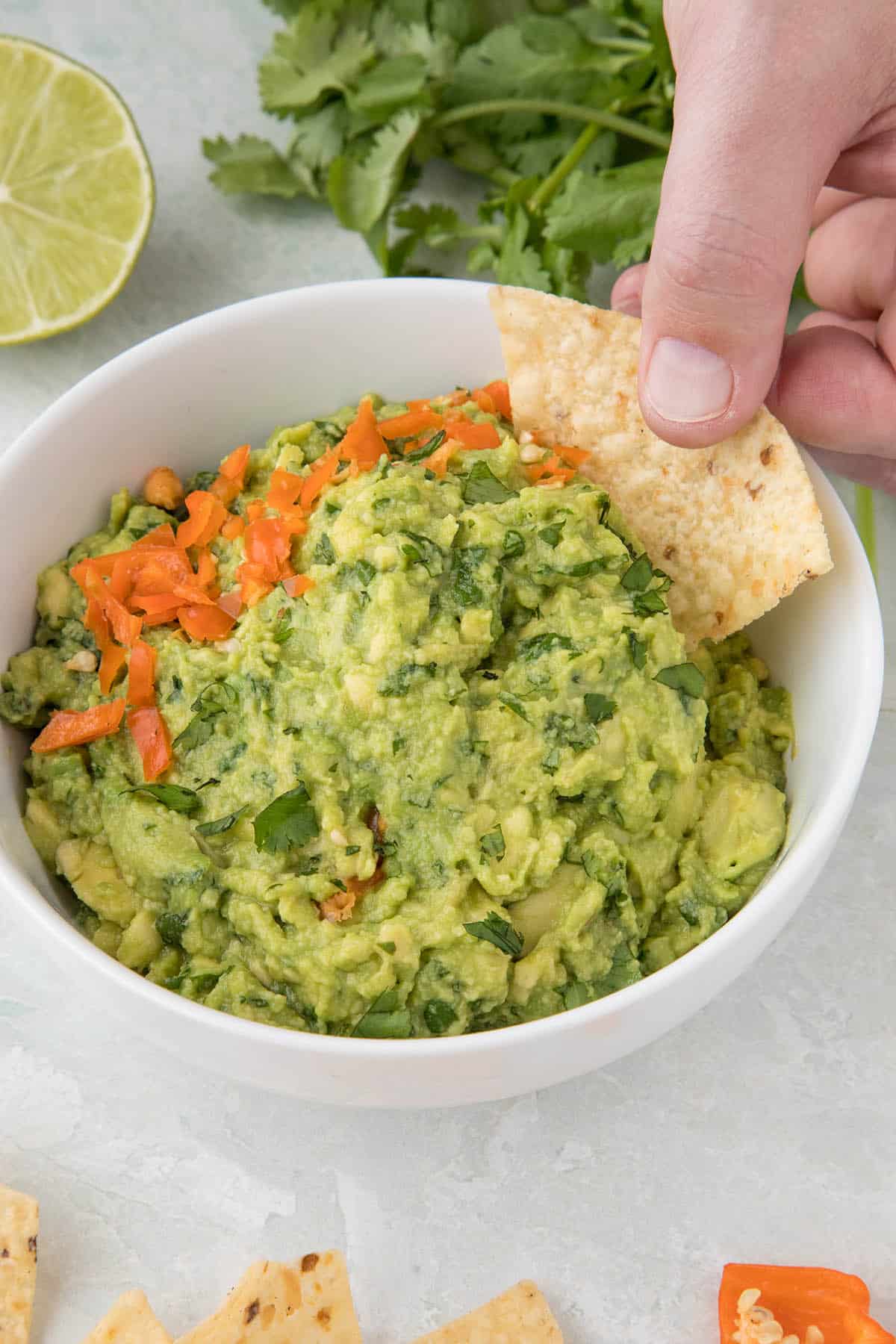 I've enjoyed so many of these variations and typically enjoy them all. Many restaurants make their own versions with all sorts of additions. It's hard to choose a favorite, though I often gravitate to the classic guacamole recipe with its 4 ingredients.
Although, I do make a version of guacamole for a party that is SUPER CREAMY and different. It was such a hit that it is almost always requested, and preferred by half of my friends. It is Goat Cheese Guacamole. I mix in a half stick of goat cheese for an extra creamy guacamole. Try it!
The other half of my friends prefer my classic guacamole. See which side you fall on! Goat Cheese Vs. Classic! Battle extraordinaire.
How to Serve Guacamole
I like to simply scoop it into a bowl and serve it with warmed tortilla chips. However, sometimes it is fun to serve your homemade guacamole into the hollowed out avocado shell for presentation purposes.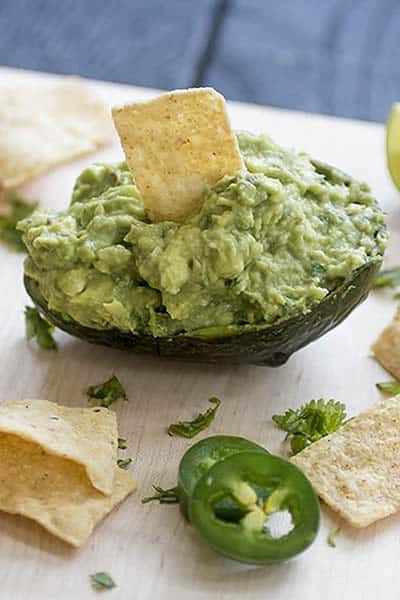 Also, you don't have to serve it with chips. While that is certainly great, I also like to spoon perfect guacamole onto tacos and burritos, or over burgers and other sandwiches. It's so delicious! Such an easy recipe.
Keeping Your Guacamole Fresh
Guacamole turns brown pretty quickly after it's been sitting out. You'll notice it start to brown at parties. Once it turns brown, it is still edible, but it loses much of its appeal.
I've seen and tried many different techniques for preventing guacamole from browning and most of them don't really work. Some place the avocado pit into the guacamole, others place a sliced onion. Nothing is going to keep your guacamole from turning brown eventually.
If you find your guacamole turning brown, simply swirl in a bit of lime juice to freshen it up. That will do the trick.
For actually storing guacamole, the best method to keep it at it's freshest is to place it into a glass bowl and cover it with plastic wrap to limit oxygen exposure. However, don't just wrap the top of the bowl. Wrap the actual top of the guacamole as much as you can. This is what has worked best for me.
That's it, my friends! I hope you enjoy your guacamole! It really is a great recipe. One of my very favorites.
Check Out Some My Other Popular Guacamole and Salsa Recipes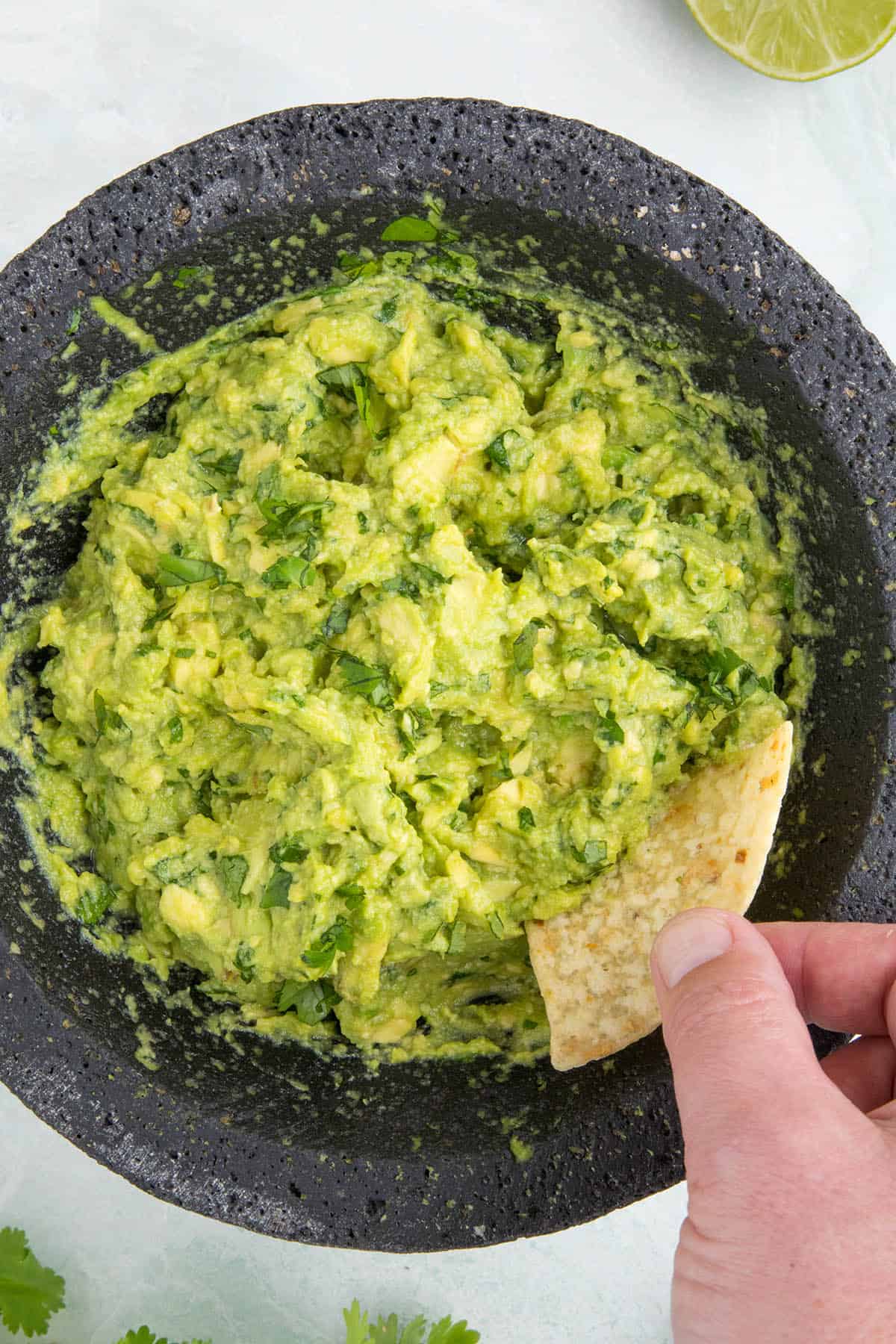 Got any questions? Ask away! I'm happy to help. If you enjoy this recipe, I hope you'll leave a comment with some STARS.Also, please share it on social media. Don't forget to tag us at #ChiliPepperMadness. I'll be sure to share! Thanks! — Mike H.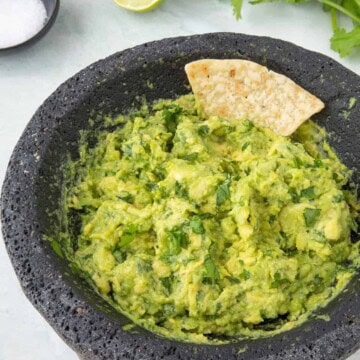 Print
Easy Perfect Homemade Guacamole - Recipe
Homemade guacamole is an essential side dish for so many meals and is the absolute perfect dip. As we've discussed, there aren't many ingredients in guacamole, but each restaurant makes theirs a bit different. This is our favorite version - very simple to start. Use it as your canvas. Experiment and grow. Sometimes the basic, however, is the favorite.
Save Recipe
Saved!
Ingredients
2

avocados

peeled and pitted

1/2

cup

fresh cilantro

chopped

2

teaspoons

fresh lime juice

1/2

teaspoon

sea salt
Instructions
Add all ingredients to a large mixing bowl.

Mash with a large fork until avocado becomes creamy and ingredients are combined. Taste and adjust for salt.

Serve!
Video
Notes
This makes enough for just a few small servings, so adjust as needed. Also, we've found that cilantro, salt and lime juice proportions will vary slightly to personal preference.
Nutrition Information
Calories:
161
kcal
Carbohydrates:
8
g
Protein:
2
g
Fat:
14
g
Saturated Fat:
2
g
Sodium:
298
mg
Potassium:
497
mg
Fiber:
6
g
Vitamin A:
280
IU
Vitamin C:
11.3
mg
Calcium:
12
mg
Iron:
0.6
mg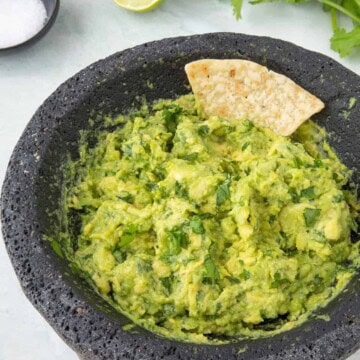 Did You Enjoy This Recipe?
I love hearing how you like it and how you made it your own. Leave a comment below and tag @ChiliPepperMadness on social media.
This post was updated on 4/19/19 to include new information, photos and a video. It was originally published on 5/1/2014.