A hot sauce recipe made with sweet peaches and fiery Scotch Bonnet chili peppers that you can drizzle over anything, though it's particularly great with chicken or fish.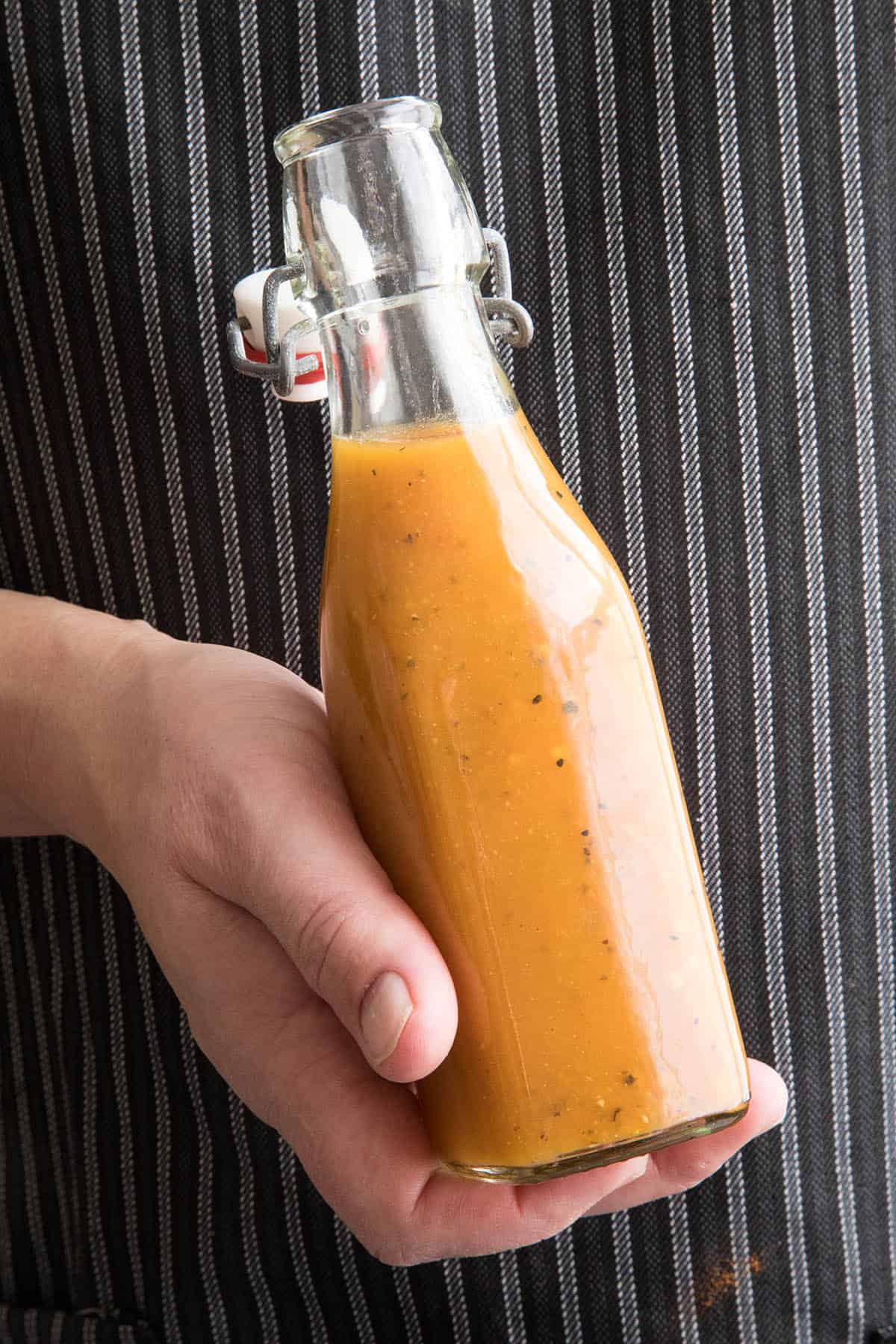 We're making hot sauce again at Chili Pepper Madness, my friends. Shocked? Amazed?
Haha! You already KNOW I'm a hot sauce making fanatic. I love to make my own homemade hot sauces, and do so frequently, and of course you can check them out here – Hot Sauce Recipes.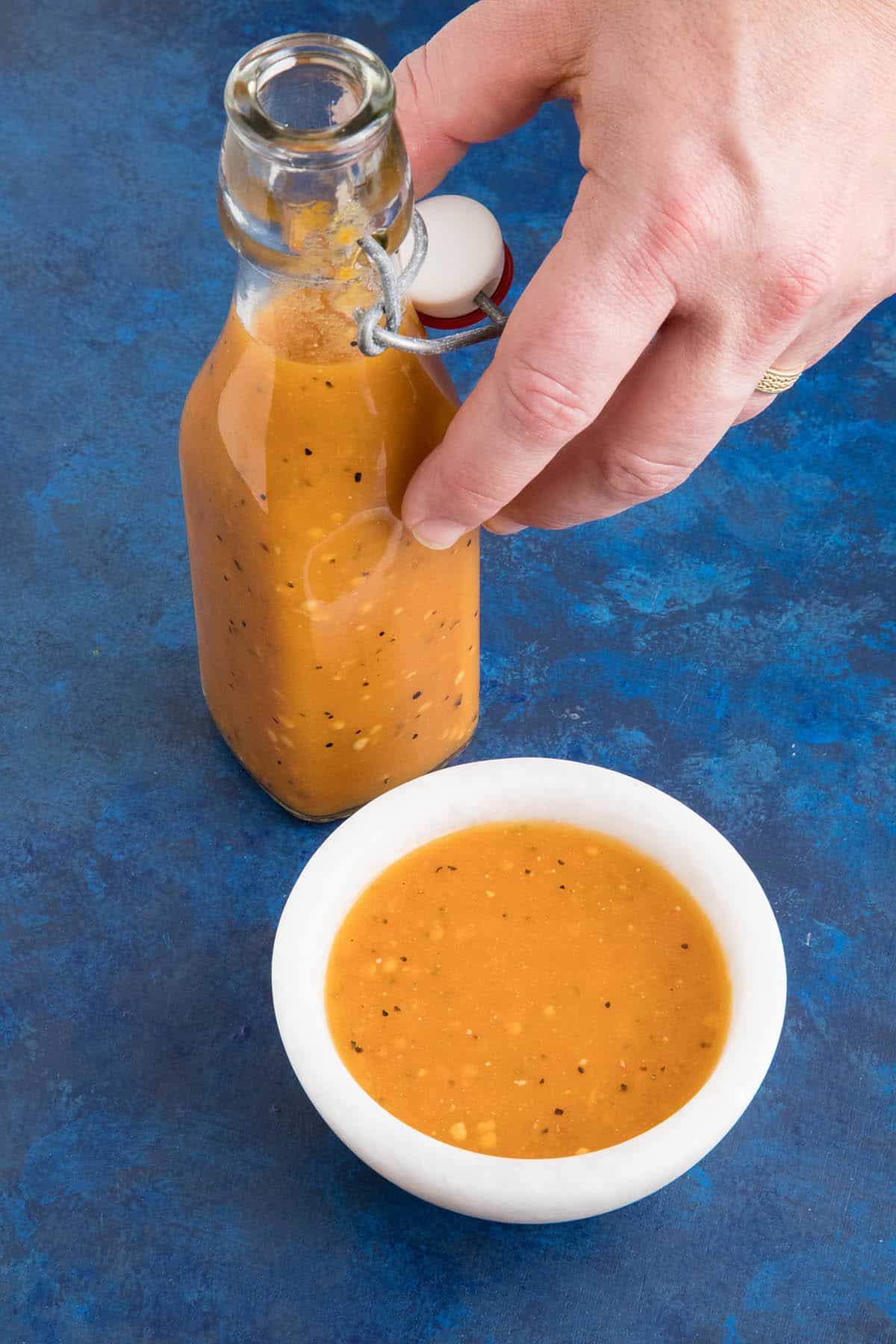 This particular hot sauce recipe is a fermented version, and DANG is it good. It is nice and sweet and it has that awesome FIERY kick from the Scotch Bonnet peppers that we all crave. Scotch Bonnet peppers have an inherent fruitiness that is complemented by the peaches, making this a truly killer combination.
It's a heck of a hot sauce, I'll tell you that!
As I mentioned, this is a fermented hot sauce, which you'll find in the cooking directions below.
SEE: How to Make Fermented Pepper Mash.
However, you CAN make this without fermenting if you wish. Just skip the fermenting parts of the recipe and make it per the rest of the directions. It is still very good this way, though the fermenting mellows it out nicely and combines the flavors in a way that you won't quite get with the fresh version.
But I like them both!
I did a 10-week ferment with this recipe. You can go shorter or longer to your own preference. When I finished the mash, the flavors were just slightly bitter, though the added ingredients really balances out the overall flavor.
I measured this sauce before and after adding the vinegar. The mash itself measured 3.5 after 10 weeks, which would be low enough for home storage. The vinegar brought it down to 3.0.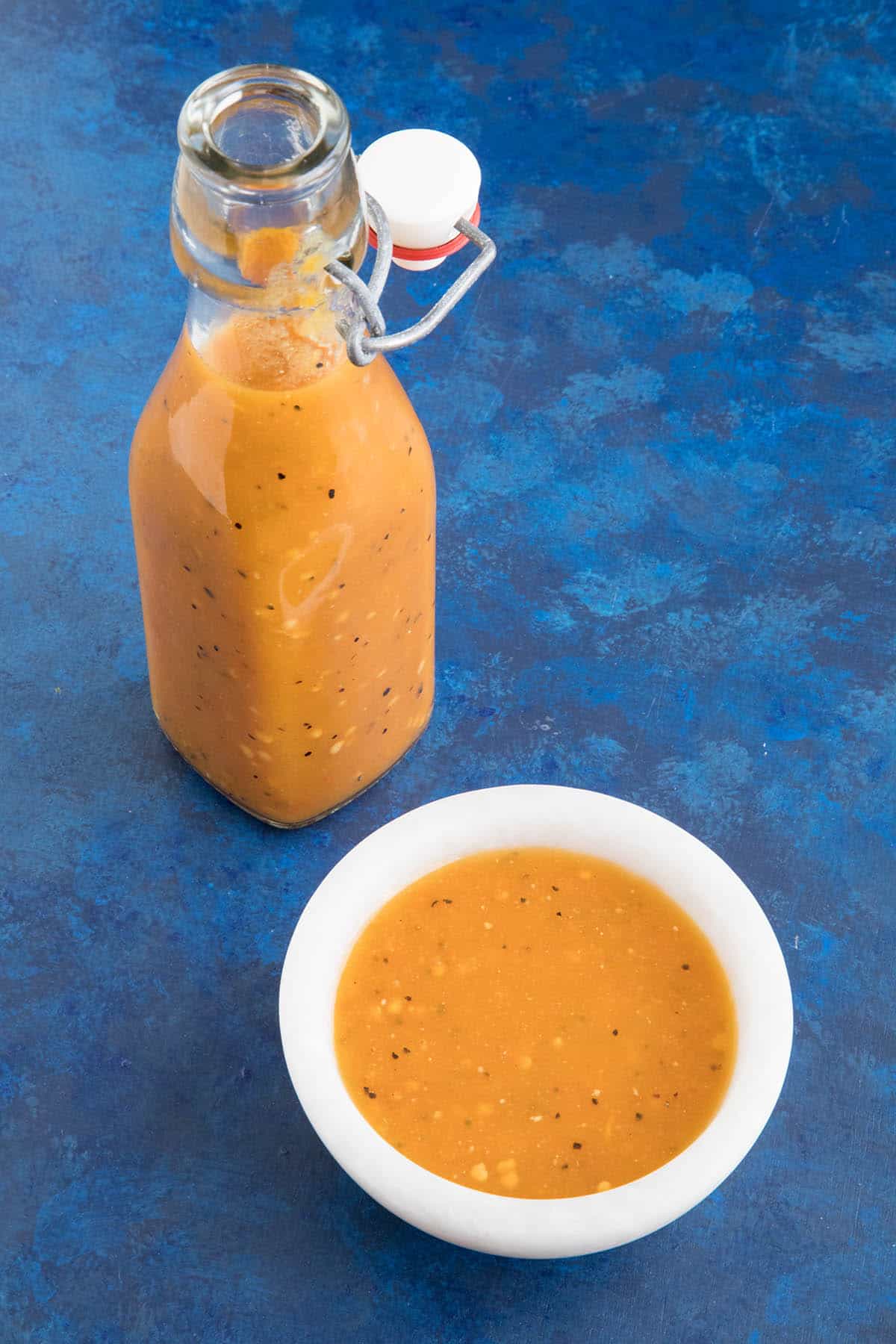 Frequently Asked Hot Sauce Questions
Here are answers to some of the most common questions I get on other sauces:
How long will this sauce keep?
It should keep a few months easily in the fridge, or even longer. It's all about the acidity. To be technical, target level ph for shelf stable foods is below 4.6 ph, but should probably be lower for home cooks, around 4.0 or so, to account for errors. If you're concerned, add more vinegar to lower the ph. Sauces made with fermented chili peppers will last even longer.
The best ph meters that I recommend are from Thermoworks. Get yourself a ph meter from Thermoworks today. I am a happy affiliate.
Where'd you get that sauce bottle?
I find them locally sometimes, but I also order through Amazon. Here is a link to some bottles I like (affiliate link, my friends!): Swing Top Glass Bottles, 8.5 Ounce - Set of 4
. If you like the smaller bottles that most hot sauce makers use, here's another link: Hot Sauce Bottles, 5 Oz - 24 Pack
.
Can I process this hot sauce for longer storage?
Absolutely. Just be sure to use proper canning/jarring safety procedures.
What should I do with hot sauce?
Aside from drizzling it over anything you please, here's a post I did about How to Cook with Hot Sauce. As if you need even MORE reasons to eat hot sauce. LOL. I hope you find it helpful!
Check out more Hot Sauce Recipes. Also - Learn How to Ferment Chili Peppers Here.
How to Make a Non-Fermented Version of this Peach-Scotch Bonnet Hot Sauce
To make a non-fermented version of this hot sauce recipe, just skip the brine process and start with fresh ingredients. Add everything to a pot but add only a half cup of water or so.
Simmer the ingredients to break them down, then process it. Add a bit more water until you reach the consistency you'd prefer.
Or, reverse the order and process the ingredients first with water to your consistency preference, then simmer the processed sauce.
Check out These Related Recipes:
Check out more Hot Sauce Recipes or learn more about How to Make Hot Sauce.
Check out These Other Scotch Bonnet Recipes: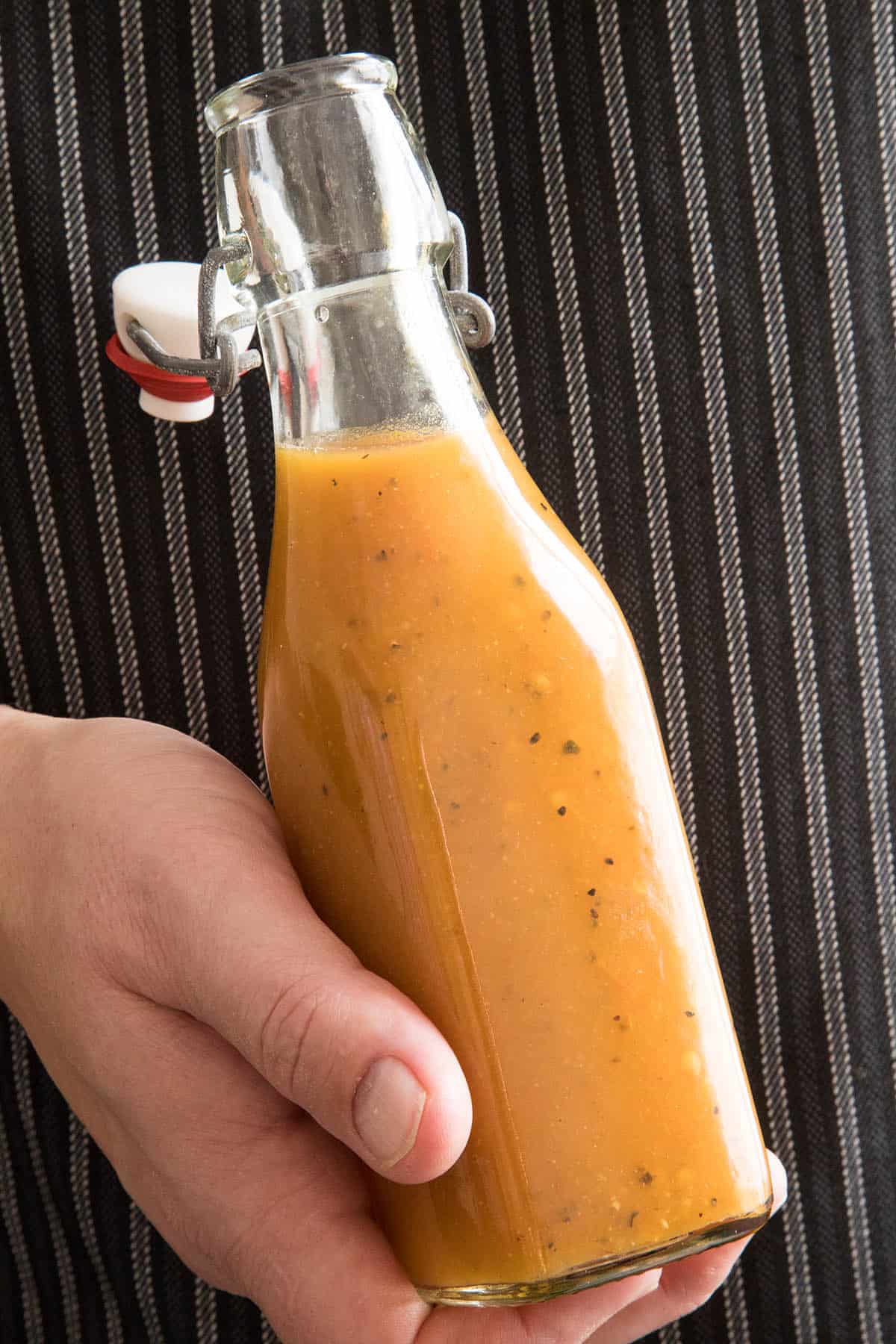 If you try this recipe, please let us know! Leave a comment, rate it and tag a photo #ChiliPepperMadness on Instagram so we can take a look. I always love to see all of your spicy inspirations.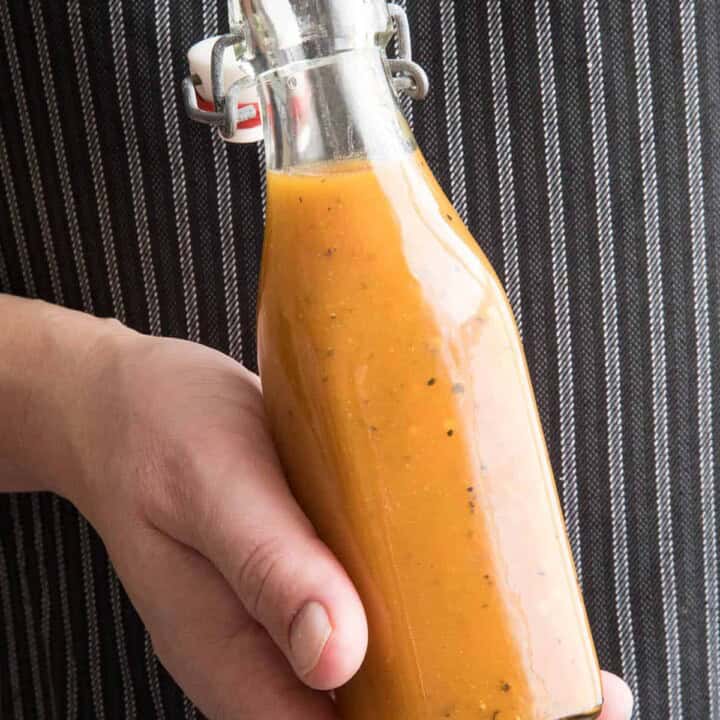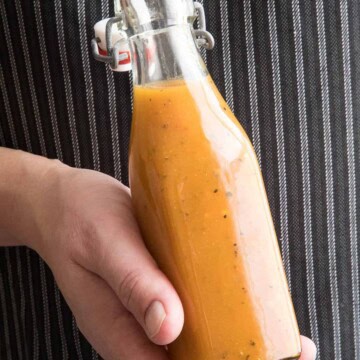 Print
Peach-Scotch Bonnet-Peach Hot Sauce – Recipe
A hot sauce recipe made with sweet peaches and fiery Scotch Bonnet chili peppers that you can drizzle over anything, though it's particularly great with chicken or fish.
Save Recipe
Saved!
Ingredients
6

ounces

Scotch Bonnet peppers

chopped

1

pound

tomatoes

chopped

1

peach

peeled, pitted and chopped

2

cloves

garlic

chopped

¼

cup

apple cider vinegar

2

tablespoons

honey

1

tablespoon

mustard powder

1

teaspoon

salt

½

teaspoon

ground cardamom

(I used green cardamom)

½

teaspoon

black pepper
Instructions
First, roughly chop the peppers, tomato, peach and garlic. Pack them into a large jar, leaving at least 1 inch of head space. The mixture may rise a bit when fermenting.

Next, mix 1 quart unchlorinated water with 3 tablespoons sea salt. Pour just enough brine over the mixture to cover it, pressing them down a bit as you go. It is important to keep the mixture covered with brine to avoid spoilage. Check this daily.

Screw on the lid and set the jar away from direct sunlight to ferment for at least 1 week. I fermented for 10 weeks. Ideal temperatures are between 55-75 degrees F. The most active fermentation period is between 1-2 weeks, so be sure to monitor it during this time. "Burp" the jars often by unscrewing the lid a bit to let out some of the accumulating gases. Or, use an airlock or membrane for easier fermenting. See our page, "

How to Make Fermented Pepper Mash

", for further instruction.

After 1-2 weeks, the fermenting activity will diminish and the brine will turn cloudy and taste acidic.

When satisfied with your fermenting time, pour the contents, including brine, into a pot along with the remaining ingredients. Bring to a quick boil. Reduce heat and simmer for 15 minutes.

Cool, then process with a food processor until nice and smooth.

Pour into sterilized jars and seal. Refrigerate and enjoy. Tastes even better if you leave it mingle a week or longer.
Notes
Makes 2+ cups.
Heat Level: Hot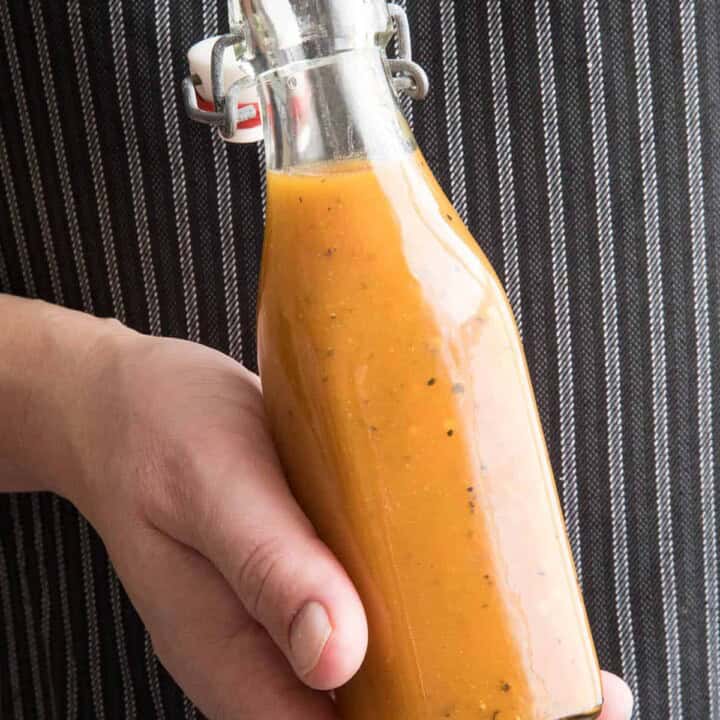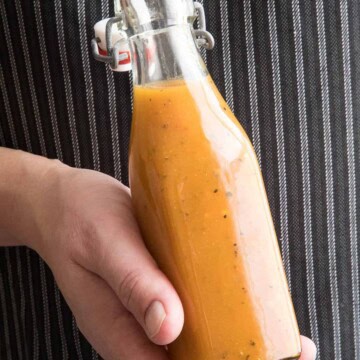 Did You Enjoy This Recipe?
I love hearing how you like it and how you made it your own. Leave a comment below and tag @ChiliPepperMadness on social media.