Make your own ghost pepper hot sauce at home with this recipe, which includes plenty of chopped ghost peppers, tomatoes, vinegar and salt. Big flavor, big spice! With a pleasant blast of heat. Drizzle it over everything!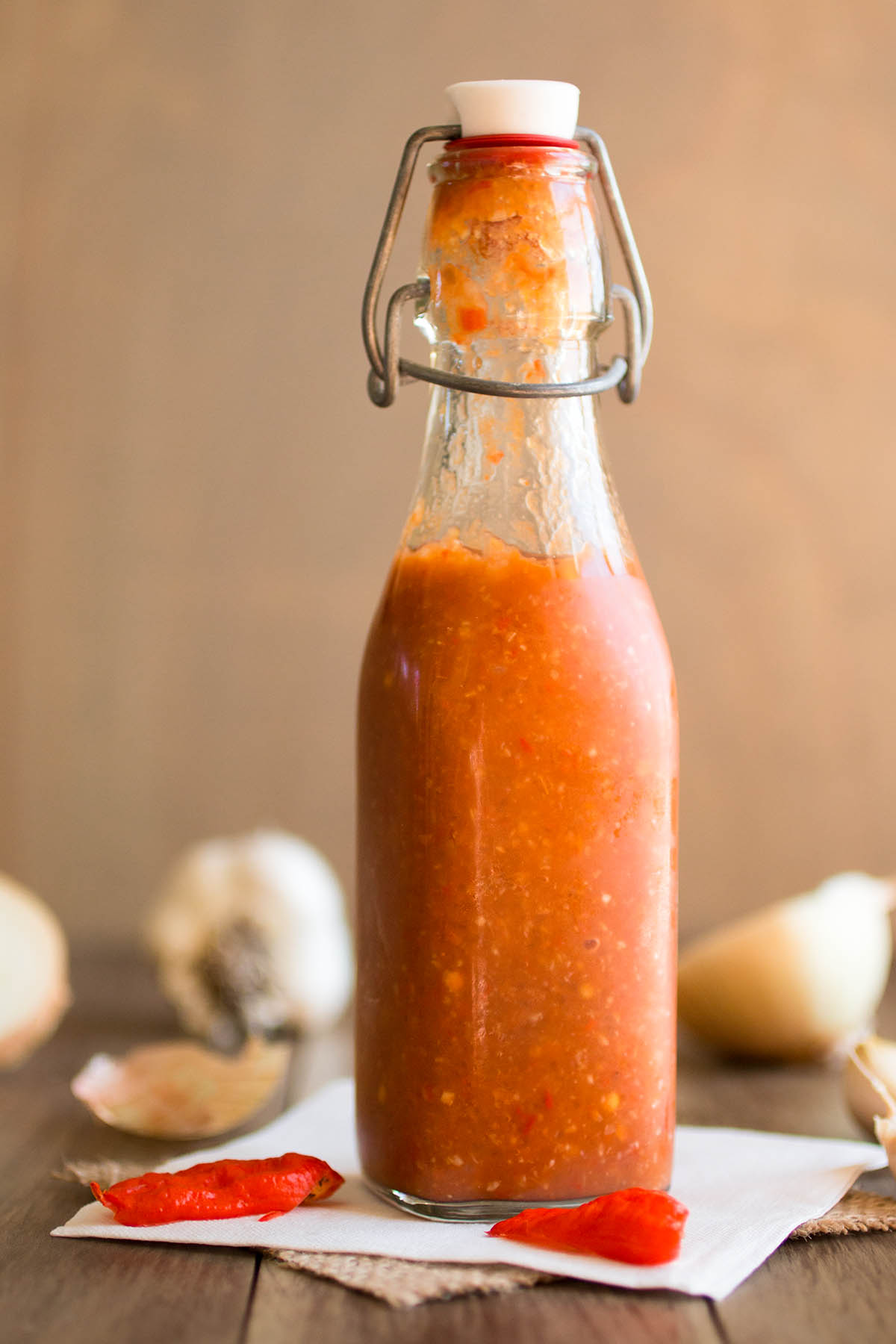 Ghost pepper hot sauce coming at you, baby! You GOTTA have some ghost pepper sauce in the fridge for times when you need that extra bit of heat. Our ghost pepper plants weren't quite as productive as our 7-pot plants this year, but we still got plenty of pods for whipping up some hot sauce.
Hot sauces are one of my favorite foods to make. I've become a bit fanatical about it, really. I've come to need a big variety on hand for all the different types of meals I make. You can tell by the growing collection of Hot Sauce Recipes on the web site.
I've been moving into making flavors and combinations of all different sorts, but we're keeping it super simple with this sauce. Sometimes simple is best.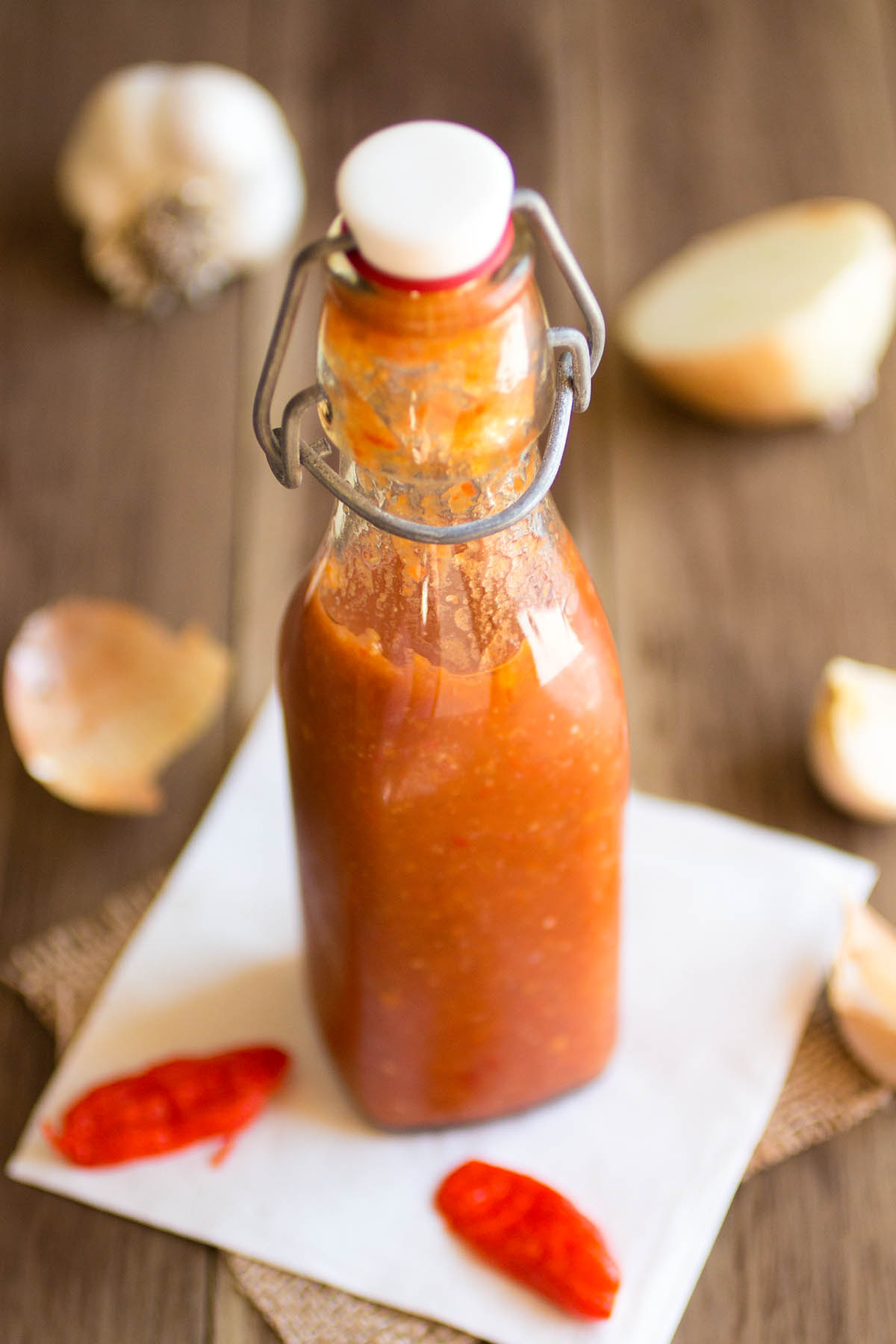 With only 7 ingredients, you can make this sauce in about a half an hour, not including chopping time. Most of the time is spent watching the ingredients simmer to cook down a bit and let the flavors meld.
How to Make Ghost Pepper Hot Sauce - The Recipe Method
In a nutshell, your cooking steps include: Chopping, Cooking, Simmering, Processing, Bottling. Done! Easy!
The unfortunate part of this recipe is that it is best to wait a few days or even longer to let the flavors mingle and mellow slightly in the bottle. Of course you can eat it right away, but I like the flavor that much more after waiting.
So have a little patience, will ya?
The flavor is spicy for sure, but somewhat fruity from the ghosts and savory with the tomatoes. This is one of my very favorites.
Safety Advice
When working with hotter peppers, including superhots, it is important to wear gloves when handling the peppers both in raw and dried forms. The oils can get on your skin and cause burning sensations. See above.
Need help? How to Stop the Chili Pepper Burn On Your Skin.
Also, the fumes from the chili peppers and/or the fine powders may get into the air if you are not working in a well ventilated room, so you may want to wear a mask and goggles. Superhot chili peppers, truly, are called superhots for a reason.
Here are some answers based on the many comments I get on other sauces. Here goes:
How long will this hot sauce keep?
It should keep a few months easily in the fridge, or even longer. It's all about the acidity. To be technical, target level ph for shelf stable foods is below 4.6 ph, but should probably be lower for home cooks, around 4.0 or so, to account for errors. I have not measured the ph of this sauce, but I won't have it around very long anyway. If you're concerned, add more vinegar to lower the ph.
The best ph meters that I recommend are from Thermoworks. Get yourself a ph meter from Thermoworks today. I am a happy affiliate.
Where'd you get that hot sauce bottle?
I find them locally sometimes, but I also order through Amazon. Here is a link to some bottles I like (affiliate link, my friends!): Swing Top Glass Bottles, 8.5 Ounce - Set of 4
. If you like the smaller bottles that most hot sauce makers use, here's another link: Hot Sauce Bottles, 5 Oz - 24 Pack
.
Can I process this hot sauce for longer storage?
Absolutely. Just be sure to use proper canning/jarring safety procedures.
What should I do with hot sauce?
Aside from drizzling it over anything you please, here's a post I did about How to Cook with Hot Sauce. As if you need even MORE reasons to eat hot sauce. I hope you find it helpful!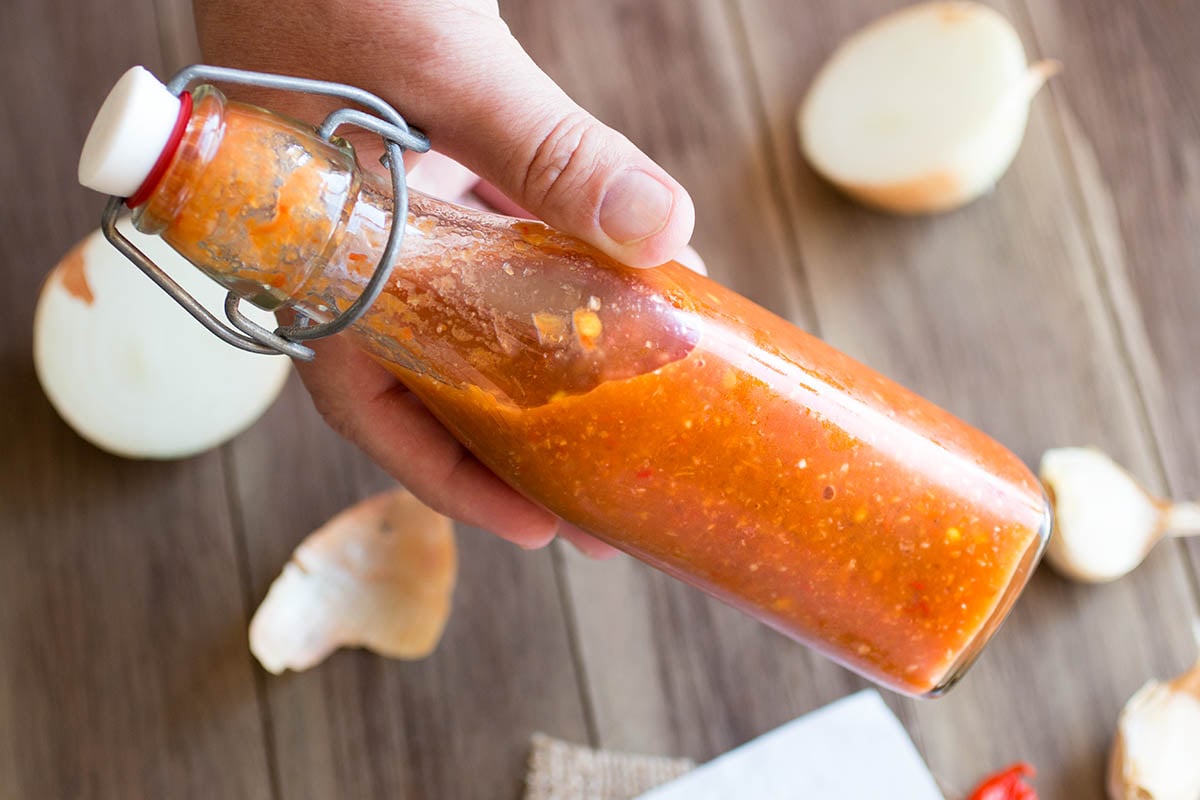 Can You Die from Eating Ghost Peppers?
It is possible to overdose on capsaicin, the chemical that makes chili peppers hot. However, the only way you can die from eating ghost peppers is if you eat them in sufficient quantity. A study performed in 1980 calculated that it would take consuming 3 pounds of superhot pepper powder, like ghost pepper powder, to kill a person weighing 150 pounds. It is highly unlikely anyone could consume that amount, as their body would react before reaching such a limit.
Ghost Pepper Flavor
Ghost peppers offer a an intense sweet pepper flavor that is quite fruity. The heat is more of a blooming heat, taking 30 seconds or longer to kick in. As they measure over 1 Million SHU, you can imagine that is quite hot. The burning generally rises in intensity over the next 10-15 minutes, then subsides after 30-40 minutes.
Check out These Related Recipes:
Check out more Hot Sauce Recipes or learn more about How to Make Hot Sauce.
Got any questions? Ask away! I'm happy to help. If you enjoy this recipe, I hope you'll leave a comment with some STARS. Also, please share it on social media. Don't forget to tag us at #ChiliPepperMadness. I'll be sure to share! Thanks! -- Mike H.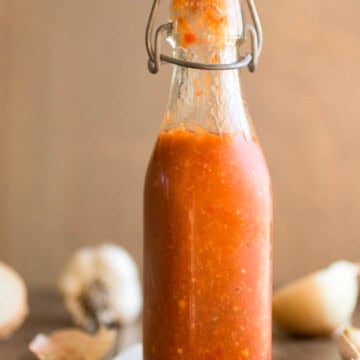 Print
Ghost Pepper Hot Sauce - Recipe
Make your own ghost pepper hot sauce at home with this recipe, which includes plenty of chopped ghost peppers, tomatoes, vinegar and salt. Big flavor, big spice! With a pleasant blast of heat. Drizzle it over everything!
Save Recipe
Saved!
Ingredients
1

tablespoon

olive oil

6

bhut jolokia peppers

ghost peppers, chopped

1

small onion

diced

2

medium tomatoes

chopped (I used Black Krims from the garden)

2

tablespoons

red wine vinegar

1

teaspoon

salt

½

cup

water
Instructions
Heat oil in a pan and add peppers and onions. Stir.

Add tomatoes and stir. Cook about 10 minutes.

Add vinegar, salt and water. Simmer 20 minutes to allow flavors to develop.

Transfer contents to a food processor and process until smooth.

Transfer to a container. Seal and refrigerate until ready to use.
Video
Notes
NOTE: The flavors will grow more intense the longer you wait.
Heat Level: VERY HOT. Ghost peppers are one of the hottest chili peppers in the world, so beware.
Makes about 2 cups of hot sauce.
Nutrition Information
Calories:
12
kcal
Carbohydrates:
1
g
Sodium:
117
mg
Potassium:
46
mg
Vitamin A:
130
IU
Vitamin C:
6.4
mg
Calcium:
2
mg
Iron:
0.1
mg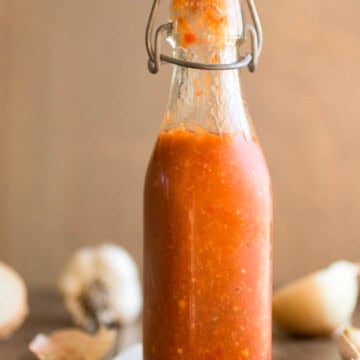 Did You Enjoy This Recipe?
I love hearing how you like it and how you made it your own. Leave a comment below and tag @ChiliPepperMadness on social media.