A simple, spicy, easy-to-make recipe for ghost pepper jelly with sugar, pectin, and lots of fresh ghost peppers. Perfect as a spread but also as a starter glaze or sauce.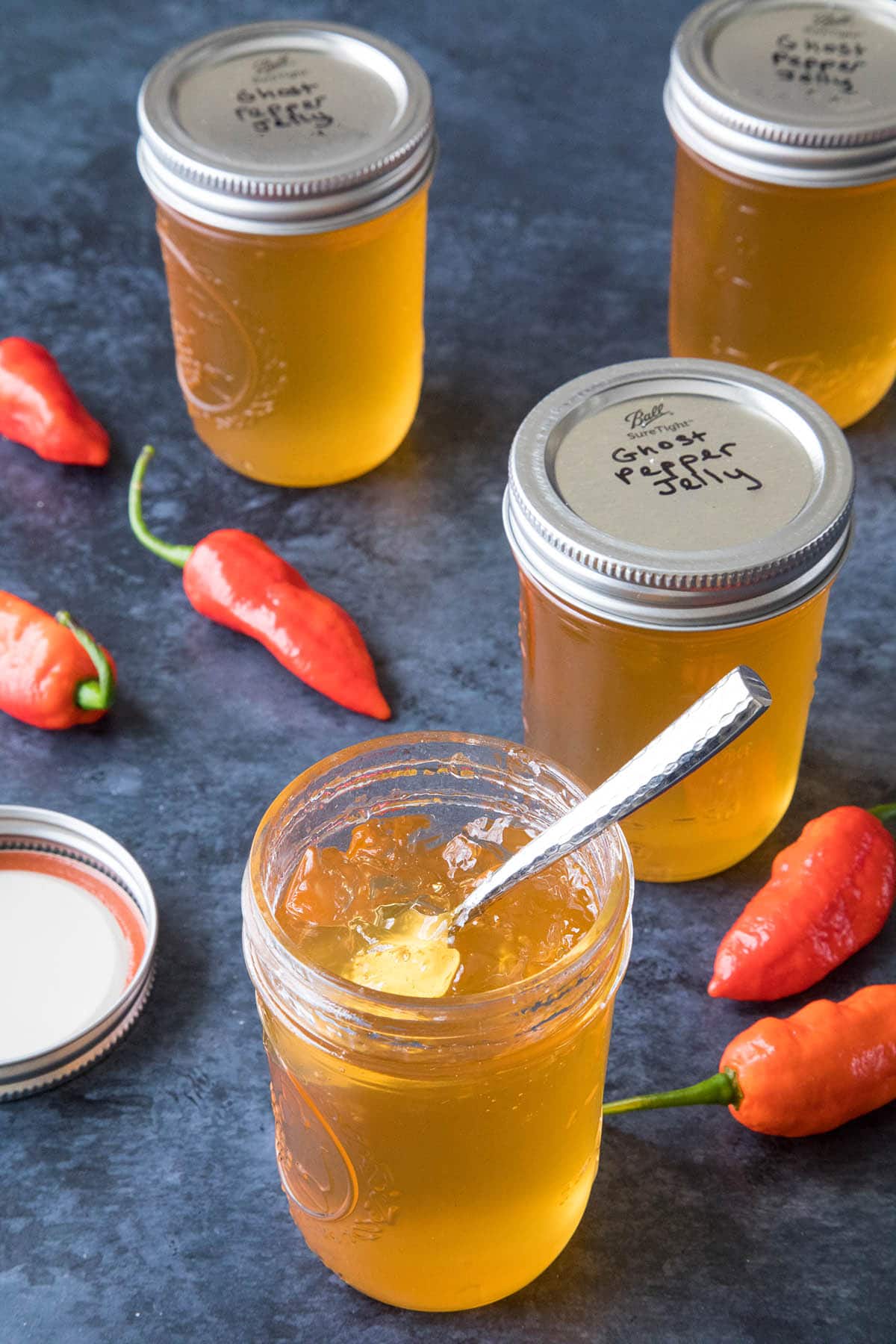 More ghost pepper recipes, my friends! I can't help myself. I grew so many ghost peppers, I have to figure out what to do with them!
Do you ever have that problem?
Seriously, though, I grew a lot on purpose because I LOVE using ghost peppers in several different recipes, from making homemade ghost pepper powder to fresh ghost pepper salsa to picante style ghost pepper salsa, ghost pepper wings and so much more.
I'm crazy for ghost peppers!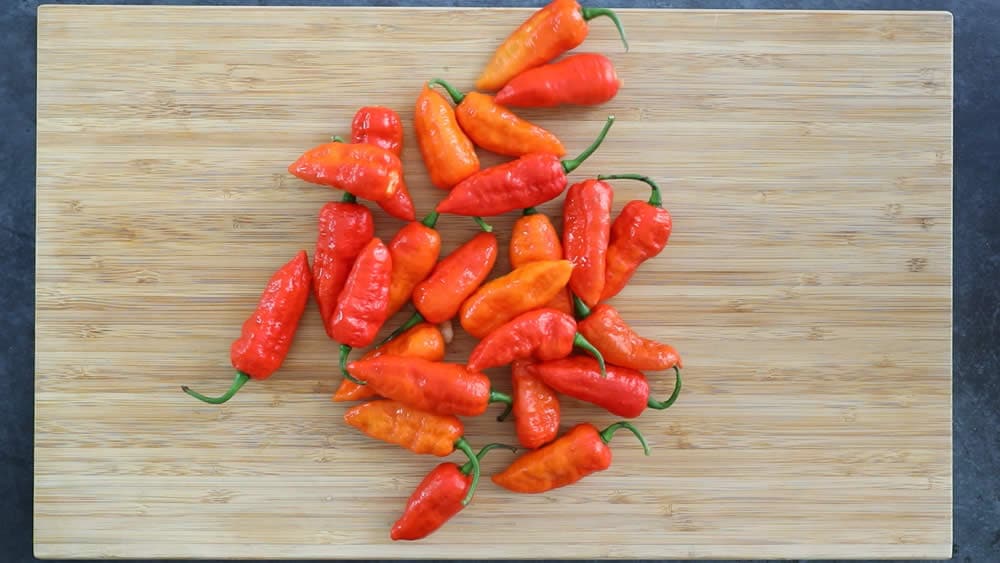 Don't they look great?
Aside from all those other recipes, I'm also making a staple ingredient I like to keep in my refrigerator - We're talking ghost pepper jelly.
YES!
This jelly is nice and sweet and works as a simple spread for crackers or breads or toasts. It's a flavorful snack. It also works for me as a super quick glaze for grilled meats, like chicken or fish.
Seriously, sear up a salmon or swordfish fillet or some seasoned chicken and finish them off with a tablespoon of this.
You will love it!
You can also use your own homemade ghost pepper jelly as the start of a glaze for those very same meals. So much of the work is already done!
Beware, though. Unlike my Jalapeno Jelly Recipe, which is nice and sweet with a touch of spice, this recipe packs some heat! Ghost peppers are no joke. Even though you are straining out the ghost peppers, the resulting jelly is quite hot.
In a good way, though, my spicy food loving friends.
Let's talk about how we make this ghost pepper jelly, shall we?
How to Make Ghost Pepper Jelly - The Recipe Method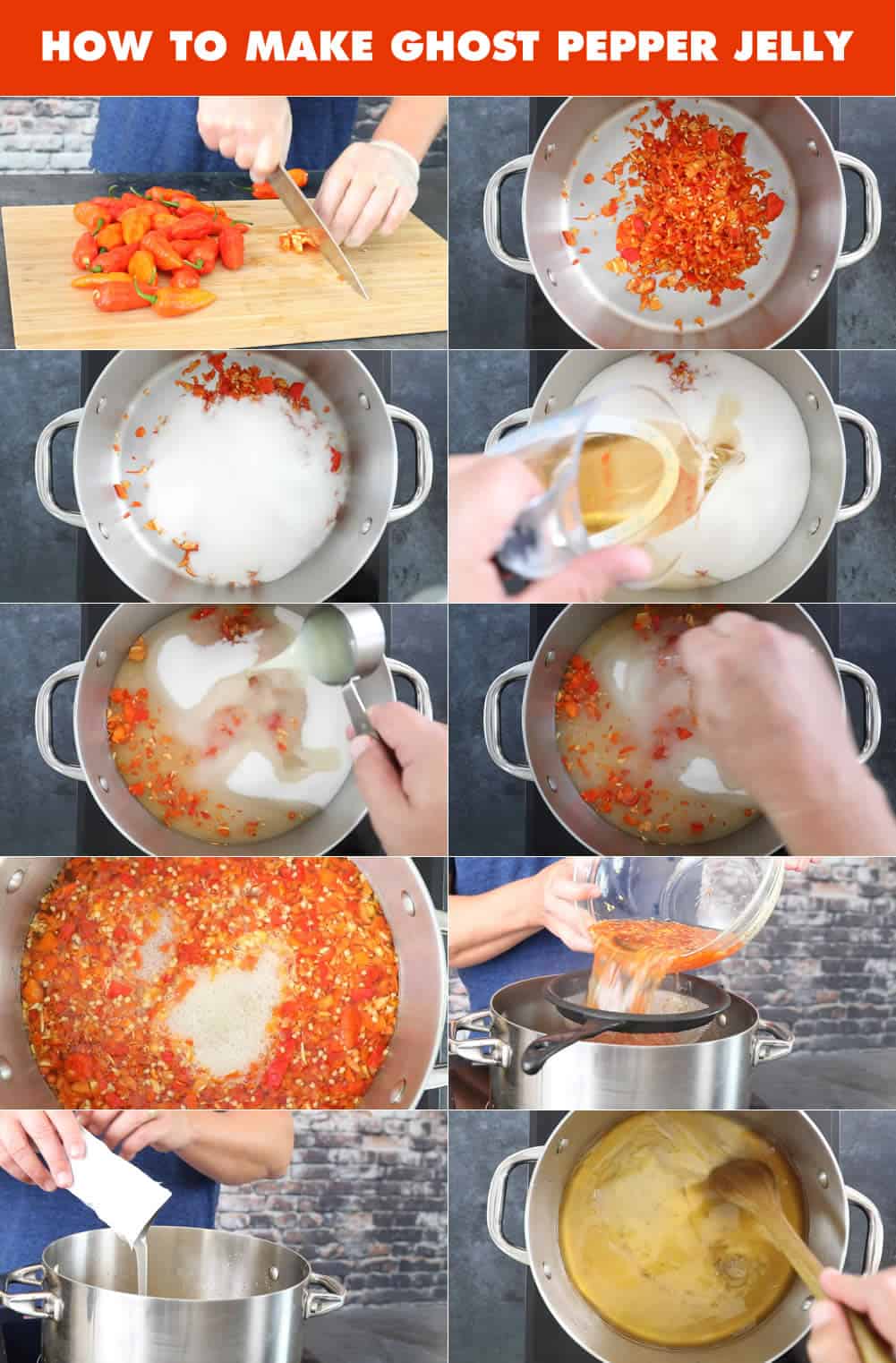 First, chop your ghost peppers. Start with a half pound of them.
Add them to a large pot.
Next, add 4 cups of sugar. Yes, this is a sweet jelly recipe.
Pour in 1-1/4 cups vinegar, 1/4 cup lime juice, and a teaspoon of salt.
Stir it all together.
Bring the mixture to a quick boil and simmer it for about 10 minutes to let the flavors develop.
After 10 minutes, pour the contents into a different pot, then strain it back into the original pot. Make sure all of the solids are removed.
Pour in 3 ounces of liquid fruit pectin.
Bring the liquid back to a boil, stirring a bit, and boil for 1 minute.
Pour or ladle the hot liquid into 4 clean 8-ounce jars, like so.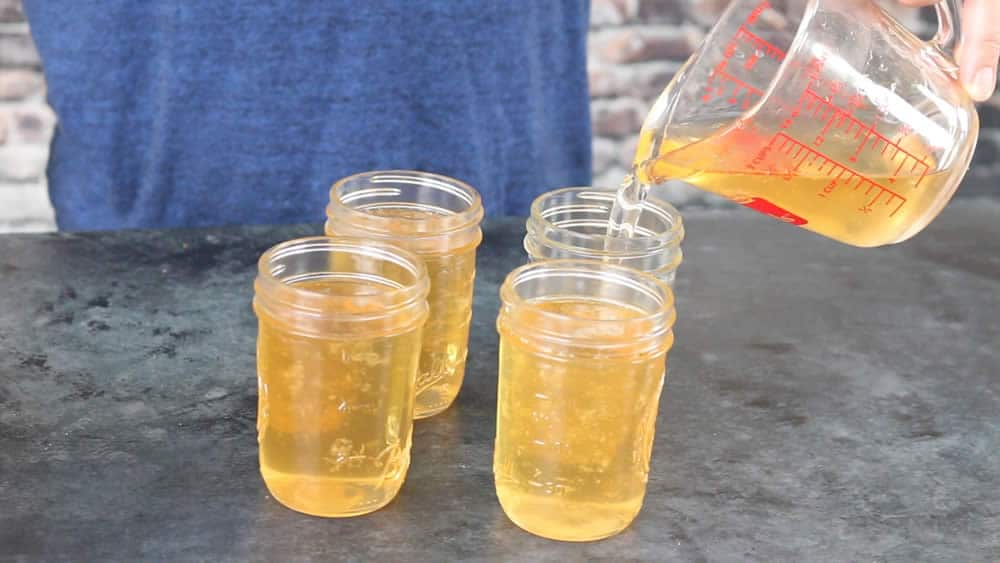 Screw on the caps and refrigerate overnight. The jalapeno jelly will set over night, though it could potentially take up to 2 weeks to fully gel.
I keep mine in the refrigerator and eat them within a month or 2, but if you'd like to keep them for longer and/or want to store them at room temperature, you can process them in a water bath. See information on that below.
Recipe Notes and FAQ
Here are answers to some questions I get on making jellies and jams.
Sealing Jellies and Jams - The Water Bath Method
Properly sealing jellies and jams is important for longer keeping. To do this, use jars that have been cleaned with soap and water, then held in hot water until you're ready for jarring.
Or, you can sterilize the jars by boiling them in hot water for 10 minutes. Add 1 minute of boiling time for every 1000 feet of altitude. Set them into hot water while you prepare your jelly or jam.
Wash and rinse the bands and lids.
Next, prepare the boiling water canner or pot with enough clean water to cover the jars by at least an inch or 2. Bring the water to 180 degrees F. Just under a boil.
Pour the hot jelly or jam into the sterilized jars, leaving 1/4 inch of head space. Wipe the jar rims and screw on the cleaned rings bands and lids. Place them onto the canning rack, ensuring the jars are 1-2 inches below the water.
Bring the water to a boil and boil for 5 minutes, or 10 minutes if you're not using sterilized jars. Add an extra minute per 1000 feet elevation over 1000 feet.
Remove the jars and set them onto a protected surface.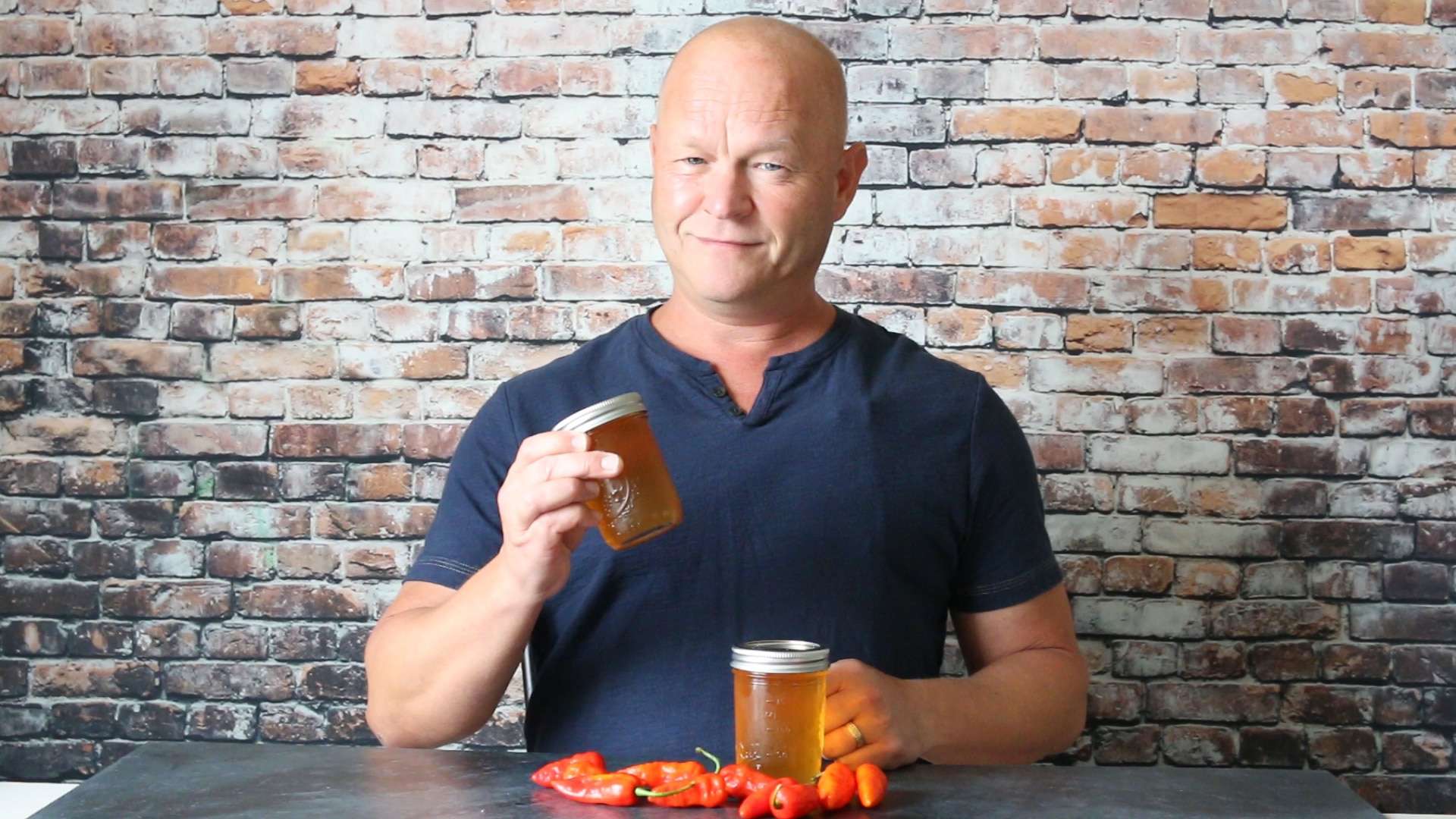 Benefits of the Water Bath
Water bath processing super heats the air at the top of the jar, effectively killing any spores or yeast from the air, as you don't want to seal those in with lower sugar jams.
The method also makes for a stronger seal than simply letting the jelly or jam cool and pop.
Storing Jellies and Jams
Don't move the jellies or jams for at least 12 hours after you've made them, or you risk breaking the gel. After proper cooling, check the seals and store in a cool, dry place.
Your jellies and jams should last a year this way, but the flavor is still best if used within a few months.
Recommended Products
Here is a link to the jam/jelly jars that I personally use and prefer. Highly recommended. Affiliate link - FYI: Ball Mason 8oz Quilted Jelly Jars with Lids and Bands, Set of 12
Try Some of My Other Popular Jelly and Jam Recipes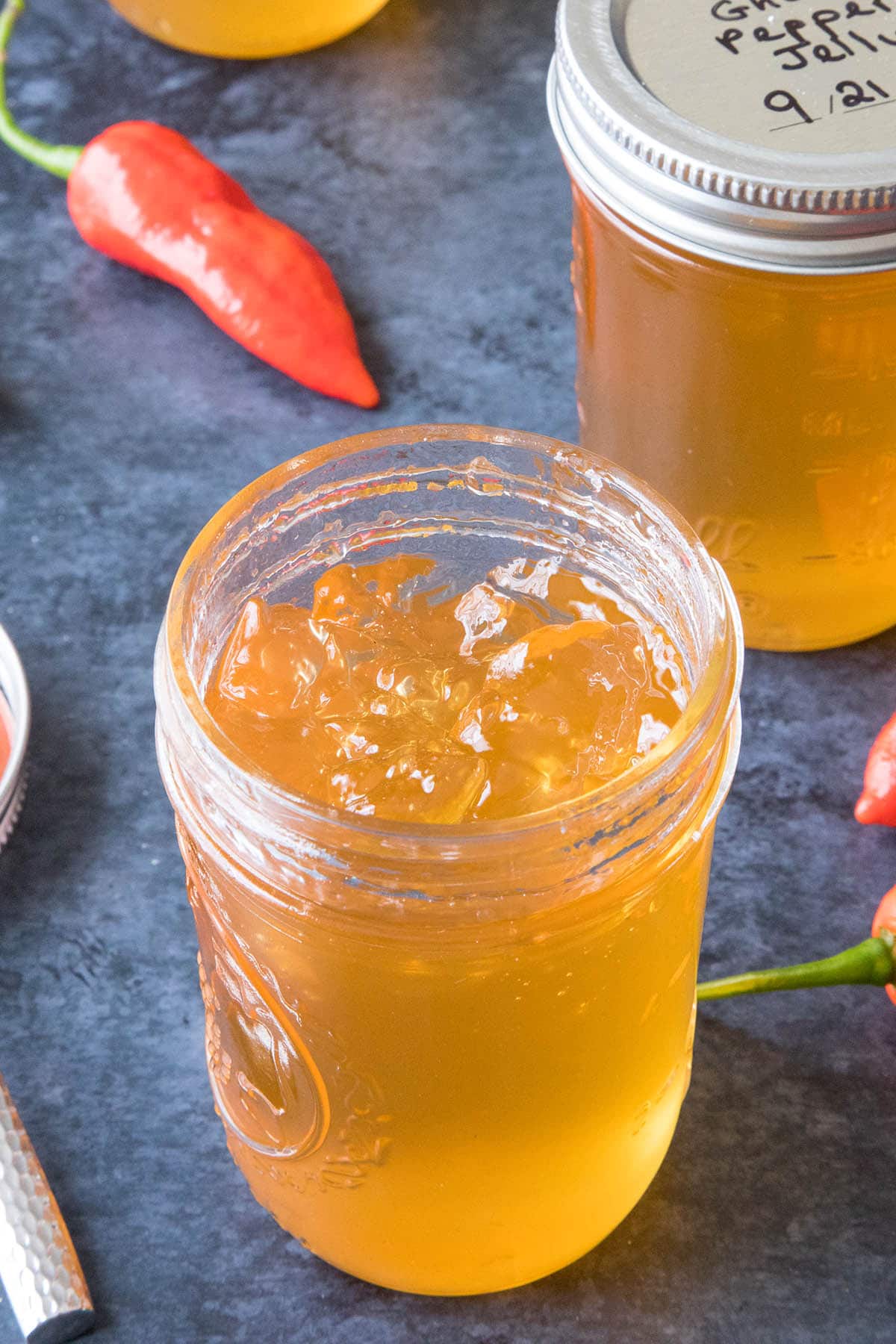 If you enjoy this recipe, I hope you'll leave a comment with some STARS. Also, please share it on social media. Don't forget to tag us at #ChiliPepperMadness. I'll be sure to share! Thanks! -- Mike H.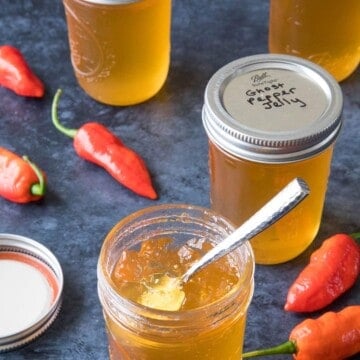 Print
Ghost Pepper Jelly - Recipe
A simple, spicy, easy-to-make recipe for ghost pepper jelly with sugar, pectin, and lots of fresh ghost peppers. Perfect as a spread but also as a starter glaze or sauce.
Save Recipe
Saved!
Ingredients
1/2

pound

ghost peppers

chopped (about 20-30 ghost peppers)

4

cups

granulated sugar

1 1/4

cups

cider vinegar

1/4

cup

lime juice

1

teaspoon

salt

3

ounces

liquid fruit pectin

4

drops red food coloring

if preferred - NOTE: I didn't use any for this recipe.
Instructions
Finely chop the ghost peppers and add them to a large pan.

Add sugar, vinegar, lime juice, and salt.

Bring to a boil then reduce heat to low and simmer for about 10 minutes.

Strain out the ghost peppers and return the mixture to the pan.

Return heat to high and bring liquid to a boil. Stir in pectin and boil for 1 minute, stirring constantly. Remove from heat.

If using food coloring, add it now and stir.

Ladle the hot liquid into clean jars and screw on the lids.

Cool overnight in the refrigerator. The mixture will solidify into jelly.
Video
Notes
Makes 4 8-ounce jars.
Heat Factor: HOT. Ghost peppers have a great amount of heat, even though you're straining them out. Keep the ghost peppers in the mix for a ghost pepper jam.
Nutrition Information
Calories:
80
kcal
Carbohydrates:
20
g
Sodium:
58
mg
Potassium:
17
mg
Sugar:
20
g
Vitamin A:
20
IU
Vitamin C:
5
mg
Calcium:
1
mg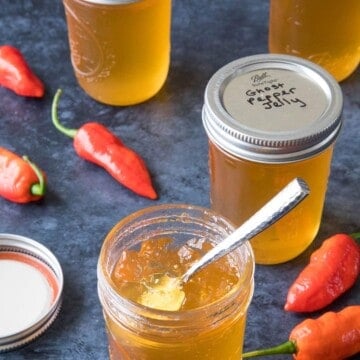 Did You Enjoy This Recipe?
I love hearing how you like it and how you made it your own. Leave a comment below and tag @ChiliPepperMadness on social media.