A recipe for homemade jam made with garden fresh jalapeno peppers and sweet kiwi, perfect for preserving, for serving as a spread or with cream cheese crostini bites.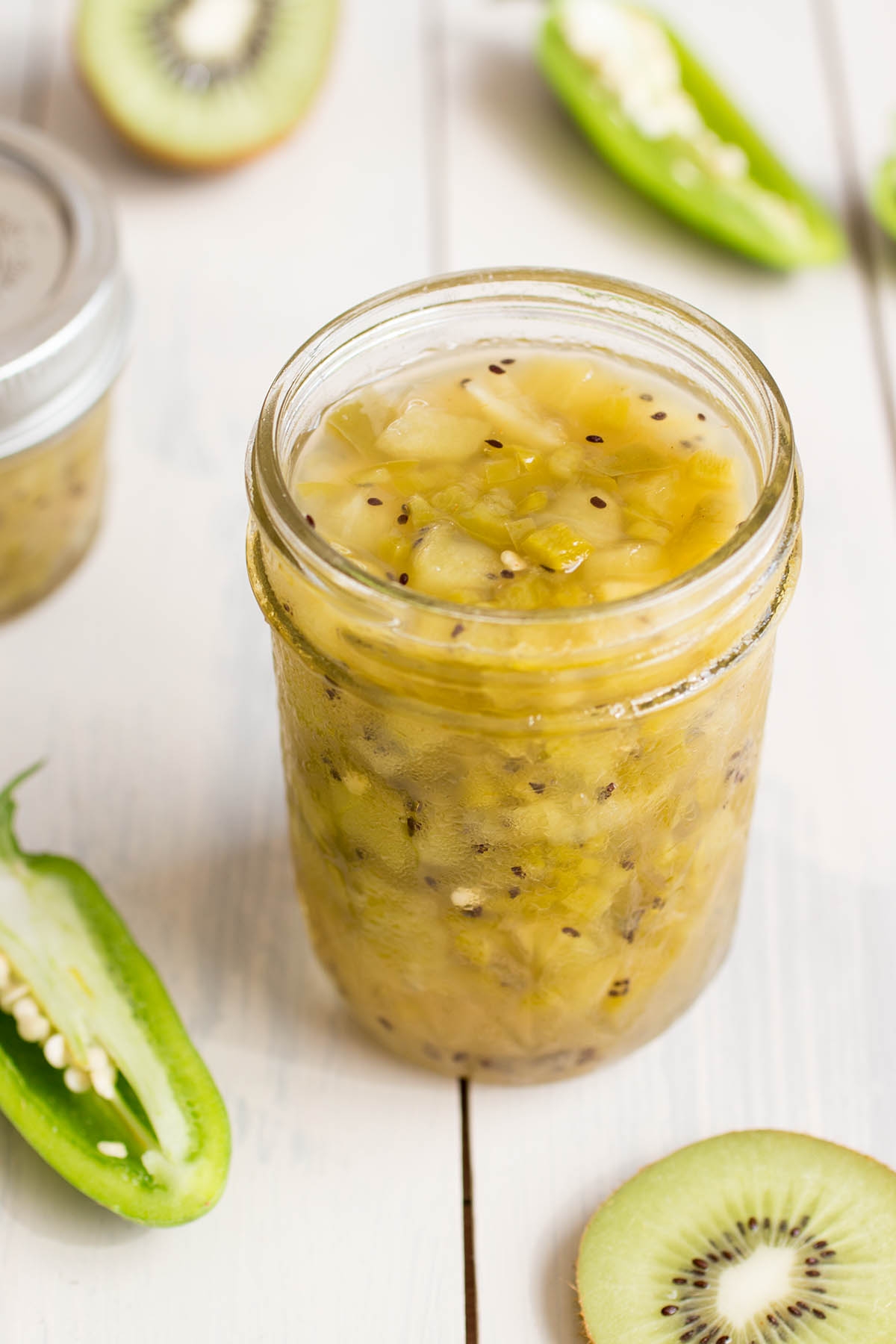 It was a jam-making sort of weekend in the Madness household. We picked another monstrous batch of peppers from the garden, including some glorious jalapeno peppers. Cue Mike's #JalapenoObsession music.
We have a TON of other peppers, but jalapenos hold a special place in my heart as the first pepper I ever loved, my very own gateway pepper. They have a pleasant level of heat and they're hard to beat when it comes to taste.
The garden will be winding down very soon as the temperatures drop around here, so it's time to get preserving.
I like to make a few different batches of pepper jellies or pepper jams throughout the year as a way of preserving some of those peppers.
Jellies and jams are ideal to have around as they are easy to grab from the refrigerator as a quick spread for morning toast, simple appetizer topper, or even a last minute makeshift "sauce" for chicken or fish.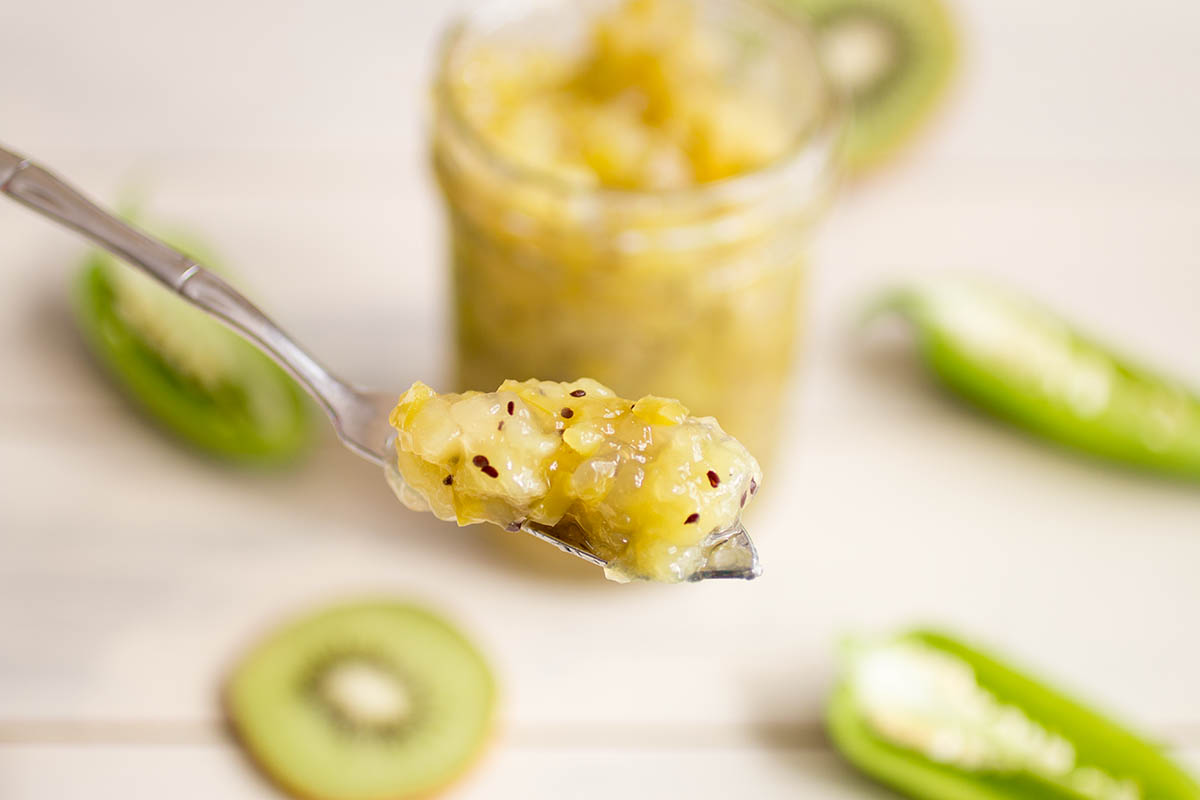 The difference between a jelly and a jam is the consistency. Jellies are made with fruit juices, where jams include the actual fruit pieces. Jam is chunkier and has more substance.
Otherwise they are basically the same. Some jellies and jams are very high in sugar, which is fine if you want your jams to be sweet. If you're avoiding too much sweet, prefer a savory version, or simply want to avoid sugar altogether, find yourself some low-sugar pectin.
Here is an Amazon Affiliate link to the one I use: Ball RealFruitTM Low or No-Sugar-Needed Pectin - Flex Batch 4.7 oz. You can use NO SUGAR if you'd like, or a small amount to up the sweetness just a tad.
I love this stuff. Try it out over pan seared white fish. Seriously. It's one of my favorite ways to use it. Talk about a super quick evening meal. Fish cooks up in no time. Season the fillet, pan sear it, then top it with your Kiwi-Jalapeno Jam. Serve with a veggie on the side.
Simple and satisfying.
Or, here's a quick appetizer idea. Spread some cream cheese over tiny toast bites or crostinis then top it with Kiwi-Jalapeno Jam. Done. Serve them on a plate and watch them disappear.
I made some for you. Here you go.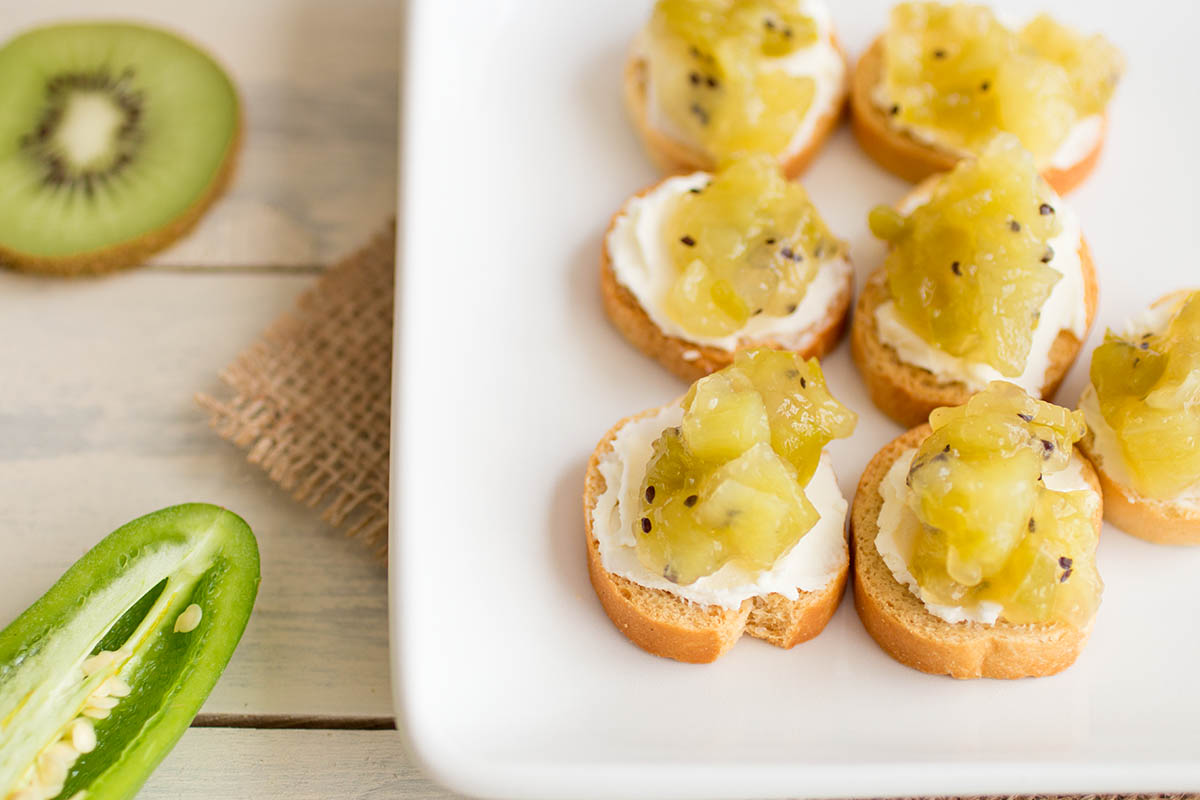 I hope you enjoy them!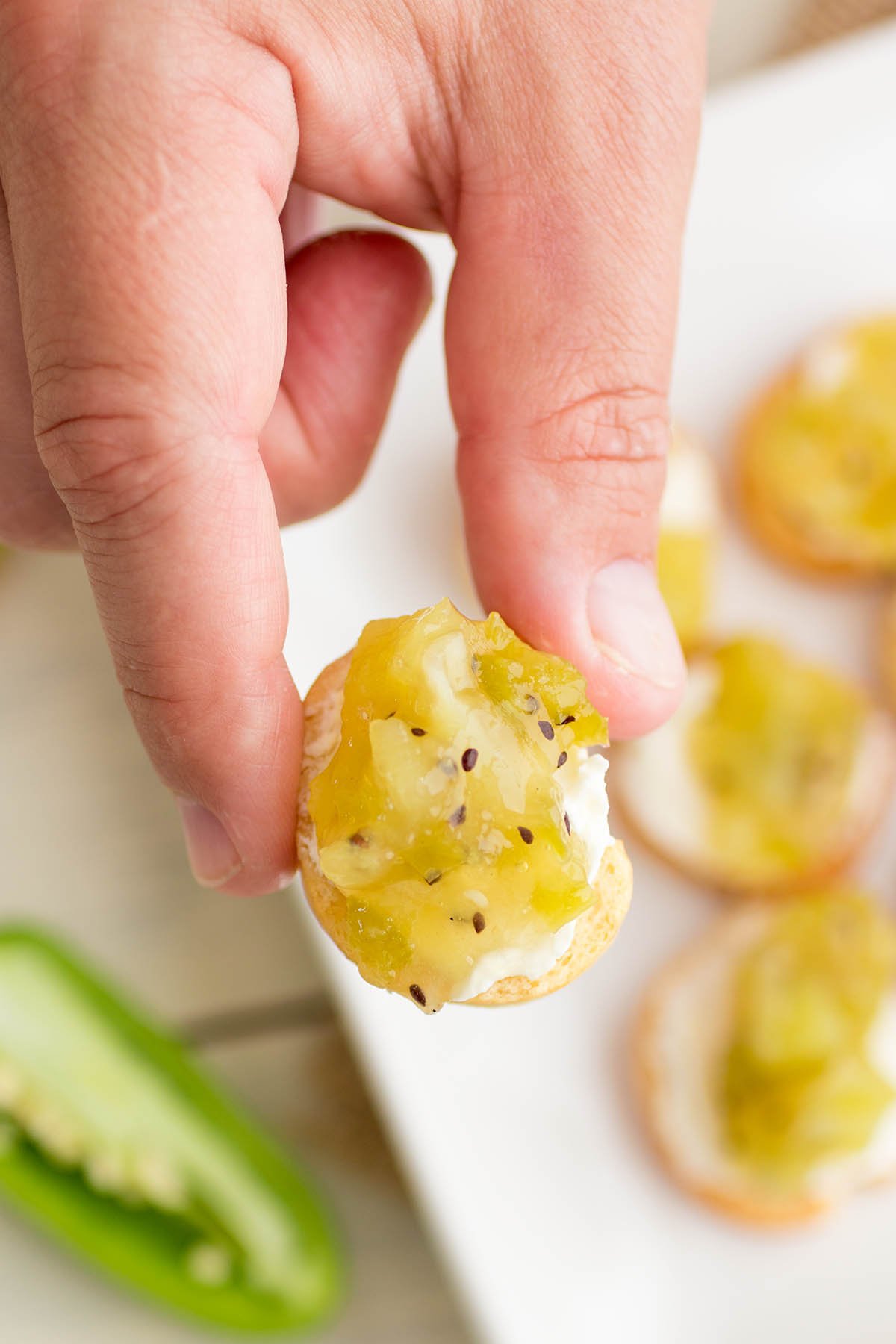 Patty's Perspective
I love the balance of the sweet and the spice. It isn't really spicy, but there is just a hint of it. It has great flavor.
Here is a link to the jam jars that I personally use and prefer. Highly recommended. Affiliate link - FYI: Ball Mason 8oz Quilted Jelly Jars with Lids and Bands, Set of 12
Try Some of My Other Popular Jelly and Jam Recipes
If you enjoy this recipe, I hope you'll leave a comment with some STARS. Also, please share it on social media. Don't forget to tag us at #ChiliPepperMadness. I'll be sure to share! Thanks! -- Mike H.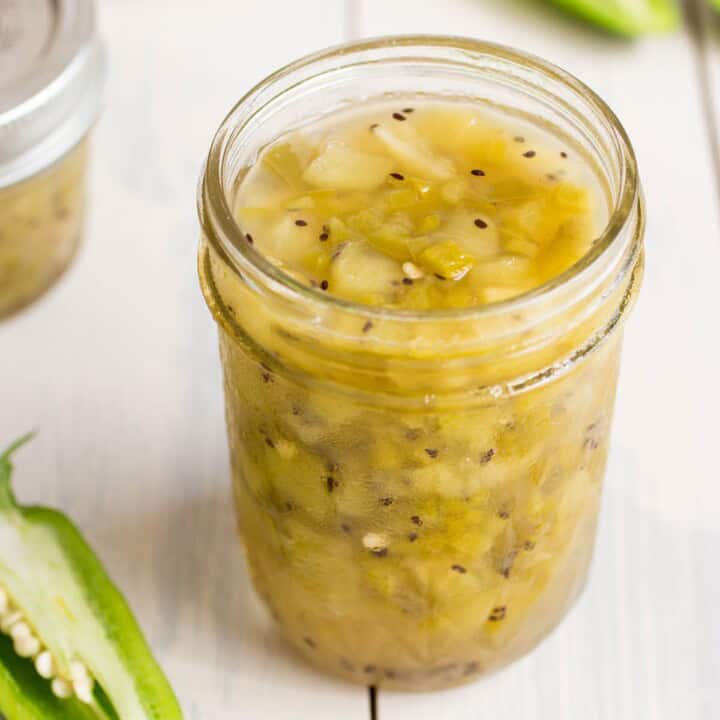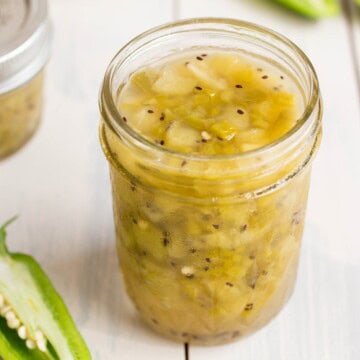 Print
Kiwi-Jalapeno Jam – Low Sugar Recipe
A low-sugar recipe for homemade jam made with garden fresh jalapeno peppers and sweet kiwi, perfect for preserving, for serving as a spread or with cream cheese crostini bites.
Save Recipe
Saved!
Ingredients
2

cups

chopped kiwi

2/3

cup

chopped jalapeno peppers

2/3

cup

water

3

tablespoon

low-sugar pectin

1

cup

sugar
Instructions
Add kiwi, jalapeno peppers, water and pectin to a pot. Bring to a quick roiling boil, stirring constantly.

Stir in sugar and bring back to a boil. Stir constantly as it boils for 1 minute.

Remove from heat, cool slightly and pour into sterilized jars.

Cap and refrigerate.
Nutrition Information
Calories:
25
kcal
Carbohydrates:
6
g
Potassium:
31
mg
Sugar:
5
g
Vitamin A:
25
IU
Vitamin C:
10
mg
Calcium:
3
mg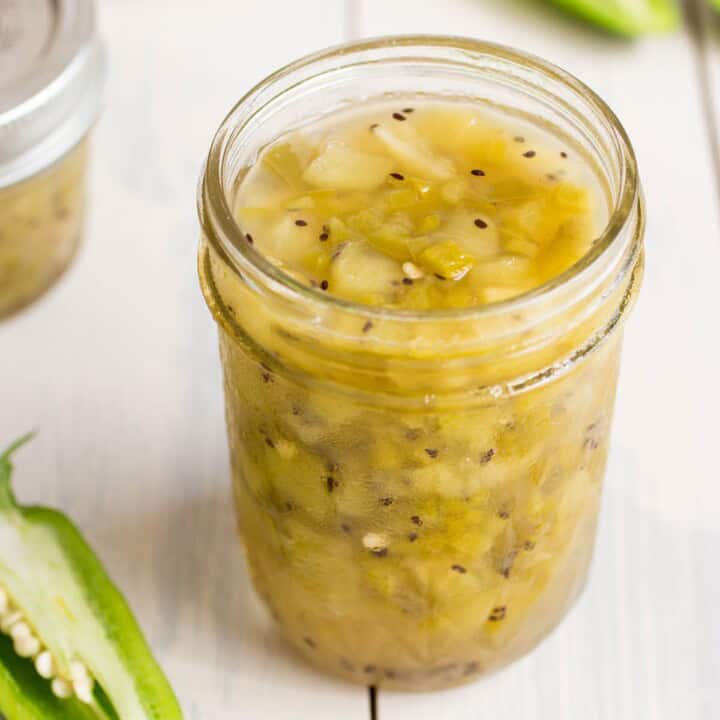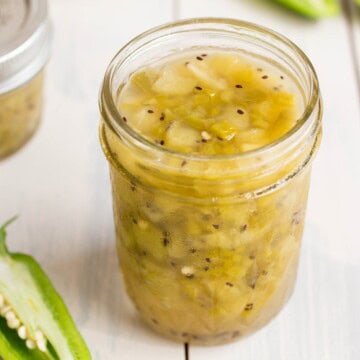 Did You Enjoy This Recipe?
I love hearing how you like it and how you made it your own. Leave a comment below and tag @ChiliPepperMadness on social media.