Scotch Bonnet-Peach Pepper Jam
A recipe for homemade spicy and slightly sweet jam that incorporates juicy peaches and fiery Scotch Bonnet chili peppers for a perfect pairing of flavor. Use it as a spread, a quick sauce, or starter glaze.
HOLY MOLY did my Scotch Bonnet plant produce this year! Seriously, I only planted a single Scotch Bonnet pepper plant and it went NUTS with peppers. I have bagsful stuffed in our refrigerator right now, just waiting for me to turn them into all sorts of goodness. I have plans to ferment some of them for a fiery Scotch Bonnet hot sauce, to dry some for a spicy rub, and I'll freeze some so I can use them this winter when most peppers I cook with are scarce.
BUT FIRST! I've made some pepper jam. Scotch Bonnet-Peach Pepper Jam, to be precise.
YES!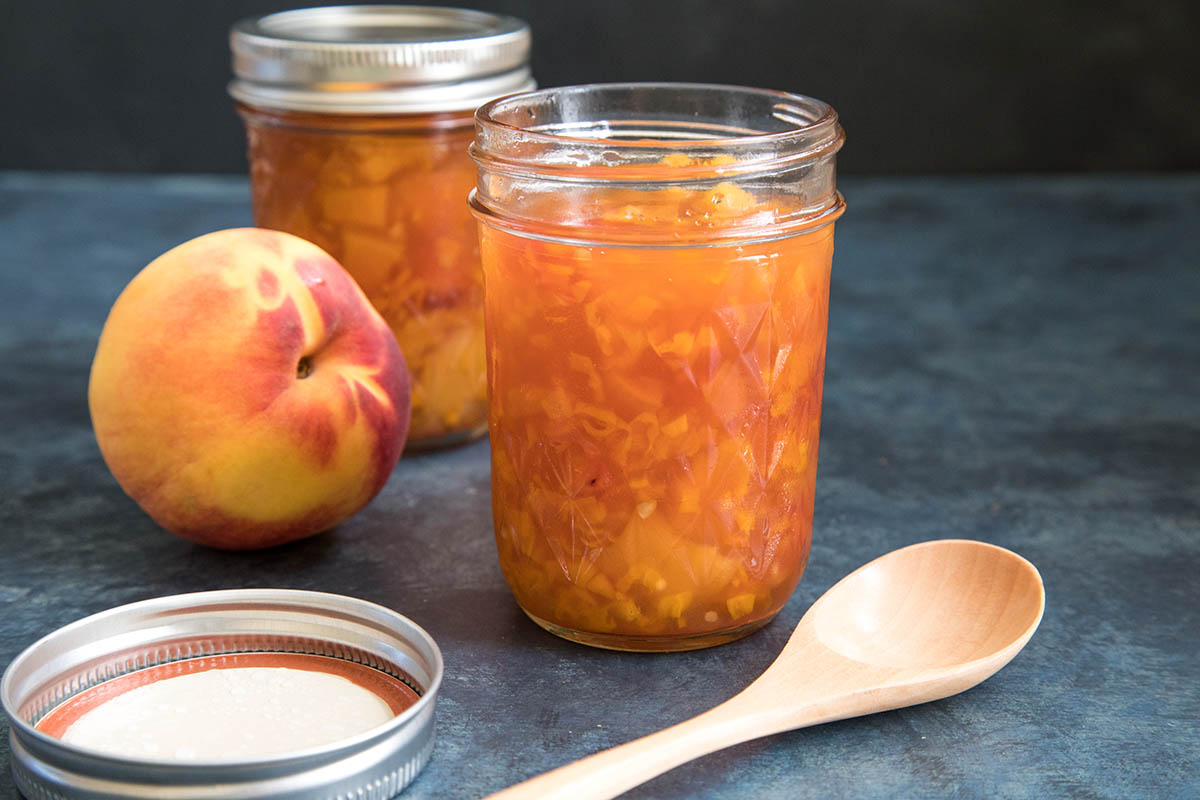 You NEED to have a good pepper jam around the house. For eating. OBVI. But seriously, the reason I love having a good pepper jam around the house is for the obvious snacking – think morning toast spread, topping bagels with cream cheese, corn bread lovin', mini night time munchies.
But I also LOVE using them as a quick topper for grilled or seared meats, like grilled chicken thighs or pan seared fish. They also are perfect to use as a starter glaze. I am in the middle of writing a new book about Easy Dinner Recipes for Spicy Food Lovers, and pepper jams will feature as a prominent ingredient. They are an ideal way to spice up your dinners in a quick and easy way.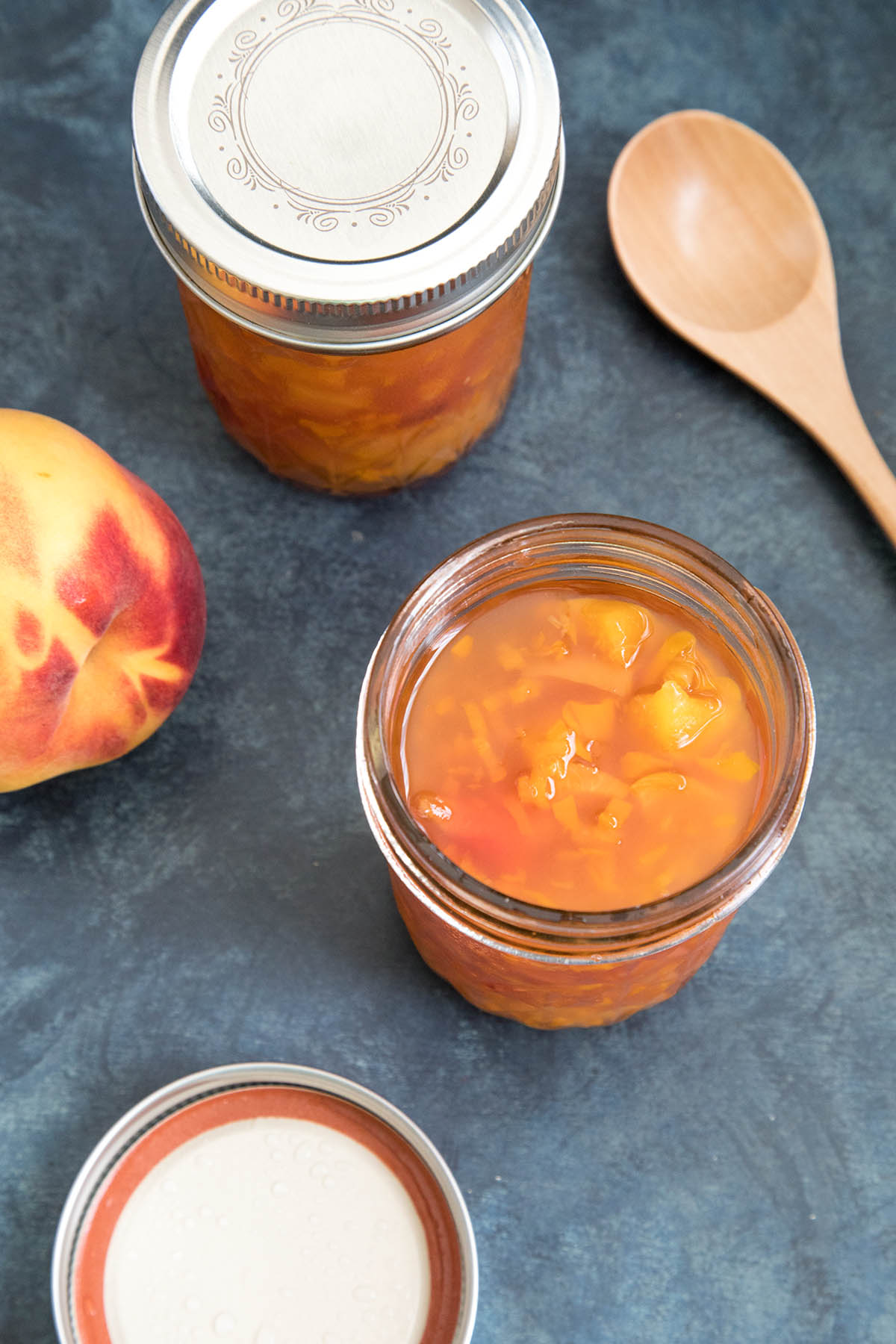 At the moment, peaches are in season and our grocery store is STOCKED with them. I heard them shouting out to me as I entered the store, got only a couple steps in and heard them, "Mike! Yo! Over here, man!" It's hard to miss those vibrant fruits stacked and shouting, so into my cart they went and here they are, all perfectly snuggled up with my fiery Scotch Bonnet peppers in the form of a juicy jam you are going to love.
The recipe also scales nicely, so measure and adapt accordingly. This particular recipe makes 3-4 cups or so.
Give jams away as gifts to your friends and neighbors. They'll love you for it!
I hope you enjoy them!
Check out our Pepper Jelly and Jam Recipes for more ideas. Don't let those peppers go to waste! I don't know which jam I love better, this one, or my Pineapple-Mango Hot Pepper Jam. Dang! Try them both.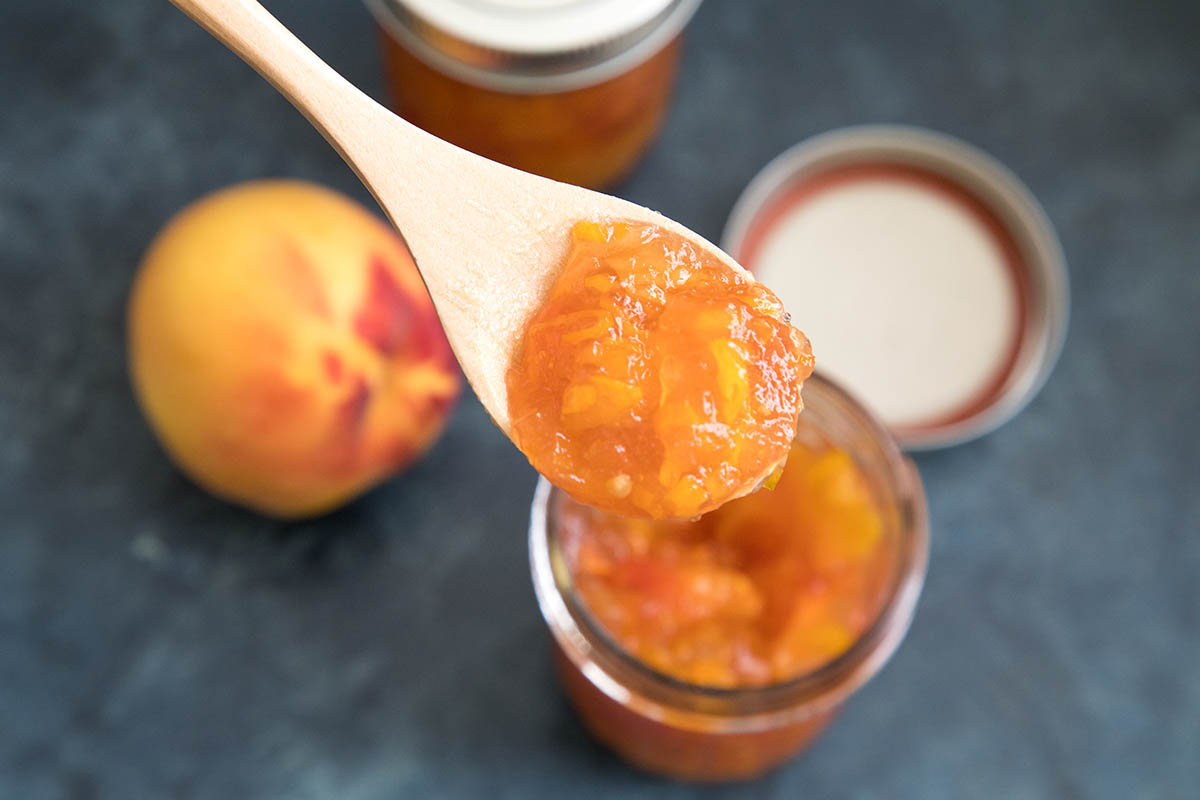 Scotch Bonnet-Peach Pepper Jam – Recipe
Ingredients
2 cups chopped peach (about 2 peaches)
2/3 cup chopped Scotch Bonnet peppers
2/3 cup water
Juice from 1 small lemon
3 tablespoon low-sugar pectin
1 cup sugar
Cooking Directions
Add peach, chili peppers, water, lemon juice and pectin to a pot. Bring to a quick roiling boil, stirring constantly.
Stir in sugar and bring back to a boil. Stir constantly as it boils for 1 minute.
Remove from heat, cool slightly and pour into sterilized jars.
Cap and refrigerate.
Makes about 3 cups.