A recipe for sweet and spicy habanero pepper jam made with plenty of habanero peppers.
Habanero pepper jam coming your way! I used to shy away from making jams and jellies. I'm not sure why. Growing up, I was pretty boring, actually. All I ever ate was grape jelly. Peanut butter and jelly was a daily thing, and if you served me grape jelly with seeds in it, forget about it!
And don't even get me started on strawberry jam. Fast forward a few years – fine, MANY years – and here I am, making habanero jam. I mean, just look at it! Isn't it beautiful? I'm so happy my tastebuds have evolved.
Habanero peppers are some of the best to work with. They are nice and spicy and have an inherent fruitiness and sweetness that lends them to spreads like jams or jellies. A note about that – the biggest difference between a jelly and a jam is that a jam has the fruit bits in it.
A jelly typically uses only the juice or essence of your flavoring ingredient, like grape juice or strawberry juice. I prefer the actual habanero pepper inside the spread, so it is technically a jam.
What is habanero jam good for? Use it as you would use any other jelly or jam, by spreading it over cream cheese on toast, over bread for sweeter sandwiches, but it is also great over fish. I like to serve it over salmon or white fish. Spoon it when the fish is hot and it will melt over a bit. No need for a sauce.
It also makes for a good gift! Lastly, a quick note about the sugar content. Some recipes call for almost double the amount of sugar I've included here. You can add more sugar, but really, you don't need that much. This is plenty, plenty sweet with the amount I've included.
Patty's Perspective: What is habanero jam good for, Mike asks? My answer – what ISN'T it good for? Well, maybe 8-year-old PB&J Mike would answer differently, but really, don't just think of it as a sweet jam.
If you think of it more as a sauce, it becomes very versatile. Instead of reaching for that bottle of sweet hot sauce, try this instead. I want to try this on hot wings. Can't wait for that!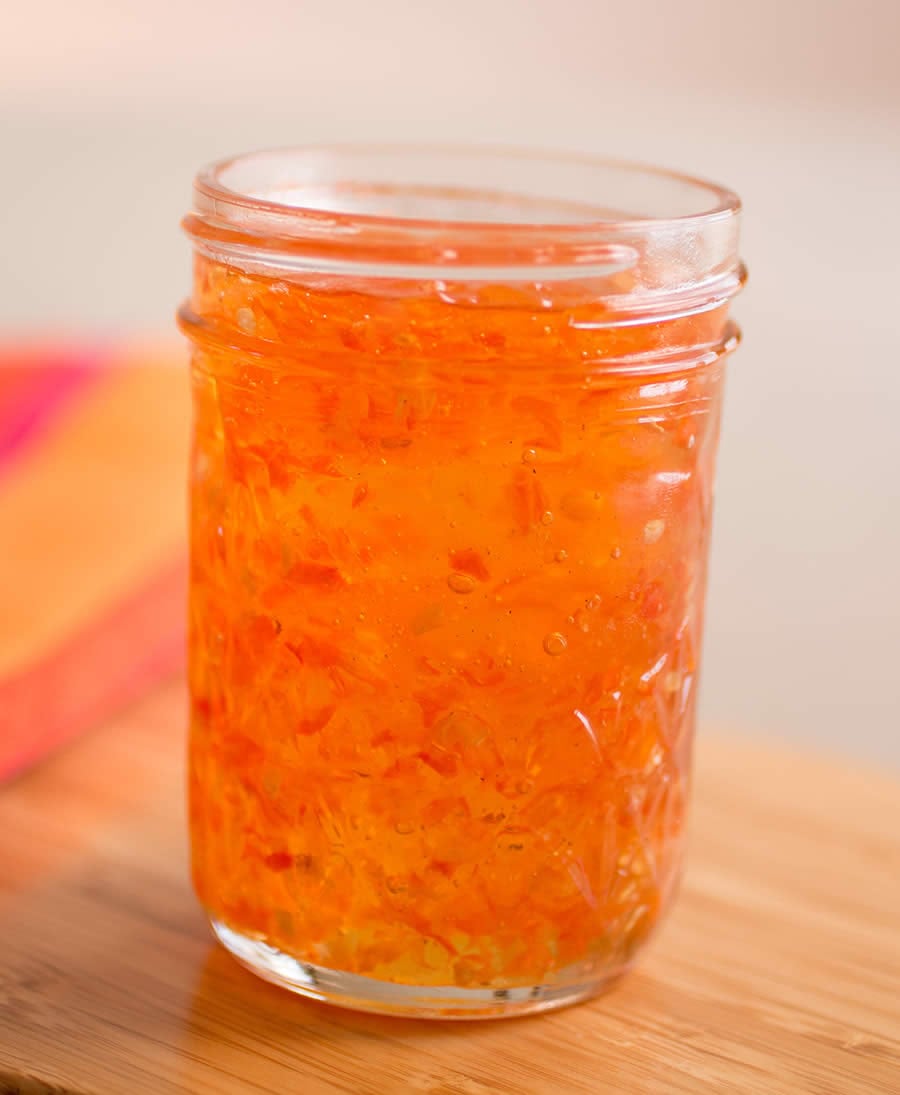 Here is a link to the jam jars that I personally use and prefer. Highly recommended. Affiliate link – FYI: Ball Mason 8oz Quilted Jelly Jars with Lids and Bands, Set of 12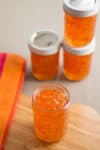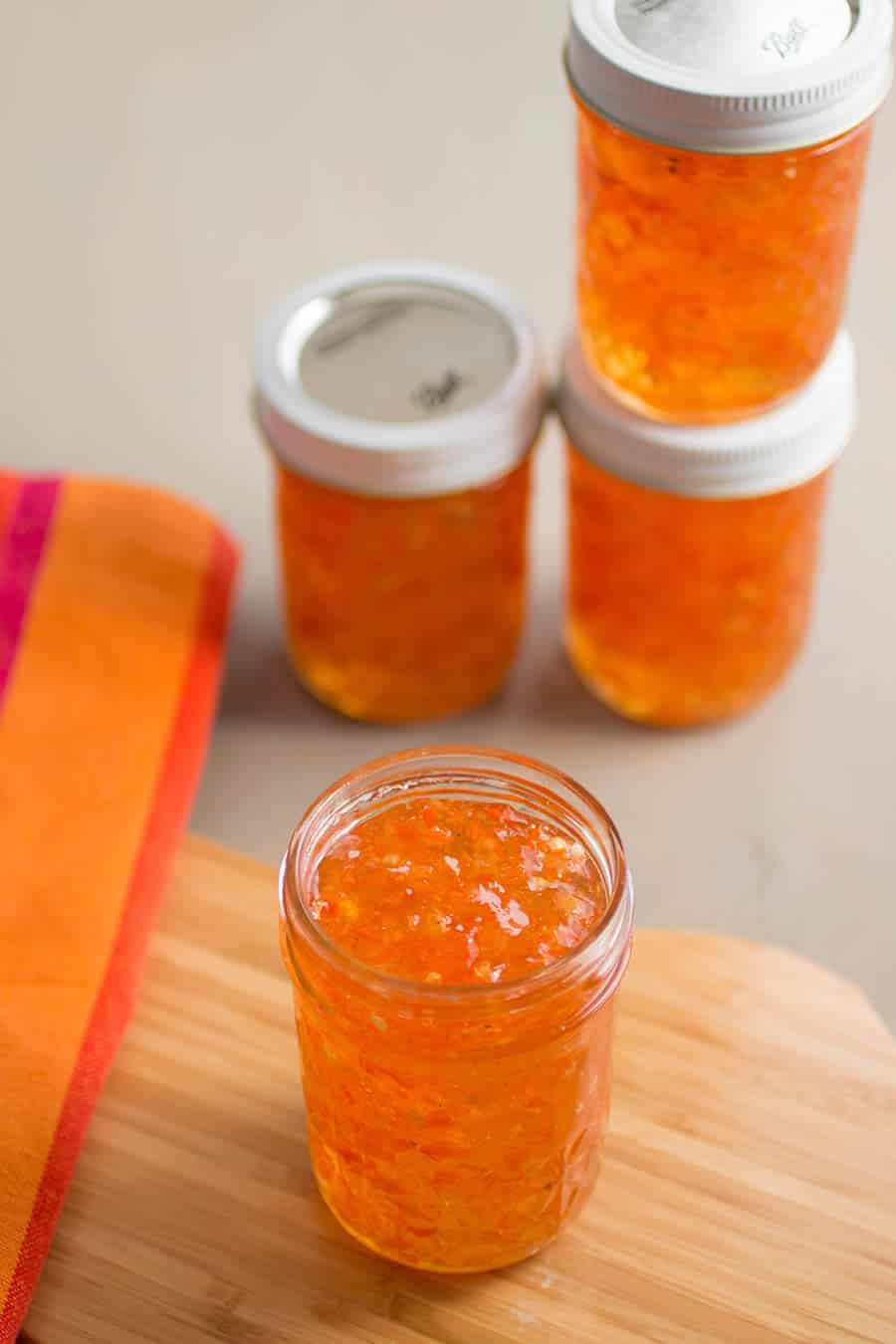 Habanero Pepper Jam - the Recipe
A recipe for sweet and spicy habanero pepper jam made with plenty of habanero peppers.
Ingredients
1/2

pound

habanero peppers

chopped

4

cups

granulated sugar

1 1/4

cups

cider vinegar

1/4

cup

lemon juice

1

teaspoon

salt

3

ounces

liquid fruit pectin

4

drops food coloring

if preferred
Instructions
Add the habanero peppers to a food processor and pulse them until they are very finely chopped. Do not overdo it or you'll wind up with a puree.

Scoop out the peppers and add to a large pan.

Add sugar, vinegar, lemon juice, and salt.

Bring to a boil then reduce heat to low and simmer for about 10 minutes.

Return heat to high and bring mixture to a rolling boil. Stir in pectin and boil for 1 minute, stirring constantly. Remove from heat.

If using food coloring, add it now and stir.

Ladle jam into sterilized jars and cover.

Process jars in a boiling hot water bath for 10 minutes.

Remove and letcool overnight.
Recipe Notes
Makes about 1 quart (32 ounces).
Heat Level: Medium. The sugar tames much of the habanero heat. Add more habaneros for a hotter version.
Nutrition Facts
Habanero Pepper Jam - the Recipe
Amount Per Serving
Calories 50
* Percent Daily Values are based on a 2000 calorie diet.