A recipe for jalapeno poppers stuffed with creamy, homemade beer cheese. These are the ultimate appetizer for game day or any party. Bake them up and watch them disappear.
Jalapeno poppers are one of my default appetizers. Whenever there is a party, 9 times out of 10, I will be making jalapeno poppers. They always disappear. They're also super easy to prepare, making them a no-brainer for party situations and other gatherings. Just the right size for munching, they are usually snatched right off the platter with barely enough time to cool. Plus! They're delicious, aren't they? So many different ways to make them, like these, stuffed with a creamy beer cheese that softens up in the oven.
Crazy good!
This is not a complicated recipe, my friends. It's rather easy, which is a GREAT thing, because we don't want to work too hard when it comes to party time, do we? Nah. Let's keep it simple. The first thing, though, is you'll need some jalapeno peppers. Lucky for me, they're always around. Like these babies.
The amount you'll need will vary based on the size of the peppers and, of course, your party situation, so be sure to plan accordingly. We're making these boat style, so first, slice them in half and scoop out the insides with a spoon. You'll be left with the empty skins, which are the perfect size for a bite-sized appetizer.
Next, whip up the beer cheese by mixing together cream cheese, crema, Colby Jack cheese, beer and seasonings in a bowl. So difficult, right? Look at this gorgeous beer dip. You can eat this by itself, or make an extra batch and serve it with chips. Great stuff.
Spoon the beer cheese dip into the hollowed jalapeno halves and bake them about 20 minutes or so. When they're ready, set them onto a serving tray and sprinkle them while they are still hot with paprika or your favorite chili powder blend. This will add a bit of extra flavor and color.
Let them cool just a bit, and, if desired, you can drizzle them with some crema or sour cream. Or not. However you'd like to do it. Then stand back! You're in the way of those poppers! Watch them disappear! I'm not joking. People love these things. It's almost a bit scary. Bring on the poppers!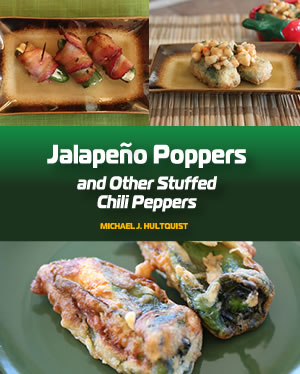 If you like like jalapeno poppers, don't forget to check out my cookbook - Jalapeno Poppers and Other Stuffed Chili Peppers. It's loaded with jalapeno popper recipes and, um, other stuffed pepper recipes. It makes for a great gift, too. Enjoy!
Beer Cheese Jalapeno Poppers – Recipe
Ingredients
10 jalapeno peppers
8 ounces cream cheese, softened
4 ounces crema or sour cream
1 cup shredded Colby Jack cheese
4 ounces beer
1 tablespoon chili powder
1 tablespoon garlic powder
2-3 tablespoons favorite hot sauce
Paprika or hot chili powder for serving
Crema our sour cream for serving, if desired
Cooking Directions
Make the dip first. To a large mixing bowl, add the cream cheese, sour cream, Colby Jack cheese and beer. Mix well. If you'd like it a bit creamier, add in a bit more beer and mix to your desired consistency.
Add chili powder, garlic and hot sauce. Mix well.
Cover the dip and refrigerate it at least 2 hours to let it set and allow the flavors to mingle a bit. It can be served right away, but it's even better when you let it site, especially overnight.
Preheat oven to 350 degrees.
Slice the jalapeno peppers in half lengthwise and scoop out the insides with a spoon. Set onto lightly oiled baking dishes.
Fill each jalapeno pepper with the beer cheese mixture. You might have some leftover, depending on the size of your peppers. Just distribute evenly.
Bake the jalapeno poppers about 20 minutes, or until the peppers soften and the cheeses are bubbly.
Remove from heat, cool slightly, then dust with paprika or chili powder.
Serve. You can also drizzle on some crema or sour cream if you'd like.
Makes 20 poppers.