A recipe for jalapeno poppers stuffed with a mixture of four different cheeses for a decadent and delicious party favor or appetizer.
Jalapeno popppers are the uber appetizer. I'm sure I've said this before.They are crazy delicious and extremely popular. Why else would I write ann entire cookbook dedicated to them? Yep. See "Jalapeno Poppers and Other Stuffed Chili Peppers - the Cookbook". I could not help myself. I'm what you call a superfan. While other people are dreaming of their favorite sports team or their fantasy league, I'm dreaming about jalapeno poppers. Bring them on! They are perfection in a single bite.
Everytime I make jalapeno poppers for a party, they are the first things to go. Especially when they're stuffed with loads of ooey-gooey cheese, and this recipe is no exception. We're talking a combination of four different cheeses - cream cheese, goat cheese, asiago and white cheddar. It's a great combination, with plenty enough of the creamy cheese to help everything blend together into a consistent bite. Seriously, make these and watch them disappear in a matter of minutes. So, now that we have the poppers, it is party time. Time to go to the game. I'll be at the table with all the jalapeno poppers.
Patty's Perspective: It's crazy when we bring these to a party. Everyone dives in immediately. Gone in seconds. Don't fear the popper. Since they're cored, the heat is completely tamed. Even people who shun spicy food can enjoy these. Way awesome!
Here is the mentioned book! Enjoy! Get more jalapeno popper recipes here.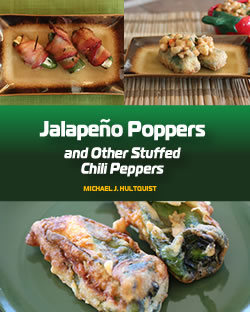 Jalapeno Poppers and Other Stuffed Chili Peppers - the Cookbook
Four Cheese Jalapeno Poppers – Recipe
Ingredients
20 jalapeno peppers
2 packages cream cheese, about 16 ounces, softened
6 ounces goat cheese
8 ounces shredded Asiago cheese
8 ounces shredded white cheddar cheese
3-4 cloves garlic, minced
Paprika or hot chili powder for serving
Cooking Directions
Preheat oven to 350 degrees.
Slice the jalapeno peppers in half lengthwise and scoop out the insides with a spoon. Set onto lightly oiled baking dishes.
In a mixing bowl, combine cheeses and garlic. Mix well.
Fill each jalapeno pepper with the garlic-cheese mixture. You might have some leftover, depending on the size of your peppers. Just distribute evenly.
Bake the jalapeno poppers about 20 minutes, or until the peppers soften and the cheeses are bubbly.
Remove from heat, cool slightly, then dust with paprika or chili powder.
Serve!