A recipe for quick and easy cheese tortellini cooked in a creamy fire roasted tomato sauce with ground turkey. A super easy meal for any night of the week.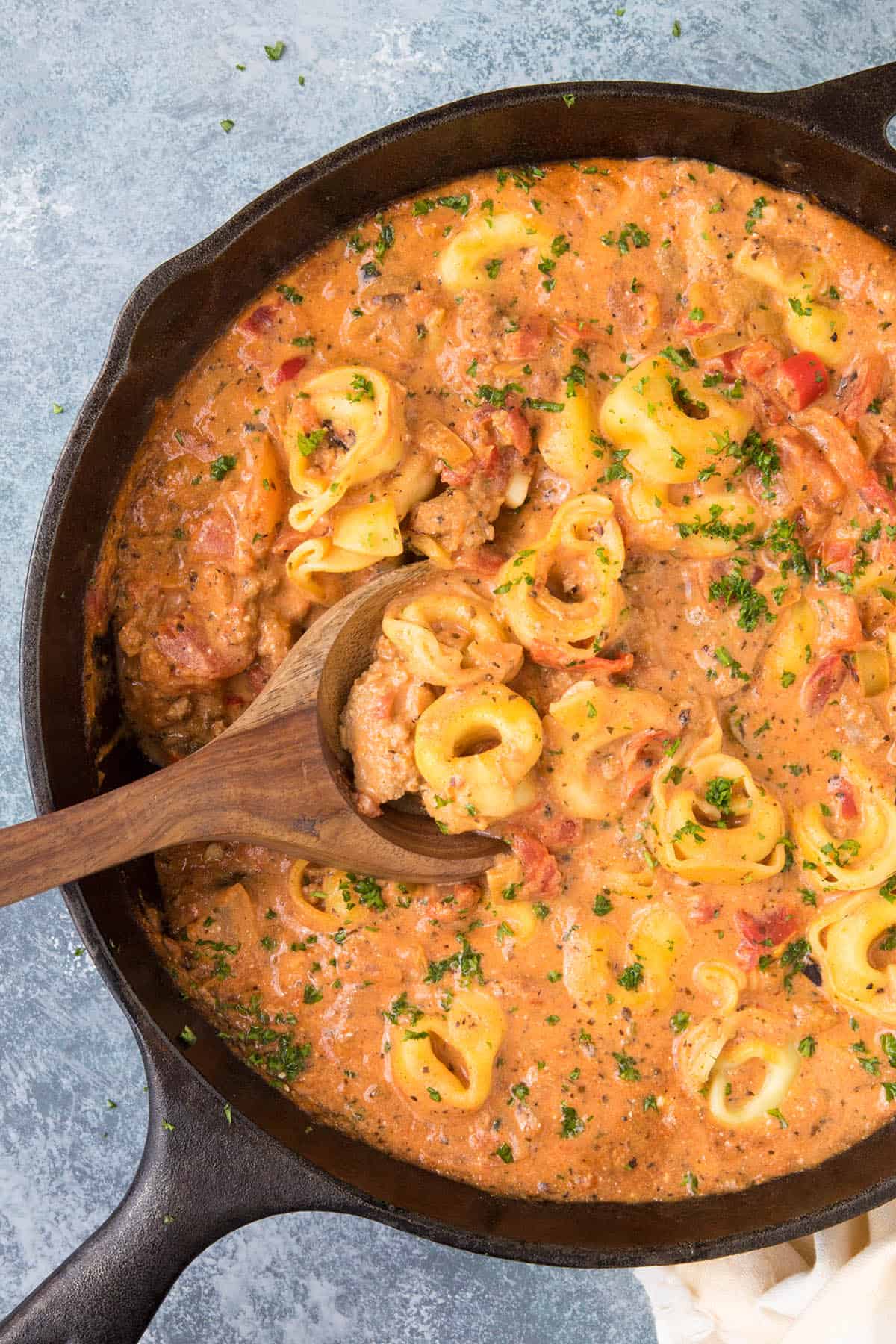 Easy pasta recipe, my friends! This time with one of my newest favorites, TORTELLINI. I used to LOVE tortellini and enjoyed it all the time, and then one day, inexplicably, I didn't have it for a long time. I'm talking years.
What the? Seriously, I have ZERO idea why I hadn't had it in a while, then one day fairly recently I was searching for something in the frozen foods section and BOOM! There it was, a bag tortellini that was just calling my name.
I think that's part of the reason why I've been away from it for so long. I rarely go into the frozen food section of the grocery store. I cook mostly from scratch, and while I really enjoy making my own pasta, homemade tortellini can be pretty time consuming for a slow cook like me. As I was writing my latest cookbook about easy spicy dinners, I realized having frozen tortellini on hand is actually a GREAT way to get delicious, spicy meals on the table in a hurry.
I mean, tortellini cooks up in very little time. You drop it into boiling water and wait until it floats. It usually only takes a few minutes. How easy is that? The only work is the sauce, and even that doesn't take very long at all.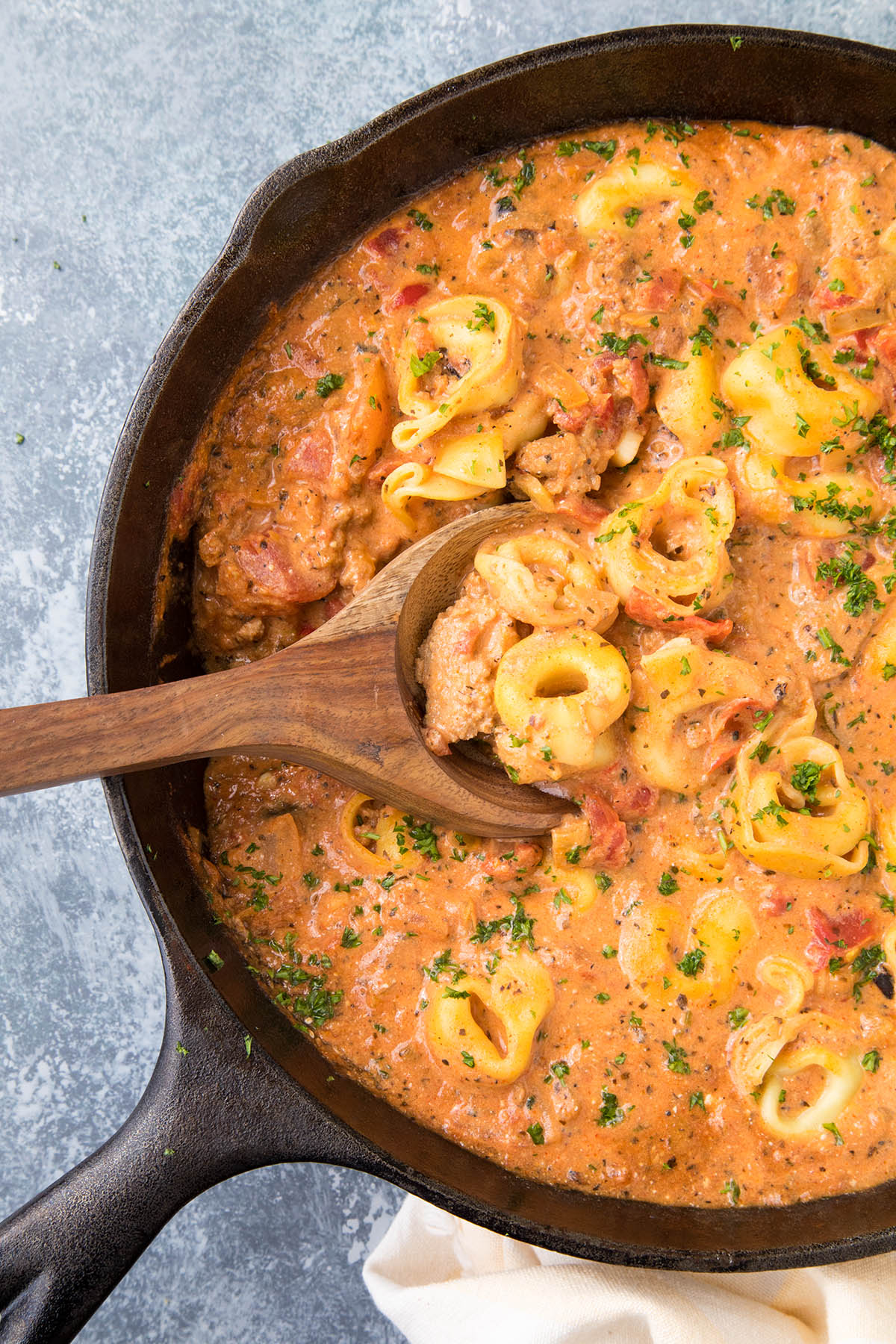 Let's talk about how we make this, shall we?
Get a large pan nice and hot and cook down some onion, peppers and garlic in a bit of olive oil. I used a collection of sweet peppers, a Cubanelle, serrano and jalapeno. I like the balance of flavor and heat there. If you want a spicier meal, add in hotter peppers, like habaneros or even a ghost pepper. OH YEAH!!
Next, add the ground turkey and break it up. Cook it down until the turkey is cooked through, stirring a bit as you go. You can use ground beef instead if you'd like. I was saving a few calories, and to be honest, I really like ground turkey. YUM!
Next, stir in your seasonings, fire roasted tomatoes, chicken broth, gochujang (a new LOVE of mine!), and let the whole thing simmer to develop flavor. 15 minutes is fine, but an hour will bring out even more flavor, so keep going if you have the time.
When you are ready to serve, stir in the cooked tortellini and swirl in heavy cream or Mexican crema (our sour cream). I used crema to save calories over the heavy cream, but both are delicious.
Serve it up, my friends! I LOVE this stuff. Truly. I'm so happy to be cooking with tortellini again.
Let me know if you make this. I hope you love it! Send pics! -- Mike H.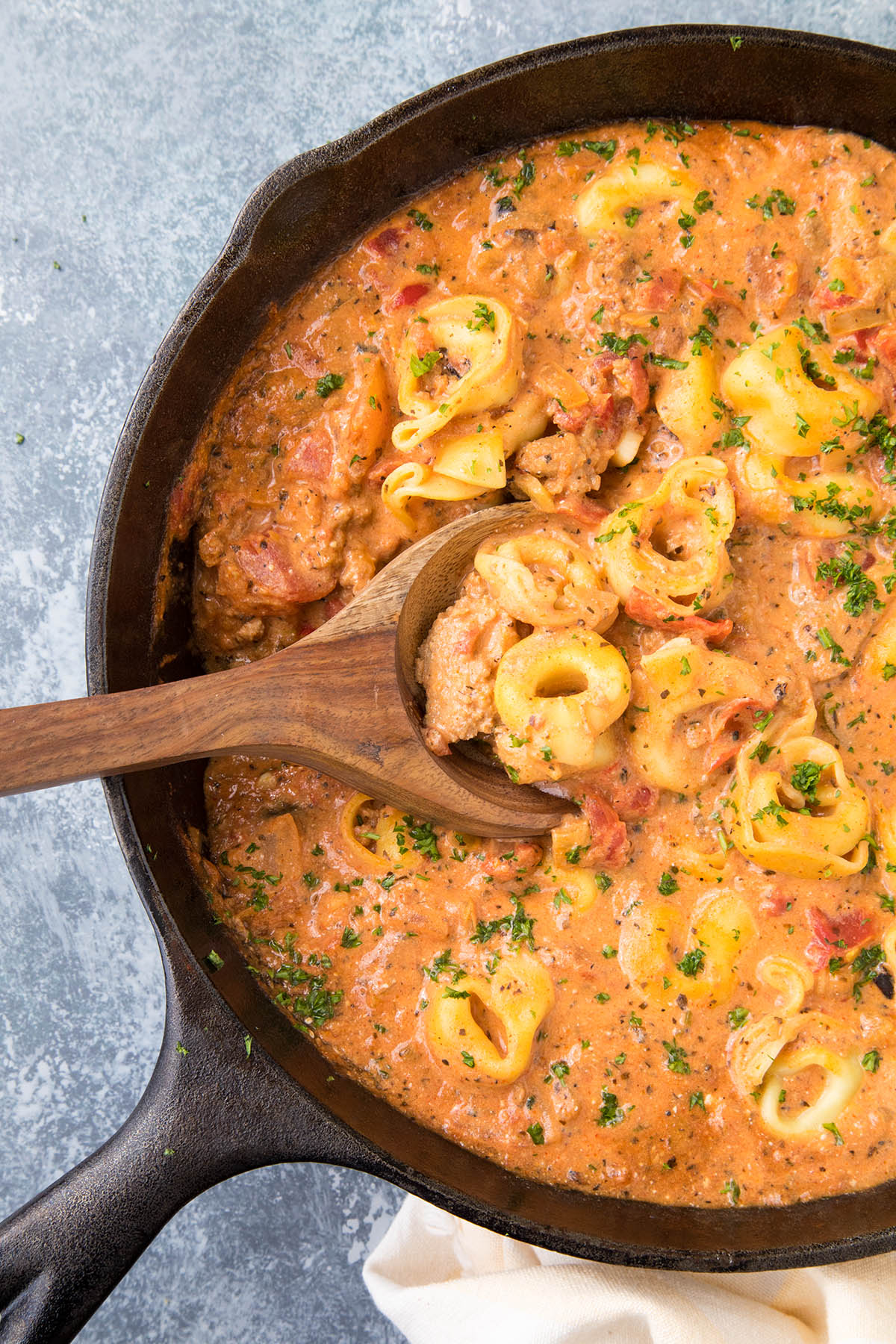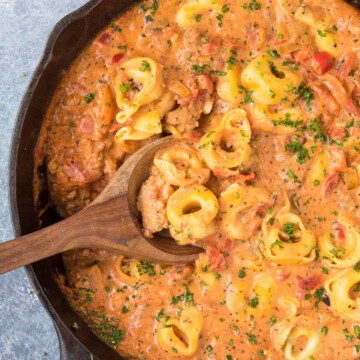 Print
Creamy Tortellini Pasta with Fire Roasted Tomatoes - Recipe
A recipe for quick and easy cheese tortellini cooked in a creamy fire roasted tomato sauce with ground turkey. A super easy meal for any night of the week.
Save Recipe
Saved!
Ingredients
1

tablespoon

olive oil

1

medium onion

chopped

1

large sweet pepper

chopped (bell pepper is OK)

1

large Cubanelle pepper

chopped (or sub in a bell pepper)

1

serrano pepper

chopped

1

jalapeno

chopped

4

cloves

garlic

chopped

1

pound

ground turkey

1

teaspoon

dried basil

1

teaspoon

paprika

½

teaspoon

cumin

Salt and pepper to taste

2 14-

ounce

cans fire roasted tomatoes

1

cup

chicken broth

2

tablespoons

Gochujang

Sriracha can be used instead, if needed

½

cup

heavy cream or Mexican crema

1

bag tortellini

prepared (20 ounces)

FOR SERVING: Fresh chopped herbs

chopped peppers, your favorite hot sauce
Instructions
Heat a large pan to medium heat and add the olive oil. Add the onion and peppers and cook them about 5 minutes to soften. Add the garlic, ground turkey, and seasonings. Break up the turkey with a wooden spoon into chunks and cook another 6-7 minutes, until the turkey is cooked through.

Add the fire roasted tomatoes and chicken broth. Stir it all together.

Let simmer for at least 15 minutes to let the flavors develop, or up to an hour.

Stir in the heavy cream, or use Mexican crema or sour cream for a lighter version. Swirl to incorporate.

Stir in cooked tortellini.

Serve into bowls and sprinkle with fresh herbs.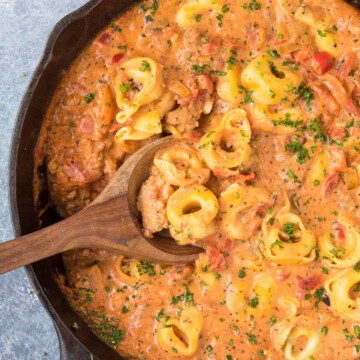 Did You Enjoy This Recipe?
I love hearing how you like it and how you made it your own. Leave a comment below and tag @ChiliPepperMadness on social media.