Spicy Chicken Pesto Pasta
A chicken pesto pasta recipe with a twist, made extra spicy with roasted jalapeno peppers, prepared with spinach and basil, pecans, manchego cheese and more. If you enjoy pesto, you'll love this version.
Pesto! If you've never had pesto, you're missing out on one of life's greatest gifts. I remember the first time I tried pesto, so long ago, but it was a revelation. A true show stopper. I thought, let's just put a pause on life right now so I can enjoy this taste forever. I realize I tend to exaggerate a bit (hey, I'm a writer), but not so when it comes to the awesomeness that is PESTO. I'm so happy for this time of year because we keep a basil plant or THREE in the kitchen for anytime use. Where we live, it is difficult to keep a basil plant around in the cold winter, but already the tiny little plant we picked up is growing like crazy. Sooo…
PESTO!
Once you learn to make pesto and realize how easy it truly is, you'll make it all the time and find ways to incorporate it into your meals. And, you'll begin to change things up a little just to see how it tastes. HINT: It usually tastes AWESOME. Depending. I mean, you don't want to go TOO crazy, but you'd be surprised with what you can do and still get away with creating something delicious.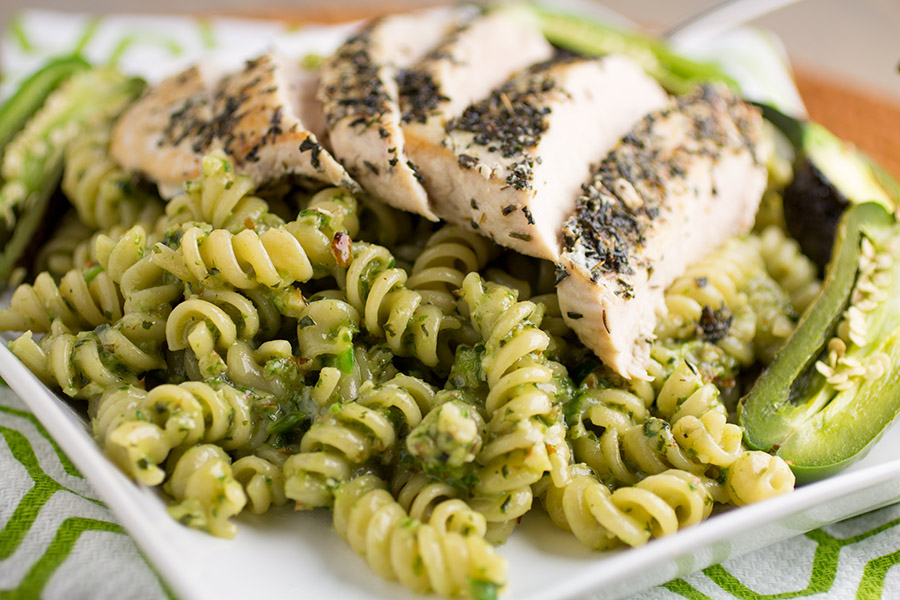 A basic pesto recipe is olive oil, pine nuts, parmesan cheese, basil and a bit of salt and pepper. Additions include lemon and garlic, but that's really just the start. Let's talk pine nuts for one. They are PRICEY! I love them. They are so buttery and unlike any other nut, but did you know you can swap them out? For this recipe I used pecans thatI lightly pan roasted, but you can also try almonds, cashews, sunflower seeds, etc. Yes, the flavor changes a bit, but not in a bad way. How about cheese? Swap out the parmesan for nutty manchego cheese for this recipe, but there is a world of hard cheeses to work with. Hard cheeses are needed here, otherwise a melty type cheese will gum up the works.
Add in your spicy elements, like roasted jalapeno peppers, and you've got pure PESTO GOLD, my friends. Get even spicier and include roasted serrano peppers, maybe lightly roasted habanero peppers. Before you ask, YES, you can and SHOULD do this with superhots. Superhot pesto, anyone? Sign me up right away! I tossed on some seared asparagus for this recipe, because ASPARAGUS. I love those, too. AND extra roasted jalapeno peppers. Do I need to state the reason? #JalapenoLove. #JalapenoObsession. #MikeisCrazy.
We loved how this one turned out and are both looking forward to a long spring and summer filled with pesto. Enjoy.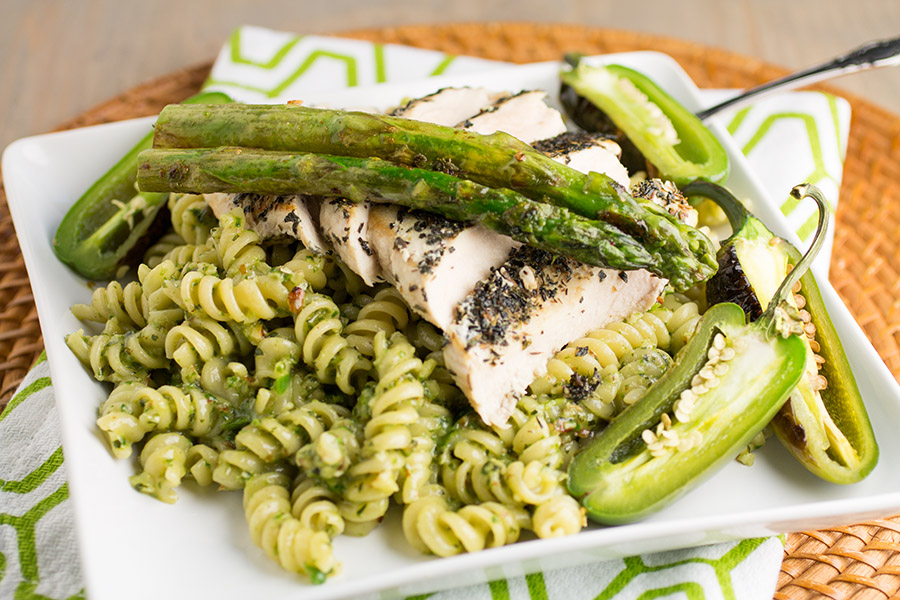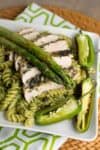 Spicy Chicken Pesto Pasta - Recipe
A chicken pesto pasta recipe with a twist, made extra spicy with roasted jalapeno peppers, prepared with spinach and basil, pecans, manchego cheese and more. If you enjoy pesto, you'll love this version.
Ingredients
2

medium chicken breasts

1

tablespoon

dried basil

1

teaspoon

dried oregano

1

teaspoon

chili powder

1

teaspoon

garlic powder

Salt and pepper to taste

2

cloves

garlic

1/4

cup

spinach

1/4

cup

basil

1

roasted jalapeno pepper + extras for serving

if desired

1/4

cup

olive oil + a bit more for cooking

1/4

cup

pecans

1/4

cup

shredded manchego cheese

A bit of pasta water

for the pesto

Cooked pasta to serve

Seared asparagus spears for topping
Instructions
Pound the chicken breasts flat to about 1 inch with a meat tenderizer. Rub them down with a bit of olive oil then season with dried basil, dried oregano, chili powder, garlic powder, and salt and pepper.

Heat a pan to medium heat and sear them 3-4 minutes per side, until they are cooked through. Set aside.

While chicken is cooking, get your pasta going by bringing a pot of salted water to boil. Boil the pasta noodles according to your box directions. Should be 10 minutes or so. I used rotini noodles!

While pasta is cooking, heat a small pan to medium heat. Dry roast the pecans a couple minutes until they start to brown. Add them to a food processor.

Splash the same pan with oil and add garlic clove. Toss and cook about a minute or so, until you can smell the garlic. Into the food processor it goes.

Add spinach, basil, 1 roasted jalapeno pepper, olive oil, and manchego cheese. Process to form your pesto. If you'd like to thin out your pesto, add a couple tablespoons of the pasta water and process.

Drain pasta and toss it with the pesto. Serve with extra sliced jalapeno peppers and top with seared asparagus spears, if desired.

Enjoy!
Nutrition Facts
Spicy Chicken Pesto Pasta - Recipe
Amount Per Serving
Calories 691
Calories from Fat 423
% Daily Value*
Fat 47g72%
Cholesterol 161mg54%
Sodium 236mg10%
Potassium 601mg17%
Carbohydrates 6g2%
Protein 59g118%
Vitamin A 995IU20%
Vitamin C 10.8mg13%
Calcium 257mg26%
Iron 4.8mg27%
* Percent Daily Values are based on a 2000 calorie diet.