A quick recipe for making pickled peppers that you can keep in your refrigerator for months. They're perfect for topping sandwiches, tacos, tossing onto pizzas, or munching right out of the jar.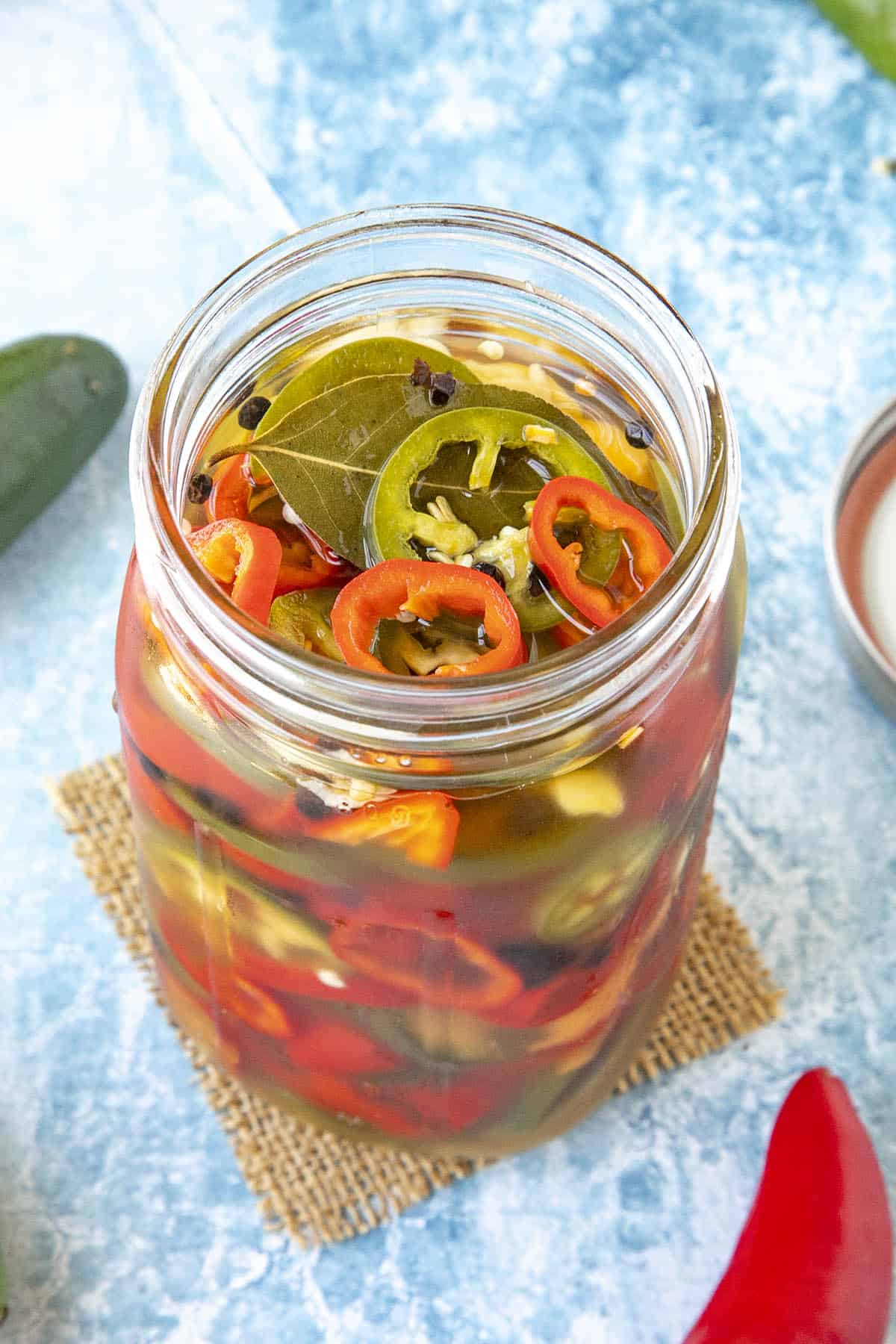 Refrigerator Pickled Peppers Recipe
By now your garden is going INSANE, isn't it? If you have a garden. We do, as you know I've mentioned about a thousand timesby now and I hope you're not sick of me going ON and ON about it. I can't help it! I love my peppers and tomatoes!
But yeah, if you're like me, you have peppers coming out of your ears and you don't know what to do with them all. I think I do more than most people do - obsession, anyone? - but even after all of the hot sauce recipes, salsa recipes, stuffed chili pepper recipes, dehydrating peppers and chili pepper recipes in general, we STILL have a load of chili peppers.
What else haven't we done this year, yet?
PICKLING!
Yes, today we're making pickled peppers and I'm going to show you how easy it truly is. There is even a quick video at the bottom of the post, so be sure to check that out.
Here is a shot of just SOME of the chili peppers we harvested recently. Yeah, we have a LOT.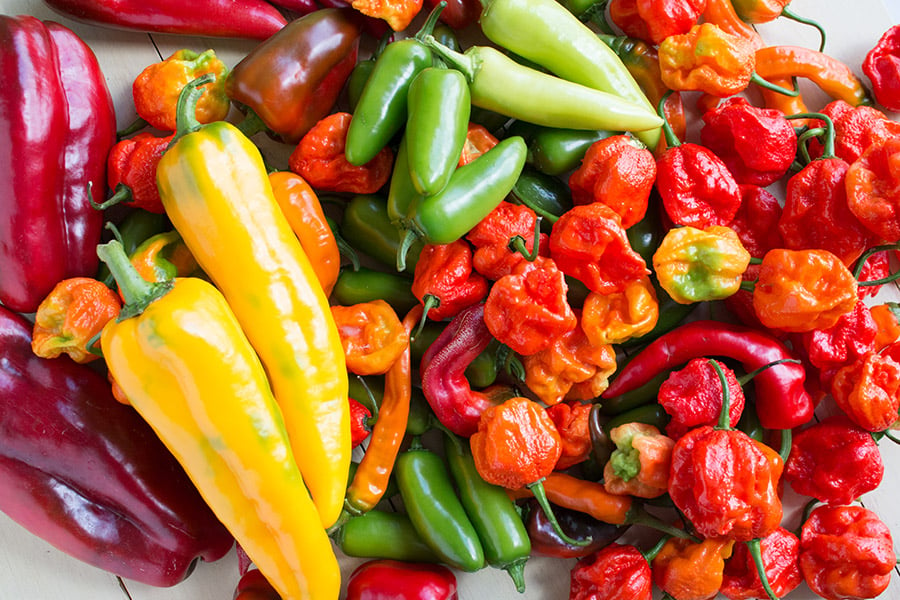 Pickling Chili Peppers
This particular preserving recipe will keep your peppers a few months in the fridge, hence the name - Refrigerator Pickled Peppers.
I'm foregoing the traditional water bath method of preserving this time because I know that we're going to eat them right away and they won't last more than a couple months anyway.
If we wanted to keep them longer, I would have processed the jar in a boiling waterbath for several minutes and allowed them to seal, then would keep them in the dark pantry to open up during the cold winter months. But not these babies!
I'll let them sit a week or two before opening them, letting the pickling juices permeate the peppers.
I go crazy for pickled peppers. We used to buy pickled jalapeno peppers all the time when we first got married. We would always have a jar in the fridge, but I could never find anything other than pickled jalapenos.
Not a HUGE deal because of my well known #JalapenoObsession, but it is certainly nice to have other pickled peppers.
What Can I Do With Pickled Peppers?
Use pickled peppers to add some zip and zing to any number of foods. Add them as a topping for nachos and tacos, pizza, burgers and hot dogs, sandwiches, so much more!
They're an excellent go-to for extra flavor. Toss them onto your sandwiches. Bake them into your pizzas. Pop them over tacos. Think of dishes like sweet and sour chicken. Heck, eat them right out of the jar.
Making Refrigerator Pickled Peppers - The Recipe Method
The process of making pickled peppers is fairly straightforward. You'll clean and dry your peppers. You can keep them whole, but I like to slice them into rings to fit more into the jars.
If you keep them whole, poke holes into them so the brine can get in. Sterilize your jars and lids.
A popular method for this is to run them through the dishwasher. The hot water will sterilize them. Bring your brine solution to a boil and simmer for minutes. A very basic brine is vinegar and salt, but you have PLENTY of room for additional flavoring elements.
See this post - Pickling Spices for Pickled Peppers. The choice is yours.
Fill the jar with your peppers and pour the hot brine over them, leaving a bit of headspace. Screw on the lids.
At this point, you can process them in your hot waterbath (if doing) or let them cool and pop them into the refrigerator.
You're good to go! Enjoy your pickled peppers!
How Long Do Pickled Peppers Last in the Refrigerator? Storage Information
This will last several weeks in the refrigerator or longer.
This may seem like a lot of peppers, but if you have a decent sized garden like we do, you'll achieve a yield like this regularly, so it is good to have a few different ways to preserve your chili peppers.
You can also process your pickled peppers in sterilized jars to keep them for much longer.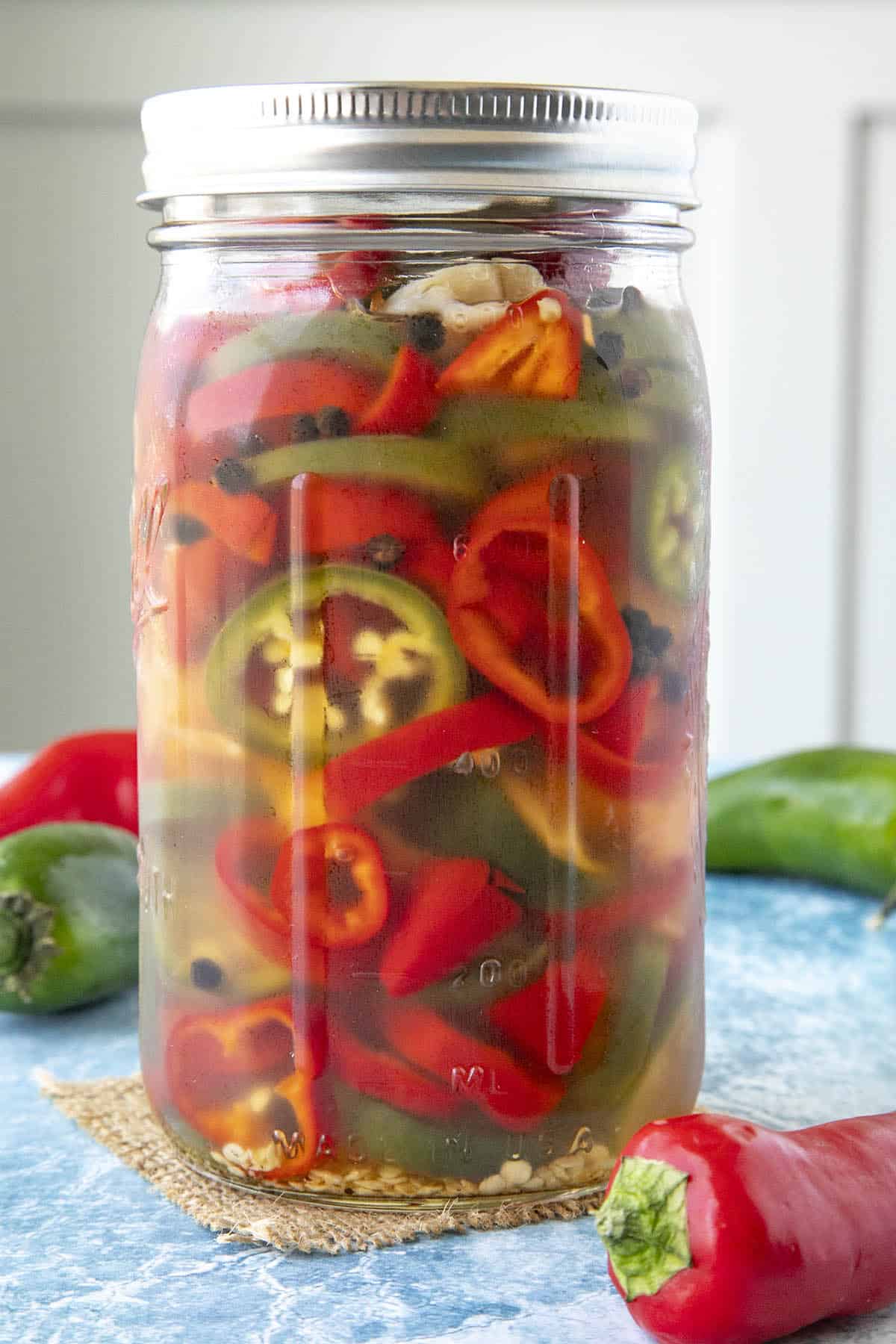 Learn More - How to Pickle Chili Peppers.
Additional Resources for Pickling Your Chili Peppers
Additional Resources for Preserving Chili Peppers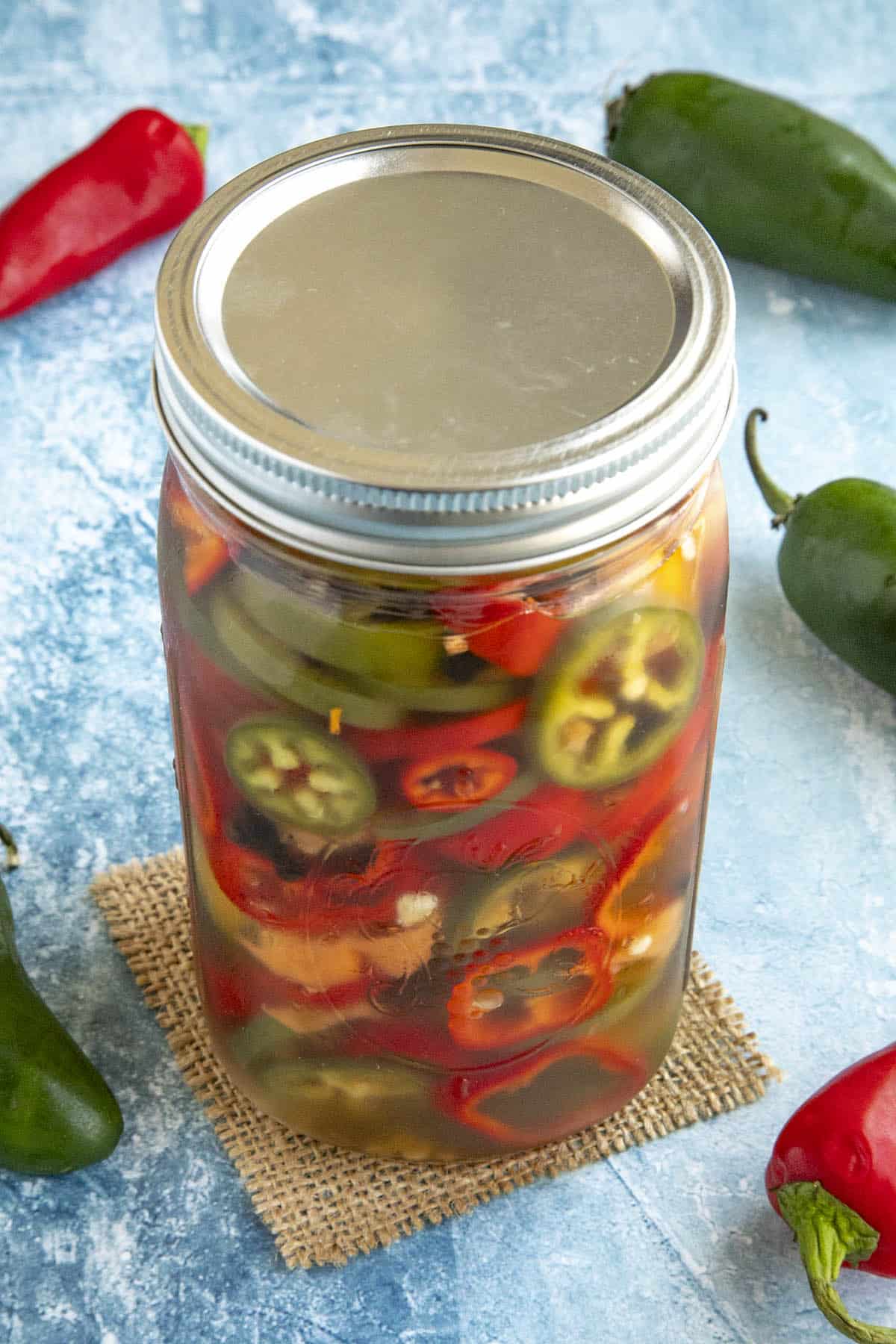 If you enjoy this recipe, I hope you'll leave a comment with some STARS. Also, please share it on social media. Don't forget to tag us at #ChiliPepperMadness. I'll be sure to share! Thanks! -- Mike H.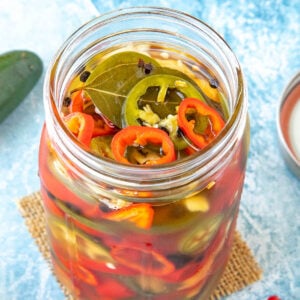 Print
Refrigerator Pickled Peppers Recipe
A quick recipe for making pickled peppers that you can keep in your refrigerator for months. They're perfect for topping sandwiches, tacos, tossing onto pizzas, or munching right out of the jar.
Save Recipe
Saved!
Ingredients
3-4

cups

chili peppers

you can use any type of pepper here. The amount will vary depending on how you chop them.

2

cups

white vinegar

4

garlic cloves

chopped

3

tablespoons

black peppercorns

teaspoon

cardamom seeds

1

tablespoon

minced ginger

2

bay leaves

1

tablespoon

pickling salt
Instructions
Wash and dry the chili peppers. Cut the large ones up into small chunks or slice them into rings. Any small peppers you can leave whole, but poke holes in them to the pickling solution can enter the peppers. Pack them all into a sterilized quart jar.

To a pan, add all remaining ingredients. Stir.

Heat and bring to a quick boil, then reduce heat and simmer for 2 minutes.

Pour the hot brine into the jar, over the peppers, and seal with a sterilized, tight lid. Cool and refrigerate.

Let the peppers sit a week or two before using so they can get nicely pickled, though they are fine to eat right away. It is best to wait!
Video
Notes
NOTE: These pickled peppers will last a few months this way. You can also process these pickled peppers in a hot water bath using proper procedures in order to keep them longer. Learn more about preserving peppers here.
Also, if you'd like to learn more about preserving chili peppers, check out our downloadable cookbook - Preserving Chili Peppers.
Nutrition Information
Calories:
27
kcal
Carbohydrates:
5
g
Sodium:
703
mg
Potassium:
126
mg
Fiber:
1
g
Sugar:
2
g
Vitamin A:
1480
IU
Vitamin C:
1.9
mg
Calcium:
12
mg
Iron:
0.5
mg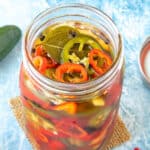 Did You Enjoy This Recipe?
I love hearing how you like it and how you made it your own. Leave a comment below and tag @ChiliPepperMadness on social media.