This pickled jalapenos recipe makes the best crunchy, spicy pickled jalapenos with a touch of sweet, ready in only 10 minutes, so easy to make! Top your tacos, nachos and so much more!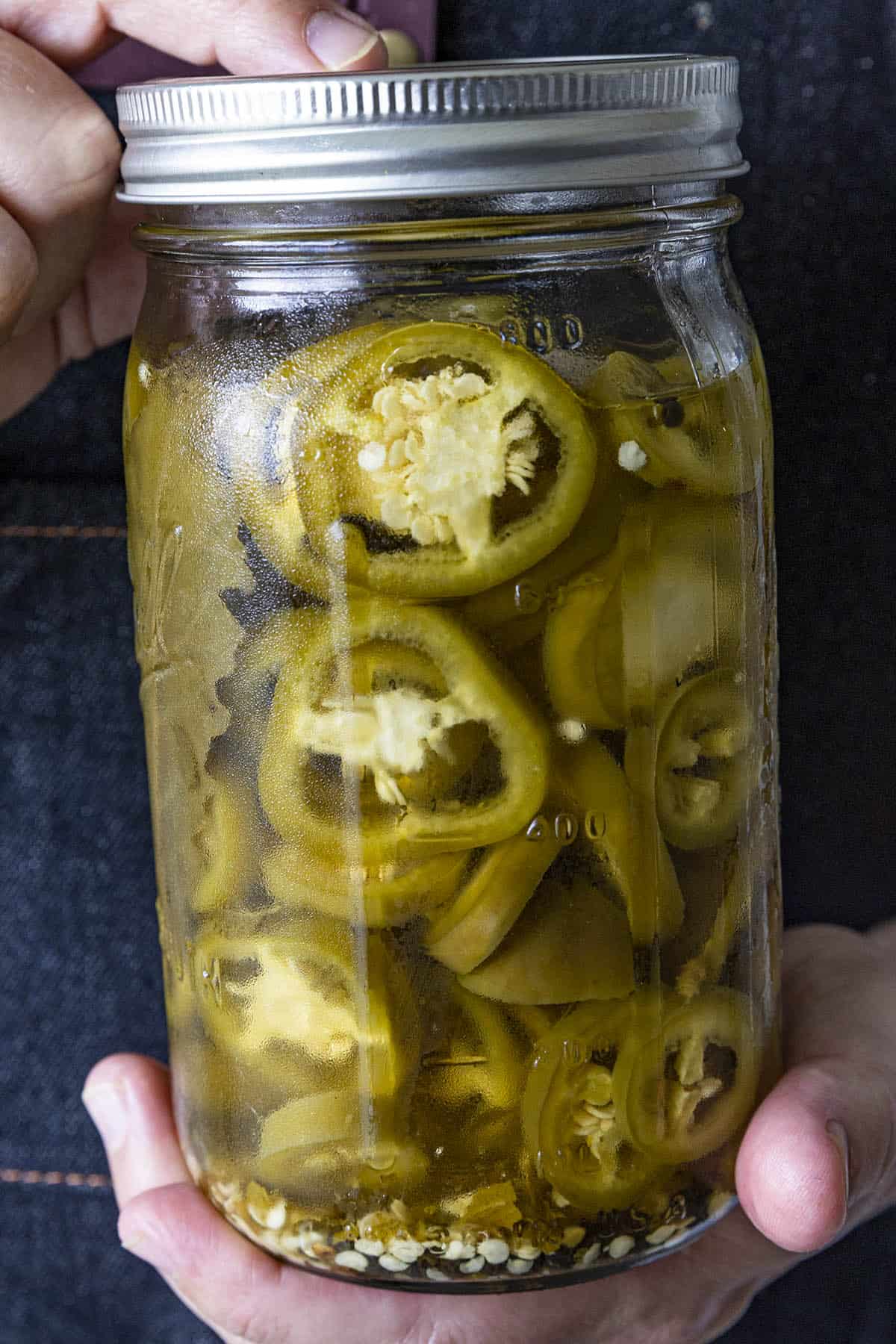 Homemade Pickled Jalapeños are Easy to Make!
You won't believe how easy it is to make your own pickled jalapenos at home. I've been pickling chili peppers for years, and these really are so much better than any store bought pickled jalapeno peppers.
They're crispy and tangy, sweet and spicy, and I have to give fair warning. They're very addictive. I can't help myself from stealing a few straight out of the jar to munch on for a mildly spicy, tangy snack. they're just so good!
And, they only take about 10 minutes to make! It's outstanding for a slow cook like me who takes forever in the kitchen. Even I can whip together a quick batch of quick pickled jalapeños for all sorts of enjoyment.
Let's talk about how to make pickled jalapenos, shall we?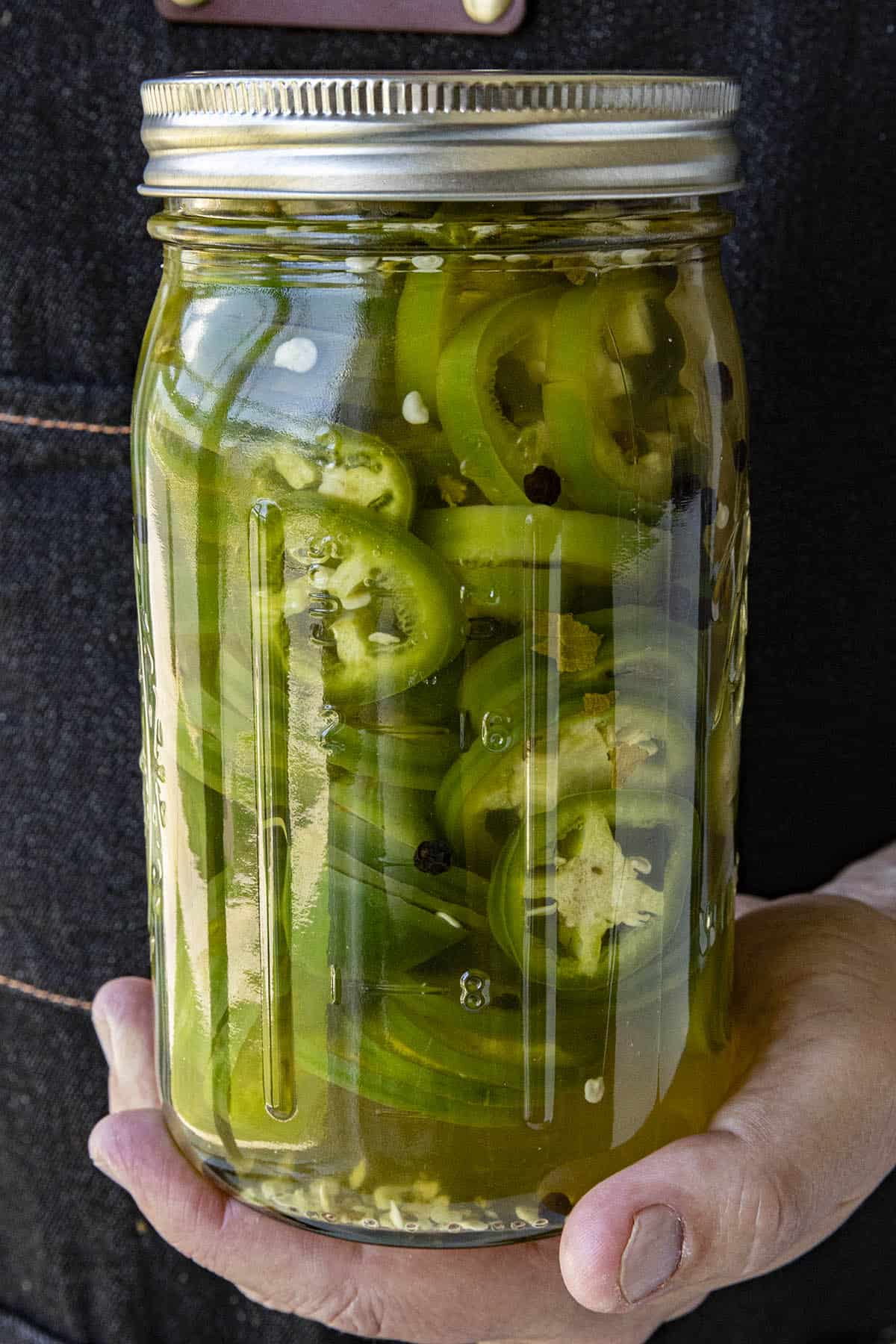 Pickled Jalapenos Ingredients
Jalapeno Peppers. Your amount will vary depending on the size of the jalapenos.
Vinegar. I'm using white vinegar, but you can use apple cider vinegar.
Water. To dilute the vinegar, though you can use all vinegar.
Garlic.
Honey. Or use white sugar, for a touch of sweet. Optional, if desired.
Salt. Pickling salt is good, or kosher salt.
Pickling Spices. I'm using Beay Leaf, Mexican Oregano, and Black Peppercorns. You have many flavoring options.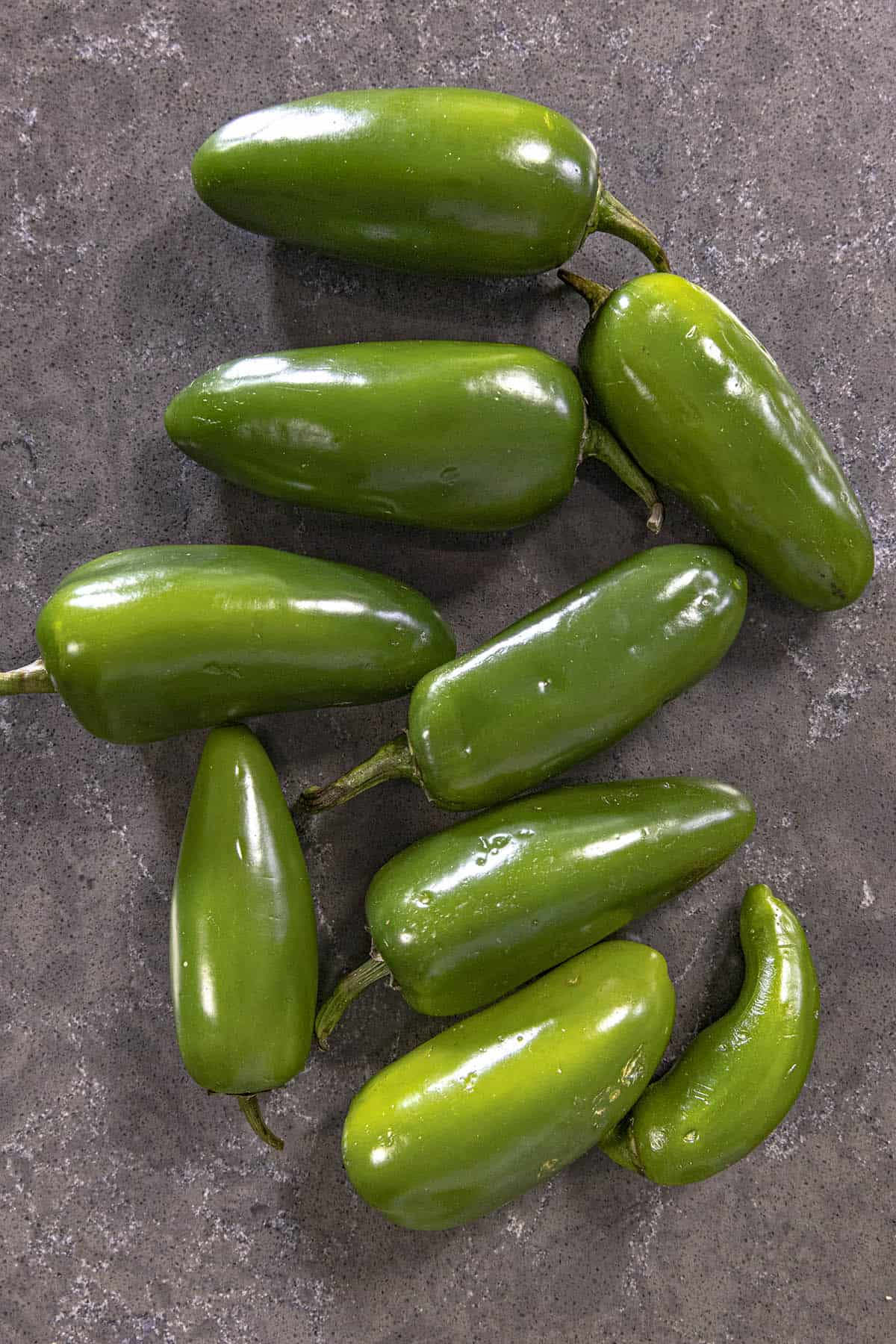 How to Make Pickled Jalapenos - the Recipe Steps
Slice the Jalapenos. Slice your batch of jalapeño peppers into rings and discard the stems. Stuff the sliced jalapenos into a quart sized jar (or large glass jars, or use pint jars).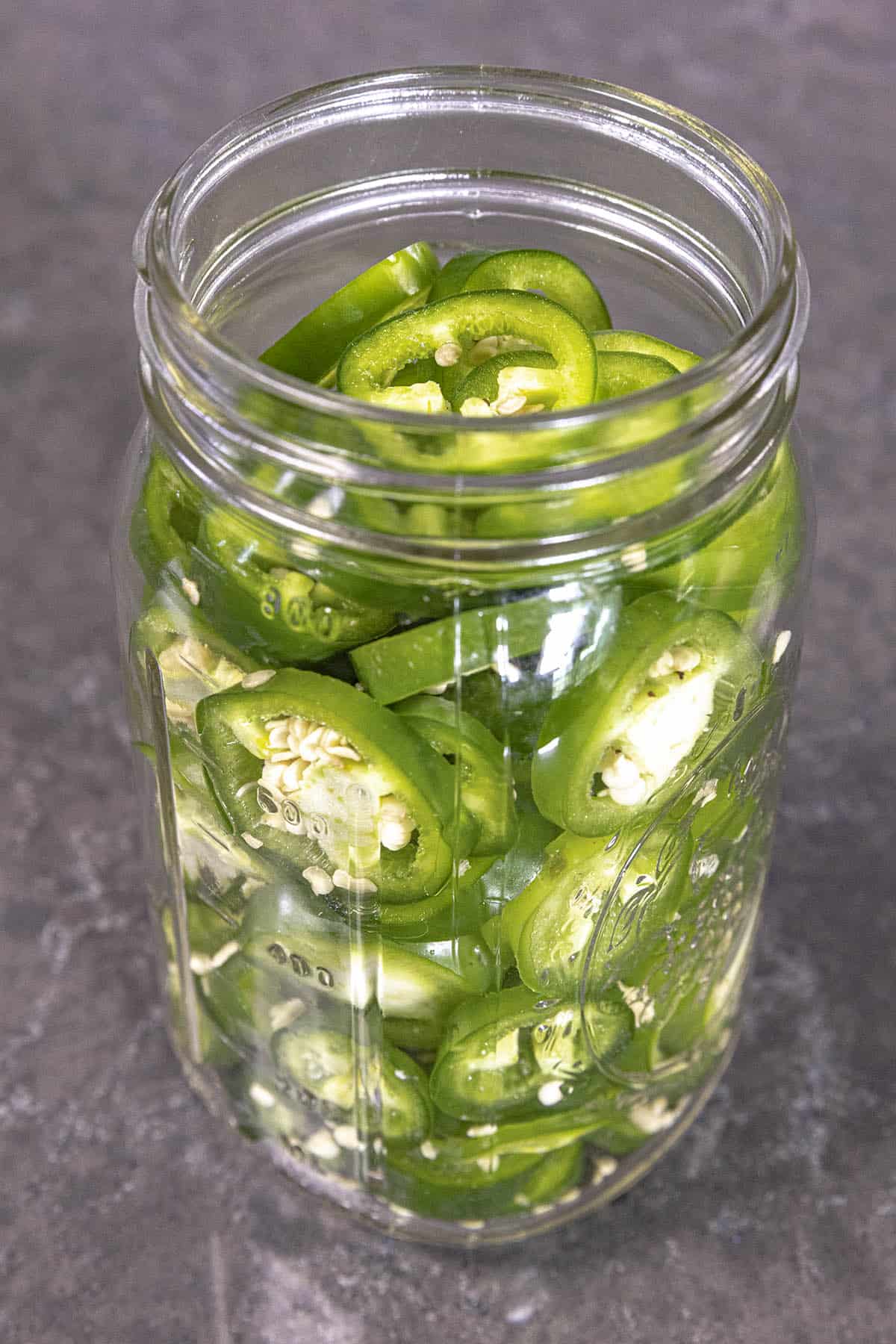 Make the Pickling Brine. Add white vinegar (or apple cider vinegar), water, garlic cloves, honey or sugar, salt, bay leaf, black pepper and Mexican oregano (and other seasonings) to a pot. Bring to a boil.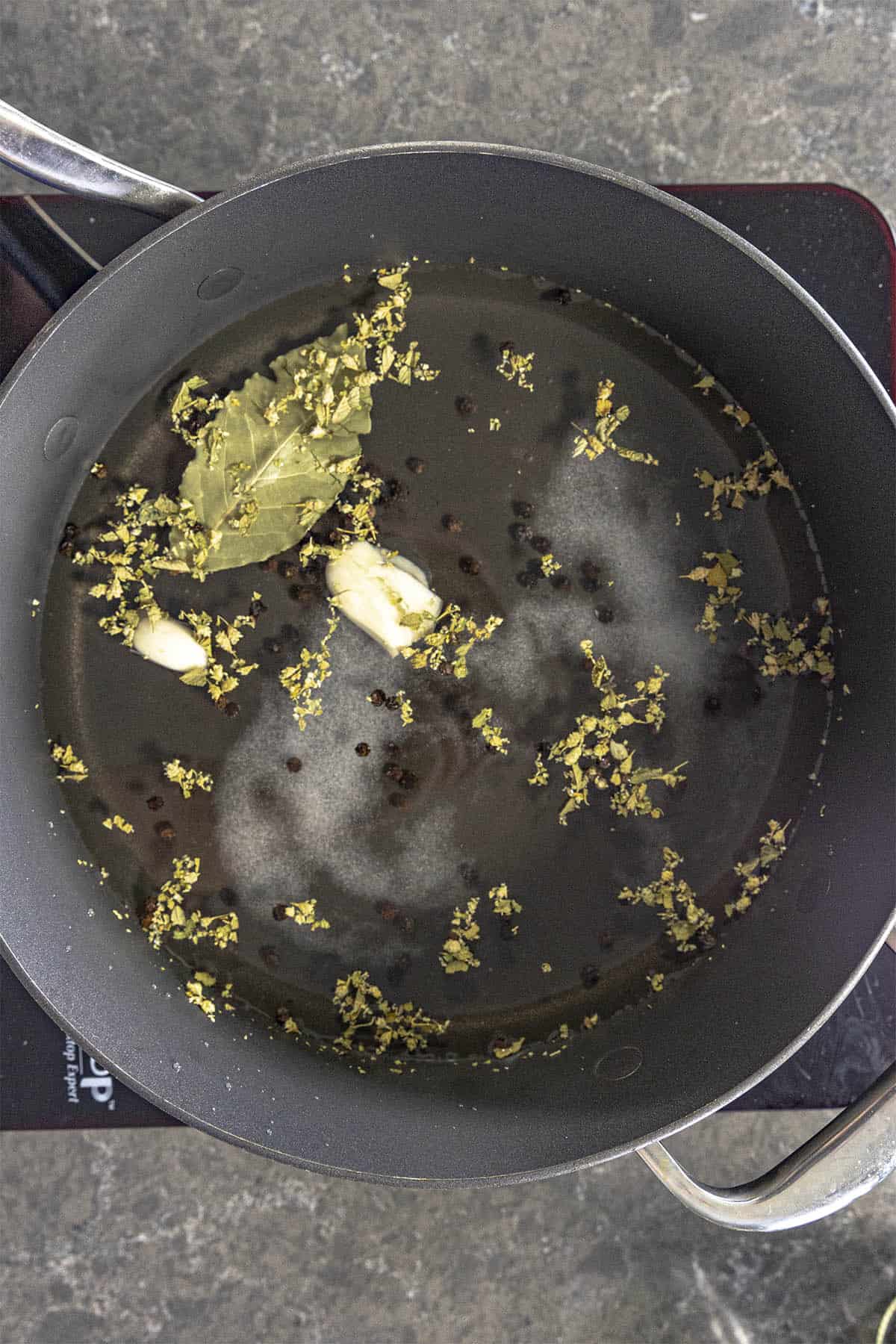 Remove from Heat. Stir then remove the water-vinegar-sugar mixture from heat. Cool slightly, then remove the bay leaf. Pour the hot brine over the jalapenos into the mason jar.
I use these Ball Jars (affiliate link, my friends!). They can hold a lot of peppers! Bonus.
Refrigerate. Top the jalapenos with a jar cover and keep them in the fridge after they cool to room temperature. I like to let mine sit in the refrigerator a good week before enjoying them.
The brine and seasonings penetrate the jalapeno slices more deeply, resulting in greater flavor.
Boom! Done! Super easy, right?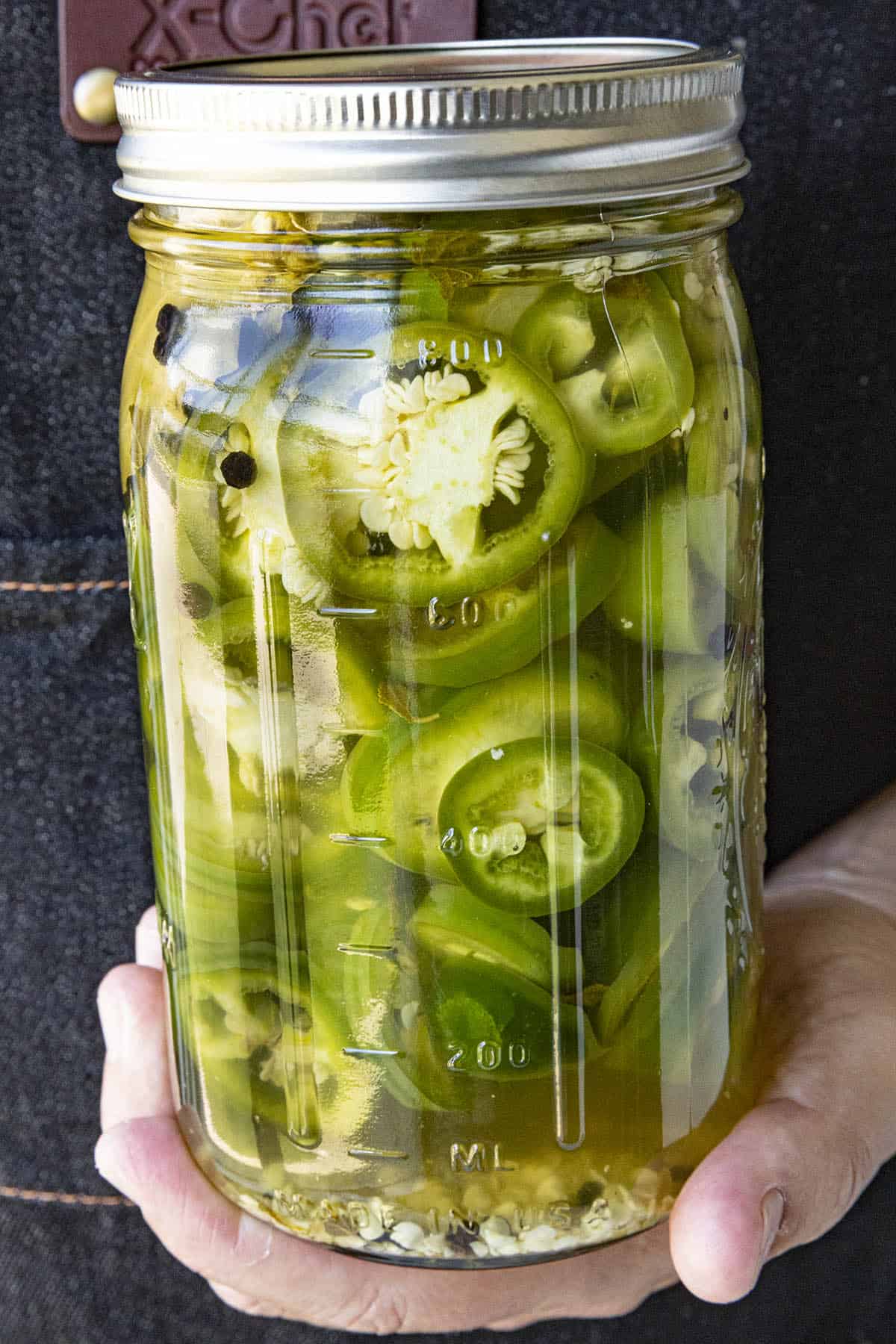 FAQ About Pickled Jalapenos
Can I Pickle Whole Jalapenos?
Yes, to pickle whole jalapeno peppers, poke holes with a knife in several places to allow the vinegar brine to more fully penetrate the jalapenos when you pour the brine, then store them in a large jar.
You won't be able to fit as many jalapenos in a jar as sliced jalapeno peppers, but they will last as long.
What Do Pickled Jalapenos Taste Like?
Pickled jalapeños are tangy from the vinegar brine, slightly sweet from the (optional) addition of sugar or honey, and herbaceous from the Mexican oregano and bay leaf. You'll get a piquant zestiness overall, as jalapeno peppers have a bit of natural heat, as well as the peppercorns used.
You can easily add other ingredients to flavor your pickled peppers. Other popular ingredients include cumin seeds, dried basil, mustard seeds, coriander, ginger, allspice, chili flakes and more. So many ways to personalize your pickles.
You can also skip the sugar or honey if you prefer less sweet, or increase the amount for sweeter jalapenos.
See my post on Pickling Spices for Pickling Peppers.
The peppers also maintain their crunch factor for a long time. Some pickled peppers can go a bit soft. This is usually a result of boiling the jalapenos for too long, or from processing the jars for too long in a water bath.
The length of heat exposure is what causes them to go soft, so keep this in mind. Don't boil them for too long.
How Long Do Pickled Jalapenos Last?
Pickled jalapenos will last for several weeks in the refrigerator, easily up to 3 months or longer. Vinegar and salt act as a preservative, letting the pickled peppers keep for longer. However, they probably won't last that long because they're just too tasty to resist eating.
If you'd like to keep your pickled peppers for longer outside of the refrigerator, check out my post on How to Pickle Chili Peppers for information on how to can or jar pickled peppers with a boiling water bath.
Quick Note: This is not meant to be a long term preserving method for chili peppers. It is more of a quick pickle to store in the fridge, a short term preserving solution, allowing you to prolong the life of the peppers for a few months, which is still a long time.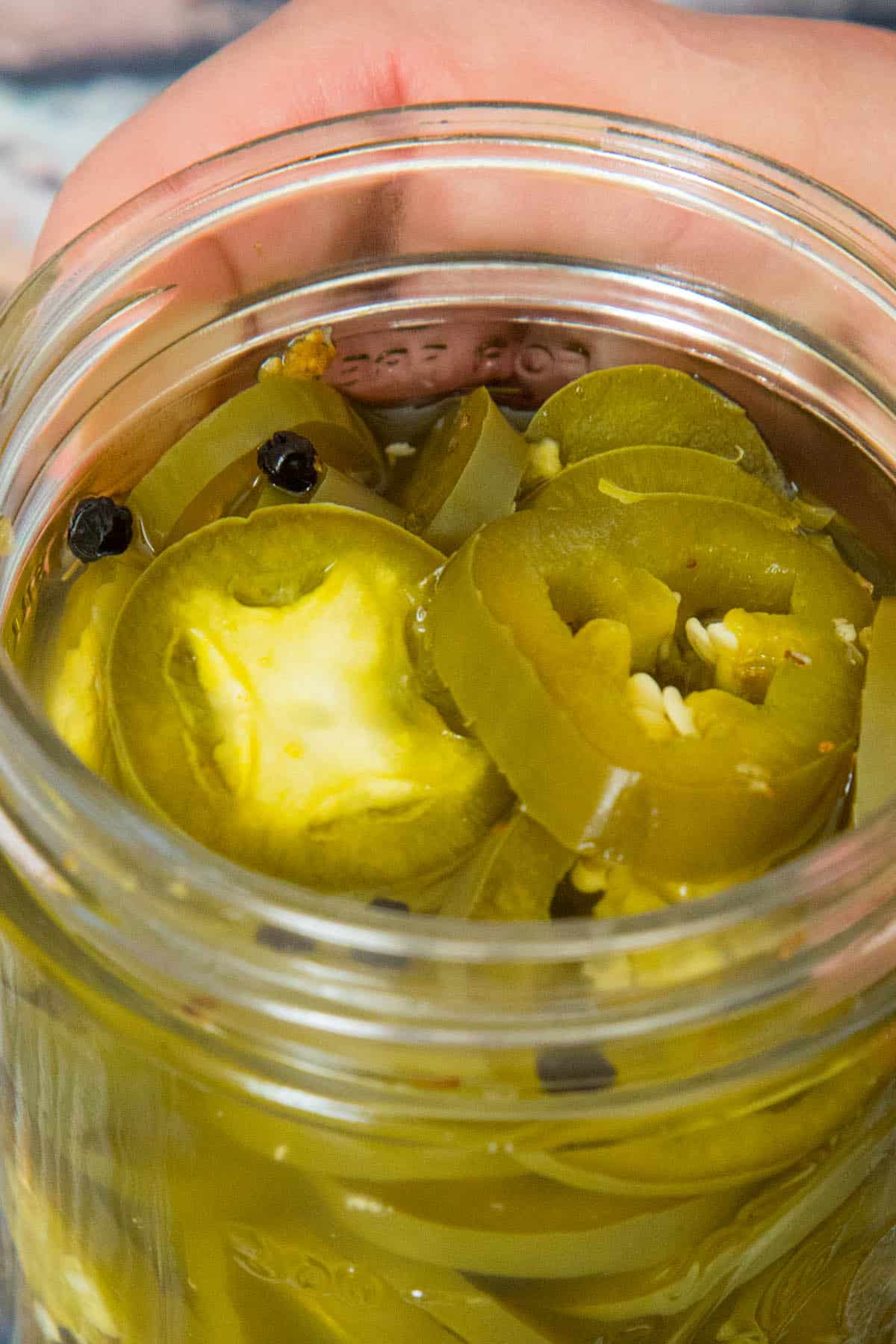 Enjoying Pickled Jalapenos
Aside from topping nachos and tacos with your peppers, try them out on pizzas, as burger toppings, piles onto grilled hot dogs, brats or sausages, and scattered onto sandwiches.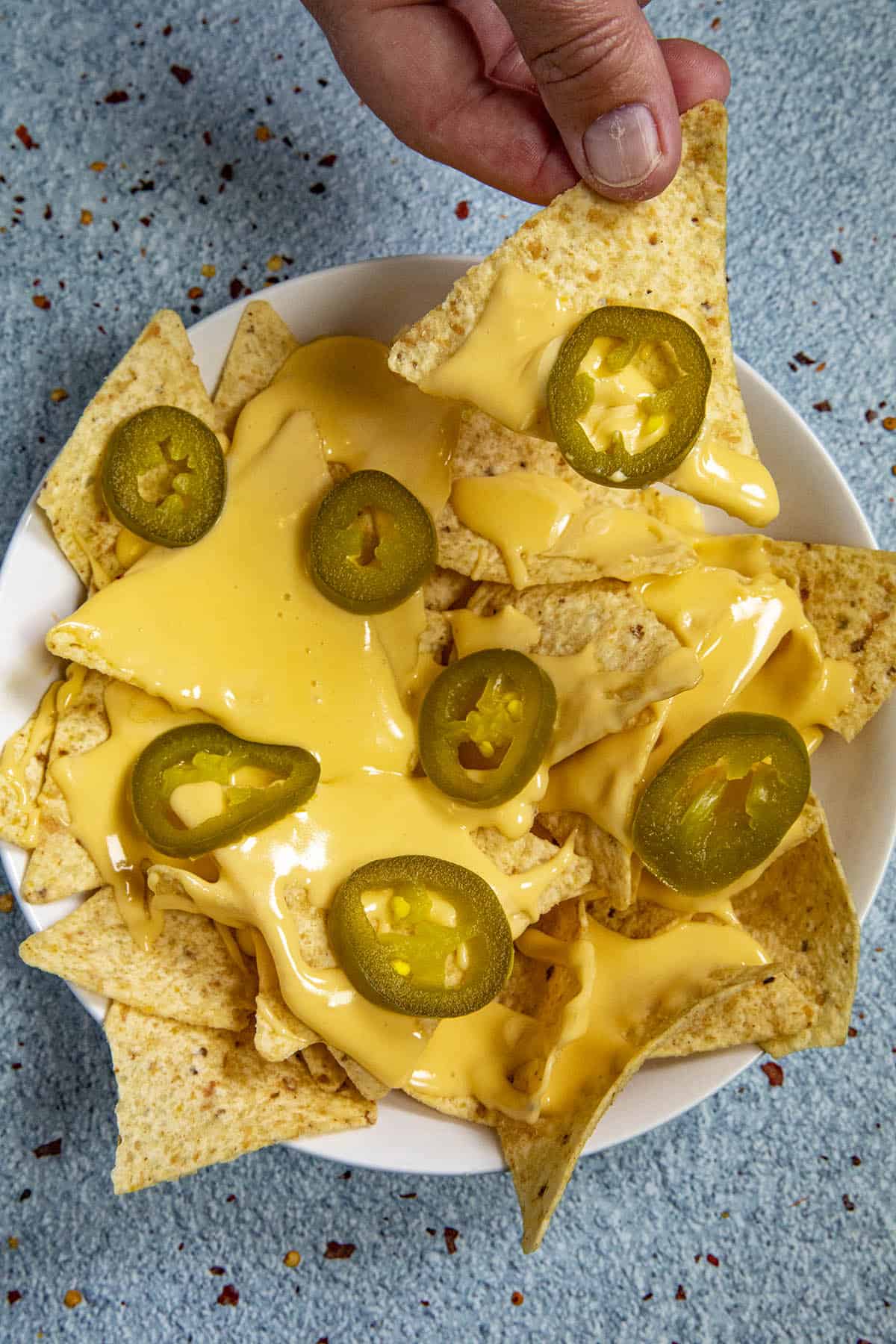 That's it, my friends! I hope you enjoy your pickled jalapeño recipe! Better than anything store bought. They're definitely a favorite in my house. Can't get enough of them. I love pickled sliced jalapeños. Such a great recipe.
Try My Other Popular Pickling Recipes and Similar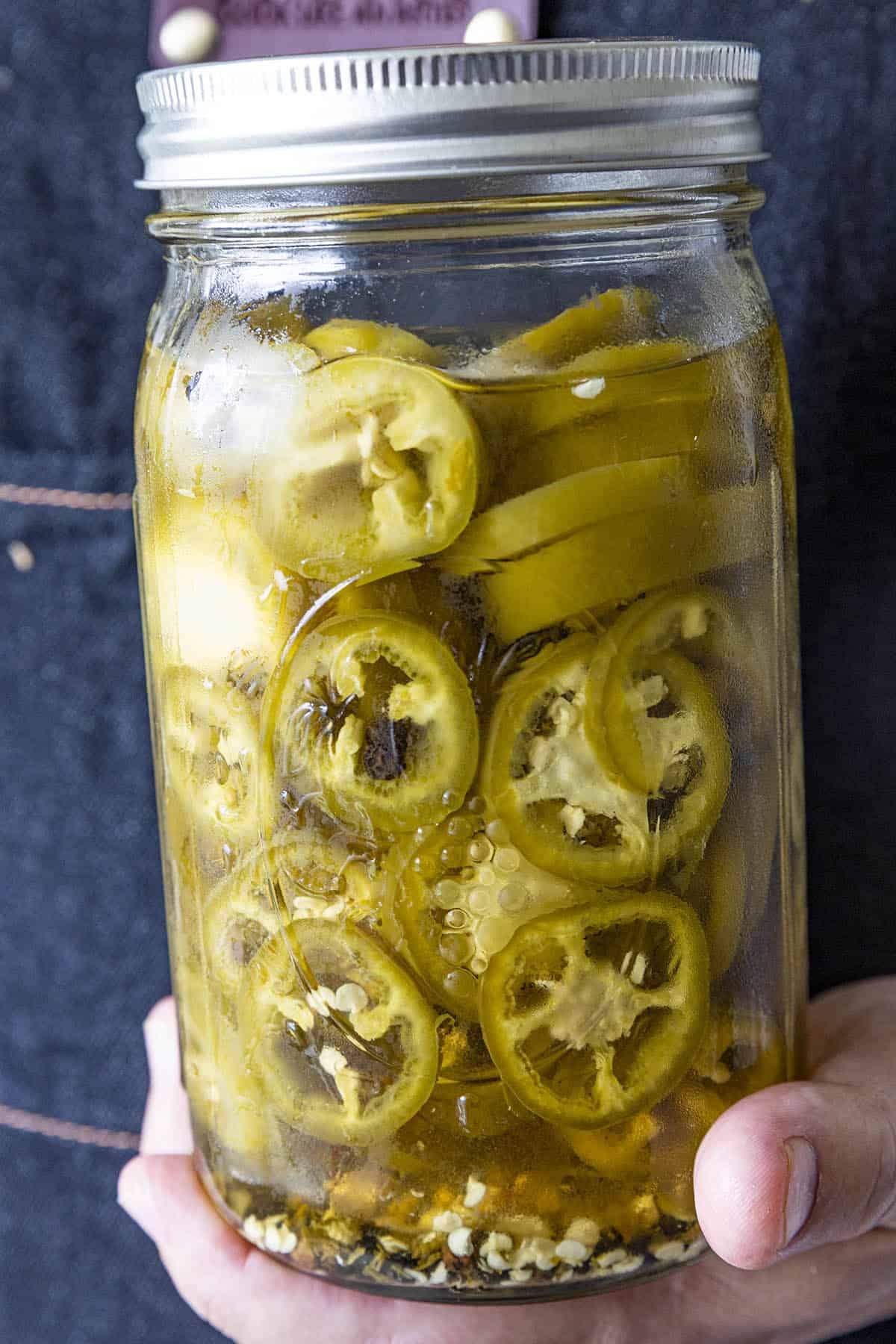 Got any questions? Ask away! I'm happy to help. If you enjoy this jalapeño recipe, I hope you'll leave a comment with some STARS. Also, please share it on social media. Don't forget to tag us at #ChiliPepperMadness. I'll be sure to share! Thanks! — Mike H.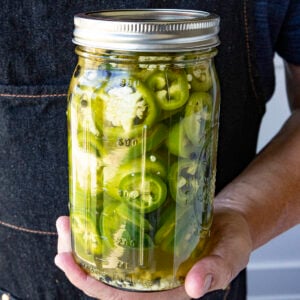 Print
Pickled Jalapenos Recipe
This pickled jalapenos recipe makes the best crunchy, spicy pickled jalapenos with a touch of sweet, ready in only 10 minutes, so easy to make! Top your tacos, nachos and so much more!
Save Recipe
Saved!
Ingredients
5-6

jalapeno peppers

sliced

1

cup

white vinegar

1

cup

water

1

clove

garlic

smashed

1

tablespoon

honey

or use sugar

1

bay leaf

1

tablespoon

salt

1

teaspoon

Mexican oregano

1

teaspoon

peppercorns
Instructions
First, slice your batch of jalapeno peppers into rings and discard the stems. Stuff the jalapeno slices into a quart sized jar (Ball jar or Mason jar).

Next, add the vinegar, water, honey, garlic, bay leaf, salt, Mexican oregano, black peppercorns, and salt to a pot. Bring the brine mixture to a quick boil.

Give it a quick stir, then remove the brine from heat. Cool slightly.

Pour the brine into the jar over the jalapeno peppers. Secure with a lid and let come to room temperature. Refrigerate until ready to use.
Video
Notes
Keep covered in the refrigerator. Use within 3 months.
You can use your pickled jalapenos right away, but it is best to way at least a day or 2 to let them really pickle.
Nutrition Information
Calories:
151
kcal
Carbohydrates:
27
g
Protein:
1
g
Sodium:
6998
mg
Potassium:
232
mg
Fiber:
3
g
Sugar:
20
g
Vitamin A:
755
IU
Vitamin C:
84
mg
Calcium:
67
mg
Iron:
1.2
mg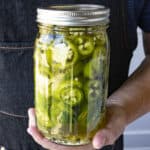 Did You Enjoy This Recipe?
I love hearing how you like it and how you made it your own. Leave a comment below and tag @ChiliPepperMadness on social media.
NOTE: This recipe was updated on 8/26/22 to include new information and video. It was originally published on 5/10/19.