The best salsa verde recipe made with tomatillos and jalapeno peppers. Serve it up as a table sauce, hot sauce, or as a salsa with tortilla chips. This is the ultimate green salsa.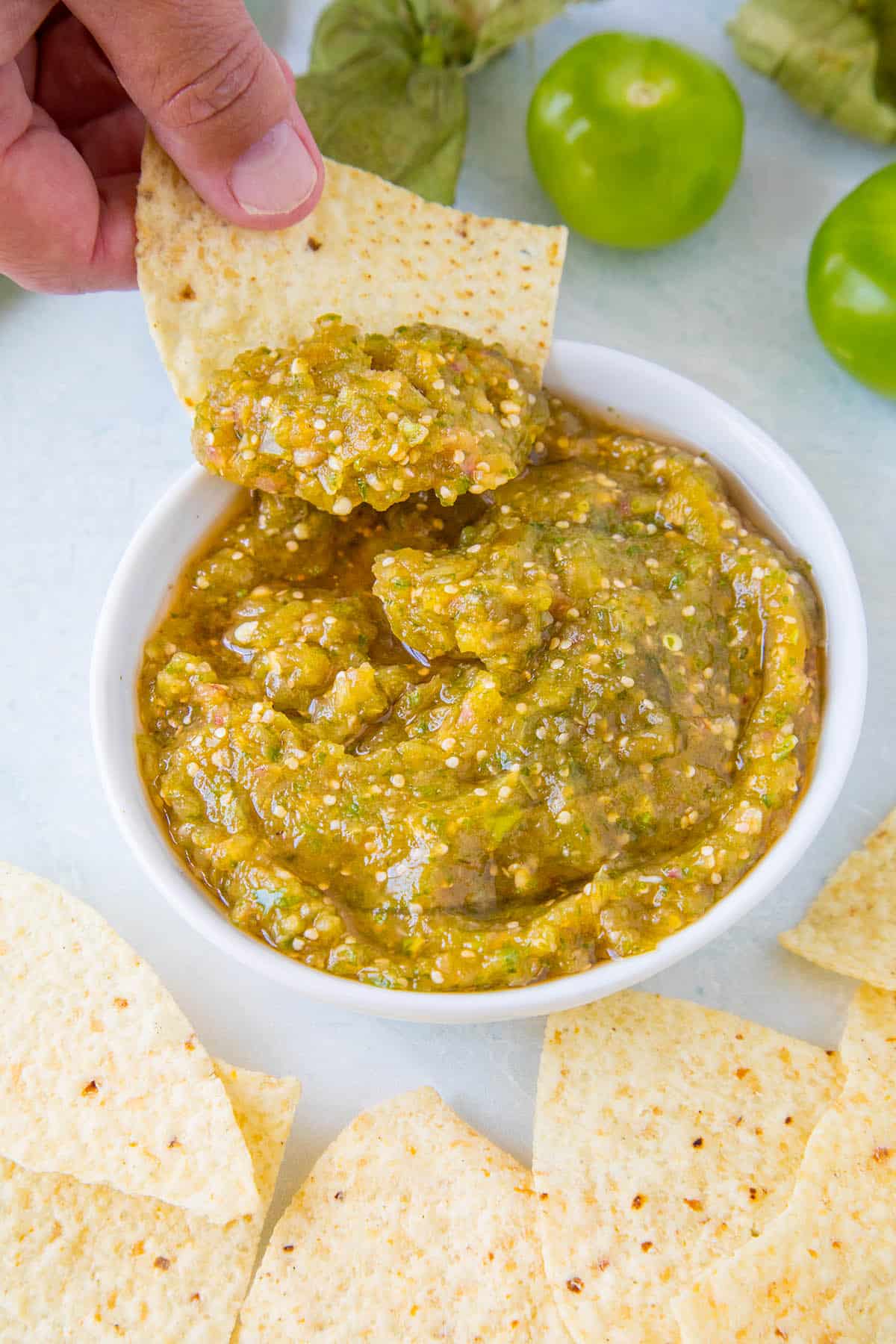 There are a number of ways to make an awesome salsa verde, or green sauce. Every Mexican restaurant has their own version and I have yet to encounter a bad one.
Even I have a number of different kinds that I make, all pretty much variations on a theme, like our Mexican Green Table Sauce made with tomatillos, jalapeno peppers and avocado.
Or our Homemade Green Enchilada Sauce with Roasted Tomatillos. The key ingredient in a good salsa verde is the tomatillo. Of course tomatillos alone do not a salsa verde make, but without them, it's pretty difficult.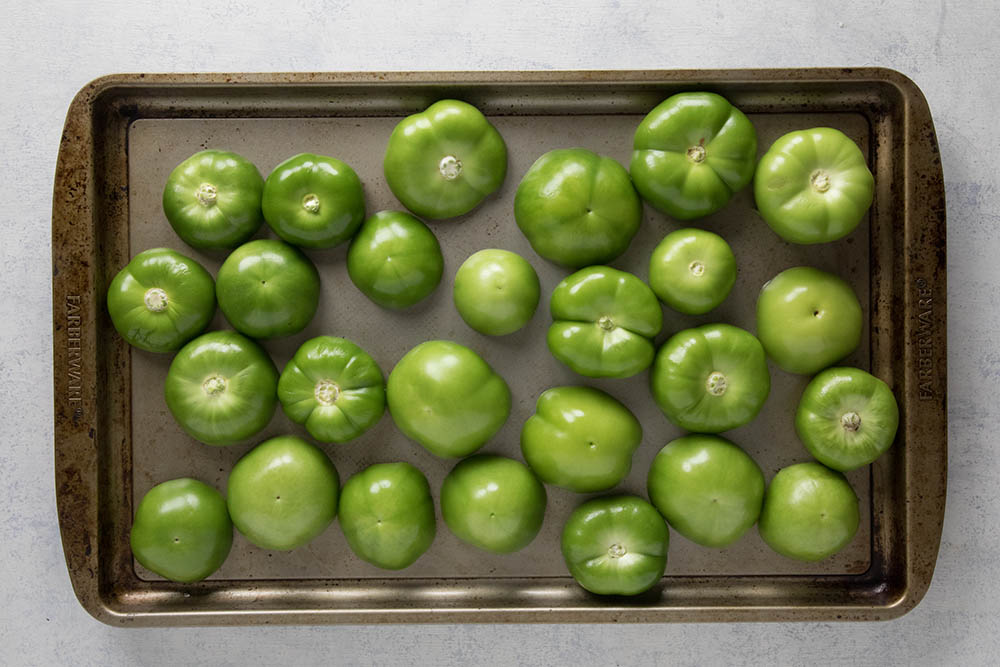 Tomatillos are Key to a Great Salsa Verde Recipe
Tomatillos are those tiny round green fruits that look like tomatoes you find in grocery stores or the Mexican market, covered in papery sheathes and slightly sticky, which is a byproduct of the plant as they mature.
Do not confuse them with unripened green tomatoes.
While tomatillos have a slight bitterness to them, they are much sweeter and fruitier than unripened green tomatoes and make for a MUCH better salsa verde. The insides are meatier as well, where tomatoes are juicier.
In fact, tomatillos are not tomatoes at all, but come from a completely different plant.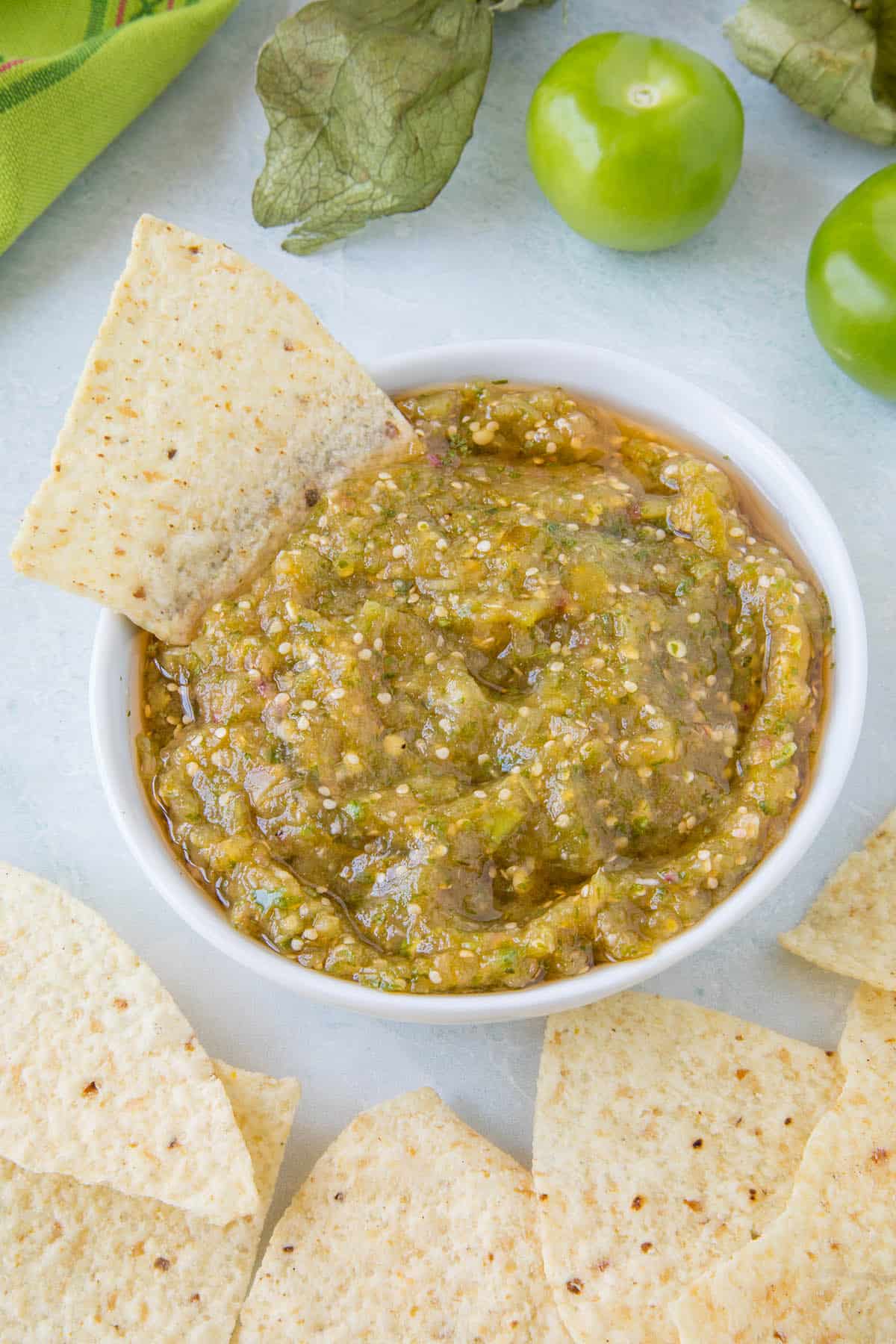 This recipe is one of the simplest versions of a salsa verde. With only 8 ingredients, it's quite ideal.
You can add in other ingredients to round it out to your preference, such as avocado, other chili peppers, herbs, even seasonings, but this one will serve all of your salsa verde needs.
Homemade salsa is really the only way to go when it comes to salsa.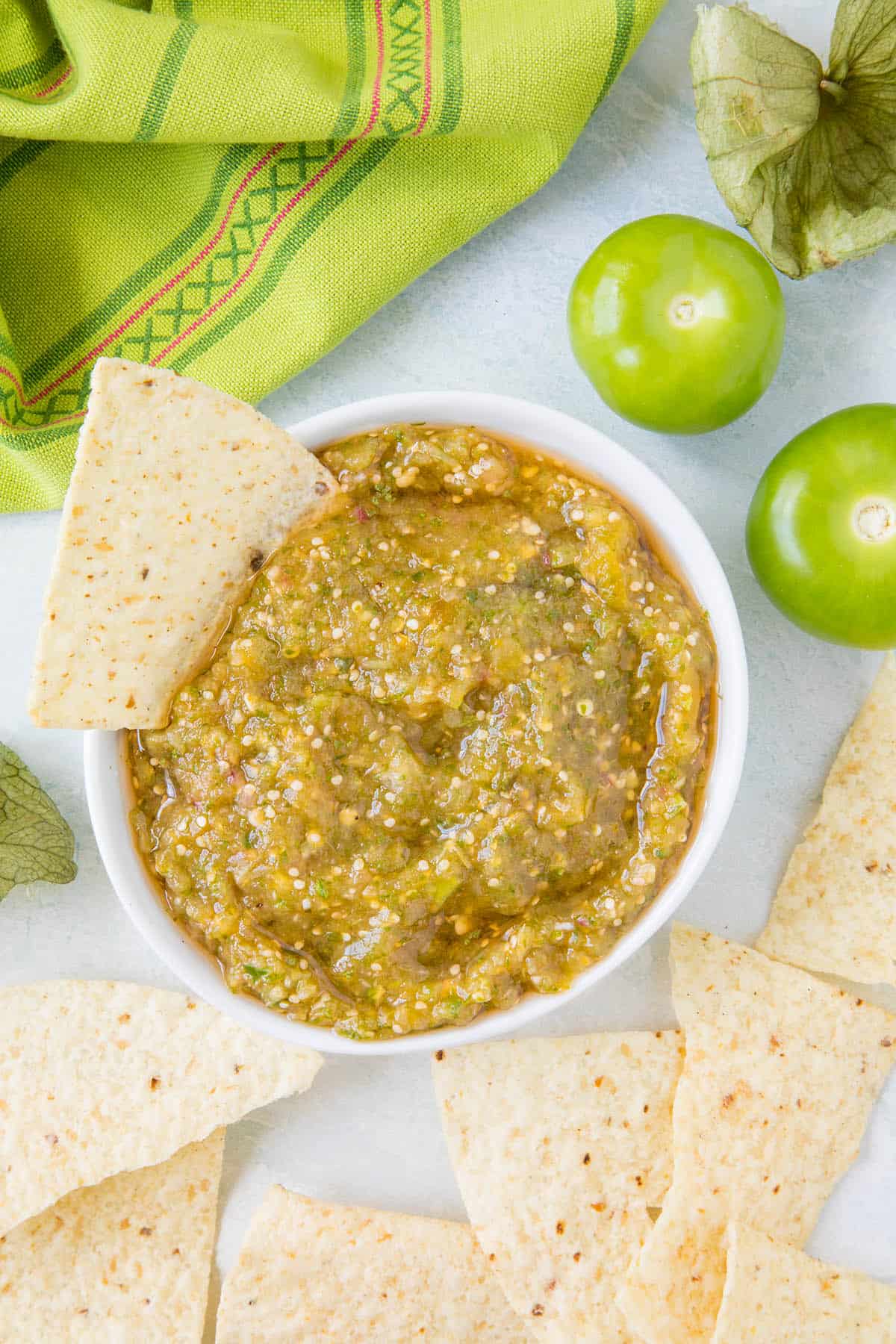 How to Make Salsa Verde
First, peel, rinse and dry the tomatillos, then slice them in half. Set them onto a large lined baking sheet.
Next, slice 1 of the serrano peppers in half and set it onto the baking sheet with the tomatillos.
Roast them at 425 degrees F. until the tomatillo skins begin to darken and char, about 15 minutes. Remove and transfer to a food processor or blender.
Add the remaining ingredients, including the remaining fresh serrano pepper, and process until nice and smooth.
Adjust for salt and serve it up! Or, you can refrigerate it and let the flavors mingle a bit more.
Simple, right? This is definitely a Patty's Favorites recipe. She always wants this in the house.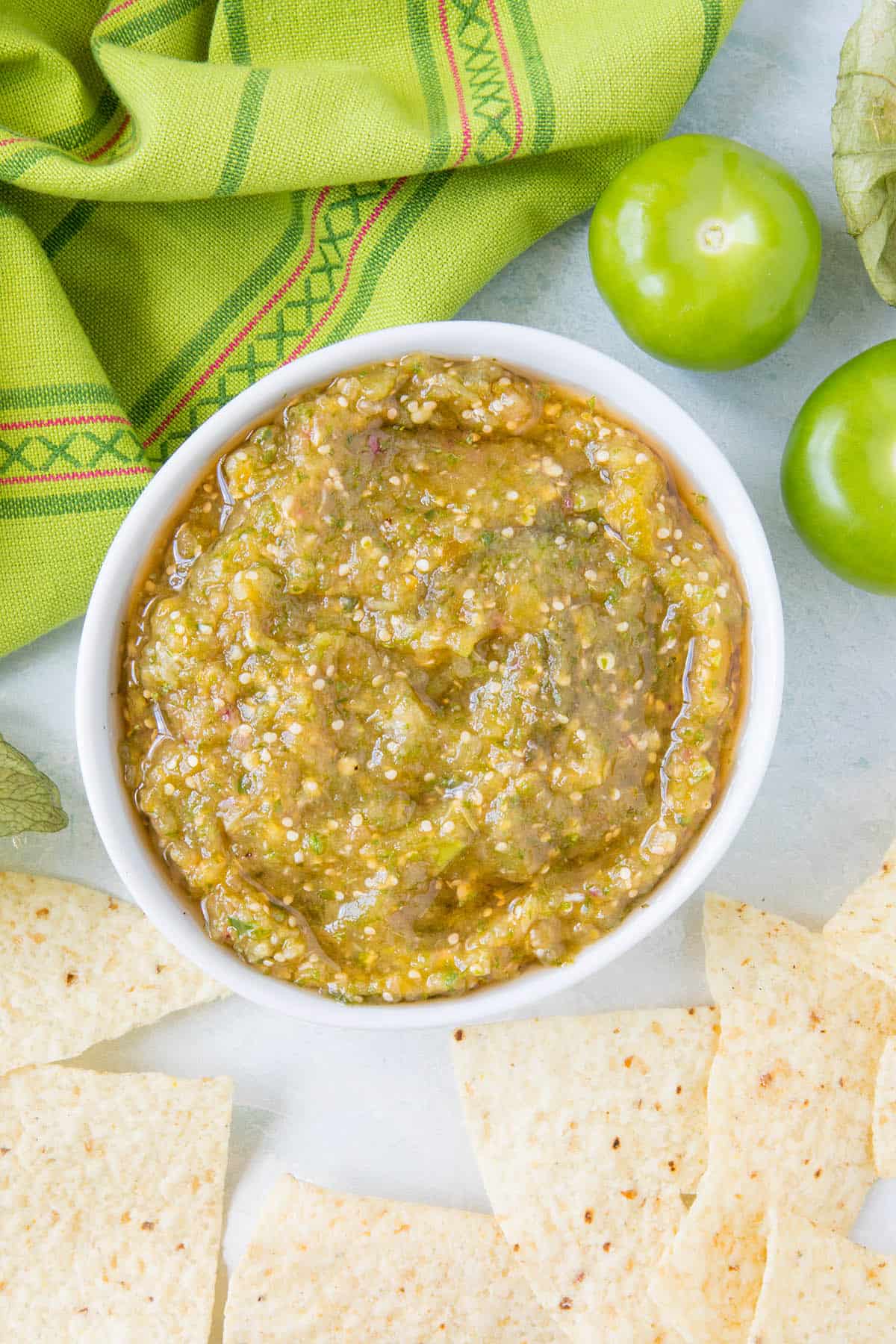 Recipe Tips
The Heat Factor. You'll get some good heat from the serrano chile peppers. They measure up to 23,000 Scoville Heat Units on the Scoville Scale. If you're looking for a milder salsa verde, you can remove the seeds and innards. Or, go with jalapeno peppers, which aren't quite as hot.
Fresh Vs. Cooked. For this recipe, I've chosen to roast the tomatillos along with one of the serrano peppers. The rest of the ingredients are added fresh. There are variations on this and you have multiple options.
Option 1: Roast only the tomatillos with one serrano, as I have done, then process them with the remaining fresh ingredients. This will give you a balance of roasted and fresh flavors.
Option 2: Roast all of the vegetables (tomatillos, peppers, onion and garlic), then process them with the remaining ingredients. This will emphasize the roasted flavor.
Option 3: Process all of the ingredients in a food processor, fresh, without roasting anything. This will result in a very fresh and vegetal tasting salsa, which some people greatly enjoy.
Option 4: Process everything fresh, as in Option 3, then transfer to a pan. Bring to a boil, then simmer the salsa verde anywhere from 5 to 20 minutes for a cooked down salsa. The salsa will darken and brown the longer it cooks.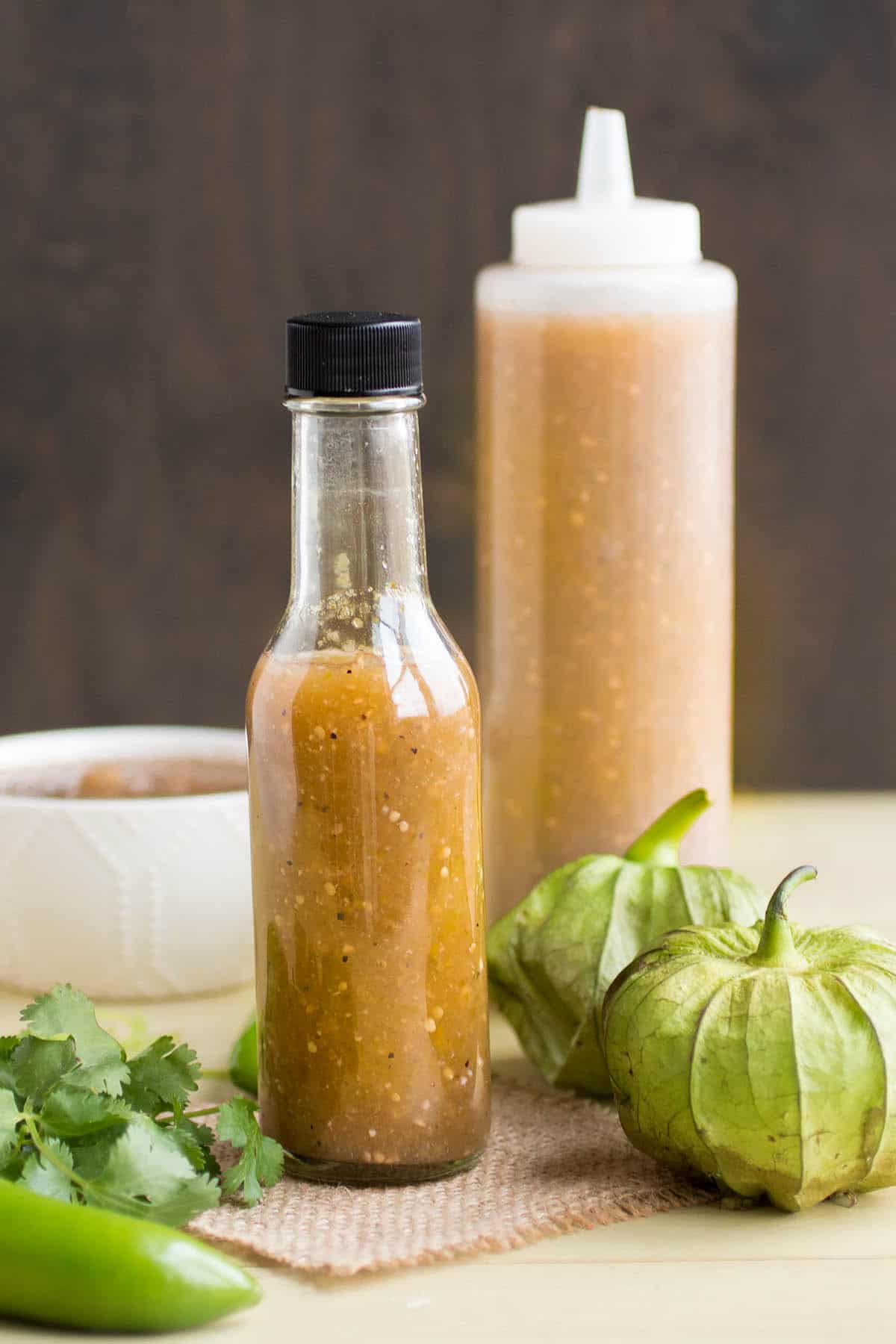 Serving Ideas for Salsa Verde
The thing about a good salsa verde recipe is you can serve it so many different ways. Serve it in a bowl with crisp tortilla chips and it's a quick salsa.
Pour it into squeeze bottles to serve with your Taco Recipes and it becomes a Mexican green table sauce.
Pour it into small hot sauce bottles and it becomes a hot sauce for you.
It makes a great sauce as well. Try it with pasta for an outstanding Spaghetti Verde.
Seriously, it is that versatile. I've included a quick video below on how to make a quick salsa verde. Give it a try. It's fun! We love our salsa verde!
I hope you enjoy it.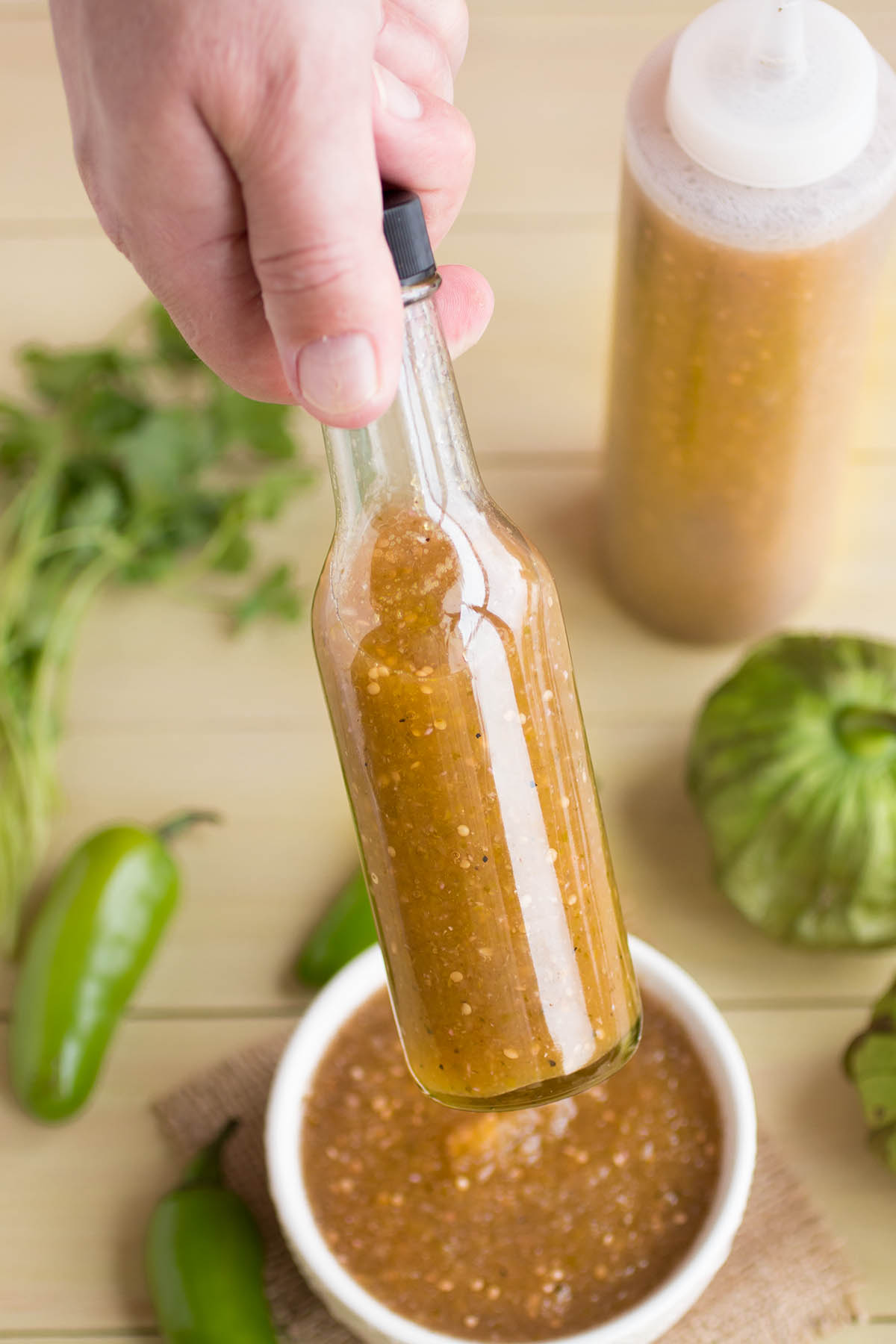 Check out my other Hot Sauce Recipes, too.
Frequently Asked Hot Sauce and Salsa Questions
Here are answers to some of the most common questions I get on other sauces:
How long will this salsa keep?
It should keep a week in the refrigerator. It's all about the acidity. To be technical, target level ph for shelf stable foods is below 4.6 ph, but should probably be lower for home cooks, around 4.0 or lower, to account for errors. If you're concerned, add more vinegar to lower the ph. Sauces and salsas made with fermented chili peppers will last even longer.
Where'd you get that sauce bottle?
I find them locally sometimes, but I also order through Amazon. Here is a link to some bottles I like (affiliate link, my friends!): Swing Top Glass Bottles, 8.5 Ounce - Set of 4
. If you like the smaller bottles that most hot sauce makers use, here's another link: Hot Sauce Bottles, 5 Oz - 24 Pack
.
Can I process this Salsa for longer storage?
Absolutely. Just be sure to use proper canning/jarring safety procedures.
Check out These Other Popular Salsa Recipes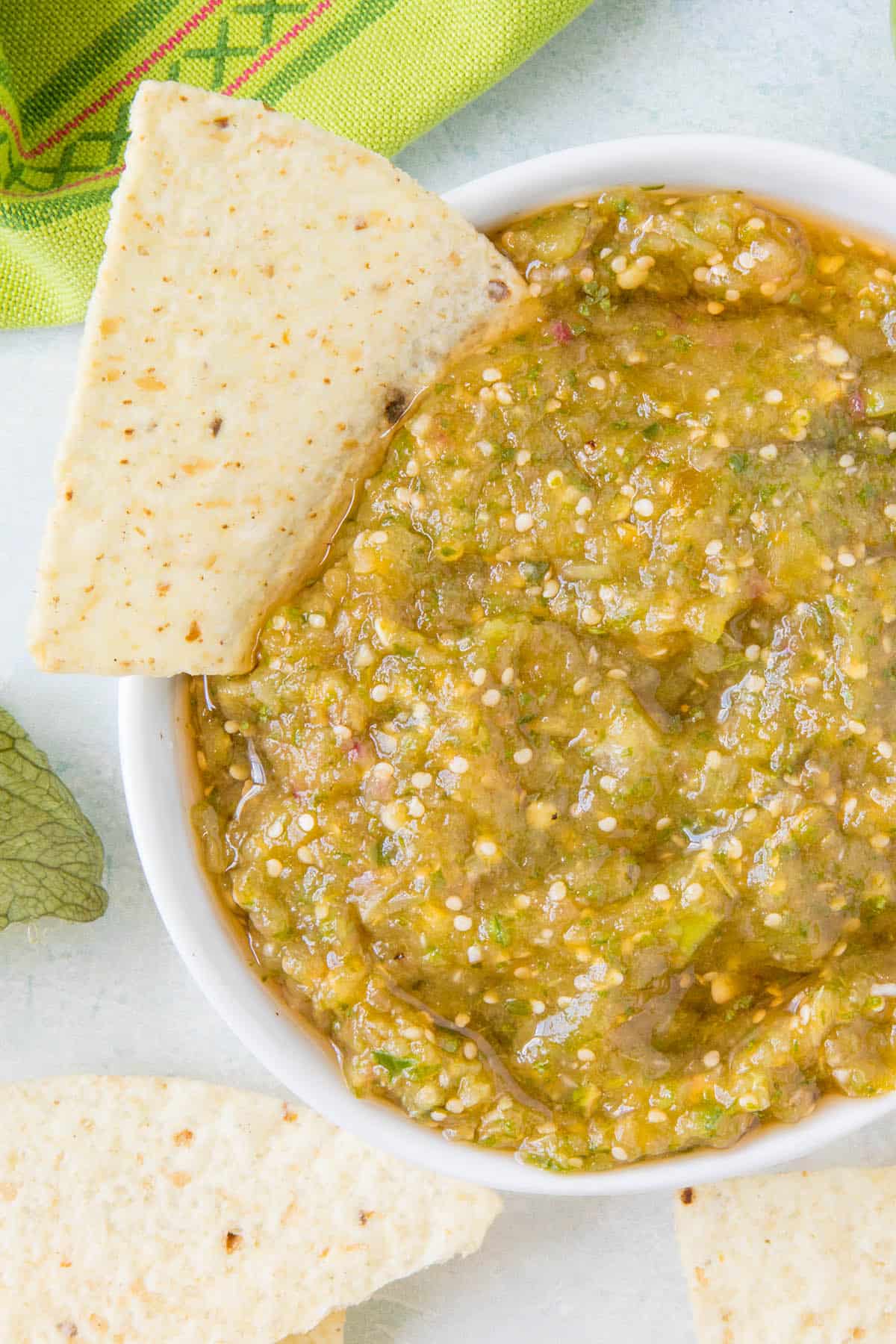 Patty's Perspective
YUM. He's right, this is one of my favorites of all time. Salsa verde is one my go-tos. It's such a great recipe, definitely one of my favorite Mexican salsas. I love that it will keep in the fridge a while so I can grab it anytime I want, which is usually a lot. There is something beautiful about tomatillos.
If you enjoy this recipe, I hope you'll leave a comment with some STARS. Also, please share it on social media. Don't forget to tag us at #ChiliPepperMadness. I'll be sure to share! Thanks! -- Mike H.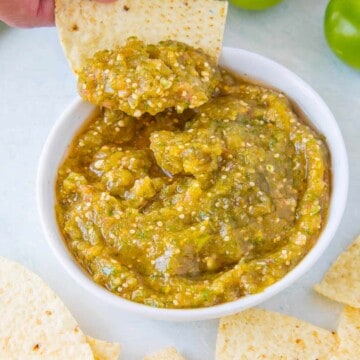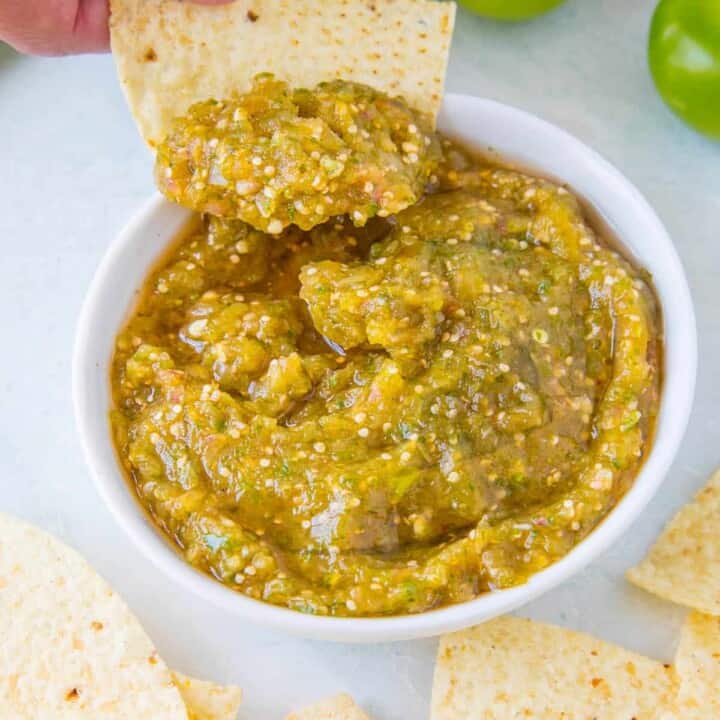 Print
Salsa Verde Recipe: The Ultimate Mexican Green Salsa
The best salsa verde recipe made with tomatillos and serrano peppers. Serve it up as a table sauce, hot sauce, or as a salsa with tortilla chips. This is the ultimate green salsa.
Save Recipe
Saved!
Ingredients
1

pound

tomatillos

2

serrano peppers

(or use jalapeno peppers for a milder salsa verde)

3

garlic cloves

chopped

1

small red onion

chopped

1/2

cup

chopped fresh cilantro

2

tablespoons

white wine vinegar

1

tablespoon

lime juice

(about 1 small lime)

Salt to taste

(I use a teaspoon of sea salt)
Instructions
Peel, rinse and dry the tomatillos. Slice them in half and set them onto a large lined baking sheet.

Slice 1 serrano pepper in half and set it on the baking sheet with the tomatillos, skin sides up.

Roast the tomatillos and serrano pepper at 425 degrees F. for 15 minutes, or until the tomatillos begin to char slightly. The skins will darken.

Remove and transfer to a food processor or blender.

Add the remaining ingredients and process until smooth. Adjust for salt and serve. Or, refrigerate in a sealed container to let the flavors mingle. Great with tortilla chips!
Video
Notes
Heat Factor: Mild-Medium. You'll get a bit of a kick from the serrano peppers. For a milder version, use jalapeno peppers.
Makes about 2 cups. Calories calculated without tortilla chips.
You can adjust the thickness of the salsa with a bit of water.
Should last a week sealed in the refrigerator.
Nutrition Information
Calories:
27
kcal
Carbohydrates:
5
g
Sodium:
2
mg
Potassium:
186
mg
Fiber:
1
g
Sugar:
2
g
Vitamin A:
145
IU
Vitamin C:
9.5
mg
Calcium:
9
mg
Iron:
0.4
mg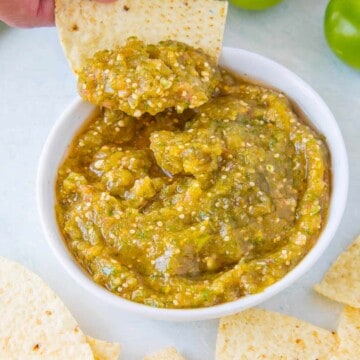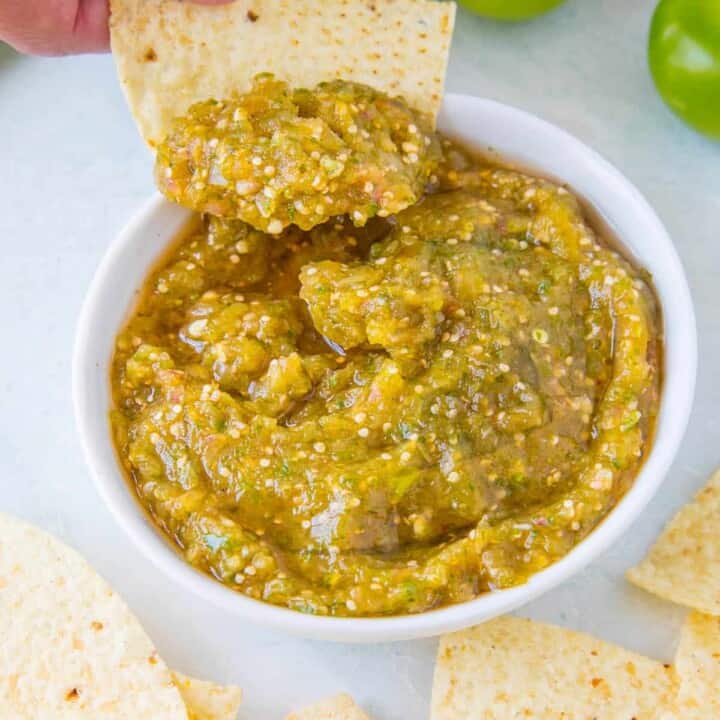 Did You Enjoy This Recipe?
I love hearing how you like it and how you made it your own. Leave a comment below and tag @ChiliPepperMadness on social media.
This recipe was updated on 8/23/19 to include new photos and information. It was originally published on 10/21/16.