This guide will teach you how to make the best homemade salsa from scratch with only the best ingredients. Includes tips, tricks and more.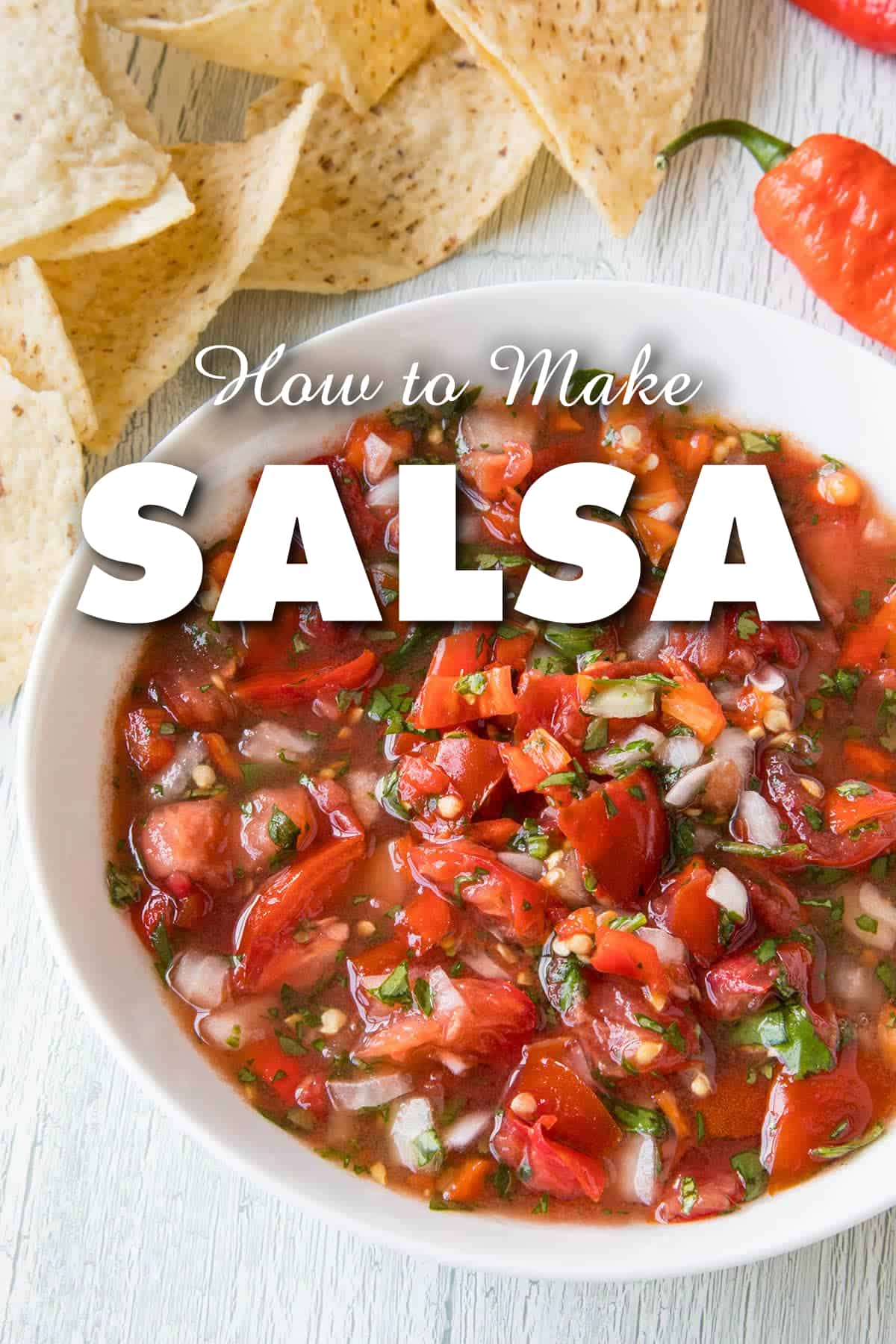 At its core, salsa is a dip-like sauce that includes ingredients like tomato, peppers, onions, fresh herbs and often some type of acid, like citrus or vinegar.
There are many different types, from red to green, from chunky to smooth, from cooked to fresh, and so much more.
The key to making a great salsa is the ingredients. If you start with the best, most flavorful ingredients, you will achieve your perfect recipe.
Common Ingredients
There can never be a definitive, end-all list of ingredients. Salsas are as unique and diverse as human creativity allows. While you might have seen varieties of fruit or strange ingredients, there is a list of the more common ingredients.
Tomatoes (diced tomatoes are always welcomed)
Tomatillos
Cilantro
Onion (white onion, red onion, yellow onion, green onion)
Chili Peppers
Corn
Lemon Juice
Lime Juice
Garlic
Salt and pepper
If you start with this list of ingredients in your kitchen, you are well on your way to making an enormous variety of homemade salsas. From there, you're free to add new ingredients and begin to experiment.
Fresh Vs. Canned
Canned ingredients are also ideal for great for use, particularly canned tomatoes. Why?
Tomatoes that are canned are usually picked at their peak ripeness. This results in superior flavor. Within hours of harvesting, they are processed to preserve that flavor. I've found that a combination of fresh and canned tomatoes (drained) can result in an outstanding salsa.
As a general rule of thumb, though, fresh ingredients usually best in most cases.
An Easy Homemade Salsa Recipe
This is a recipe for the easiest fresh salsa. Use it as a base for making other recipes. This one uses fresh fiery ghost peppers, which are very hot. You can easily substitute them with milder peppers of your choice.
It is super easy to make. It's more of a chunky restaurant style salsa.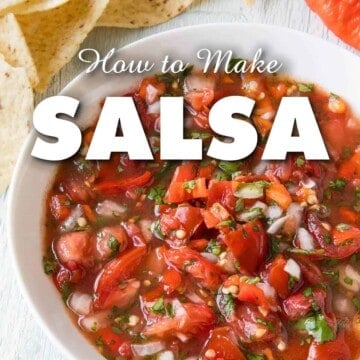 Print
Fresh Ghost Pepper Salsa - Recipe
A recipe for fresh, spicy ghost pepper salsa made with garden grown ghost peppers, tomato, onion, lime juice and cilantro. It's time to spice things up!
Save Recipe
Saved!
Ingredients
4

ghost peppers

chopped, or more, as desired

1

medium tomato

chopped

1

small white onion

chopped

3

tablespoons

lime juice

or use the juice from 1 large lime

¼

cup

chopped cilantro

Salt to taste
Instructions
Combine all ingredients in a mixing bowl. Mix well. Taste and adjust for salt.

Cover and refrigerate overnight for the flavors to mingle and develop. Serve!
Notes
Heat Factor: HOT! You'll get a good level of heat with this ghost pepper salsa recipe. Ghost peppers are the original superhot chili pepper. But it's worth it!
Nutrition Information
Calories:
11
kcal
Carbohydrates:
2
g
Sodium:
2
mg
Potassium:
79
mg
Sugar:
1
g
Vitamin A:
210
IU
Vitamin C:
12.1
mg
Calcium:
5
mg
Iron:
0.1
mg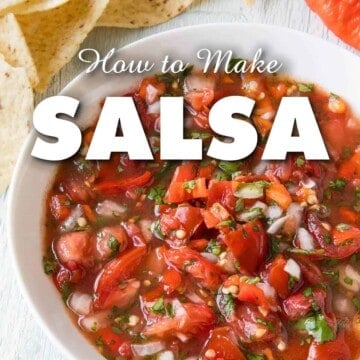 Did You Enjoy This Recipe?
I love hearing how you like it and how you made it your own. Leave a comment below and tag @ChiliPepperMadness on social media.
I love this recipe. Perfect for Cinco de Mayo. Bust out the chips and salsa!
You can so easily give a rough chop to ingredients and mix them together for a wonderful snack.
Serving Suggestions
Salsas are usually served with tortilla chips. Great! But guess what? You can serve it so many other ways.
Here are few alternative serving suggestions.
Go Mexican. Just like in your local Mexican restaurant, you might thin it out and serve it a bit saucy-style. Pour it into a squeeze bottle and pour it over your tacos or quesadillas. Speaking of…
Skip the Sauce. Instead of going through the work of making a homemade sauce, use your homemade salsa instead. There are many common ingredients, so your flavors could be similar.
Try a sweet pear-based sauce over the top of your salmon or white fish. How about a fiery habanero sauce served over the top of boring broiled chicken? How about a seared corn sauce served with your beef roast?
Salsa, converted to a sauce, makes a great addition to many meals.
Or better yet, Get Saucy! As mentioned above, some sauces and salsas share common ingredients. If you find yourself with leftovers, turn it into a sauce by adding chicken or vegetable broth. Cook it a bit with additional seasonings, then puree in a blender. Instant sauce.
Salsa in a Bread Bowl. Sounds fun, doesn't it?
Bust out the Crock Pot. We enjoy dumping leftover salsas into our slow cooker with a whole chicken and let the flavors develop. Delicious.
If you want to serve up a batch of your favorite salsa, try some of these service options to go along with your chips.
Toasted bread
Pita bread slices, either warmed or toasted
Pretzels
Colored corn chips – at least you'll have a bit of color
Large crackers
Melba toast
Cooked pizza dough
Large cut vegetables, like carrot sticks or celery stalks
Baked roll slices
Cooked shrimp
As always, bring in your creative energies and serve what you feel would complement the flavors.
For Gardeners
We've discussed some of the common ingredients that many salsa share. To extend that, you'd be doing an enormous service to yourself by growing as many of those ingredients as possible in your own garden.
Here's a list of what you should grow for an optimal salsa making endeavor:
Tomatoes: There are numerous varieties of tomatoes available to you, including those juicy giant versions. We've tried many types and they're all great.
Tomatillos: Tomatillos are wonderful for green salsas, but please note that tomatillo plants take up a lot of room in the garden. We mean a LOT of room. These plants like to sprawl, so plan your garden space accordingly.
Chili Peppers: Chili peppers are very easy to grow in your home garden, and you'll have a huge variety to choose from. Learn more about Growing Chili Peppers here.
Cilantro: This leafy green has a distinct flavor like no other. It is essential for many recipes, and also for guacamole.
Garlic: Very easy to grow, and garlic gives a wonderful pop of flavor.
Onions: Another vegetable that is easy to grow, and like tomatoes, you have a number of varieties available to you. Go for some green onion as well. You'll love it.
5 TIPS FOR Gardeners
Here are my top 5 tips for gardeners who love salsa:
Experiment with Chili Peppers. In many cases, you can substitute your favorite pepper for another in the recipe. It may affect heat levels and flavor, but normally that's OK. Just try the recipe first and then move onto experimentation from there. Try serrano instead of jalapeno for more heat, or go even hotter with a habanero. Yes!
Just Have Fun! Salsas aren't meant to be serious. Even die-hard salsa makers can easily enjoy the process and not take it too seriously. If you make a mistake, just roll with it. I've never tried a salsa so bad it was BAD. If you mess up, it's probably still good.
Play with Your Vegetables. Oftentimes a recipe will call for other vegetables in the salsas, but you can try adding new and favorite vegetables. See how they turn out and affect the flavor. Do you love asparagus? Toss them in! Carrots? Why not? Habaneros? Hot!
Toss in the seasonings. Like veggies, feel free to toss in your favorite seasoning flavors. We often call for "salt and pepper to taste." What that really means in any recipe is to add whatever extra flavors you like. If we were dealing with French cuisine here, I'd steer you in a different direction. But we're not. Do you like garlic? Add extra garlic! Love habanero heat? Add some dried pepper flakes. Italian seasonings? You get the idea.
Forget the chips. Hey, we love standard tortilla chips, but you can serve salsas with so much more. Often, what you serve with your salsa will help make the meal. Consider pita bread, toast, rolls, bread sticks, whatever else strikes your fancy. Get creative.
How to Preserve Salsa
If you've made too much homemade salsa, you might try preserving them so you can use them again in the future.
Options include freezing or canning.
You can freeze your salsas by pouring them into a freezer safe container. Freeze them up to 6 months and thaw for later use. You'll likely lose any crunchy texture of chunkier salsas, but the thawed salsas work great for incorporating into sauces, soups, or slow cooker recipes.
You can preserve your salsa by canning if you have a good canner. Here is a great resource for canning salsas at the National Center for Home Food Preservation.
Easy Homemade Salsa Recipes
Here is a list of some of my favorites. I hope you enjoy them!
See all of my Salsa Recipes.
Got any questions? Ask away! I'm happy to help. If you enjoy this recipe, I hope you'll leave a comment with some STARS.
Also, please share it on social media. Don't forget to tag us at #ChiliPepperMadness. I'll be sure to share! Thanks! —
Mike H.