Southwest Style Chicken Gumbo
A mashup recipe of your favorite Cajun chicken gumbo made with Southwestern ingredients, including Hatch chili peppers, black beans and plenty of Southwestern seasonings. This tastes awesome!
As you may have guessed by now, I am a gumbo FANATIC. Truly. What is it about gumbo that inspires such PASSION in me? I can answer that for you.
IT IS FREAKING DELICIOUS!
I don't think I can shout that out loudly enough. When I first visited New Orleans, I remember the first taste of authentic, local gumbo and being astonished by the depth of flavor. Is it a soup? Is it a stew? I don't know how you might classify this dish, other than a GUMBO, but it's one of those meals that basically leaves you gobsmacked.
When we want back to New Orleans just recently for a week, just because we wanted a foodie trip, I made it a point to try as much gumbo as I could fit in this belly. So happy! #FoodieLife! Seriously, check out my Gumbo Recipes and you'll see how much I love the stuff.
I mean, just look at it! I want to dive in right now!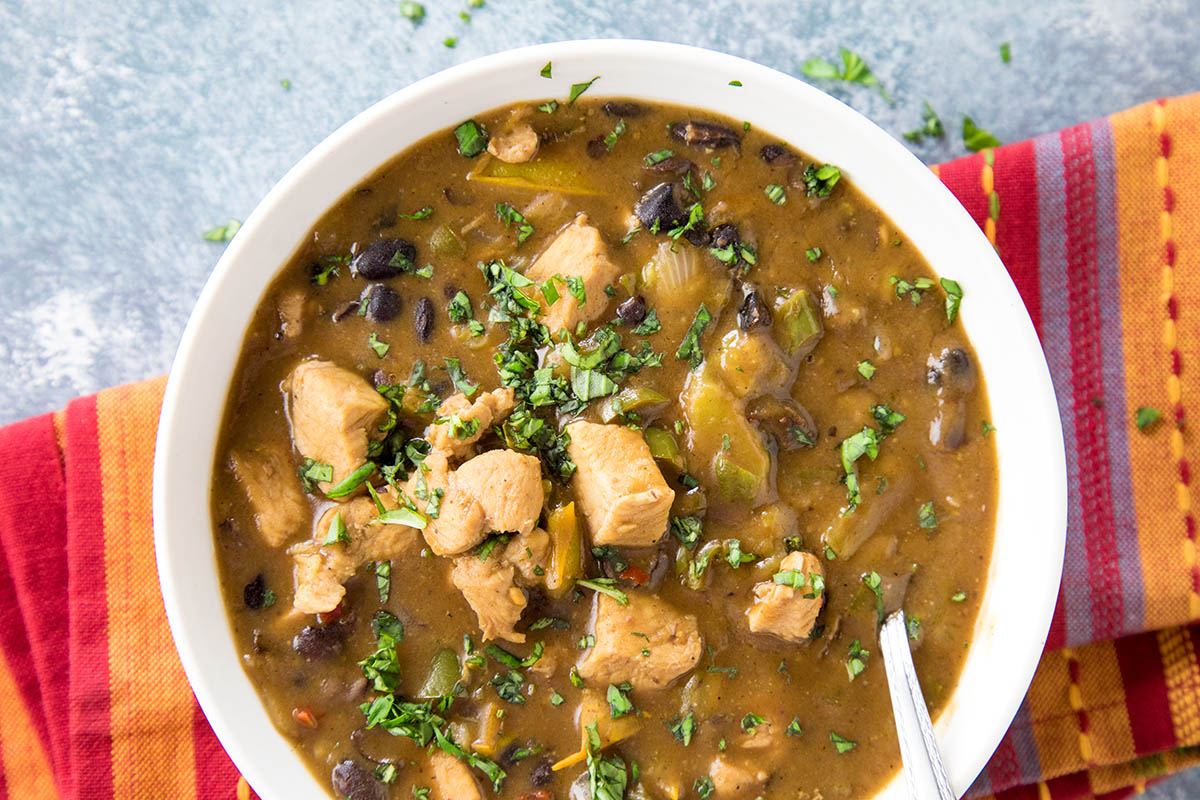 About Southwest Style Chicken Gumbo
Which leads me to this particular recipe. Yes, I'm bringing you yet another gumbo recipe, but this one is different, and I highlight that point to illustrate the fact that gumbo is so darned versatile. It's really more about technique, in particular, the roux. Once you learn the basics of making a good gumbo, you can start to riff off of the classic recipe and begin to play around with the overall ingredients.
That's what I did here. I'm calling this a Southwest Style Chicken Gumbo. It uses all of the typical techniques in making a gumbo, but replaces some of the traditional ingredients for those found in Southwest U.S. I'm talking Hatch peppers, black beans and nicely spicy spices.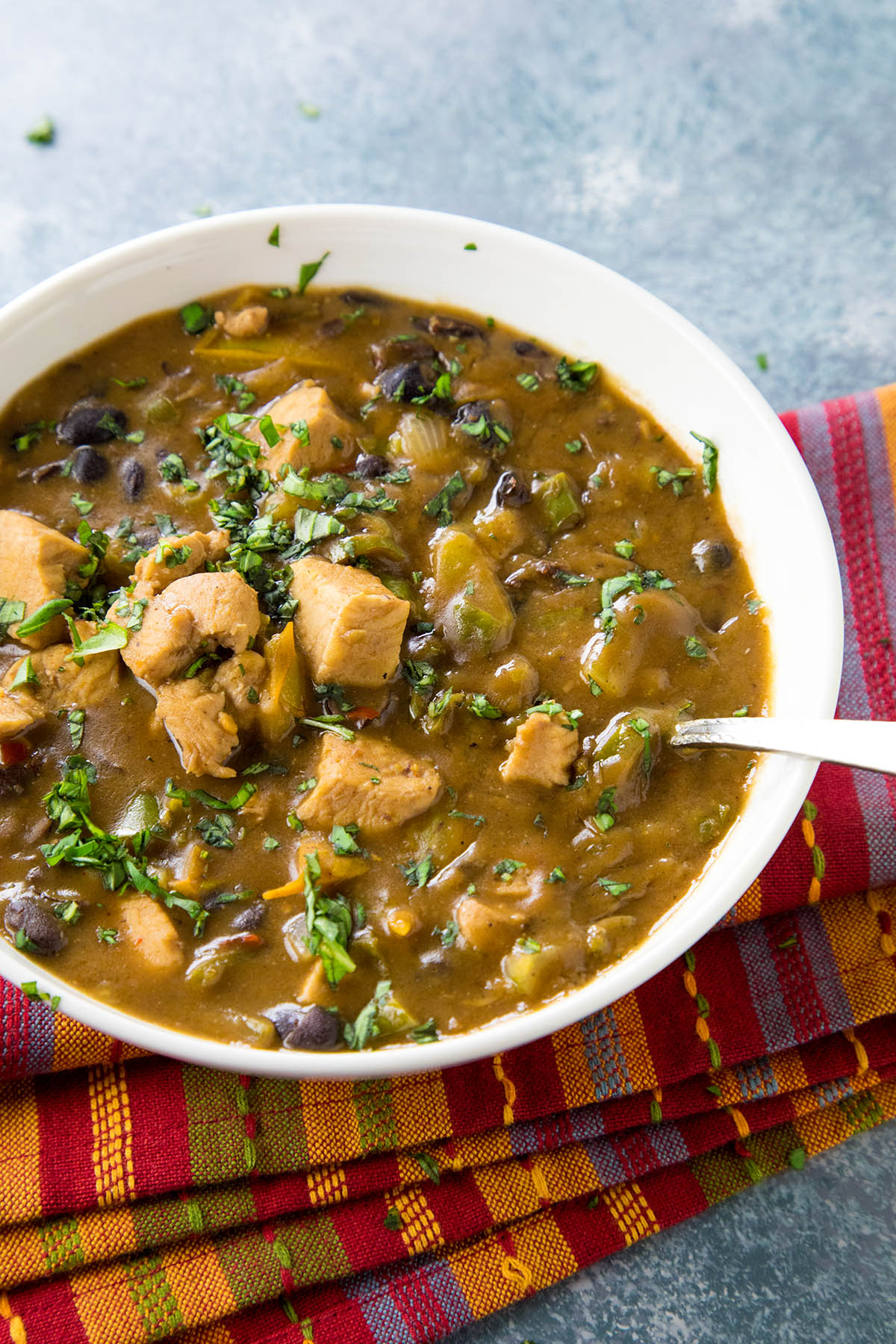 DUDE!
I don't even know what to say about this one. My deepest apologies to anyone in New Orleans offended by my bastardization of their traditional gumbo recipe, but seriously, people of Louisiana! Your techniques are WAY too good to let them be! A heartfelt THANKS for introducing this stuff to me.
In all honesty, when I visited New Orleans last, I spoke with several chefs about gumbo, and the clear message about gumbo is that there is no "wrong" gumbo. If you like certain ingredients, throw them in. You're the one eating it!
So truly, I have permission to play with the recipe.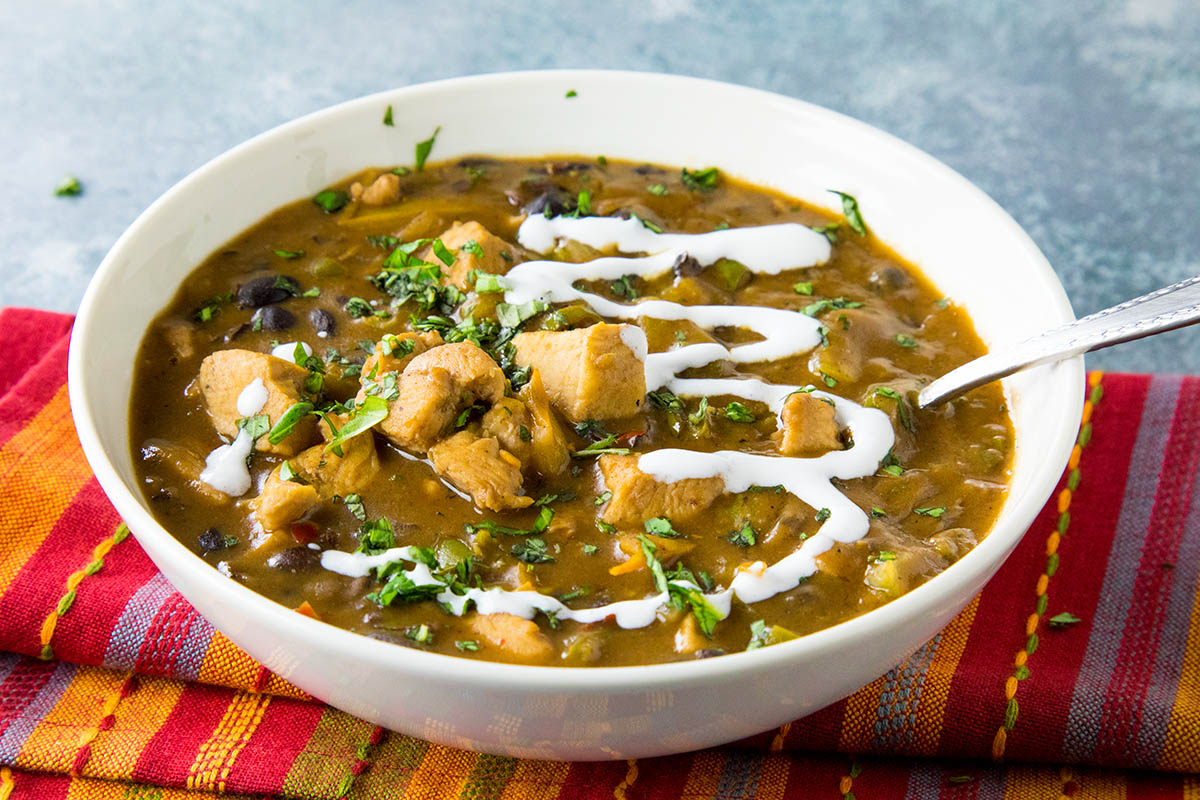 As you know, I greatly enjoy the cuisine of the Southwestern U.S. Talk about flavors. I had some Hatch peppers remaining in my possession and decided to build my recipe around them, and in the end, I'm sorta torn on saying this is my FAVORITE gumbo recipe. I mean, it's so hard to choose! Maybe I'll just say it's right up there with all the others because, dang! Gumbo in pretty much ANY form is crazy, crazy delicious.
If you don't have Hatch peppers, use jalapeno peppers or, better yet, poblano peppers. They will just fine here.
Patty went NUTS for this one. Just see her comments below.
I hope you make this recipe because it is SO. DANG. YUM.
If you do, please let me know how it came out for you. Apologies for gushing. I need another bowl now. Best! — Mike H.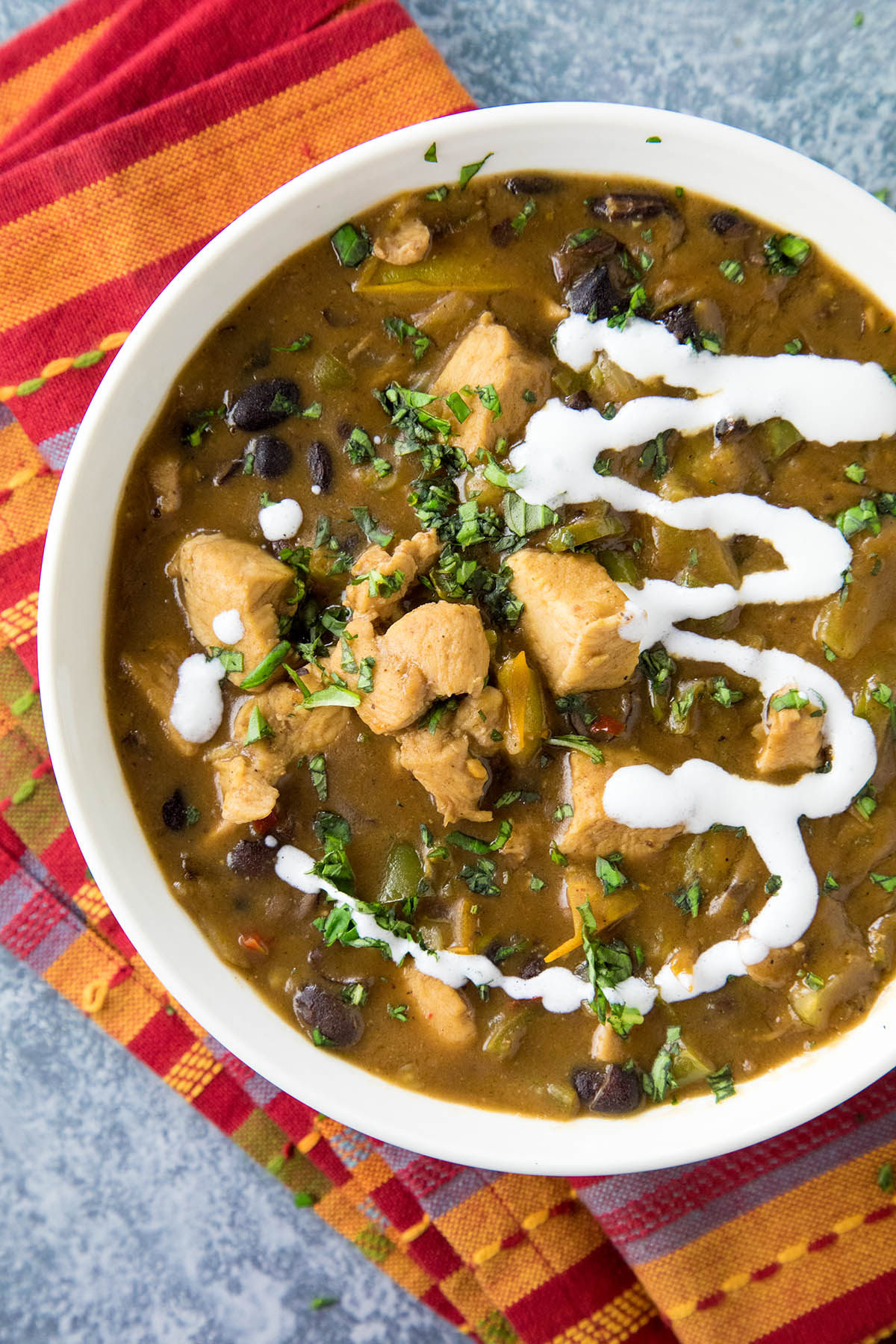 Patty's Perspective: This is "holy WOW" good. I want to bury my face in this. From this day forward, I want every meal made with roux!
Check Out Some Other Gumbo Recipes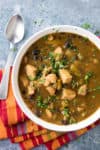 Southwest Style Chicken Gumbo – Recipe
A mashup recipe of your favorite Cajun chicken gumbo made with Southwestern ingredients, including Hatch chili peppers, black beans and plenty of Southwestern seasonings. This tastes awesome!
Keyword:
cajun, dinner, gumbo, Hatch Chile Peppers, southwest
Ingredients
1

teaspoon

olive oil

1

pound

chicken breast

chopped

½

cup

peanut oil or vegetable oil

½

cup

flour

6

ounces

Hatch chile peppers

chopped (Substitution: poblano peppers or jalapenos)

1

medium onion

chopped

1

medium celery stalk

chopped

3

cloves

garlic

chopped

1

pound

heirloom tomatoes

diced

2 15-

ounce

cans black beans

1

teaspoon

chili powder

½

teaspoon

ground cumin

1

teaspoon

paprika

1

teaspoon

ground coriander

1

teaspoon

cayenne pepper

1

teaspoon

crushed red pepper

1

teaspoon

dried oregano

Salt and pepper to taste

4

cups

chicken stock

For Serving: Cooked white rice

if desired
Instructions
Heat a pan to medium heat. Add 1 teaspoon olive oil and heat.

Season chicken with salt and pepper and add to the pan. Cook a couple minutes per side until browned. Set aside until ready to use.

Add ½ cup peanut oil to a large pot and heat to medium heat. Add flour and stir. Cook for 20 minutes, constantly stirring, until the roux turns a light brown the color of peanut butter.

Add peppers, onion, celery and garlic. Stir and cook about 8 minutes.

Add chicken. Stir and cook for 1 minute.

Add diced tomatoes, black beans, seasonings and chicken stock. Scrape up the brown bits from the bottom. Give it all a good stir.

Reduce the heat and cook at medium-low for 1 hour to thicken. You can let it just sit at this point to simmer.

Serve over white rice and garnish with extra fresh herbs, or just eat it on its own.
Recipe Notes
Makes 1 big pot! (about 3 quarts)
Nutrition Facts
Southwest Style Chicken Gumbo – Recipe
Amount Per Serving
Calories 491
Calories from Fat 207
% Daily Value*
Total Fat 23g 35%
Cholesterol 53mg 18%
Sodium 342mg 14%
Potassium 1087mg 31%
Total Carbohydrates 40g 13%
Protein 30g 60%
* Percent Daily Values are based on a 2000 calorie diet.
If you enjoy this recipe, I hope you'll leave a comment with some STARS. Also, please share it on social media. Don't forget to tag us at #ChiliPepperMadness. I'll be sure to share! Thanks! — Mike H.