This is one of my favorite gumbo recipes made extra spicy with shrimp, chicken, andouille and LOADS of flavor. You can easily adjust the heat level to your own preference.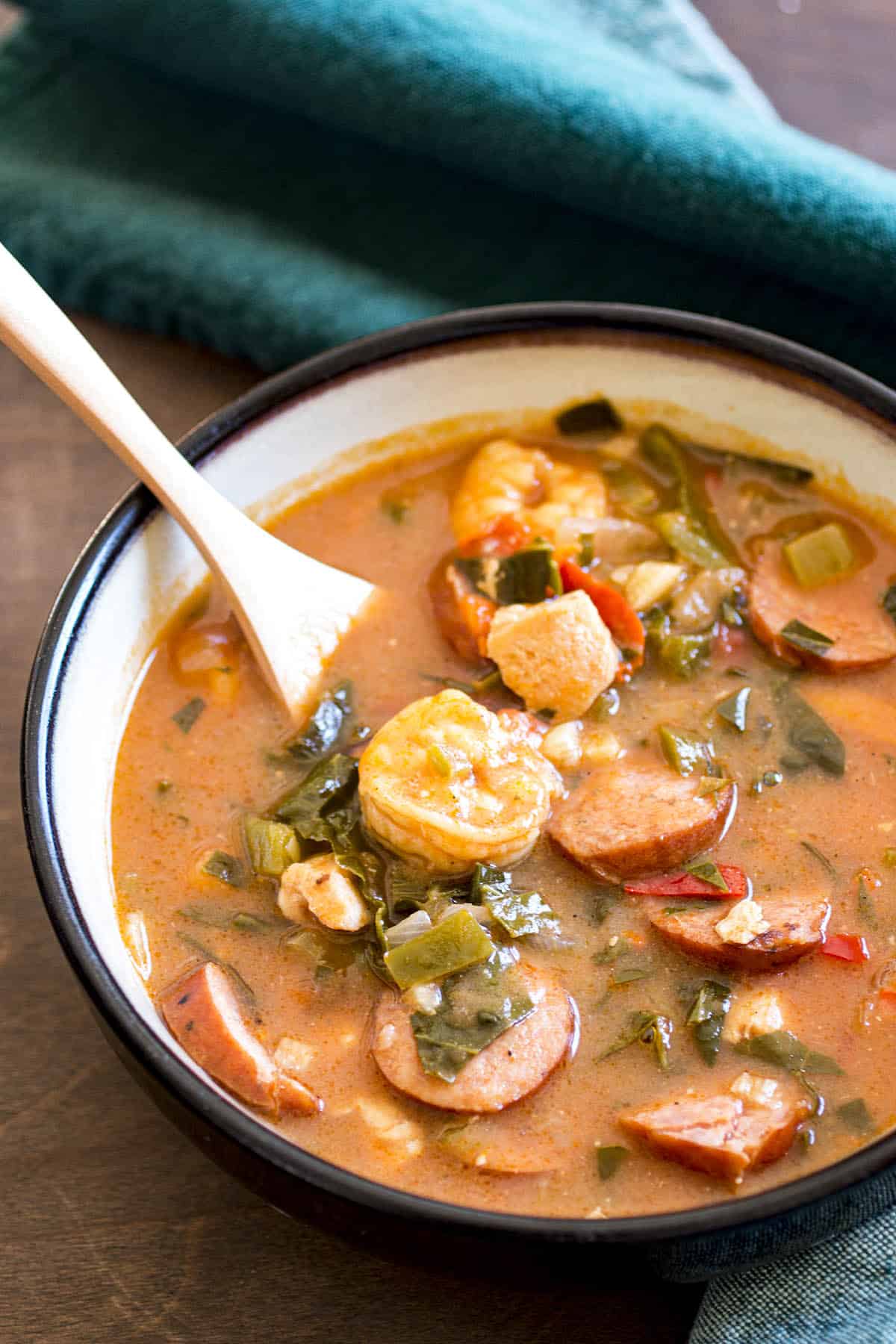 Now that cooler weather is approaching, my mind turns to soups and stews, foods cooked in big pots that simmer and fill the house with maddening aromas. We have a lot of Soups and Stews Recipes on the site, but my favorite has to be gumbo.
I've made many a gumbo and enjoyed many more from different restaurants,including LOTS of gumbo in New Orleans, where we stayed for a week enjoying its culinary pleasures.
Check out my post about my New Orleans foodie experience. So awesome!
I asked a lot of chefs about gumbo and all of them agreed that there is no single way to make it. When I asked about the best Cajun or Creole seasoning blend, one chef said to me, "Whatever your mama taught you". So there!
According to these New Orleans chefs, you're free to vary up ingredients, use whatever fat you'd like for your roux, add tomatoes or not, really to your own personal preference.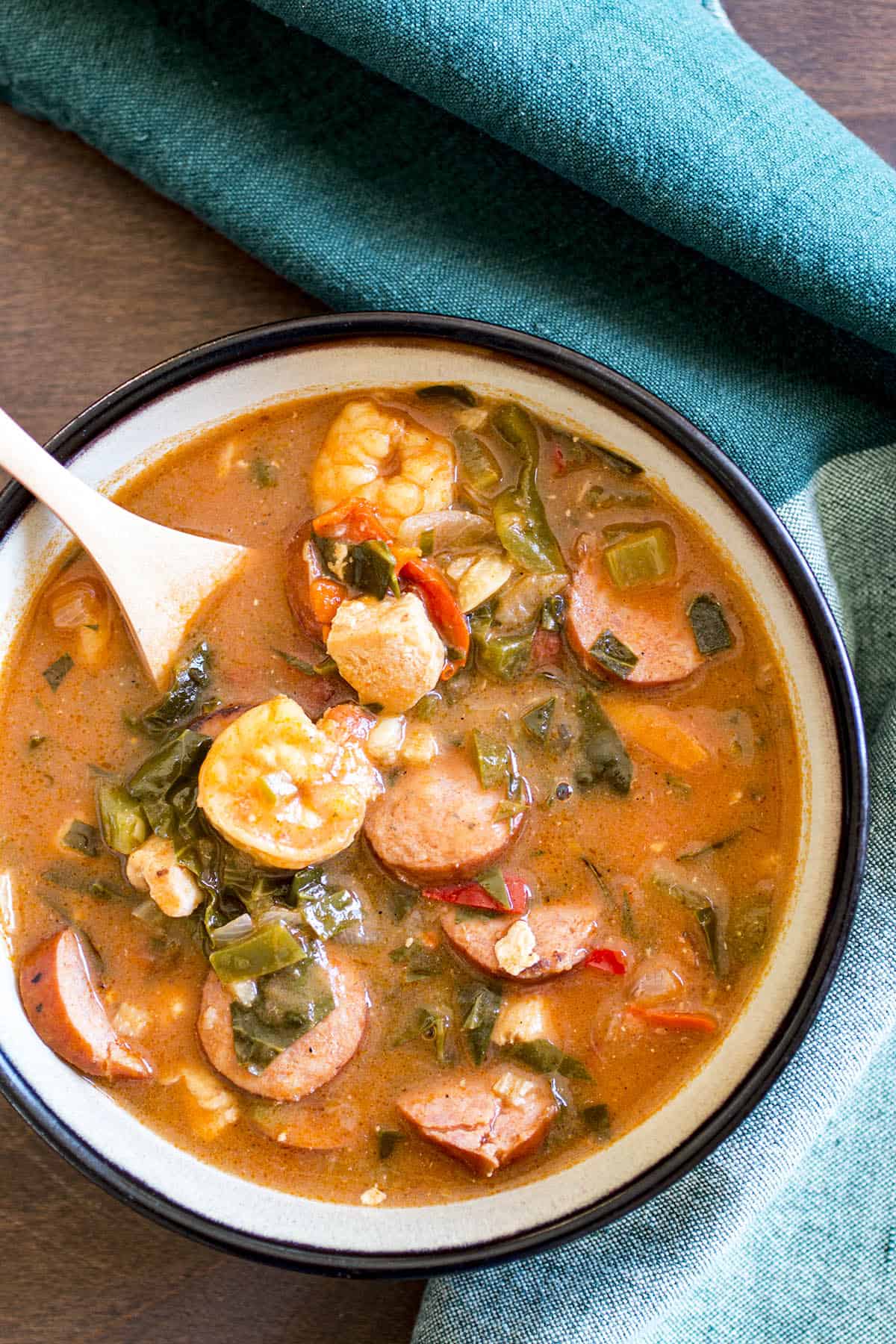 What Is Gumbo? What Makes Gumbo a Gumbo?
Gumbo is a conglomeration of different cultures and cuisines. It is essentially a stew, and it the official state cuisine of Louisiana. It is made from stock that is thickened with a roux and sometimes includes okra and/or filé powder (dried and ground sassafras leaves) as additional thickeners.
Flat out, Gumbo is AWESOME. HUGE on flavor.
What Are the Ingredients in a Gumbo?
More traditional gumbos start with a roux - a mixture of fat and flour - then add the Cajun Holy Trinity of vegetables, which is bell peppers, onion and celery.
Stock is added along with a variety of meats and seafood, such as smoked andouille sausage, chicken, gator, crawfish, shrimp and more.
It is highly seasoned with a blend of Cajun seasonings - see our Homemade Cajun Seasoning Blend Recipe - or Creole seasonings.
More traditional gumbos include okra as a thickener, and can also be thickened with filé powder which is dried and ground sassafras leaves.
From there, the recipe interpretation is open to the cook.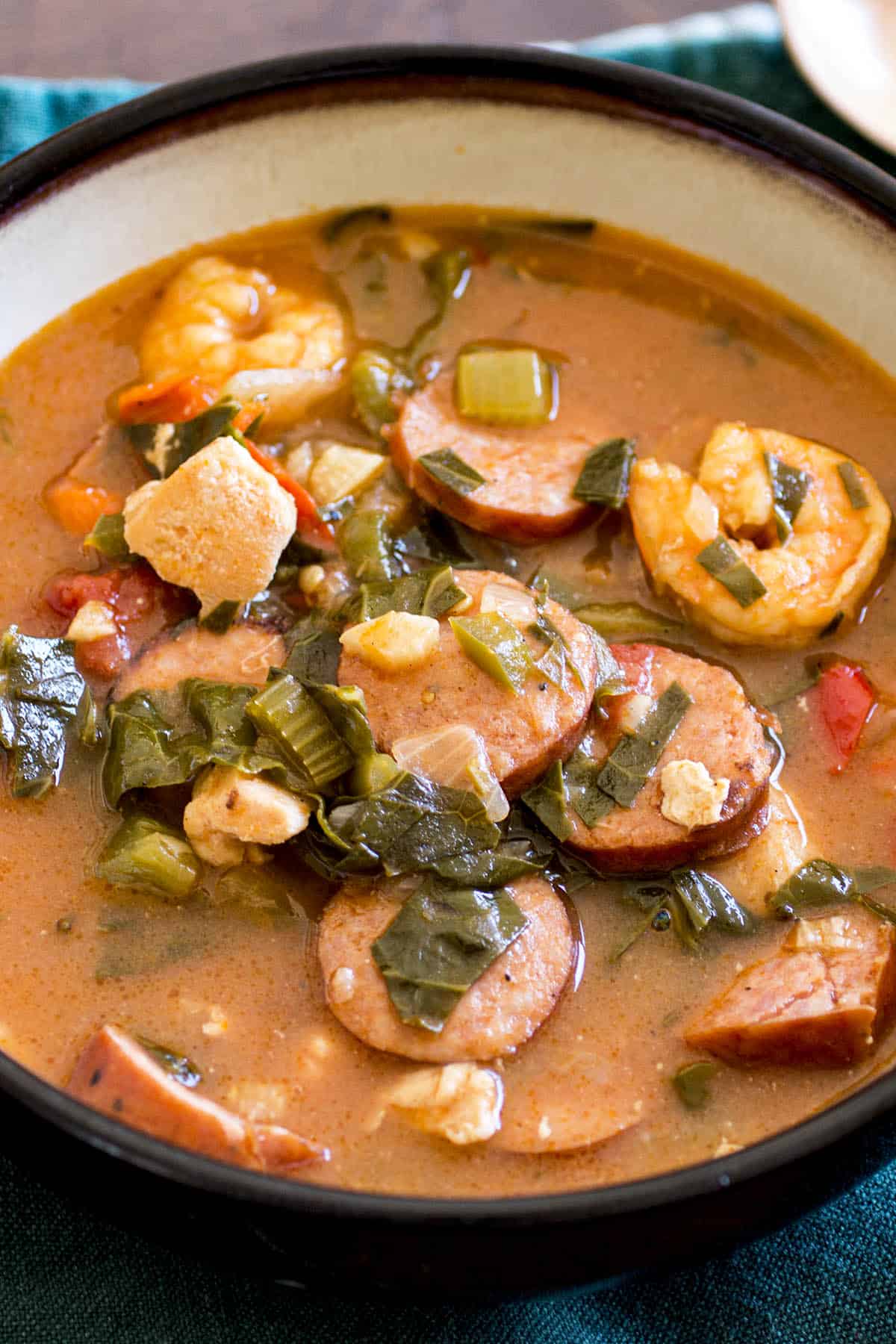 What is the Cajun Holy Trinity?
The French have the mirepoix - carrots, onion and celery - and French cuisine has heavily influenced Cajun cooking. When the French landed in Louisiana, they quickly found that carrots do not grow well in the Louisiana soil, so replaced them with bell peppers.
So, the Cajun Holy Trinity consists of bell peppers, onion and celery.
The Art of the Gumbo
Once you've mastered the basic of gumbo, you'll begin to enjoy mixing and matching different types and even adding in your own preferred ingredients. This particular version reflects the chilehead foodie in me, with an enthusiastic mix of meat and seafood, along with a good mix of chili peppers for a pleasing level of heat.
You know I love my spicy cuisine. I've also brought in some collard greens, which is more typical of Green Gumbo, or Gumbo Z'Herbes - See our Green Gumbo (Gumbo Z'Herbes) Recipe here - because I love the stuff and it really works in this particular gumbo.
Adjusting the Heat Factor
I've included a couple of superhot peppers in the mix for an extra spicy blast, but if you feel that will be too hot for you, either omit the superhots, OR incorporate 1-2 habanero peppers instead.
You'll still get some heat from the jalapeno and serrano pepper combination if you omit, but the habanero peppers will certainly add a respectable heat level throughout the entire pot.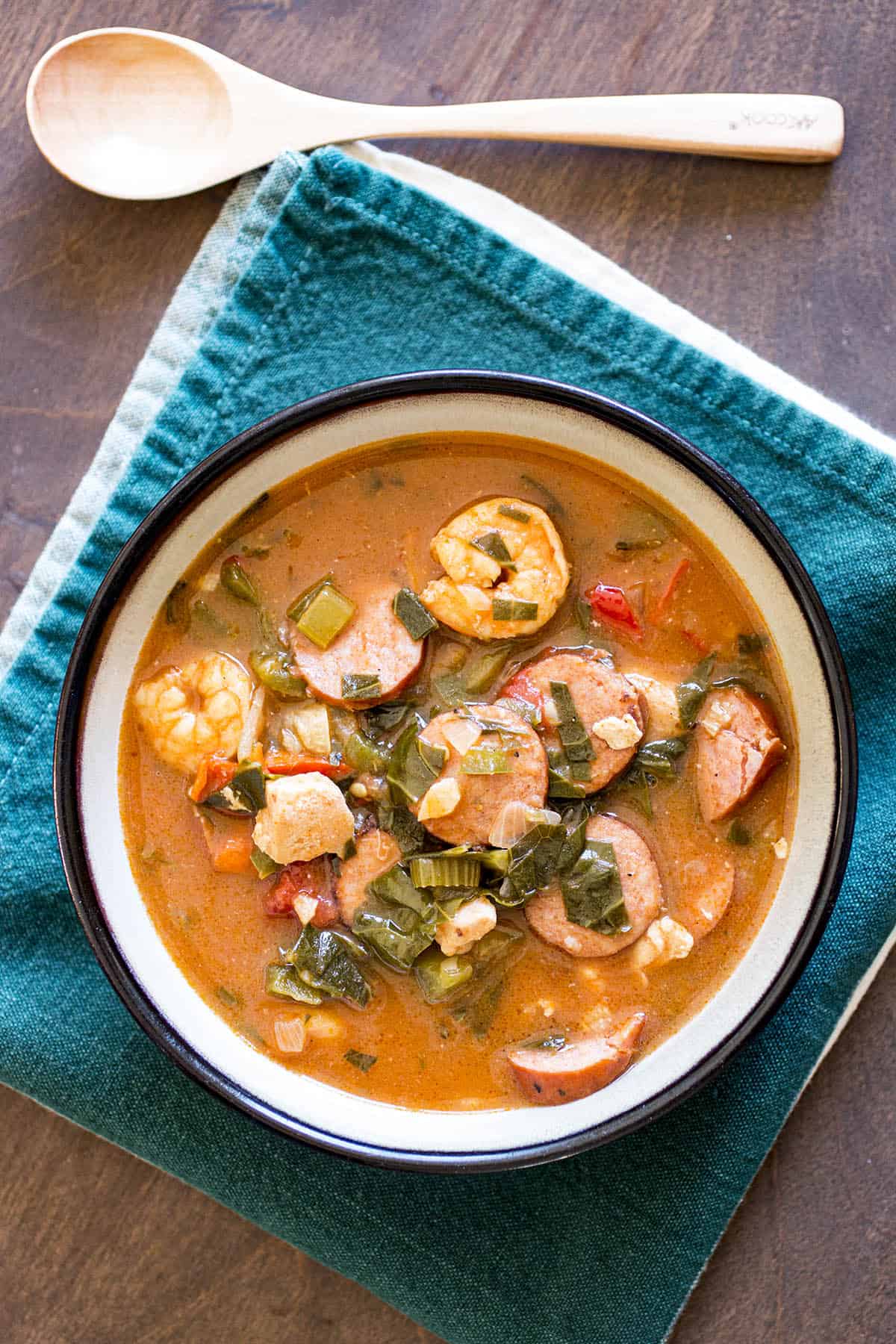 The Key to Making a Good Gumbo
The KEY to making a good gumbo, and I cannot emphasize this enough, is in the roux. You absolutely MUST master a proper roux if you're going to achieve a good gumbo. Luckily it isn't difficult.
It is essentially an equal mixture of oil and flour that is stirred slowly, continually, in a pot over low heat.
You CAN use butter instead of oil, but oil is traditional, particularly peanut oil, though I've used different oils and everything worked out just fine.
How to Make a Good Roux
Essentially, stir together the oil and flour in a large pot and bring up the heat. Keep it fairly low. Start stirring. The oil and flour will meld quickly and you'll have a sort of liquid slurry that conforms to the bottom of the pot. If you don't keep stirring, the roux will start to burn and you'll have to start over, so do not stop stirring.
Stirring is a must!
You can smell it when the roux burns. It's acrid, unpleasant, a bit like burnt popcorn. If that happens, forget it. Toss it and start over. It will ruin the flavor of the gumbo. So be careful, and don't bring up the heat too high. Keep it low and slow.
What you're looking for is the color of the roux. It starts out the color of flour, very light, batter-ish, but as it heats while you're stirring, it will begin to brown, going from a light brown to the color of peanut butter or copper, and eventually to a rich chocolate brown. This can take anywhere from 20-45 minutes, depending on your desired color.
Personally, I used to go about 30-40 minutes for my roux, though many of the chefs in New Orleans said it shouldn't take quite that long. Even in my cooking class, the chef kept adjusting the heat for me (grrr) and I was afraid it would burn.
It did not, and my very dark roux took over 20 minutes, but when I'm at home, it takes me a bit longer. It isn't so much about the time, but the color.
You can stop when you achieve a copper or peanut butter color. The roux is great then, coaxed of outstanding flavor. You'll have a thicker gumbo with this color of roux.
If you continue to a darker chocolote color, you'll have a thinner gumbo with a slightly deeper flavor, so feel free to experiment to discover which shade of roux produces the best gumbo for your taste buds.
See my video on how to make a roux for a good demonstration.
I hope you enjoy it! Let me know how it turns out for you!
-- Mike H.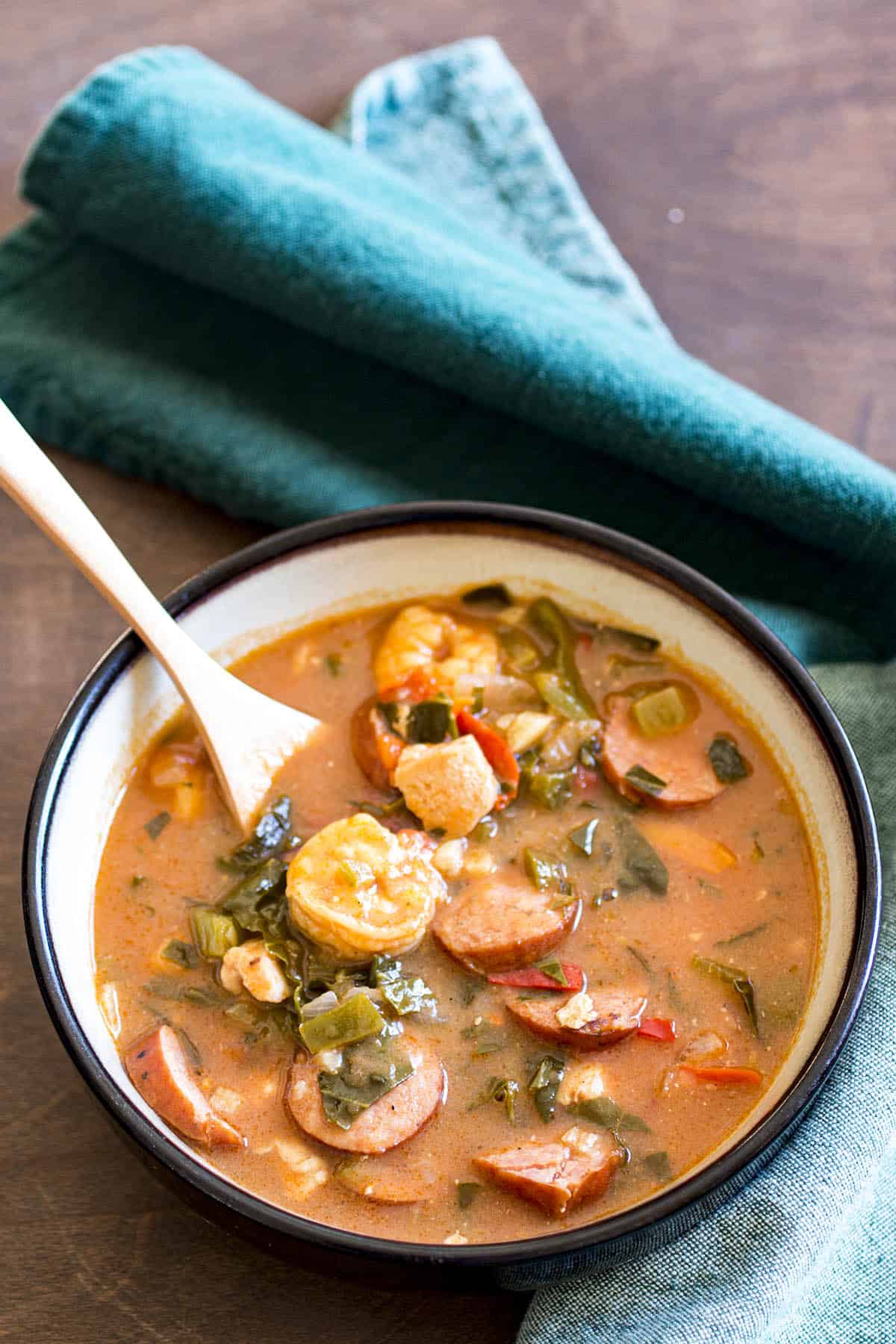 Check Out My Other Gumbo Recipes
If you love gumbo, check out some of my other gumbo recipes.
Serve your gumbo with potato salad! Check out my Shrimp Creole Recipe, too. Very Cajun!
If you enjoy this recipe, I hope you'll leave a comment with some STARS. Also, please share it on social media. Don't forget to tag us at #ChiliPepperMadness. I'll be sure to share! Thanks! -- Mike H.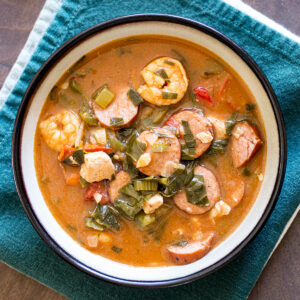 Print
Mike's Spicy Gumbo Recipe
This is one of my favorite extra spicy gumbo recipes made extra spicy with shrimp, chicken, andouille and lots of flavor. You can easily adjust the heat level to your own preference.
Save Recipe
Saved!
Ingredients
1

teaspoon

olive oil

1

pound

chicken breast or thighs

Salt and pepper to taste

12

ounces

andouille

sliced into ¼ inch slices

½

cup

peanut oil or vegetable oil

½

cup

flour

1

large bell pepper

chopped

2

serrano peppers

chopped

1-2

ghost peppers or 7-pot peppers

chopped – You can OMIT these to tame the heat, or use a habanero pepper instead.

1

large white onion

chopped

3

celery stalks

chopped

3

cloves

garlic

chopped

1

can crushed tomatoes

14-ounces

1 14-

ounce

can tomato sauce

1

tablespoon

dried thyme

1

tablespoon

dried oregano

1

tablespoon

dried basil

1

tablespoon

cayenne pepper

1

tablespoon

smoked paprika

1

tablespoon

chili powder

1

teaspoon

black pepper

6

cups

chicken stock

Your favorite Louisiana style hot sauce

1

bunch collard greens

chopped

1

pound

shrimp

For Serving: Cooked white rice
Instructions
Heat a pan to medium heat. Add 1 teaspoon olive oil and heat.

Season chicken with salt and pepper and add to the pan along with the sliced andouille. Cook a couple minutes per side until browned. Set aside until ready to use.

Add ½ cup peanut oil to a large pot and heat to medium heat. Add flour and stir. Cook for 15-20 minutes, constantly stirring, until the roux browns to the color of chocolate. Do not allow to burn.

Add peppers, onion, celery and garlic. Stir and cook for 5 minutes.

Add the chicken and andouille. Stir and cook for 1 minute.

Add crushed tomatoes, tomato sauce, herbs and seasonings, chicken stock and a few dashes or more of hot sauce. Scrape up the brown bits from the bottom.

Add collard greens and bring to a quick boil. Reduce heat and cook at medium-low heat for 1 hour or more to thicken.

Tuck the shrimp into the gumbo the last 10 minutes of cooking and simmer until the shrimp is cooked through.

Remove from heat and swirl in a few dashes of hot sauce to your preference.

Serve with cooked rice and extra hot sauce.
Notes
Serves 8-10.
Heat Factor: HOT. You can easily dial back the heat by skipping the ghost peppers and using milder peppers.
Check this out: Louisiana style hot sauce Recipe.
Nutrition Information
Calories:
524
kcal
Carbohydrates:
21
g
Protein:
39
g
Fat:
31
g
Saturated Fat:
7
g
Cholesterol:
220
mg
Sodium:
1455
mg
Potassium:
944
mg
Fiber:
3
g
Sugar:
7
g
Vitamin A:
1945
IU
Vitamin C:
38.1
mg
Calcium:
153
mg
Iron:
5.2
mg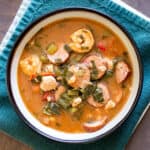 Did You Enjoy This Recipe?
I love hearing how you like it and how you made it your own. Leave a comment below and tag @ChiliPepperMadness on social media.