This Cajun seasoning recipe is the perfect blend of everyday spices to add flavor and zing to meats, seafood, soups, stews, gumbos, whatever you're cooking. It's my go-to seasoning!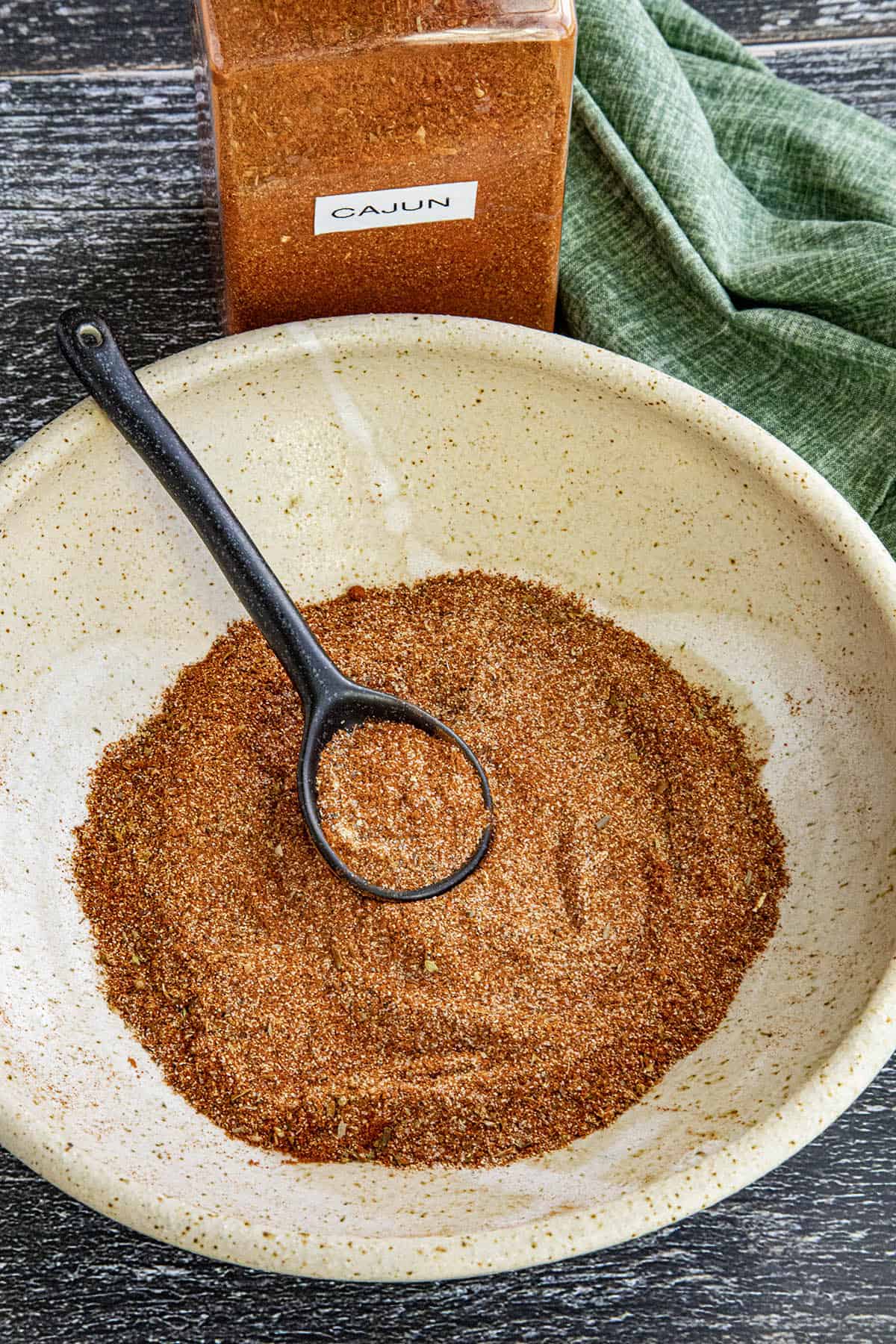 The Best Cajun Seasoning
Use this homemade Cajun seasoning recipe to make your own personal blend from scratch, with your own preferred ingredients. I've included an ingredient chart that you can refer to for commonly used ingredients.
My very favorite seasoning blend in the world is a good Cajun seasoning. If you scroll through the recipes on this site, as well as thumb through the several cookbooks I've written, you'll find "Cajun Seasonings" in the ingredients quite often.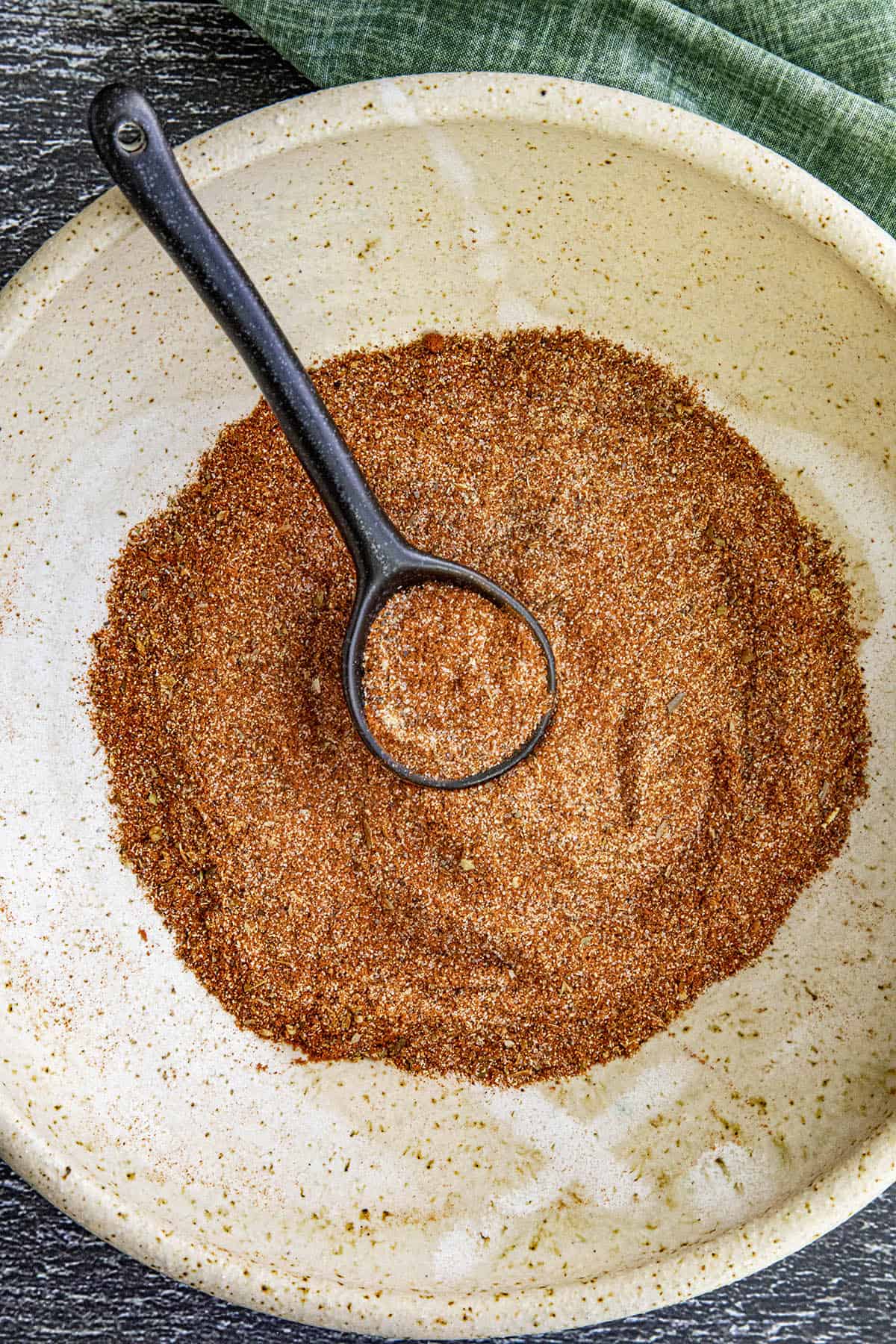 What is Cajun Seasoning?
Cajun seasoning is a blend of spices originally from Louisiana, made popular by the wonderful flavor of Cajun cuisine. You'll find many variations, though typical ingredients focus on paprika and cayenne, along with garlic, onion, salt and a potential slew of other ingredients, like dried herbs and spices.
That is the beauty of Cajun seasoning, really. No two people make it exactly the same, though you will find many commonalities.
Where Does Cajun Seasoning Come From?
Cajun seasoning came about with southern Cajun cooking, as the Cajuns in Louisiana would eat a lot of game meat, including swamp critters that had some pretty tough flavor. They would highly season their food with bold ingredients to make it more palatable.
This is why I personally love a good Cajun spice blend, for that wonderfully bold flavor. It is perfect for chicken, shrimp, whatever you're cooking.
Let's talk about how to make Cajun seasoning at home, shall we?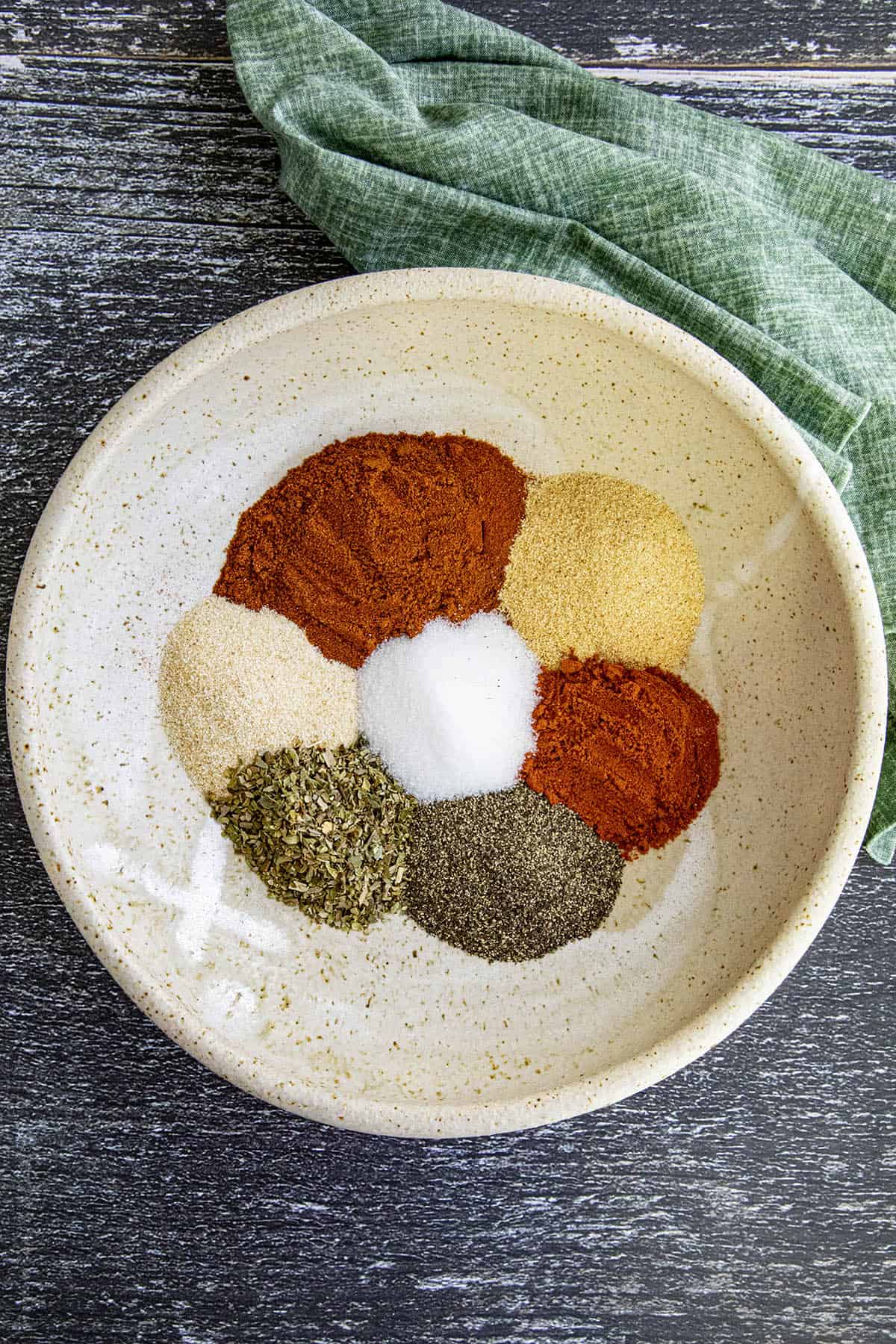 Cajun Seasoning Ingredients
What's in Cajun Seasoning? After a poll of New Orleans cooks and chefs and researching numerous Cajun seasoning recipes, I've found the common ingredients to ALL of these recipes include the following ingredients:
Paprika
Oregano
Salt
Pepper
The next most common is Cayenne. After that we have Garlic Powder, Onion Powder, Thyme, and then the ingredients start to thin out from person to person and include Cumin, Coriander, White Pepper, Basil and Celery Salt.
What Chefs Say About Cajun Seasoning
When I was in New Orleans, I spoke to numerous chefs and cooks about the specifics of Cajun and Creole cooking, including how to make a proper roux, as well as making Cajun and Creole seasonings. See My Foodie Trip to New Orleans to learn more about that.
These cooks and chefs invariably told me that a good Cajun seasoning includes "whatever your momma taught you". I asked, "So there is no specific one recipe for Cajun seasoning? Some exact mixture?"
NOPE.
That isn't to say you can toss ANYTHING in. I mean, Chinese 5 Spice is good stuff, but the flavor profile really doesn't have a home in making a Cajun spice blend.
One chef told me she was ready to market her own Cajun spice mixture with dried lemon peel. I don't believe I've had a Cajun blend with lemon in it, but I'd sure give it a try.
Regardless, homemade is better than any store bought seasoning mix.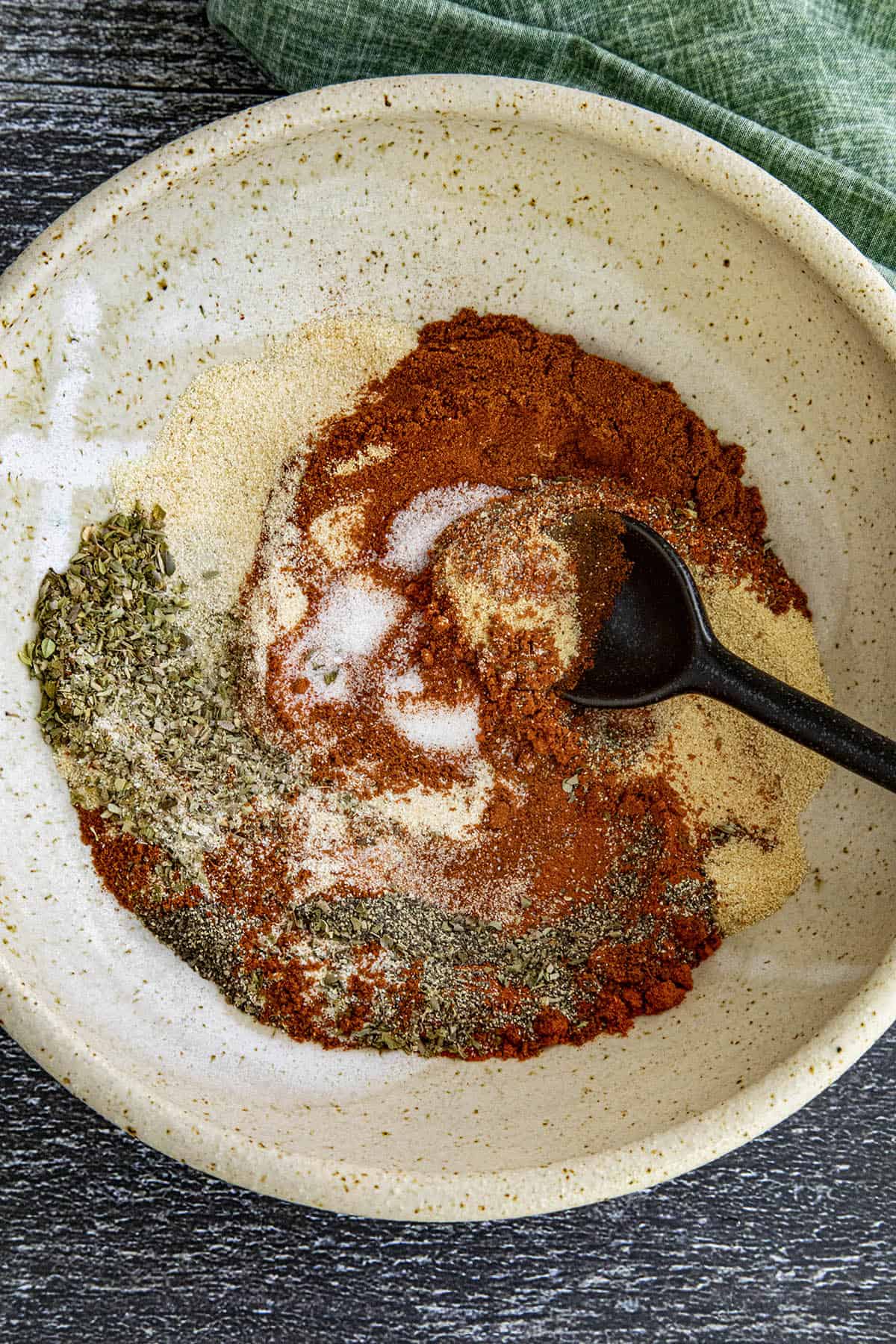 Even Emeril Lagasse himself lists the following ingredients for his Cajun seasoning blend on his web site:
Emeril Lagasse's Cajun Seasoning Recipe
2 1/2 tablespoons paprika
2 tablespoons sea salt
2 tablespoons garlic powder
1 tablespoon black pepper
1 tablespoon onion powder
1 tablespoon cayenne pepper
1 tablespoon dried leaf oregano
1 tablespoon dried thyme
This doesn't mean you can't include other ingredients, such as dried lemon peel, to make your Cajun seasoning special. It's what I call "The Secret Ingredient" factor. Do I have a secret ingredient? Sure! I'll even tell you what it is.
Ghost Pepper Powder.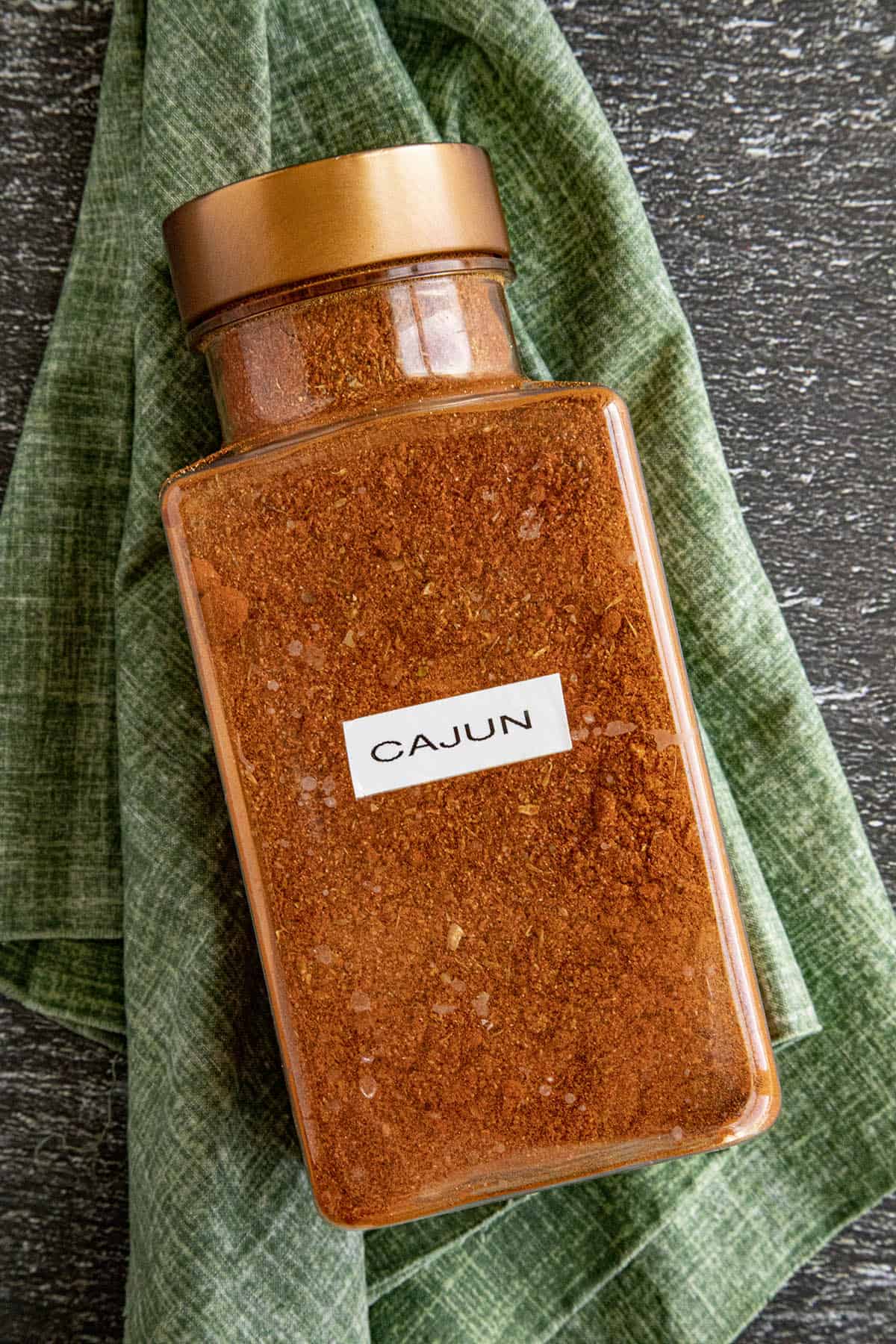 Yep. I will share my preferred Homemade Cajun Seasoning blend below, but I like to include either ghost powder or some superhot powder, such as 7 Pot Chili Powder, to bring in some extra heat.
I dehydrate my own garden grown peppers, grind them down, then make my own seasoning blends, such as Cajun Seasoning. It's the perfect spice blend. Essential for Cajun cuisine.
I've created a graphic that you can refer to for making your own Cajun Seasoning blend. Let's take a look at some of the common spices.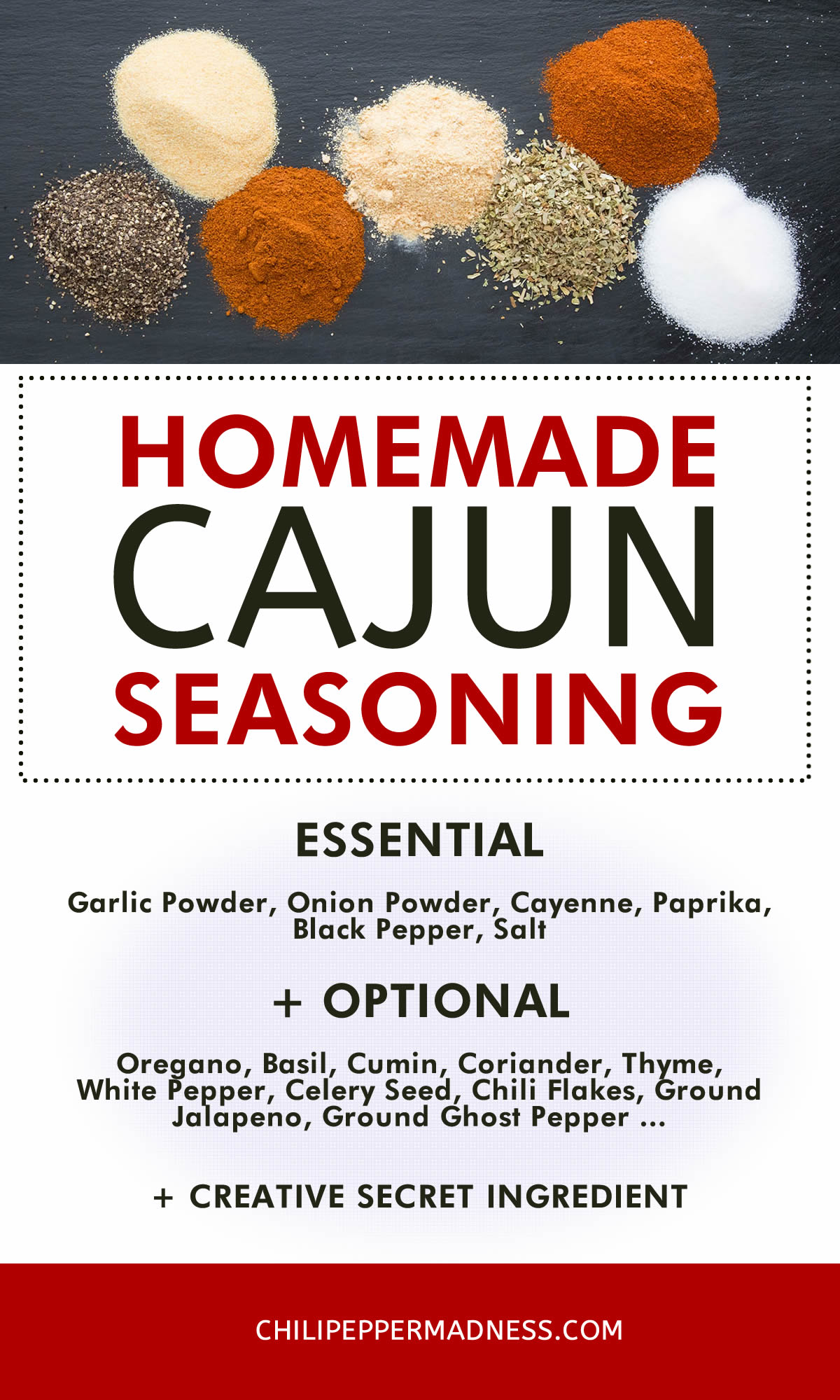 How to Make Cajun Seasoning - the Recipe Method
Measure out and combine your ingredients in a small bowl.
Sift them together until they are well mixed.
DONE. You now have your own Cajun Seasoning blend. Easy enough to make, right?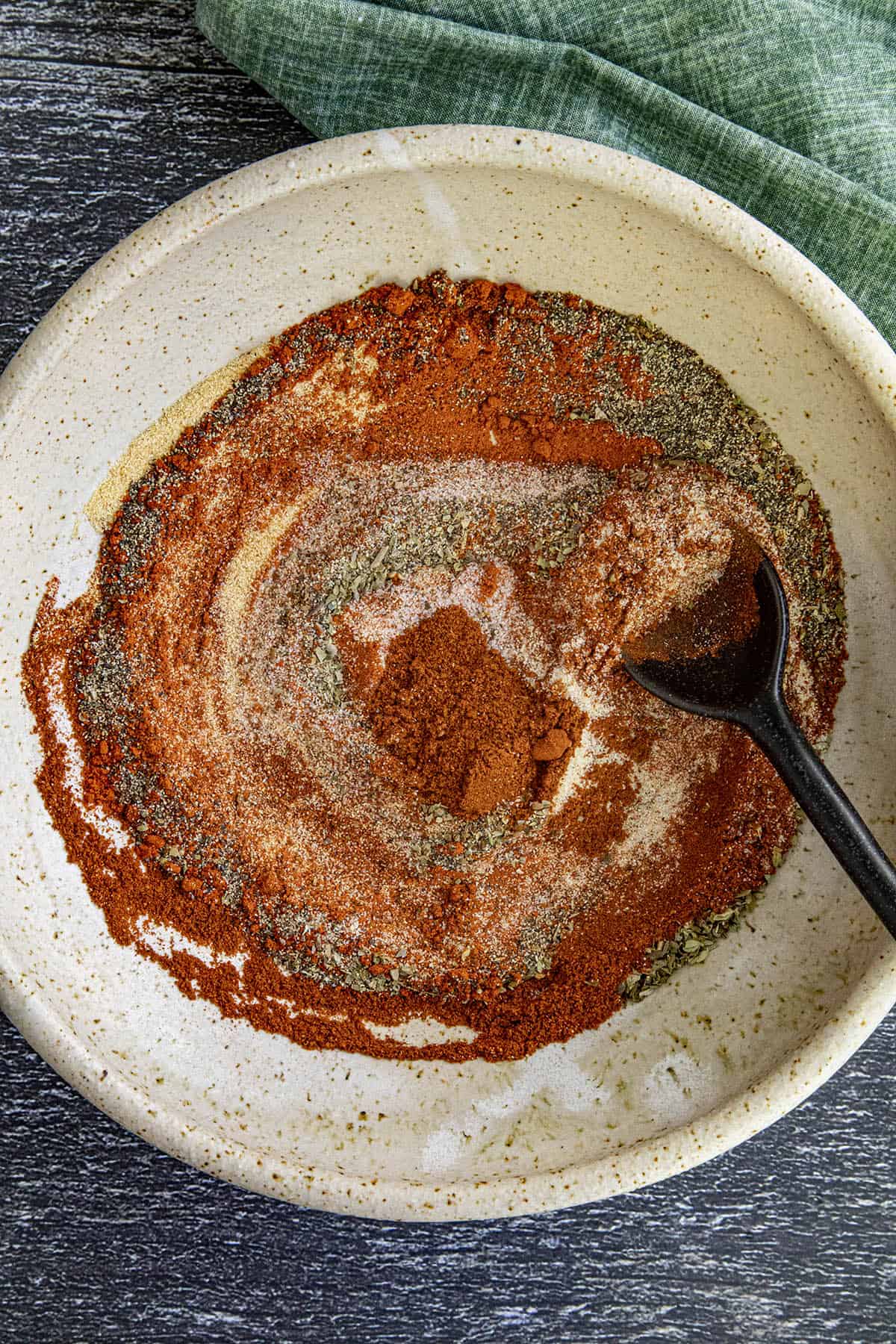 Recipe Tips & Notes
Experiment and Adjust. Adjust your ingredient ratios to make this Cajun seasoning your own. Not enough heat? Add more cayenne pepper. Or ghost powder! Want smokiness? Add smoked paprika. Need more salt? Red pepper flakes? Add it in.
Salt-Free Cajun Spices. Skip the salt when you make a batch for a salt-free version. You can always add salt at the time of cooking.
Storing Cajun Seasoning
Storage. Keep Cajun seasoning sealed in stored in an airtight jar or container. I store them in a dark cupboard. A spice drawer is good. It will keep your spice mix longer. It's the perfect blend.
How Long Does Cajun Seasoning Last? Cajun seasoning will say fresh for 3 months, and will then begin to lose potency, and should not be kept for more than 1 year. It is better to make smaller batches as you need them, depending on how often you use them and cook with them.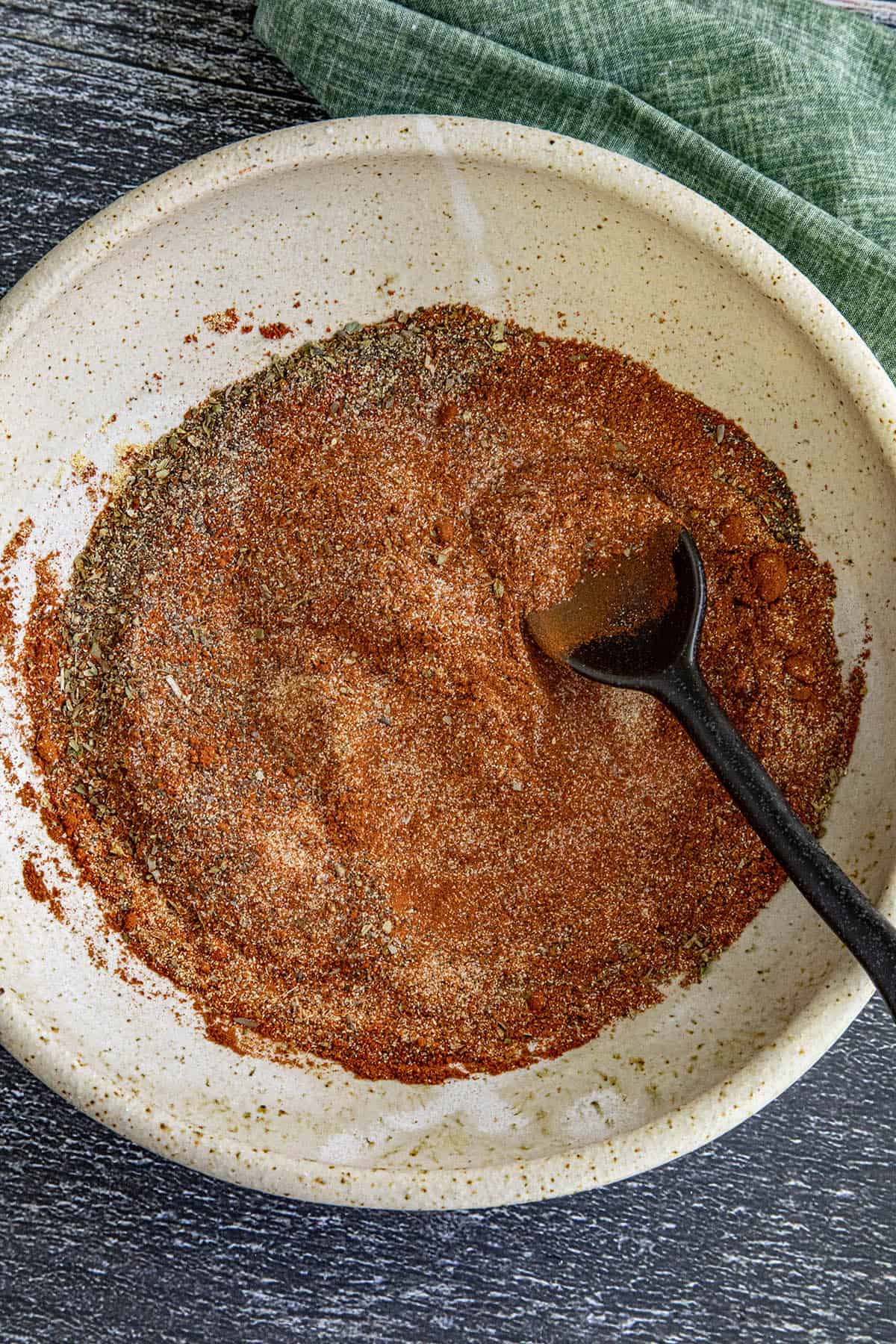 Let me know how yours turns out, and what secret ingredients makes yours stand out! I look forward to hearing from you.
-- Mike Hultquist - Author of "The Spicy Dehydrator Cookbook" and "The Spicy Food Lovers' Cookbook".
What to Make with Cajun Seasonings - Recipe Ideas
Cajun seasoning is essential for making Louisiana style gumbos and other Cajun dishes, but it is super versatile and can be used to season any meats and seafood, vegetables, and so much more. Try it with some of my favorite recipes: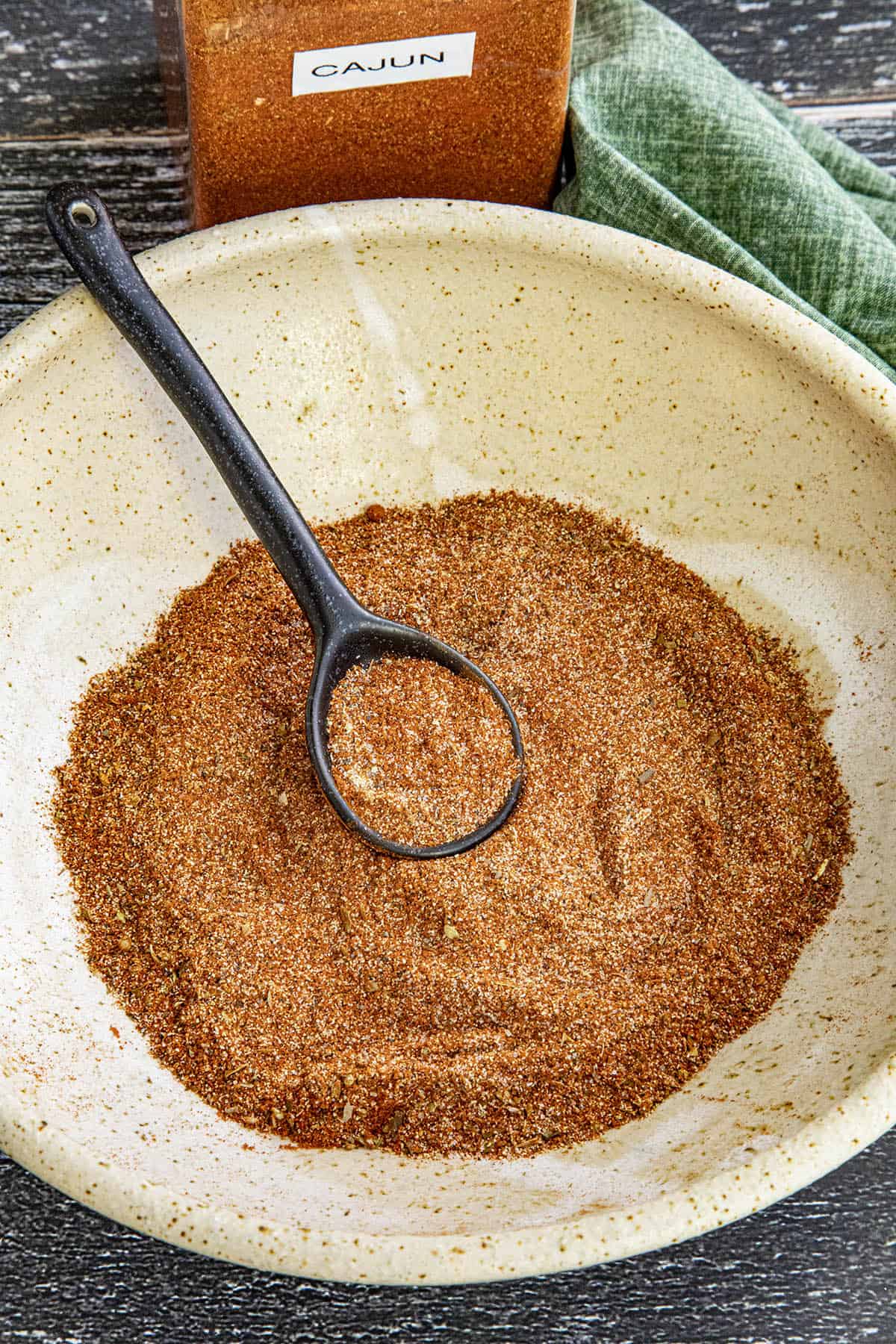 If you enjoy this recipe, I hope you'll leave a comment with some STARS. Also, please share it on social media. Don't forget to tag us at #ChiliPepperMadness. I'll be sure to share! Thanks! -- Mike H.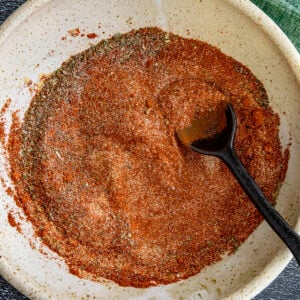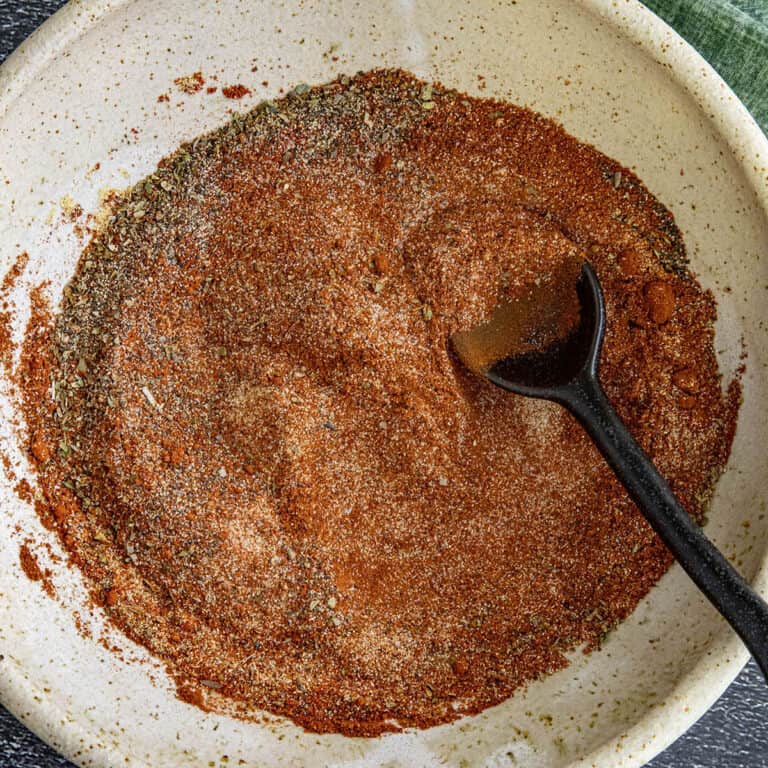 Print
Homemade Cajun Seasoning Recipe
This Cajun seasoning recipe is the perfect blend of everyday spices to add flavor and zing to meats, seafood, soups, stews, gumbos, whatever you're cooking. It's my go-to seasoning!
Save Recipe
Saved!
Ingredients
2

tablespoons

paprika

1

tablespoon

cayenne powder

(optional, for spicy)

1

tablespoon

onion powder

(or use granulated onion)

1

tablespoon

garlic powder

(or use granulated garlic)

1

tablespoon

dried oregano

1

tablespoon

black pepper

1

tablespoon

salt

(or to taste - omit for a salt-free version)
Instructions
Mix all the ingredients together until well combined. Store in airtight containers.
Video
Notes
Other Optional Ingredients you can add are cumin,

coriander, thyme, white pepper, dried basil, celery seed, dried jalapeno powder, superhot powder, smoked chili powder.
I like to include 1 teaspoon of ghost pepper powder, plus extra paprika and cayenne to mine for additional heat and flavor.
Nutrition Information
Calories:
8
kcal
Carbohydrates:
1
g
Sodium:
1
mg
Potassium:
48
mg
Vitamin A:
605
IU
Vitamin C:
0.3
mg
Calcium:
11
mg
Iron:
0.4
mg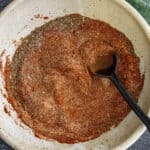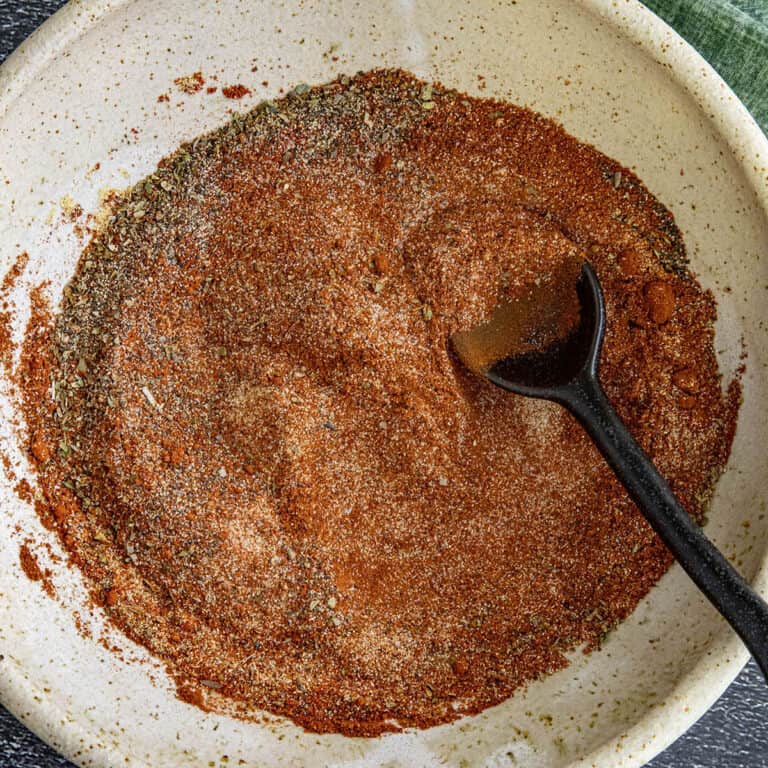 Did You Enjoy This Recipe?
I love hearing how you like it and how you made it your own. Leave a comment below and tag @ChiliPepperMadness on social media.
NOTE: This recipe was updated on 1/25/23 to include new information and video. It was originally published on 1/8/18.