Seriously Awesome Jambalaya – Madness Style
A recipe for Cajun jambalaya in all its glory, with shrimp, andouille sausage, chicken, and plenty of spices.
If you like your jambalaya to be super meaty, with plenty of chunky chicken, seasoned and seared shrimp, spicy andouille sausage, PLUS with the flavor and heat of wonderful jalapeno and serrano peppers, then this recipe is going to make you happy.
I have been ITCHING to make a jambalaya for a while now, but was sort of waiting for colder weather. There wasn't any need for that, as you can get a great jambalaya anytime of year in warm New Orleans, but it is such a stick-to-your-bones type of recipe, it feels more like fall or winter to me.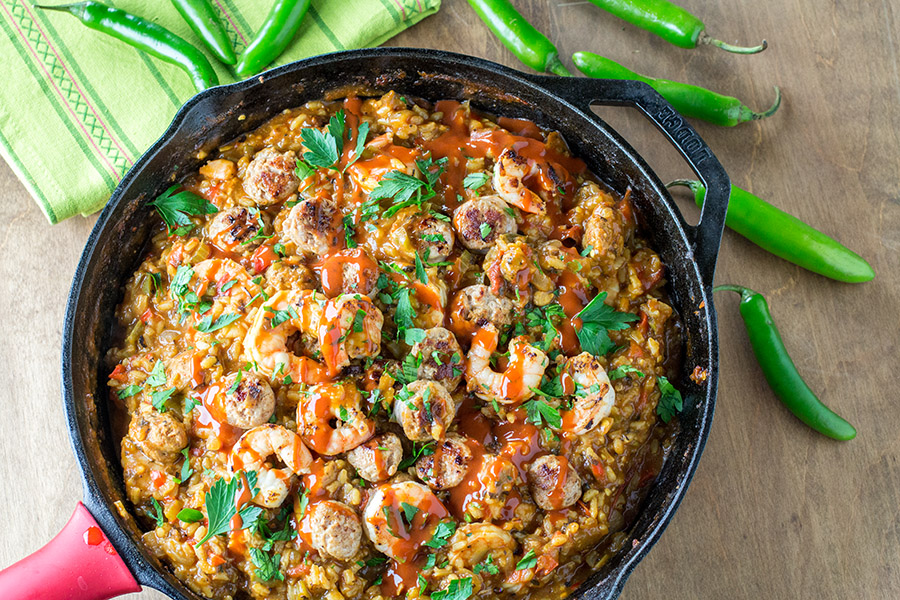 The beauty of Cajun shrimp, chicken and andouille jambalaya is not only in the heat and awe-inspiring flavor, but also because it's a pretty easy to make one-pot meal.
I made a version recently for a gathering and let it sit covered on the stove while everyone else scrambled with their meals. I just kept mine warm and it was certainly a pleaser.
Excellent for me!
Now, as mentioned, this is a meaty version. I only added in a single cup of rice and a single cup of chicken stock, with a focus on the proteins.
I wanted those to stand out with huge chunks, but if you want this meal to stretch a bit further, and save on costs, cut back on the proteins and double the rice and stock. I've done it both ways.
The rice will absorb all those flavors and fill up the pan, and it will still satisfy. I know it will!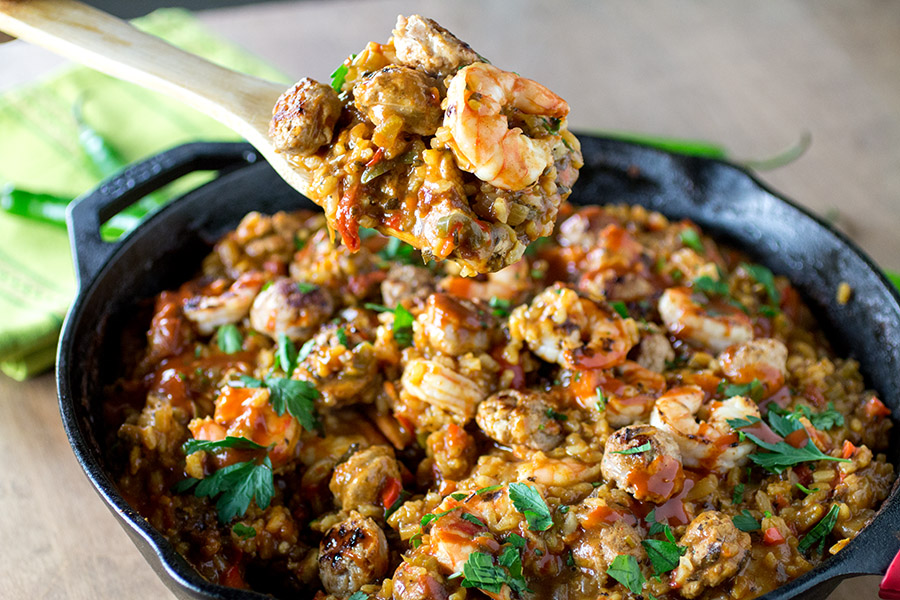 Serving It Up and Spicing It Up
This will serve a small group of people, but if you're like us and only cooking for two, it is still an excellent choice of meal because it holds up AWESOMELY to leftovers.
Scoop the rest of the jambalaya into plastic containers and refrigerate for up to a week. The flavors will continue to meld for you and will work for your next lunch or super quick dinner. Or both!
Don't forget the hot sauce. You can add in hot sauce when you add the tomato sauce, but you'll already get plenty of heat from the jalapeno peppers and serranos.
If serranos are too hot for you, you can omit those and add either more jalapeno peppers or bell peppers. Still tastes great! I like to dash hot sauce over mine either in the whole pan or over the serving bowl, or both!
But that's the beauty of hot sauce, isn't it? Use it whenever you want.
Patty's Perspective
I am amazed at how fast Mike put this meal together. And, I have to say this publicly, I wish he would make it more! I'm excited that one of our favorite local grocery stores known for their deli makes their own andouille sausage. I love the flavor in this dish. If you can find a high quality andouille, that can make a huge difference in the final meal.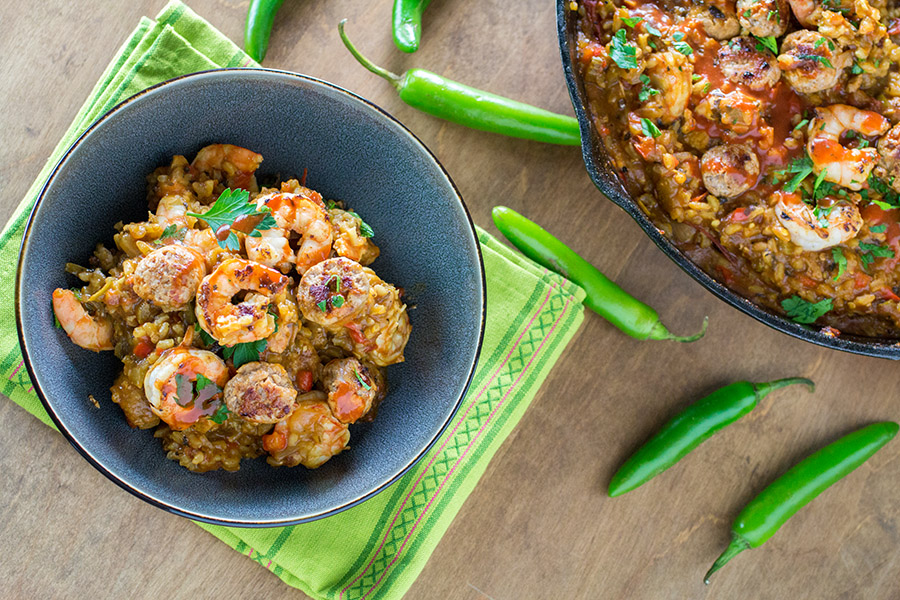 Check Out Some of Our Other Popular Cajun Dishes
If you enjoy this recipe, I hope you'll leave a comment with some STARS. Also, please share it on social media. Don't forget to tag us at #ChiliPepperMadness. I'll be sure to share! Thanks! — Mike H.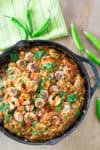 Seriously Awesome Jambalaya Recipe - Madness Style - Recipe
A recipe for Cajun jambalaya in all its glory, with shrimp, andouille sausage, chicken, and plenty of spices.
Ingredients
2

tablespoons

olive oil

2

small onions

chopped

1

red bell pepper

chopped

2-3

serrano peppers

chopped

2-3

jalapeno peppers

chopped

2

stalks celery

chopped

6

cloves

garlic

chopped

1

boneless

skinless chicken breast, chopped

½

pound

andouille sausage

chopped – if you want to get REALLY meaty, add a whole pound!

3-4 to

matoes

chopped – about a pound

1

teaspoon

dried Mexican oregano

1

teaspoon

dried basil

Salt and pepper to taste

8

ounces

tomato sauce

1-2

cups

chicken stock

1-2

cup

white rice – I used a long grain - I only used 1 cup here

but you can fit 2 if you want the meal to feed more

½

pound

shrimp

peeled and deveined

3

teaspoons

spicy Cajun seasoning

1

teaspoon

olive oil

Chopped parsley for garnish

Your favorite hot sauce for serving
Instructions
Heat a large pan to medium heat. Add oil with onions, peppers and celery. Cook about 6-7 minutes, until softened. Add garlic, chicken and andouille sausage. Cook about 5 minutes, stirring often, until chicken is no longer pink and the sausage starts to cook through.

Add tomatoes and stir to break apart. Cook about 3 minutes. Add oregano, basil, salt and pepper, tomato sauce and chicken stock. Stir.

At this point, if you're looking for an EXTRA SPICY version, add in a few teaspoons of your favorite hot sauce. If not, omit. I would add it!

Stir in the white rice. Bring to a quick boil then reduce heat to a simmer. Cover and let simmer about 25-30 minutes, or until the rice is cooked and tender, to your preference.

Heat a small pan to medium heat and add oil. Season shrimp with salt, pepper and Cajun seasoning and saute a couple minutes each site, until cooked through. Stir them into the Jambalaya pot.

Serve Jambalaya into bowls and garnish with parsley. Add in extra hot sauce. Enjoy!
Recipe Notes
Heat Factor: Medium, though you can easily up the heat factor with extra Cajun seasonings, spicier peppers and fiery chili flakes.
Nutrition Facts
Seriously Awesome Jambalaya Recipe - Madness Style - Recipe
Amount Per Serving
Calories 386
* Percent Daily Values are based on a 2000 calorie diet.