File powder is a seasoning made from the powdered leaves of the sassafras tree used as a thickener for soups, sauces, stews, especially gumbo. Learn more about it.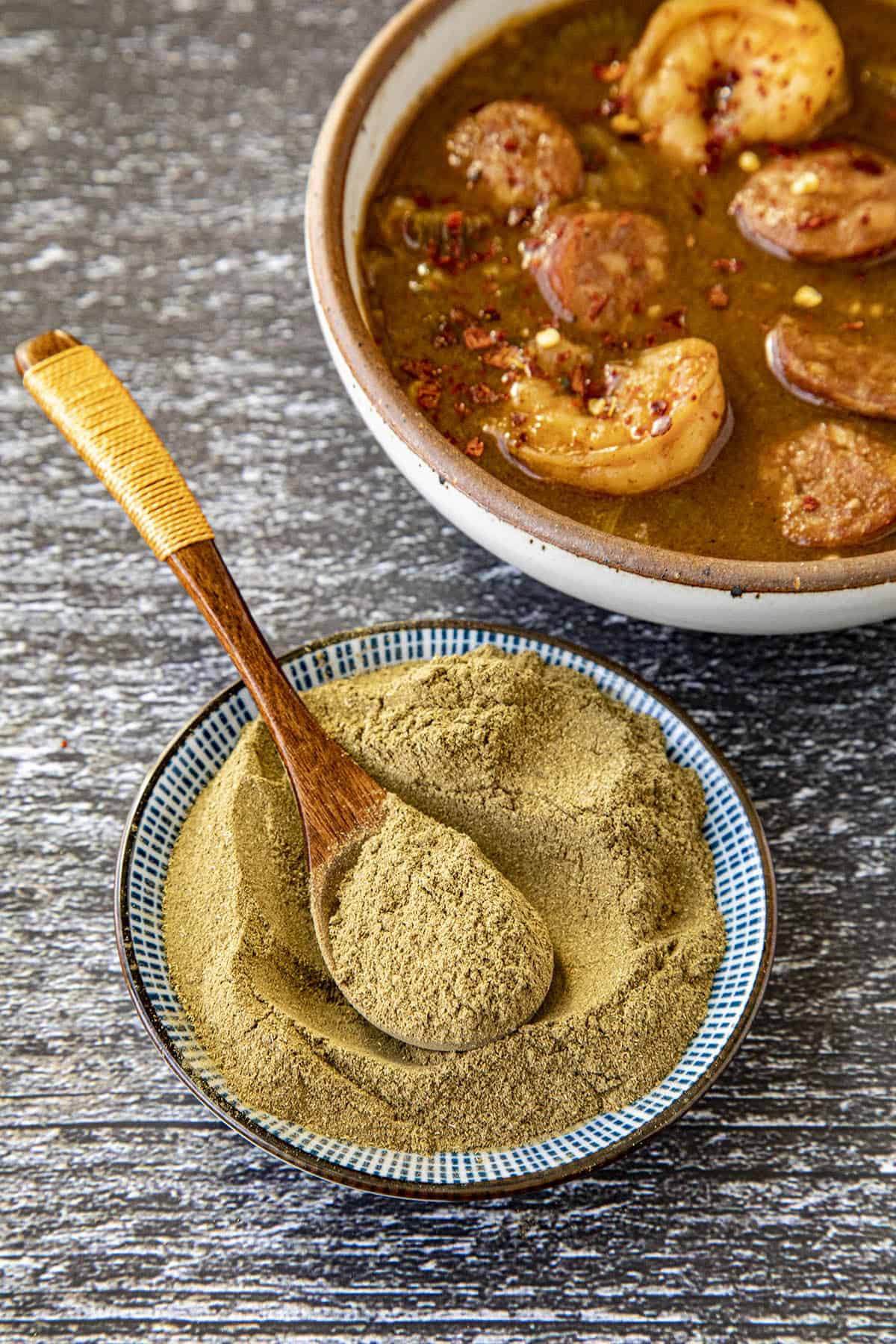 What is File Powder?
Filé powder (also referred to as gumbo filé powder, or simply "filé") is a seasoning made from the ground leaves of the sassafras tree. The tree's leaves are plucked and dried, then ground into a fine powder. The powder has a greenish-brown color and a distinctive, earthy flavor that is slightly spicy and slightly sweet.
People have been using many parts of sassafras tree for generations, back to the days of the Native American Choctaw people through today, including the roots, bark, and leaves for making file.
File is commonly used in Creole and Cajun cuisine, particularly in gumbo and other soups, stews, and sauces as a thickening agent, but also for it's unique herbal-earthy taste.
The powder can be added directly to dishes as a seasoning or can be used to make a roux (a mixture of fat and flour that's used as a thickener) for gumbo. You'll find it used primarily in the region of the Gulf coast. File powder is an important ingredient in some traditional cuisines in the south of the United States.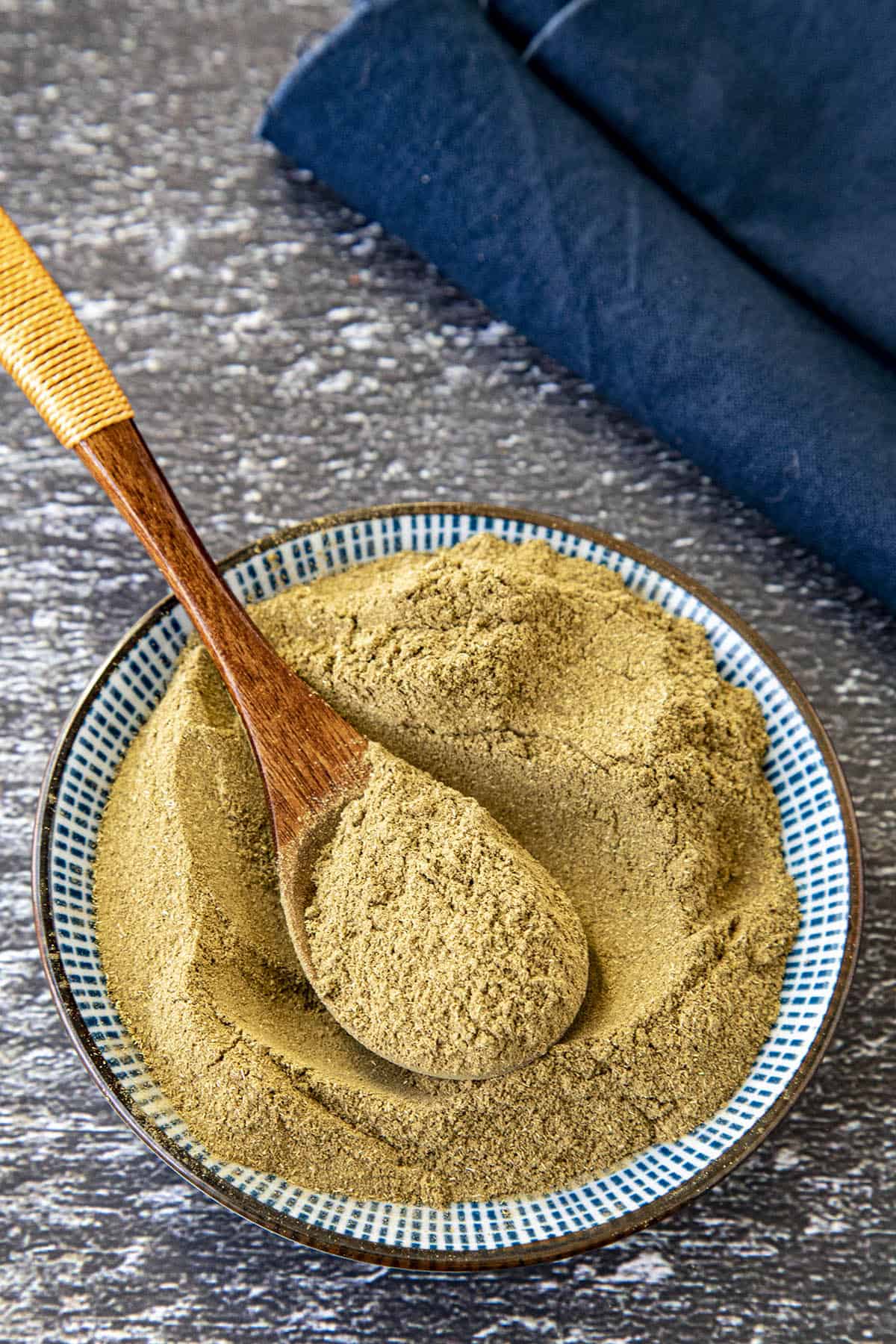 File Powder Substitutes
File powder is commonly used in Creole and Cajun cuisine, especially when making gumbo. If you are unable to find it, here are some good alternatives for file powder:
Ground Bay Leaves. This has a similar earthy and slightly spicy flavor as file powder, and can be used in similar quantities.
Dried Thyme. Thyme has a similar earthy flavor as file powder, and can be used in similar quantities.
Dried Tarragon. Tarragon has a similar slightly sweet flavor as file powder, and can be used in similar quantities.
Okra. For thickening gumbo, okra is a traditional method and can be used to thicken the gumbo as it simmers.
Please note that these substitutes for file may slightly change the flavor profile of your dish, but can still make a tasty meal.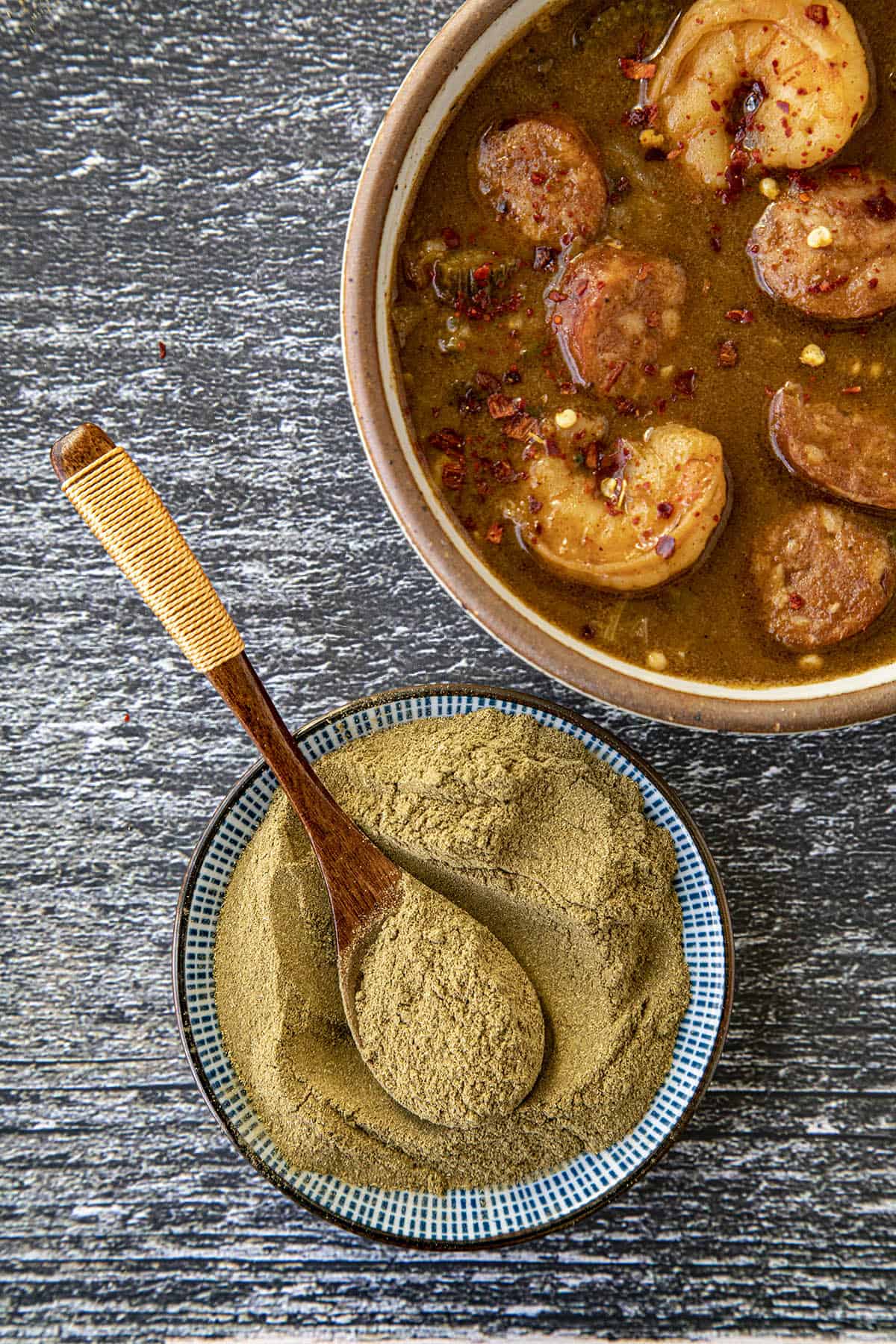 How to Use File Powder?
Use file powder as a seasoning in many Creole and Cajun dishes. Here are a few ways to use file powder in cooking:
Gumbo. File powder is a traditional ingredient in gumbo, a thick, stew-like dish. File powder is added at the end of the cooking process, typically a tablespoon or two per serving, to add a unique herbal-earthy taste, and also a thick texture.
Soups and Stews. File powder can be added to other soups and stews, such as chicken and sausage gumbo, seafood chowder, jambalaya, or vegetable stew. It can add depth of flavor and a slight thickening effect.
Marinades and Rubs. File powder can be used to marinate meats like chicken, pork, beef and fish. It also can be mixed with other seasonings to make a rub for grilled meats.
Making a Roux. File can also be used to make a roux, which is a mixture of flour and fat used as a thickener in gumbo and other dishes. The roux is cooked over low heat until it reaches the desired color and consistency. Learn how to make a roux (includes a video demonstration).
It is important to note that when using file powder, it should be added to the dishes near the end of cooking and not boiled, as it will lose its thickening properties if exposed to high temperatures for too long.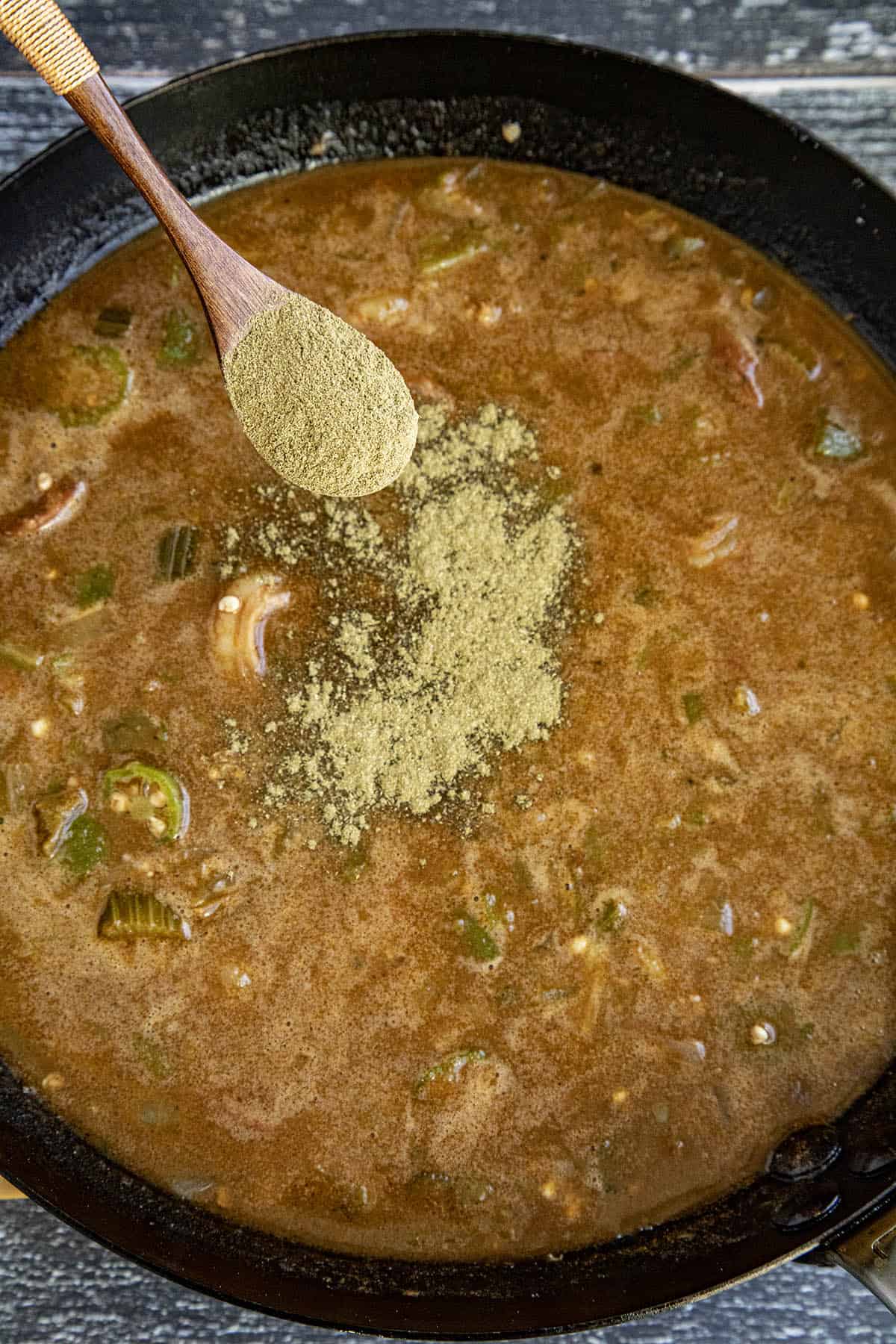 How Do You Pronounce Filé?
Filé (pronounced fee-lay) is an alternative name for file powder. It's a French word, with the emphasis is on the last syllable.
In English speakers tend to pronounce the word similarly to how it's written "file-ee".
How Do You Make File Powder?
File powder is made from ground sassafras leaves. Here is a basic recipe for making file powder:
Gather fresh sassafras leaves. The best time to gather the leaves is in the spring or early summer before they fully mature.
Clean the Leaves. Rinse the leaves thoroughly in water to remove any dirt or debris.
Dry the Leaves. Allow the leaves to dry completely. This can be done by laying them out in a single layer in a well-ventilated area, such as on a screen or on a tray, or you can dry them in a dehydrator.
Grind the Dried Leaves. Once the leaves are completely dry, crush them into a fine powder using a mortar and pestle, spice grinder, or a food processor.
Storing. Store the file powder in an airtight container in a cool, dry place for up to 6 months. Use as desired.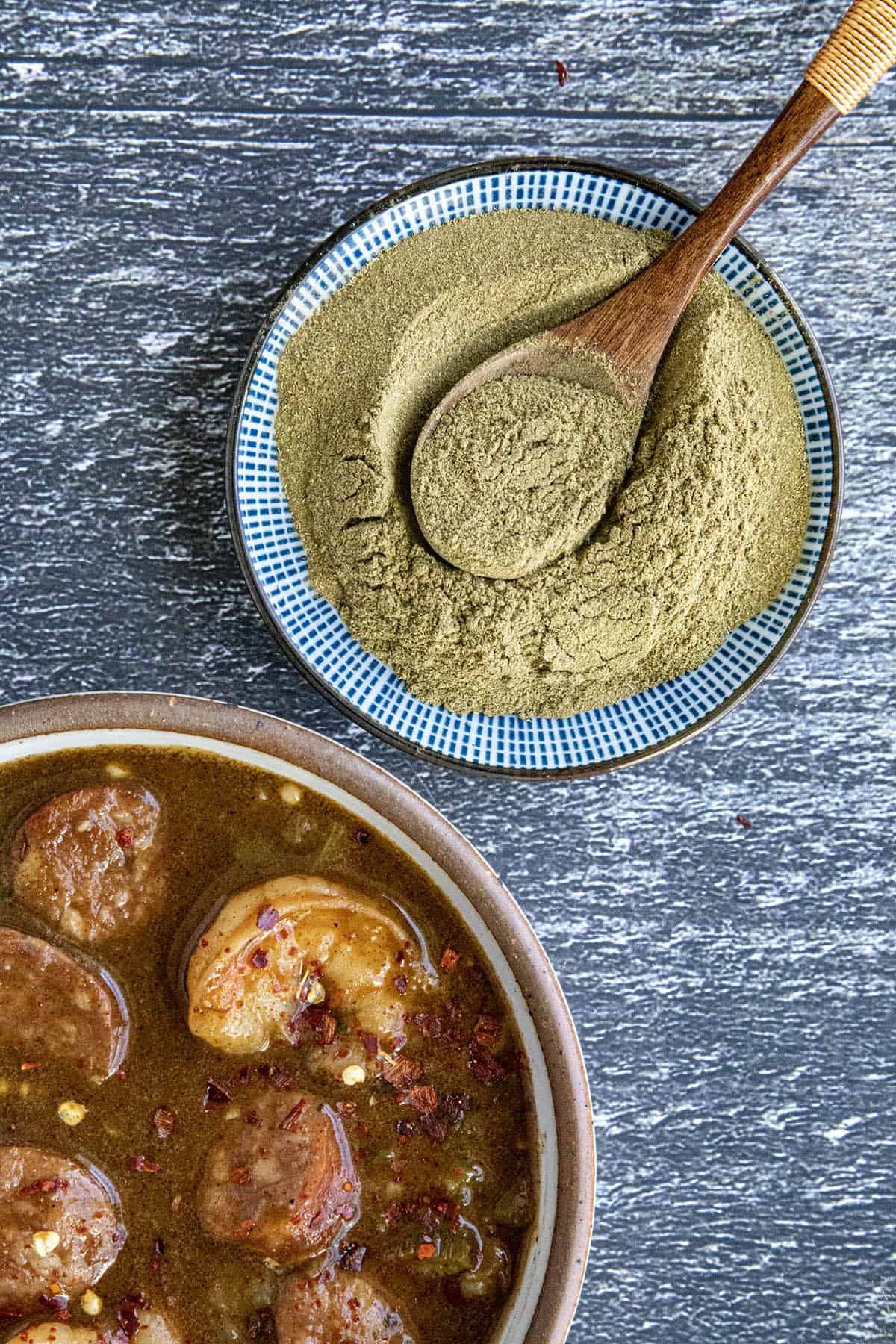 Where to Buy File Powder (Gumbo File)?
You can find gumbo file powder at various online retailers. There are many different brands to choose from.