Hoppin' John is a classic Southern dish of black-eyed peas cooked low and slow, traditionally with rice, flavored with smoked pork and loads of seasonings. It's an incredible dish you need to try.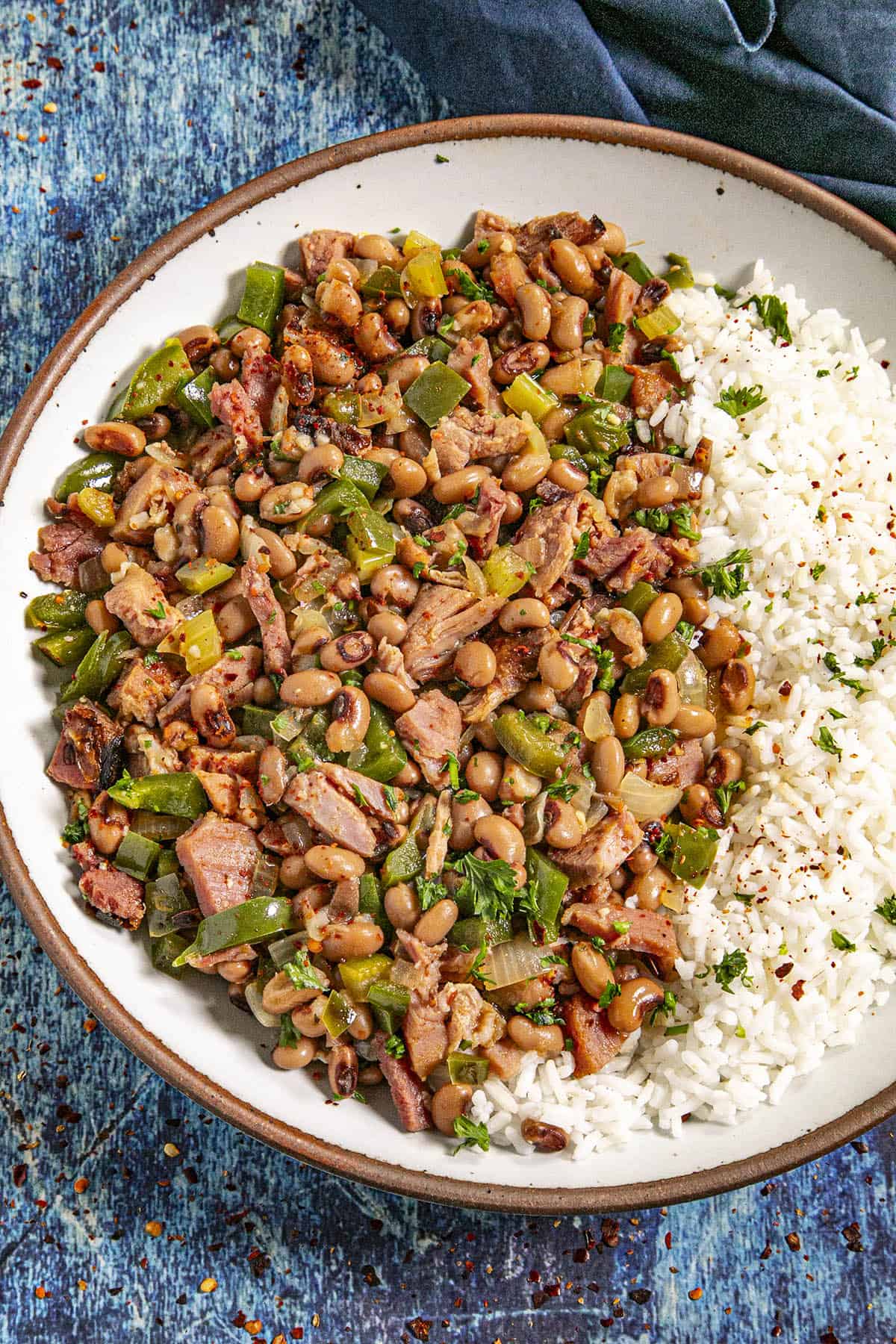 Classic Southern Hoppin John Recipe
We're cooking with black-eyed peas and we're making a classic Southern dish that is usually served as a side dish, only it's so good, you might want to serve it as the main course.
The dish is called "Hoppin' John", known more locally as Carolina Peas and Rice in North and South Carolina, and I'm sure you're going to love it.
It is often served on New Year, offering up good fortune to all. It's good luck to serve black eyed peas on new years day, but I love them anytime.
I've seen many versions of this recipe, but Hoppin' John essentially breaks down to the following ingredients - Black-eyed peas, rice and pork.
Traditionally, hoppin john is made by slowly cooking the rice and beans together with broth and the pork for flavoring, but you'll often see newer versions of the dish made by cooking the beans alone and serving them over the rice.
It's really up to you how you want to prepare it, though prepare yourself for the purists to argue that you can't cook the rice and beans separately.
I've made this both ways and I love them both, so however you want to do it!
What are Black-Eyed Peas?
Black-eyed peas are also known as goat peas, which is a subspecies of the cowpea. They are not peas, however, but beans, pale brown in color with a distinctive black spot. Other cowpeas include crowder peas or field peas, and cream peas.
They soften up and become creamy when cooked, and they're very flavorful.
About the Pork
I have seen and enjoyed Hoppin' John made with different types of pork, from bacon to pork belly, smoked ham, ham hocks, hog jowl, country sausage and even version with other meats, like smoked turkey and chicken.
Pork is traditional, and you'll see variations from chef to chef, from region to region, so plan accordingly. I used smoked ham in my recipe, with ham that I smoked at home in my smoker, but consider adding sliced bacon, pork belly, and/or andouille sausage.
Why is it Called Hoppin' John?
There is no clear reason how the name "Hoppin' John" came about, aside from anecdotes. One story is that an old man named Hoppin' John was well known for selling peas and rice in Charleston, so buyers began to refer to his dish that way.
Historians mostly believe the name is a variation of "pois pigeons", which is French for "dried peas".
Let's talk about how to make Hoppin John, shall we?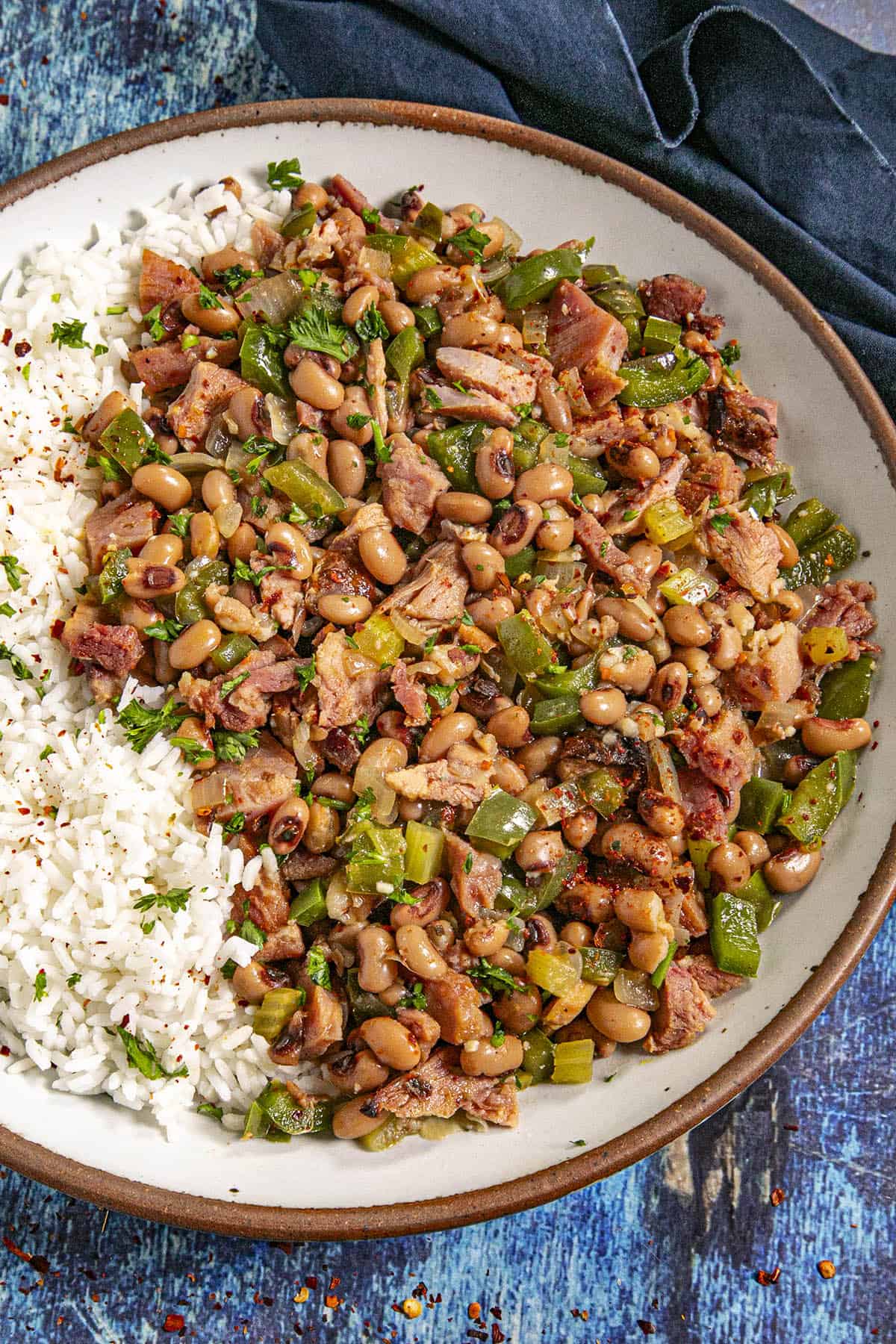 Hoppin' John Ingredients
Oil. Olive oil, or use vegetable oil, for cooking the vegetables.
Vegetables. Use onion, green bell pepper, celery (the Cajun Holy Trinity), along with garlic. I also add in jalapeno pepper for extra flavor and some heat.
Smoked Ham. I use smoked ham, usually tasso ham, though you can use andouillle or other cuts of pork.
Seasonings. I use my own Cajun seasoning blend, though use your favorite. You can also use salt and black pepper to taste. Sometimes I toss in a bay leaf or two.
Black Eyed Peas. Dried black eyed peas sorted through, rinsed, soaked and drained.
Chicken Stock. Chicken broth as needed, though you can use other stocks or broths, such as vegetable or beef.
Rice. Cooked white rice for serving. Brown rice is good for this recipe, if you'd prefer. Carolina Gold Rice is ideal here, or other long grain rice.
For Serving. Chopped parsley or green onions and crushed red pepper for serving
How to Make Hoppin' John - The Recipe Method
First, heat a large pot to medium high heat and add in a bit of olive oil.
Cook down the onions, green peppers and celery until they are nicely softened.
Add in a bit of garlic and smoked ham (or whatever pork you're using), and heat them through.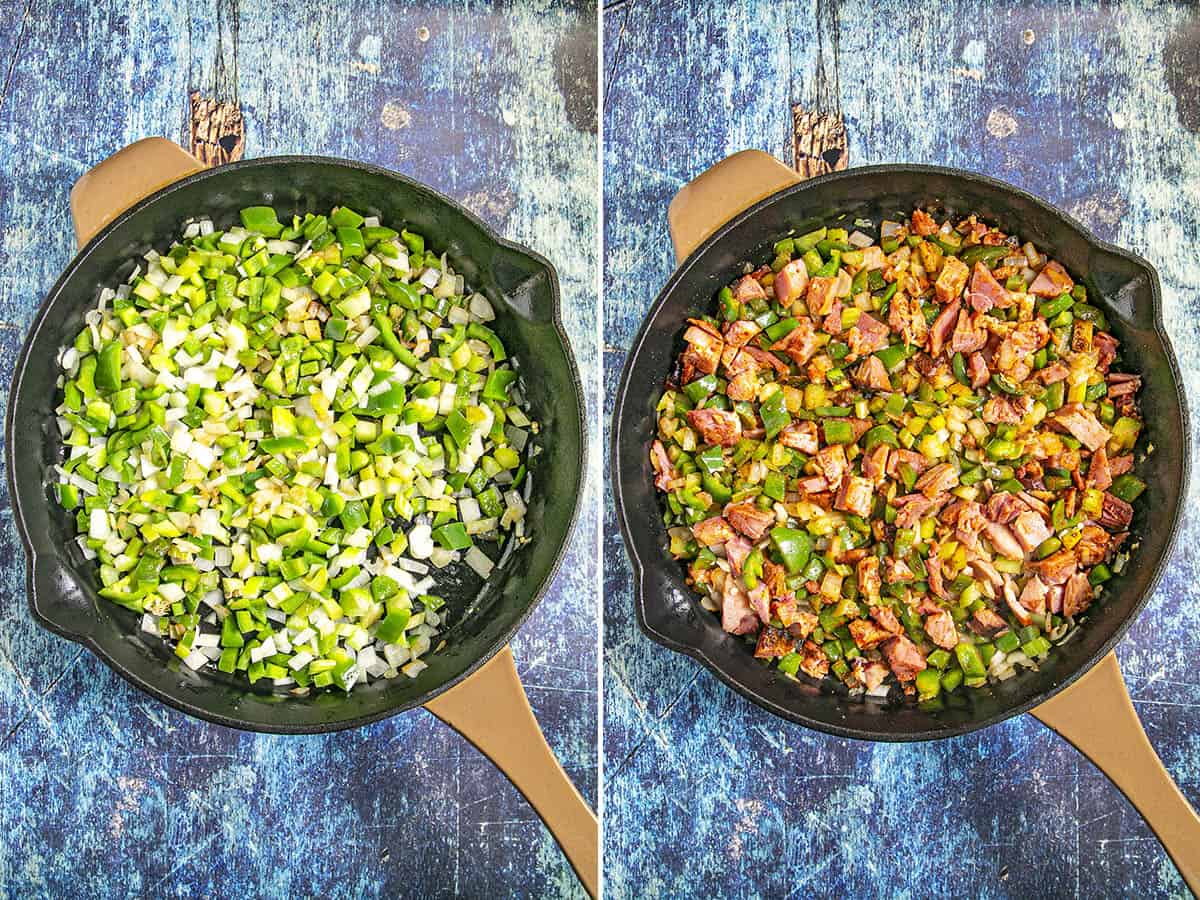 Add in your Cajun seasonings (check out my Cajun Seasoning Blend) along with your pre-soaked black eyed peas and chicken broth. Bring to a boil, then reduce heat.
Simmer the beans for 1 hour, stirring occasionally, or until the peas are tender and nicely softened, but not mushy. We don't want no mushy beans!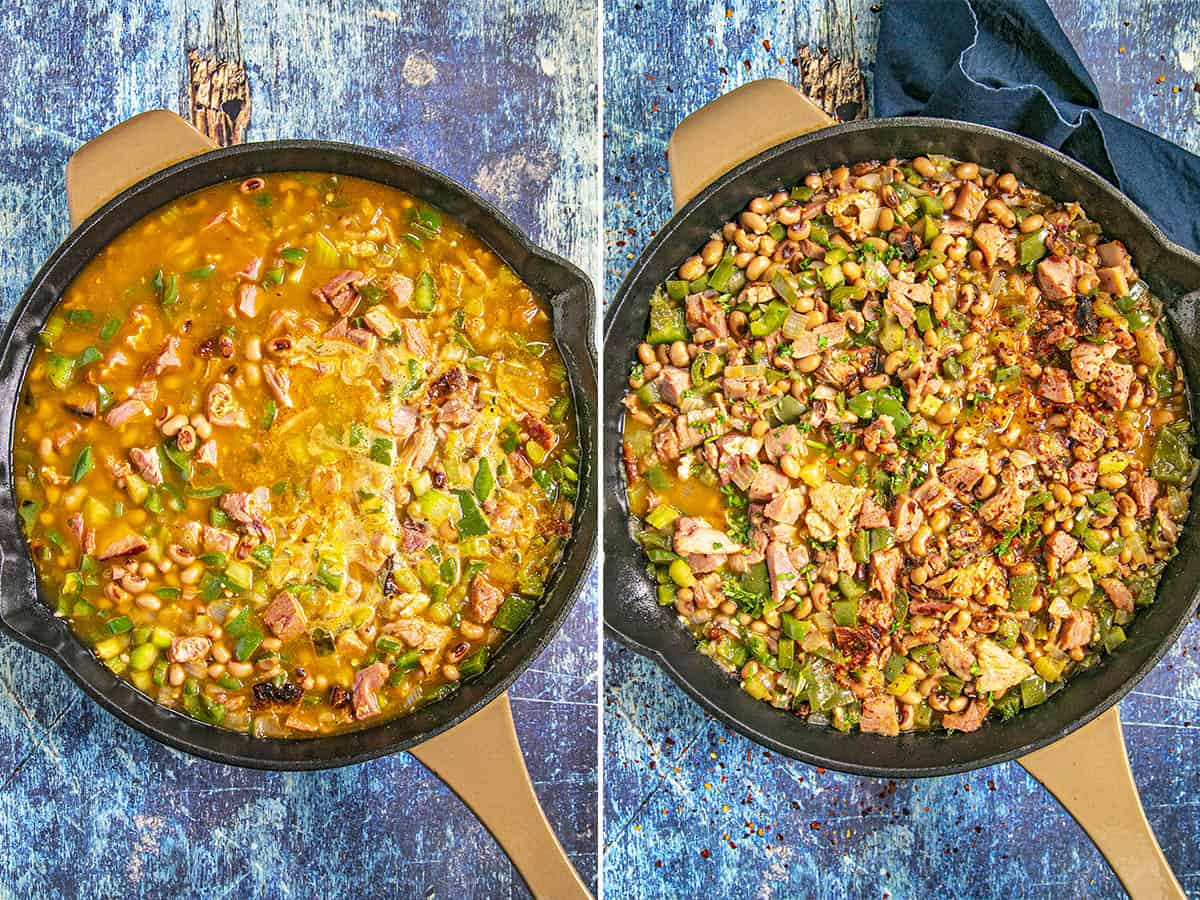 How to Serve Hoppin' John
I like to serve mine over rice, though some prefer to cook the rice into the dish.
It is very often served with collard greens for the New Year, the green symbolizing wealth and prosperity, and the black eyed peas representing coins. We can all use a bit of luck for the New Year, so be sure to serve this up!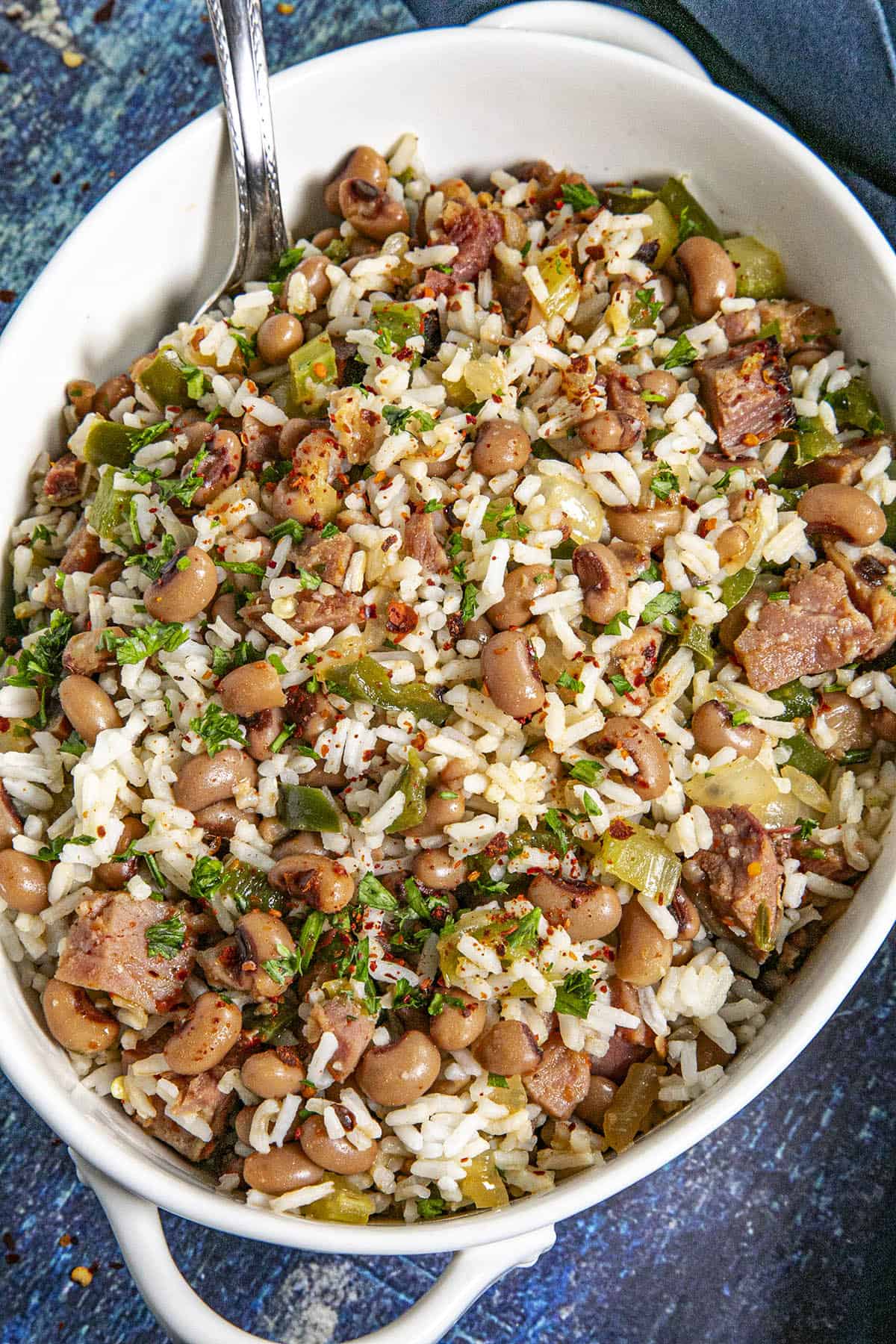 Recipe Tips & Notes
Greens. Aside from choices of pork and whether or not to cook the rice with the beans, popular variations include adding collard greens or spinach to the dish.
Any greens will work. Consider Swiss chard, kale, mustard greens, etc.
Tomatoes. I've made hoppin' john with diced tomatoes and loved it. Give that version a try.
Cheese. Some people like to include cheese. Just a bit sprinkled over the top.
The Beans. You CAN use canned or frozen black-eyed peas for this recipe instead of dried. Just follow the recipe and simmer until they are nice and soft.
You'll get more flavor from starting with dried beans because the simmering time, and hence flavor building time, is longer.
Slow Cooker Hoppin' John. You can make Hoppin' John in a slow cooker as well. To do so, cook down the vegetables in the pan first, then add them to your slow cooker or crock pot along with the remaining ingredients.
Cook them on high for 4-5 hours, or on low for 8-10 hours, or until the beans are softened but not mushy.
Should I Soak the Beans Before Cooking?
I have always soaked my beans to soften them up before cooking. However, some people swear by cooking straight from the dried beans.
Soaking can reduce cooking time and softening of the beans. However, if you drain the beans, you may be losing some of the nutrients from the beans that have leached into the water.
Soaking does help to soften the tough bean skins. I like to add about 3 tablespoons of salt to the water for more of a brine when soaking, which helps soften the beans and adds a bit more flavor and creamy bean interiors.
Also, some people report experiencing bad gas from unsoaked beans, so consider and decide accordingly.
Cooking time for soaked beans is about 1 hour, to soften them up.
How to Soak the Beans
First, sort and rinse the beans. Add the rinsed beans to a pot with 6 cups of water. Leave it overnight, 6-8 hours for a long soak.
For a quick soak method, add the rinsed beans to a pot with 6 cups of water, then bring to a quick boil. Boil for 2 minutes, then remove from heat.
Cover and soak for 1 hour. Be careful not to oversoak the beans, or they can split.
Storage & Leftovers
Store any leftover hoppin' john in a sealed container in the refrigerator for up to 5 days. You can easily reheat it on the stovetop in a pot to enjoy again.
You can freeze leftovers in freezer containers for 3 months or longer.
That's it, my friends! I hope you enjoy your Hoppin' John!
Try Some of These Other Popular Southern Recipes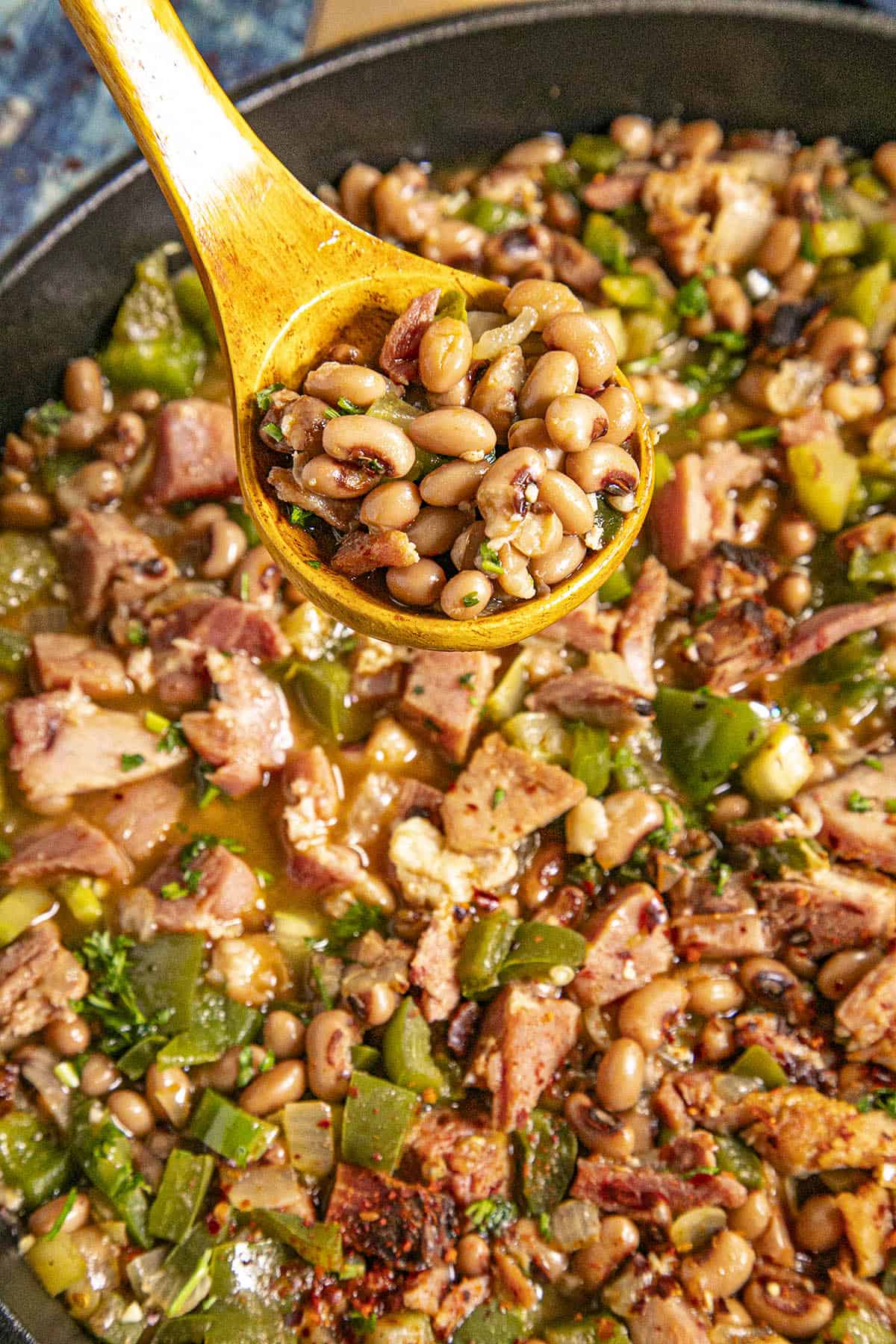 If you enjoy this recipe, I hope you'll leave a comment with some STARS. Also, please share it on social media. Don't forget to tag us at #ChiliPepperMadness. I'll be sure to share! Thanks! -- Mike H.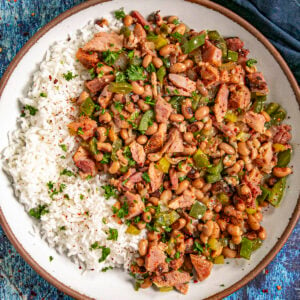 Print
Hoppin' John Recipe
Hoppin' John is a classic Southern dish of black-eyed peas cooked low and slow, traditionally with rice and smoked pork, a New Year tradition, easy to make!
Save Recipe
Saved!
Ingredients
1

tablespoon

olive oil

1

large onion

chopped

1

large green bell pepper

chopped

1

jalapeno pepper

chopped (optional – I like it for a bit of extra heat)

1

stalk celery

chopped

2

cloves

garlic

chopped

1

pound

smoked ham

chopped

2

tablespoon

Cajun seasoning blend

(or more to taste)

1

pound

blackeyed peas

sorted through, rinsed, soaked and drained

4

cups

chicken broth

or more as needed

Cooked white rice for serving

Chopped parsley for serving
Instructions
Heat a large pot to medium heat and add the olive oil.

Add the onion, peppers and celery and cook them until softened, about 5 minutes.

Add the garlic and smoked ham and cook another minute, stirring, until fragrant.

Add the Cajun seasonings, blackeyed peas and chicken broth. Bring to a quick boil, then reduce the heat.

Simmer for 1 hour, or until the beans are nicely softened, but not mushy.

Serve over rice and garnish with chopped parsley.
Video
Notes
Serves 12 as a side dish.
Heat Factor: Mild
Many factors may affect the cooking time of the black-eyed peas, including the age of the beans, where they were grown, even the water you are using. They will usually soften in about an hour, but time could run from 30-120 minutes, so be sure to test as you go along.
If using canned black eyed peas, reduce chicken broth to 2 cups.
Calories calculated without the rice.
Nutrition Information
Calories:
115
kcal
Carbohydrates:
11
g
Protein:
11
g
Fat:
3
g
Saturated Fat:
1
g
Cholesterol:
18
mg
Sodium:
488
mg
Potassium:
344
mg
Fiber:
3
g
Sugar:
2
g
Vitamin A:
643
IU
Vitamin C:
11
mg
Calcium:
24
mg
Iron:
2
mg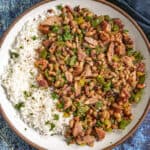 Did You Enjoy This Recipe?
I love hearing how you like it and how you made it your own. Leave a comment below and tag @ChiliPepperMadness on social media.
NOTE: This recipe was updated on 12/18/20 to include new information and video. It was originally published on 10/29/2018.