Roasted Peppers in Garlic Olive Oil
Time to get to preserving your chili peppers. If your garden is going crazy with chili peppers right now, you might find it difficult to consume them all. Keeping your peppers perpetually fresh is impossible. So!
You need to preserve them. There are numerous ways to preserve your chili peppers – See Preserving Chili Peppers – but one tasty and simple way is to preserve them in olive oil. We have a general page here on How to Preserve Your Chili Peppers in Olive Oil, but I'm including a recipe below that brings in just a bit of seasoning and some wonderful, wonderful garlic.
Did I mention that garlic is wonderful? Yes it is. The roasted garlic helps to infuse the oil and adds not only flavor, but fragrance to the finished product. This is an easy, no fuss recipe for preserving your peppers in oil and it will last you at least a few weeks in the refrigerator.
If you want to keep them longer, you can easily freeze them in proper storage containers, like thick zip lock bags. I used 6 large bell peppers for this recipe – 2 orange, 2 red, and 2 yellow. I love the color combination. Just look at them! I want to eat them all right now.
Everything fit into a large quart sized jar, though of course your yields can vary depending on how much you are working with. This particular method works well with any chili pepper, though it does work better, in my opinion, with thicker walled peppers. If you're using thinner walled peppers, just don't roast them as long, and you may not need to remove the skins.
I've used this preserving method this year on a large mixed batch of peppers – some Pimiento de Padrons, Honey Crisps, Bells, Marconis, Tangerine Dreams and some jalapeno peppers. So nice to have them around!
So, how can you serve your olive oil preserved chili peppers? While the world is your oyster, I personally like to use them in pastas, chopped and swirled into sauces, or even chopped and used as a simple condiment for grilled foods.
Instead of ketchup for the Italian sausage, pull out the peppers. So many uses!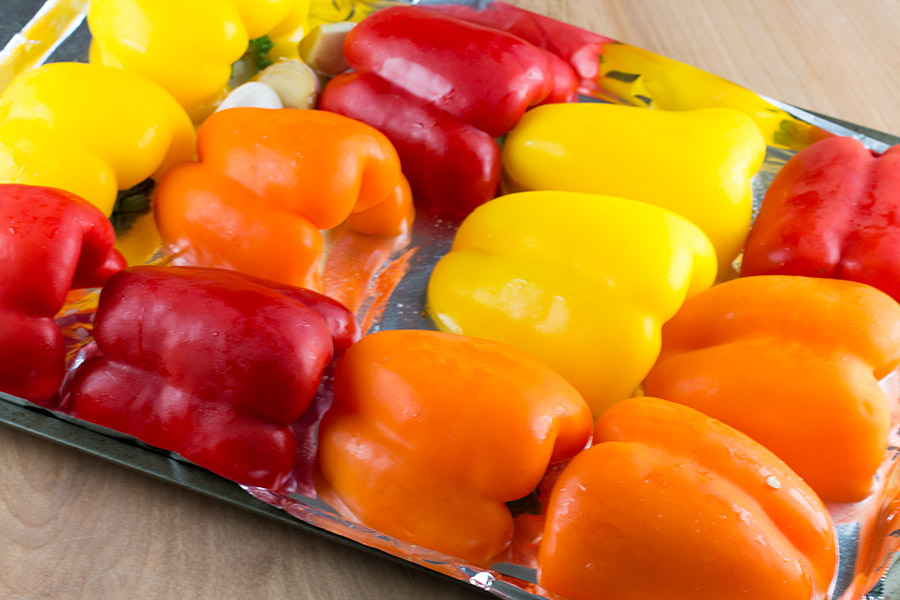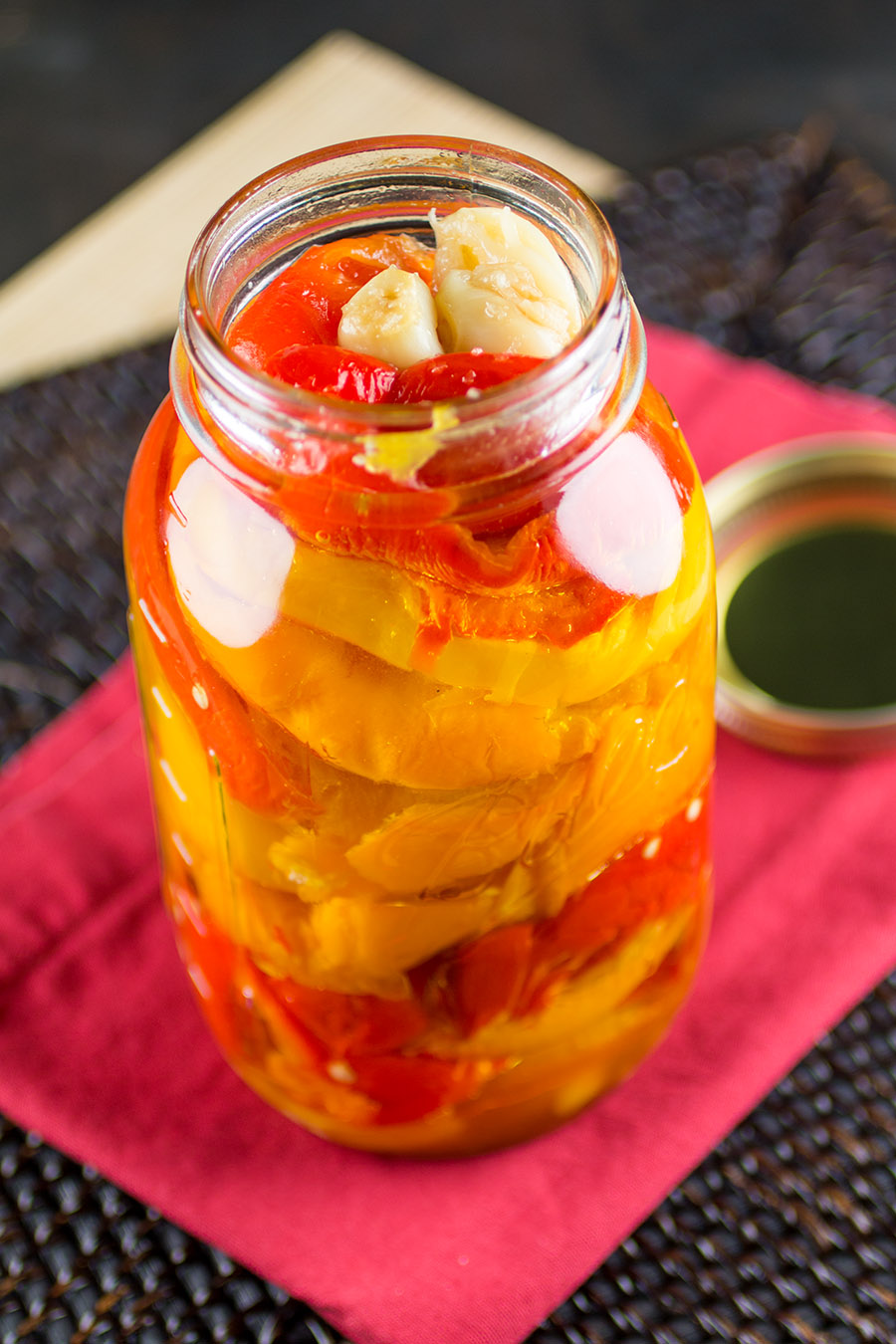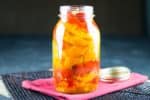 Roasted Peppers in Garlic Olive Oil
Preserve your peppers in olive oil to keep them longer and use them in many dishes, from sauces, pastas, salads, and so much more. You'll have delicious peppers tp use anytime you want them.
Ingredients
6

bell peppers

– use multiple colors! It looks awesome!

8

cloves

garlic

6-8

ounces

olive oil

as needed

1

tablespoon

salt and pepper mix
Instructions
Heat oven to 350 degrees.

Slice peppers in half lengthwise. Remove the seeds from the peppers. Set them all onto baking sheets along with the garlic.

Bake for 20-25 minutes, or until the pepper skins are nicely charred.

Remove from heat and allow to cool. Peel the skins from the peppers and remove the seeds and innards.

Squeeze the garlic from their skins and set aside.

Layer the peppers into a large sterilized jar along with layers of olive oil, salt, pepper and garlic, until the sterilized jar is filled. I filled a large quart jar.

Tap out the air, or use a fork around the edges. Cap and refrigerate.
Recipe Notes
Should last a few weeks!
Nutrition Facts
Roasted Peppers in Garlic Olive Oil
Amount Per Serving
Calories 176
Calories from Fat 153
% Daily Value*
Total Fat 17g 26%
Sodium 701mg 29%
Potassium 160mg 5%
Total Carbohydrates 5g 2%
* Percent Daily Values are based on a 2000 calorie diet.
Also, check out our ebook – Preserving Chili Peppers.