Preserving Chili Peppers In Olive Oil
Learn how to preserve your chili peppers in olive oil so you can enjoy them longer. They're like summer in a jar.
Preserving your chili peppers is important if you want to keep them longer. It is impossible to keep your chili peppers fresh forever. It is just the nature of chili peppers and any natural food! They will eventually rot and spoil if you don't preserve them in some way.
One way is to preserve your peppers in olive oil.
The peppers won't keep as long as other methods, unless you freeze them, though they will last a few weeks at least, giving you plenty of time to enjoy them. If you're a crazy chili pepper lover like we are, they won't last that long anyway.
You'll probably gobble them down.
About the Recipe
It is important to roast the peppers first. There is so much more flavor in a roasted chili pepper.
The method below is a basic method for preserving peppers in oil, but you can easily vary it up by adding new flavors and ingredients. Garlic is a favorite, as are certain herbs and seasonings, though garlic won't last as long as other ingredients. Salt and pepper are standards as well, though consider other chili powders, rosemary, basil, cumin, Cajun or Creole blends.
Consider your favorite flavors.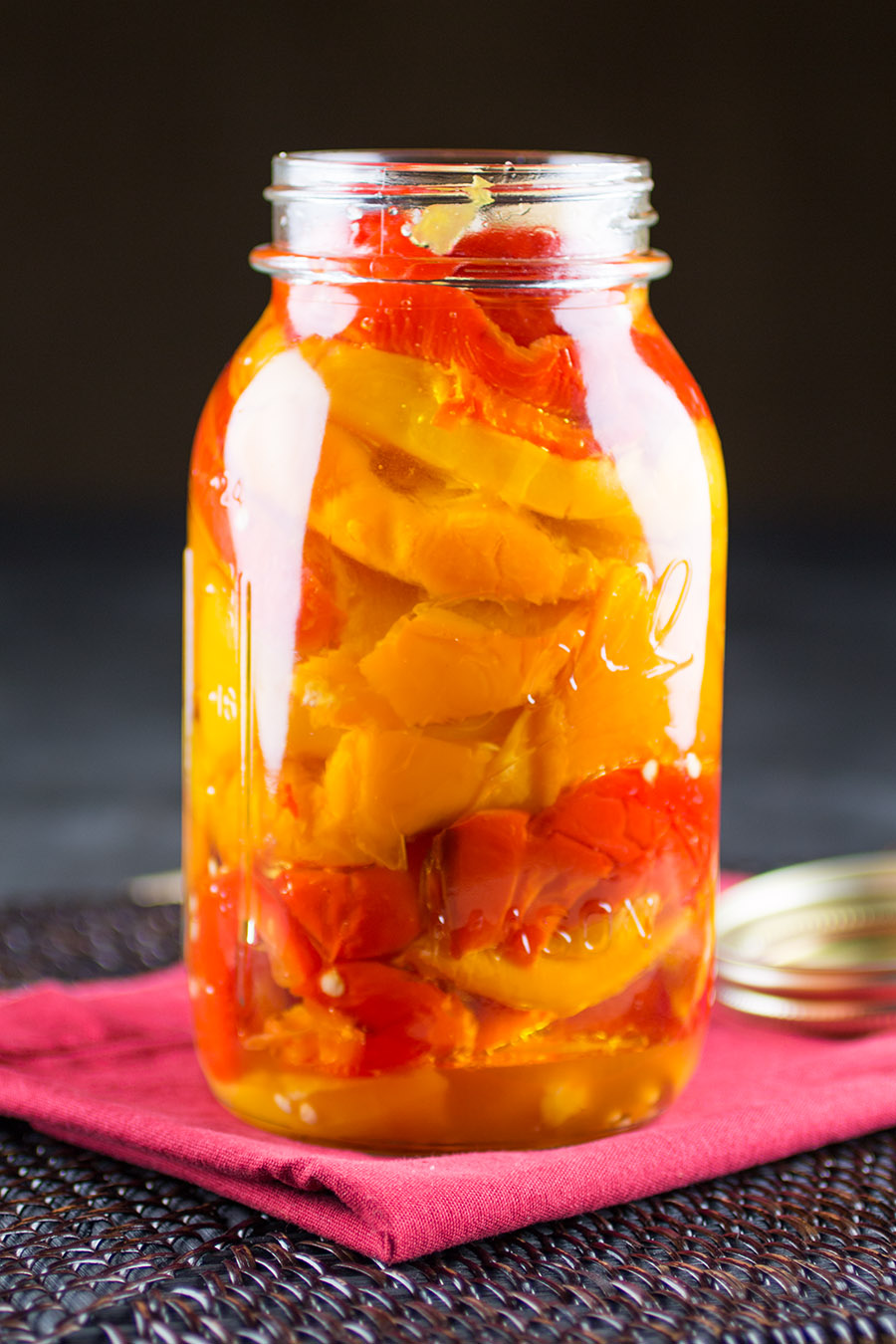 Preserving Chili Peppers In Olive Oil
Clean your peppers thoroughly and dry. Slice them in half lengthwise.
Roast the peppers in a broiler or on a grill over medium heat until the skins are bubbly and blackened. For other methods, see How to Roast Chili Peppers. Be sure not to overcook. Remove and allow to cool. You can also place them into paper bags and allow them to steam to help loosen the skins.
Skin the peppers and remove the seeds and innards, if desired, though bear in mind most of the heat in within the innards.
Cut the flesh into thick strips.
Add the roasted pepper strips to a cleaned, sterilized jar. Pour in enough olive oil to cover, then cover with a tightened lid. Be sure to make airtight.
Refrigerate immediately.
How Long Will My Peppers Last in Olive Oil?
This method of preservation should keep your chili peppers for a week in the refrigerator with this method. It is not meant for long term storage.
What If I Want My Peppers to Last Longer?
If you want a longer term storage method for preserving your peppers, considering How to Pickle Chili Peppers. I have a lot of information on this technique.
If you'd like to keep them for around a year, freeze them instead in proper freezing containers, like thick plastic bags.
An alternate method is to include some oil with your pickled pepper recipe. I good ratio is 2 parts 5% vinegar, 1 part lemon juice and 1 part olive oil along with herbs and spices, and your peppers, of course. With proper processing, your peppers will last much longer.
Enjoy!
Here is recipe you can review: Roasted Peppers in Garlic Olive Oil.
Also, download our ebook – Preserving Chili Peppers.