Learn how to infuse alcoholic beverages with chili peppers to bring a spicy kick and flavor to your favorite drinks. Includes several powerful recipes.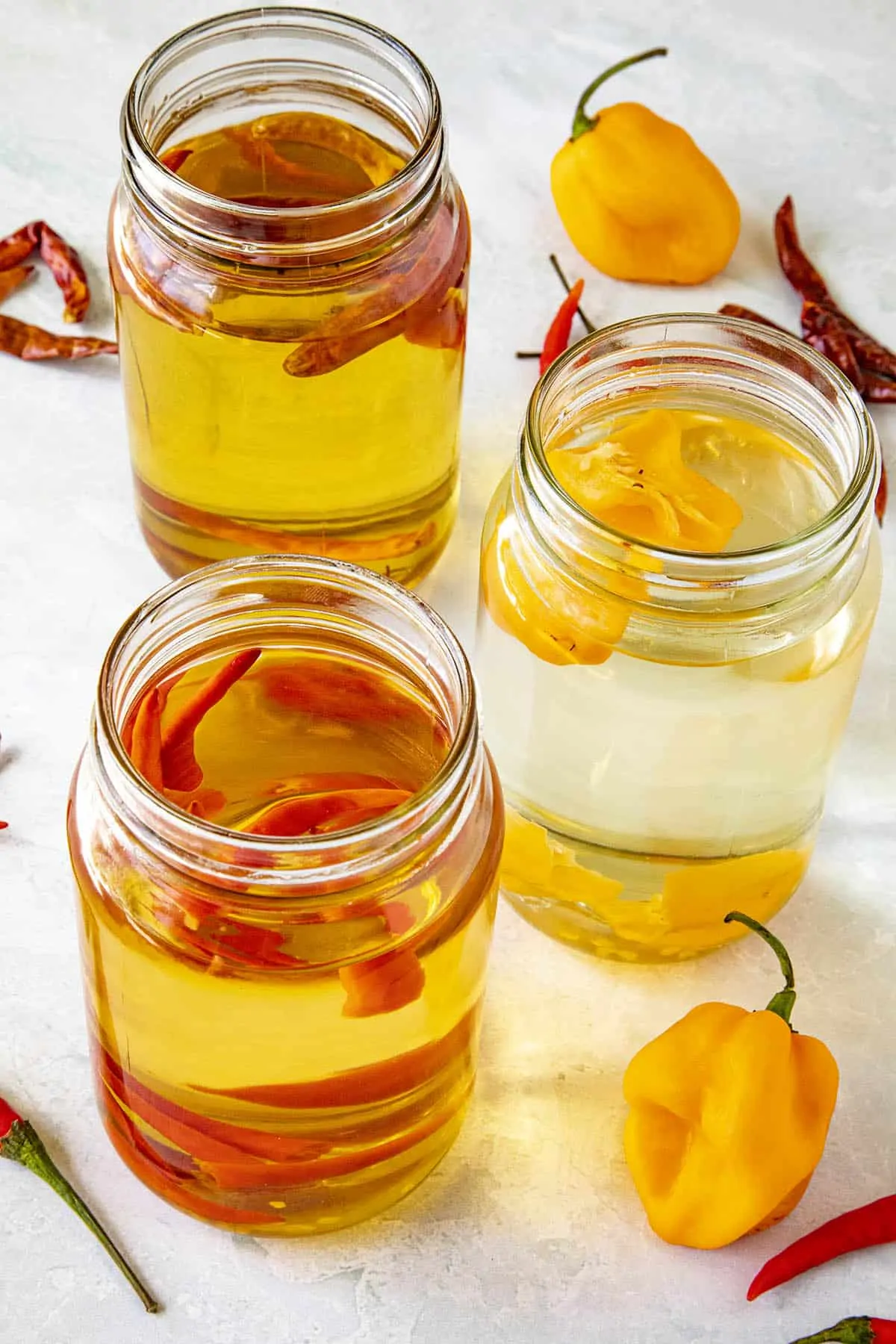 Chili peppers go great with any type of food and you can highlight them in so many ways. Recently, a trend is to infuse alcoholic drinks with chili peppers, which is a trend we greatly enjoy.
You can do this at home. The process is very similar to infusing vinegar with chili pepper heat and flavor.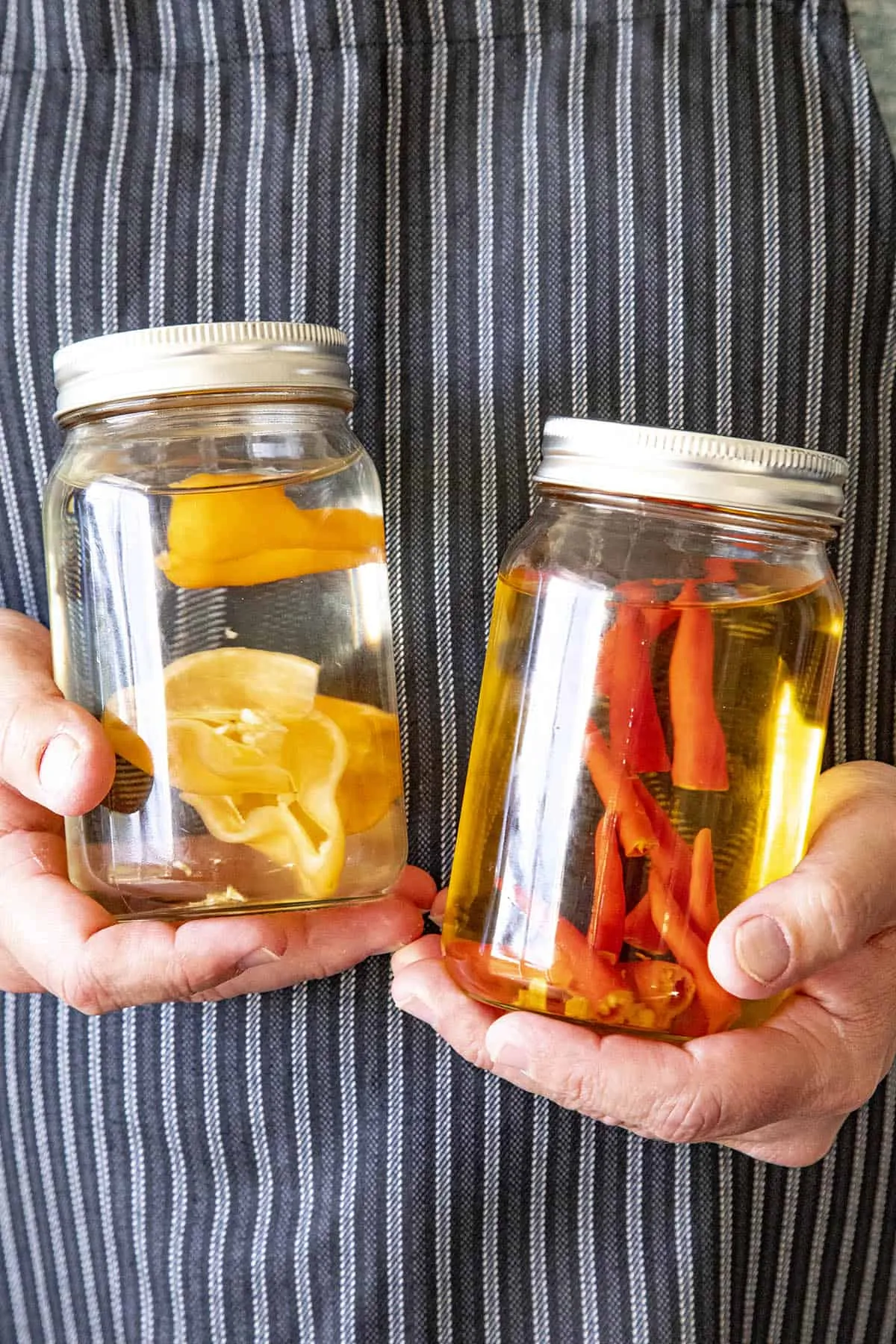 How to Infuse Alcohol with Chili Peppers
In general, always choose the freshest chili peppers for your infusions. Dried chili peppers also work great. Wash the peppers and slit them lengthwise so they do not float. You can also chop them into smaller pieces for a stronger infusion.
Habanero peppers are ideal for infusions as they pack a great deal of heat and flavor, but you can realistically use any type of chili pepper, like the fabulous jalapeno or the smoky chipotle.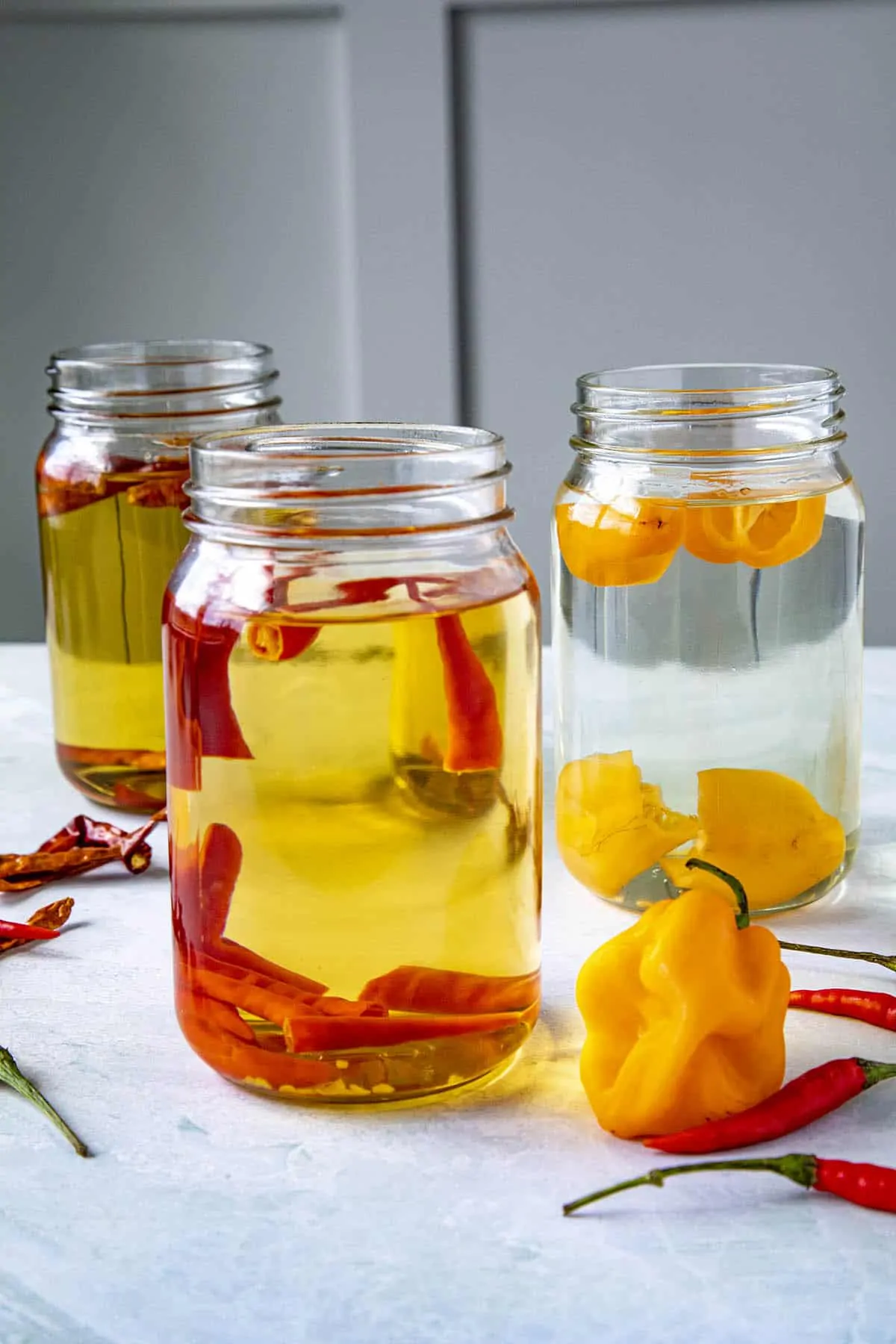 Infusing Alcohol with Chilies - the Process
Slice the chili peppers and drop them down the neck of the bottle you wish to infuse. You may need to make a bit of room. You can infuse alcohol with whole, uncut peppers, but note that they may float. Also, cutting them or at least poking holes into them will allow the alcohol to more quickly enter the peppers, which helps to permeate the alcohol more quickly and effectively.
Your choices of alcohol are limitless, but popular choices are tequila, vodka, and even wine. The amount of chili peppers will depend on your preference, though you can use anywhere from 1 chili pepper for a milder infusion to a dozen for a flavor blast.
2 to 3 peppers are typical.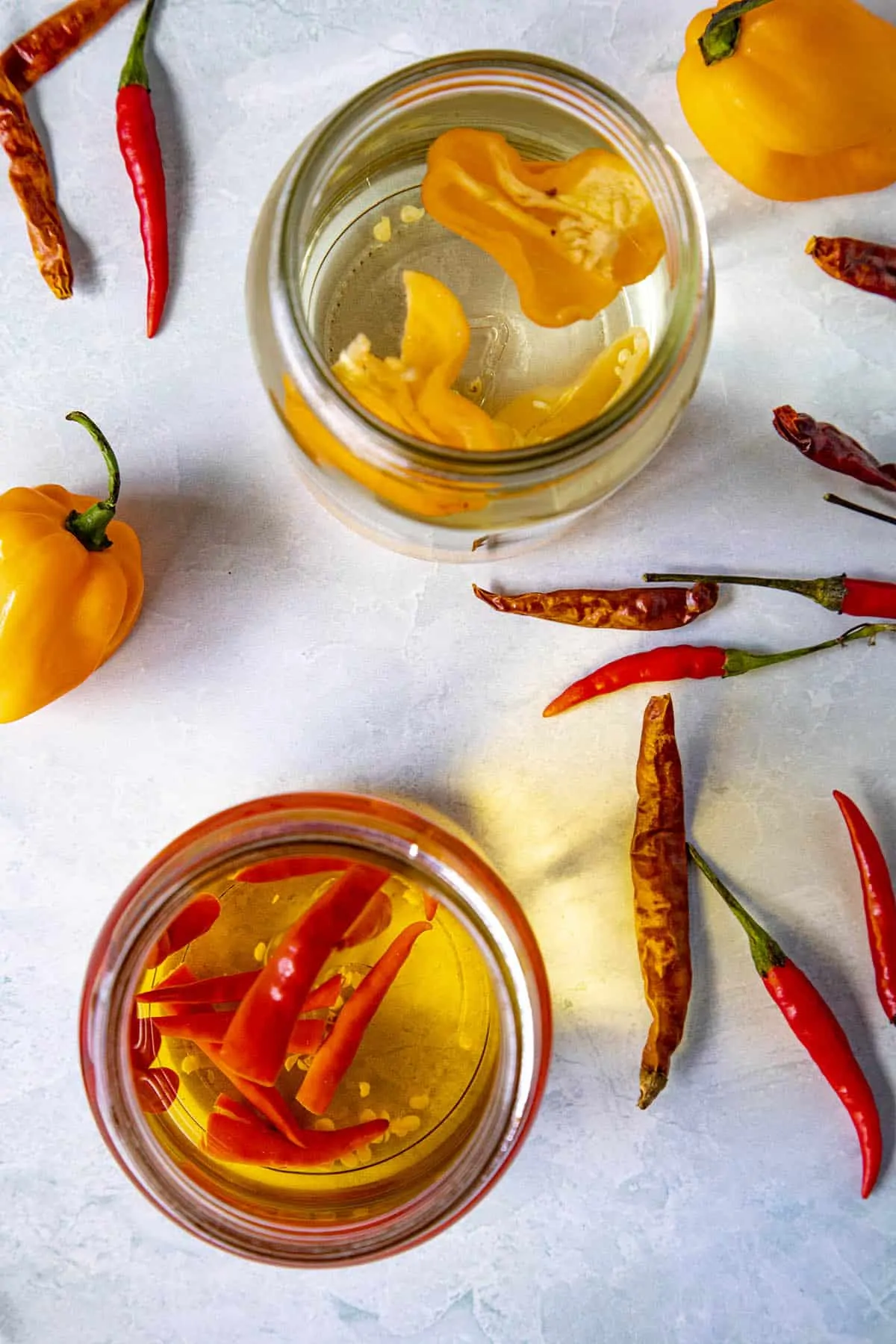 The chili peppers will eventually sink and your infused alcohol will be ready for consumption in anywhere from several hours to 3 or 4 weeks.
How Long Should I Steep the Peppers in Alcohol?
A good amount of time to infuse your alcohol with peppers is 3 days to 1 week. The longer you let the peppers steep in the alcohol, the more chili pepper flavor and heat you will get, though eventually, the peppers can begin to break down if they are left in long enough.
The best way to know if it is done to your liking is to taste the alcohol.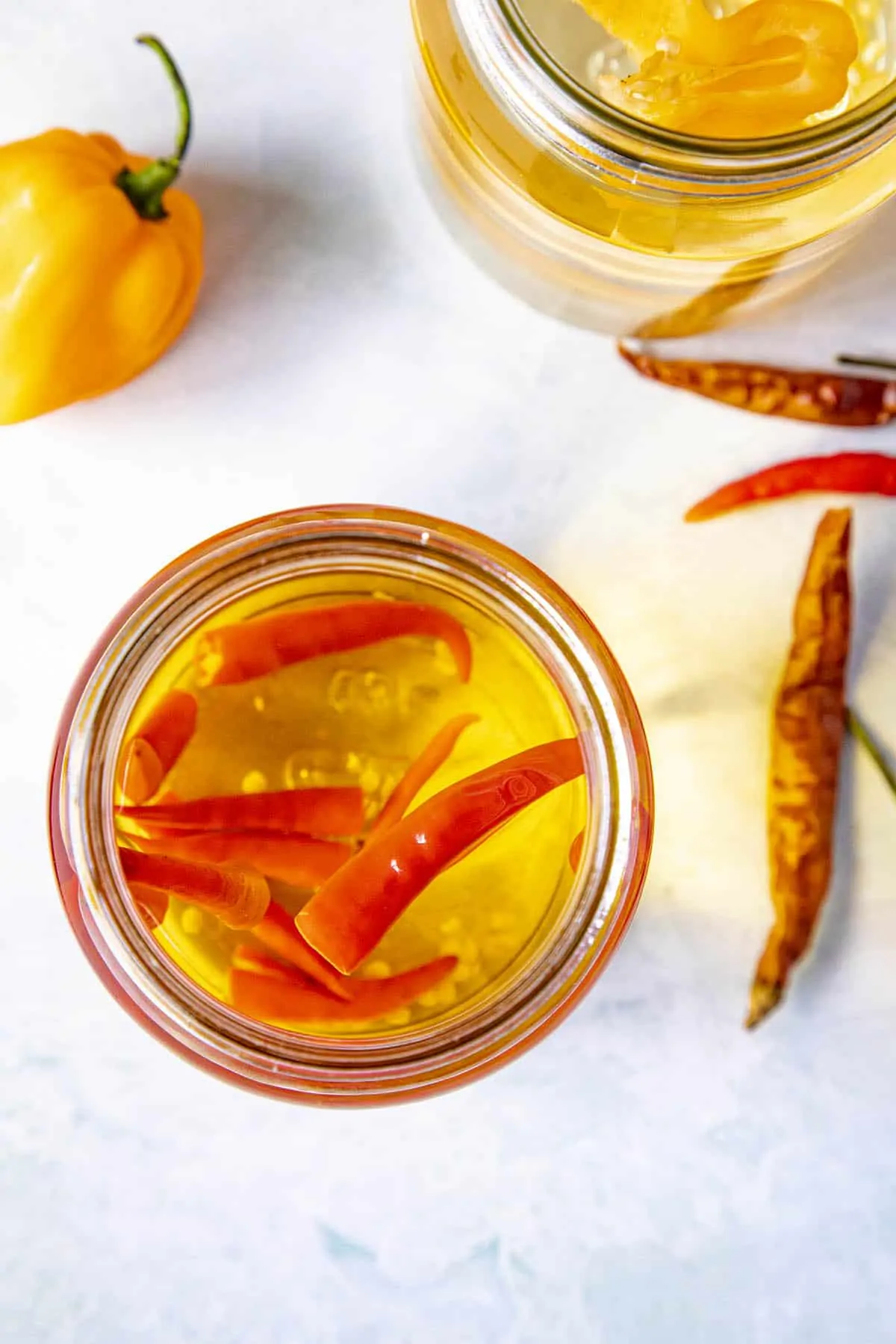 To Strain or Not to Strain
If you want your pepper infused booze to last longer, strain out the chili peppers and cap the bottle. Use a fine mesh strainer or cheese cloth to strain out the peppers. This will let you keep the alcohol for much longer, to be used in all of your favorite cocktail recipes.
You run the risk of contamination if you leave the fresh pods in your alcohol.
Can I Infuse a Single Drink with Peppers?
Absolutely. One of my favorite spicy sippers is to take a half of a superhot chili pepper, such as a Carolina Reaper or a Brain Strain and add it to a shaker with several ounces of either vodka or tequila. Give it a few shakes. Let it steep for a couple minutes if you'd like.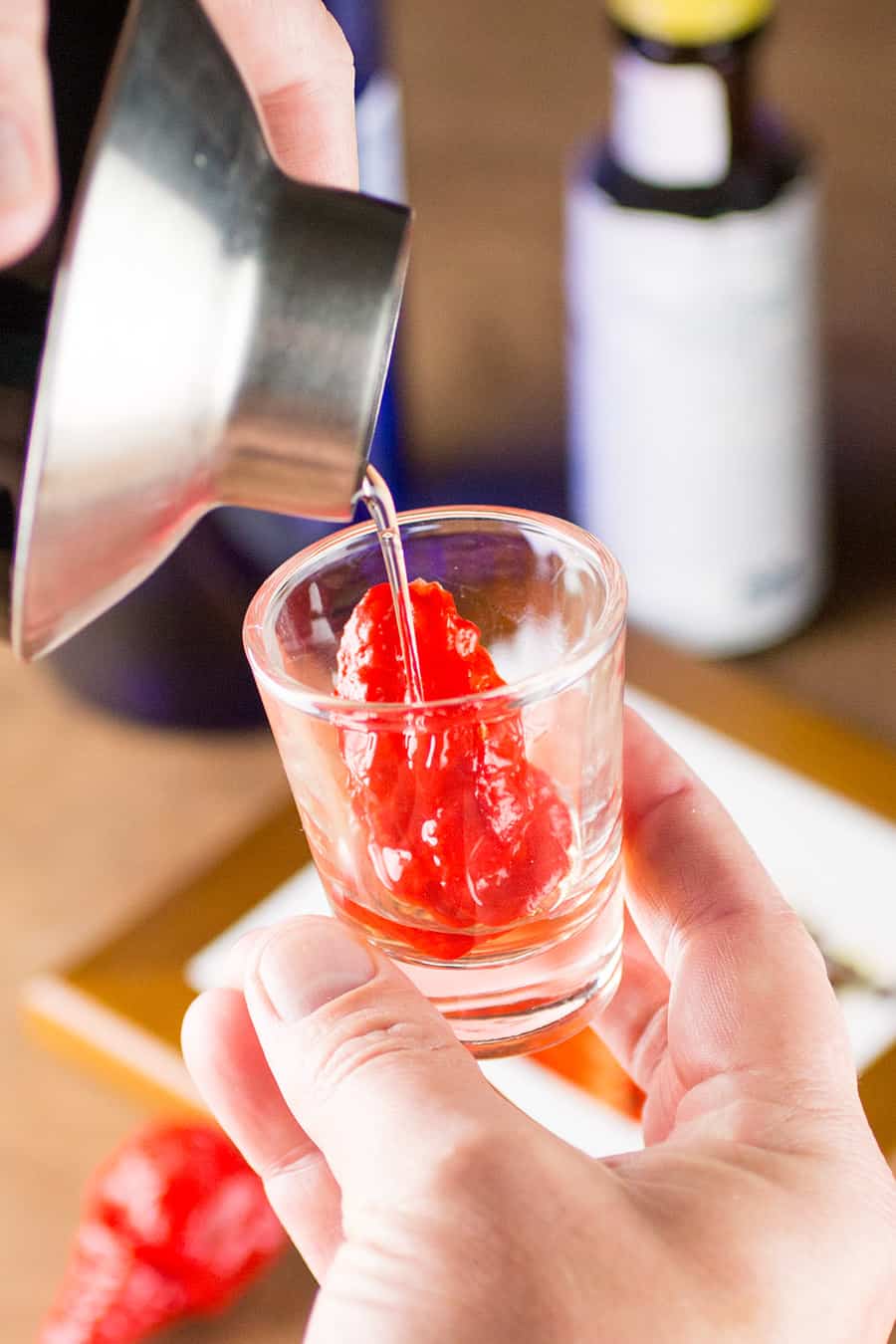 The superhots will infuse heat very quickly, so be forewarned. Pour your shot or drink and enjoy. It's a nice level of heat!
Try this Scorpion Tongue Vodka Shot Recipe. Nice and spicy!
Serving Up Your Pepper Infused Booze
Chili Pepper infused alcohol is great for mixed drinks like the famous Bloody Mary, Michelada, or the wonderful Margarita, though they also work great to incorporate into sauces and other meals.
Sometimes I enjoy a very simple tequila that has been infused with fresh jalapeno peppers. Absolutely delicious.
Some of Patty's favorite cocktails are jalapeno infused tequila drinks.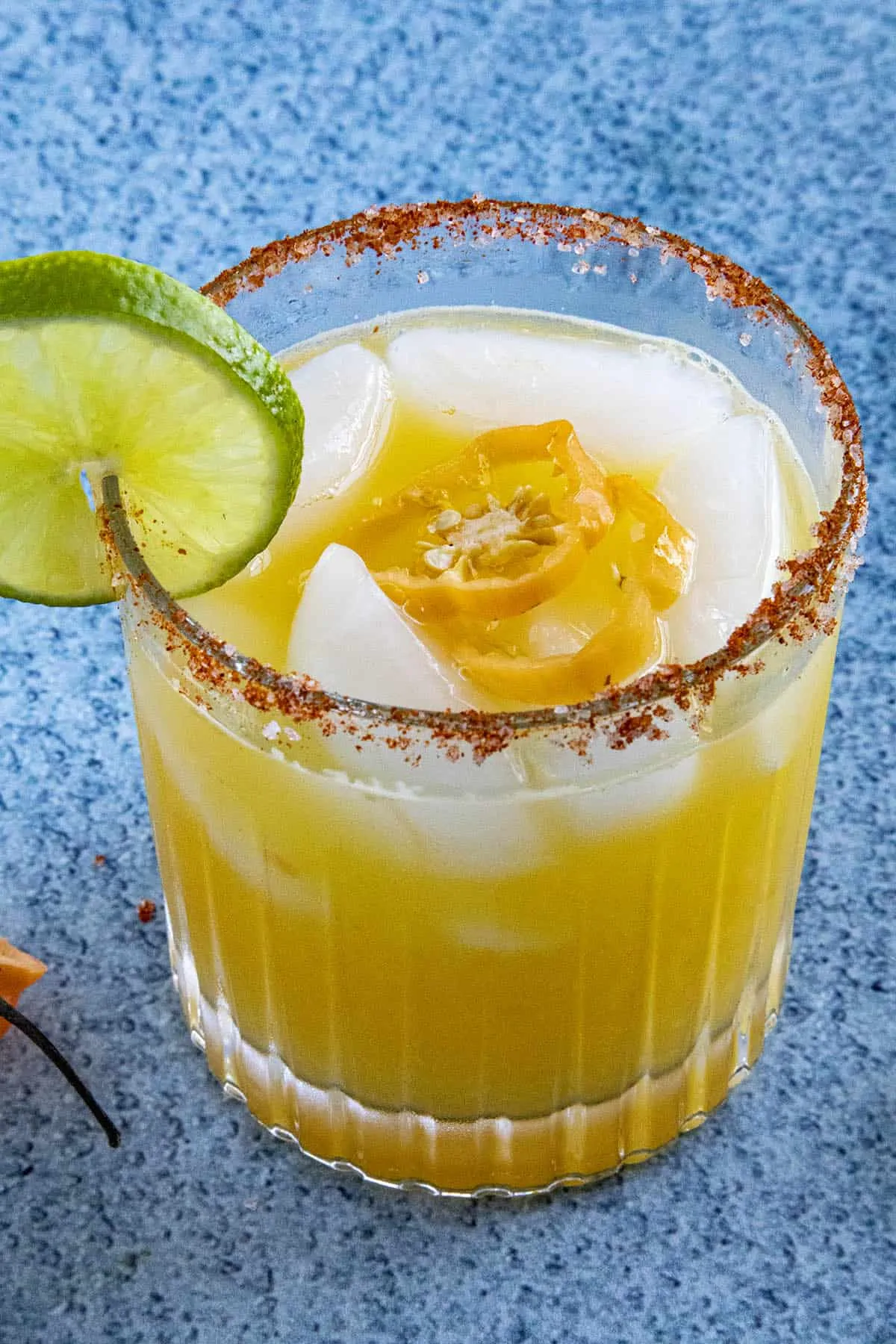 How Long Does Chili Infused Alcohol Last?
Chili pepper infused alcohol will last as long as the original non-infused alcohol with this method, provided you strain it.
Try These Infused and Other Spicy Cocktail Recipes
Got any questions? Ask away! I'm happy to help. If you enjoy this recipe, I hope you'll leave a comment with some STARS. Also, please share it on social media. Don't forget to tag us at #ChiliPepperMadness. I'll be sure to share! Thanks! — Mike H.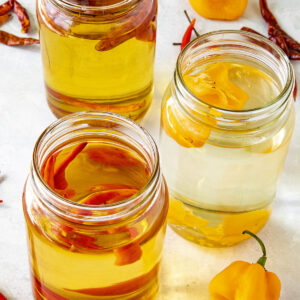 Print Recipe
How to Infuse Alcohol with Chili Peppers
Learn how to infuse alcoholic beverages with chili peppers to bring a spicy kick and flavor to your favorite drinks. Includes several powerful recipes.
Equipment
Large jar with lid, or use the bottle of alcohol.
Ingredients
16

ounces

alcohol

Use vodka, tequila, bourbon or whisky, gin, moonshine, or your own favorite type.

3

chili peppers

Medium Sized. Use jalapeno peppers for milder heat, serrano pepeprs for mid-level heat, habanero peppers for hot, or ghost peppers or hotter for a truly hot and spicy alcohol.
Instructions
Slice the chili peppers in half and add them to the bottle of alcohol. Be sure they float down beneath the alcohol and are not exposed to the air. Screw on the cap.

Alternatively, you can add the peppers to a jar and pour the alcohol over them.

Let the peppers steep in the alcohol for 2 days. You can steep them for anywhere from 2 hours to several weeks or longer.

Test the alcohol at intervals until you achieve the level of flavor and infusion you would like.

Strain out the peppers and enjoy.
Video
Notes
Chili pepper infused alcohol will last as long as any non-infused alcohol with this method.
NOTE: This post was updated on 9/4/20 to include new information, photos and video. It was originally published on 4/6/14.