Need Halloween shots ideas? Try this spicy vodka shot recipe, with blood orange vodka, bitters, energy drink and a big slice of scorpion pepper. The ultimate spicy vodka shot!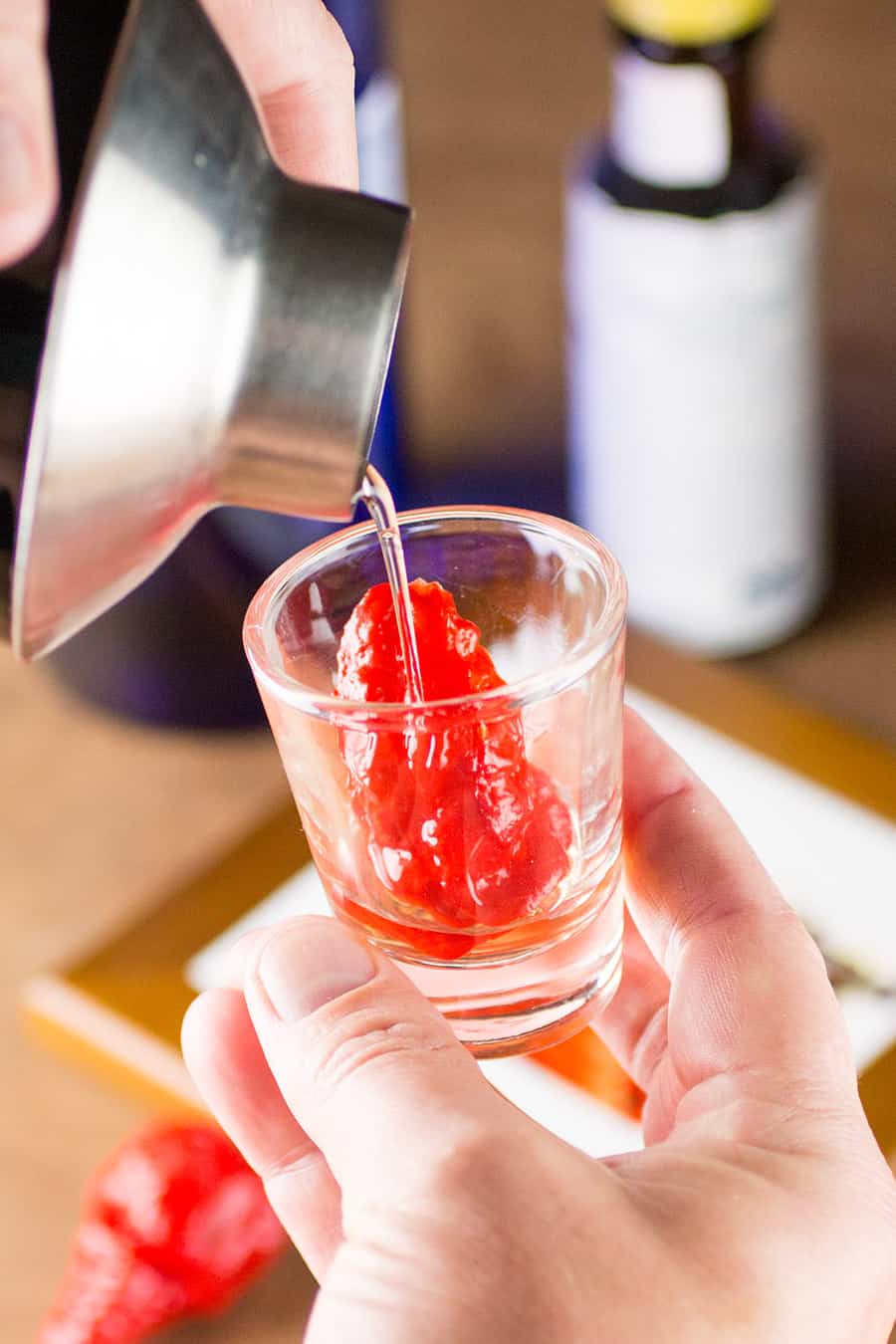 Yo, Patty here. An idea sprouted last night between Mike and I about what would be the ultimate Halloween shot, "Madness Style".
Since I'm the mixologist, of course it would be a shot or a cocktail. We have done the "finger food" parties for Halloween where you make everything look like a creepy finger. We've done plenty of themed parties and most included a special drink.
Not sure this recipe would be good for the masses, but it's actually quite tasty and I've found it's astounding how many guys are willing to taste all the superhot delights that Mike offers. Unfortunately, we haven't had a chance to share this with any of those crazy guys yet, but hopefully we will this Halloween.
Buwahaha. We says this is the ultimate spicy vodka shot because we're using crazy hot chili peppers here.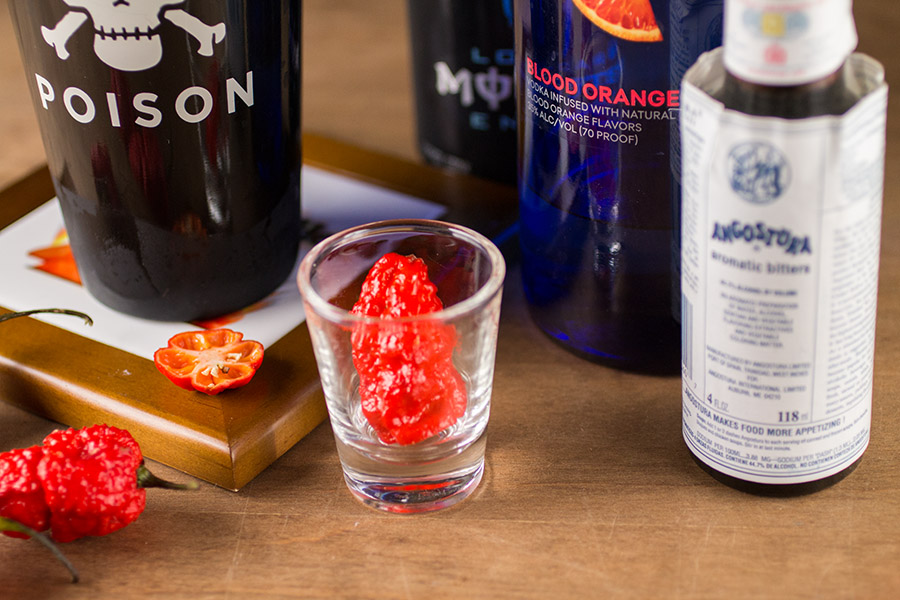 About the Ultimate Spicy Vodka Shot - Made with Scorpion Peppers
Since we have these superhot chili peppers that look just like devil's tongues, that was completely the inspiration. We're talking Scorpion Peppers, my friends, and they are CRAZY HOT. I went into our stash and started smelling different bottles to think of what would work.
I was also a bit tired so I instantly knew I wanted an energy drink. And most definitely a shot to really show off the shape of the peppers that look so much like devil's tongues. So, I hope you try our spooky creation and love it as much as we did.
If you like it hot, it won't scare you as much as you'd think.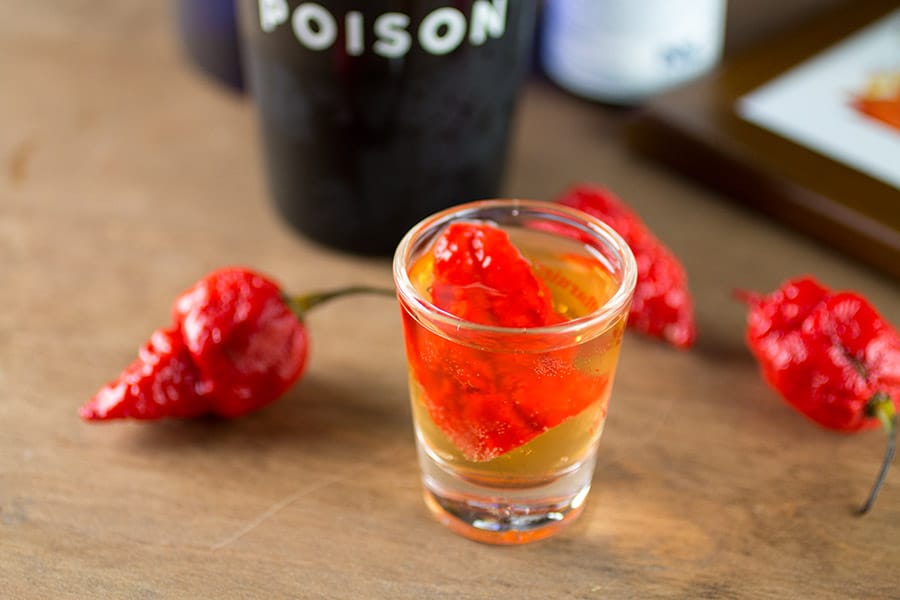 I had to have Mike drink this after I made it because I can't handle the heat from the superhots. Afterward, he had a big smile on his face and said, "ooh, that's got a bit of heat".
I then tried a bit, watered down somewhat with some extra Monster just to tone down the heat. It turned out really delicious.
It's a great vodka shot idea for those looking for scary Halloween shot ideas. Beware, this shot is TRULY HOT, and may freak some people out. You don't want to hurt anyone! If you'd like to keep the shot idea, but tame the heat, use a milder pepper like the habanero pepper, which still delivers plenty of heat.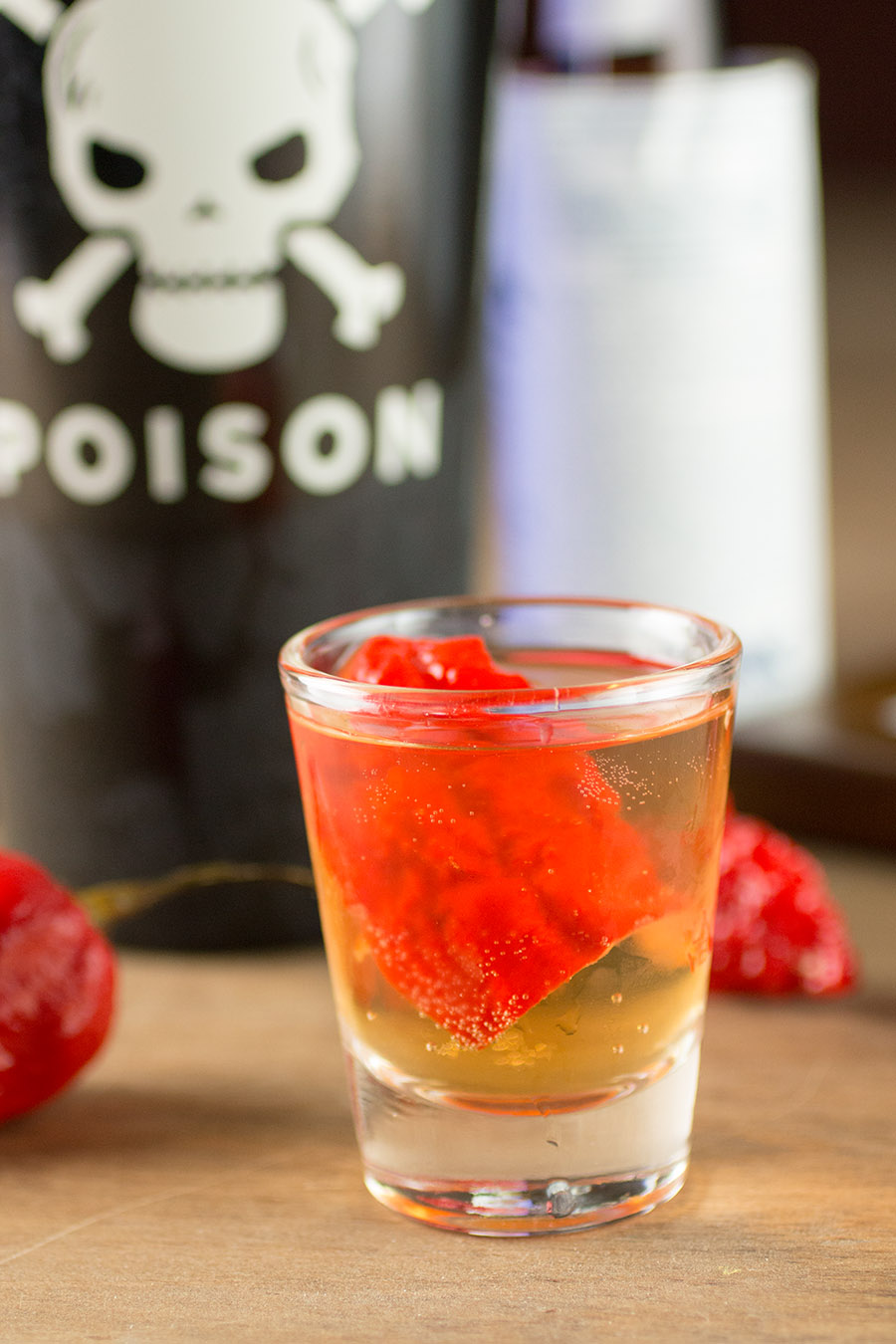 Mike's Perspective
Patty busted out the Apocalypse Scorpion peppers for this one. It is a cross of peppers from what I'm told, and I VOW to learn more, but it has that awesome Scorpion pepper heat, so beware. You can use pretty much any superhot for this shot. Try them all! Haha. I love it. May I have another?
Try Some of our Other Spicy Drinks and Cocktails Recipes.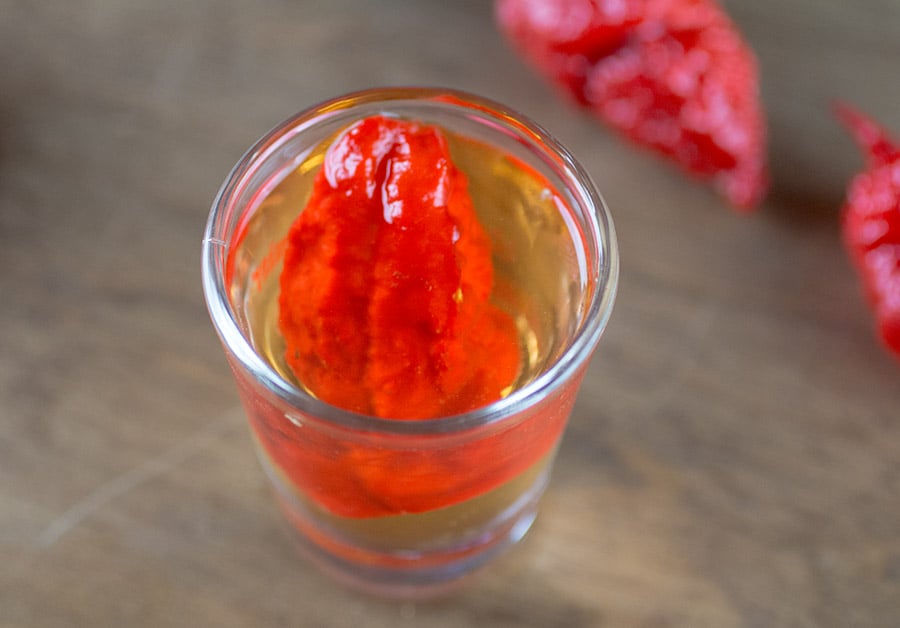 If you try this recipe, please let us know! Leave a comment, rate it and tag a photo #ChiliPepperMadness on Instagram so we can take a look. I always love to see all of your spicy inspirations. Thanks! -- Mike H.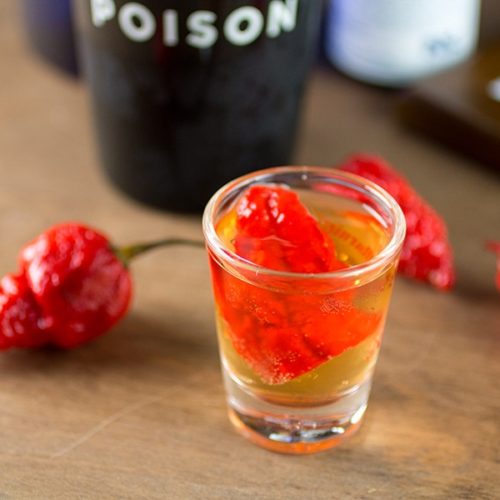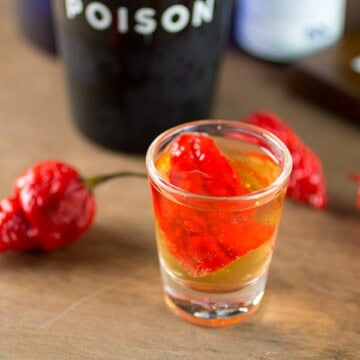 Print
Scorpion Tongue Vodka Shot Recipe
Need Halloween shots ideas? Try this spicy vodka shot recipe, with blood orange vodka, bitters, energy drink and a big slice of scorpion pepper. The ultimate spicy vodka shot!
Save Recipe
Saved!
Ingredients
1

scorpion pepper

1

ounce

blood orange vodka

3

dashes bitters

½

ounce

energy drink
Instructions
Chop the top off of the scorpion pepper. Chop the remaining body area in half lengthwise and place it into the shot glass like a tongue.

Put ice in a shaker, add the top of the scorpion pepper with the vodka and bitters.

Shake vigorously to infuse with the pepper.

Pour the vodka into the shot glass until it's about 2/3 full.

Top the glass off with the energy drink.

Enjoy!
Notes
Let it sit in the glass a bit longer to get even MORE of that Scorpion heat.
Nutrition Information
Calories:
97
kcal
Carbohydrates:
5
g
Sodium:
4
mg
Potassium:
144
mg
Sugar:
2
g
Vitamin A:
430
IU
Vitamin C:
64.7
mg
Iron:
0.5
mg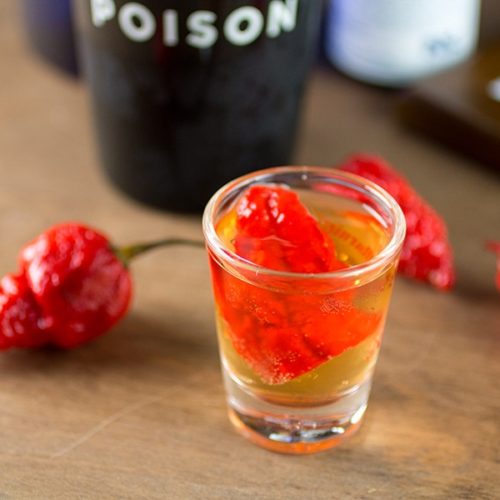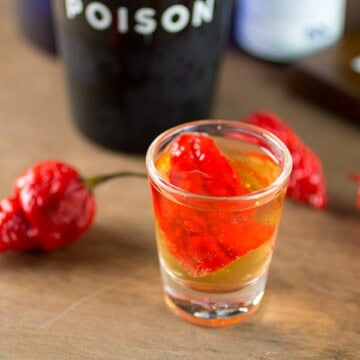 Did You Enjoy This Recipe?
I love hearing how you like it and how you made it your own. Leave a comment below and tag @ChiliPepperMadness on social media.