Enjoy your green tomatoes with this flavorful green chutney recipe with step-by-step instructions. Uses plenty green tomatoes, chilies, garlic and lots of seasonings. Perfect condiment and flavor enhancer.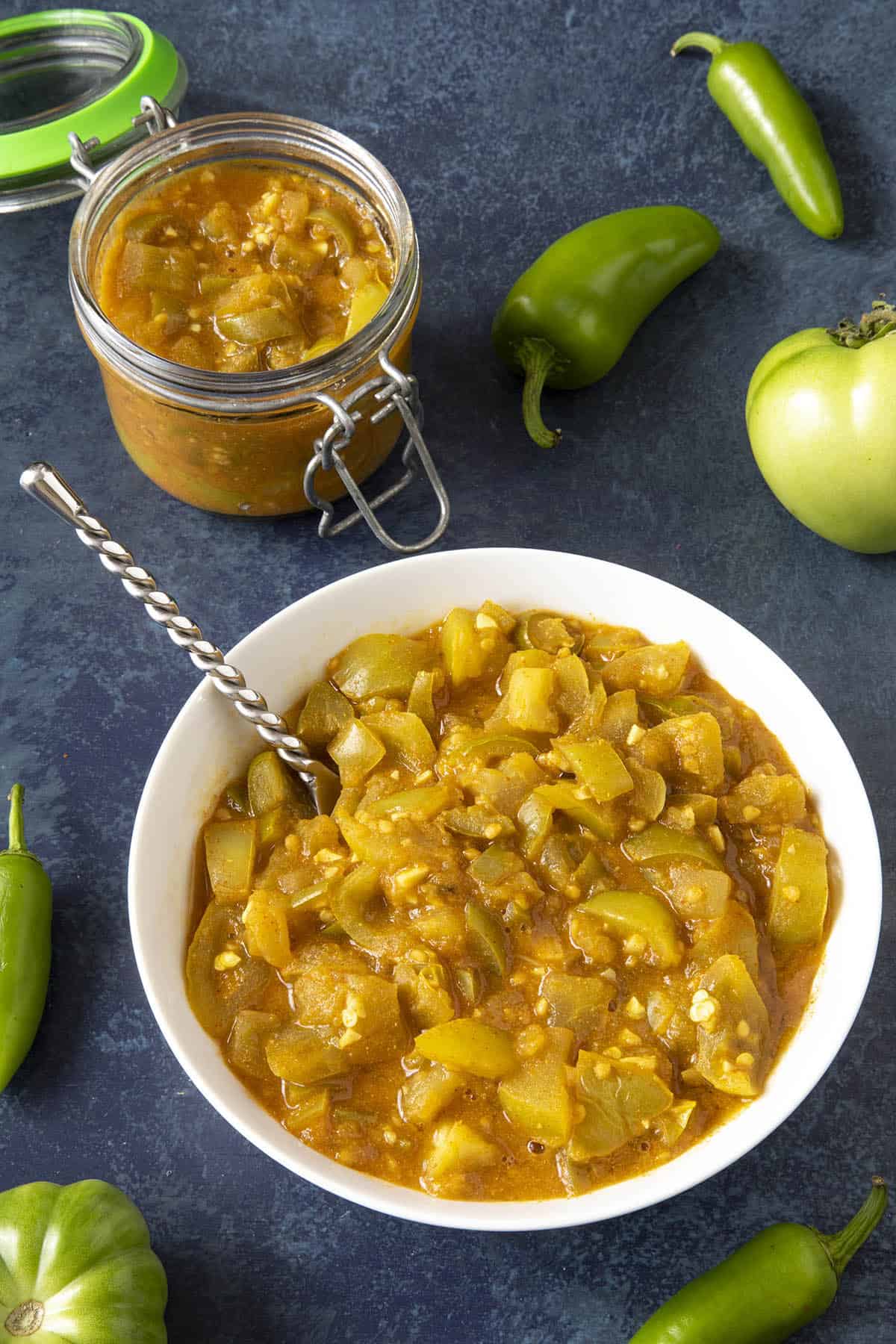 I love a good chutney recipe. I keep at least one in my refrigerator rather frequently, mostly because I enjoy using them as a flavor builder, sort of as a general all-purpose condiment that's different from the norm, but also because making chutney is a great way to use veggies that I don't want to see go to waste.
Case in point - Green Tomato Chutney.
I very often wind up with a few jars of green tomato chutney at the end of my growing season. So many times I still have a lot of green tomatoes on the vines that haven't ripened, and frost is threatening to destroy them. Rather than letting them go to waste, I will pick the green tomatoes and make green tomato chutney.
Sure, there are other ways to use them up - fried green tomatoes (YUM!), ripening them on the window sill, but you should consider green tomato chutney as an option because it's just so darned tasty. Sometimes I will run out and pick green tomatoes in the summer just because I want green tomato chutney. Is this wrong? I think not!
Green tomatoes have a different flavor from ripe red tomatoes. Green tomatoes are grassier, obviously "greener" to taste, with a slight bitterness that can be quite welcoming.
Let's talk about how we make green tomato chutney, shall we?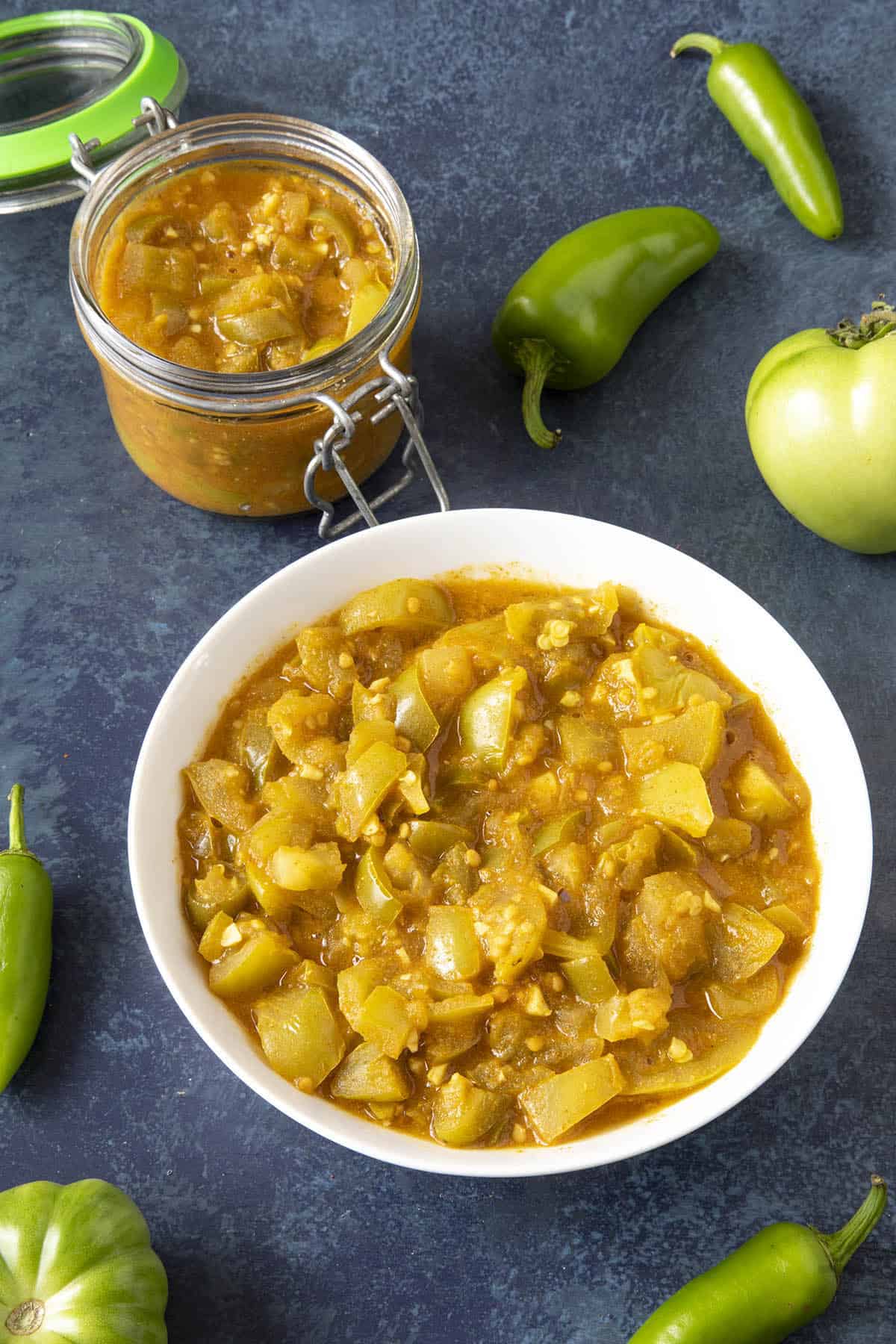 Green Tomato Chutney Ingredients
Green Tomatoes. Chopped.
Green Chilies of Choice. Chopped.
Garlic. Minced.
Apple Cider Vinegar.
Yellow Curry Powder.
Cayenne.
Ginger Powder. Or use fresh chopped ginger.
Mustard Powder.
Sugar.
Salt.
How to Make Green Tomato Chutney - the Recipe Method
First, heat a pot to medium heat and add all of the ingredients.
Simmer, stirring often, until the mixture breaks down and becomes thick and sauce, about 20 minutes.
Enjoy! Store your green tomato chutney in the refrigerator sealed in glass jars for a month or so, or freeze it for up to 3 months.
Simple, isn't it? It's basically a bit of chopping and simmering. You can beat that for simplicity!
You can, of course preserve your chutney if you'd like to keep it longer in your pantry.
How to Preserve Green Tomato Chutney
If you'd like to preserve your chutney for keeping in your pantry, you can process filled jars in a water bath.
Here are the steps to preserve your chutney with the water bath method.
The National Center for Home Food Preservation provides home canning instructions and many recipes that have been tested for food safety. NCHFP.uga.edu.
Wash jars, lids and rings in hot soapy water, or run jars and rings through the dishwasher. If a recipe calls for 10 minutes or more processing time, you do not need to sterilize jars by boiling.
Scoop the chutney into the jars, leaving a ½ inch space. A canning funnel is very useful. Use a wooden or plastic chop stick to release any air bubbles. Wipe the rims clean with a wet paper towel. Place lids and rings onto the jars, gently twist the rings until they stop, then tighten just once more inch. Air must be allowed to escape. The canner should have warm water in it about a quarter filled. (Don't place cool or cold jars into hot water.) Place the jars on the rack and add more water to cover the jars with 1" of water. Bring water to a rolling boil and start the timer for 15 minutes.
Turn off heat and wait 5 minutes. Then lift the jars out and put on a dish towel on a cutting board. Do not put hot jars on a cold surface. A canning jar lifter is almost essential, as you do not want to tilt the jars. (The water on top will evaporate and does not need to be removed). Don't touch the jars or rings for 12-24 hours. The lids with pop tight as they cool, rather quickly. If a lid doesn't seal within an hour, replace the lid and reprocess, or put in the refrigerator.
Remove the rings and wash the jars thoroughly. Store jars in a cool, dry place without the rings. Label with contents and date.
NOTE: The processing time is for altitudes of 1,000 feet or less. For altitudes up to 3,000 feet, add 5 minutes; 6,000 feet, add 10 minutes; 8,000 feet, add 15 minutes; 10,000 feet, add 20 minutes.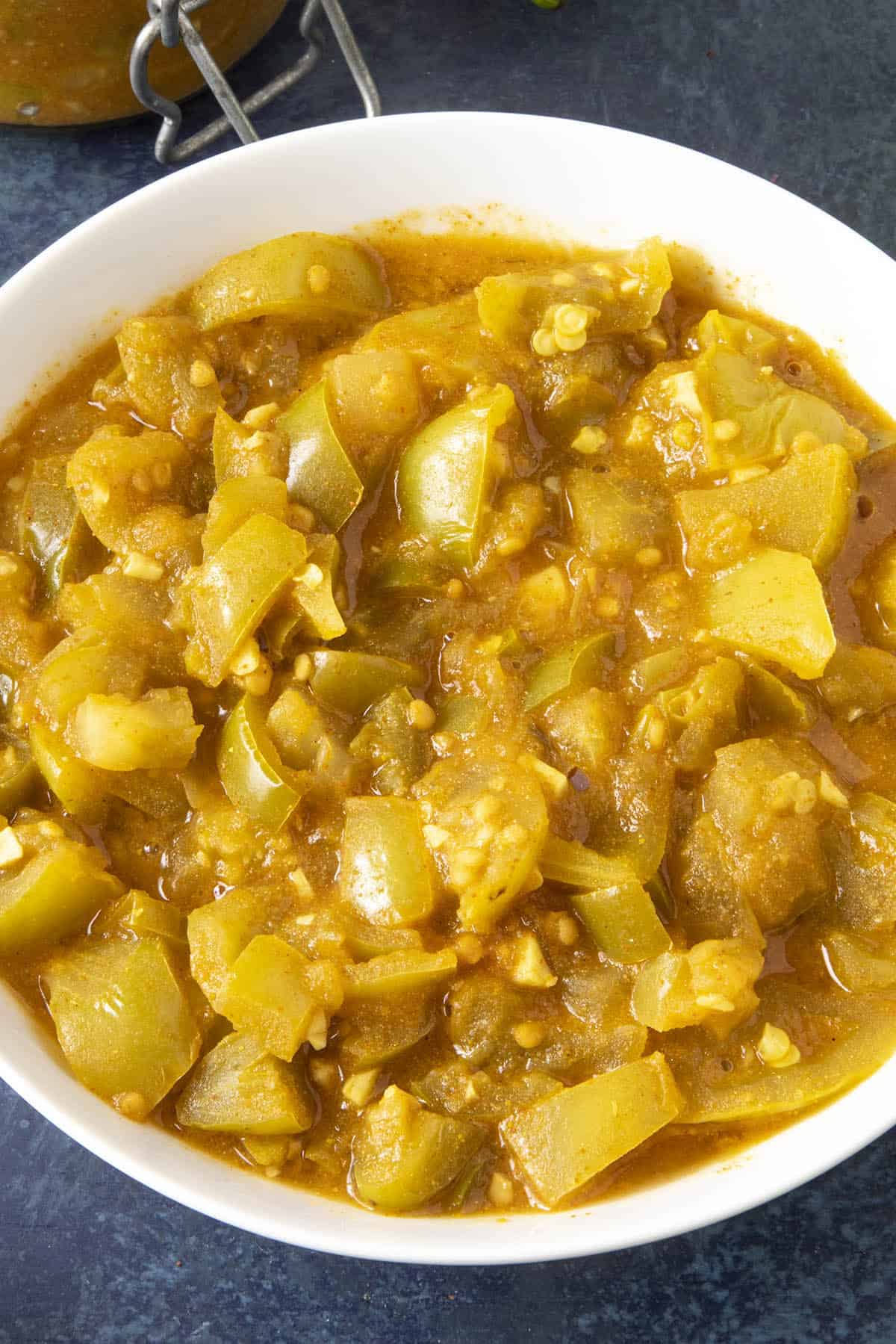 Recipe Tips & Notes
Simmering. You can simmer shorter or longer, depending on the consistency you'd like. Longer for more sauce. Add extra liquid if you want it thinner.
Ingredients. The definition of a "chutney" is a basically condiment made with a mixture of vegetables and/or fruits, often mixed with vinegar, spices, and some form of sweetener, such as sugar or honey. You can easily vary up the ratios of your ingredients, and try different fruit additions, like mango or pineapple, as well as introduce other vegetables, like other spicy chili peppers.
The Peppers. I like to use spicier peppers for my recipe, as (shocker!), I like it spicy. however, if you're looking for a milder version, use green bell peppers. You'll still get great flavor without the heat.
Seasonings. You can use so many! I've used curry powder, cayenne, ginger, mustard, sugar and salt. Try using different chili powders, toss in some herbs, use mustard seeds, brown sugar, or even your own favorite seasoning blends.
Serving Suggestions for Green Tomato Chutney
Green tomato chutney is a versatile, everyday condiment. Use it anywhere you might use ketchup for a wonderful change up. Spoon it onto sandwiches, as part of a charcuterie board, or mixed with your morning scrambled eggs. It is great spooned over grilled meats, like chicken or pork, or served over grilled sausages. It will also go right along perfectly with your spicy Indian dishes, like your favorite curry recipes.
That's it, my friends! I hope you enjoy your green tomato chutney! This stuff ROCKS! So many ways to enjoy it.
Storage & Leftovers
Storing your Green Tomato Chutney in an airtight container in the fridge may allow you to store the leftovers for up to 2-3 weeks. To maximize the storage life, make sure to refrigerate it promptly.
Try Some of My Other Popular Recipes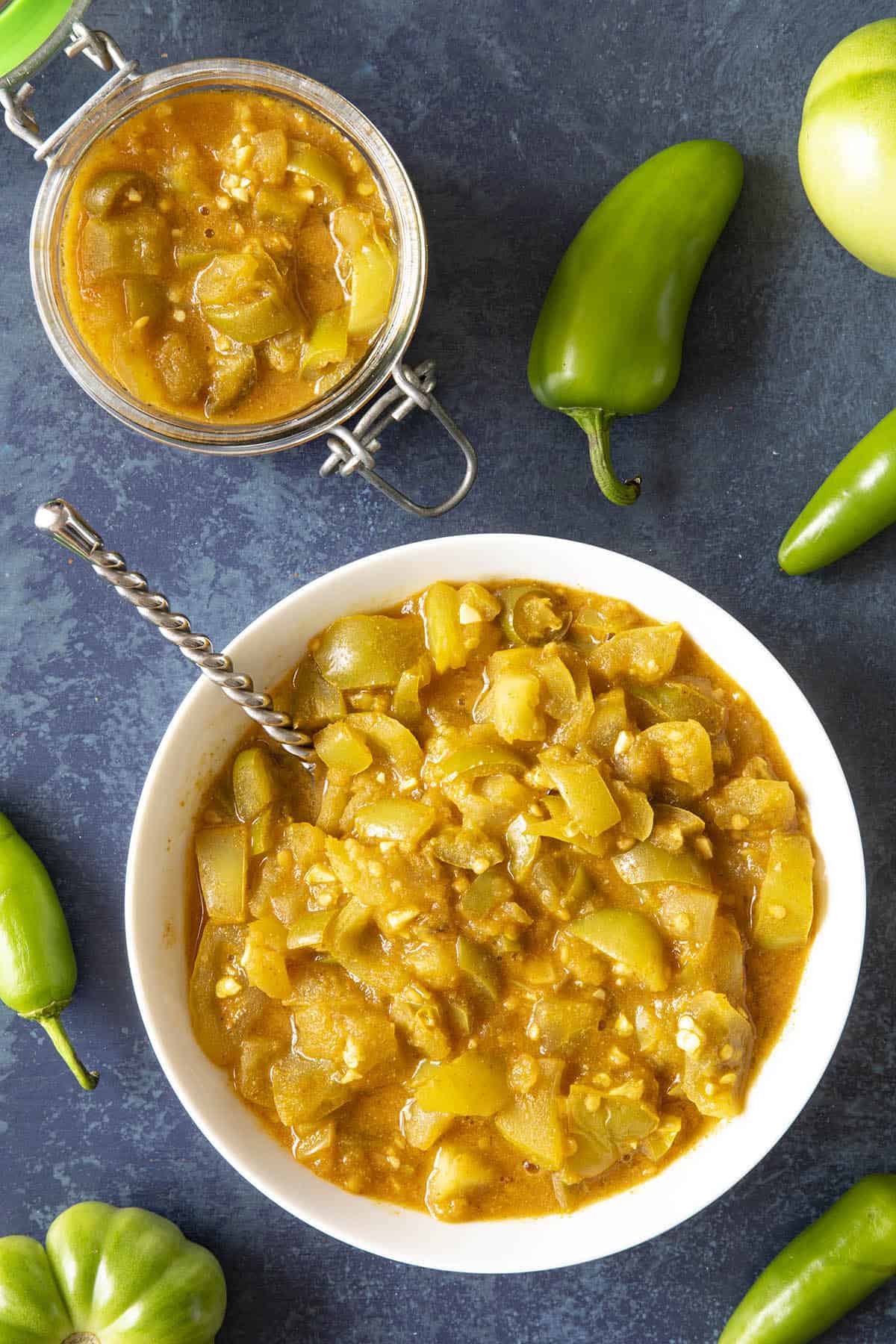 Got any questions? Ask away! I'm happy to help. If you enjoy this recipe, I hope you'll leave a comment with some STARS. Also, please share it on social media. Don't forget to tag us at #ChiliPepperMadness. I'll be sure to share! Thanks! — Mike H.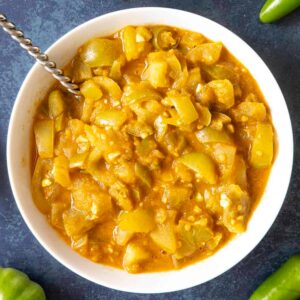 Print
Green Tomato Chutney Recipe
Enjoy your green tomatoes with this flavorful green chutney recipe with step-by-step instructions. Uses plenty green tomatoes, chilies, garlic and lots of seasonings. Perfect condiment and flavor enhancer.
Save Recipe
Saved!
Ingredients
1.5

pounds

green tomatoes

chopped

2-3

green chilies of choice

chopped

2

cloves

garlic

minced

½

cup

apple cider vinegar

1

tablespoon

yellow curry powder

1

tablespoon

cayenne

1

tablespoon

ginger powder

or use fresh chopped ginger

1

teaspoon

mustard powder

1

teaspoon

sugar

½

teaspoon

salt
Instructions
Heat a pot to medium heat and add all of the ingredients.

Simmer, stirring often, until the mixture breaks down and becomes thick and sauce, about 20 minutes.

Enjoy!
Video
Notes
Heat Factor: Mild, though you can easily adjust the heat with hotter or milder peppers, as well as chili flakes and powders.
Store in the fridge in airtight containers. Should last about a month.
Makes about 2.5 cups.
Nutrition Information
Calories:
7
kcal
Carbohydrates:
1
g
Protein:
1
g
Fat:
1
g
Saturated Fat:
1
g
Sodium:
39
mg
Potassium:
43
mg
Fiber:
1
g
Sugar:
1
g
Vitamin A:
163
IU
Vitamin C:
4
mg
Calcium:
3
mg
Iron:
1
mg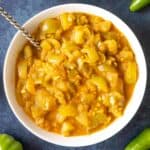 Did You Enjoy This Recipe?
I love hearing how you like it and how you made it your own. Leave a comment below and tag @ChiliPepperMadness on social media.