This homemade chili-garlic sauce recipe is much like Huy Fong chili garlic sauce, but freshly made, no preservatives, super easy to make and so versatile.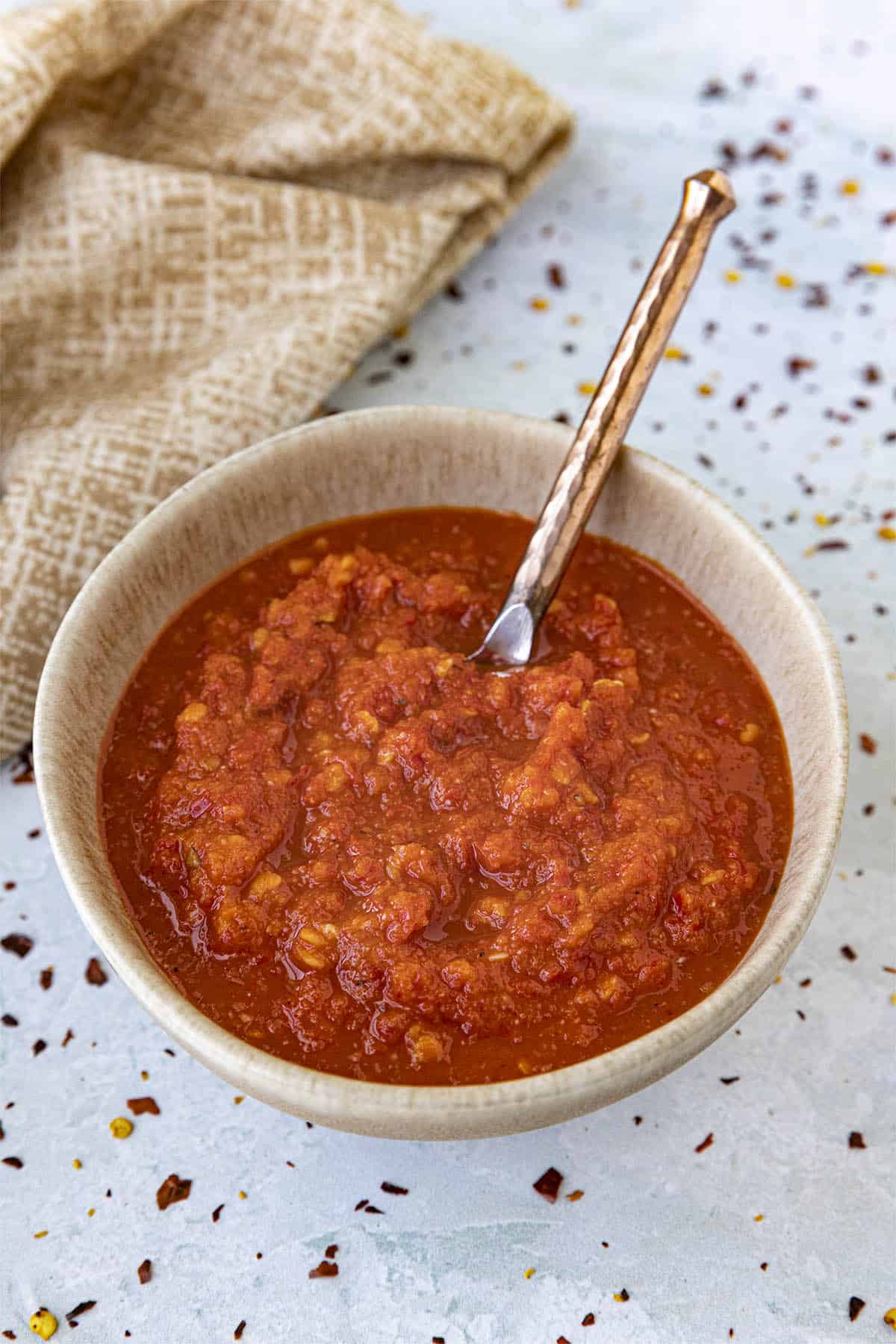 My Favorite Chili-Garlic Sauce Recipe
Walking through your typical grocery store, most likely you aren't going to find many chili-garlic sauces available to you. You'll probably find "Huy Fong" chili garlic sauce in the Asian aisle, maybe one other competing brand, but that's about it.
Unless you're in a specialty store, your choices are fairly limited, and specialty stores are few and far between unless you're living within a fair sized city.
Chili-Garlic Sauce is something I use regularly. Unlike Sriracha, it is a freshly made sauce, unfermented, and is meant more for cooking rather than a condiment, though it can be used for both purposes.
In fact, if you're out of chili-garlic sauce, you CAN use Sriracha as a substitute, but it isn't quite the same in texture and flavor.
Check out my Homemade Sriracha Hot Sauce Recipe (both fermented and unfermented versions).
Sometimes you want one over the other. Lucky for us, we know how to make our own chili-garlic sauce at home on our own. Well, at least NOW we all do!
Because here is the recipe. Ready in well under 30 minutes!
The recipe is simple enough. It uses only 4 main ingredients, aside from salt and pepper - chili peppers, garlic, sugar and vinegar.
Let's talk about how to make chili garlic sauce!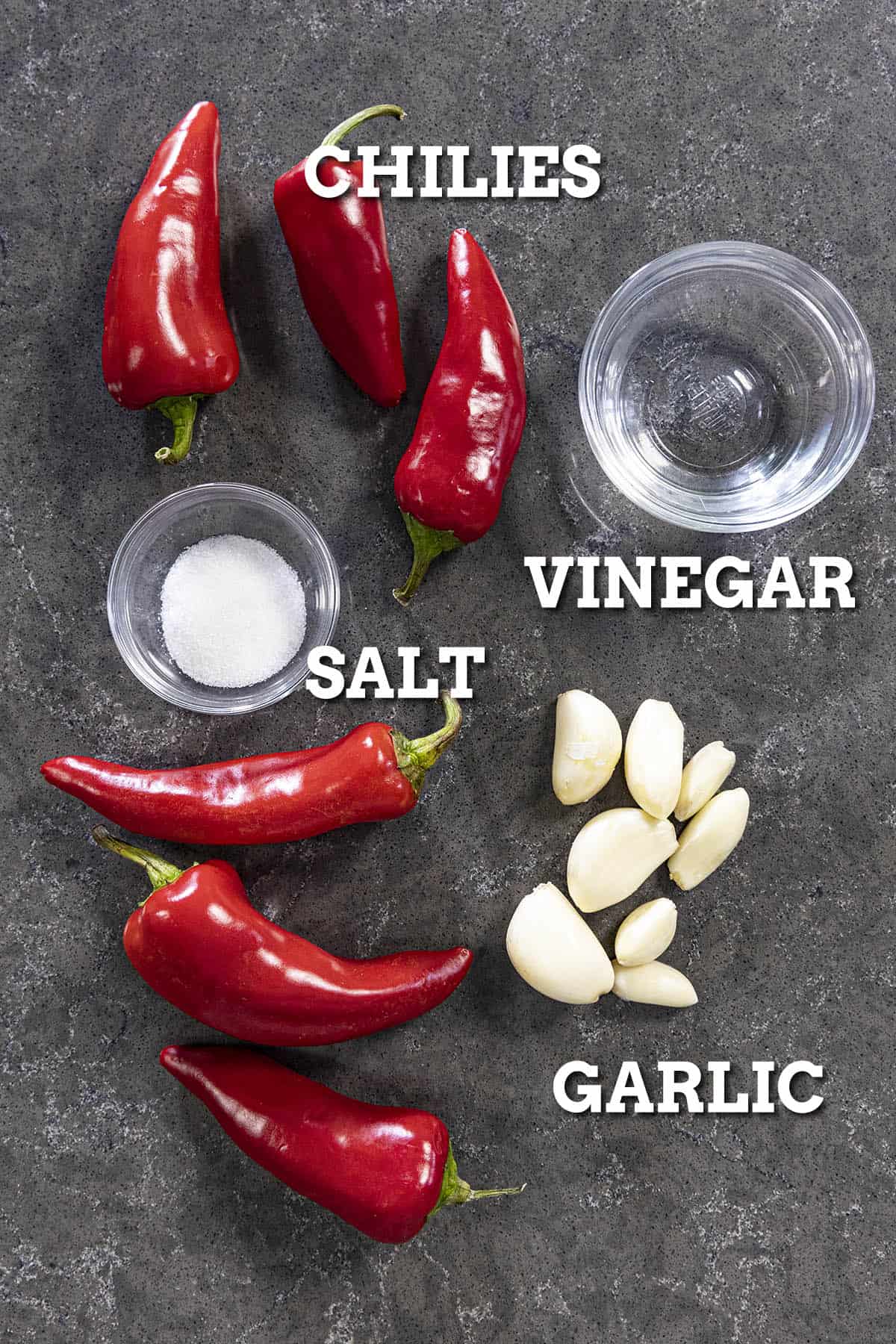 Chili-Garlic Sauce Ingredients
Chili Peppers. This works for any peppers you like to work with. I used a bunch of Fresno peppers. Ideally, use colorful red chilies for appearance, if you prefer your chili garlic sauce to look more like the store bought product, but you really can use any peppers. Consider using a variety. See the Recipe Notes for further discussion.
Garlic. Fresh minced garlic is ideal.
Sugar. If desired, for a touch of sweetness.
Vinegar. I use white vinegar.
Salt and Pepper. To taste.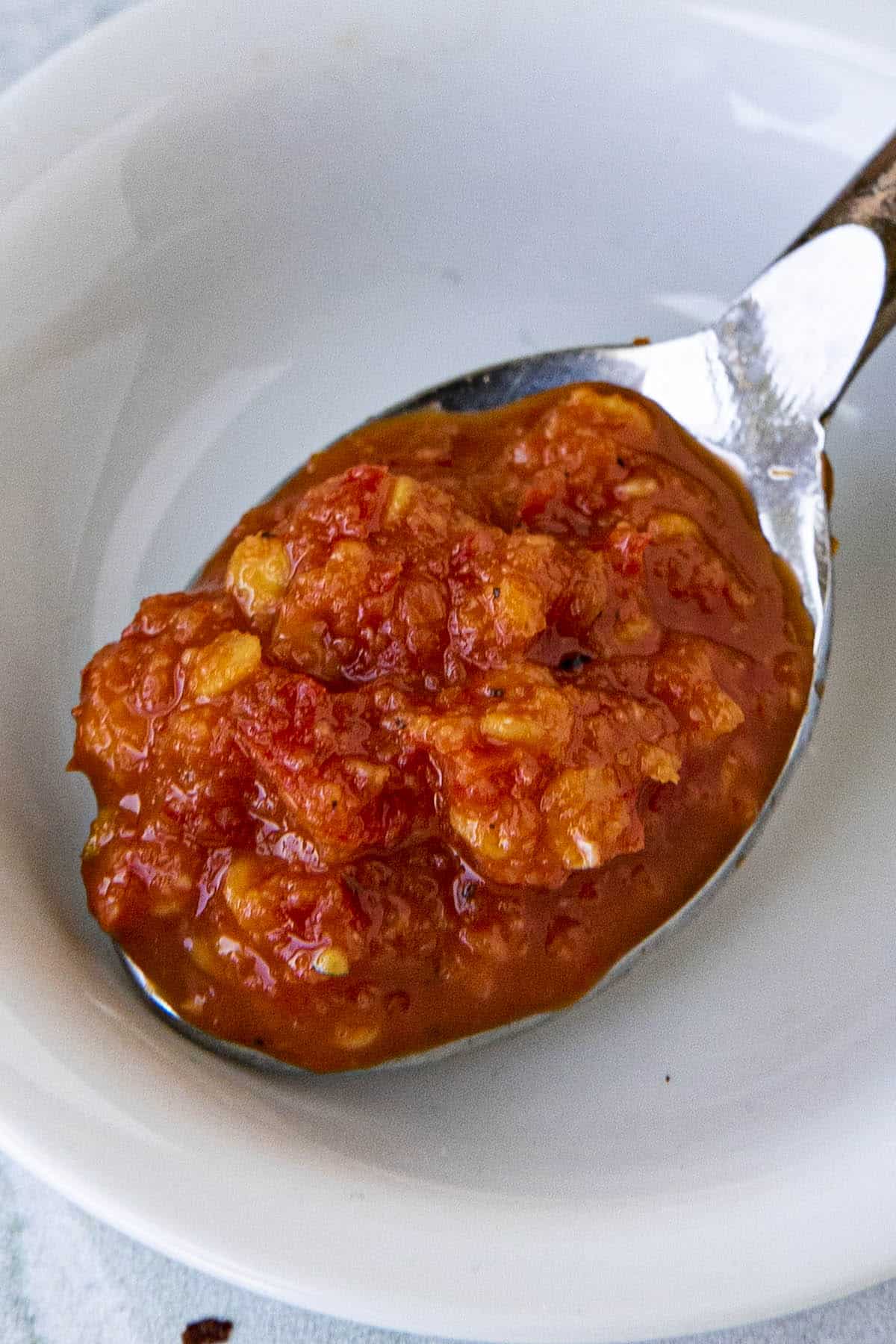 How to Make Chili-Garlic Sauce
Select Your Chilies. First, select and measure out your chili peppers by weight. Four ounces is good. You can choose any type of pepper to make a good chili-garlic paste, though Thai chiles are traditional in some regions.
Red, fresh, vibrant peppers are ideal. Consider cayennes, red jalapenos, red serranos, or Fresno peppers to make this sauce.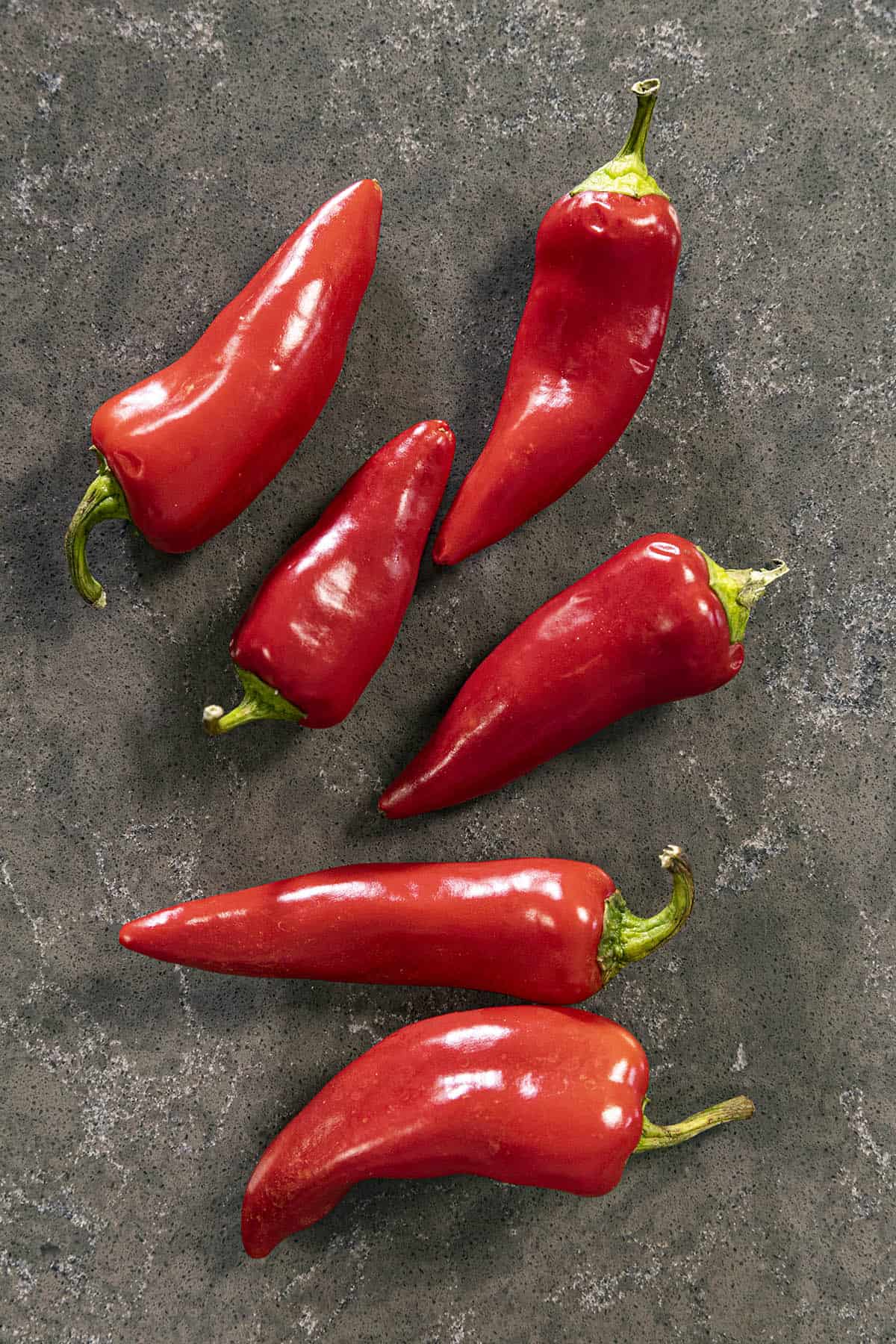 Add Ingredients to a Food Processor. Add the peppers to a food processor along with 4 garlic cloves, 1 teaspoon sugar, 2 tablespoons white vinegar, and a bit of salt and pepper.
Process Until Smooth. Next, process to form your sauce.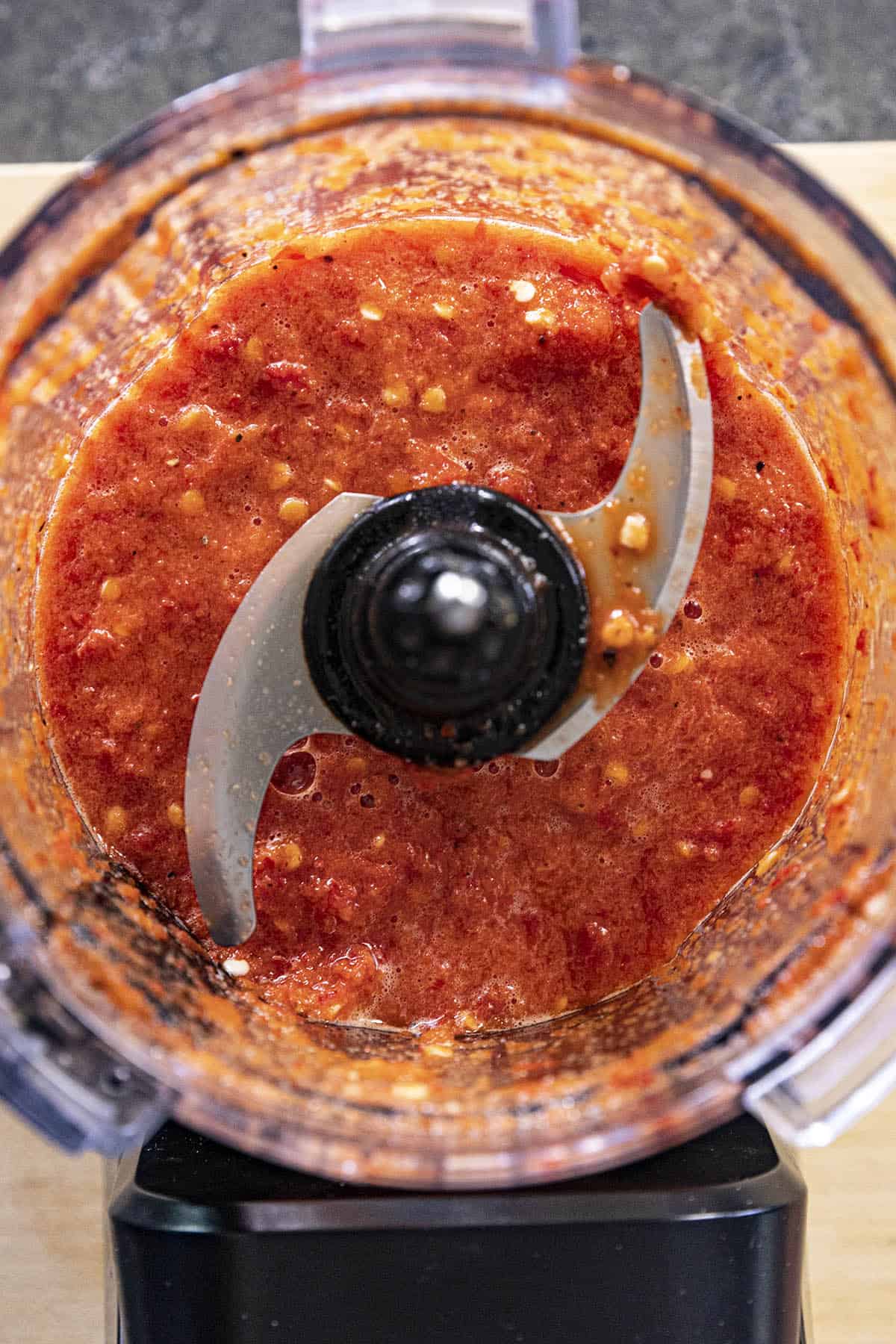 Simmer the Chili Garlic Sauce. Pour all of the ingredients into a pot and simmer them for 10 minutes at medium heat to meld the flavors.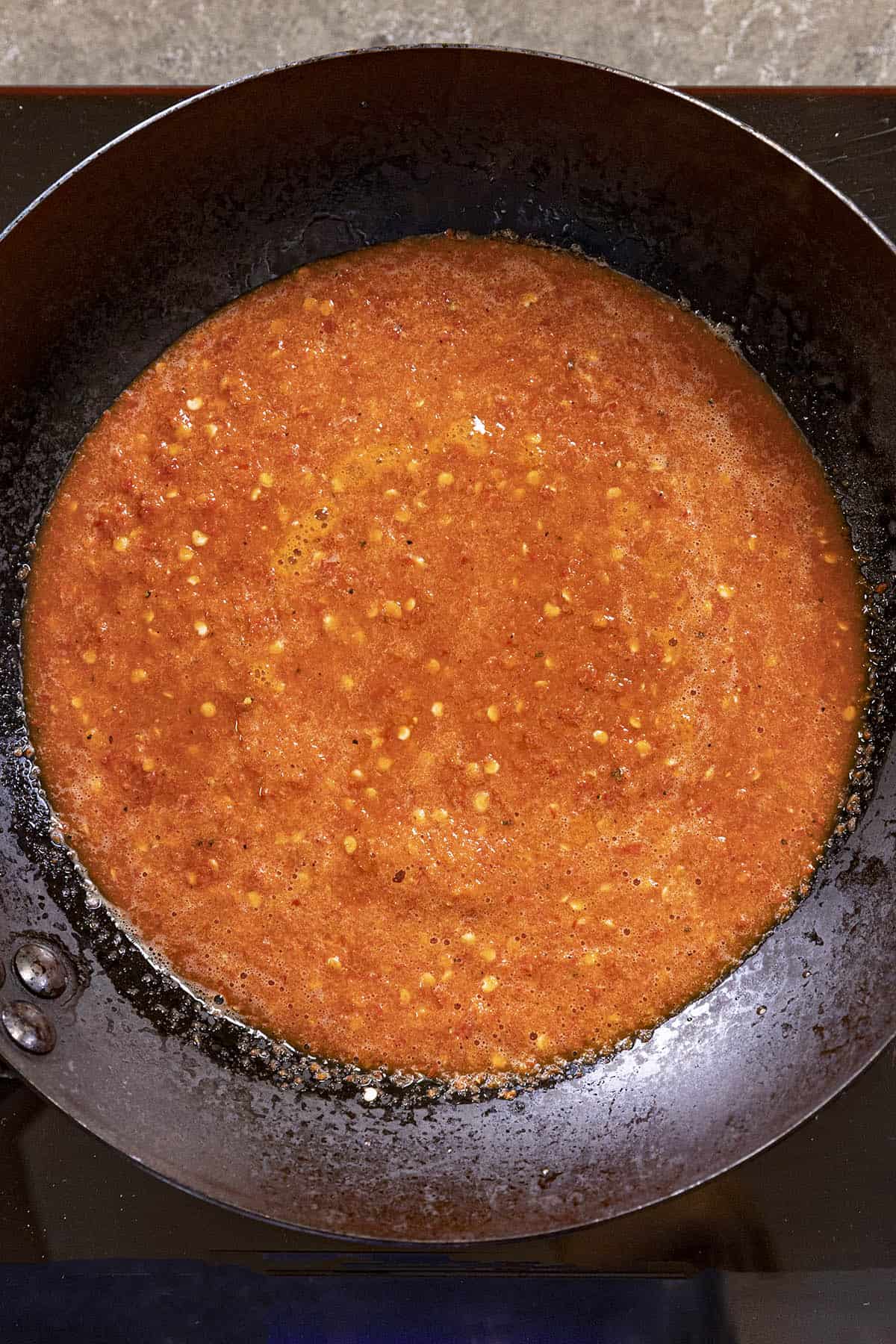 Refrigerate Until Ready to Use. Finally, cool and adjust with a bit more salt and pepper to your personal tastes. Store in a sealed jar in the fridge until ready to use.
Boom! Done! Your homemade chili-garlic sauce is ready to use. It really is very easy to make, and I like it so much better than anything from the grocery store.
It's absolutely delicious.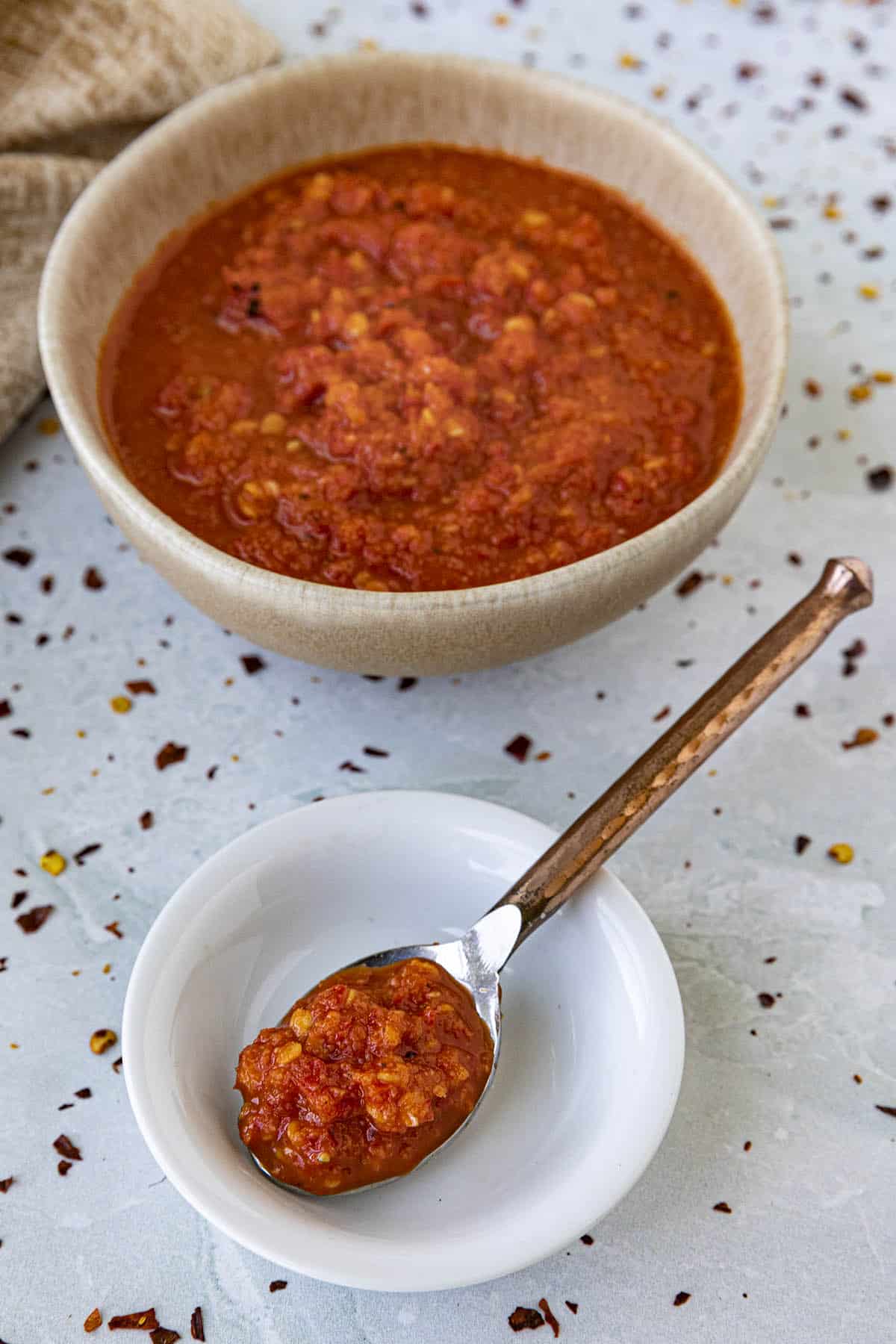 Adjusting the Heat Level
I often make this with medium-hot level chili peppers, though realistically you can make this recipe with any type of pepper. Use sweet peppers for a no-heat version that can still be used in many, many recipes.
Go with ghost peppers or above - see my list of superhot chili peppers - for a seriously HOT version. Best case is to use a good variety for both heat and flavor.
Wear gloves if needed when working with very hot peppers.
Recipe Making Tips
The Chili Peppers
It is best to use the freshest chili peppers available to you, so be sure to check the peppers for blemishes or spots. You can, however, make this with frozen chili peppers as well.
Just be sure to thaw them out and dry them a bit with a paper towel before processing.
If using dried chiles to make this recipe, rehydrate them first in hot water.
If you have a larger food processor, it is best to make a larger batch so the ingredients can be properly processed.
Flavor Tweaks
This recipe is ideal on its own for flavor boosts in cooking, but you can add other ingredients to your preference. Consider onion, tomato, or fresh herbs.
Fish sauce is a wonderful addition of umami.
Storage Information
Chili-garlic sauce will last 1-2 months or longer in the refrigerator in a sealed container. The vinegar acts as a preservative, which will let it keep longer.
You can also freeze it for up to 6 months. It freezes nicely. Simply thaw and use as needed.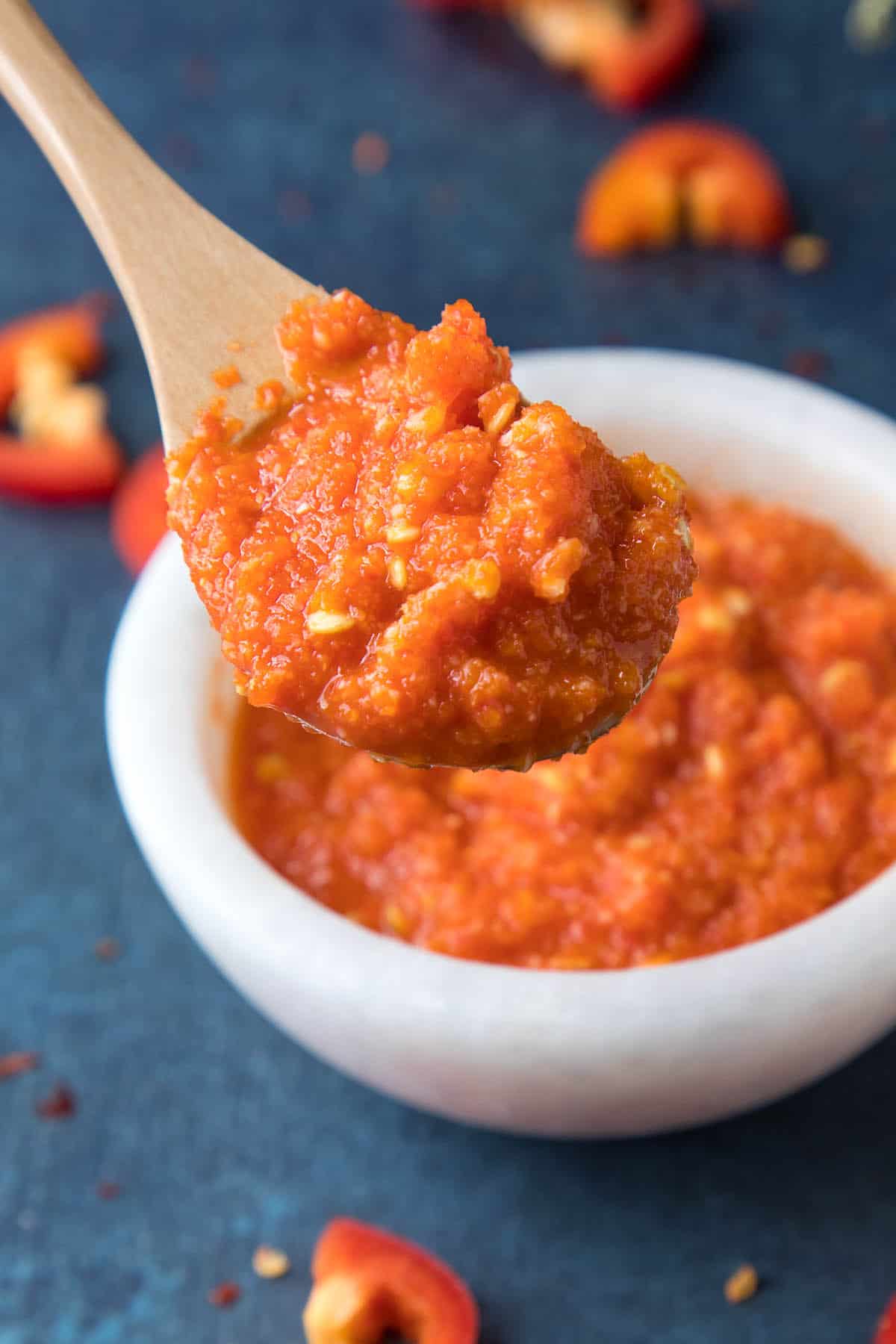 What Can I Make with Chili-Garlic Sauce?
Chili-Garlic Sauce typically lends itself to Asian-inspired recipes and stir fry dishes, though you can use it in numerous dishes. Here are some recipes to get you started.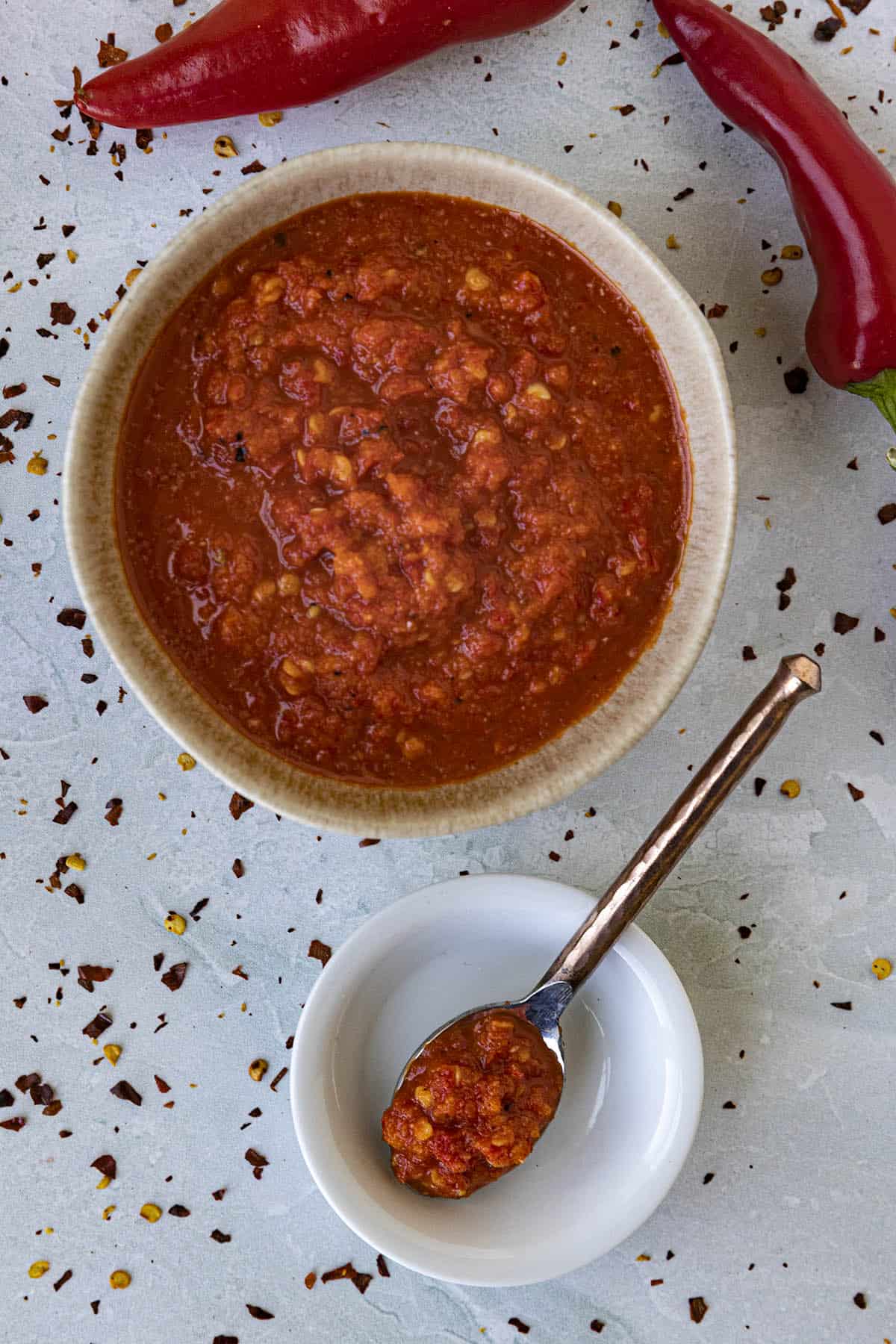 If you enjoy this recipe, I hope you'll leave a comment with some STARS. Also, please share it on social media. Don't forget to tag us at #ChiliPepperMadness. I'll be sure to share! Thanks! -- Mike H.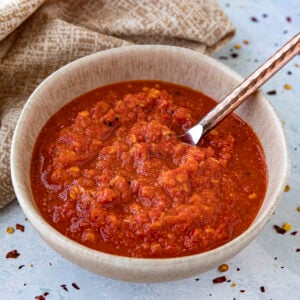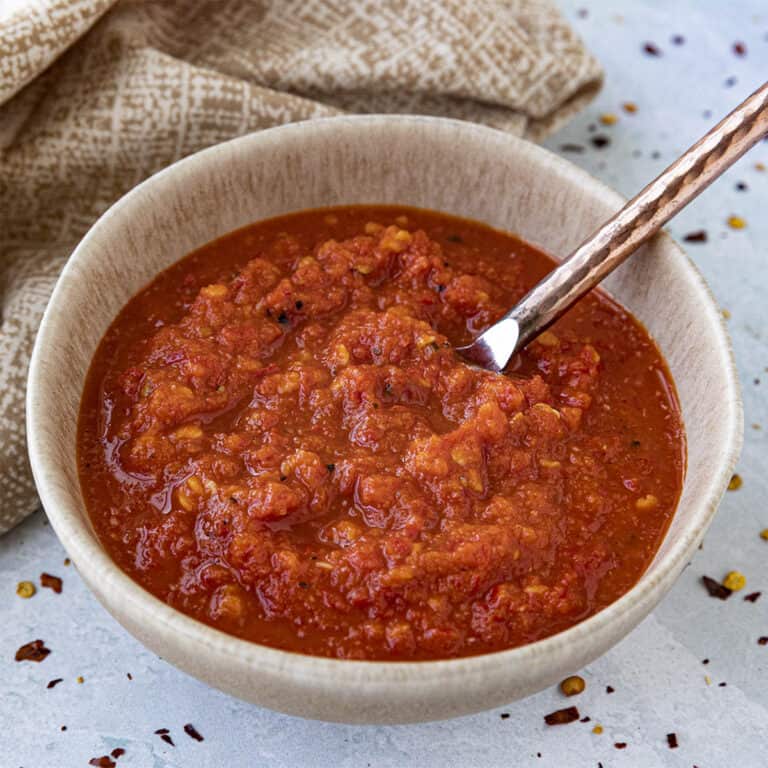 Print
Homemade Chili-Garlic Sauce Recipe
This homemade chili-garlic sauce recipe is much like Huy Fong chili garlic sauce, but freshly made, no preservatives, super easy to make and so versatile.
Save Recipe
Saved!
Ingredients
4

ounces

spicy chili peppers

– This works for any pepper of choosing. I used a bunch of Fresno peppers. Use a variety.

4

cloves

garlic

chopped

2

tablespoons

white vinegar

1

teaspoon

sugar

Salt and pepper to taste
Instructions
Add all of the ingredients to a food processor and process until smooth.

Pour the mixture into a small pot and heat. Simmer for about 10 minutes.

Cool and adjust the flavor with salt and pepper to your tastes.

Store in a sealable jar in the refrigerator.
Video
Notes
Makes about 1 cup. Thin with a bit of water, if desired.
Heat Factor: HOT, though it will depend on the peppers used.
Nutrition Information
Calories:
11
kcal
Carbohydrates:
2
g
Sodium:
1
mg
Potassium:
43
mg
Sugar:
1
g
Vitamin A:
135
IU
Vitamin C:
27.9
mg
Calcium:
4
mg
Iron:
0.2
mg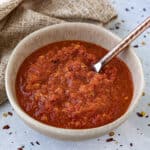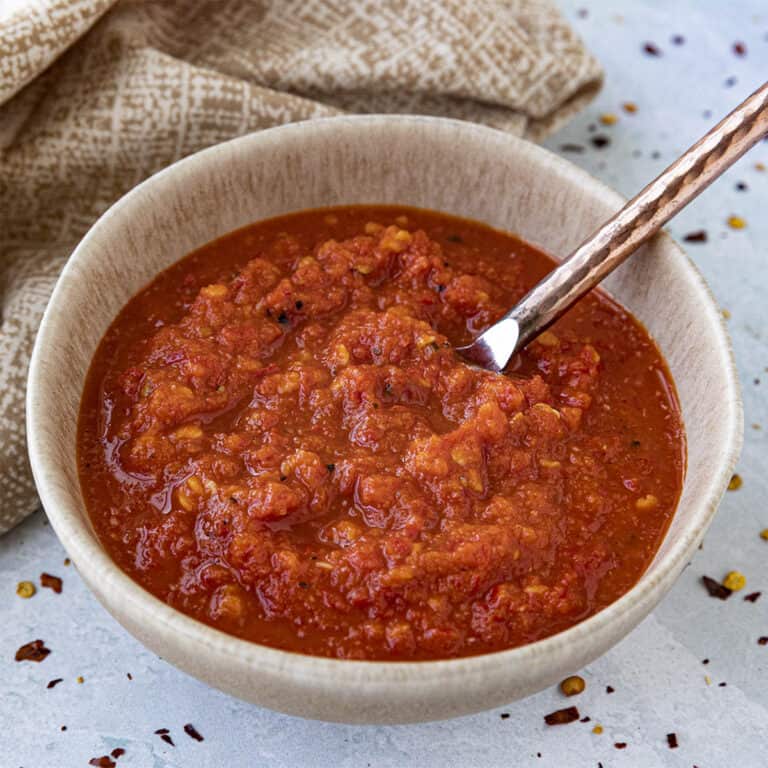 Did You Enjoy This Recipe?
I love hearing how you like it and how you made it your own. Leave a comment below and tag @ChiliPepperMadness on social media.
This recipe was updated on 9/9/22 to include a video and updated information. Originally published on 5/31/2017.