Garlic-Habanero Hot Sauce
A spicy hot sauce recipe made with fiery roasted habanero peppers and plenty of garlic, ideal for dousing many of your favorite foods.
While writing and developing new recipes for my new "superhots" cookbook, I worked on upgrading an older garlic-based hot sauce of mine, tweaking it, adding some new flavors, really just developing it a bit more to my own personal preferences.
I used yellow scorpion peppers and wow, talk about heat. Scorpion peppers reach over one million Scoville Heat Units and they pack that famous "scorpion sting," a fiery blast that instantly bites into your tongue and holds on.
They're perfect for a hot sauce, really, though admittedly, the audience is somewhat limited for the superhots. Still, I had to write the book and hope to see it available soon. I will certainly make an announcement!
I wanted to do a slightly milder version that others could enjoy. I chose the habanero pepper. Habanero peppers are no slouch. These babies pack around 300,000 SHU, and that is still plenty hot enough for some, even too hot for many, though it is somewhat tamped down in this recipe.
You will certainly get the heat and fruity habanero flavor, but the garlic is quite pronounced and somewhat vinegary with nice citrus tones. I was very happy with both versions. This is more of an everyday sauce, something you can splash on just about anything that needs a bit of moisture and would benefit from some garlic flavors, as well as heat. For me, everything needs a little bit of heat and zestiness.
I would encourage my superhot loving readers to try this with scorpion peppers. 7-Pots would be nice as well, with their gentler blooming heat that builds to a powerful crescendo, though habaneros are still plenty good here, and they're much easier to find. We will be growing several superhot varieties again this year and I looking forward to several more superhot recipes.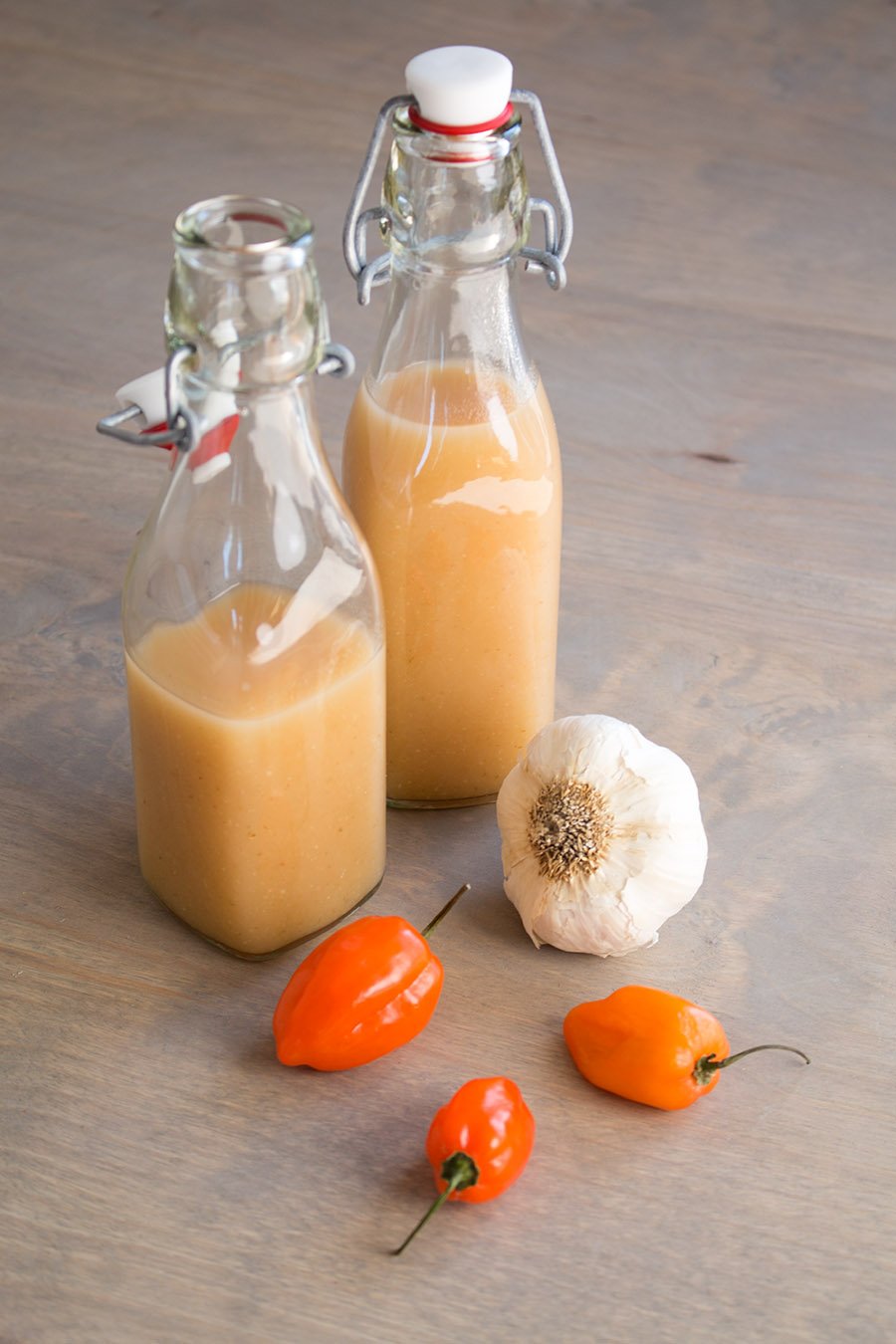 Here are some answers to the most common questions I get about this and other hot sauce recipes:
How long will this sauce keep? It should keep a few months easily in the fridge, or even longer. It's all about the acidity. To be technical, target level ph for shelf stable foods is below 4.6 ph, but should probably be lower for home cooks, around 4.0 or so, to account for errors. I have not measured the ph of this sauce, but I won't have it around very long anyway. If you're concerned, add more vinegar to lower the ph.
Where'd you get that sauce bottle? I find them locally sometimes, but I also order through Amazon. Here is a link to some bottles I like (affiliate link, my friends!): Swing Top Glass Bottles, 8.5 Ounce – Set of 4
. If you like the smaller bottles that most hot sauce makers use, here's another link: Hot Sauce Bottles, 5 Oz – 24 Pack
.
Can I process this hot sauce for longer storage? Absolutely. Just be sure to use proper canning/jarring safety procedures.
What should I do with hot sauce? Aside from drizzling it over anything you please, here's a post I did about How to Cook with Hot Sauce. As if you need even MORE reasons to eat hot sauce. LOL. I hope you find it helpful!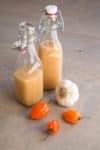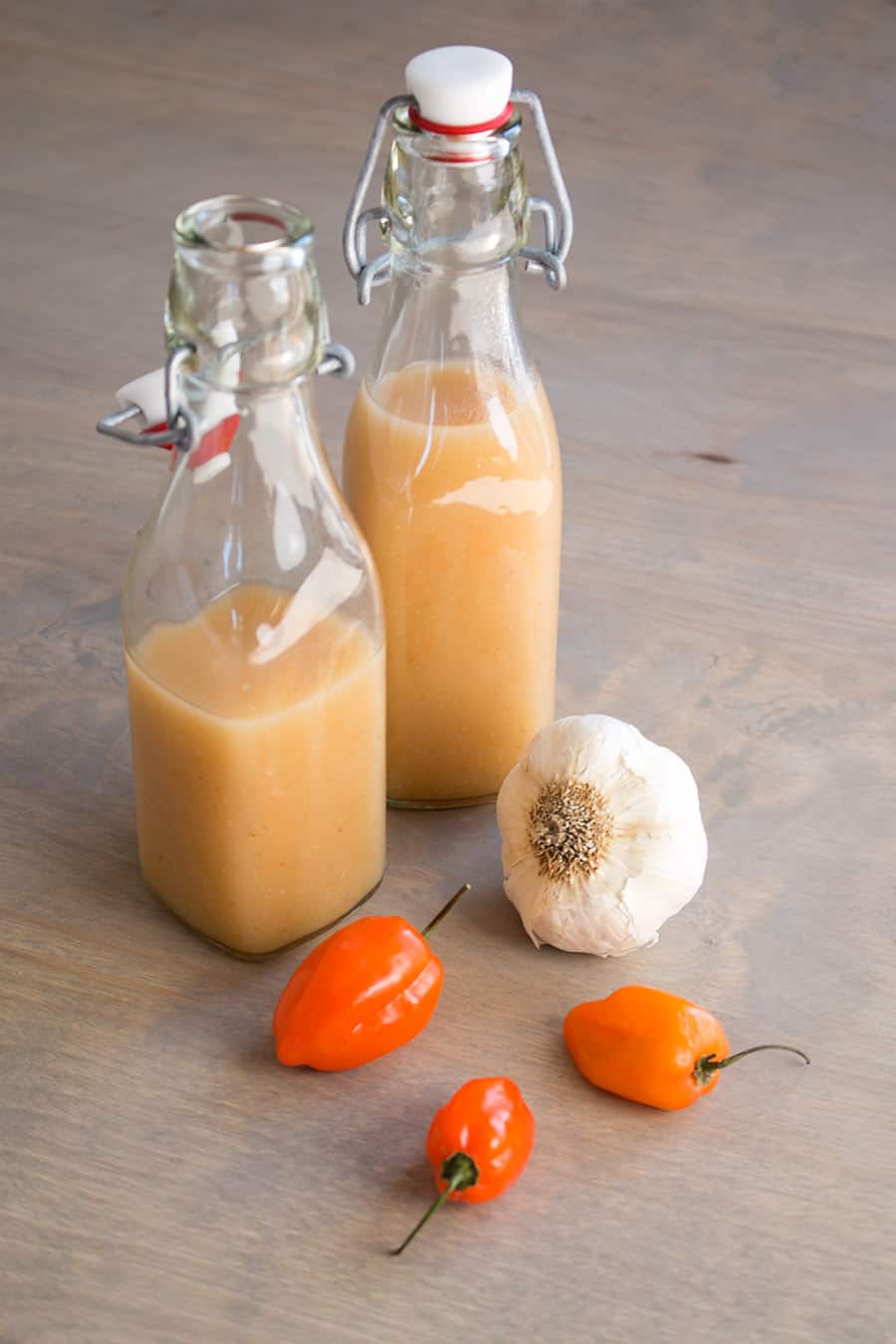 Garlic-Habanero Hot Sauce - Recipe
A spicy hot sauce recipe made with fiery roasted habanero peppers and plenty of garlic, ideal for dousing many of your favorite foods.
Ingredients
6-8

habanero peppers

stemmed and halved

2

tablespoons

olive oil

1

cup

water

4

cups

white vinegar

20

garlic cloves

peeled and coarsely chopped

1

onion

chopped

8

tablespoons

sugar

3

teaspoons

Worcestershire sauce

½

cup

lime juice

1

teaspoon

ground cumin

1

teaspoon

salt
Instructions
Preheat oven to 425°.

Set peppers on a baking sheet and sprinkle with 2 tablespoons olive oil.

Roast in the oven 15-20 minutes or until soft and skins begin to blister.

Heat a large pot to medium heat and add remaining ingredients. Bring to a boil then reduce heat to low and simmer about 20 minutes, or until onion and garlic soften.

Add roasted peppers and simmer about 5 minutes.

Transfer mixture to a food processor and puree until smooth. Alternatively, use an immersion blender and puree directly in the pot.

Simmer another 5-10 minutes.

Serve, or strain into sterilized bottles until ready to use.
Recipe Notes
Should keep about a month.
Heat Factor: Hot.
Try Yellow Scorpion peppers for this recipe if you're looking for some REAL heat.