A spicy hot sauce recipe made with sweet mangos and fiery habanero peppers and other peppers. It's time to spice things up!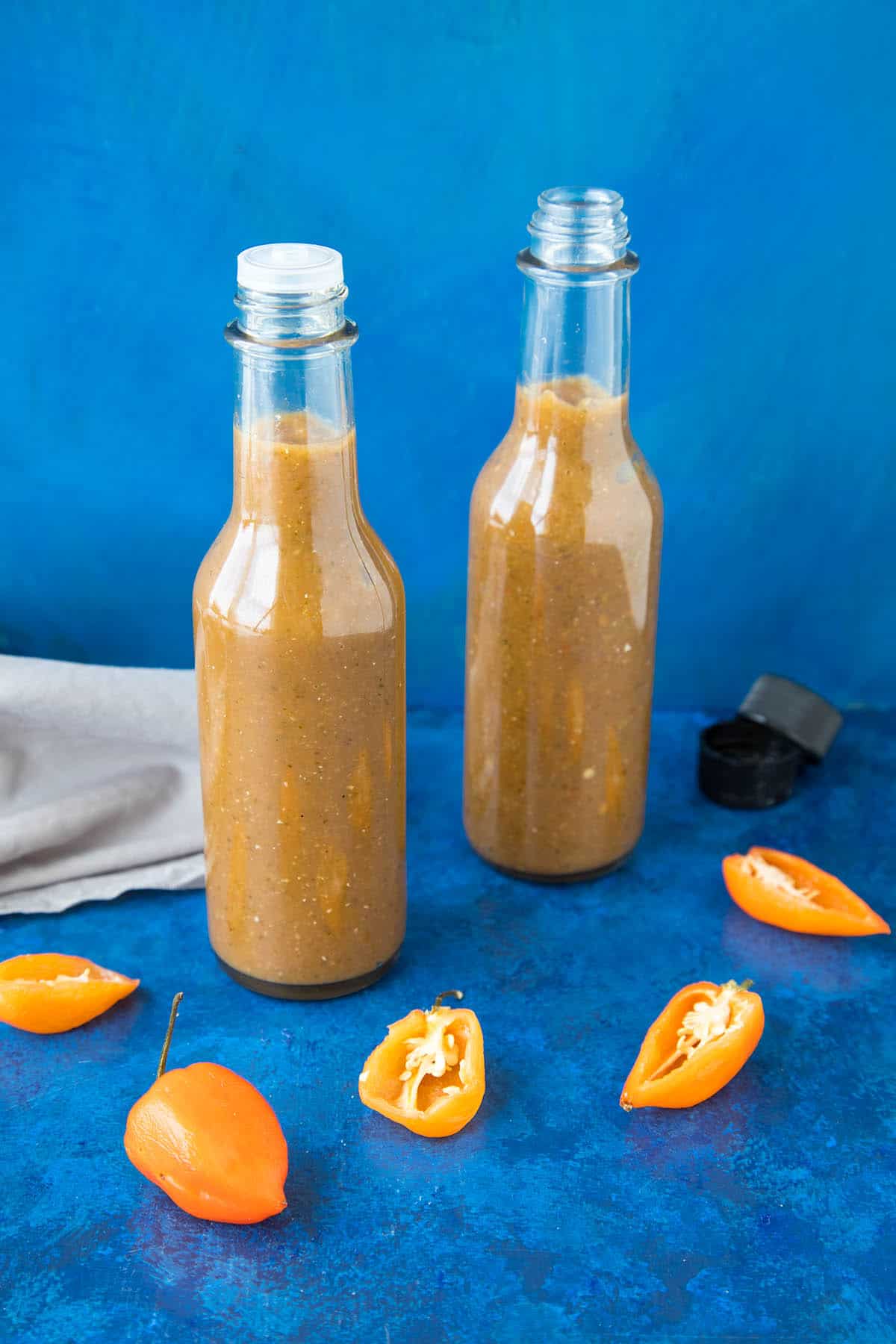 This is the third recipe in a series demonstrating how you can make three different recipes from the exact same ingredients. Recently I made a Fresh Mango Salsa Recipe and, using the same ingredients made a cooked version of the salsa that was then processed into a smooth salsa - Fiery Mango Salsa.
Did you know that you can go a step further and add a bit more vinegar to the recipe, and/or strain the resulting hot sauce to achieve a hot sauce consistency that you prefer.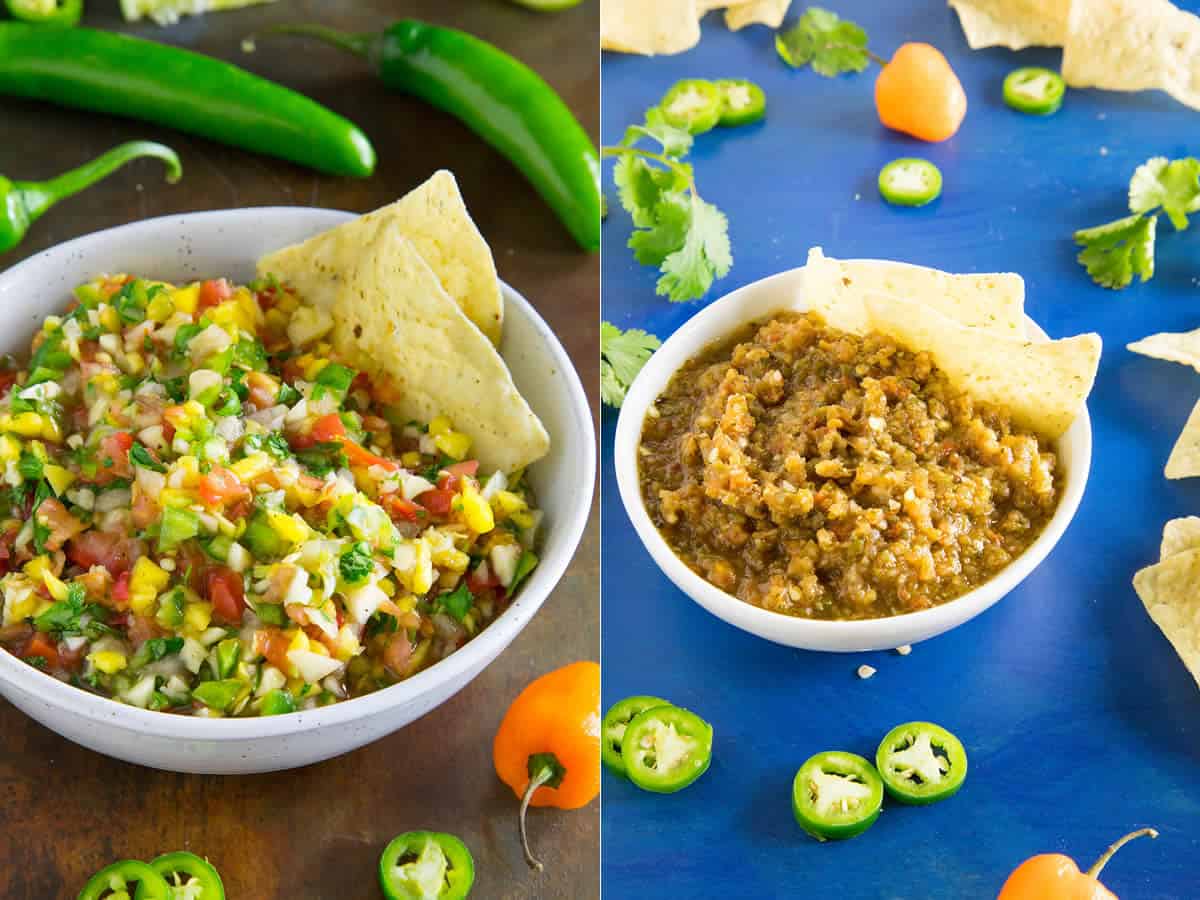 So yeah! Let's get to making some hot sauce!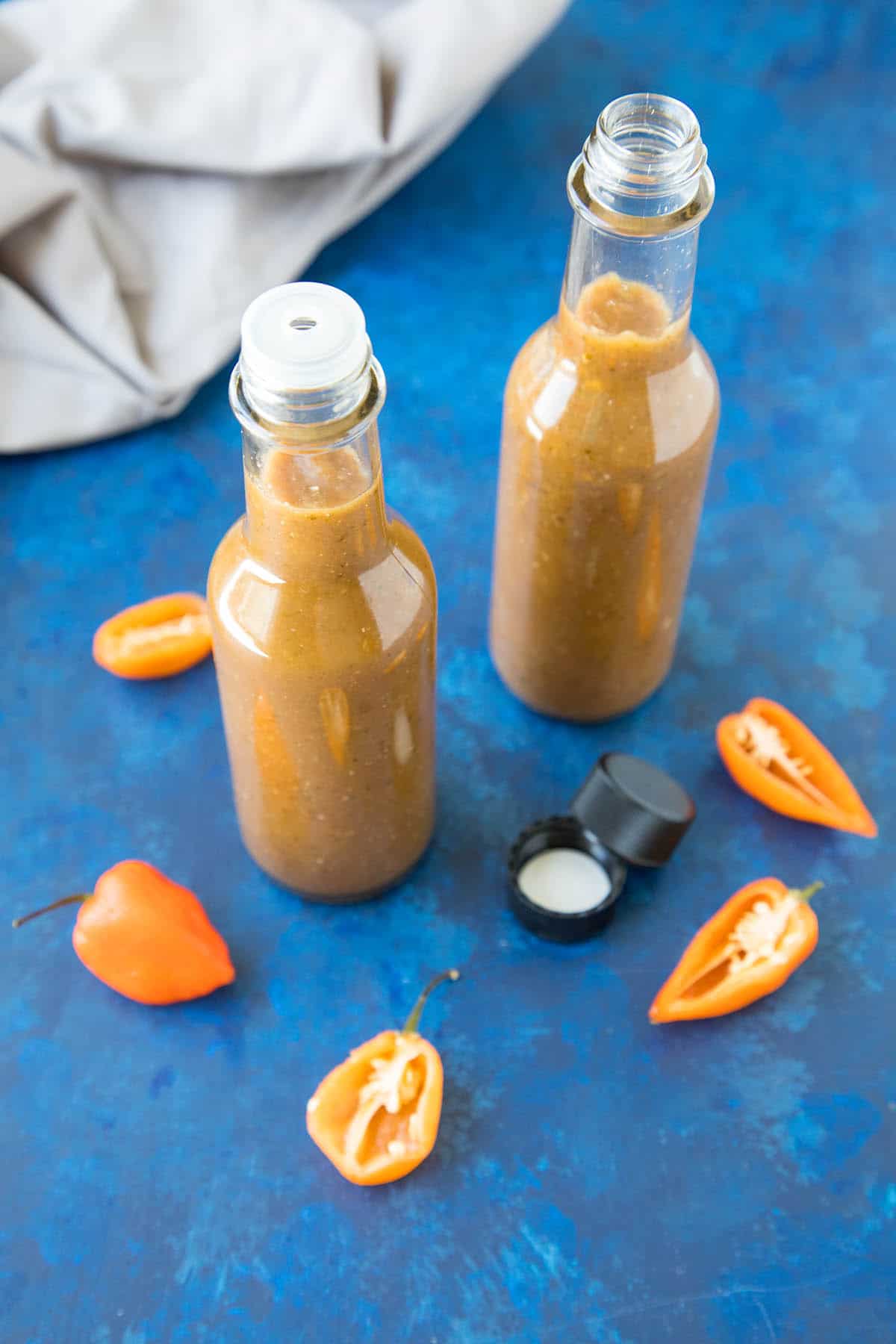 Making Mango-Habanero Hot Sauce - the Method
First, gather up your ingredients: mango, chili peppers, onion, tomatoes, garlic, cilantro, lime juice, red wine vinegar, and a bit of salt and pepper.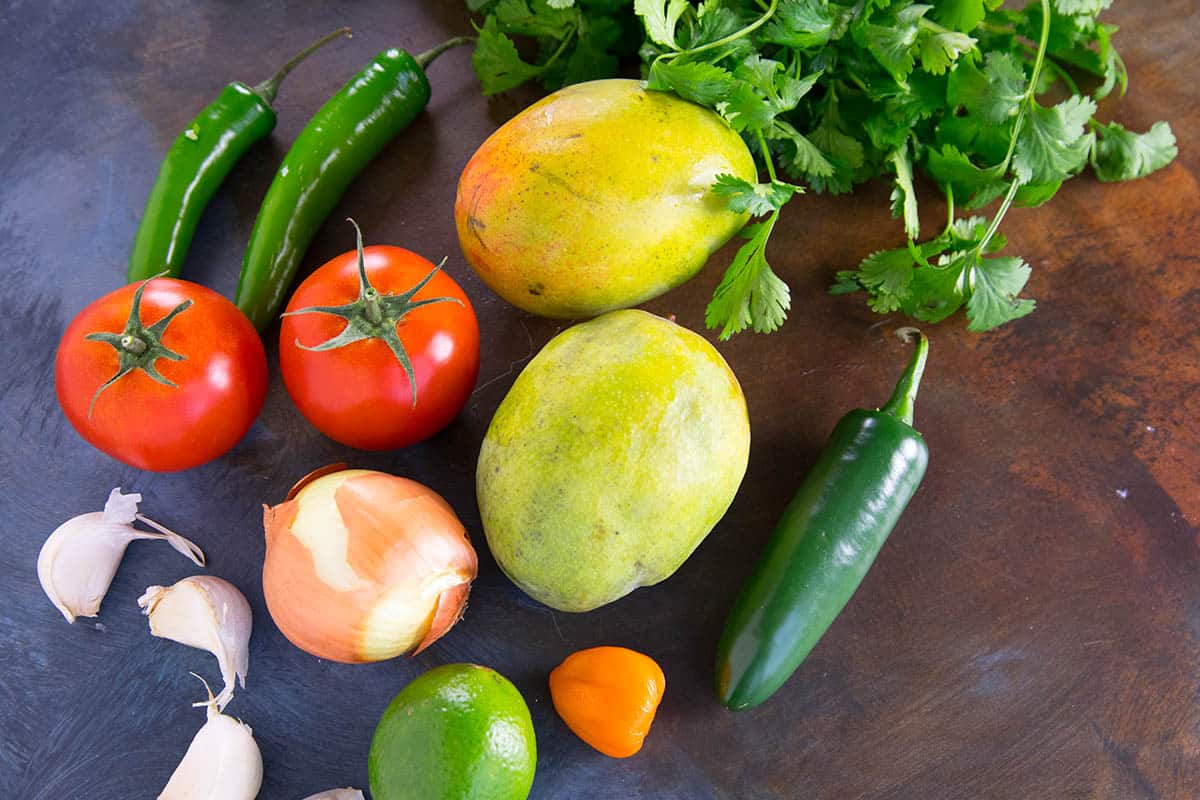 Just like making the Fiery Mango Salsa recipe, peel and chop the mango, then chop the peppers, onion, garlic and cilantro. All you need is a rough chop.
Pop everything into a blender or food processor and process them until the mixture is nice and smooth.
Like so.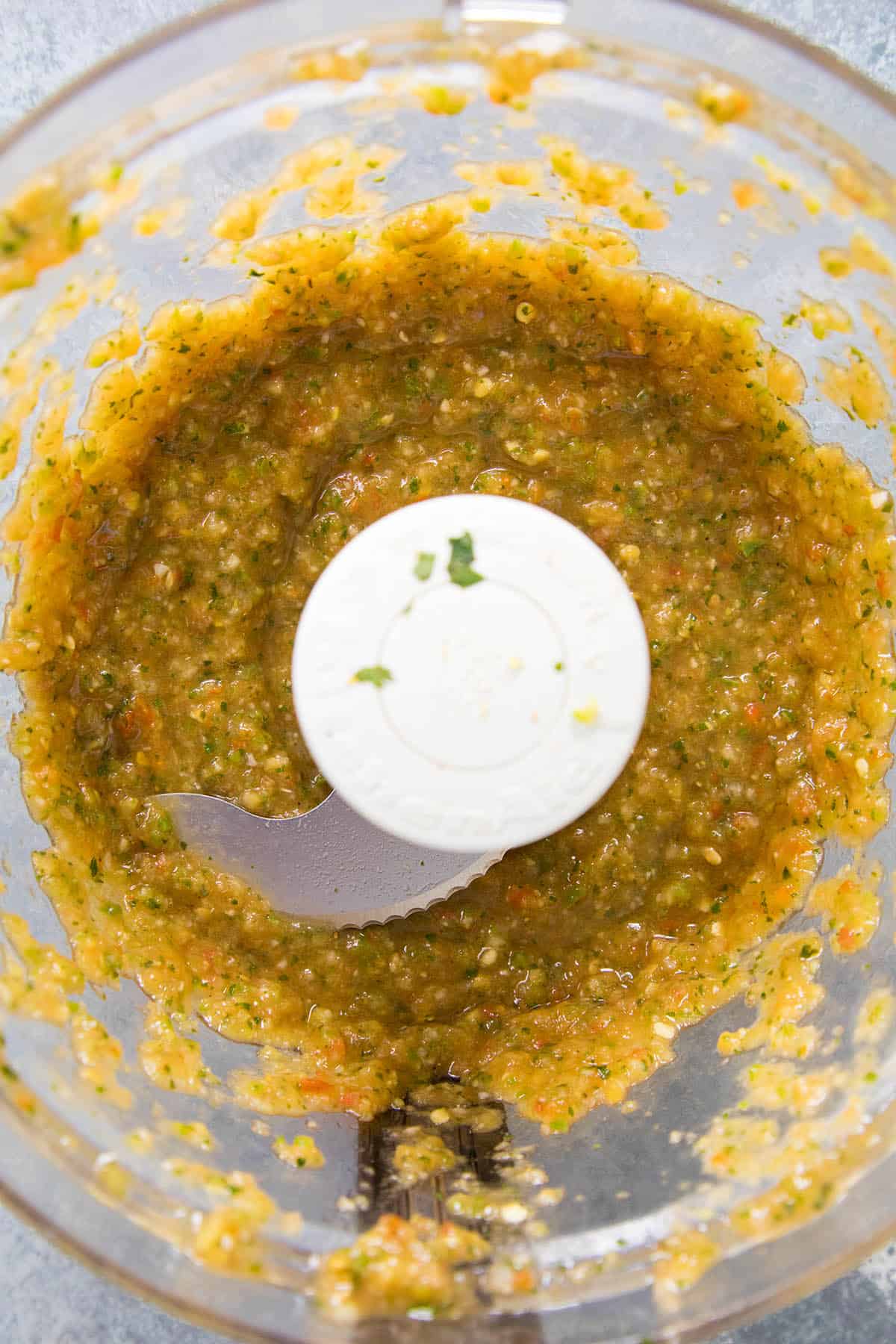 Since we're making a HOT SAUCE and not a salsa, you should process the mixture for longer to get it as thin and combined as possible. NOTE: If you feel the hot sauce is too thick, add in a bit more vinegar or water to help thin it out.
Next, add the ingredients to a pan and bring it to a quick boil. Reduce the heat and let the whole thing simmer for 20 minutes or so. Remove it from the heat and let it cool.
Adjust it to your personal taste with a bit of salt and pepper then let it cool completely.
Finally, you can strain the finished hot sauce through a sieve or a food mill to remove some of the pulp for a thinner version of the hot sauce. The choice is yours. You can discard that pulp or dehydrate it then grind it up to use as a homemade spice blend.
See How to Make Seasonings from Strained Hot Sauce Pulp.
Bottle it up and use as desired.
A few notes on making hot sauce.
Adjusting the Hot Sauce Heat Factor
If you'd like to dial back the heat level, skip the habanero pepper. You can also reduce or skip the serranos, and go with jalapeno peppers only. You'll still get a nice kick from them.
Frequently Asked Hot Sauce Questions
Here are answers to some of the most common questions I get on other sauces:
How long will this sauce keep?
It should keep a few months easily in the fridge, or even longer. It's all about the acidity. To be technical, target level ph for shelf stable foods is below 4.6 ph, but should probably be lower for home cooks, around 4.0 or so, to account for errors. If you're concerned, add more vinegar to lower the ph. Sauces made with fermented chili peppers will last even longer.
The best ph meters that I recommend are from Thermoworks. Get yourself a ph meter from Thermoworks today. I am a happy affiliate.
Where'd you get that sauce bottle?
I find them locally sometimes, but I also order through Amazon. Here is a link to some bottles I like (affiliate link, my friends!): Swing Top Glass Bottles, 8.5 Ounce - Set of 4
. If you like the smaller bottles that most hot sauce makers use, here's another link: Hot Sauce Bottles, 5 Oz - 24 Pack
.
Can I process this hot sauce for longer storage?
Absolutely. Just be sure to use proper canning/jarring safety procedures.
What should I do with hot sauce?
Aside from drizzling it over anything you please, here's a post I did about How to Cook with Hot Sauce. As if you need even MORE reasons to eat hot sauce. LOL. I hope you find it helpful!
Check out more Hot Sauce Recipes.
Check out These Related Recipes:
Check out more Hot Sauce Recipes or learn more about How to Make Hot Sauce.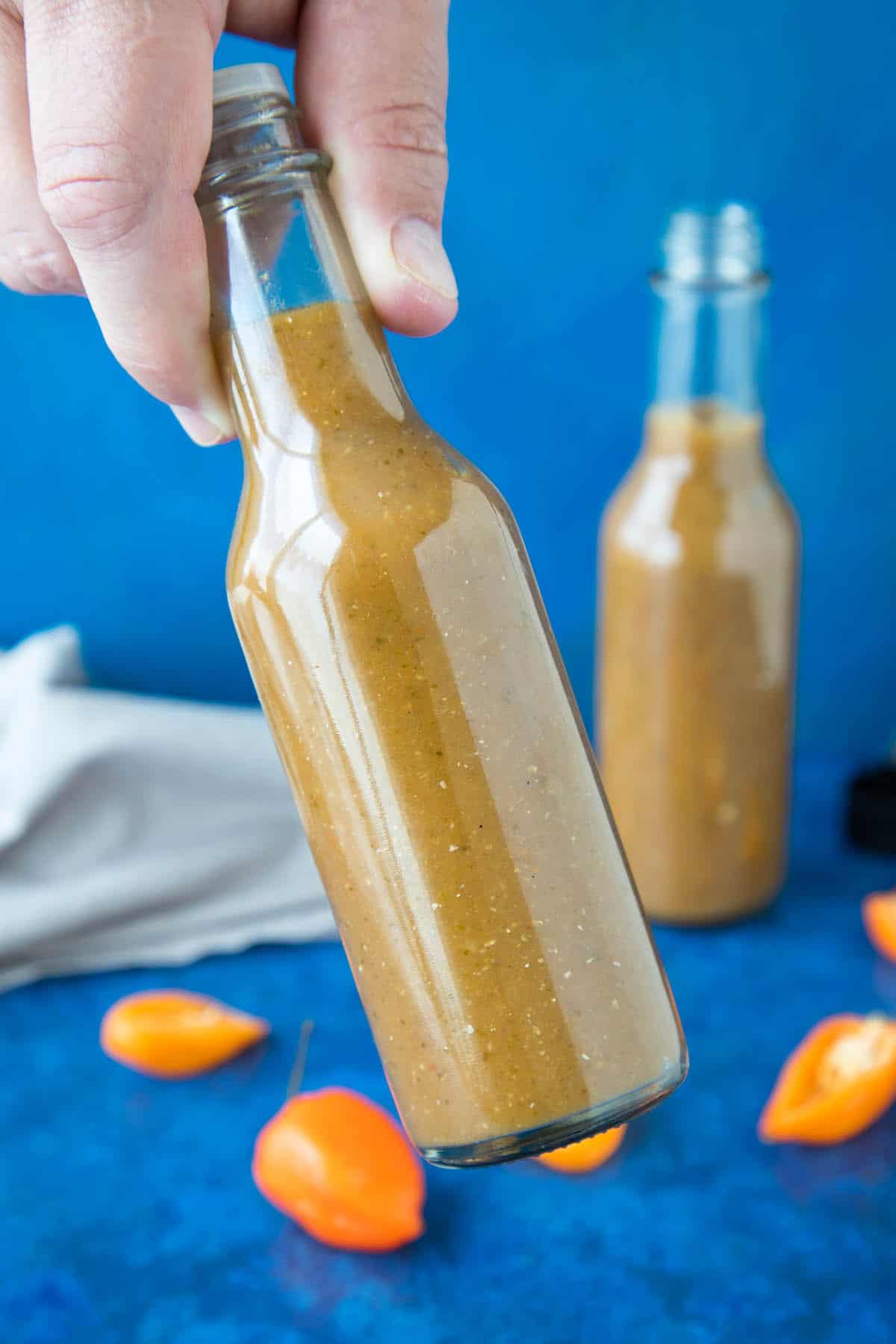 If you enjoy this recipe, I hope you'll leave a comment with some STARS. Also, please share it on social media. Don't forget to tag us at #ChiliPepperMadness. I'll be sure to share! Thanks! -- Mike H.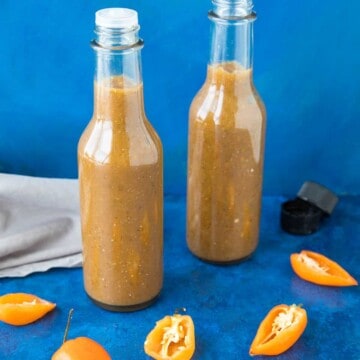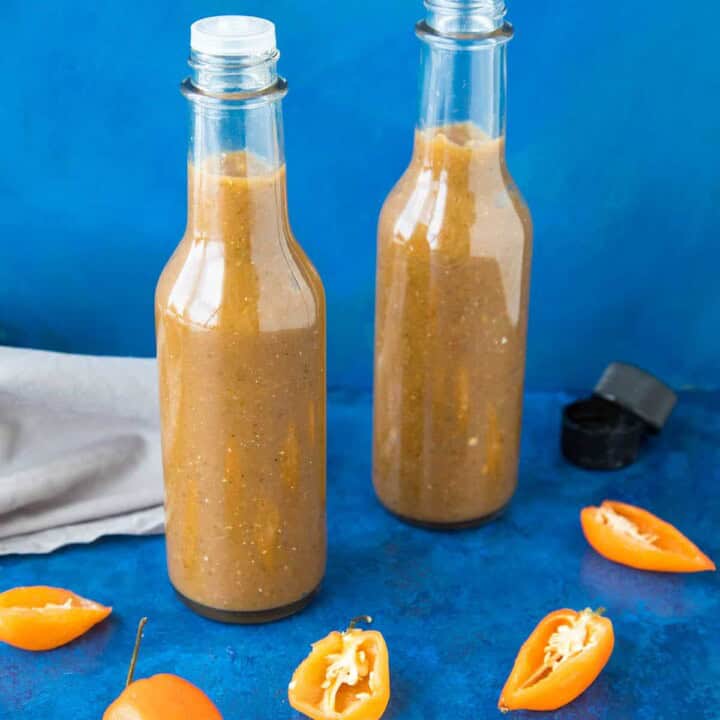 Print
Mango-Habanero Hot Sauce – Recipe
A spicy hot sauce recipe made with sweet mangos and fiery habanero peppers and other peppers. It's time to spice things up!
Save Recipe
Saved!
Ingredients
2

small mangos

peeled and chopped

2

serrano peppers

chopped

1

jalapeno pepper

chopped

1

habanero pepper

chopped

1

small sweet onion

chopped

2

medium red tomatoes

chopped

4

cloves

garlic

chopped

¼

cup

chopped cilantro

Juice from 1 lime

1/2

cup

red wine vinegar

or more for a thinner hot sauce

Salt and pepper to taste
Instructions
Add all of the ingredients to a food processor. Pulse the mixture several times until you achieve your desired consistency.

Pour the mixture into a pan and bring it to a quick light boil. Reduce the heat and simmer for 20 minutes.

If you would like a thinner sauce, add in a bit more vinegar, about a 1/4 cup at a time, to achieve your desired consistency.

Cool, then strain, if desired, or leave it as a thicker hot sauce. Store in the refrigerator in airtight containers. The flavors will develop the longer you let it sit.
Notes
Makes about 2.5 cups.
Heat Factor: Hot. You can reduce the overall heat by omitting the habanero pepper. Like some EXTRA heat? Toss in an additional habanero.
You can also STRAIN this hot sauce to remove some of the pulp for a much thinner hot sauce. The pulp can be discarded or dehydrated then ground to make a homemade seasoning blend.
Nutrition Information
Calories:
20
kcal
Carbohydrates:
4
g
Sodium:
2
mg
Potassium:
83
mg
Sugar:
3
g
Vitamin A:
310
IU
Vitamin C:
10.6
mg
Calcium:
7
mg
Iron:
0.1
mg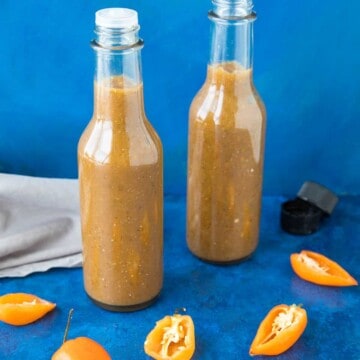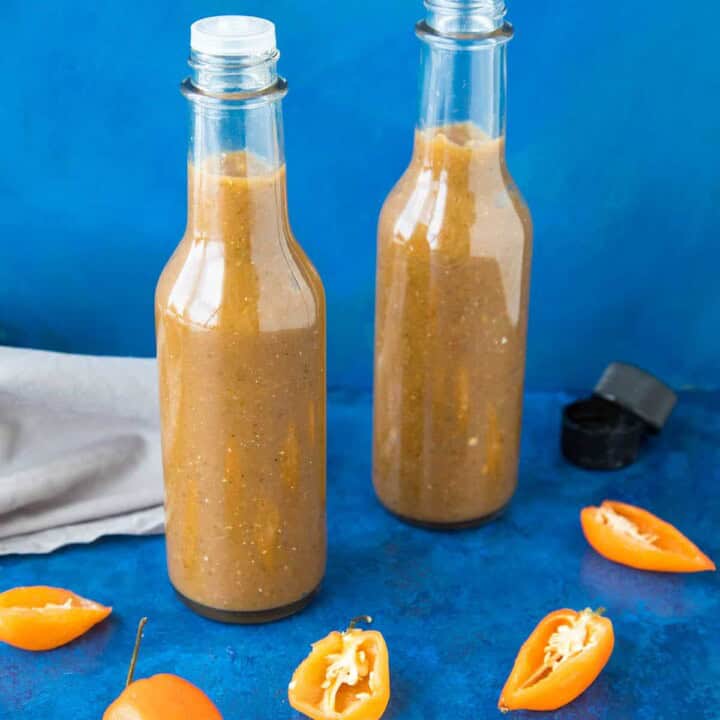 Did You Enjoy This Recipe?
I love hearing how you like it and how you made it your own. Leave a comment below and tag @ChiliPepperMadness on social media.