Make your own spicy hot sauce at home with only 6 ingredients - habanero peppers, cilantro, lemon juice, vinegar, salt and garlic. Here is the recipe.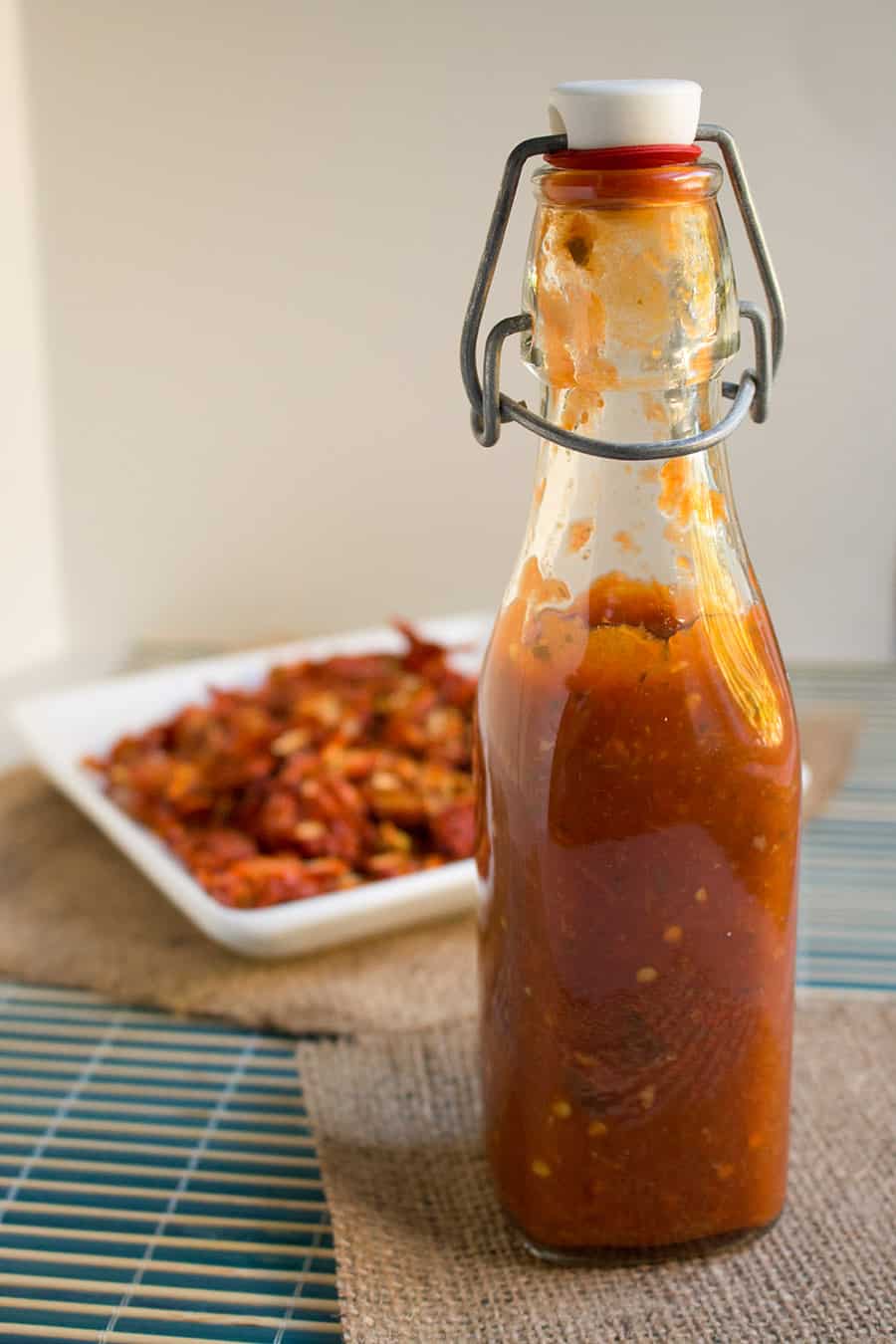 Hot sauce is one of the greatest gifts ever received by humanity. Grandiose? I think not! It would be hard to imagine an existence without this wonderful stuff.
There are some outstanding artisan hot sauce products out there on the market today, and I enjoy many of them, but I also enjoy making my own hot sauce, depending on what I'm in the mood for or on what meals I may be planning in the upcoming week.
For this week, I KNEW I would be needing some habanero hot sauce.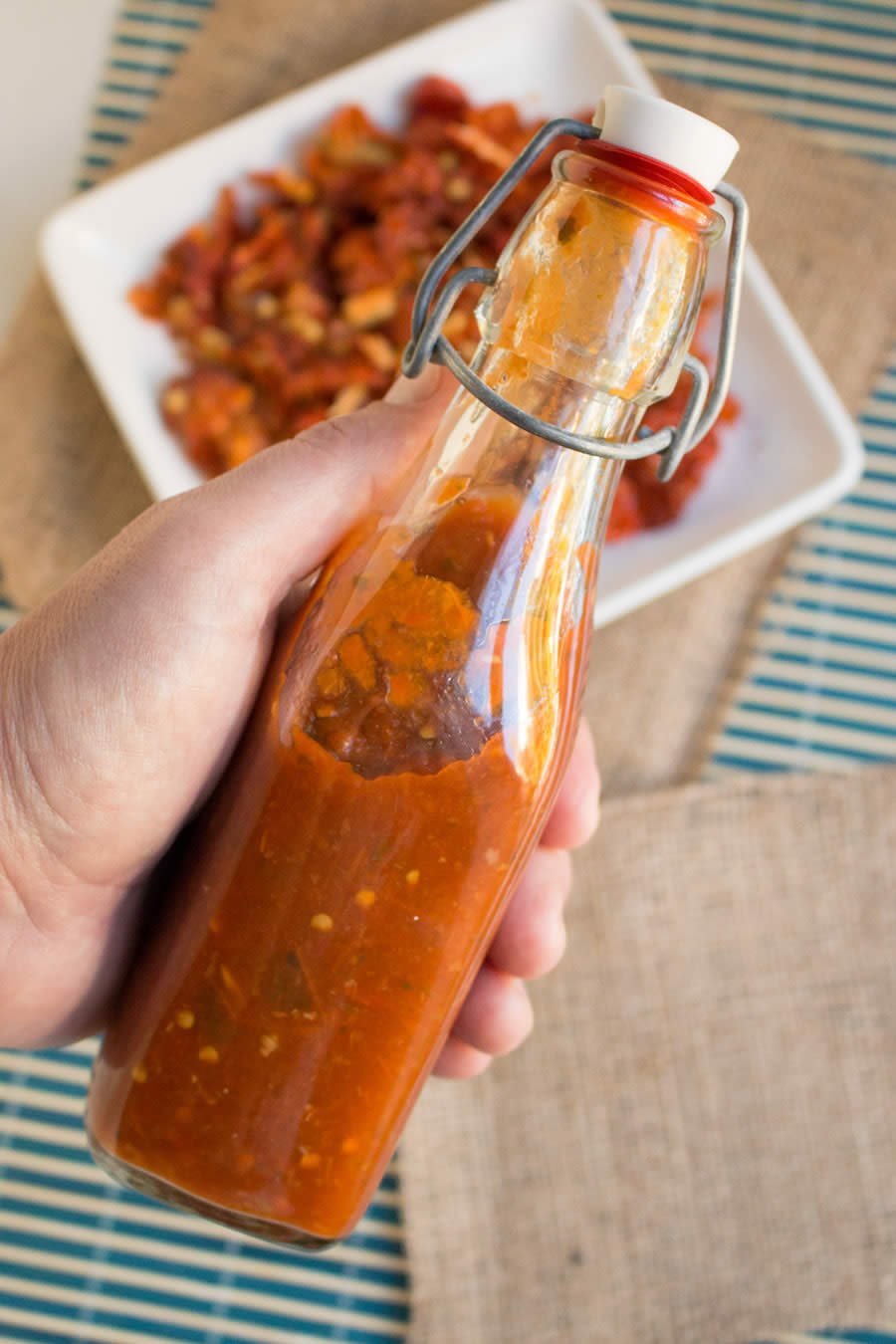 We've been traveling a bit and there is a kitchen we're we are staying. I brought along some dehydrated habanero peppers. I dehydrate a lot of peppers from our garden each year to make rubs and seasoning blends, but I also save many of them whole for a number of uses.
Making hot sauce is one of them. Yes, you CAN make hot sauce from dehydrated chili peppers.
The result is as good as making hot sauce from fresh peppers. And, dehydrated peppers have an advantage in that they won't go bad.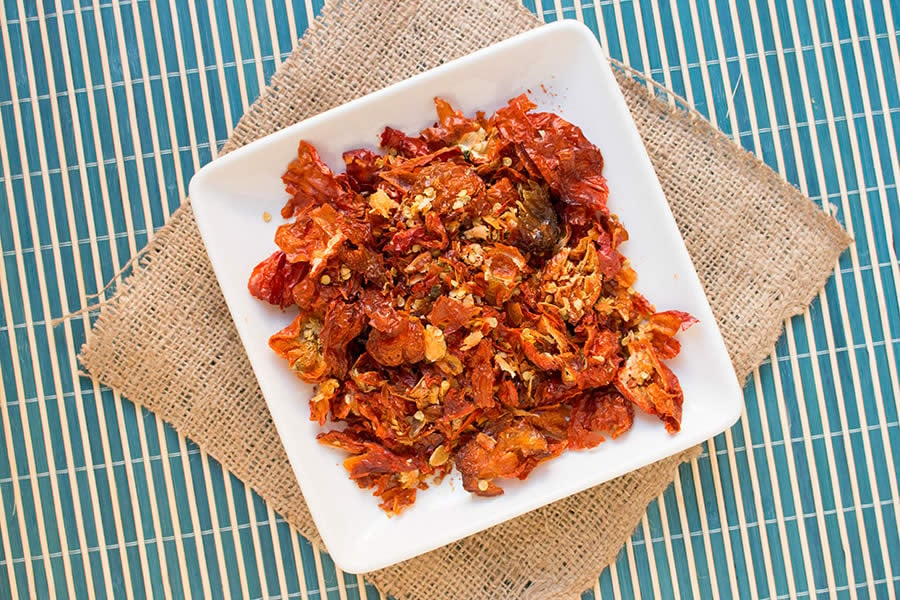 If you don't have dehydrated habanero peppers, fresh will do, of course.
But if you're in a colder region where it is difficult to obtain fresh peppers, dehydrated will absolutely work for hot sauce making. You only need to rehydrate them by steeping them in very hot water for about 30 minutes or so.
They soften right up and are ready for hot sauce.
I kept it simple this time around, using only 6 ingredients - habanero peppers, cilantro, vinegar, lemon juice, garlic and salt. Feel free to vary up your ratios depending on your dominant flavor preference.
This sauce has the consistency of a thick ketchup and goes with anything.
Yes, ANYTHING! You can always thin out the sauce by adding a bit of water when processing or by straining out some of the solids, but I like it nice and thick.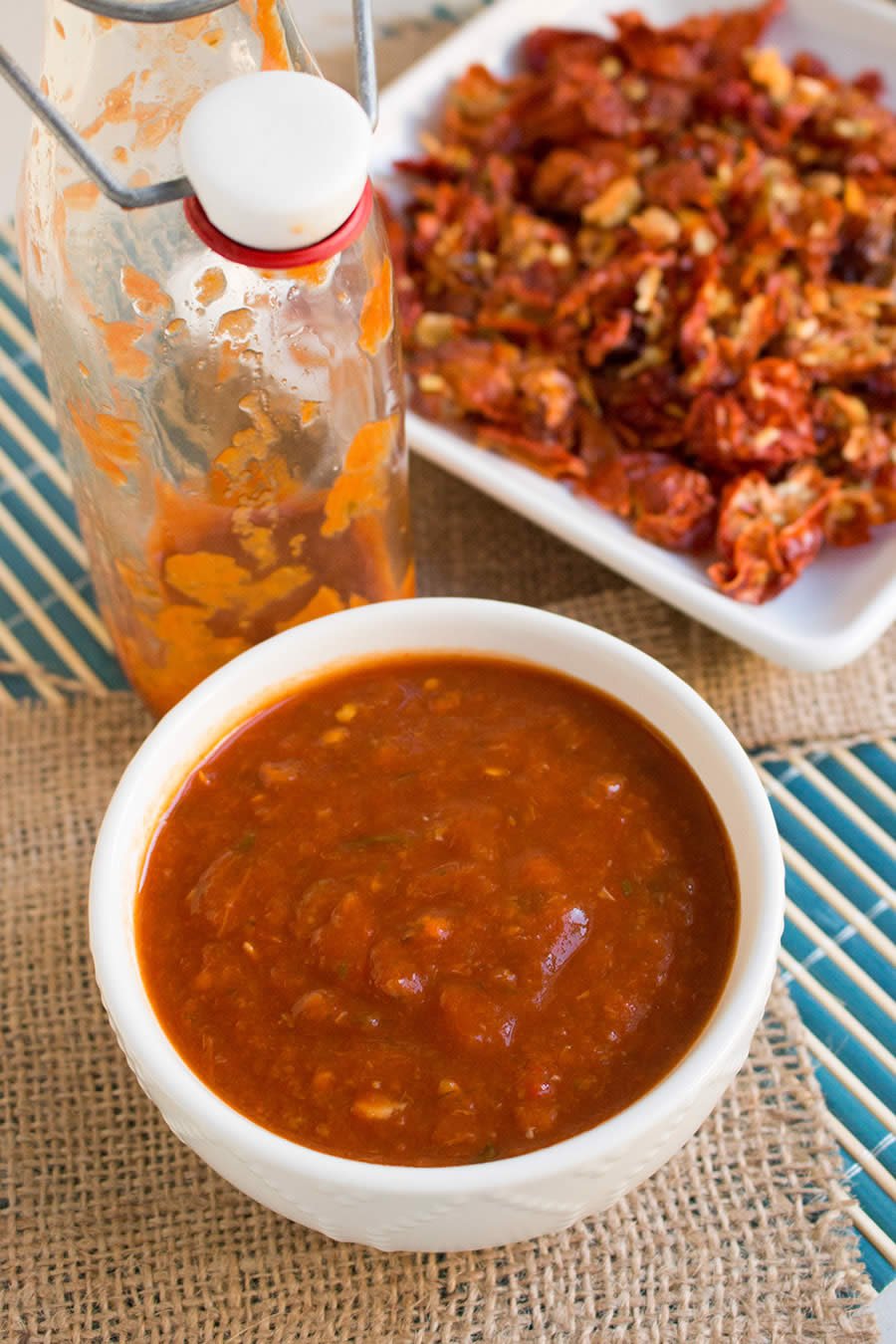 Frequently Asked Hot Sauce Questions
Here are answers to some of the most common questions I get on other sauces:
How long will this sauce keep?
It should keep a few months easily in the fridge, or even longer. It's all about the acidity. To be technical, target level ph for shelf stable foods is below 4.6 ph, but should probably be lower for home cooks, around 4.0 or so, to account for errors. If you're concerned, add more vinegar to lower the ph. Sauces made with fermented chili peppers will last even longer.
The best ph meters that I recommend are from Thermoworks. Get yourself a ph meter from Thermoworks today. I am a happy affiliate.
Where'd you get that sauce bottle?
I find them locally sometimes, but I also order through Amazon. Here is a link to some bottles I like (affiliate link, my friends!): Swing Top Glass Bottles, 8.5 Ounce - Set of 4
. If you like the smaller bottles that most hot sauce makers use, here's another link: Hot Sauce Bottles, 5 Oz - 24 Pack
.
Can I process this hot sauce for longer storage?
Absolutely. Just be sure to use proper canning/jarring safety procedures.
What should I do with hot sauce?
Aside from drizzling it over anything you please, here's a post I did about How to Cook with Hot Sauce. As if you need even MORE reasons to eat hot sauce. LOL. I hope you find it helpful!
Check out more Hot Sauce Recipes or learn more about How to Make Hot Sauce.
Check out These Related Recipes:
If you enjoy this recipe, I hope you'll leave a comment with some STARS. Also, please share it on social media. Don't forget to tag us at #ChiliPepperMadness. I'll be sure to share! Thanks! -- Mike H.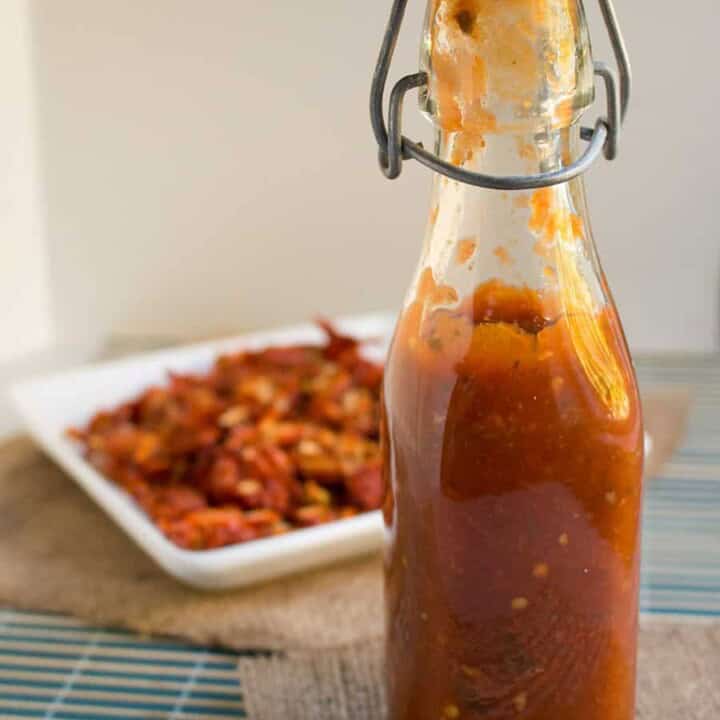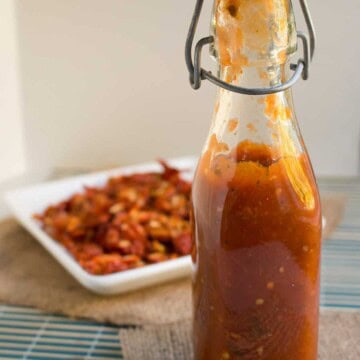 Print
Homemade Cilantro-Habanero Hot Sauce Recipe
Make your own spicy hot sauce at home with only 6 ingredients - habanero peppers, cilantro, lemon juice, vinegar, salt and garlic. Here is the recipe.
Save Recipe
Saved!
Ingredients
30

habanero peppers - dehydrated peppers are good

dehydrated peppers are good, too

1

cup

white vinegar

Juice from 1 lemon

lime juice is good, too

1

clove

garlic

chopped

2

tablespoons

chopped cilantro

add more for a more pronounced cilantro flavor

½

teaspoon

salt
Instructions
If using dehydrated habanero peppers, set them into a bowl of very hot water and let them steep for 30 minutes to soften. If using fresh, stem and chop the habanero peppers. Place them into a food processor.

Add the remaining ingredients and process until well chopped and combined.

Add to a pot and bring to a quick boil. Watch out for the fumes!

Reduce heat and simmer about 20 minutes.

Remove from heat, cool. At this point, you can strain it through a sieve or toss it back into the food processor for a bit more blending.

Pour into a bottle and use it all up!
Notes
Heat Level: HOT.
Makes about 1.5 cups.
Nutrition Information
Calories:
2
kcal
Sodium:
58
mg
Vitamin A:
5
IU
Vitamin C:
0.1
mg
Calcium:
1
mg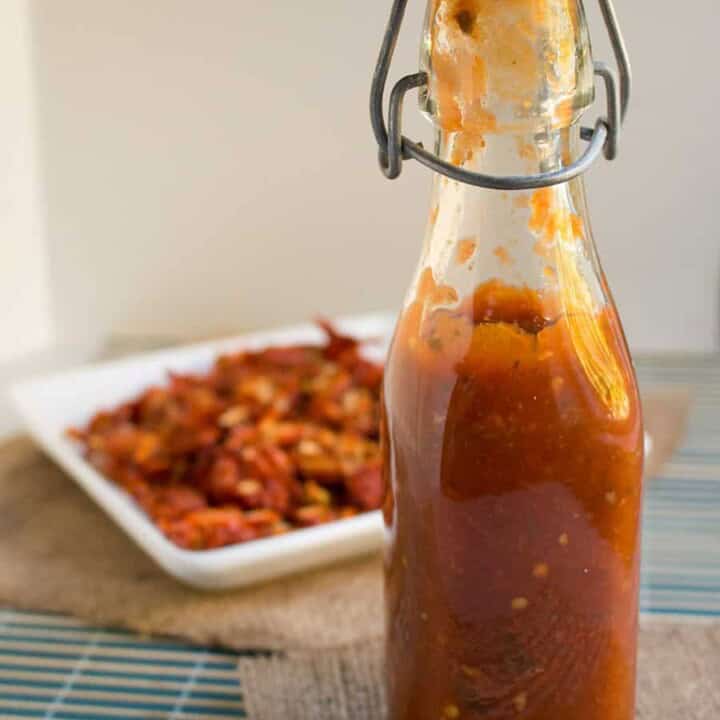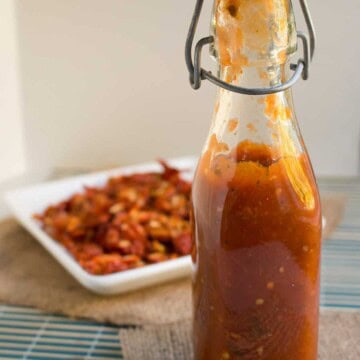 Did You Enjoy This Recipe?
I love hearing how you like it and how you made it your own. Leave a comment below and tag @ChiliPepperMadness on social media.