Make your own hot sauce at home with this quick and easy recipe that incorporates spicy habanero peppers, sweet pineapple and cilantro. Perfect for dashing over meals or spicing up your favorite cocktails. We like it for our Bloody Marys.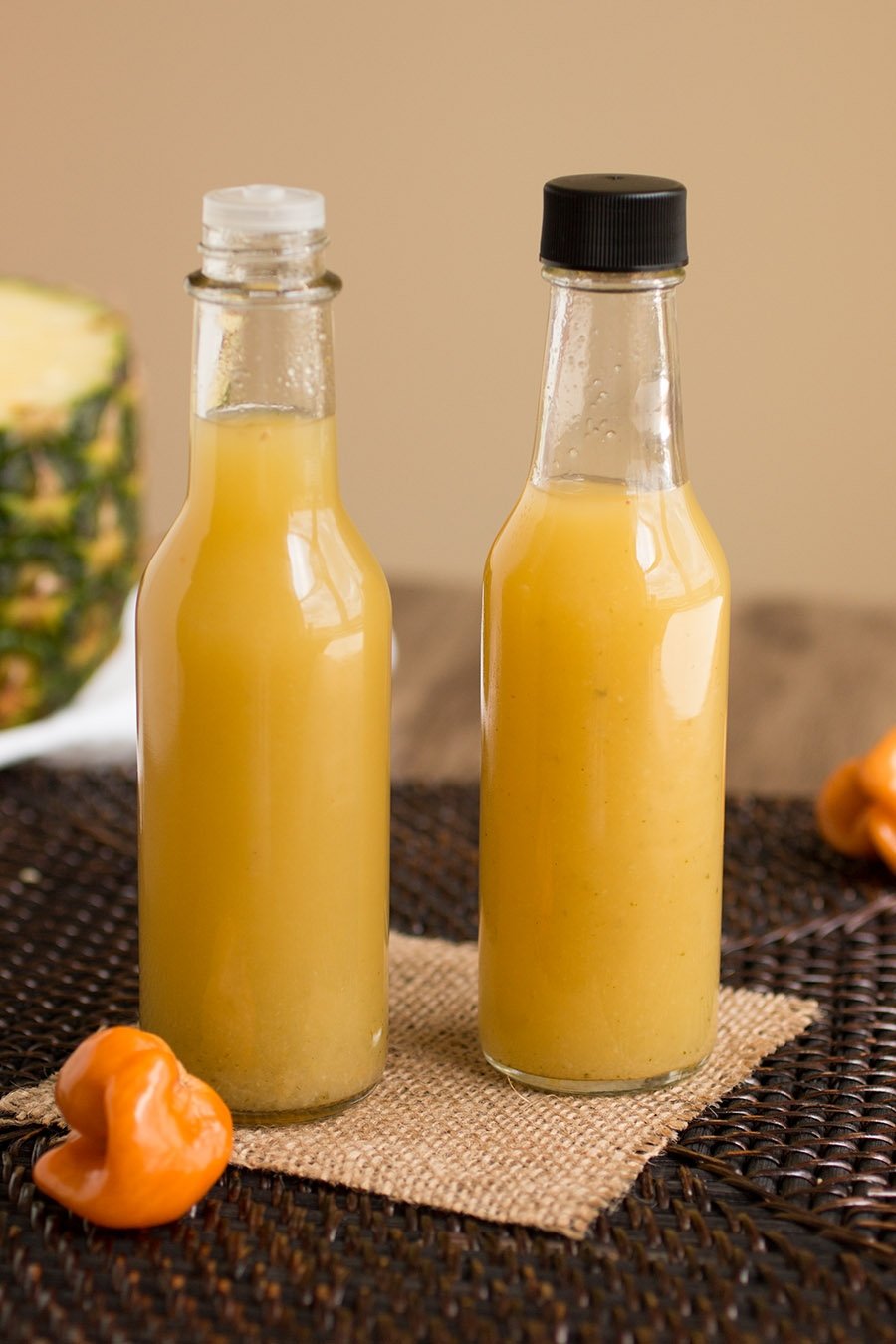 Pineapple-Habanero Hot Sauce Recipe
This hot sauce exists for 2 very specific reasons. FIRST, the habanero peppers are POPPING in the garden.
YES!
We seriously LOVE when the garden starts producing. So many fresh peppers! We can walk right outside and grab a few off the plants and get busy! Talk about living.
To quote my father-in-law, "Is this living or what?"
SECOND...Bloody Mary. If you are like us, you enjoy a bit of spice and kick to your Bloody Mary drinks, and this, my friends, is the solution. Pineapple-Habanero Hot Sauce.
To be honest, it's great on just about anything that can take the level of heat with the touch of sweet. It's on the vinegary side, which works for me for many things.
Think Tabasco sauce. It's about that consistency level, thin and "dashy". Dash it over chicken tacos or a fish fillet, over pork shoulder or sliced pork loin or pretty much any pork. Dash it onto your veggies.
Or hey, into your Bloody Mary!
Pineapple-Habanero Hot Sauce Ingredients List
You don't need many ingredients for this one. The list includes: Habanero peppers, pineapple, cilantro, lime juice, white vinegar and salt. Easy, right?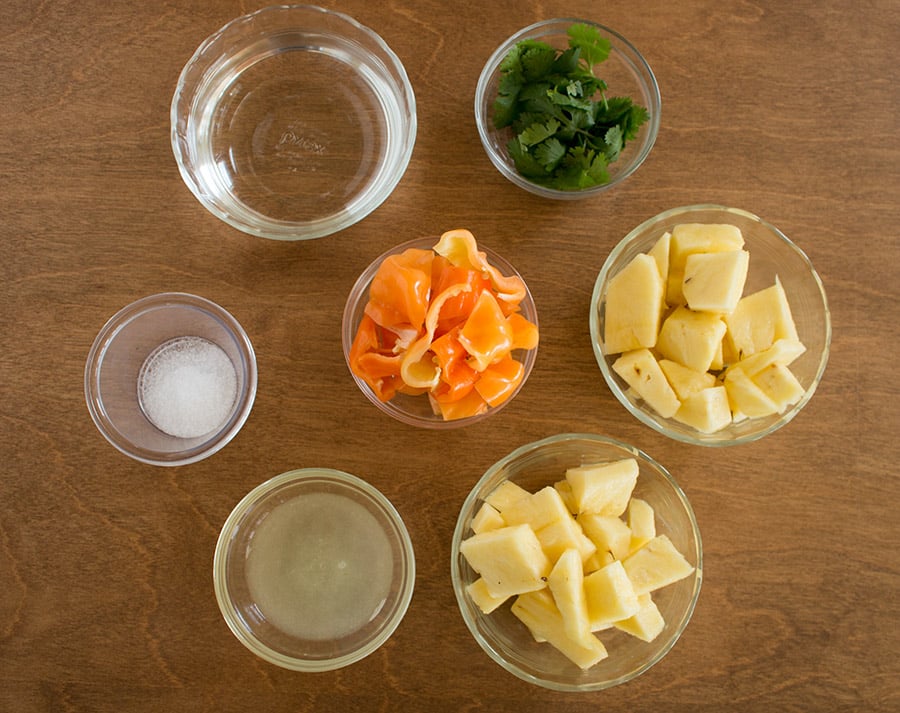 It is thinner because you'll strain this one at the very end. However!
Thicker or Thinner Sauce
If you prefer a thicker hot sauce, you have a couple of options. FIRST, just don't strain it. I don't like to keep this one completely unstrained because the ingredients chosen easily separate in the bottle.
No biggie, though, as you can simply shake up the bottle before each use. Or, SECOND, add a bit of the strained pulp back into the sauce before you bottle it.
That's what I did here. I took about a tablespoon of the pulp and swirled it back into the finished sauce, just for a bit of substance. I like the little swirlies you get in the bottle.
It's a vibrant and flavorful hot sauce recipe, ready and willing to go where your taste buds want to take you. It takes practically no time to make, which is nice.
I posted a VIDEO RECIPE below so you can see just how easy it really is. Making hot sauce at home is fun, isn't it? All you need are a few ingredients. I hope you enjoy it!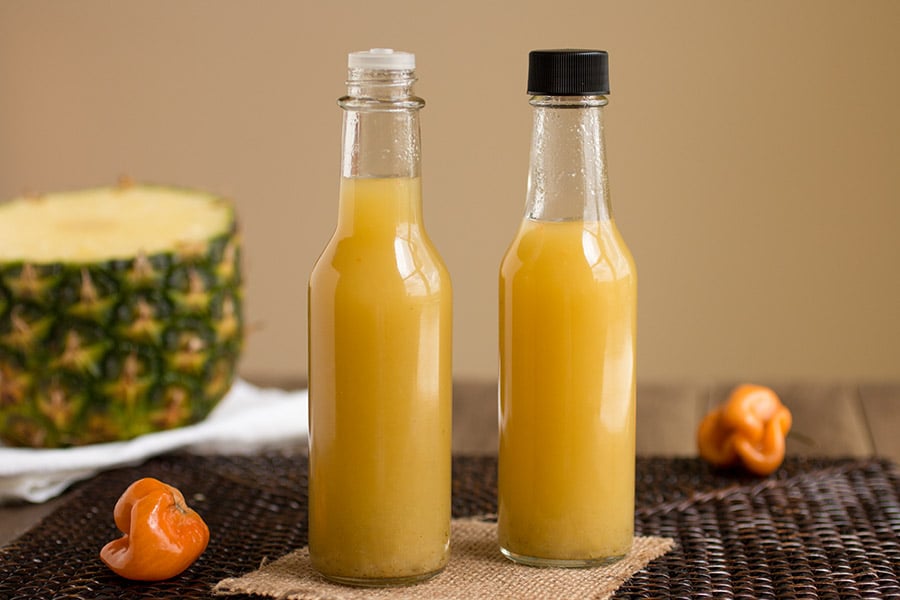 Patty's Perspective
Mike mentioned using this in your Bloody Mary, but give a dash into your beer. Seriously! I love it. Also, it was FUN making the video. I hope we do more of them!
Check out my other Hot Sauce Recipes, too.
Frequently Asked Hot Sauce Questions
Here are answers to some of the most common questions I get on other sauces:
How long will this sauce keep?
It should keep a few months easily in the fridge, or even longer. It's all about the acidity.
To be technical, target level ph for shelf stable foods is below 4.6 ph, but should probably be lower for home cooks, around 4.0 or so, to account for errors. If you're concerned, add more vinegar to lower the ph. Sauces made with fermented chili peppers will last even longer.
The best ph meters that I recommend are from Thermoworks. Get yourself a ph meter from Thermoworks today. I am a happy affiliate.
Where'd you get that sauce bottle?
I find them locally sometimes, but I also order through Amazon. Here is a link to some bottles I like (affiliate link, my friends!): Swing Top Glass Bottles, 8.5 Ounce - Set of 4
. If you like the smaller bottles that most hot sauce makers use, here's another link: Hot Sauce Bottles, 5 Oz - 24 Pack
.
Can I process this hot sauce for longer storage?
Absolutely. Just be sure to use proper canning/jarring safety procedures.
What should I do with hot sauce?
Aside from drizzling it over anything you please, here's a post I did about How to Cook with Hot Sauce. As if you need even MORE reasons to eat hot sauce. I hope you find it helpful!
If you try this recipe, please let us know! Leave a comment, rate it and tag a photo #ChiliPepperMadness on Instagram so we can take a look. I always love to see all of your spicy inspirations. Thanks! -- Mike H.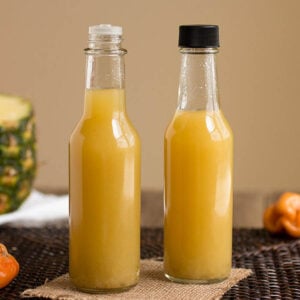 Print
Pineapple-Habanero Hot Sauce Recipe
Make your own hot sauce at home with this quick and easy recipe that incorporates spicy habanero peppers, sweet pineapple and cilantro. Perfect for dashing over meals or spicing up your favorite cocktails. We like it for our Bloody Marys.
Save Recipe
Saved!
Ingredients
5-6

habanero peppers

coarsely chopped

2

cups

chopped pineapple

1

handful cilantro leaves

rinsed

Juice from 1 lime

1

cup

white vinegar

½

teaspoon

salt
Instructions
Add all ingredients to a food processor and process until smooth.

Add to a pot and simmer over low heat for 15 minutes.

Cool and strain, if desired. If you want a chunkier hot sauce, skip the straining. Or, strain and add a bit of the pulp back in to your desired consistency.

Pour into bottles and refrigerate until ready to use!
Video
Notes
Makes about 12 ounces.
Heat Level: Hot.
Nutrition Information
Calories:
5
kcal
Carbohydrates:
1
g
Sodium:
29
mg
Potassium:
13
mg
Vitamin A:
20
IU
Vitamin C:
5.8
mg
Calcium:
1
mg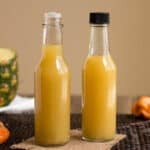 Did You Enjoy This Recipe?
I love hearing how you like it and how you made it your own. Leave a comment below and tag @ChiliPepperMadness on social media.