A chili recipe so easy, you'll have family dinner on the table with hardly any effort, made with chili ready tomatoes, just the right amount of spicy.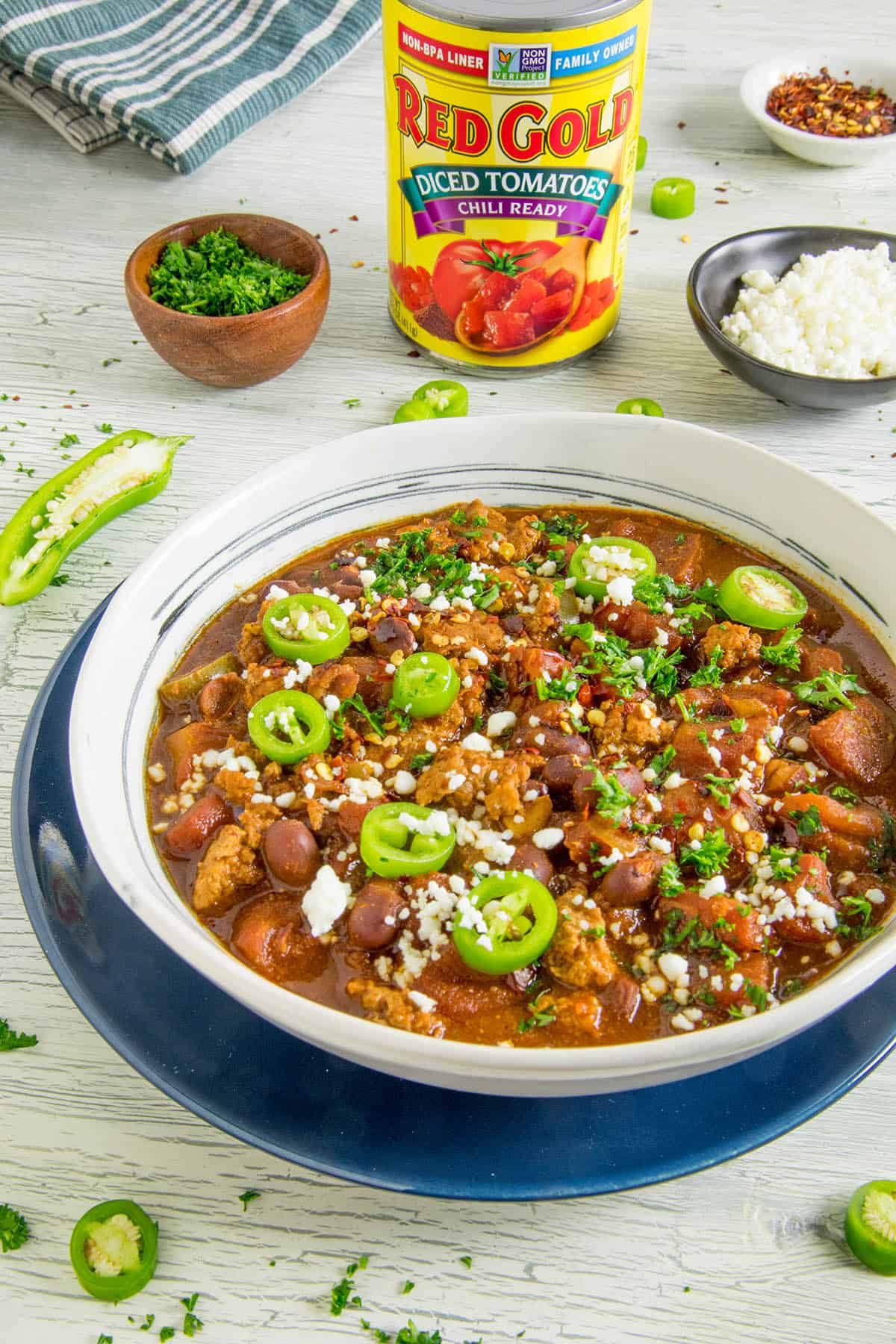 Quick and Easy Chili Recipe
This post is sponsored by Red Gold® Tomatoes and SheKnows Media.
Chili is on the menu tonight, my friends, because the weather is turning nice and cool and chili is always PERFECT for this time of year. We're also slammed here lately, as I know you all are, so I've made this Chili recipe as easy as possible so that you can fit into your busy family schedules. I'm working with chili ready Red Gold Tomatoes to make this happen.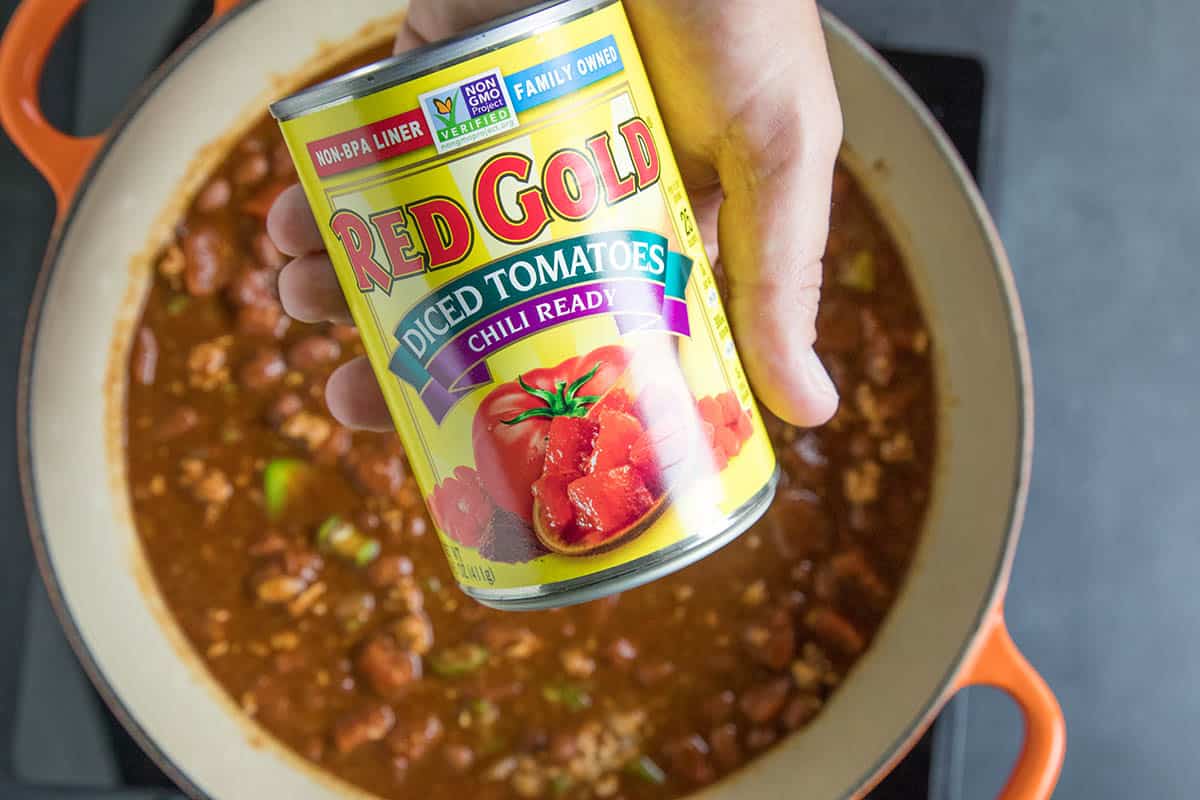 Red Gold® Tomatoes are family owned and family grown. They've partnered with local family farms for over 75 years to provide the freshest, best tasting tomato products in the world. Their products are steam packed fresh with nothing artificial, proudly made in the USA, and give that true tomato flavor without any "can" taste.
Do you live in the Northeast? Check out Red Gold's sister brand Redpack Tomatoes for products with the same family grown quality in your area.
Let's talk about how we make the chili recipe, shall we?
How to Make the Easiest Chili in the World – The Recipe Method
First, heat up a large pot to medium heat and add a bit of olive oil. Add some ground beef or ground turkey along with peppers and onions and cook them down about 5 minutes or so, until the beef is mostly cooked through and the peppers and onions have softened up.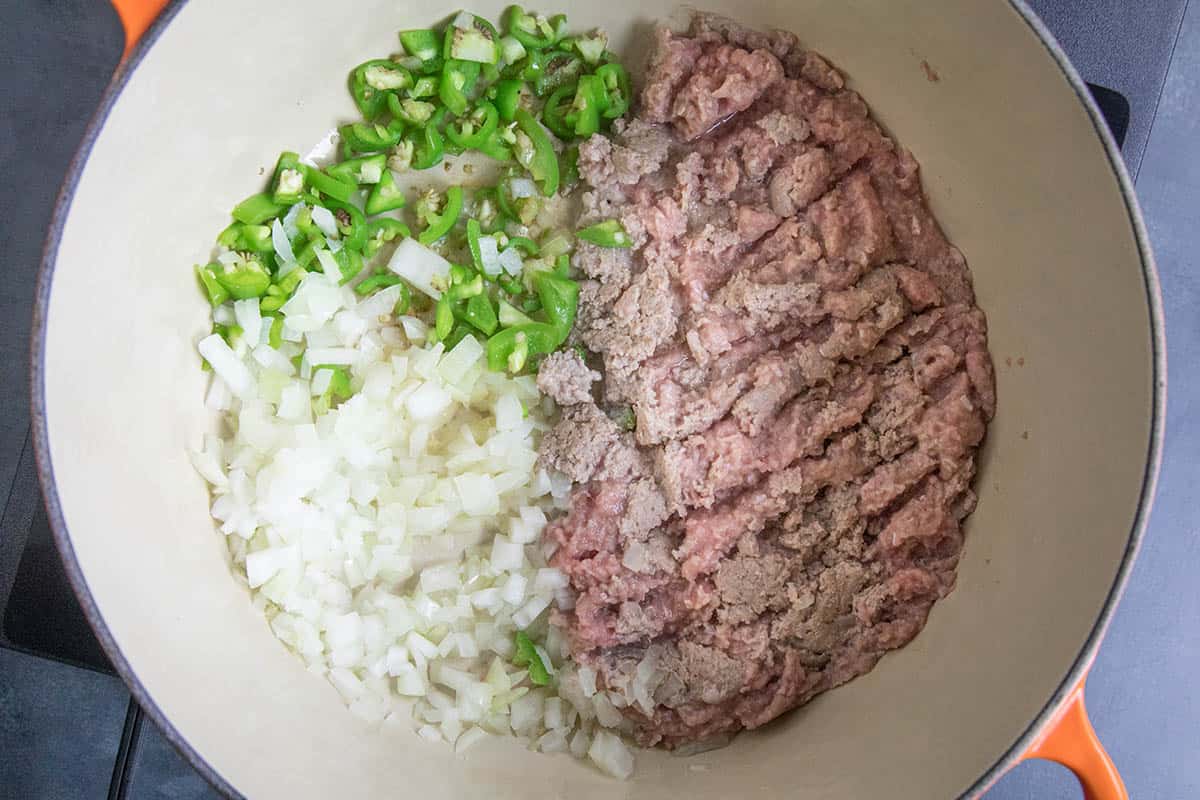 Stir in some garlic, hot chili beans and your Red Gold® Tomatoes. I'm using the Red Gold Diced Tomatoes Chili Ready for this recipe. No chopping! Extra seasonings!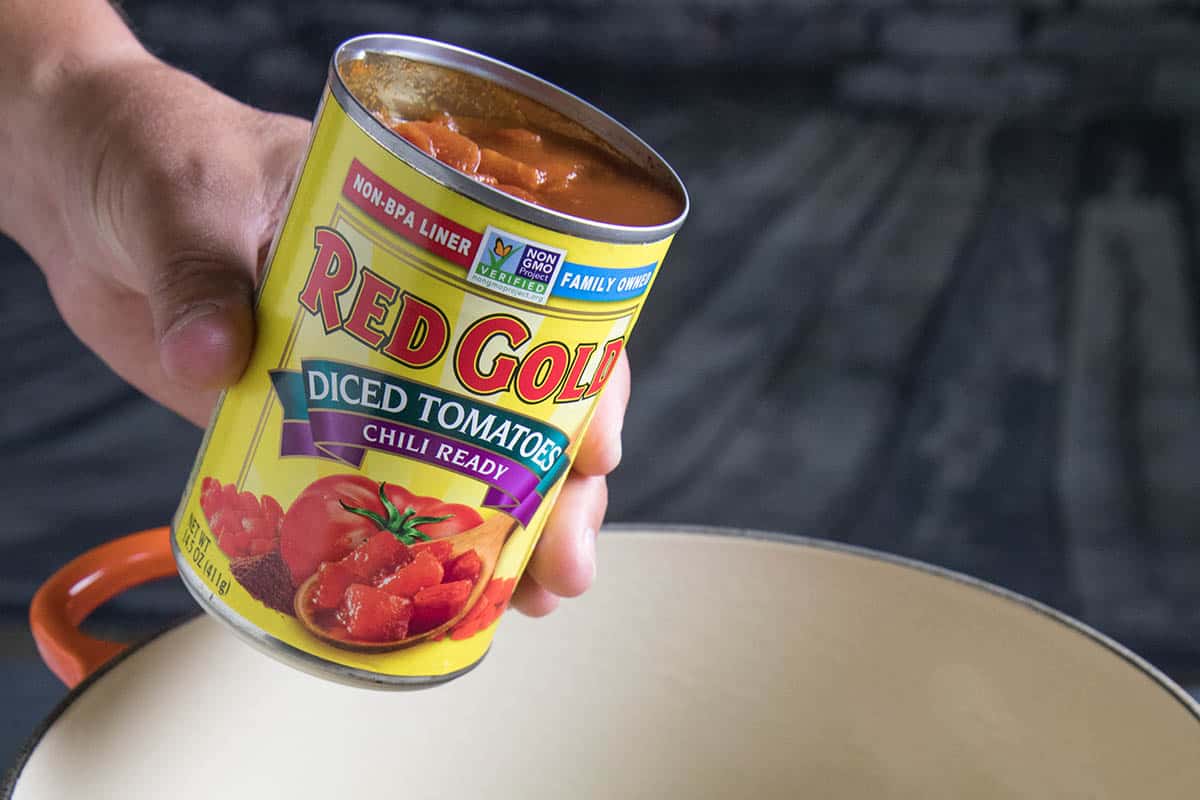 They're not only great for quick chili, but they also add an extra pop of flavor to other easy recipes, like casseroles or baked chicken.
Next, swirl in your chili powders and seasoning mixture – more on that below – and set the mixture to low heat. Let the chili simmer for 45 minutes to an hour.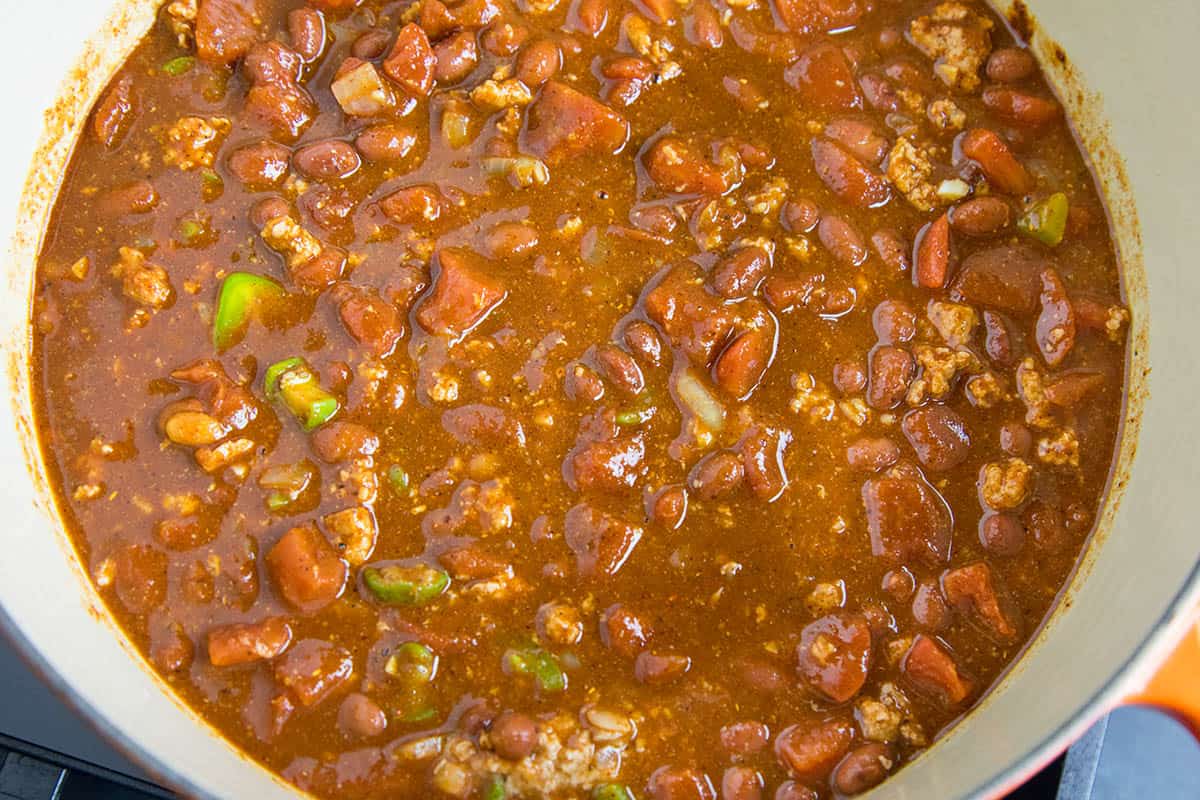 That's it! Walk away!
It doesn't get any easier than this.
When you're ready to serve, give the pot of chili a stir.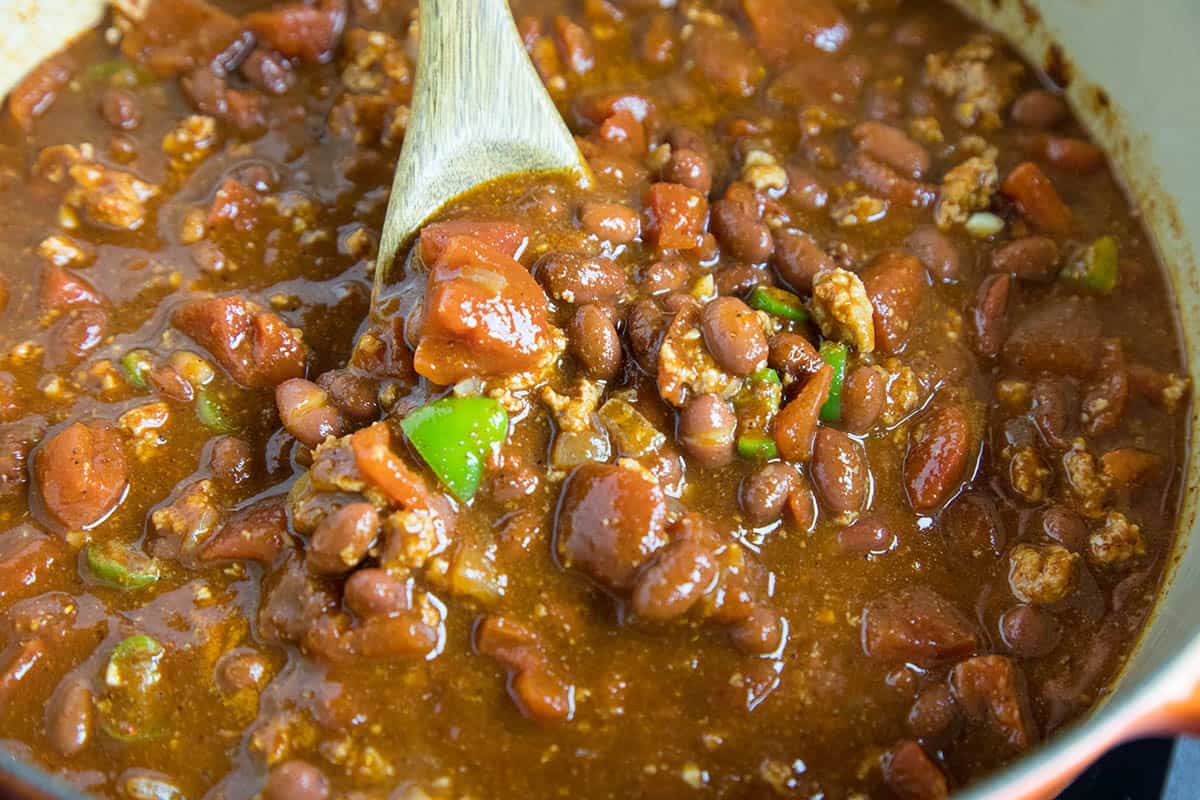 Scoop it into bowls, then top it with your favorite fixings, like shredded cheese, crackers, chili pepper slices, fresh herbs, whatever else you love on your chili. Maybe some hot sauce!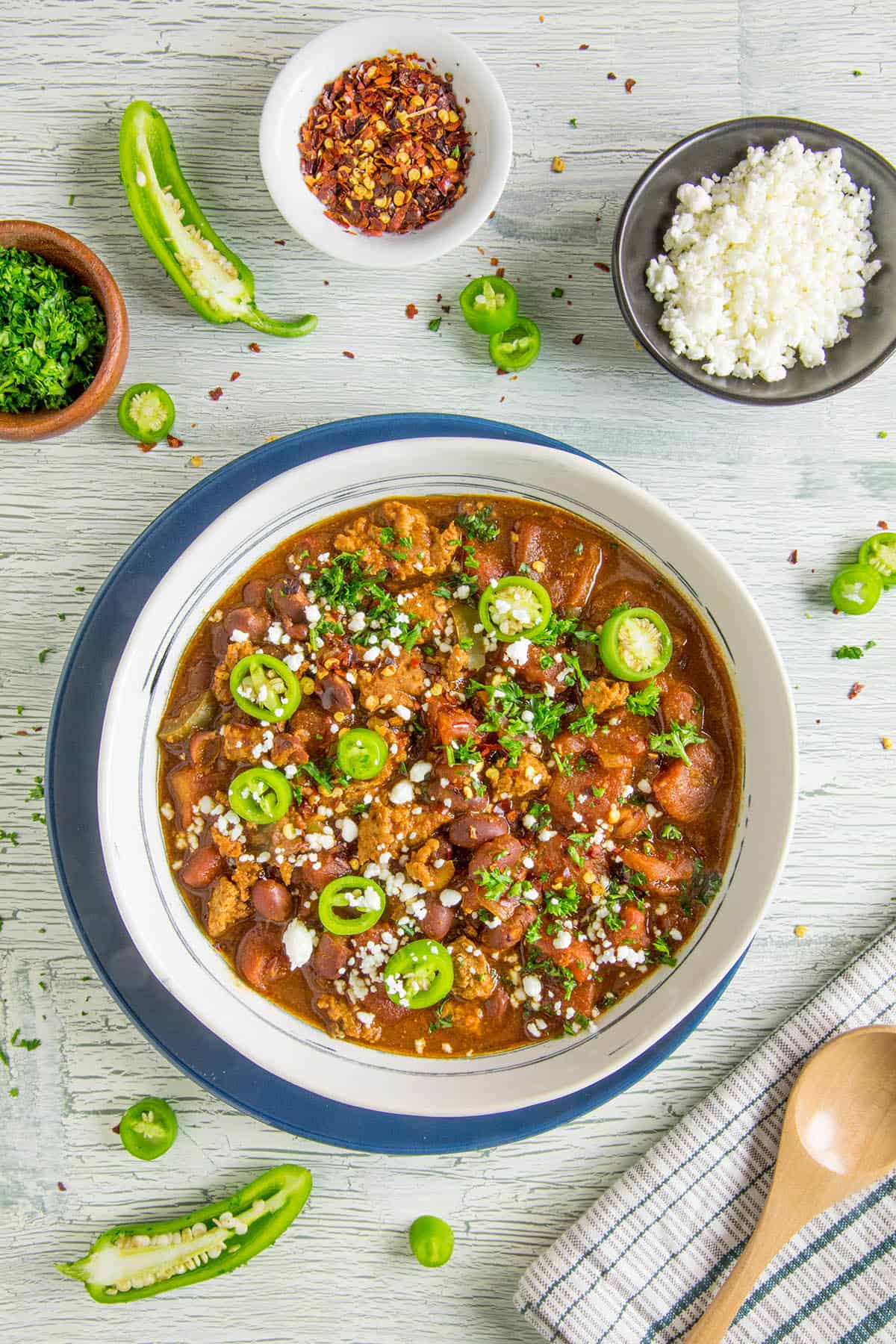 I truly love an easy, easy recipe. This was the easiest.
The only downside of this recipe is how the entire house smells like chili cooking, wafting through the air, driving me (and everyone else) insane with hunger. The whole family will be waiting with anticipation.
You'll just have to deal with it! Upside? You've just made for yourself a good hour of family time while the chili simmers away.
Bonus!
Can I Make This Recipe in a Slow Cooker?
Absolutely! Follow the recipe, but first cook down the peppers and onions with your ground meat in some oil in a pan first, then simply transfer the mixture along with the remaining ingredients to a slow cooker.
Give it all a swirl and let it cook low and slow for at least 2 hours on low, or until the flavors meld to your liking. You can let it cook longer.
BOOM! So easy!
About the Chili Seasonings
I have a LOT of seasonings in my house, for obvious reasons, so I like to use a combination of red chili powder, ancho and morita chili powders for my chili, along with a bit of cumin, and salt and pepper.
However, feel free to use your favorite red chili powder or blend. The choice is yours.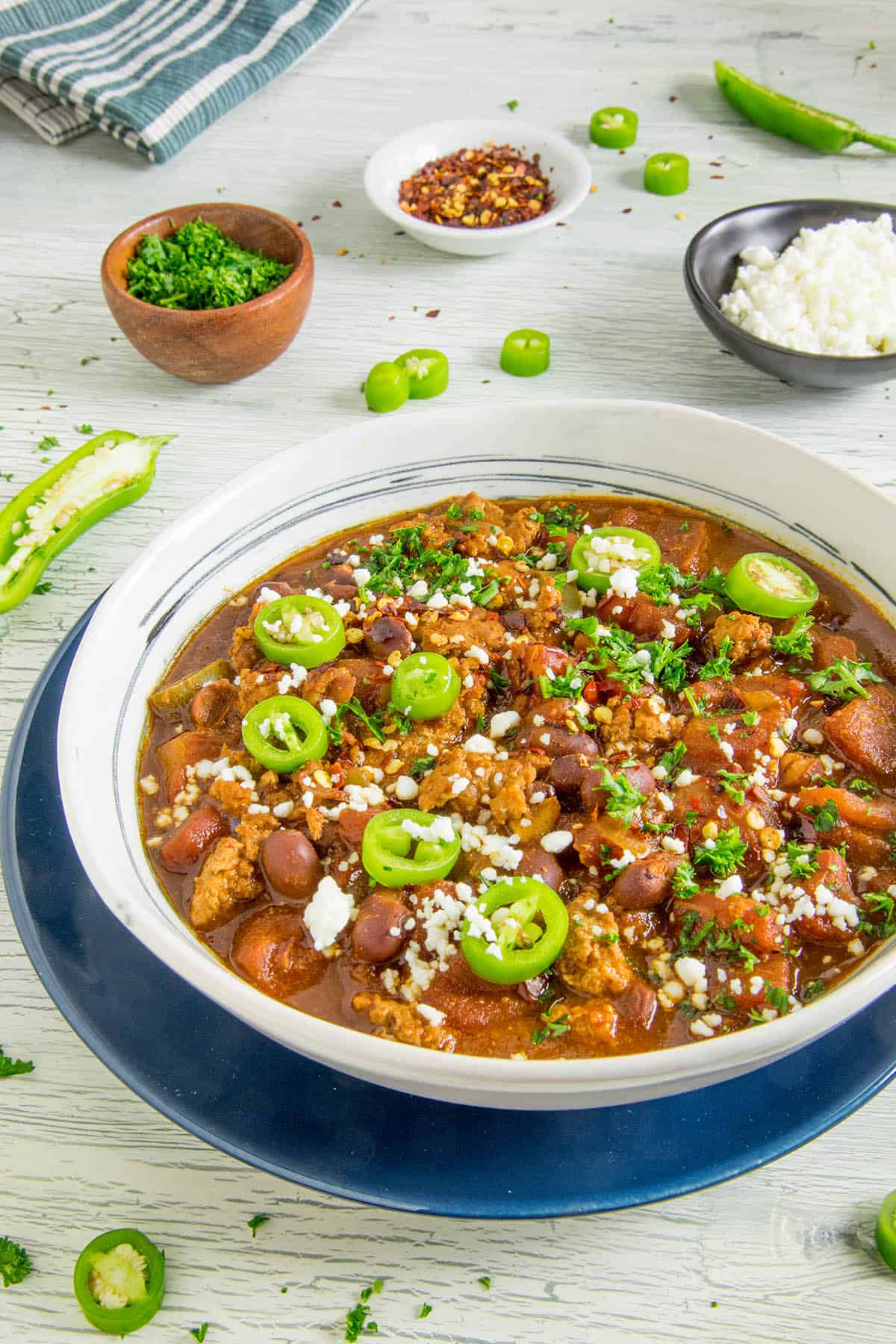 Recipe Notes and Variations
This recipe works great with either ground beef or ground turkey, depending on your preference, but I've made this also with ground pork, ground chicken, and even ground sausage. It is SUPER versatile.
Also, feel free to vary up the beans. Most people use pinto beans for their chili, but I love large butter beans and will often toss those in for some visual and flavor variety.
I just crave them. Go crazy with beans!
Heat and Spice Factor
I used a couple jalapeno peppers along with some extra spicy chili flakes to add to the spiciness and heat of the chili powders. You can tamp down the heat by using bell peppers instead and omitting the spicy chili flakes. You'll still get plenty of heat from the seasonings.
If you're looking to up the heat factor, use spicier peppers and extra chili flakes. Serranos, anyone? Yes!
Storage and Leftovers
Store any leftover chili in a sealed container in the refrigerator for up to 5 days. To enjoy it again, simply reheat it over medium heat in a pot on the stovetop.
You can also freeze chili in freezer proof containers for 3 months or longer. I freeze batches all the time. It reheats perfectly after thawing.
That's it, my friends! Time to get cooking! I hope you enjoy your super easy chili!
Learn more about Red Gold® and Redpack Tomatoes and where to find them: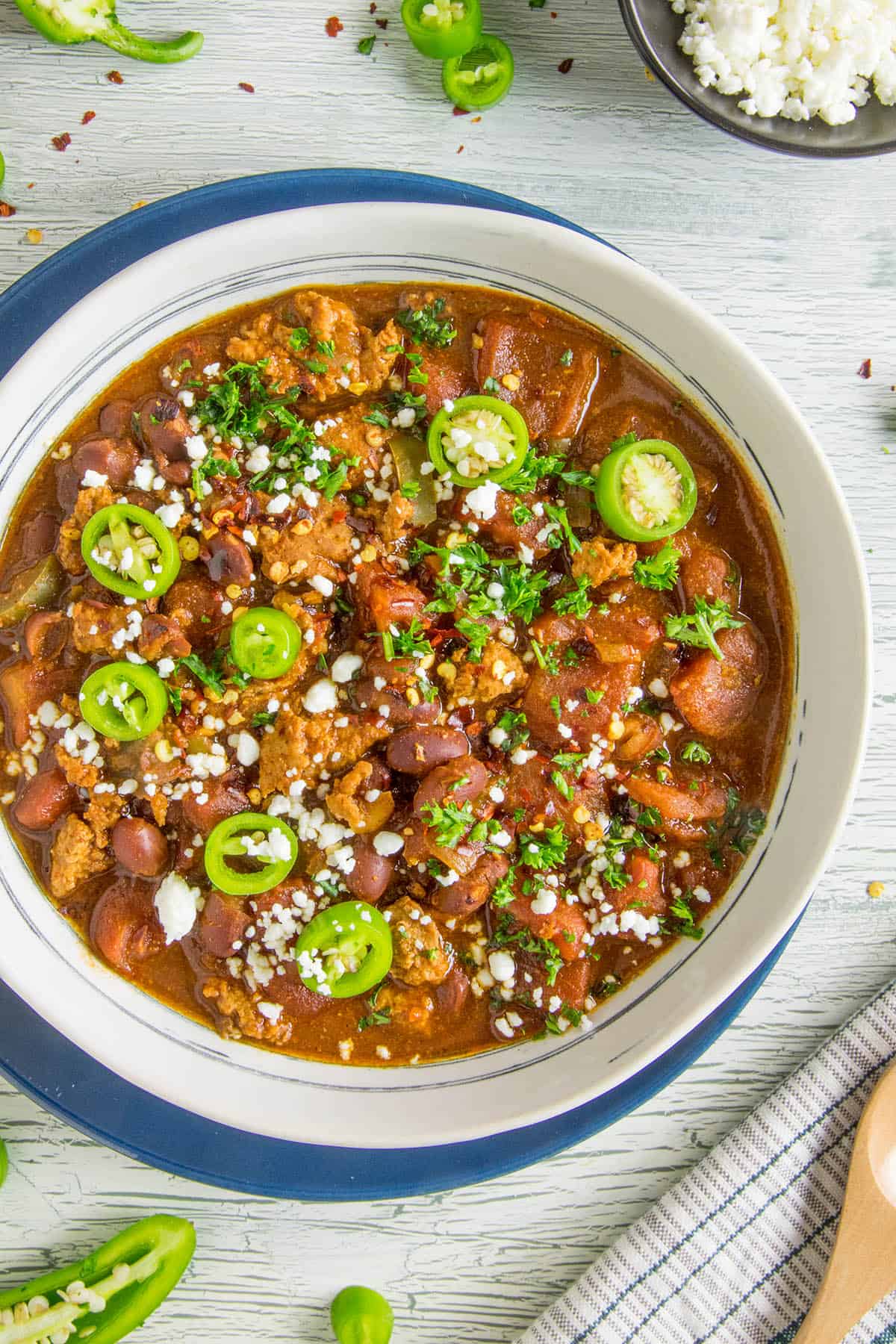 Try Some My Other Popular Chili Recipes
If you enjoy this recipe, I hope you'll leave a comment with some STARS. Also, please share it on social media. Don't forget to tag us at #ChiliPepperMadness. I'll be sure to share! Thanks! -- Mike H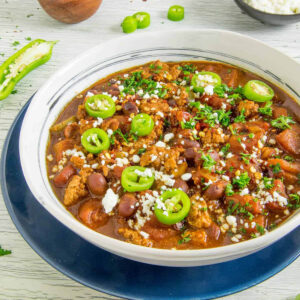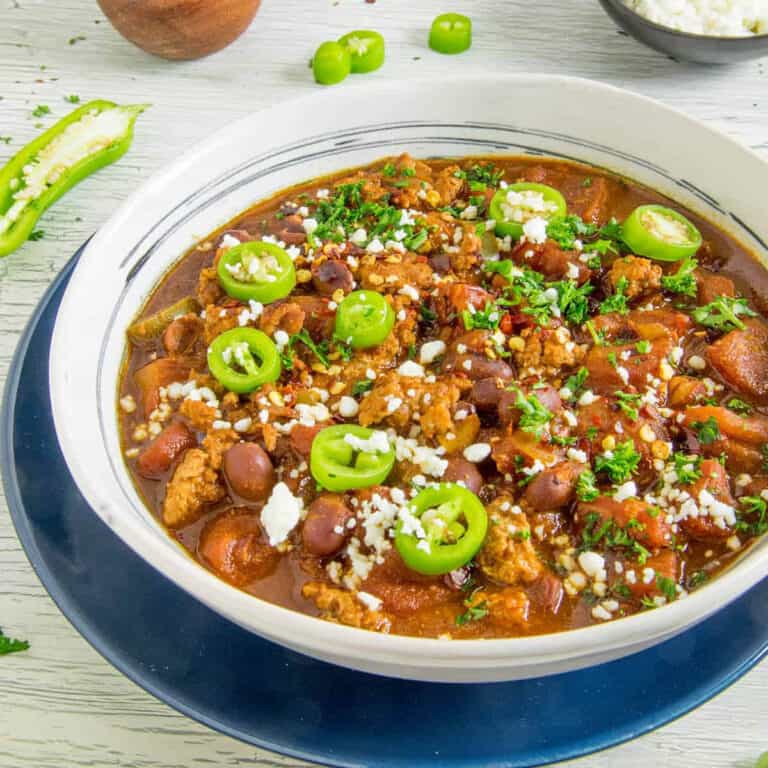 Print
The Easiest Chili Recipe in the World (Easy Chili)
A chili recipe so easy, you'll have family dinner on the table with hardly any effort, made with chili ready tomatoes, just the right amount of spicy.
Save Recipe
Saved!
Ingredients
1

tablespoon

olive oil

1

pound

ground beef or ground turkey

I used ground turkey for this recipe

1

medium onion

chopped

2

jalapeno peppers

chopped

3

cloves

garlic

chopped

2

15 ounce cans hot chili beans

1

tablespoon

red chili powder

1

tablespoon

ancho chili powder

1

tablespoon

morita chili powder

1

teaspoon

cumin

Salt and pepper to taste
Instructions
Heat a large pot to medium heat and add the olive oil.

Add the ground meat, onion and jalapenos. Cook them down about 5 minutes, until the meat browns and the onion and peppers soften up.

Add the remaining ingredients and stir everything together. Bring to a quick boil, then reduce the heat and simmer at least 45 minutes.

Adjust for salt and pepper and serve into bowls. Top with your favorite fixings.
Nutrition Information
Calories:
289
kcal
Carbohydrates:
34
g
Protein:
26
g
Fat:
6
g
Saturated Fat:
1
g
Cholesterol:
41
mg
Sodium:
1329
mg
Potassium:
1246
mg
Fiber:
9
g
Sugar:
11
g
Vitamin A:
1435
IU
Vitamin C:
22.5
mg
Calcium:
112
mg
Iron:
5.5
mg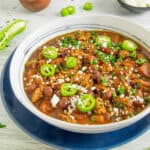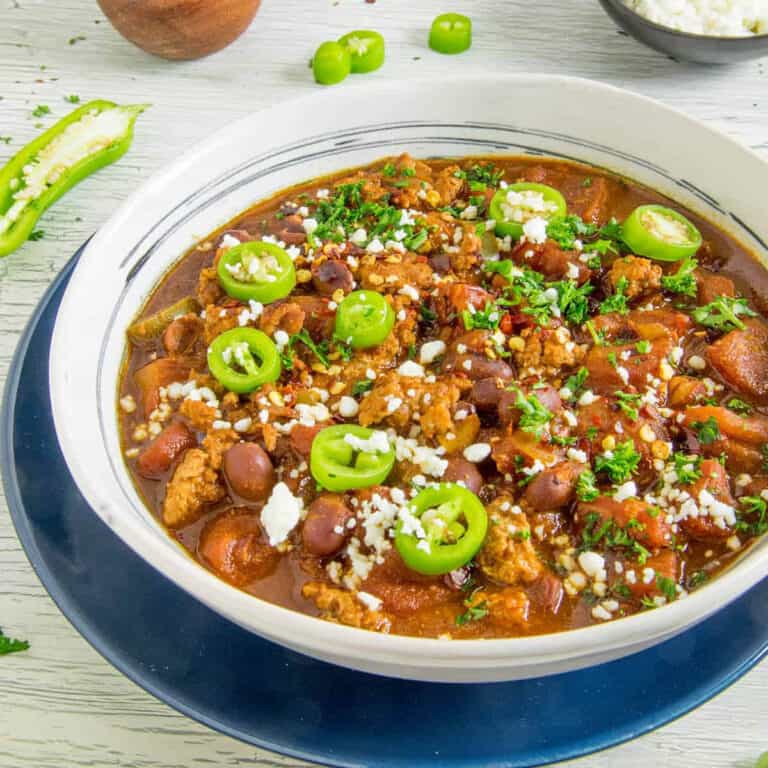 Did You Enjoy This Recipe?
I love hearing how you like it and how you made it your own. Leave a comment below and tag @ChiliPepperMadness on social media.