If you love shakshuka, a recipe of eggs simmered in spicy tomato sauce, you'll love this extra spicy version made with ghost peppers and hot chorizo. Bring on the heat!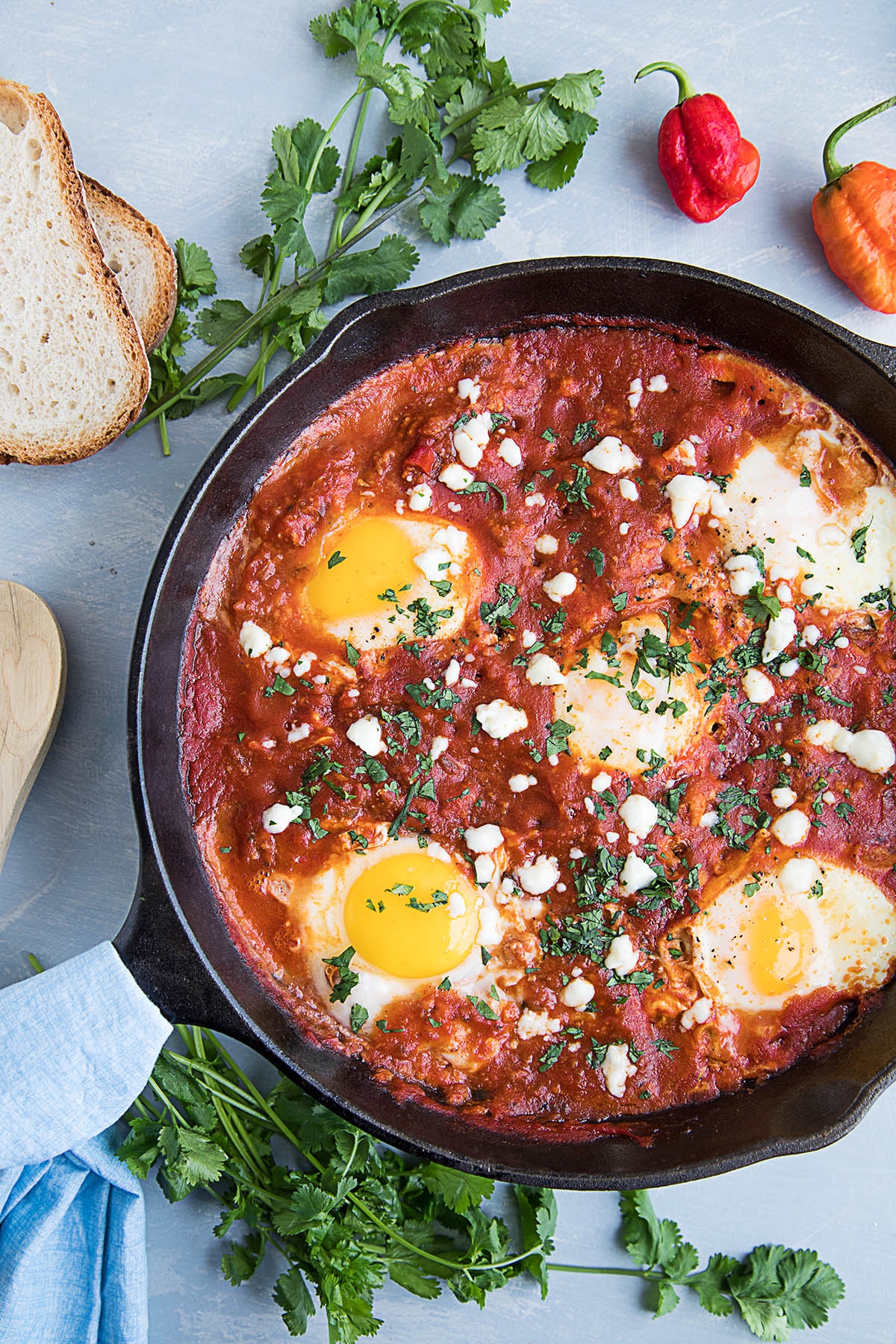 Have you had Shakshuka yet? I'd be shocked if you haven't by now. It's all over the internet, on practically every food blog known to man. I have a Shakshuka Recipe on this site as well, and it's funny because when I first heard of the name, Shakshuka, I realized I had been making a version of it for years and years, long before it became an internet sensation.
It's not like I originally invented anything crazy. At its core, Shakshuka is a recipe of eggs simmered and poached in a spicy tomato sauce. It's huge in the middle east, where it is popular for dinner. Sounds right up my alley, right? Easy, spicy, tasty.
Heck yes!
However! You guys know me. When I have something spicy, I want something SPICY! So as much as I really do LOVE my own Shakshuka Recipe, I thought I would bring a new version specifically to those who love to push the spicy heat levels as far as they can go. May I introduce to you...
JACKED-SHUKA. Now THIS...this is crazy. A little.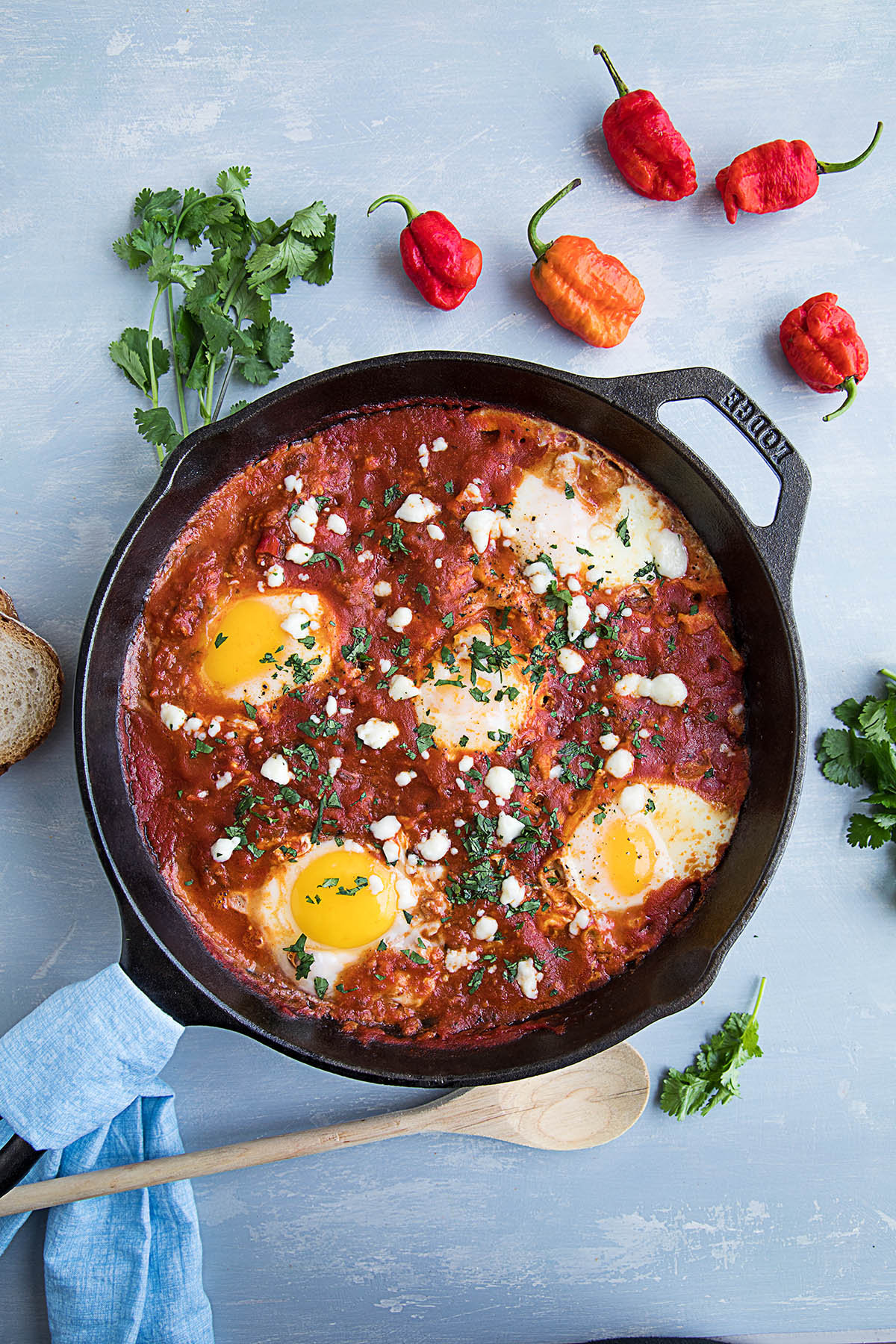 Oh baby! Heat lovers rejoice!
With this version, I made the spicy tomato sauce with a mixture of chopped ghost peppers and brain strain peppers grown in my garden this year, along with spicy hot chorizo and a mixture of superhot chili powder made from peppers I dehydrated and crushed.
Talk about heat! Sorry, Patty.
I also include a small red Italian sweet pepper for extra substance, so if the superhots are TOO hot for you, you CAN swap them out for milder peppers. But booo.
If you truly love the heat, you can use any of the superhot chili peppers. If you're purchasing them, ghost peppers are usually the easiest to find in the stores, though you may need to grow them yourself or find an online resource. Plenty of peppers to go around, my friends.
The process is rather simple to cook up this recipe.
How to Make Jacked-Shuka - Extra Spicy Shakshuka (aka "Eggs in Hell") - the Recipe / Method
You'll heat a bit of oil, in this case, chili oil, in a pan and cook down your onion and peppers. Add the chorizo and cook it a few minutes, then add the garlic and cook for a minute or so, along with the hot chili flakes, Mexican oregano, cumin, and a bit of salt and pepper.
Next, add crushed tomatoes and give the whole thing a stir. Let it simmer at least 10 minutes, though 30 minutes is better to let the flavors develop more. Give it a taste. Nice and hot, right? When you have the flavor you're looking for, make small indentations in the simmering tomato sauce and crack the eggs into them.
Let them simmer about 10-15 minutes or so, or until the egg whites set and cook through. If you'd like to speed up the process, you can cover the pan, but note that the egg yolks will turn white on top from the heat. Not a big deal, but if you care about seeing the vibrant egg yolks (presentation, ya'll!), then don't cover the pan.
Once the egg whites are cooked through, garnish with fresh chopped herbs and a crumbly white cheese.
And! Don't forget your favorite hot sauce and crusty bread. You'll need the bread to scoop up that piquant tomato sauce that is sure to rock your world. Bring on the heat, my friends! Oh yeah. This one has some heat for you.
Check out the VIDEO RECIPE below. Let me know how you like it! I look forward to hearing from you.
-- Mike H.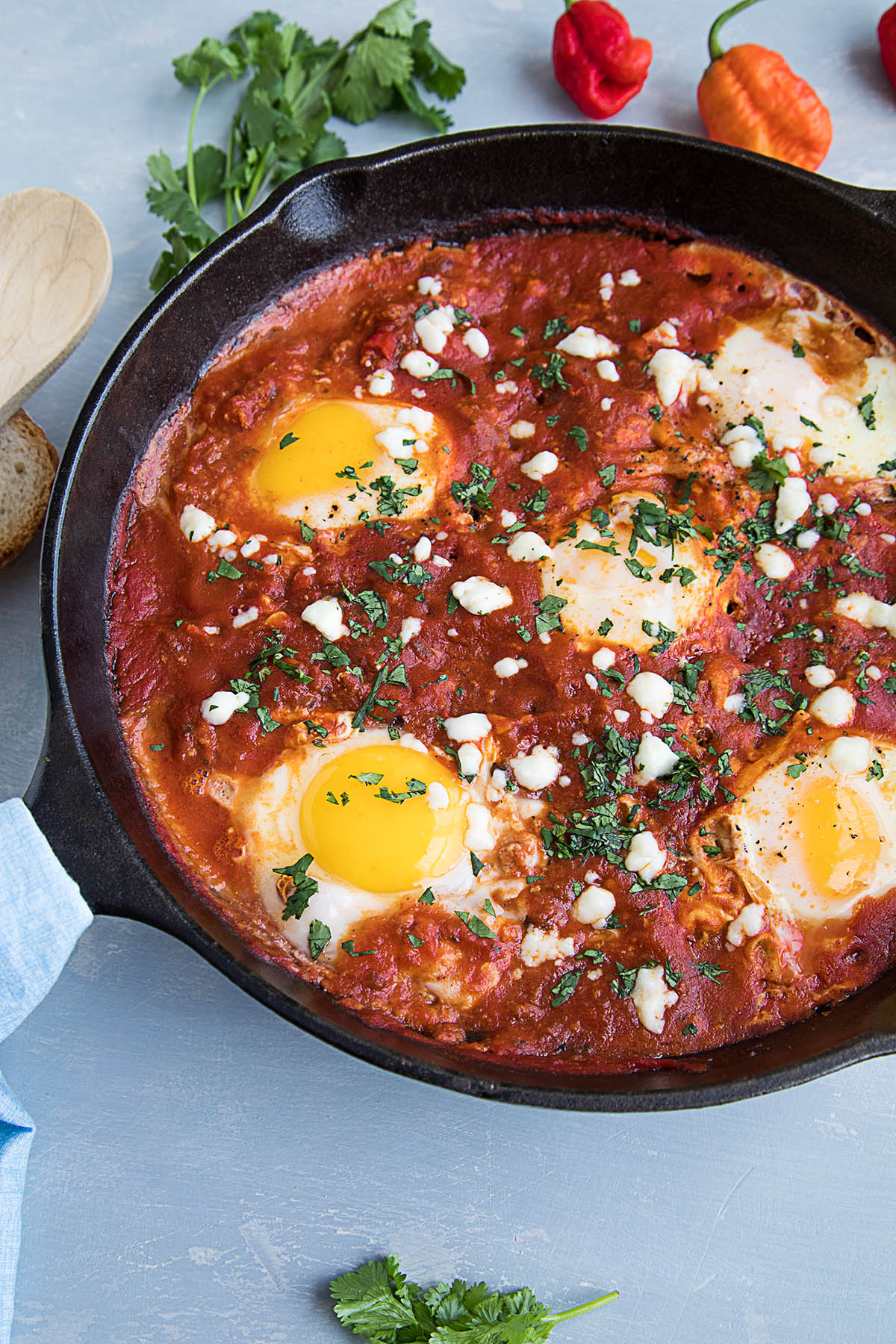 Try Some of My Other Popular Breakfast Recipes
If you enjoy this recipe, I hope you'll leave a comment with some STARS. Also, please share it on social media. Don't forget to tag us at #ChiliPepperMadness. I'll be sure to share! Thanks! -- Mike H.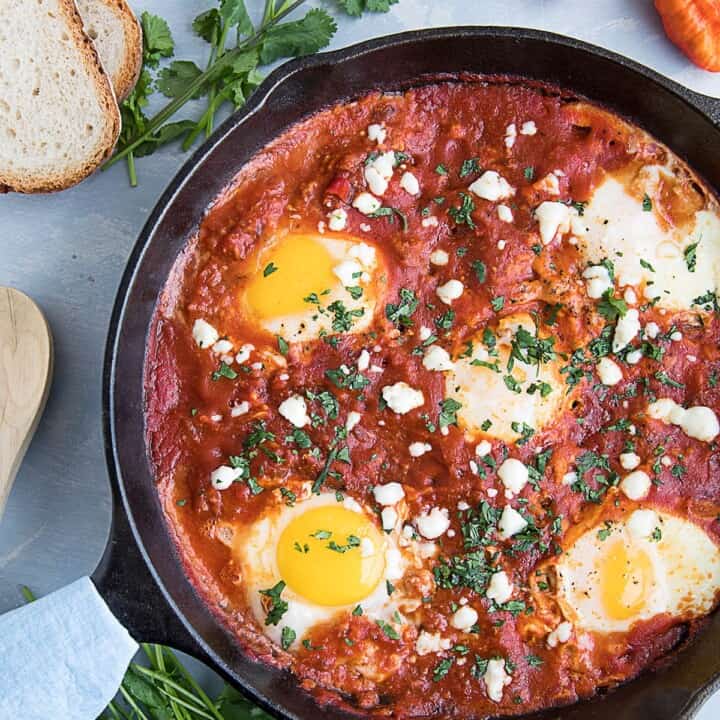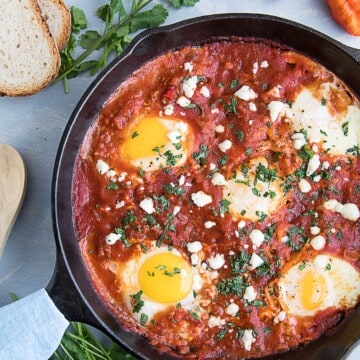 Print
Jacked-Shuka (Extra Spicy Eggs in Hell) - Recipe
If you love shakshuka, a recipe of eggs simmered in spicy tomato sauce, you'll love this extra spicy version made with ghost peppers and hot chorizo. Bring on the heat!
Save Recipe
Saved!
Ingredients
1

tablespoon

chili oil

1

medium onion

chopped

2

ghost peppers

chopped (or use even hotter, like scorpions, 7 pot or Carolina Reapers)

6

ounces

hot chorizo

3

cloves

garlic

chopped

1

tablespoon

hot chili flakes

1

tablespoon

Mexican oregano

½

teaspoon

ground cumin

Salt and pepper to taste

1 28-

ounce

can crushed tomatoes

5

eggs

Queso fresco and chopped herbs for serving

Your favorite hot sauce
Instructions
Heat a 10-inch skillet to medium heat and add chili oil.

Add onion and peppers. Cook them down 6-7 minutes, until they are nicely browned and beginning to caramelize.

Add the chorizo and stir. Cook about 5 minutes, or until it is cooked through.

Add the garlic and cook another minute, stirring.

Add the chili flakes, oregano, cumin and a bit of salt and pepper. Stir.

Add the tomatoes and stir it all up.

Simmer the sauce for at least 10 minutes or up to 30 minutes to let the flavors develop nicely.

With a small spoon, form 5 small indentations for the eggs. Crack the eggs into the indentations. Spoon a bit of the sauce over the egg whites to help them set.

Simmer about 15 minutes, or until the eggs whites have set. Cover if you'd like to speed up the process.

Remove from heat and let sit a couple more minutes for the yolks to set to your preference.

Top with fresh herbs and crumbles queso fresco. Serve with crusty bread and your favorite hot sauce.
Video
Notes
Heat Factor: HOT. You'll definitely get some excellent heat from the ghost peppers. Bring it!
Nutrition Information
Calories:
319
kcal
Carbohydrates:
18
g
Protein:
17
g
Fat:
20
g
Saturated Fat:
6
g
Cholesterol:
193
mg
Sodium:
702
mg
Potassium:
813
mg
Fiber:
4
g
Sugar:
9
g
Vitamin A:
785
IU
Vitamin C:
55.6
mg
Calcium:
112
mg
Iron:
4.2
mg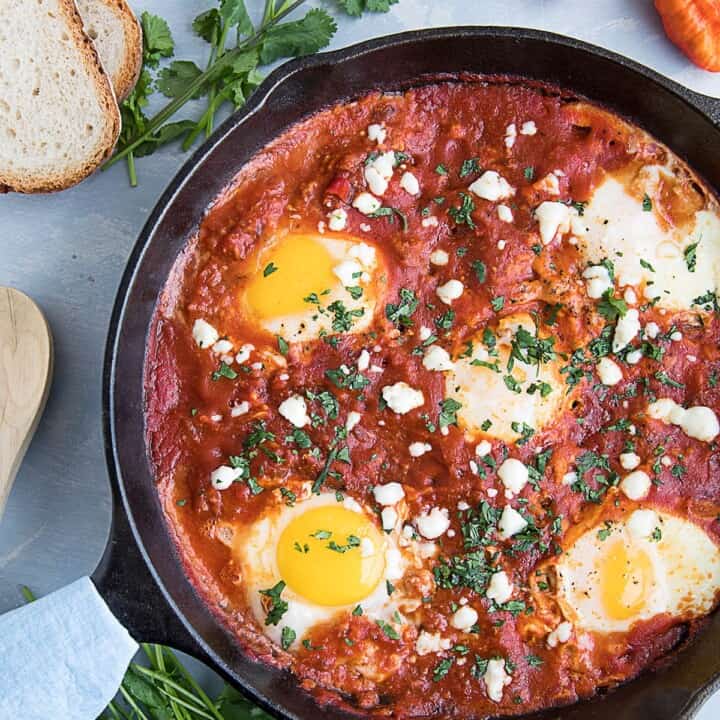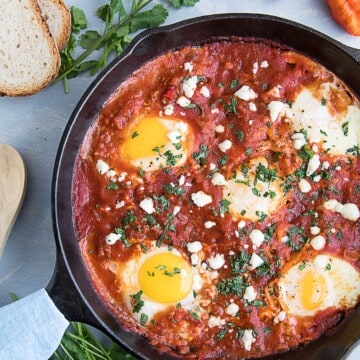 Did You Enjoy This Recipe?
I love hearing how you like it and how you made it your own. Leave a comment below and tag @ChiliPepperMadness on social media.