No meat or cheese platter is complete without a savory-sweet mostarda. Spread it over cheeses, sliced meats or bread for a tasty bite. Here is the recipe.
As we were gearing up for the holidays at the end of last year, discussing what was going to go onto our meat and cheese platter, I knew I wanted to make a mostarda. A mostarda traditionally is a Northern Italian condiment made from candied fruit and sweetened mustard, though as with most recipes, there are many variations. It's more a technique than anything, a nice combination of savory and sweet, and I'll tell you flat out, it's a great spread.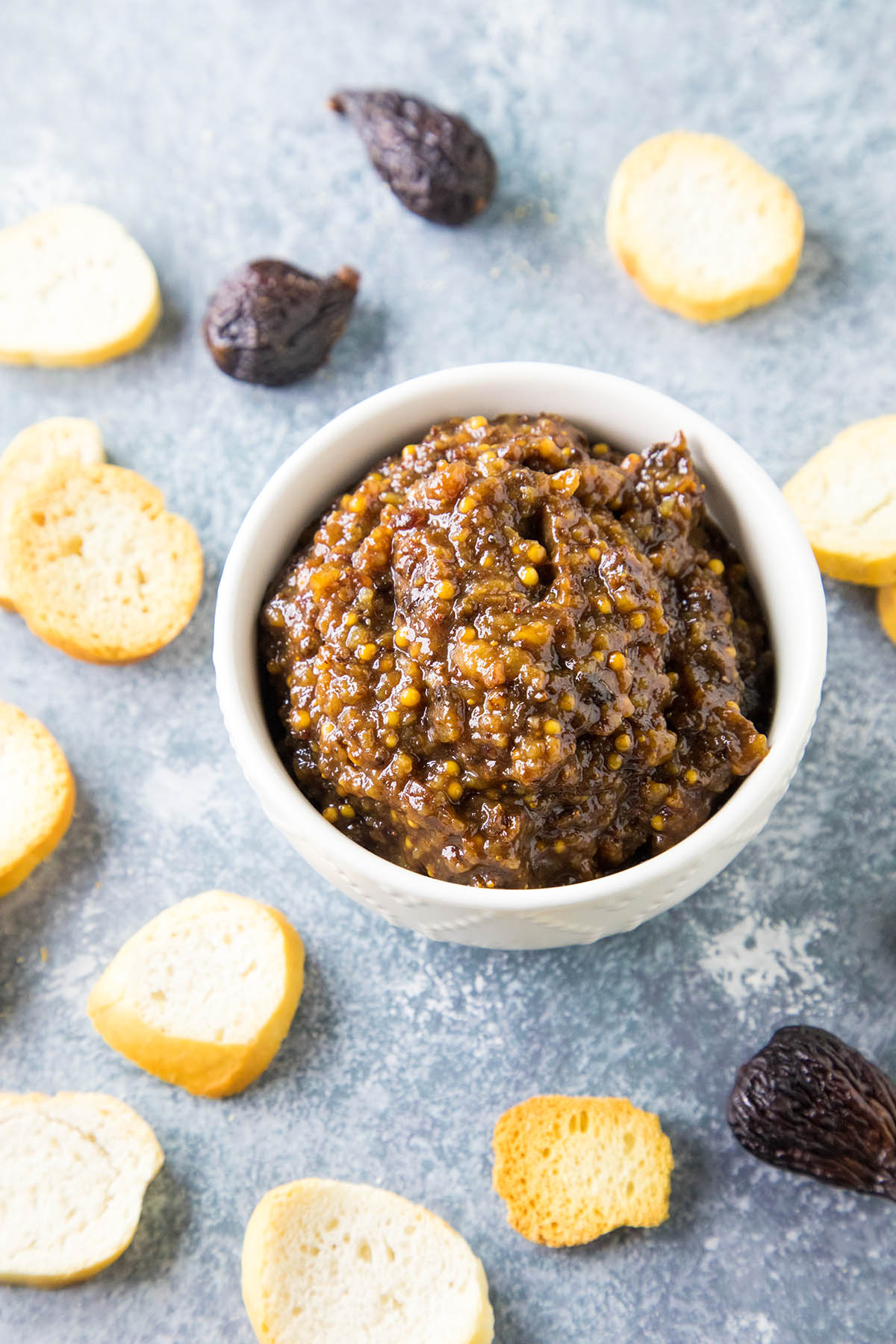 It isn't a spicy recipe, though it can be if you wanted it to be. I opted for sweet peppers here to compliment the overall ingredient combination, as well as to please the family, as they don't exactly appreciate the level of spiciness that I do. Not many people do, except you guys! And I appreciate that!
Still, the focus here is on the flavor, particularly the combination of savory and sweet, with plenty of fresh pear, dried figs, sweet peppers and mustard seeds. 
Yes!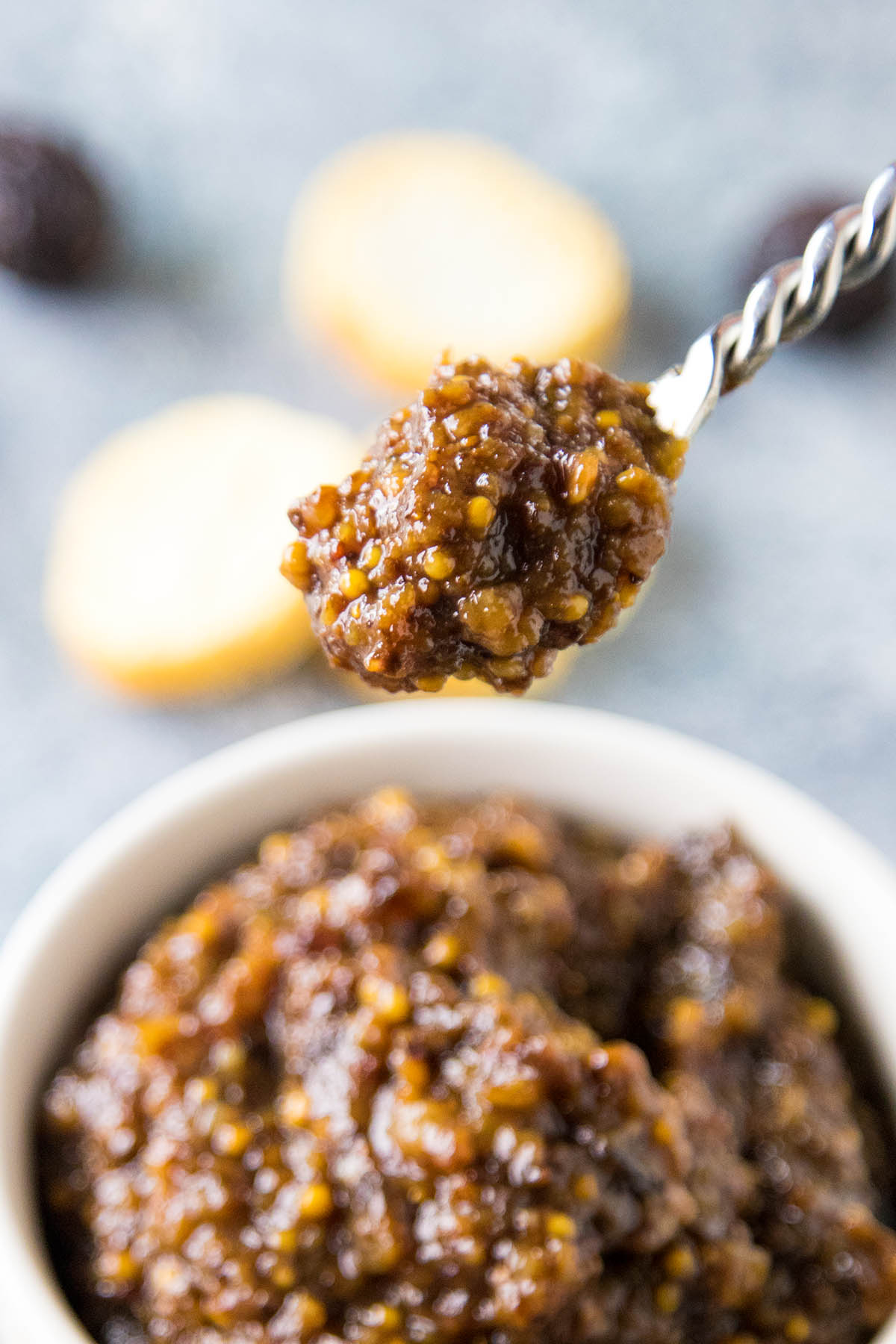 It's nice and thick, and perfectly spreadable.
Making it is very easy. Add all of the ingredients to a pot and let it simmer until everything is softened up. Pop it all into a food processor and BOOM. Done!
It's ready for spreading onto mini toasts, onto bite sized servings fo boiled or cured meats, particularly onto cheeses. I enjoy layering up crackers with cheese, then finishing them up with a smear of mostarda. YUM. Perfect appetizer bite.
Give it a try, my friends. You can also serve this with any grilled or boiled entree meat, like beef or chicken. It's good stuff. And sure, feel free to add in some spicier peppers if you'd like. Not required! I hope you enoy it. — Mike H.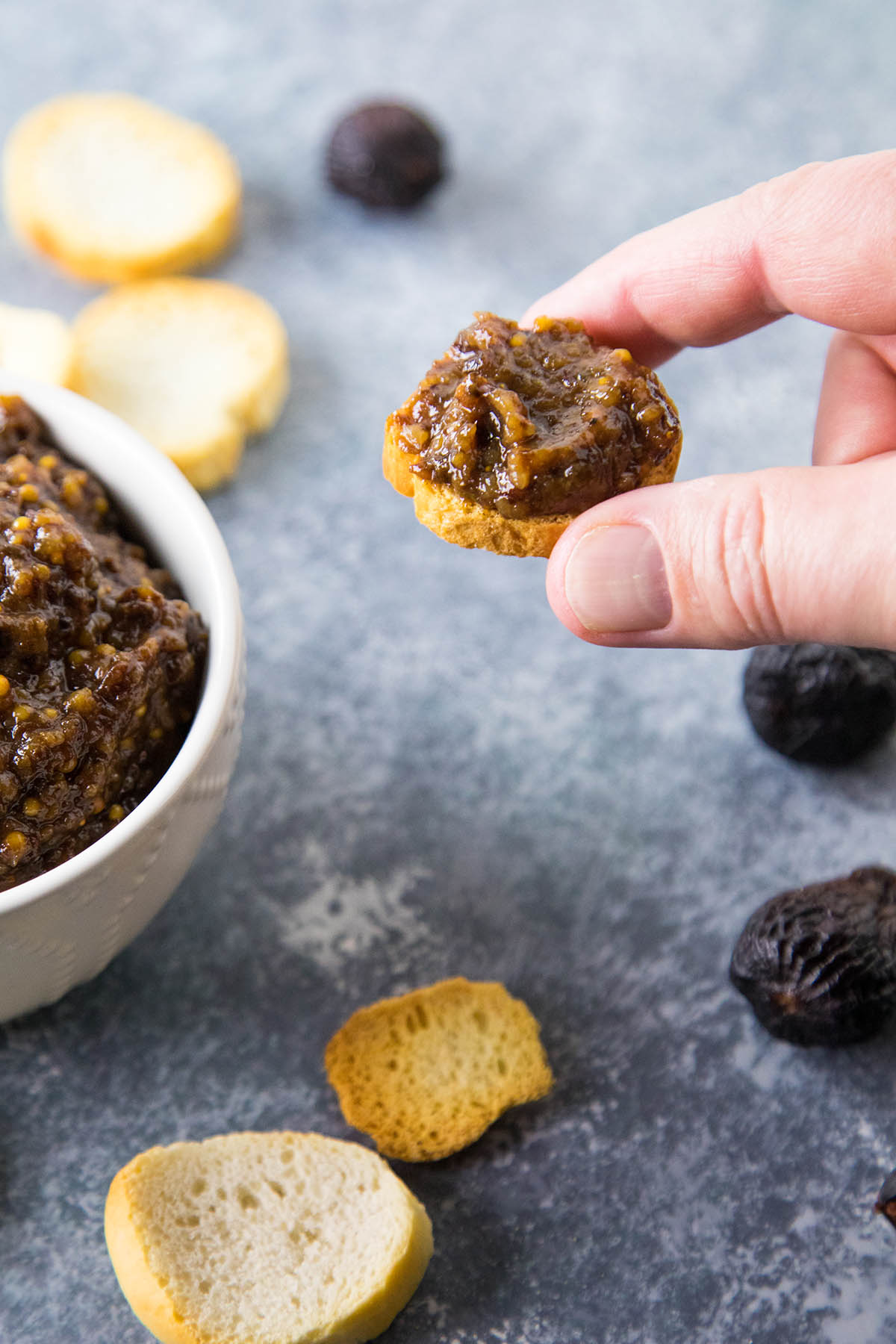 Pear-Fig Mostarda – Recipe
Ingredients
½ cup white wine
¼ cup plain sugar
¼ cup white wine vinegar
½ cup dried figs
2 pears, peeled and diced
1 small sweet pepper, chopped
2 tablespoons yellow mustard seeds
1 tablespoon yellow mustard powder
1 tablespoon ground ginger
1 tablespoon fresh chopped basil
1 teaspoon salt
Cooking Directions
Add all of the ingredients to a pot. Heat to medium heat, then simmer for 15 minutes to allow everything to soften up.
Cool, then process in a food processor until nice and smooth.
You can use it right away, but I like to refrigerate it overnight to let the flavors mingle. Serve cold or room temperature.
Makes about 2-3 cups.