This pineapple salsa recipe is fresh and sweet with just the right amount of heat from fruity, spicy habanero peppers and plenty of chunky pineapple.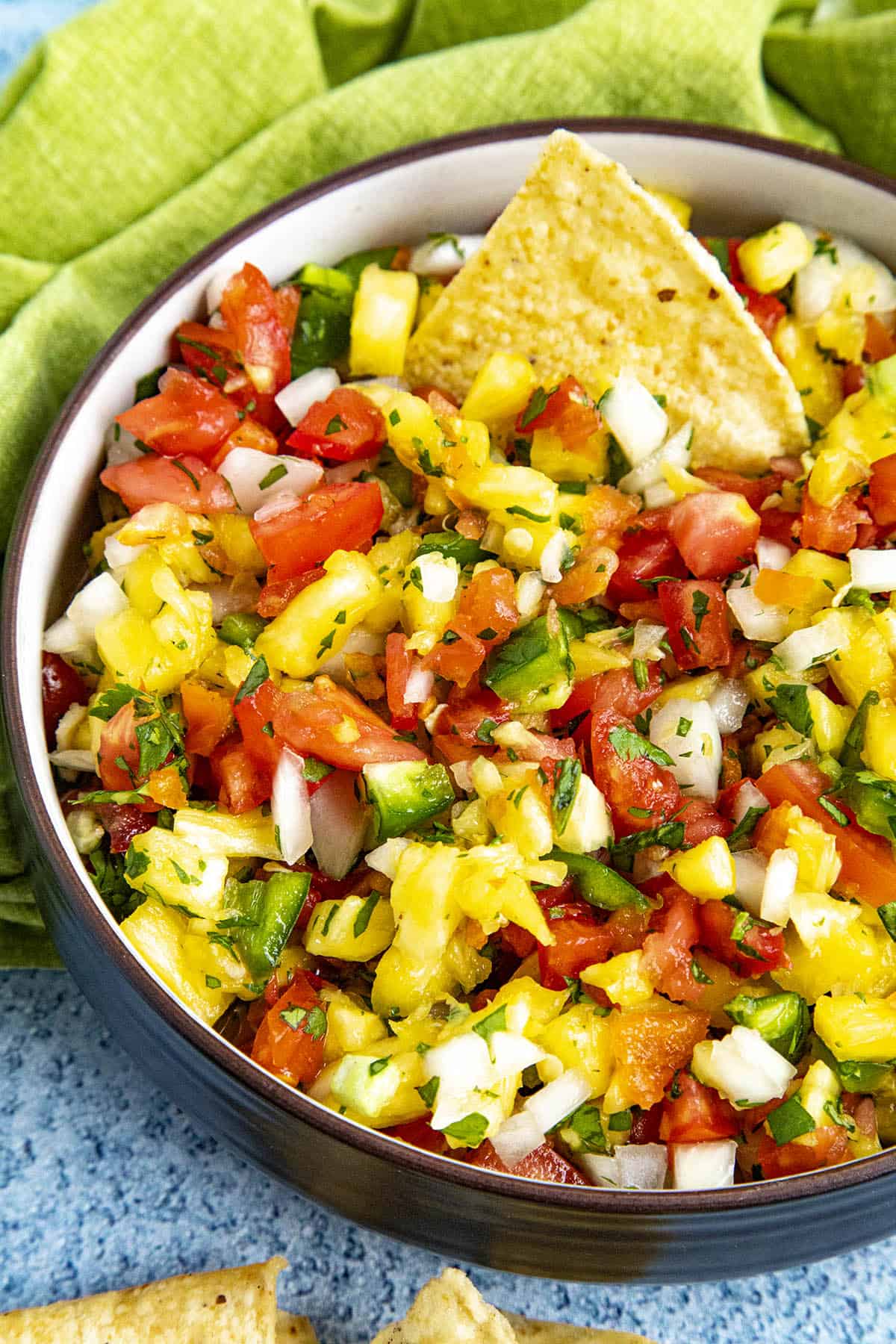 It's spicy salsa time, my friends! Are you up for some salsa? Everyone loves a good salsa recipe, and this one just might be one of your new favorites. We're talking a super easy pineapple salsa that has just the right amount of heat for my spicy food loving friends.
Pineapple salsa is a big favorite for game day gatherings and any party situation, where quick and easy recipes that satisfy a big crowd rule the day. This recipe includes lots of fresh chopped pineapple along with both jalapeno peppers and wonderfully fiery habanero peppers to make this a truly stand out salsa.
We just love this recipe and make it all the time. There is no cooking involved. This is a super fresh, sweet and spicy salsa that will be on the table in no time. Get your knives and pineapples, ready, my friends. And your peppers! This one is very easy to customize to your own spice level preference.
Let's talk about how we make this spicy pineapple salsa recipe, shall we?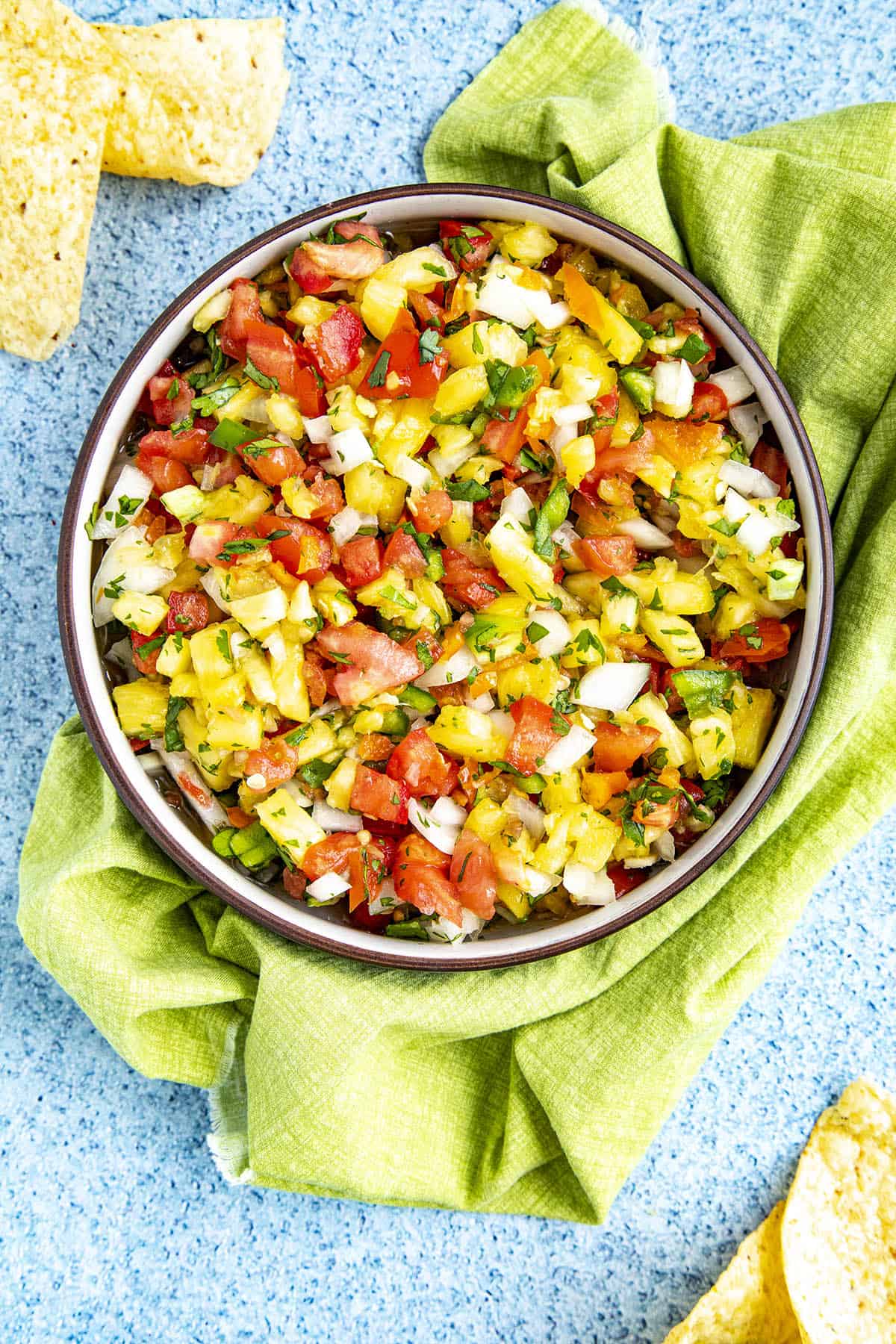 Spicy Pineapple Salsa Ingredients
Pineapple. Use a smaller ripe pineapple, or half of a typical sized pineapple for this recipe. The amount you use can be variable. I like to use about 2 cups of chopped pineapple with mine, which makes a nice portion. You can use more or less as desired.
The Peppers. Use a jalapeno pepper for a mildly spicy version of the recipe. I love to include a couple of habanero peppers for their additional heat and fruity flavor, which hugely compliment this recipe and make it wonderfully spicy. If you think the heat will be too much, core out the peppers before using, or omit the habaneros entirely.
Onion. Red onion has a wonderful crunch factor to it, though I also enjoy it with a crunchy white onion. Shallots are good for milder onion flavor.
Tomatoes. Use juicy tomatoes with firm outer flesh. You can scoop out the tomato innards if you'd like, though I usually keep it in.
The Extras. Fresh chopped cilantro, lime juice and salt to taste round out the recipe.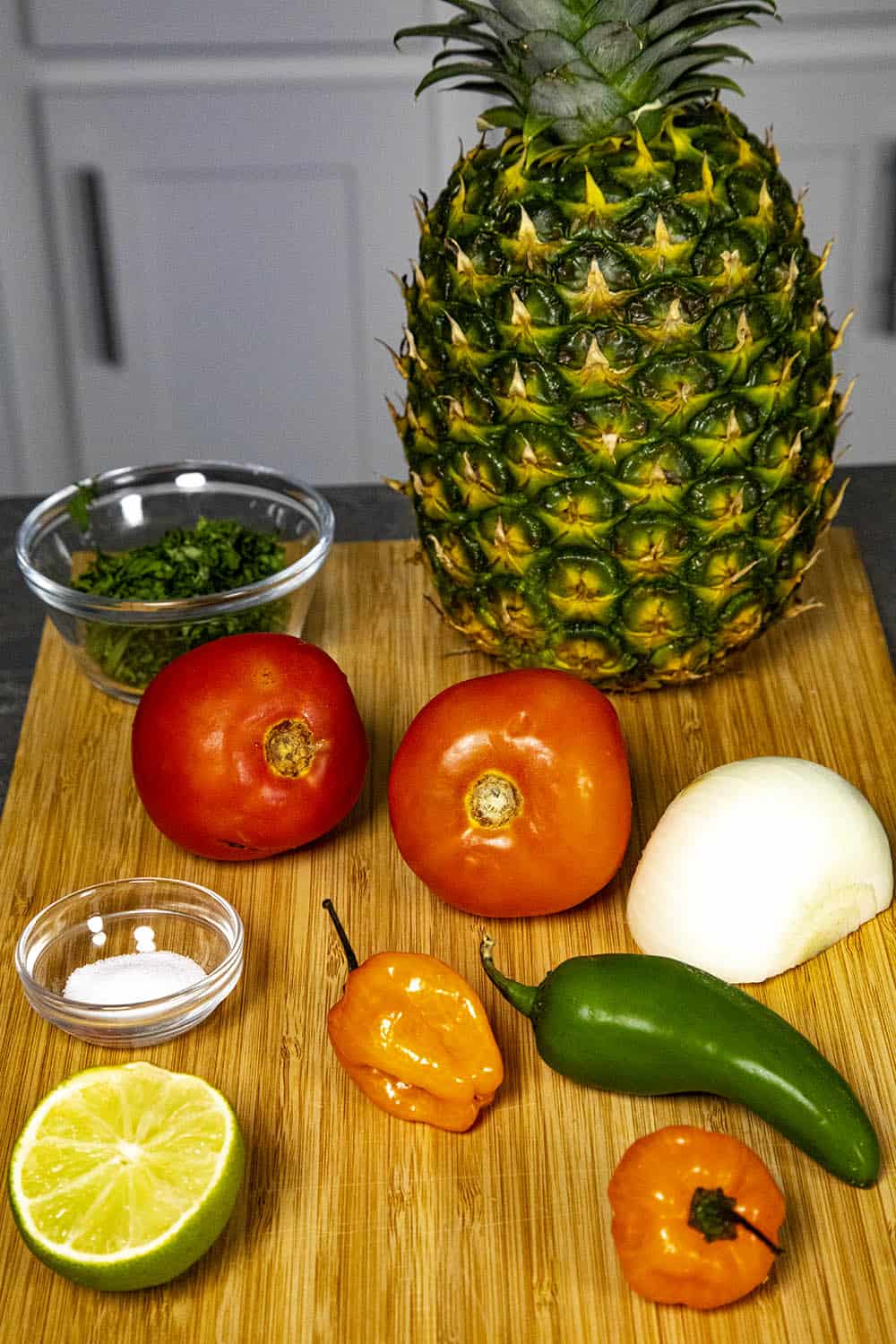 How to Make Spicy Pineapple Salsa - the Recipe Method
Peel and core the Pineapple. Finely chop it and add to a large mixing bowl. Use 2 cups of chopped pineapple and save the rest, or use the whole pineapple.
Chop the Peppers. Finely chop the peppers and add them to the mixing bowl. You can core out the peppers for milder heat.
Chop the Onion and Tomatoes. Finely chop the onion and tomatoes. You can scoop out the squishy tomato innards for a chunkier texture to your salsa if you'd prefer. Add to the mixing bowl.
Hand Mix the Salsa. Add the chopped cilantro, freshly squeezed lime juice and salt to taste. Mix the salsa until it is nicely combined.
Taste and Adjust. Give the salsa a taste. Need more salt? A bit more lime juice? Add them in until you love it.
Boom! Done! Pineapple salsa is ready to serve! You gotta love a fiery fruit salsa, especially with lots of pineapple.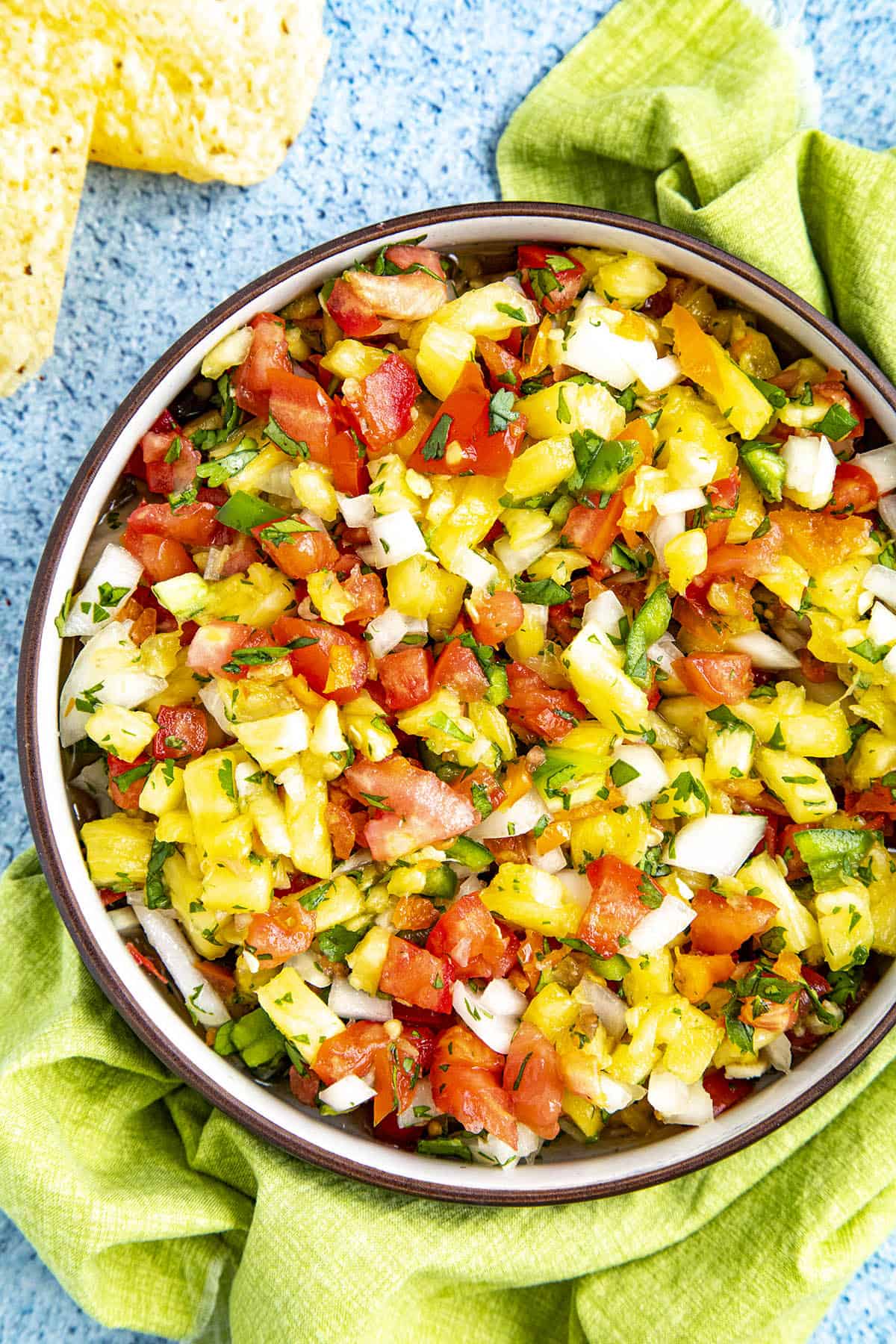 Recipe Tips & Notes
Heat Factor. You'll definitely get some heat from the fiery habanero peppers, though you can really control that by coring them out before chopping. Skip the habaneros if they are too hot for you and stick with the jalapeno peppers, which have a nice bit of heat on their own. For an even hotter version, use extra habaneros or go with ghost peppers or hotter. Spice it up, my friends! You can also use red bell pepper for a super mild version.
Serving Pineapple Salsa. Serve your salsa with tortilla chips for the most common experience, though we love to spoon it over grilled meats like grilled chicken, fish or pork. Swap out your typical sauce next time for salsa. You'll love it! It's also great on tacos, like these awesome Baja Fish Tacos or these flavorful Tacos al Pastor. Try it as a side dish. So good!
Customize It. You can incorporate other ingredients to make this recipe your own. Some great additions are black beans,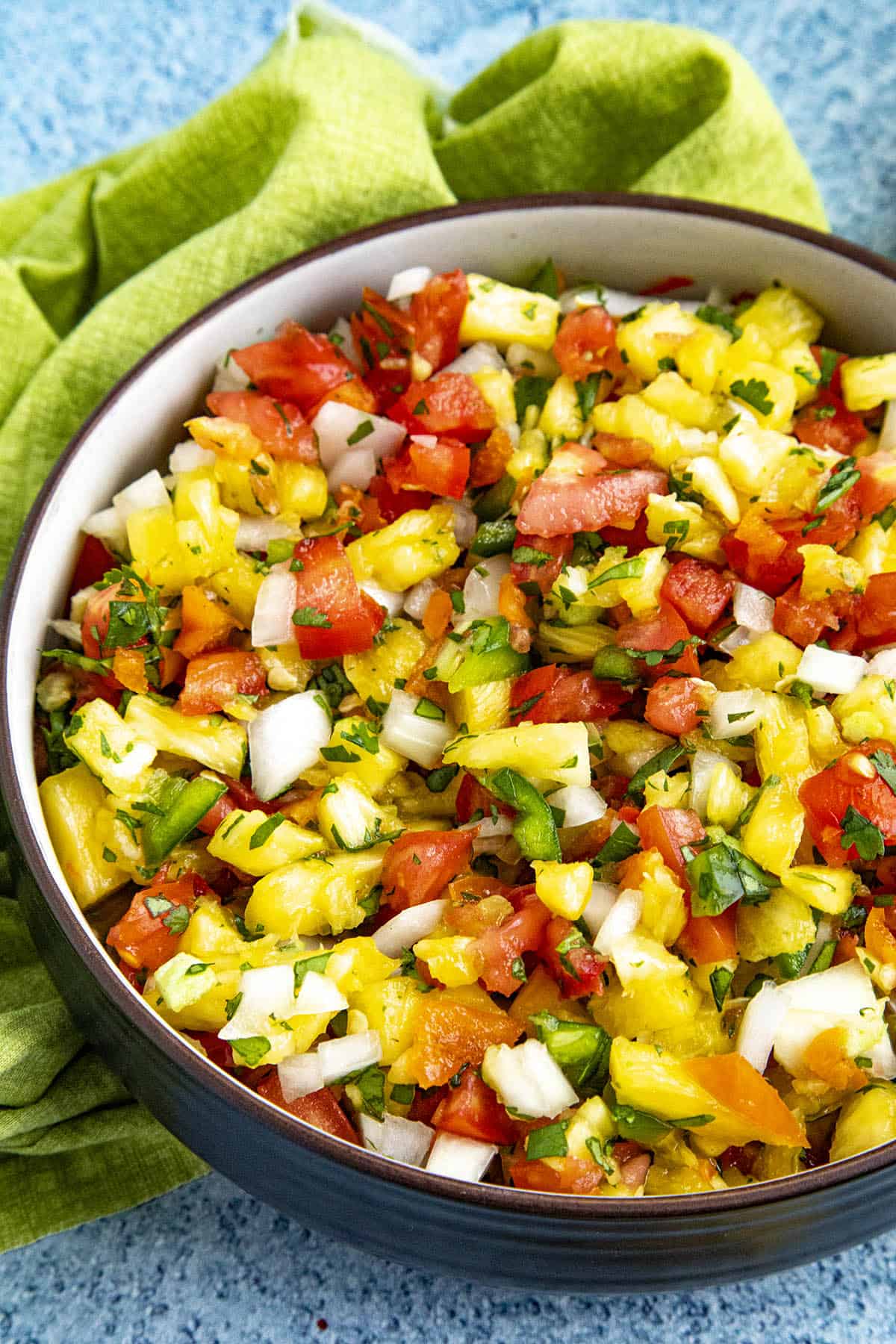 That's it, my friends. I hope you enjoy my fruity, spicy, fresh pineapple salsa recipe. So easy to make, isn't it? I love this salsa! Grab the tortilla chips. Let me know if you make it. I'd love to hear how it turned out for you. Keep it spicy!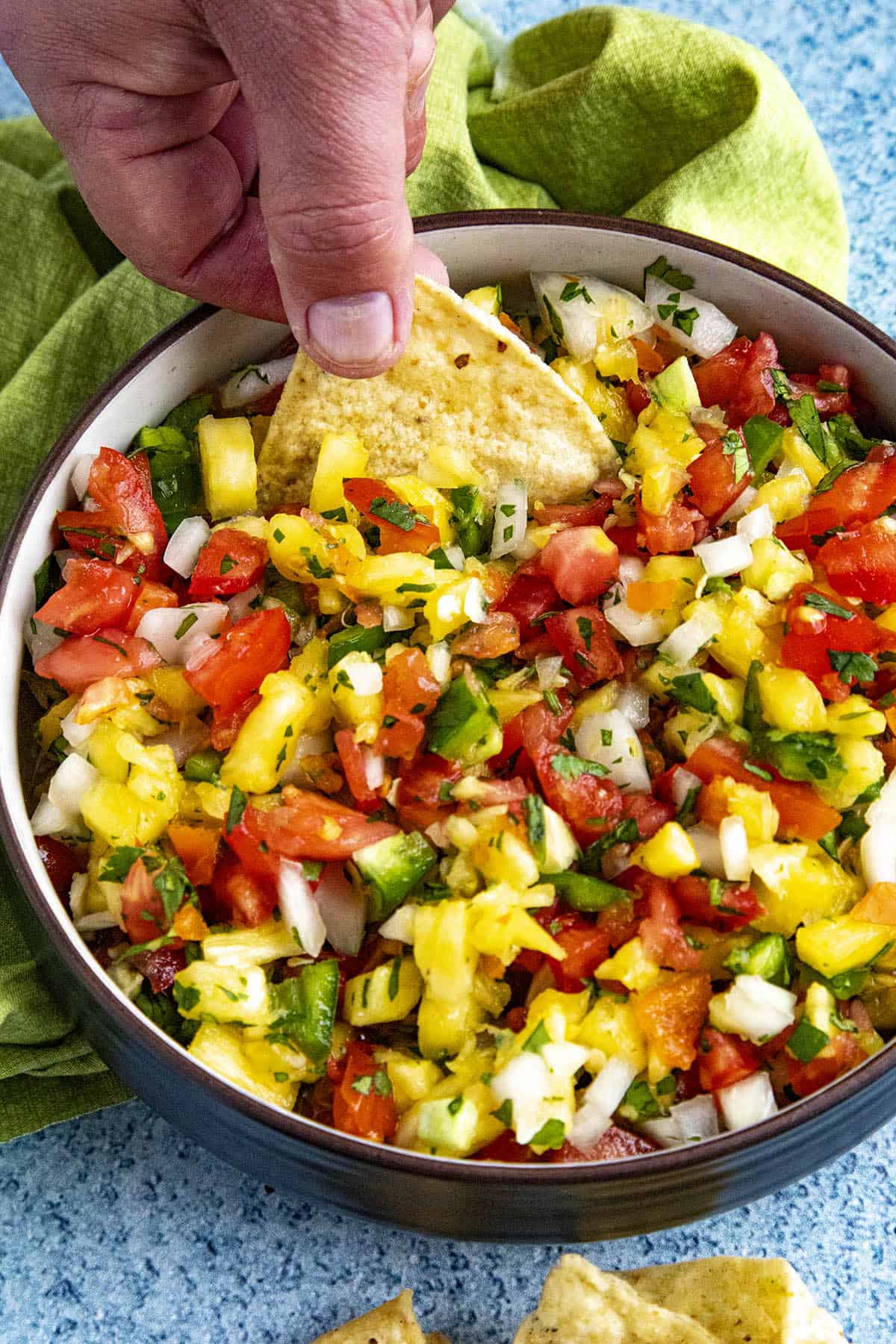 Check out These Other Popular Salsa Recipes
Or try this Pineapple-Habanero Hot Sauce Recipe.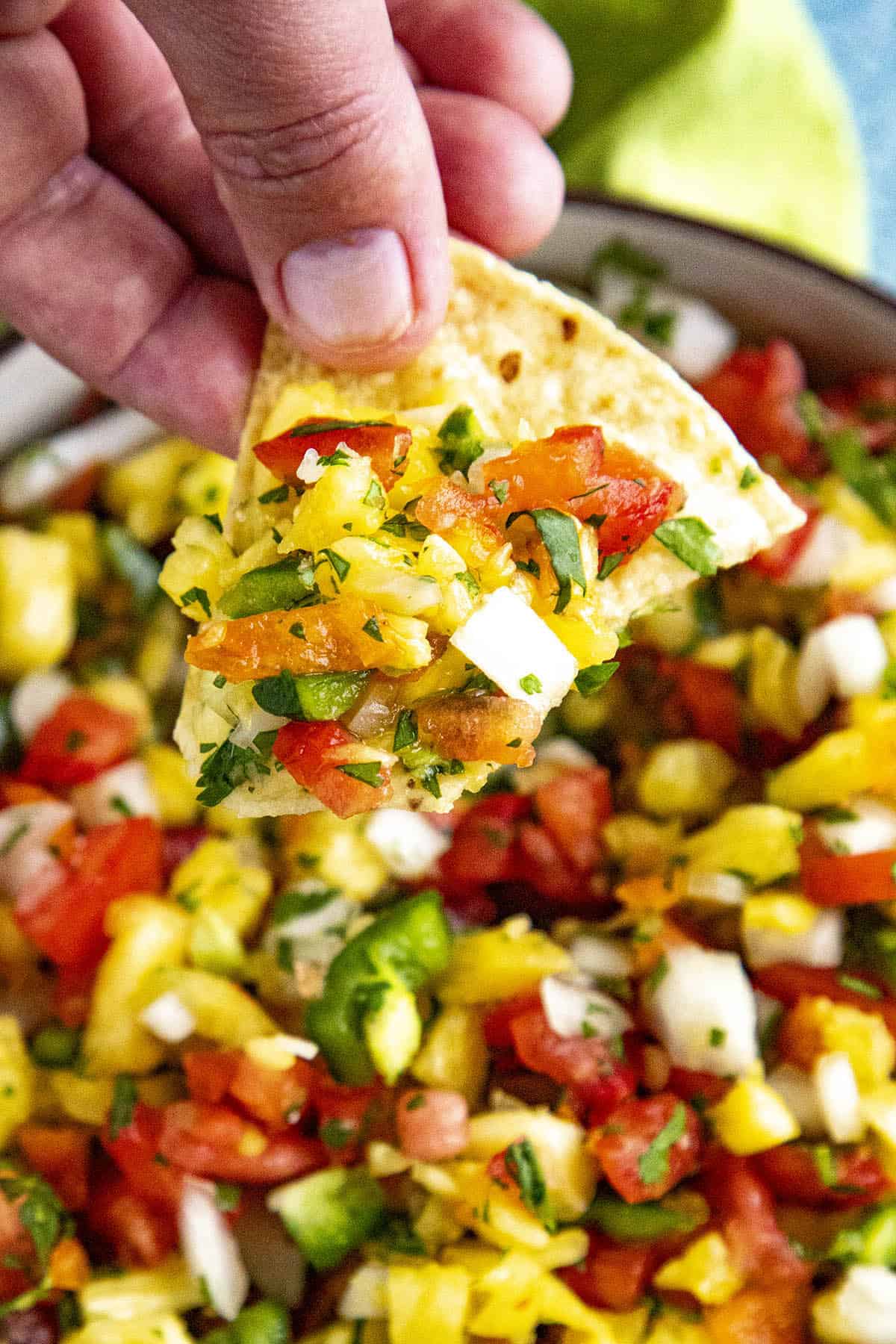 Got any questions? Ask away! I'm happy to help. If you enjoy this recipe, I hope you'll leave a comment with some STARS. Also, please share it on social media. Don't forget to tag us at #ChiliPepperMadness. I'll be sure to share! Thanks! — Mike H.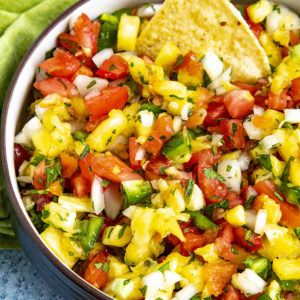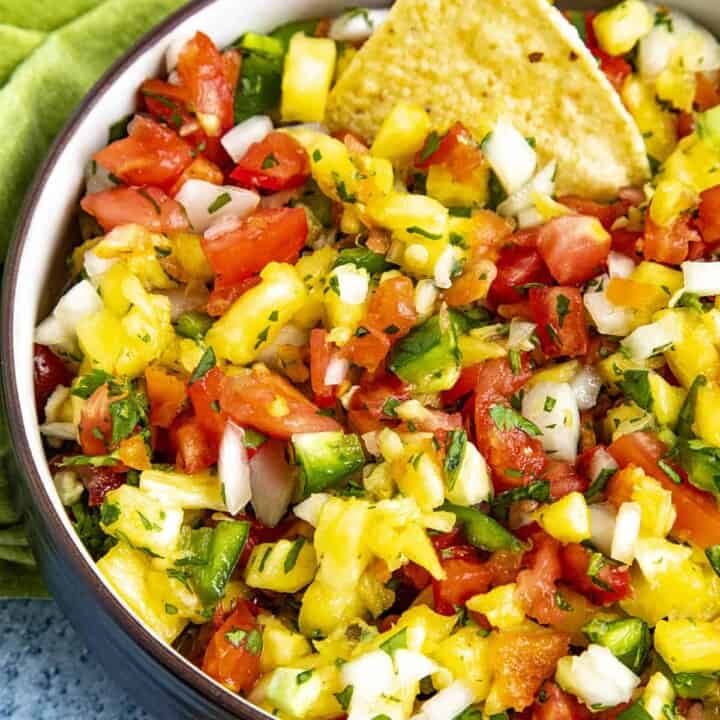 Print
Spicy Pineapple Salsa Recipe
This pineapple salsa recipe is fresh and sweet with just the right amount of heat from fruity, spicy habanero peppers and plenty of chunky pineapple.
Save Recipe
Saved!
Ingredients
2

cups

chopped pineapple

(about 1/2 a pineapple)

2

tomatoes

chopped

1

jalapeno pepper

chopped

2

habanero peppers

chopped

½

red onion

chopped

¼

cup

chopped cilantro

Juice from 1 lime

Salt to taste
Instructions
Add all of the ingredients to a large mixing bowl. Mix until well combined.

Taste and adjust for salt and lime juice.

Cover and refrigerate for 1 hour to let the flavors mingle. Can be enjoyed immediately.
Video
Nutrition Information
Calories:
31
kcal
Carbohydrates:
8
g
Protein:
1
g
Fat:
1
g
Saturated Fat:
1
g
Sodium:
3
mg
Potassium:
142
mg
Fiber:
1
g
Sugar:
5
g
Vitamin A:
354
IU
Vitamin C:
31
mg
Calcium:
10
mg
Iron:
1
mg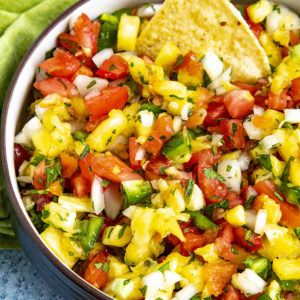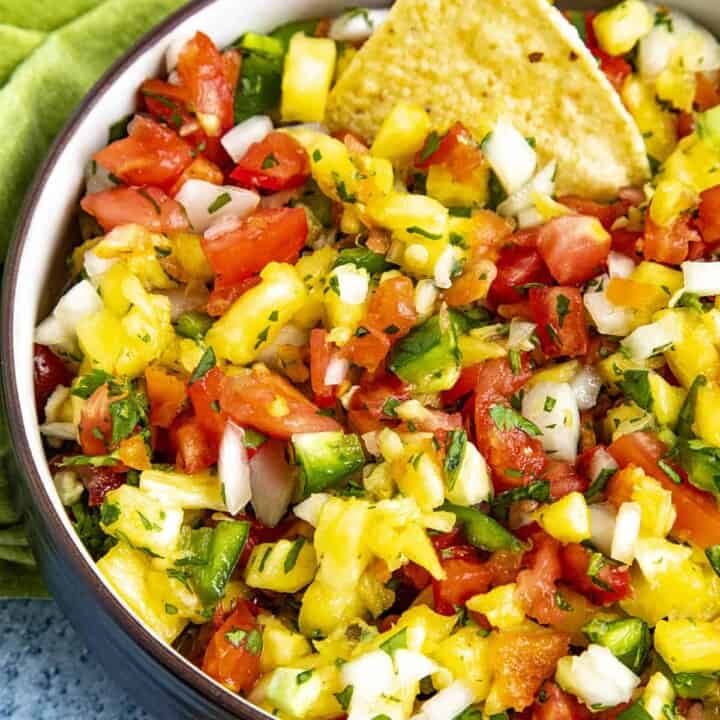 Did You Enjoy This Recipe?
I love hearing how you like it and how you made it your own. Leave a comment below and tag @ChiliPepperMadness on social media.
This recipe is naturally gluten free.
NOTE: This recipe was updated on 6/12/20 to include new information, photos and video. It was originally published on 7/23/14.