A mildly spicy picante sauce recipe made with aji peppers picked straight from the garden.
I love, love, love picante sauce. It is such a super fresh way to incorporate a good amount of your garden harvest in one jar and it is something you can use on many a dish. AND! It is crazy delicious.
I treat picante sauce like a sauce/salsa combo, a sort of hybrid between the worlds of hot sauces and salsa. Is it one or the other? The reality is that it is both, depending on how you look at it.
Both salsa and picante sauce use the same typical ingredients. With salsa, you're mostly rough chopping the ingredients. With a picante sauce, you have more of a puree, so it comes down to texture. However, you'll notice in some Mexican restaurants or even store bought salsas that they have little texture, so they could, in reality, be classified as a picante sauce.
But do you really care?
It all tastes delicious and when it comes down to it, that is what is most important to me. I use this style of picante sauce on many a dish. I spooned it over some baked potatoes for a quick lunch – didn't bother to put that on the site,
I mean, salsa on baked potatoes? – drizzled it over a grilled chicken breast, over grilled corn on the cob, and brought a batch to a party where it disappeared in about 5 minutes.
Poof! No more picante sauce.
It goes just as great with a bag of chips. That's deliciousness right there! I had a HUGE batch of aji peppers picked straight from the garden that morning, so into the picante sauce they want. Aji Pineapples and Aji Fantasy peppers. They bring a bit more heat than your average jalapeno. And we were all happy for it!
Patty's Perspective: I am in love with aji peppers. One of my new faves in life. Aji's don't taste like other peppers, to me. They pack so much flavor into such a little pepper.
Mike will often add other fruits or ingredients to sweeten things up, but it isn't really needed when he is cooking with aji's. I'm glad he made an extra large batch because I have been putting it on foods all week.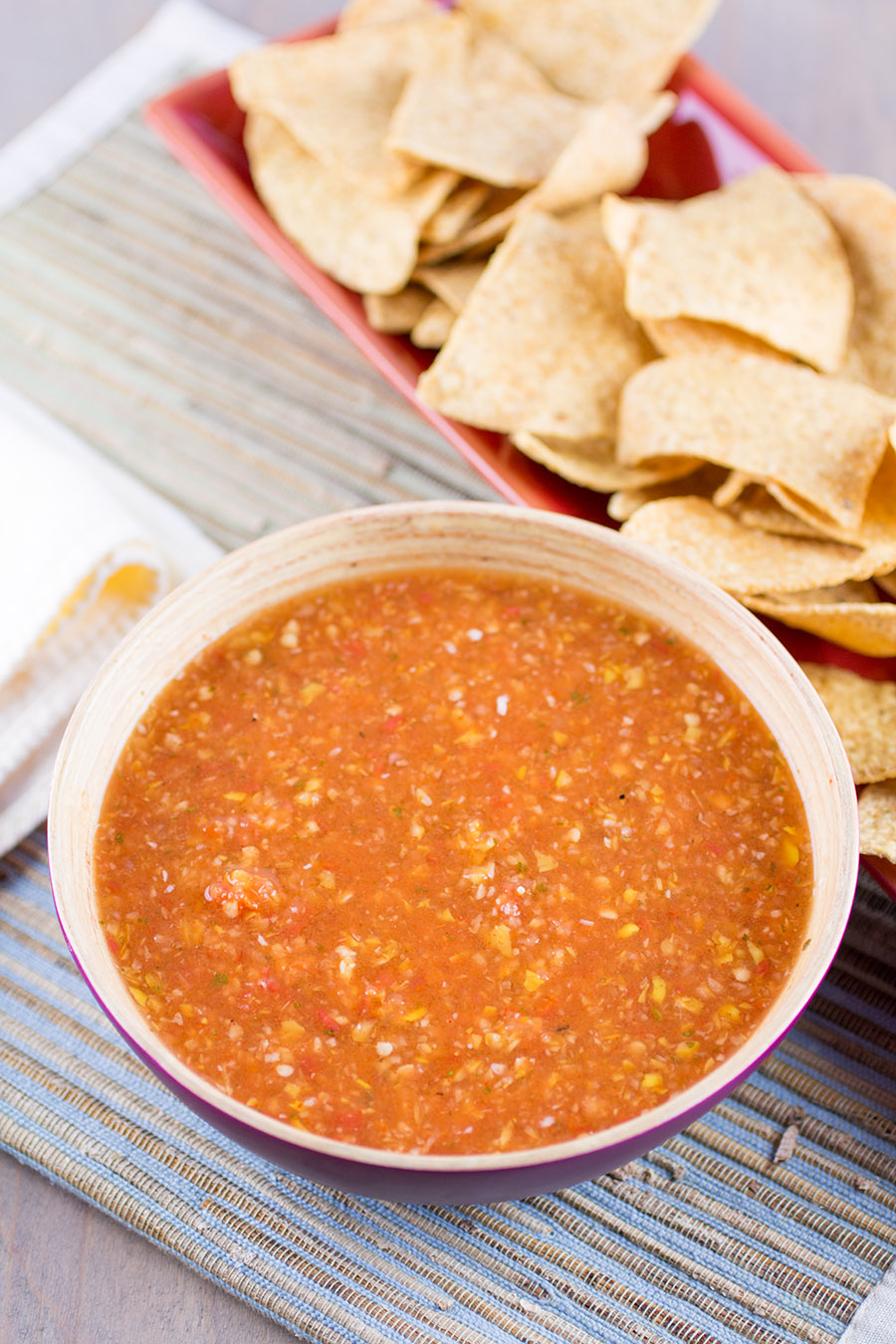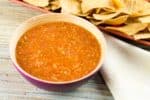 Aji Picante Sauce
A mildly spicy picante sauce recipe made with aji peppers picked straight from the garden.
Course:
Main Course, Salsa
Ingredients
2

large tomatoes

stemmed and chopped

8

ounces

Aji peppers

about 25 or so, chopped – I used Aji Pineapples and Aji Fantasy peppers

1

small onion

chopped

4

garlic cloves

chopped

3

tablespoons

cilantro

1

tablespoon

cayenne powder

1

teaspoon

ground cumin

1/3

cup

water

1/3

cup

cider vinegar

Juice from 1 small lime

Salt and pepper to taste
Instructions
To a food processor, add tomatoes, Ajis, onion and garlic. Process to roughly chop.

Add remaining ingredients and process until smooth.

Add the sauce to a large pot and bring to a boil. Reduce heat and simmer for 15 minutes.

Cool and store in the fridge at least a couple days for theflavors to develop.

Serve and enjoy!
Nutrition Facts
Aji Picante Sauce
Amount Per Serving
Calories 59
% Daily Value*
Sodium 12mg1%
Potassium 439mg13%
Carbohydrates 12g4%
Protein 2g4%
Vitamin A 1720IU34%
Vitamin C 149.8mg182%
Calcium 33mg3%
Iron 1.4mg8%
* Percent Daily Values are based on a 2000 calorie diet.